An easy Pistachio Icebox Cake that is layer upon layer of creamy goodness. The cake is made with graham crackers, pistachio pudding and lots of whipped topping!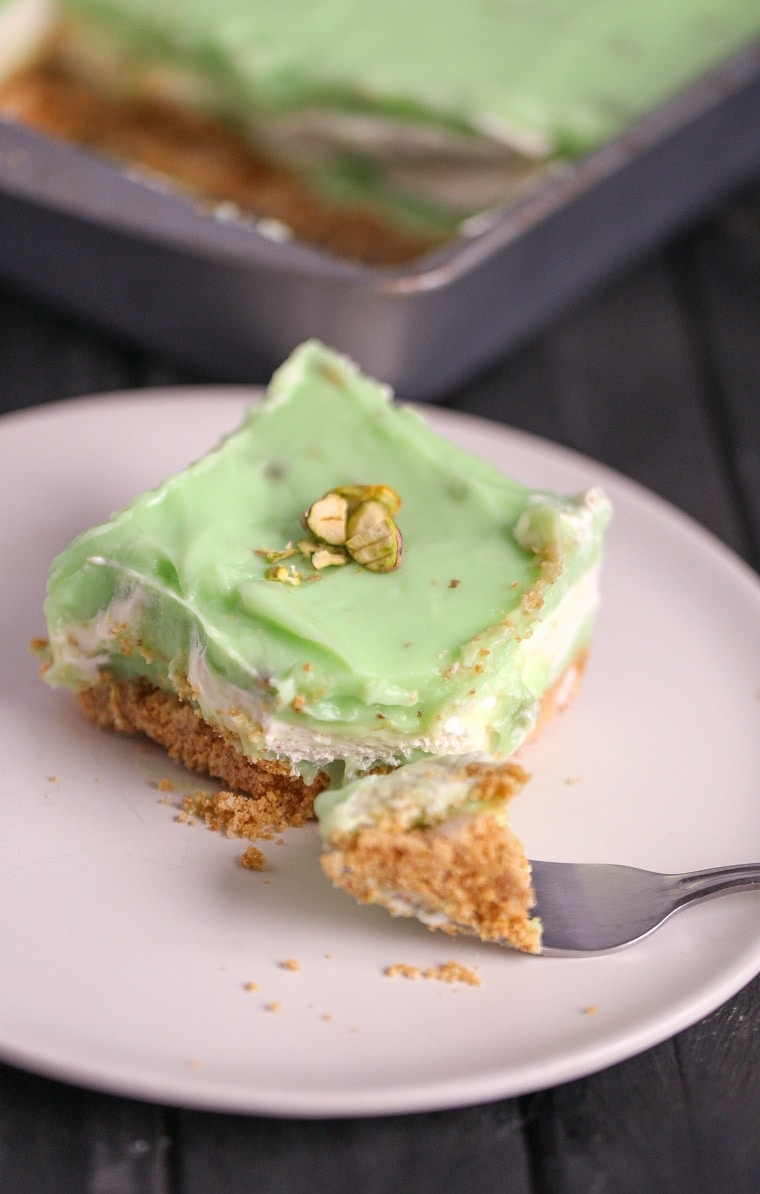 Growing up we would always cerebrate St. Patrick's Day. My mom would make corn beef and cabbage, and a pistachio pudding cake. As a child, that cake was my favorite, especially the frosting. My husband and I do not celebrate St. Patrick's Day like how I did growing up, but I always try to make a green dessert when it is coming up.  I wanted to make a spin on my Mom's Pistachio Pudding cake and I came up with this amazing Pistachio Icebox Cake.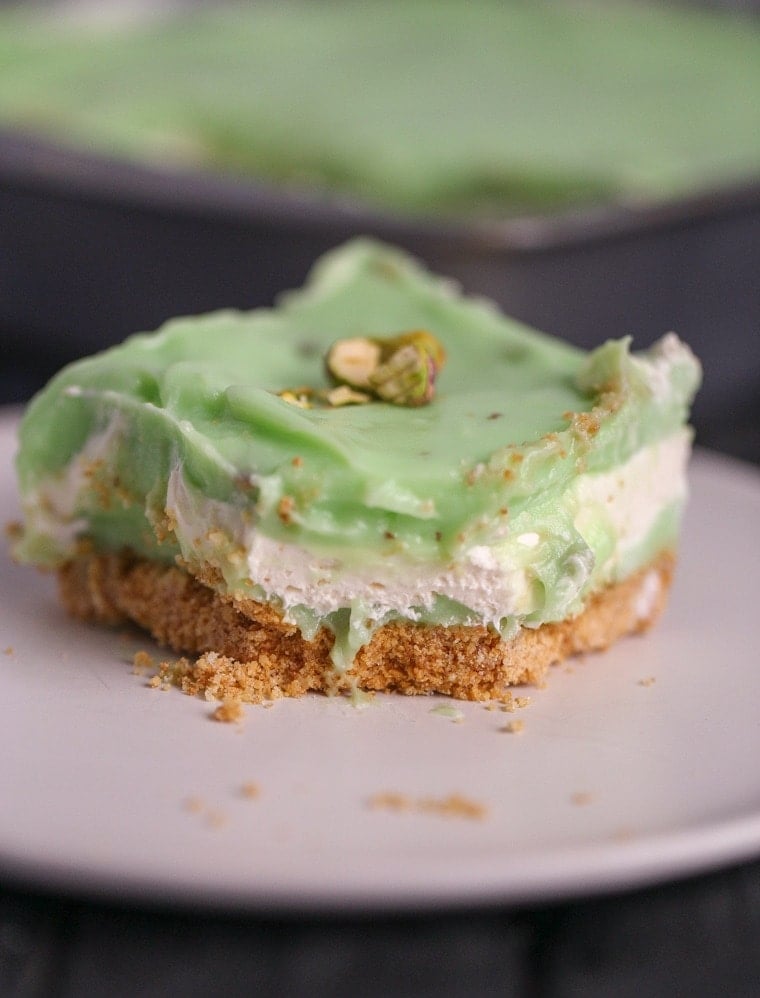 I wanted to make a spin on my Mom's Pistachio Pudding Cake and I came up with this amazing Pistachio Icebox Cake. The cake starts with a layer of graham cracker crust, pistachio pudding, then a whipped cream cheese layer, and more pistachio pudding. If you take out the time of the crust cooling this cake comes together in less than 20 minutes! I always love making quick desserts especially when I am already making other food items for a party.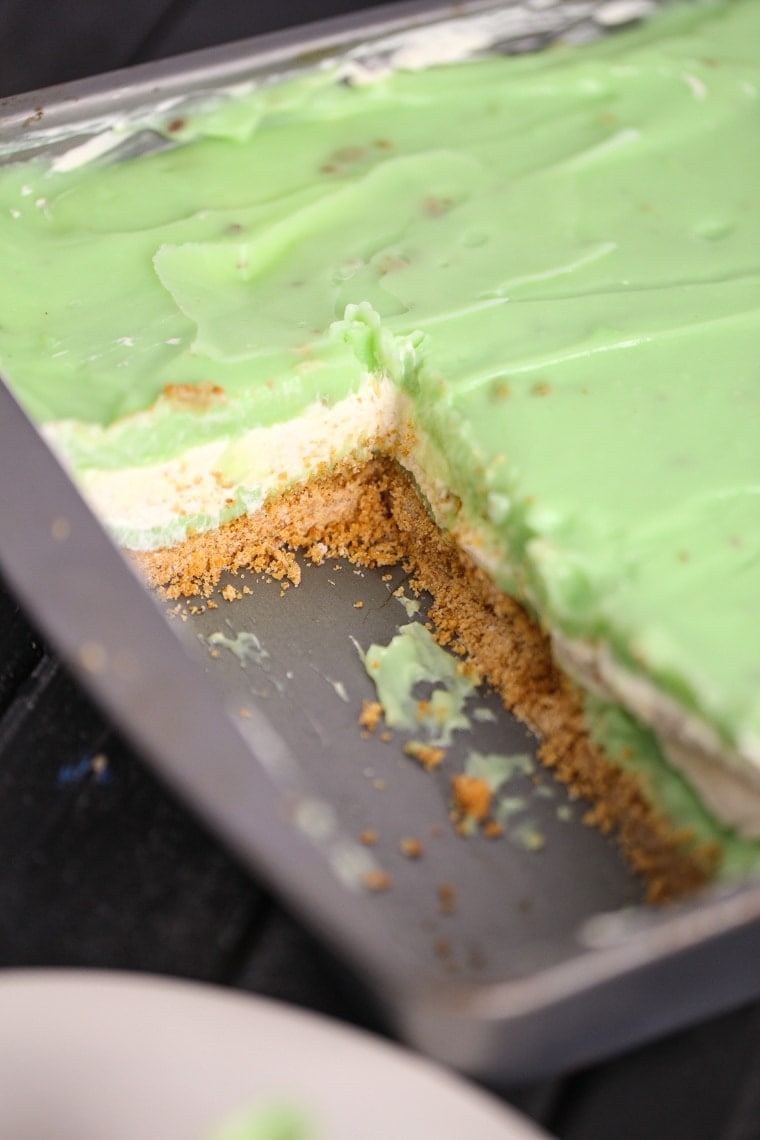 If you want to completely make this Pistachio Pudding Cake a no bake dessert then follow the same steps for the graham cracker crust and let it freeze in the freezer for 2 hours before adding any of the layers. If I bake my crust in the oven I will often place the crust in the freezer to cool faster. I do this by putting a towel or oven mitt on a shelf in the freezer and then placing the hot baking dish on top. I will let it freeze for 15-20 minutes, and then assemble with the pistachio layers.
Pistachio Icebox Cake
Yield 9 -12
Ingredients
Crust:
1 1/2 cups graham cracker crumbs
6 tablespoons butter, melted
1/3 cup sugar
Cream Cheese Layer:
6 oz cream cheese at room temperature
1 cup powdered sugar
1 cup whipped topping
Pistachio Layer:
2 pkgs instant pistachio pudding
2 3/4 cups milk
Topping:
2 cups whipped topping (optional, but recommended)
Instructions
Crust:
Preheat oven to 350 degrees F
In a large bowl, add the graham cracker crumbs, sugar, and melted butter. Mix until well combined.
Press into a 8 x 8-inch pan.
Bake for 7-8 minutes.
Remove from oven and cool completely.
Pistachio Pudding:
In a large bowl mix, the milk and pudding mix for 1-2 minutes until the pudding begins to thicken.set aside
Cream Cheese Layer:
Beat cream cheese, powdered sugar and the 1 cup of whipped topping. Mix until smooth and creamy.
Spread half of the pudding onto the cooled crust. Then the whole cream cheese mixture, and then the rest of the pudding. You can add another optional layer of just whipped topping (if desired)
Chill for about 2-3 hours
For more delicious sweet treats, try these:
Chocolate Coconut Cream Poke Cake
Strawberry Lemonade Icebox Cake
 For all desserts go HERE and all recipes go HERE.