Fried cabbage is a super simple cabbage stir fry recipe that is incredibly flavorful and comes together in less than 30 minutes. It's low carb and keto friendly, and is delicious for lunch or as a side dish with dinner.
We have served fried cabbage with just about any kind of main course you can think of, from Baked Pork Chops to Roast Chicken to Corned Beef. It's wonderful for potlucks because it can be served hot or cold, it's fitting any time of the year and it's a convenient and quick one pan recipe.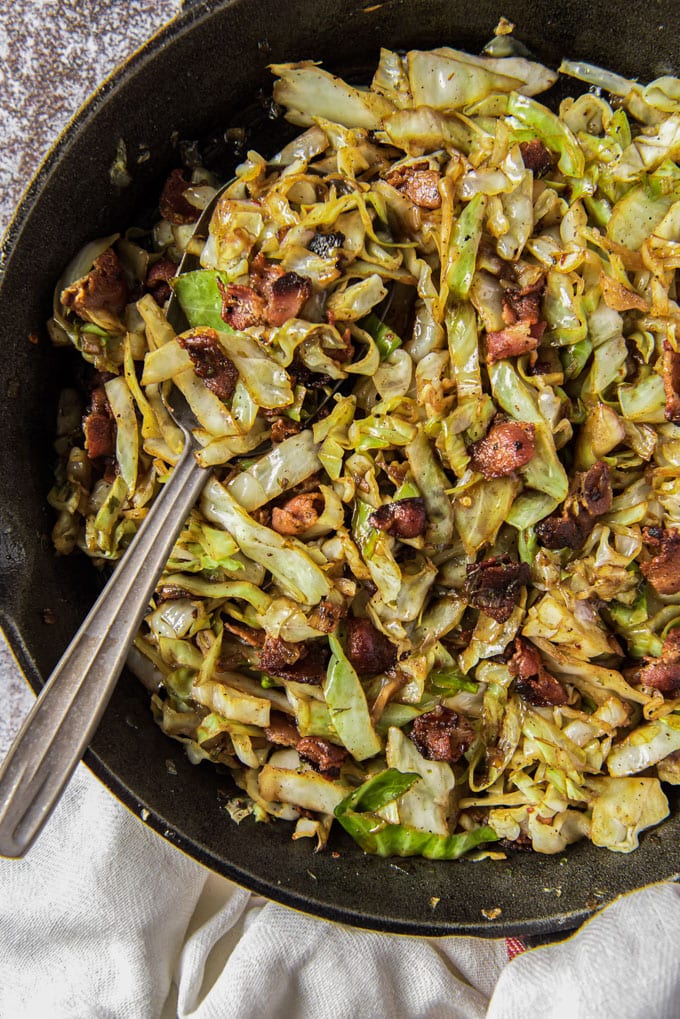 THE BEST FRIED CABBAGE
My grandma always made German-style cooked cabbage with lots of vinegar and I was just not a fan. Cooked cabbage was definitely not on my radar until I tried it in my Egg Roll in a Bowl recipe and I was hooked. I didn't know you could flavor cabbage in such a savory way but it was unbelievably delicious.
I knew that fried cabbage with bacon would have to be my next cabbage dish to try and I was so right. It's crunchy, savory and smoky and full of deliciously seasoned cabbage with bacon and onions. There are so many good things going on in this recipe that you'll forget how simple it is to make!
When doing my research I was curious as to where fried cabbage originated. Bacon and cabbage is an Irish dish, consisting of boiled cabbage and bacon, while fried cabbage is similar but more traditionally from the southern US.
HOW TO CUT CABBAGE
When I'm making a cabbage salad or coleslaw, I like to shred the cabbage into thin strips. For fried cabbage, you can shred into strips or cut into chunks. Either way, this method outlined below will work.
Rinse the whole head of cabbage and pull off any loose outer leaves. Slice off the bottom stem so the it sits flat on your cutting board.
Slice the cabbage in half from the top to the bottom, then slice in half again to create quarters. Remove the core and the stem from each quarter.
Take one quarter of cabbage and turn it on it's side so one side is flat on the cutting board and start slicing into strips. Repeat with the other quarters.
Gather up the strips and slice them in half, then in half again to create smaller pieces.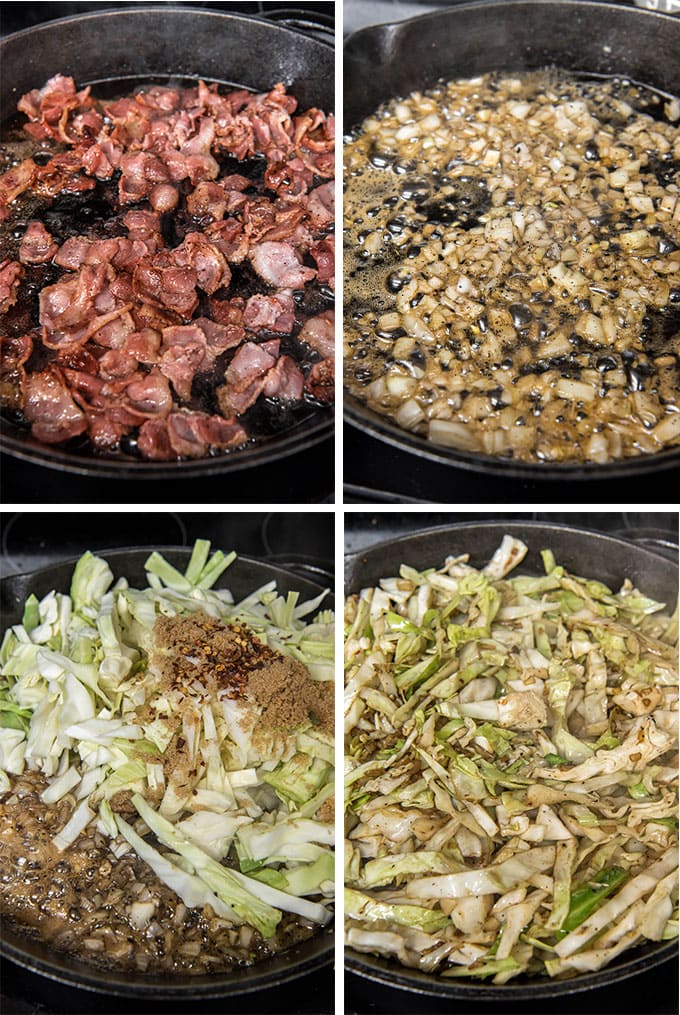 HOW TO FRY CABBAGE WITH BACON
Cabbage is so easy to fry. For this recipe we use the bacon grease to both flavor and fried the cabbage and onions, and the cabbage becomes tender and sweet.
Cook the bacon. I recommend using a cast iron skillet for this but any skillet with do. I also recommended chopping up the raw bacon and then cooking it because cooked bacon tends to crumble when you chop it. We want nice chunks of bacon in our fried cabbage. Transfer the cooked bacon to drain on a stack of paper towels but don't clean out the pan. We are going to put that bacon grease to good use!
Cook the onions. Add the chopped onions to the bacon grease and cook them until they are nice and soft.
Fry the cabbage. Add the chopped cabbage to the skillet with a little bit of brown sugar and some red pepper flakes. Use a spatula to or wooden spoon to stir it around and let it cook for several minutes or until the cabbage is slightly wilted. You want to still have a little crunch to it, otherwise it get mushy and that's not a texture you want. Stir in the bacon and cook just long enough to heat it up.
Garnish and serve. Stir in some fresh mince parsley for brightness and add black pepper to taste. You can also add salt but I think it's salty enough with the bacon.
RECIPE VARIATIONS
I love fried cabbage with smoky bacon, but you could customize this recipe with different proteins and flavors. Pork sausage or kielbasa would be delicious! Add a squeeze of lemon or use up leftover Baked Ham.
WHAT TO DO WITH LEFTOVERS
Leftover fried cabbage should be stored in an airtight container in the fridge and eaten within 3-4 days. Reheat in a skillet on the stove or in the microwave.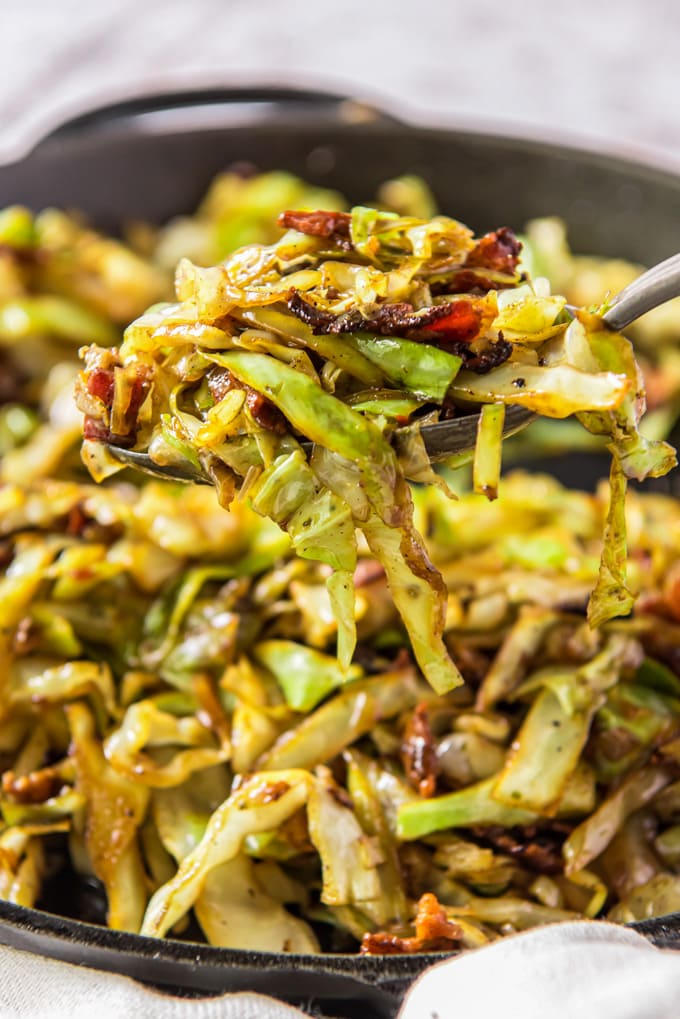 Recipe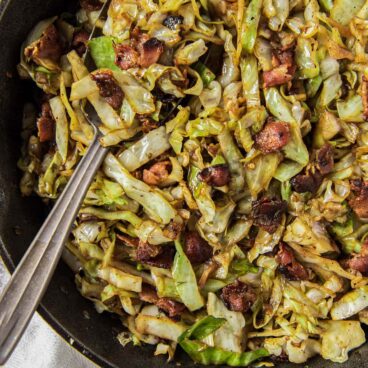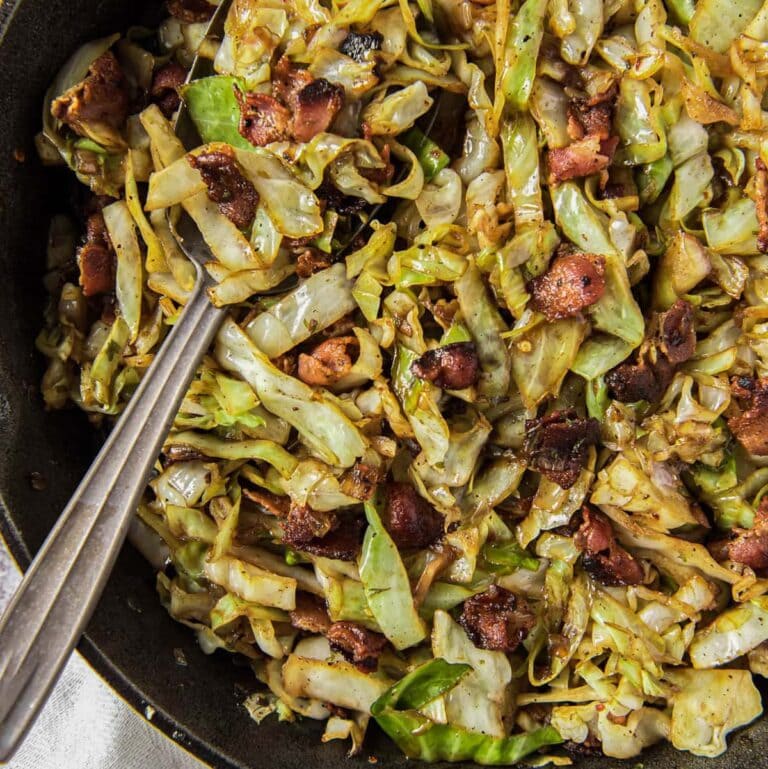 Fried Cabbage
Fried cabbage is full of deliciously seasoned cabbage, onions and crispy bacon. It's low carb and keto friendly, and perfect as a side dish or main course.
Ingredients
1

pound

bacon

cut into ½-inch pieces (I use low-sodium)

1

small onion

finely diced

1

small head of green cabbage

shredded or roughly chopped

2

tablespoons

brown sugar

½

teaspoon

red pepper flakes

1

tablespoon

fresh minced parsley

Salt and pepper

to taste
Instructions
Heat a large, heavy bottomed (like cast iron) skillet over medium heat. Add diced bacon and cook until crisp; 8-10 minutes. Using a slotted spoon or spatula, transfer bacon to a paper towel lined plate to drain. Do not discard the bacon grease!

To the bacon grease, add the chopped onion and cook until softened; 5-6 minutes.

Add chopped cabbage, brown sugar and red pepper flakes to the pan, and cook until cabbage is softened. Stir in the bacon and cook until heated through.

Stir in parsley and season with salt and pepper as desired.
Notes
1 head of cabbage will yield about 8 cups; a serving for a meal is about 2 cups, and as a side, 1 cup. Nutritional information is approximate and based on a 1 cup side dish serving.
Feel free to swap out the bacon for turkey bacon or even vegan bacon. Keep in mind these don't have the same fat content so it will be necessary to add butter or oil.
Swap out the bacon for ground pork sausage or diced kielbasa sausage.
Nutrition
Serving:
1
cup
Calories:
282
kcal
Carbohydrates:
12
g
Protein:
9
g
Fat:
23
g
Saturated Fat:
8
g
Cholesterol:
37
mg
Sodium:
399
mg
Potassium:
325
mg
Fiber:
3
g
Sugar:
7
g
Vitamin A:
211
IU
Vitamin C:
43
mg
Calcium:
54
mg
Iron:
1
mg