There's nothing more comforting than a hot bowl of soup on a cold night. Nothing, that is, except this amazingly Simple Beef Stew. Chock full of tender chunks of beef and vegetables, this is a hearty bowl of savory goodness that will satisfy even the hungriest appetites.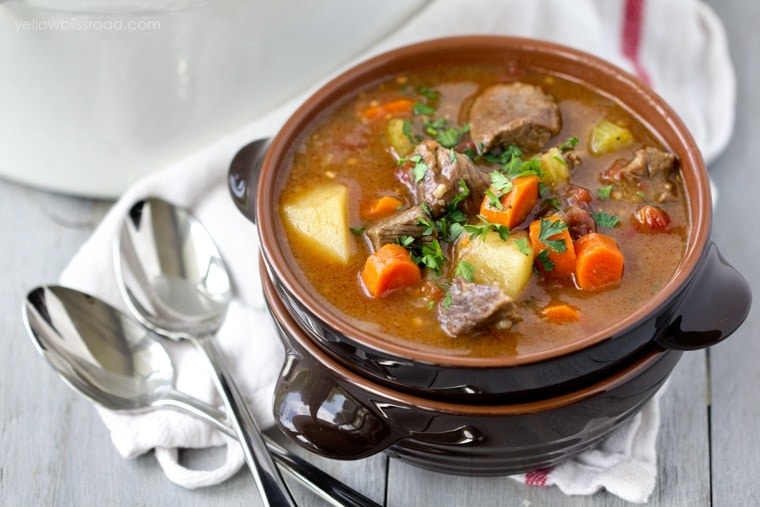 I have always had a love hate relationship with beef stew. I love the flavor, the way it warms you up and fills your belly. But I hate making it. For some reason it's one of those things that I always thought was just too complicated so I wouldn't bother with it. Then I got over it and made it and it was the BEST. THING. EVER.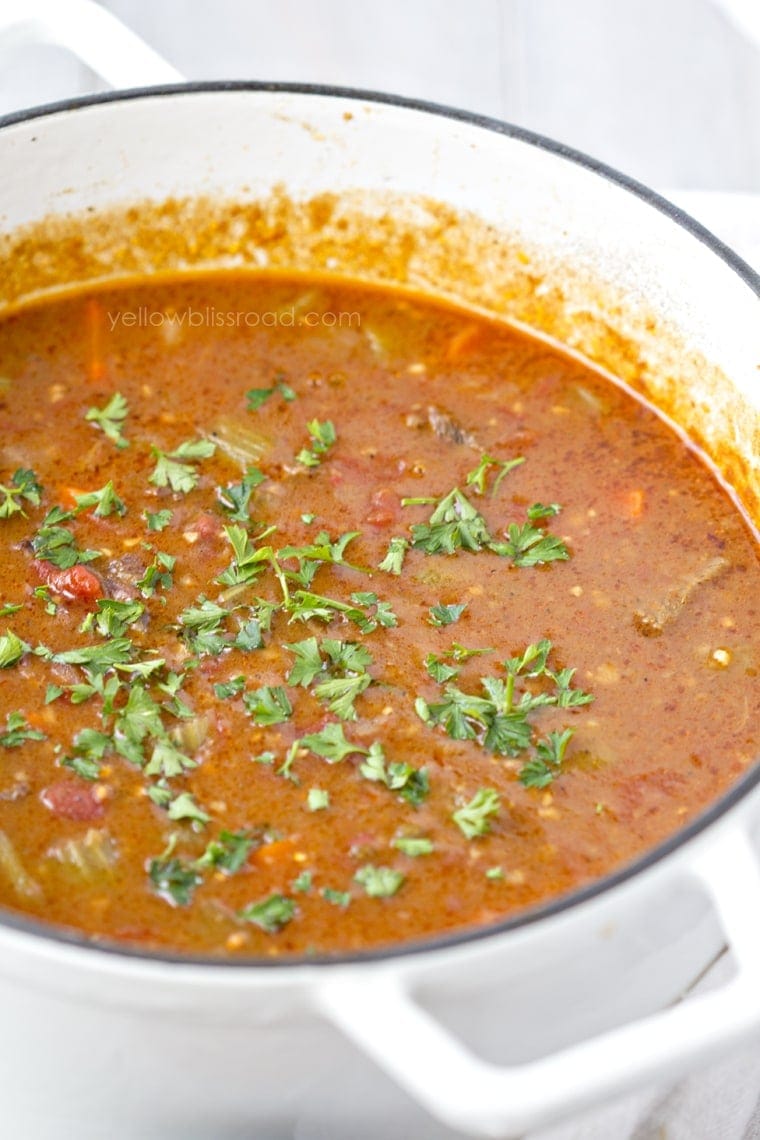 Kind of like soup, there's no definitive "right" or "wrong" way to make beef stew. It's basically meat and vegetables in gravy. Once you break it down like that, it becomes pretty simple!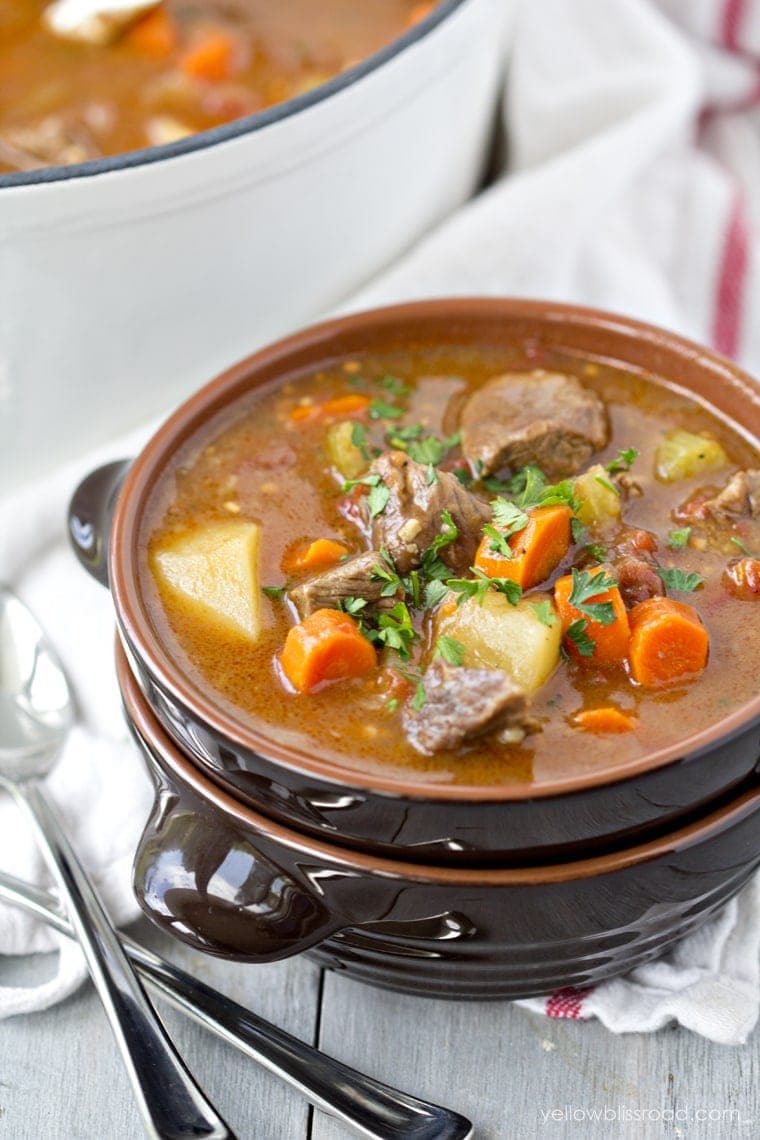 The key to a good stew is getting the meat right. You can use different cuts of beef depending on the time you have. Traditionally, chuck roast is used for beef stew. But chuck is a tougher cut of meat, albeit more flavorful because of it's higher fat content. To cook the chuck you'd want at least an hour to an hour and a half. More tender cuts of beef, like sirloin can be used to get a quick stew in 30 minutes or so. Since the meat is more tender already, it doesn't need the traditional low and slow cooking time that a chuck roast does. However it doesn't have the same fat ratio so it's not as flavorful.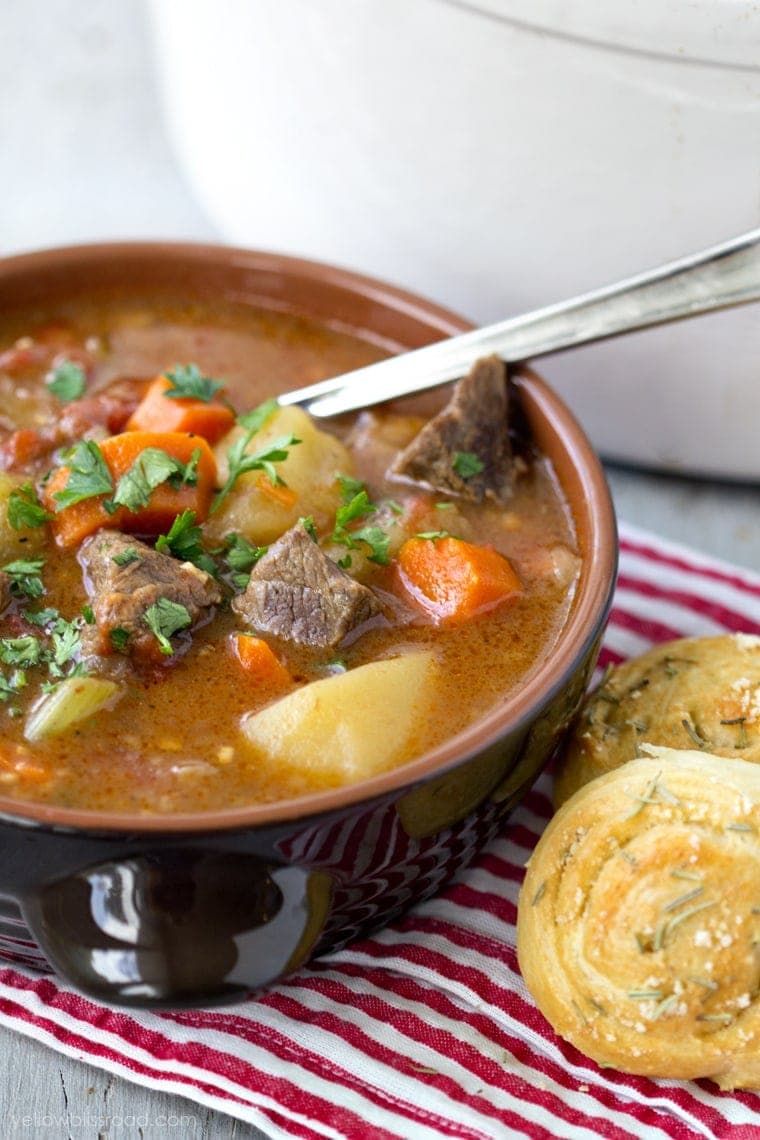 I always use chuck and I'm willing to wait it out because I feel like the flavor is so much richer and the meat so much more tender. Try it for yourself – I think you'll agree!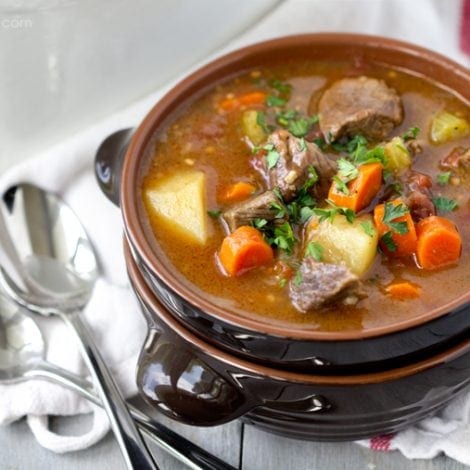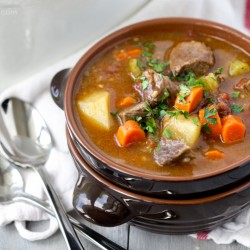 Simple Beef Stew
Ingredients
3 Tablespoons Olive Oil
2 pounds Chuck Roast trimmed and diced
1 whole Medium Onion Diced
3 cloves Garlic Minced
4 cups Beef Broth or Stock
2 cups Water additional, If Needed
1 Tablespoon Worcestershire Sauce
2 Tablespoons Tomato Paste
1-15 ounce can diced tomatoes
1/2 teaspoon Paprika
1/2 teaspoon Kosher Salt
1 teaspoon Liquid Smoke optional
Freshly Ground Black Pepper
2 teaspoons brown sugar
3 whole Carrots peeled and sliced into 1 inch pieces
2 stalks celery cut into 1 inch pieces
2 medium Russet Potatoes peeled and cut into 1 inch chunks
3 tablespoons flour
Minced Parsley optional
Instructions
Heat oil in a large pot over medium-high heat. Brown meat in two batches, setting aside on a plate when brown.

Add diced onions to the pot. Stir and cook for two or three minutes until softened, then add garlic for another minute.

Pour in beef stock, then add diced tomatoes (and the juice) Worcestershire, tomato paste, paprika, salt, pepper, and sugar.

Add beef back into the pot. Stir to combine. Cover and simmer for about an hour to an hour and a half.

Add carrots, celery and potatoes, then cover and cook for an additional 30 minutes. Taste and adjust seasonings as needed.

Spoon 3 tablespoons of flour into a small bowl and add a few ladle fulls of the broth from the stew. Stir together with a fork until fully incorporated (no lumps) and stir into the pot to thicken the stew. Repeat if needed until desired thickness is reached. Do not add flour directly to the pot on it's own.

Serve hot with some nice fresh rolls. Sprinkle with minced parsley, if desired.
For more delicious comfort food meals, try these: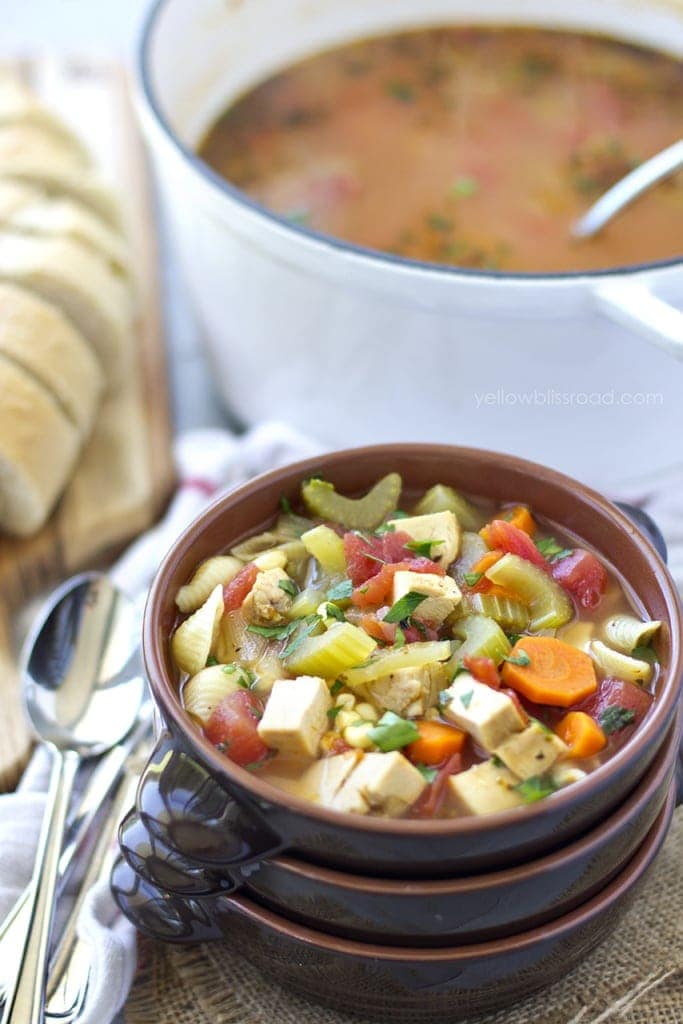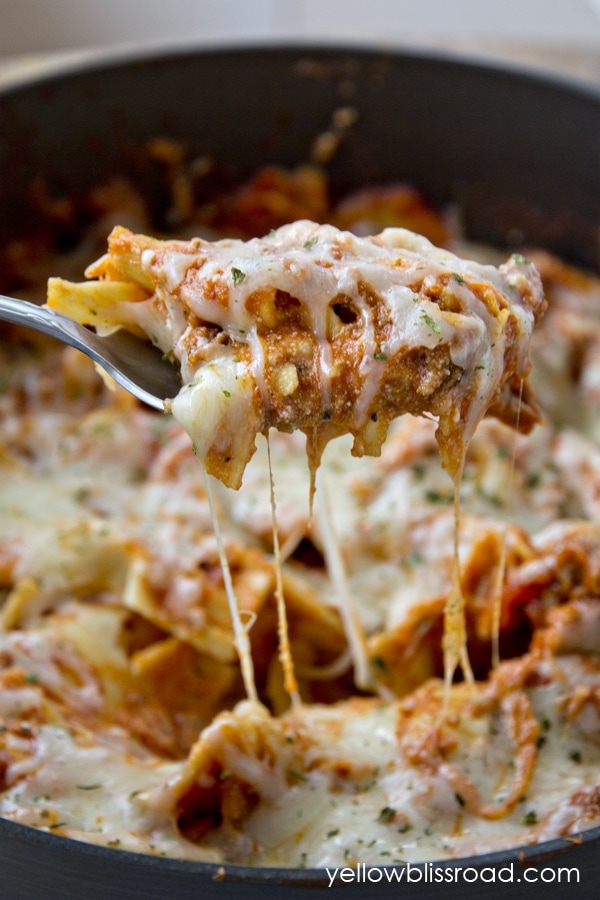 Tortellini Soup with Spinach and Italian Sausage
For all dinner recipes go HERE, and for all recipes, go HERE.