Grilled Hamburger Sliders are the perfect mini sized meal to serve all summer long. These juicy little burgers are so flavorful and quick to whip up and are great for parties and summertime picnics.
Summertime means it's time to break out the barbecue and start grilling up some of our favorite recipes like Grilled Chicken Thighs, Grilled Shrimp Tacos and these adorable mini grilled hamburger sliders.

Grilled Hamburger Sliders
Happy Summer everyone! Amanda here from Old House to New Home sharing my go to classic hamburger recipe for summer. I like to make them slider sized for picnics and entertaining so that people can fill their plates with more different types of food.
I love summertime and all the food that comes with it! Pasta salad, potato salad, and fruit filled desserts! While I love burgers, I prefer these small sized ones so I can try a little of everything. Plus, by making them smaller, you stretch your pound of ground beef and get more bang for your buck.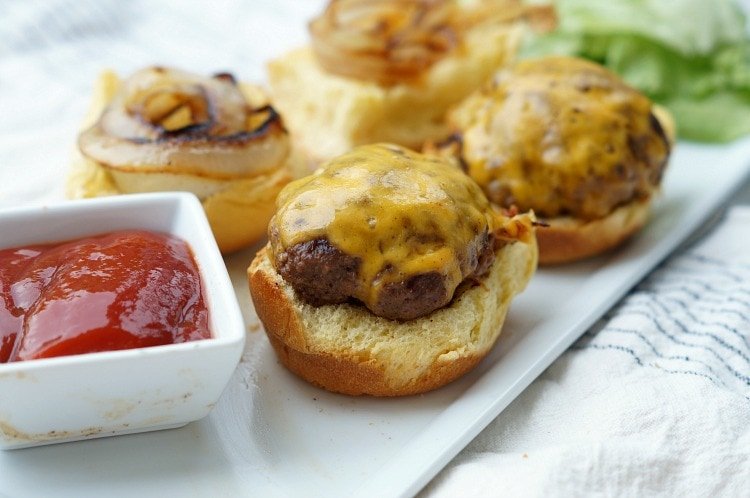 These delicious Grilled Hamburger Sliders are the ultimate summertime burger. Serve these at a picnic or to your family for dinner and you will have happy campers around the table.
What type of meat should you use for sliders?
When making burgers, it is best to use no leaner than 85/15 to ensure a juicy burger. This is one instance where more fat is definitely better! I recommend using using hormone free, grass fed beef.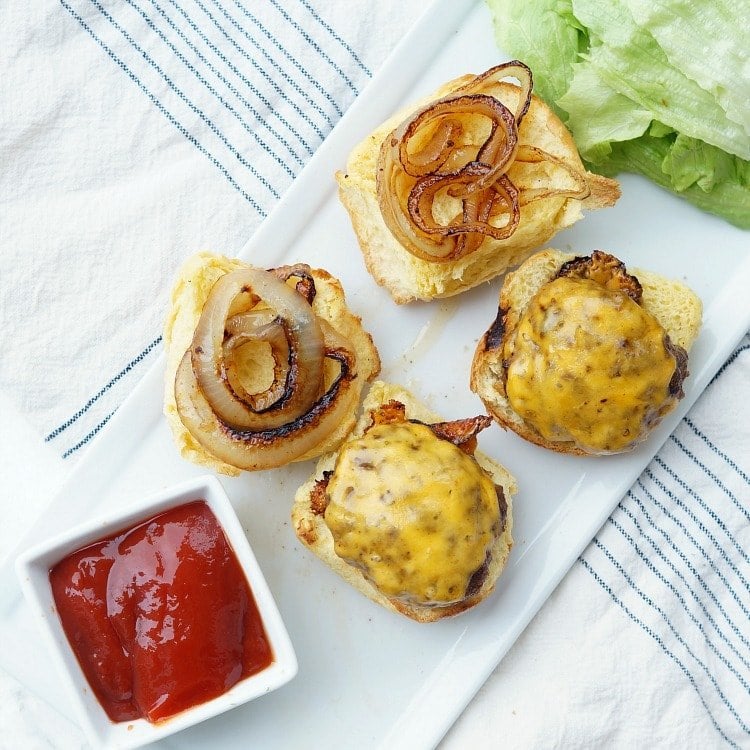 Tips for making the best grilled hamburger sliders
I've learned a few tricks over the years to making these burgers juicy and flavorful.
For every hamburger I make, I keep the seasoning simple and use salt, pepper, and garlic powder. For extra flavor, I like to add 1 tablespoon of my favorite steak sauce. When making burgers, you really don't want to use fancy seasonings. Just cook them well and the meat will be the star.
Sliders should be uniform in size and thickness to ensure even cooking. I do this by adding all my meat to a bowl and pushing it down evenly, then scoring it into equal pieces.
Do your hamburgers always shrink when you put them o the grill? The trick here is to indent the middle of the burger slightly with your thumb to help prevent shrinkage.
Grill the bun! Don't put your hot burger on a cold bun. It will soak up the juices and no one likes soggy buns! Toast the buns on the grill for a great flavor and texture.

What to do with leftovers
Leftover burgers can be stored in the fridge for 3-4 days in an airtight container. For the freezer, wrap individual burgers in plastic wrap and place in a freezer bag. Store for up to 6 months.
Reheat thawed burgers in the oven or microwave. Putting them back on the grill is not recommended as it will toughen the outside.
Grilled Hamburger Sliders Serving suggestions
Wondering what to serve with your grilled burgers? Try these backyard bbq favorites: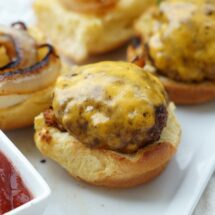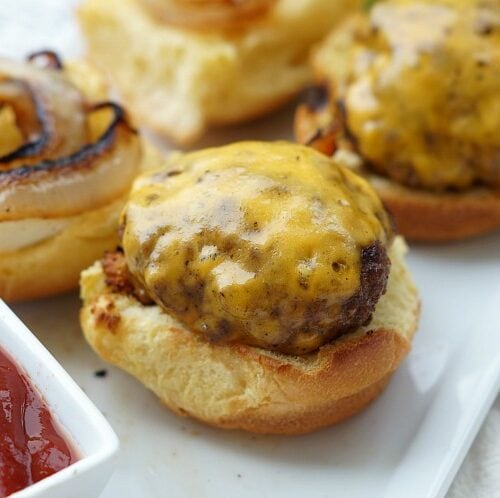 Grilled Hamburger Sliders
These Grilled Hamburgers are so juicy and flavorful and will become your go to slider recipe for summer!
Print
Pin
Rate
Prep Time: 5 minutes
Cook Time: 4 minutes
Servings: 8 burgers
Calories: 305kcal
Ingredients
1 lb 80/20 ground beef
1 teaspoon salt
1/2 teaspoon pepper
1/4 teaspoon garlic powder
1 tablespoon steak sauce
8 hamburger buns
4 slices of cheese sliced in half
onions lettuce, tomato, etc.
Instructions
Preheat your grill to medium high heat.

Add meat, seasonings, and steak sauce to a mixing bowl. Mix well with hands. Press all the meat down into the bowl to form an oven layer.

Use your finger or a knife, score the meat into 8 even pieces. Grab each piece and roll into a ball then press down into a patty. Use your thumb to indent the middle of each burger.

Cook burgers 3.5 minutes then flip. Add cheese and cook another 3.5 minutes. Remove from grill and let rest for 5 minutes. Place on bun and top with desired toppings.
Nutrition
Calories: 305kcal | Carbohydrates: 23g | Protein: 16g | Fat: 16g | Saturated Fat: 7g | Cholesterol: 51mg | Sodium: 750mg | Potassium: 227mg | Fiber: 1g | Sugar: 3g | Vitamin A: 100IU | Vitamin C: 0.7mg | Calcium: 194mg | Iron: 2.7mg
Looking for more summertime picnic recipes?