Grilled Sausage and Peppers Foil Packets are an easy way to make a delicious meal with minimal effort this summer. Savory sausages are steamed with peppers, onions and beer, then grilled for a few minutes to get that beautiful char.
One of my favorite parts of summer is grilling food for dinner with friends and family and being able to sit around and chat while the food is cooking. With these Foil Packet Grilled Sausage and Peppers, all you have to do is assemble and let the grill do the rest!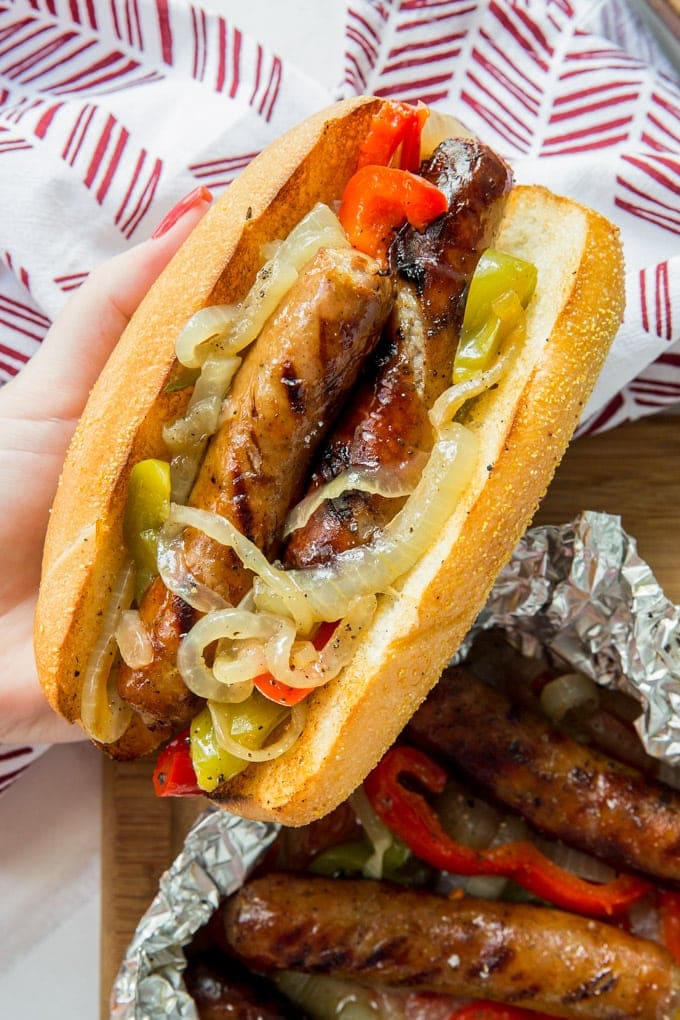 Pin this recipe for later!
Grilled Sausage and Peppers Recipe
To create this culinary masterpiece, start by selecting your favorite sausages—whether it's succulent Italian sausages, flavorful bratwursts, or smoky kielbasas, the choice is yours.
Combine them with an assortment of peppers, such as vibrant bell peppers, mild banana peppers, or fiery jalapenos, to add a delightful kick to your meal.
Wrap the sausage and peppers in heavy-duty foil with a little beer to create steam and flavor.
Once they are cooked, transfer the sausages from the foil packets directly onto the grill for a reverse sear. The steam cooks the sausage and keeps them nice and juicy, and a quick minute or two on the grill gives that beautiful smoky char.
How To Cook Sausage and Peppers in Foil on the Grill
Preparation is simple and hassle-free.
Get a detailed list of ingredients & instructions in the recipe card below.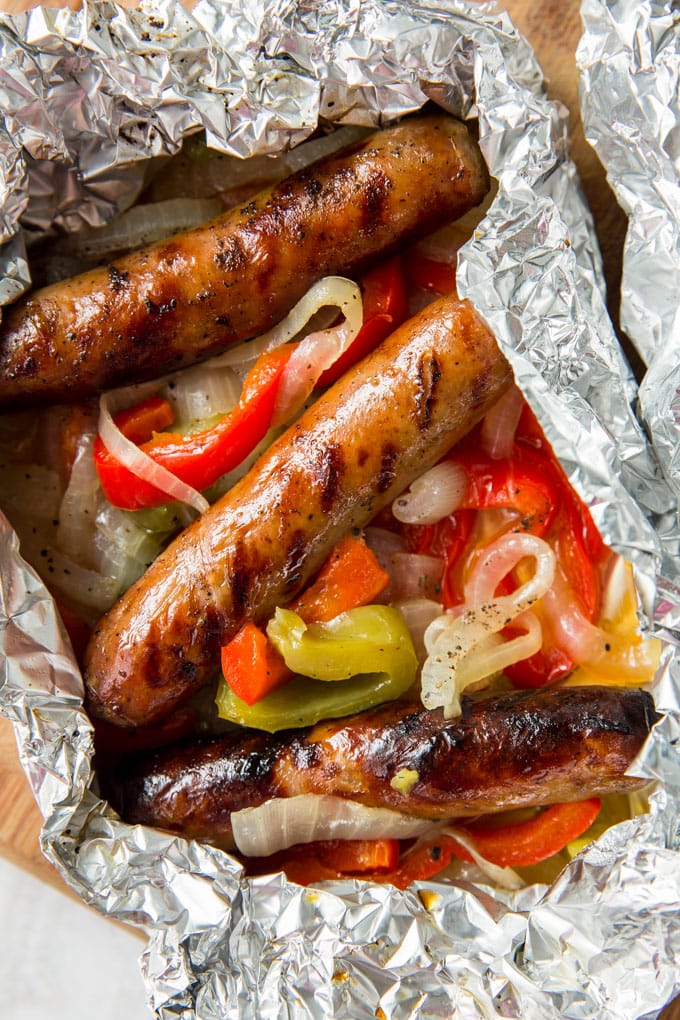 Heat youdr outdoor grill to medium and clean the grates.
Cut two sheets of foil about 12×20-inches and pour a little olive oil in center of each to prevent sticking. I recommend using heavy duty or grilling foil if you can find it.
Arrange the sausages, peppers, and onions on the foil, then pour in a small amount of your favorite beer and wrap tightly, securing all open ends to prevent steam from escaping.
Grill over direct heat for about 15 minutes. Transfer the packets to indirect heat and open to remove the sausages. The veggies will stay warm as long as you leave them on the grill.
Place the cooked sausages on the grill for a couple of minutes per side to reverse sear and give them those luscious grill marks.
FAQs
What can I use instead of beer?
I have tried both a light beer and chicken broth as the liquid to steam with. Both produced great results and really give the sausages extra flavor of whatever you end up choosing. If you have a little extra broth leftover, try using that. If you love beer and want to infuse your sausages with some beer flavor, try that!
What types of sausages work best for grilling?
Sausages like Italian sausage, bratwurst, or kielbasa are ideal for grilling as they hold up well and develop a delicious smoky flavor.
Can I cook these in the oven instead?
Want to be able to make this recipe year round? Prep your foil packets as directed and bake them at 350 degrees F. The sausage should register 160 degrees on a meat thermometer.
Can I use different types of peppers in the recipe?
Yes, you can experiment with different peppers such as bell peppers, banana peppers, or jalapenos to customize the flavor and spice level to your liking.
How do I prepare the peppers for grilling?
Start by washing and slicing the peppers into strips. Remove the seeds and membrane for milder flavor, or leave them for a spicier kick.
Can I make this recipe in advance?
While it's best to enjoy grilled sausage and peppers immediately, you can grill the sausages and peppers ahead of time and reheat them when ready to serve.
Serving Suggestions
Sausages and peppers on the grill make for some incredibly flavorful meals and are great for summer grilling. You can serve as is to keep it low carb, or serve with sandwich rolls (not hot dog buns). Place the sausages in the roll and top with the onions and peppers.
Toasting the buns on the grill to give it that extra char and flavor. Add some easy recipes for side dishes, like German Potato Salad, Cucumber Salad or potato chips and Grilled Zucchini.
Veggie Foil Packets: Wrap cut up veggies, like bell peppers, squash, or green beans, in foil packets with a little olive oil and salt and pepper and grill them at the same time as the sausage. They should take about 15-20 minutes. I don't recommend using root vegetables because they will take longer to cook.
Hot Tips
Choose sausages that are fresh and of high quality for the best flavor.
Preheat the grill properly to ensure even cooking.
Consider marinating the sausages and peppers for added flavor.
Experiment with different types of sausages.
Don't skip the reverse sear. The steamed sausages will be quite pale in color and will benefit greatly from the extra step.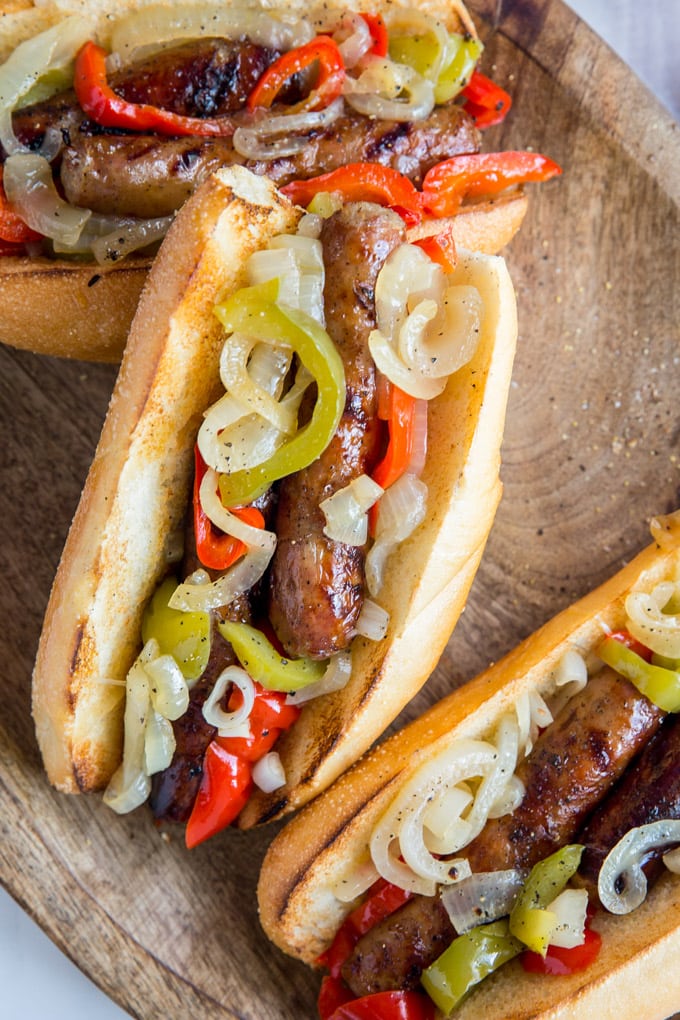 More Savory Dishes for Grilling
Recipe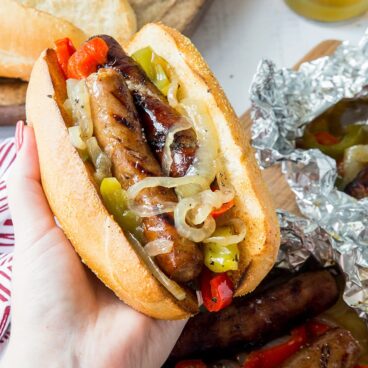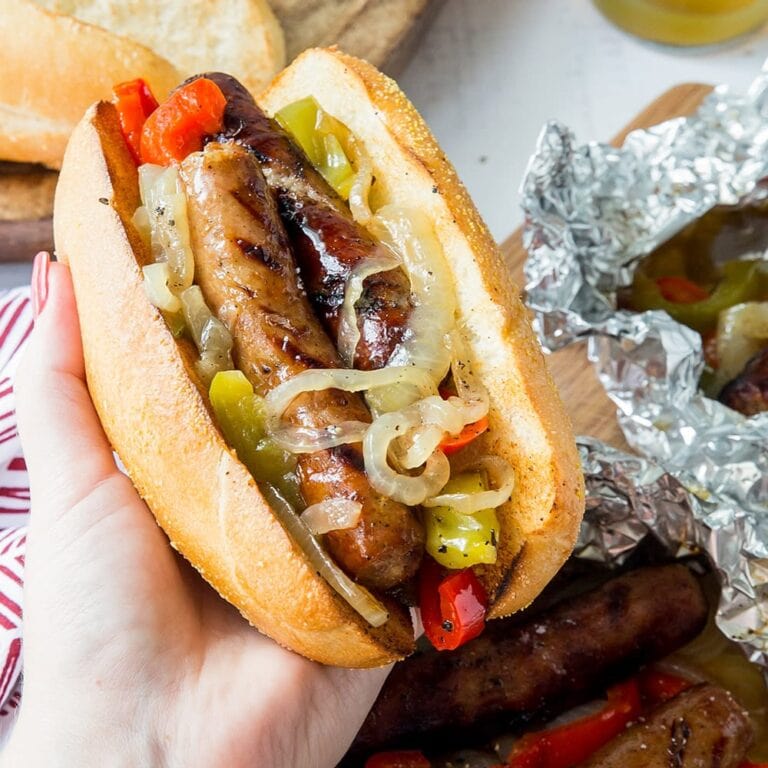 Foil Packet Sausages with Peppers & Onions
Foil Packet Grilled Sausage & Peppers – A satisfying grilled dinner that is perfect for feeding a crowd at a backyard barbecue and easy enough for a weeknight dinner.
Ingredients
2

tablespoon

olive oil

4

bratwurst sausages

or any favorite uncooked sausage

1

green pepper

sliced into long strips

1

yellow or sweet onion

sliced into long strips

1/4

cup

your favorite beer or broth that you have on hand

salt and pepper

to taste

4

buns

mustard

optional
Instructions
Warm grill to medium heat.

Take two pieces of aluminum foil about 12″x20″ and spread 1 tbsp of olive oil in the middle on each.

Place two sausages and half of the pepper and onion on each sheet of aluminum foil.

Drizzle 2 tbsp of beer or broth on each set of sausages. Sprinkle salt and pepper on each set of sausages. Mix everything around to make sure it's fully coated.

Bring the two short sides of the aluminum foil to the middle and fold over twice to shut. Fold either end of the packets twice to ensure the liquid won't escape. Repeat for the other packet. Place on the grill and cook for 15-18 minutes until sausages are cooked through and peppers and onions are tender.

Open packets and leave open packets on the grill so the peppers and onions stay warm. Remove sausages and place directly on the grill. Cook on either side for 2-3 minutes to give sausages grill marks.

Serve warm over a bun with a sausage, peppers, onions, and mustard. Enjoy!
Notes
Since using the liquid and enclosing everything in the foil packet and steams the sausages, the casings turn almost a pale white. It doesn't look super appetizing at first, but allowing a few minutes on either side of the sausage to sit on the grill to give grill marks makes it look much better.
Nutrition
Calories:
478
kcal
Carbohydrates:
39
g
Protein:
15
g
Fat:
29
g
Saturated Fat:
8
g
Cholesterol:
49
mg
Sodium:
854
mg
Potassium:
322
mg
Fiber:
2
g
Sugar:
6
g
Vitamin A:
110
IU
Vitamin C:
26
mg
Calcium:
34
mg
Iron:
11.2
mg