Slutty Brownies are really the ultimate brownie! Layers of homemade cookie dough, topped with Oreos and then brownie batter. Baked to perfection – ooey, gooey and delicious!
We love to stuff Oreos in desserts, like Oreo Brownies, Oreo Rice Krispie Treats and No Bake Chocolate Oreo Cheesecake.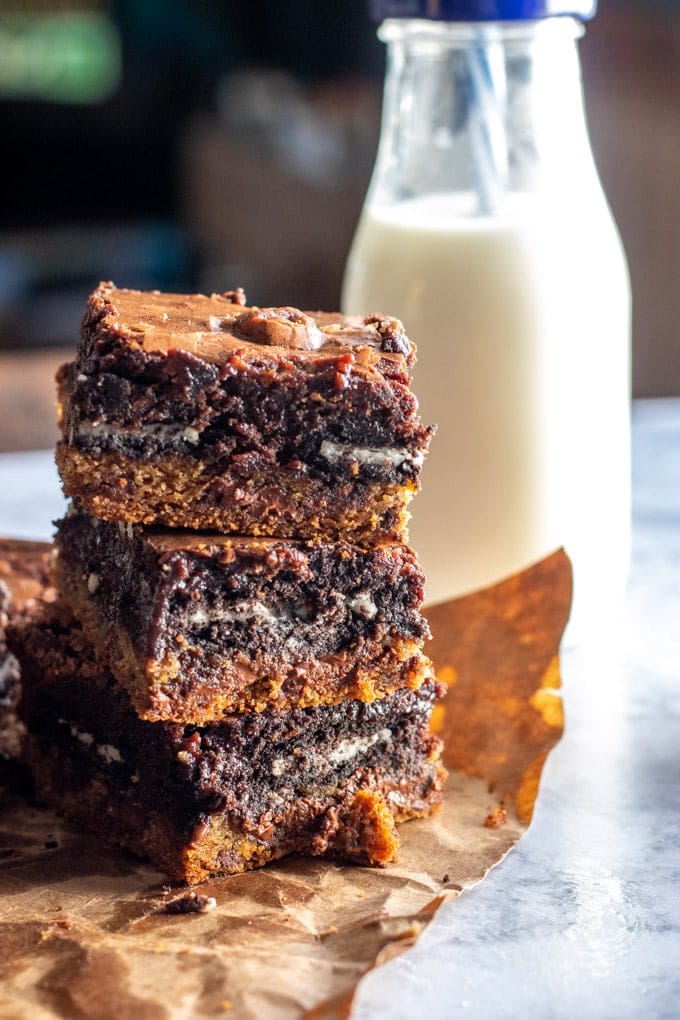 Next Level Brownies
Raise your hand if you love Brownies? Oreos? Chocolate Chip Cookies? This brownie recipe is a mash-up – combining two dessert recipes in one pan. I think it's the best of both worlds!
These brownies are great for sharing (or not) and disappear fast whenever I bring them to parties. Because they're so easy to make, I can whip them up the night before and they're ready to go for when I need them. I love playing around with different types of Oreos based on what I have on hand, and what occasion I'm making them for.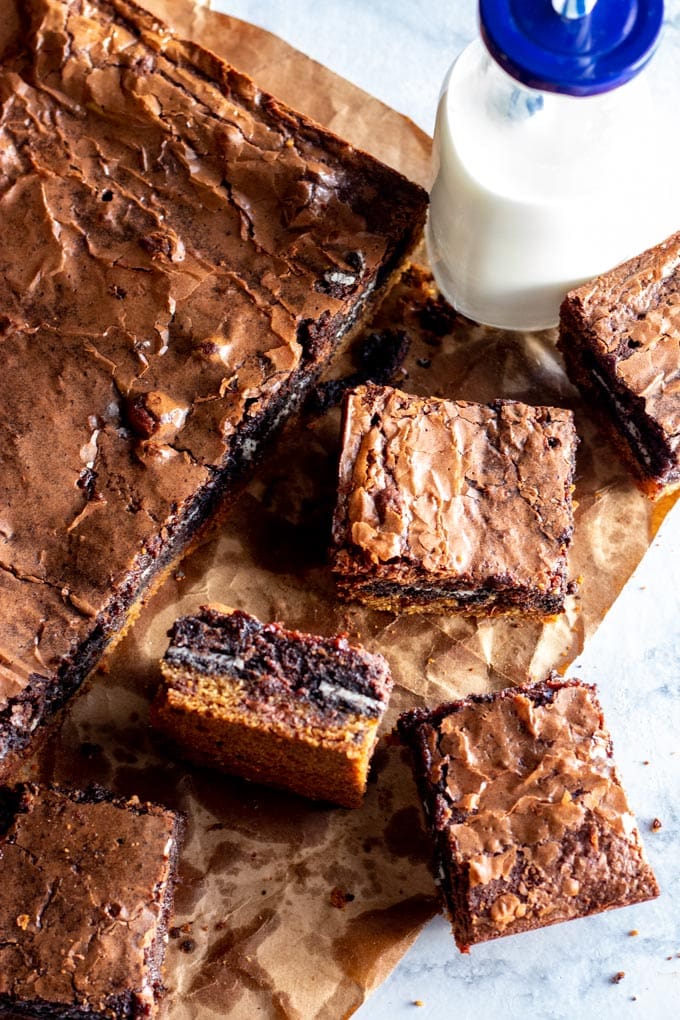 What Are Slutty Brownies?
A dreamy decadent dessert, beginning with a cookie dough base, topped with a layer of Oreos and then brownie batter poured over the top. Baked, cooled, sliced and devoured. Like a cookie dough brownie, or "brookie" stuffed with Oreos for the ultimate brownie bar.
I did a little research and I found that they were originally named "Ultimate Chocolate Chip Cookie n' Oreo Fudge Brownie Bar" by Kevin and Amanda, and then someone else made them and said they were "oh so easy, and more than a little bit filthy." So there you have it – they will forever be called slutty brownies.
How to Make Slutty Brownies
My Slutty Brownie recipe is made in layers of chocolate chip cookie dough, layers of oreos, then brownie batter. It should go without saying that you need to start by preheating your oven, but I'll go ahead and say it anyway. Also you'll want to preheat your oven to 350 and spray a large baking pan with nonstick cooking spray. You could also line it with foil or parchment paper.
Make the Chocolate Chip Cookie Dough Layer. Combine the flour, baking soda, and salt. Cream the butter and sugars until light and fluffy, then add the vanilla. Beat in the eggs one at a time. Add the flour mixture to the bowl, gradually and mix until well blended. Add the chocolate chips and stir.
Make the Brownie Layer. Prepare the brownie batter according to the recipe or boxed brownie mix package instructions. There are lots of different brownies recipes out there, so go with your favorite.
Assemble Brownies. Press the cookie dough into the bottom of the pan, then add the Oreos over the top (as many as you can fit!). Pour the brownie batter over the top of the oreo layer and spread out evenly.
Bake at 350 degrees for 35 -45 minutes (until a toothpick comes out clean). The baking time can vary depending on your oven, so start checking around 30-35 minutes.
Time to eat! Cool, slice, devour slutty brownies in that order.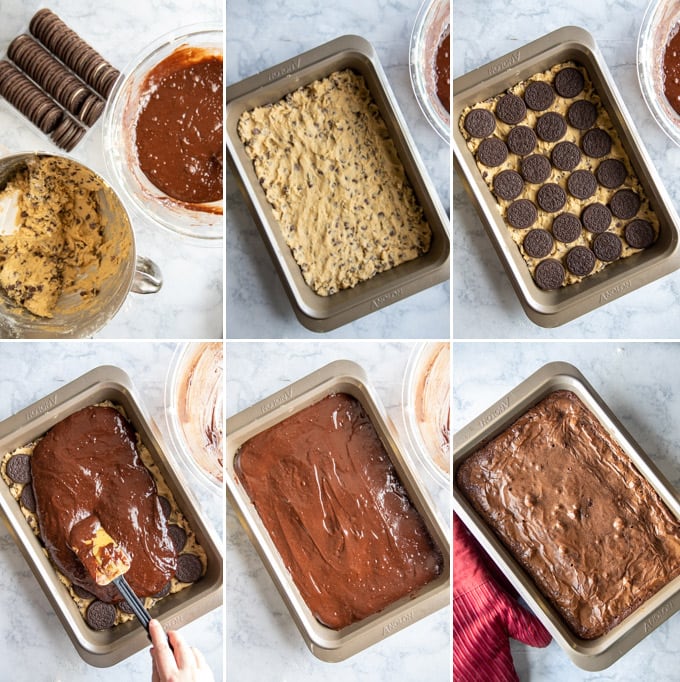 Expert Tips and FAQs
Can I make this using packed mixes? Absolutely, you can and should. This recipe is supposed to be easy! If you don't have boxed ingredients, making the layers from scratch is also pretty easy. Sometimes I use my Homemade Brownie Mix and Chocolate Chip Cookie Recipe to make the layers, other times – I'll make just the cookie dough, or just the brownie batter and use store-bought box mix options for the other layer. The choice is yours!
What kind of Oreos should I use? Use any kind of Oreo you enjoy (I think the birthday cake oreos would be epic). Double stuffed will get you a more defined white frosting piece in the middle. This recipe is also great for holidays – St Patrick's Day, use mint Oreos. Halloween – use the pumpkin spice ones.
How to Serve: Not decadent enough? Eat warmed brownies with a scoop of vanilla ice cream on top, and drizzled with caramel sauce. YUM!
How long do you let brownies cool before cutting them?
It's pretty hard to resist cutting into these brownies as soon as they come out of the oven. But they need time to cool so they can set properly. Wait until the bars are completely cooled (1-2 hours) before digging in.
To aid in cooling, place the pan on a baking rack to help with air flow, and set them in a cool place (not on top of your warm oven).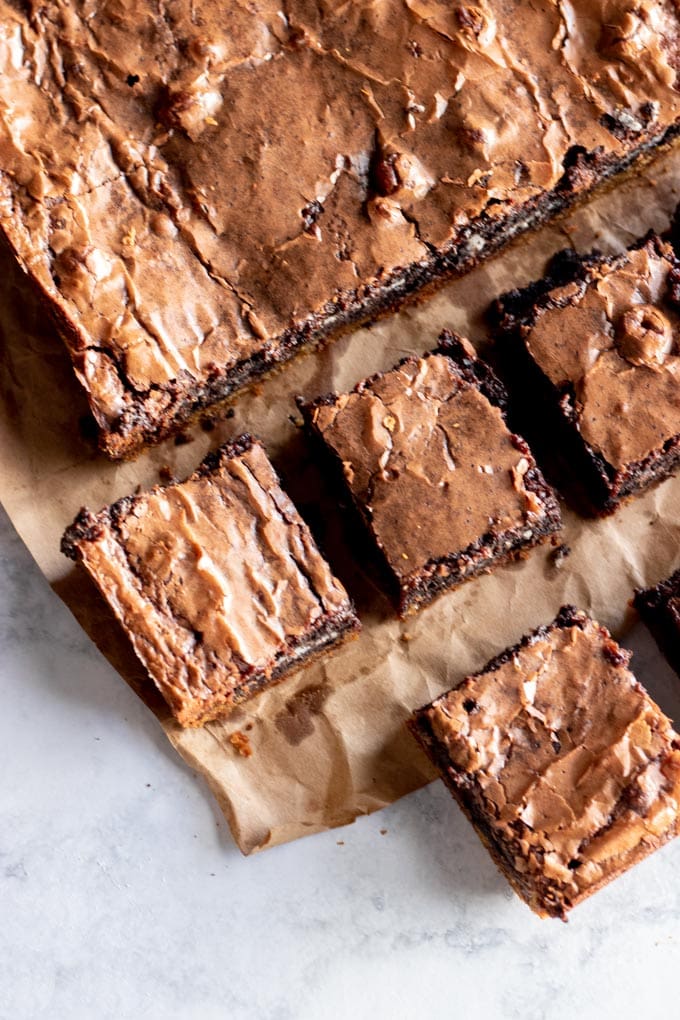 How to Store Brownies
Room Temp: Slutty brownies will keep about 5 days in an airtight container stored at room temperature. They do not need to be refrigerated unless you prefer them cold.
Freezer: To freeze them instead, wrap in parchment paper and store in a freezer bag for up to 4 months. Thaw at room temperature.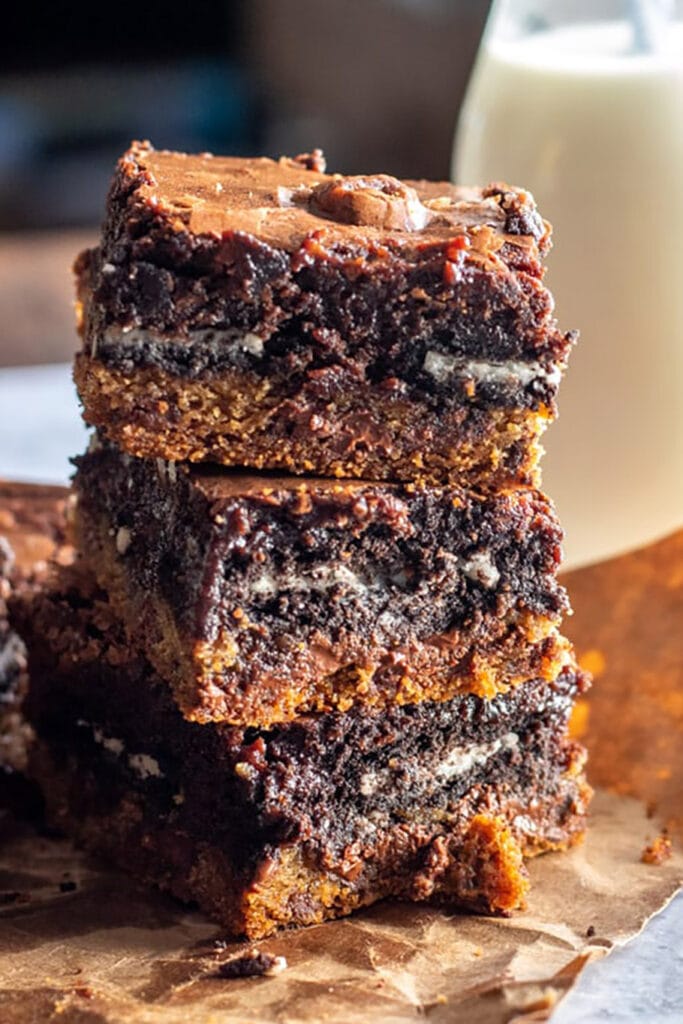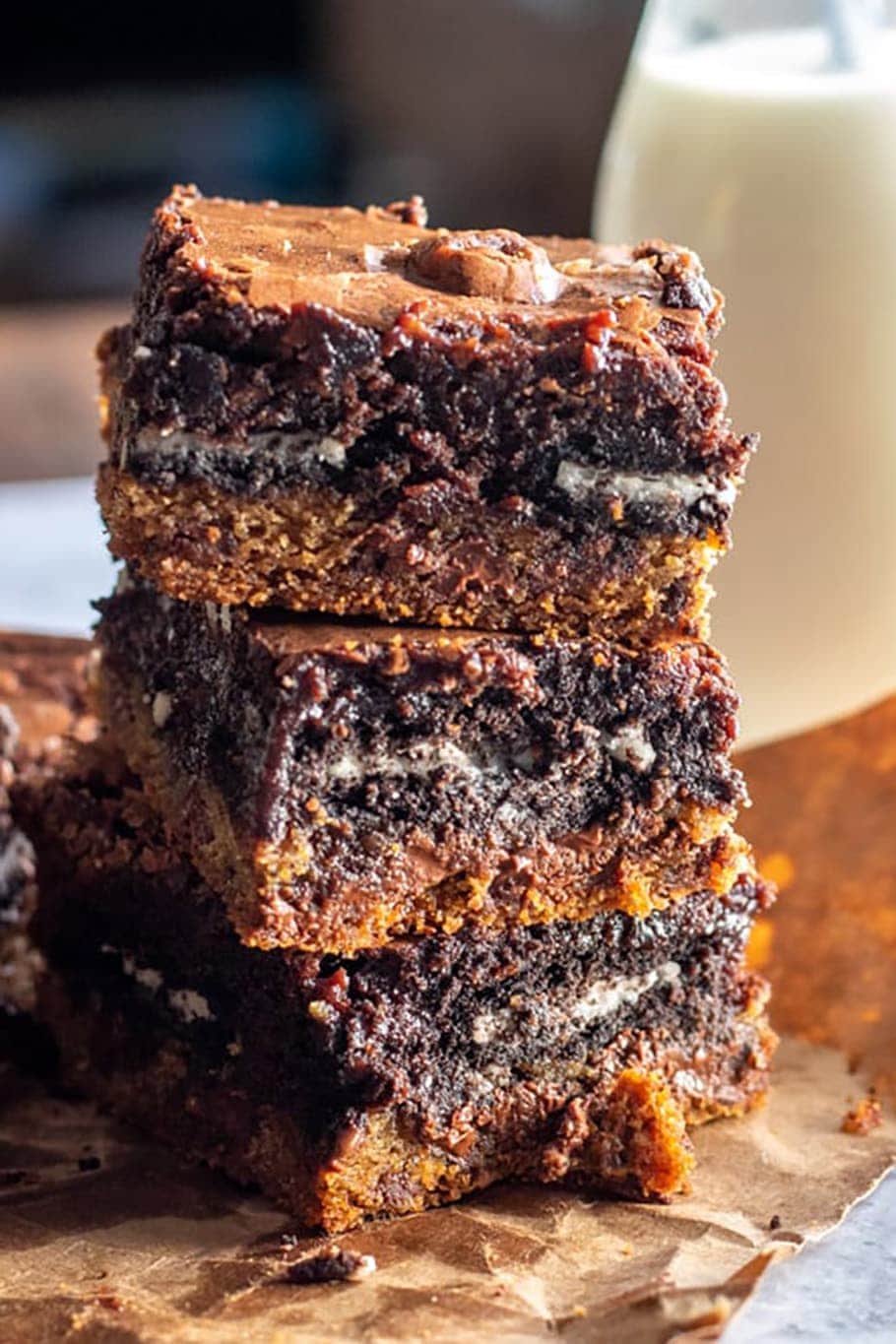 Some of Our Favorite Dessert Recipes
Every good meal needs a delicious dessert to follow! Here are a few of our favorite decadent desserts.
Recipe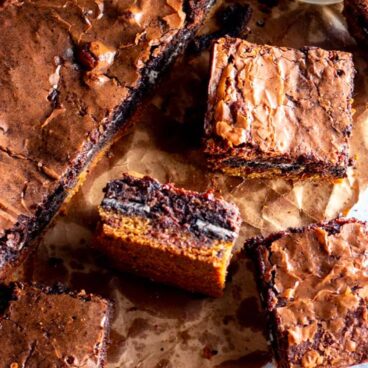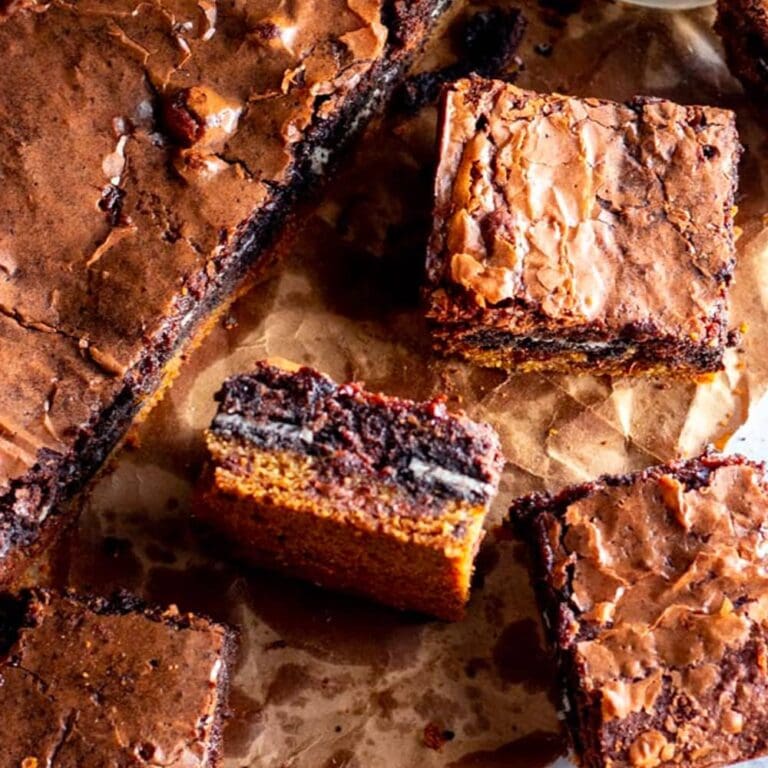 Slutty Brownies
A layered, baked dessert with a chocolate chip cookie base, a layer or oreos and then brownie batter on top.
Ingredients
COOKIE LAYER
2 1/4

cups

flour

1

teaspoon

baking soda

1

teaspoon

salt

1

cup

butter

softened

3/4

cup

sugar

3/4

cup

dark brown sugar packed

1

teaspoon

vanilla extract

2

large eggs

12

ounces

chocolate chips
BROWNIE LAYER
1

box brownie mix prepared as directed

but not baked

2

large eggs

1/2

cup

vegetable oil

1/4

cup

water
Instructions
Preheat the oven to 350 degrees F.
COOKIE LAYER
Mix together the flour, baking soda and salt in bowl, set aside.

Using a stand mixer, or large bowl with a hand mixer, cream the butter, sugar and brown sugar until fluffy. Add the vanilla and mix.

Add eggs, one at a time, beating after each egg.

Reduce speed, and gradually mix in the flour mixture.

Stir in chocolate chips.
BROWNIE LAYER
Mix the brownie batter together following the instructions on the box. *NOTE: Ingredients listed below brownie layer section in the recipe are typical to a boxed mixed. Check your box for differences.
ASSEMBLY
Grease a 9×13 pan with melted butter or cooking spray. Press the cookie dough into the bottom of the pan, then add the Oreos over the top (as many as you can fit!). Pour the brownie batter over the top and smooth so it is evenly spread

Bake at 350 for 35 -45 minutes (until a toothpick comes out clean).

Cool completely, then slice and devour.
Nutrition
Calories:
542
kcal
Carbohydrates:
64
g
Protein:
6
g
Fat:
30
g
Saturated Fat:
19
g
Cholesterol:
80
mg
Sodium:
460
mg
Potassium:
96
mg
Fiber:
2
g
Sugar:
43
g
Vitamin A:
492
IU
Vitamin C:
1
mg
Calcium:
53
mg
Iron:
3
mg