This soft, buttery pound cake recipe is perfect by itself or topped with fresh fruit. It bakes up great in a bundt pan or loaf pan too!
Perfect for brunching or afternoon tea, this pound cake recipe is a great addition to your dessert rotation. It's a classic and rivals other delicious favorites like our Fresh Strawberry Cake and Funfetti Sheet Cake.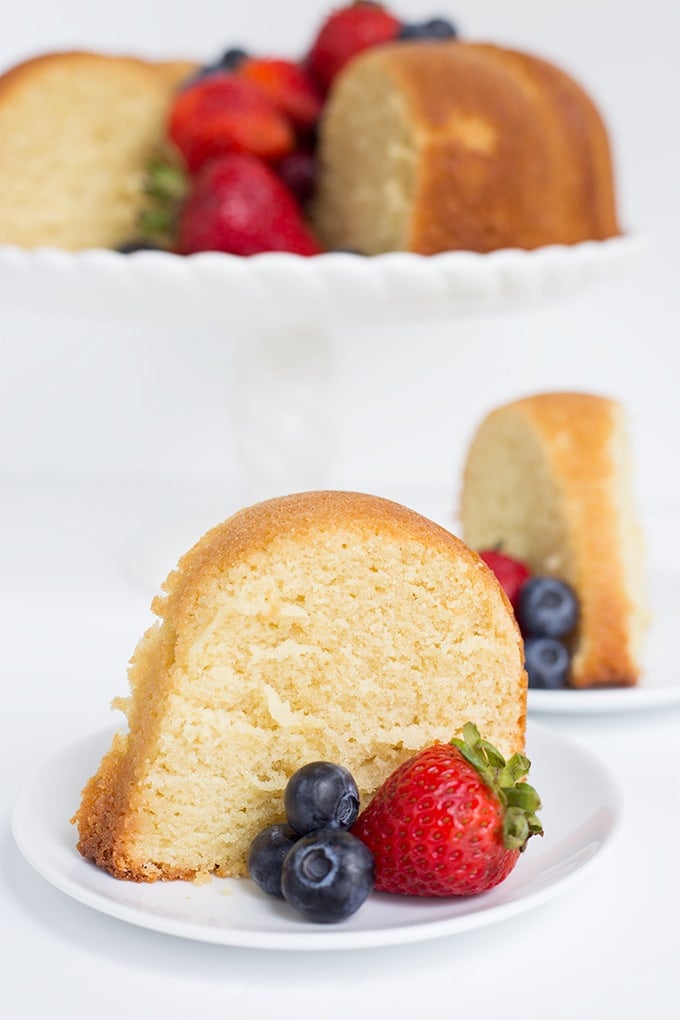 Pound Cake Recipe
A great pound cake recipe is a must. I think I nailed it too! Pound cake is great to top with macerated berries, icing, or just eat plain. I chose to eat it with fresh berries and my kiddo added a little Reese's spread to his.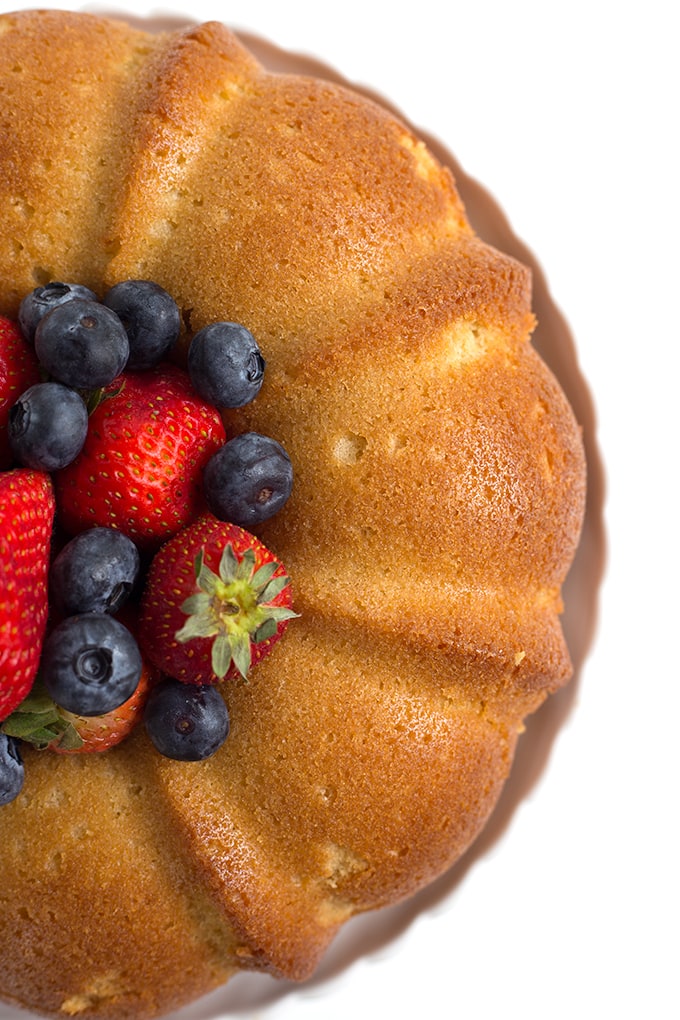 How to make pound cake
We've got a great video for you to watch below with the printable recipe, but here are some general instructions for baking your pound cake:
Preheat your oven and prepare a bundt pan.
Mix together butter and sugar, then add vanilla and eggs.
Separately mix together flour, salt, baking powder, baking soda and salt.
Add flour mixture and milk alternately to the butter mixture and combine everything together then pour batter into the bundt pan.
Bake for about an hour, then remove from the oven and cool slightly before turning out onto a flat surface to release the cake from the pan.
Tips and Tricks
Bundt pans can make anything look pretty, no matter how plain it is. There are a couple of important things to remember when using a bundt pan though.
Always grease generously and flour the pan. If you're making a chocolate cake, you can use cocoa powder instead of flour too. I've tried the cooking spray with flour added and some of the sprays work and some don't. My go-to is the Baker's Joy baking spray, but don't inhale while spraying it. It will make you cough a lung up.
The second tip is to let the freshly baked bundt cake cool for 5 minutes before turning it out onto a cake plate. After it's turned upside down, let it rest for 5 minutes upside down in the pan before you start tapping the pan. If it comes out before the 5 minutes are up, that's even better.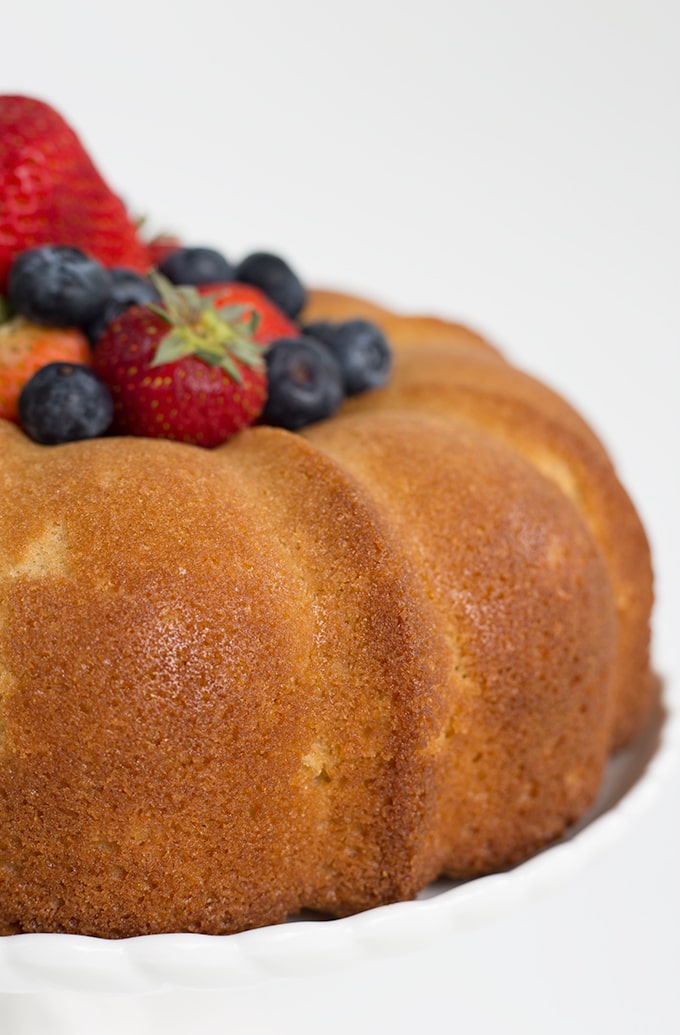 Pound Cake Varieties
You can make different flavors of pound cake by adding extracts, zests, and fresh fruit.
Lemon, lime, or orange – Instead of adding 1 tablespoon of vanilla, add 2 teaspoons of the flavored extract, 1 teaspoon of vanilla, and the zest of 1 lemon, lime, or orange.
Blueberry, blackberry, or raspberry – Add 1 to 2 cups of fresh berries into a bowl with 1 tablespoon of flour. Stir to coat the berries and fold into the mixed batter before baking.
Rum, maple, or caramel – Substitute the 1 tablespoon of vanilla with 2 teaspoons of flavored extract and 1 teaspoon of vanilla. Add more or less extract depending on how you prefer it.
How to freeze cake
Cakes hold up really well in the freezer for up to 6 months if properly stored. Cool the cake completely and slice into individual pieces. Wrap each piece in plastic wrap or parchment paper and place in a freezer bag or airtight container. Thaw overnight and enjoy.
To freezer the entire pound cake as a whole cake, you will still want to wrap it as tightly as possible and place in a large airtight container.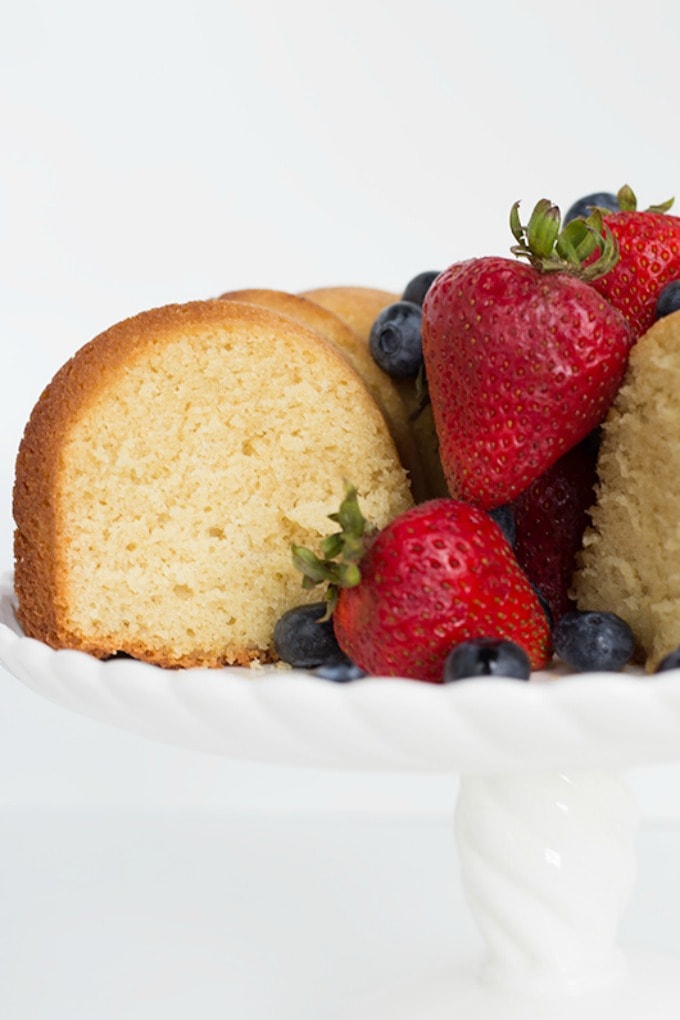 Ready to get more use out of your bundt pan? Try these recipes: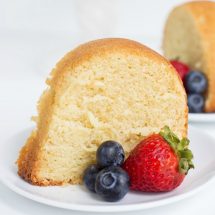 Pound Cake Recipe
This soft, buttery Pound Cake Recipe is perfect by itself or topped with fresh fruit. It bakes up great in a bundt pan or loaf pan too!
Print
Pin
Rate
Prep Time: 20 minutes
Cook Time: 1 hour 15 minutes
Total Time: 1 hour 35 minutes
Servings: 12 slices
Calories: 400kcal
Ingredients
1 cup butter room temperature
2 cups granulated sugar
4 large eggs
1 tablespoon vanilla extract
2 3/4 cups all-purpose flour
1/2 teaspoon baking powder
1/2 teaspoon baking soda
1/2 teaspoon salt
1 cup milk
fresh berries for garnish
Instructions
Preheat oven to 325 degrees. Grease and flour a 12-cup bundt pan. Tap out any excess flour.

In a large mixing bowl, add butter and sugar. Beat on medium with a hand mixer until creamed. 

Add the vanilla extract and the eggs one at a time. Beat each egg in before adding the next. Scrape the sides of the bowl. 

In a separate bowl, add in the flour, baking powder, baking soda, and salt. Whisk to combine. 

Measure out the milk.

Alternately add the flour and milk always starting and ending with the flour. I added the flour in 3 parts and the milk in 2 parts. Scrape down the sides and mix to combine.

Pour the batter into the prepared bundt pan. Spread it out evenly in the pan using a spatula. 

Place into the oven and bake for 1 hour to 1 hour and 15 minutes or until a toothpick comes out clean. 

Let cool for 5 minutes and turn out onto a cake plate. Let it rest for another 5 minutes. Tap the bundt pan with a knife to help loosen the cake from the pan.

Garnish with fresh berries.
Notes
Nutritional information does not include any garnishes you may choose to add.
Nutrition
Calories: 400kcal | Carbohydrates: 57g | Protein: 6g | Fat: 17g | Saturated Fat: 10g | Cholesterol: 96mg | Sodium: 308mg | Potassium: 104mg | Fiber: 1g | Sugar: 35g | Vitamin A: 595IU | Calcium: 49mg | Iron: 1.6mg