This Chocolate Peppermint Crunch Bundt Cake is a rich, dense chocolate cake with just a hint of peppermint. The chocolate ganache topping is sweet and decadent and topped with Andes Peppermint Crunch. It's the perfect holiday dessert!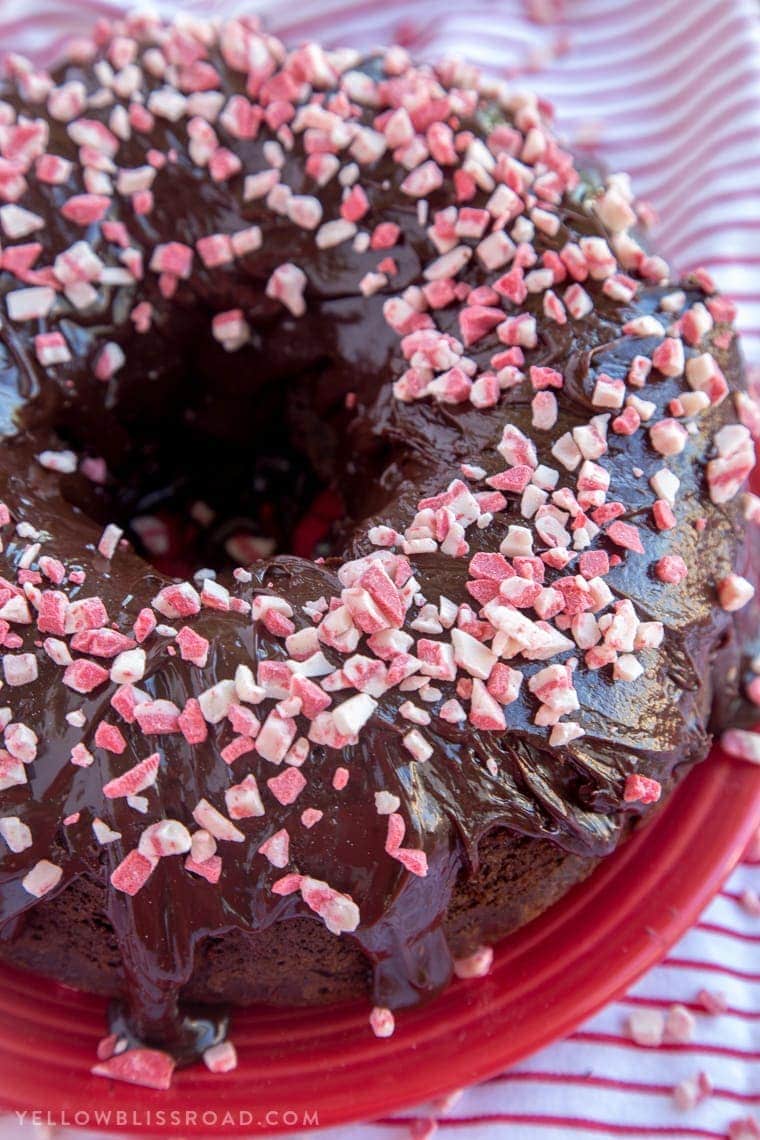 When it comes to Christmas desserts, nothing beats chocolate and peppermint. The holiday season is all about good food, right? So it seems only appropriate that this amazing cake grace your table this year. Like a typical bundt cake it's got a dense quality that just intensifies the chocolate flavor. I added a dash of peppermint extract and some Andes Peppermint Crunch Baking Chips to the batter for even more peppermint flavor.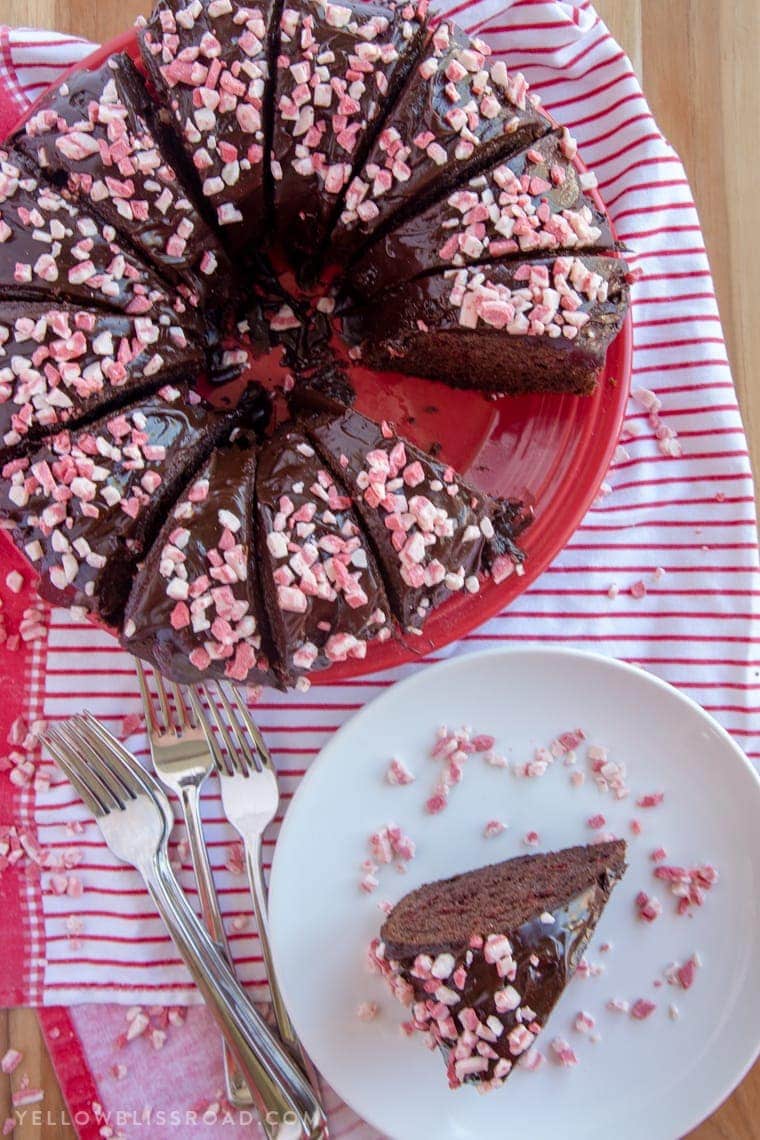 Now, on it's own the cake is pretty darn good. It's moist thanks to the added Greek yogurt and it's nice and dense, making it super delicious. But the ganache…oh. my. In the interest of full disclosure, I've never been able to perfect the art of making a decent ganache. Until now. It was super easy, and it's so thick and smooth and decadent. I seriously and now dreaming up other recipes I can use it for! But I don't know than anything can top this Chocolate Peppermint Bundt Cake.
Good thing I don't back down from a challenge.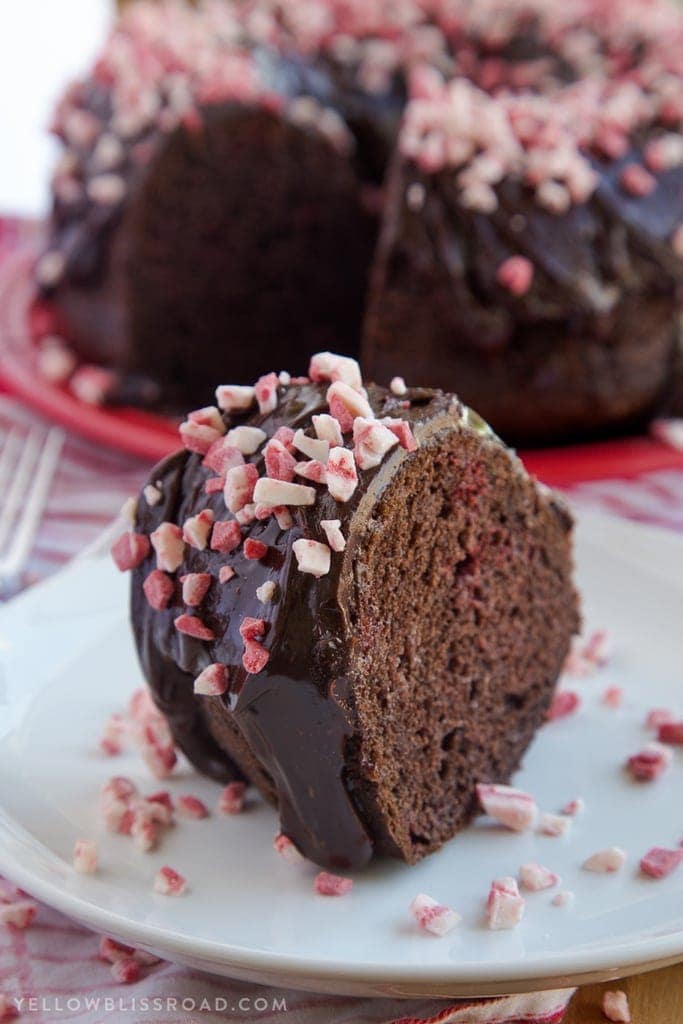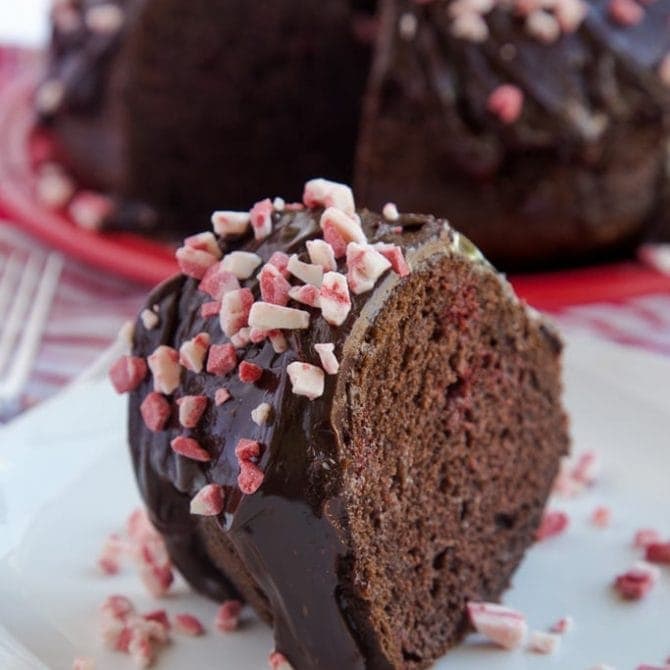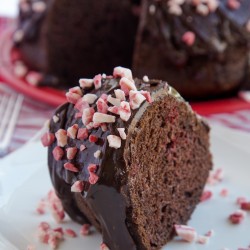 Chocolate Peppermint Crunch Bundt Cake
Chocolate Peppermint Crunch Bundt Cake Prep time: 15 mins Cook time: 40 mins Total time: 55 mins Serves: 8-10 slices
Ingredients
Cake:
1 box Devil's Food Chocolate Cake Mix
6- ounce container plain Greek yogurt
1 package instant chocolate pudding mix
4 large eggs
1/2 cup water
1/2 cup butter melted
1/4 teaspoon peppermint extract
½ cup Andes peppermint chips
Chocolate Ganache Topping:
1 1/3 cups chocolate chips
1/2 cup heavy whipping cream
1/4 cup butter
1/4 teaspoon peppermint extract
1/4 cup Andes peppermint chips or crushed candy canes
Instructions
Cake:
Preheat oven to 350 degrees F. Grease a Bundt cake pan with cooking spray and set aside.

Beat together cake mix, Greek yogurt, chocolate pudding mix, eggs, water, melted butter and peppermint extract. Fold in peppermint chips.

Pour cake batter into the bundt pan. Bake at 350 degrees for 40-45 minutes or until a toothpick inserted into the center comes out clean.

Cool in the pan on a wire rack for 25 minutes. Remove the cake from the pan and transfer to a wire rack to cool completely.
Chocolate Ganache Topping:
Pour chocolate chips in a medium sized bowl. Set aside.

Melt butter in a small saucepan over medium heat. When the butter is just about melted, add the cream. Stir constantly but gently with a wire whisk. Heat until mixture just barely comes to a boil. Pour over the chocolate in the bowl.

Stirring gently, combine the chocolate with the butter/cream mixture until smooth. Stir in the peppermint extract. Let chocolate sit on the counter to cool while the cake is baking and cooling. Pour/drizzle over cooled cake. Garnish with peppermint chips or crushed candy canes.

Adapted from Tastes Better From Scratch
For more Christmas treats, try these:
Peppermint Cheesecake Brownie Parfaits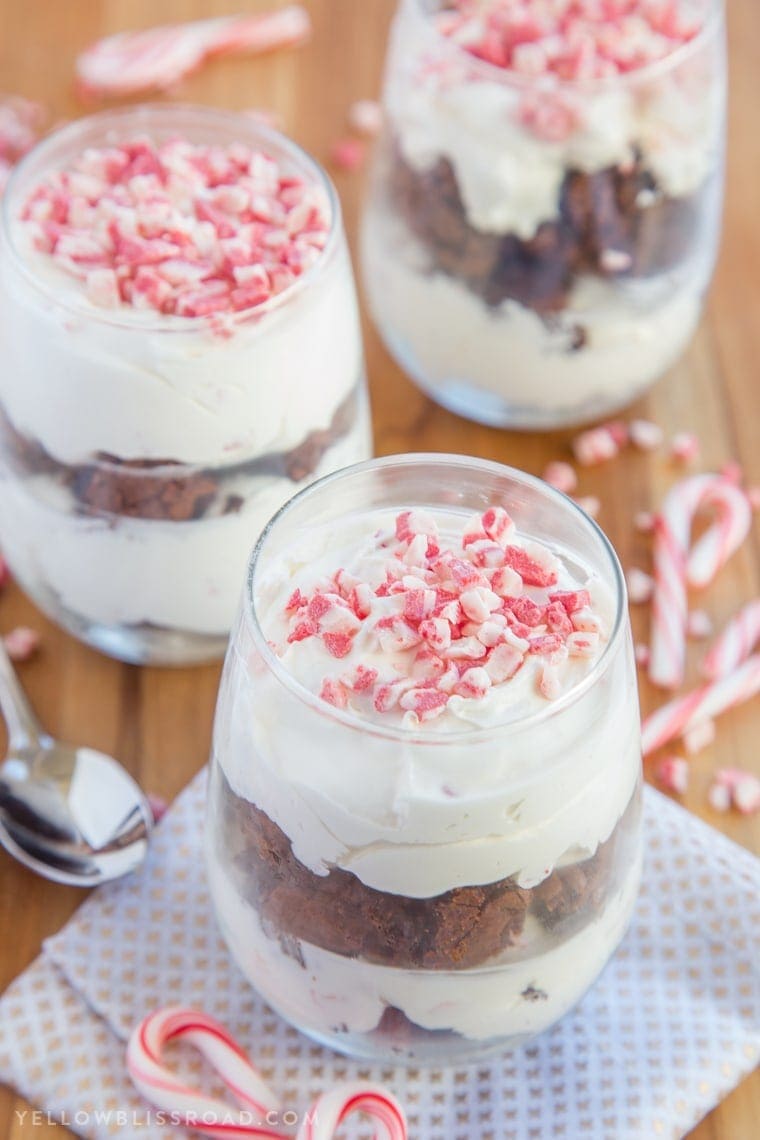 Chocolate Sugar Cookie Blossoms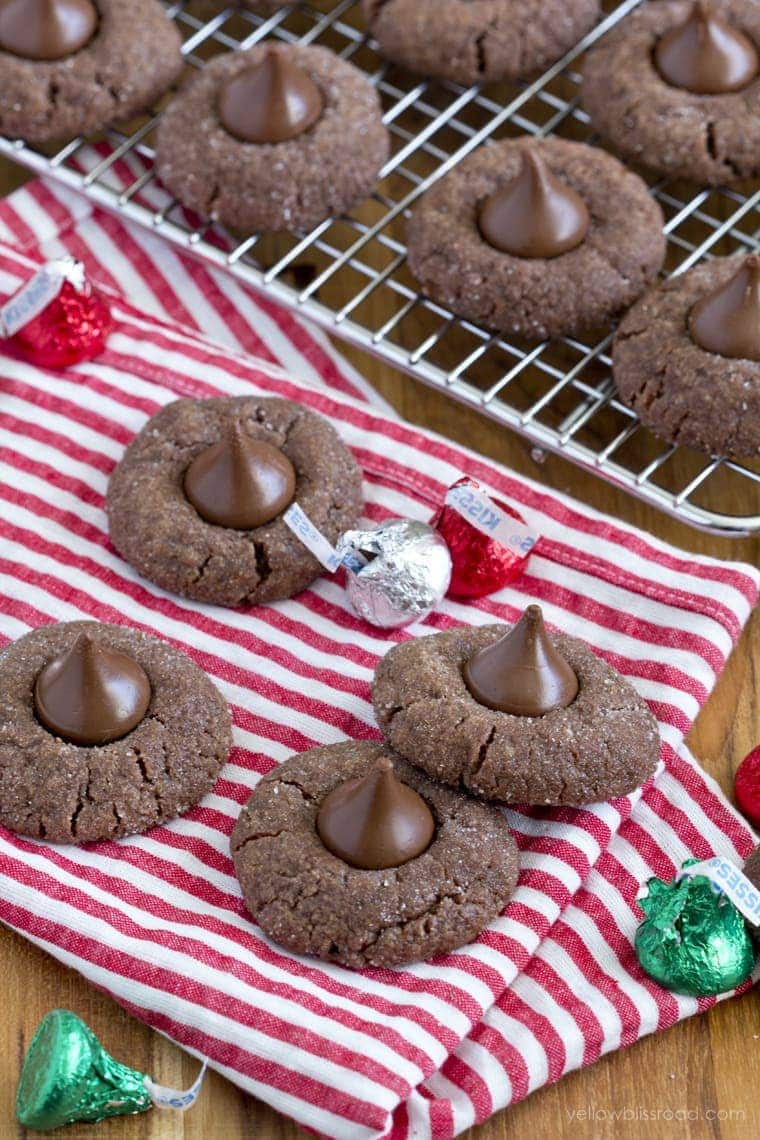 5-Ingredient Chocolate Peppermint Crunch Cookies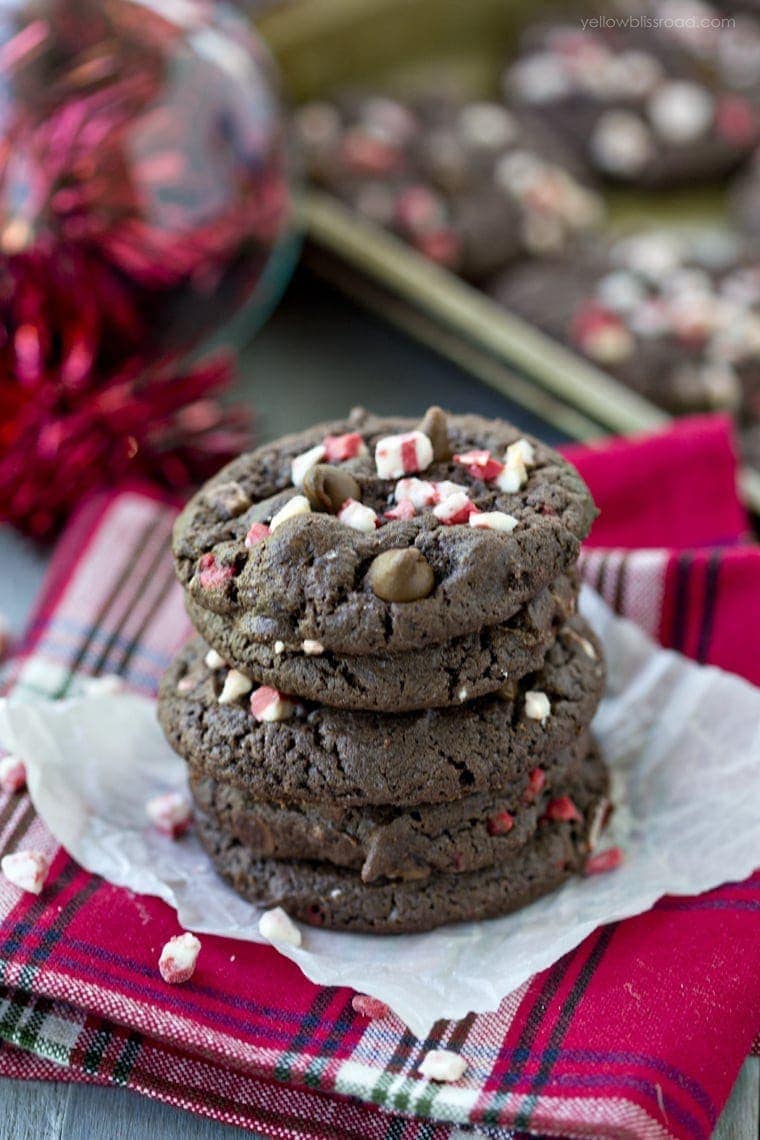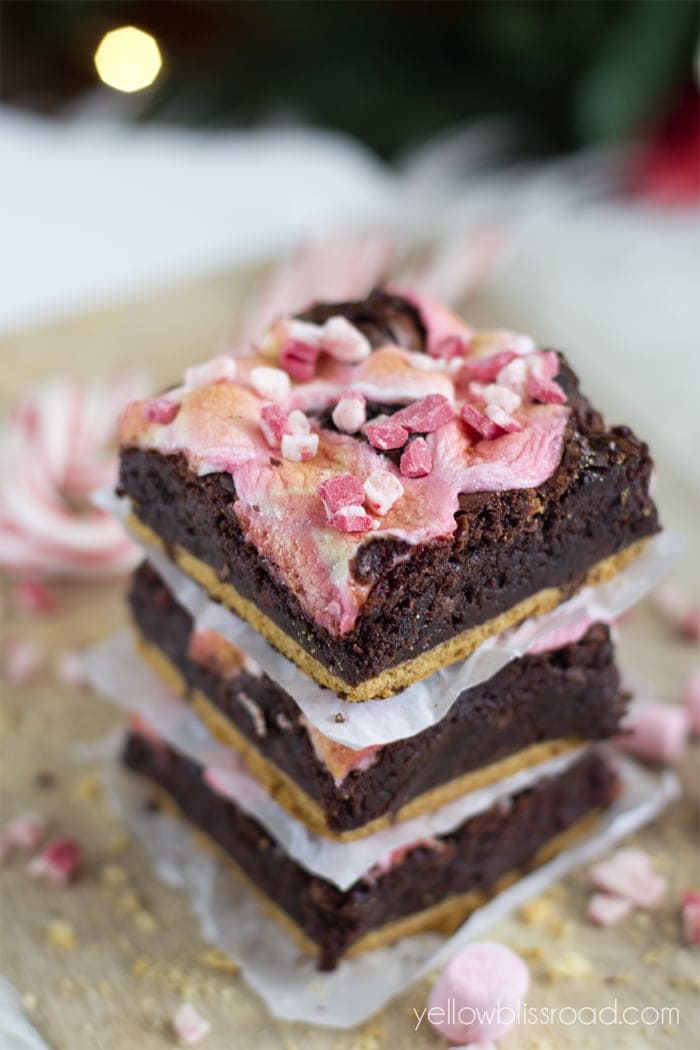 For all desserts go HERE and all recipes go HERE.