Peppermint Patty Brownies are a holiday favorite and so easy to whip up with just a few ingredients needed. Rich, chocolate brownies stuffed with York Peppermint Patties are a holiday treat that everyone will love!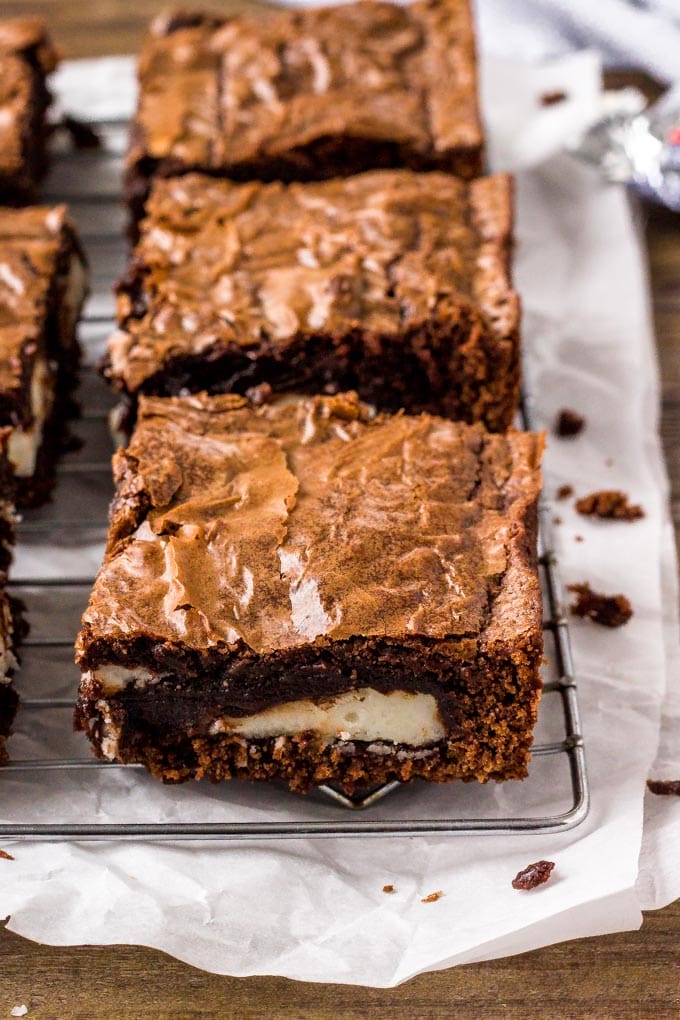 I hosted a Charlie Brown themed Christmas party over the weekend (more details to come later this week) and I wanted to serve a dessert that went along with the theme. When I stumbled upon a special recipe for Peppermint Patty Brownies, I knew I had hit the jackpot!
You can't go wrong with brownies, but stuff them with York Peppermint Patties? That's a sure winner! They are rich and decadent, with a cool, chewy peppermint center.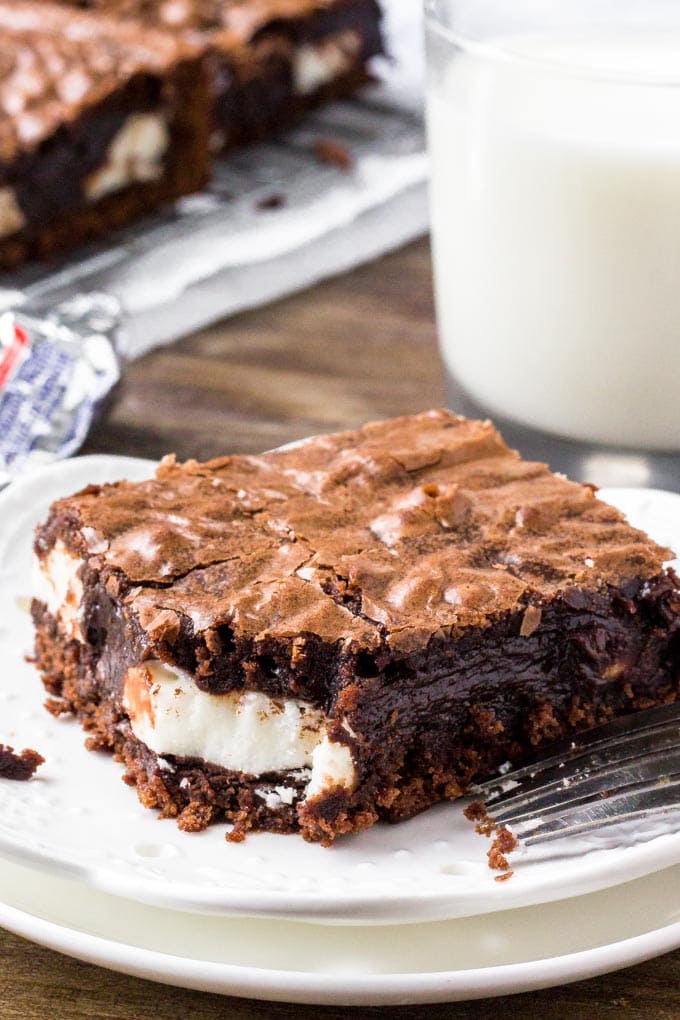 HOW TO MAKE PEPPERMINT PATTY BROWNIES
I found the recipe at Six Sisters, who actually took it from Eat At Allie's who adapted it from somewhere else. I also found the same recipe on All Recipes so there's no way to know where it actually originated (I hate that!). However, Six Sisters offered a "box mix" alternative, so I thought I would try that. I had to play around with it a little bit, because following the package directions like they said, did not work, and only managed to completely burn the candy.
You could click over to one of the other blogs if you want to make your brownies from scratch, but I will share how I made them from a pre-packaged mix, aka the lazy way.
INGREDIENTS NEEDED FOR PEPPERMINT PATTY BROWNIES
I mentioned this is a simple recipe, and it uses a boxed brownie mix. I almost feel guilty calling it a recipe! However, the secret is in the method; more on that later.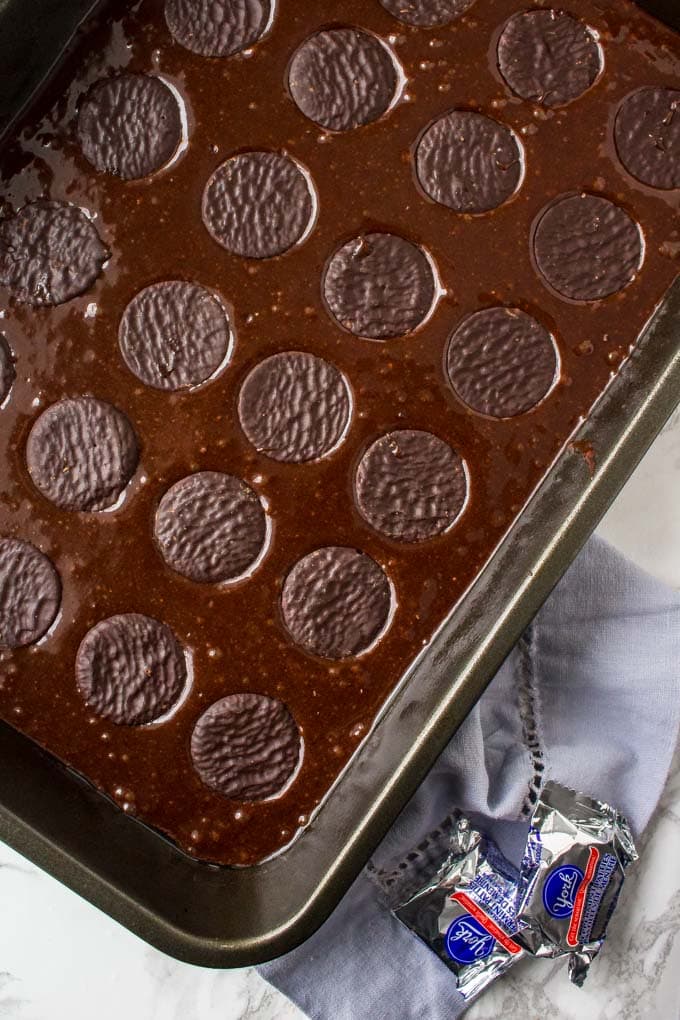 LET'S MAKE PEPPERMINT PATTY BROWNIES!
Begin by preheating the oven and whipping up the brownie batter as called for on the package. The amount of water, oil and eggs may vary from brand to brand, so be sure to check that first. My favorite brand is Ghirardelli.
Spray a 9-inch x 13-inch baking dish with nonstick cooking spray, then pour a little less than half of the batter into the bottom of the pan and spread it evenly. Place York Peppermint Patties in four rows of 6 on top of the brownie batter, then spread the remaining batter on top. It's important to cover each piece of candy with brownie batter, otherwise the candy could burn.
Bake the brownies at 325 degrees for 18-20 minutes. Watch closely as they finish because the candy may begin to bubble out over the top and burn. Remove them from the oven if this starts to happen. You can test for doneness with a toothpick inserted into the center of the brownies (not into the candy).
I would suggest making at least two batches, because chances are, when you serve these, they will be gone before you get to have one!
Want to make the brownies from scratch? Try my Easy One Bowl Brownies!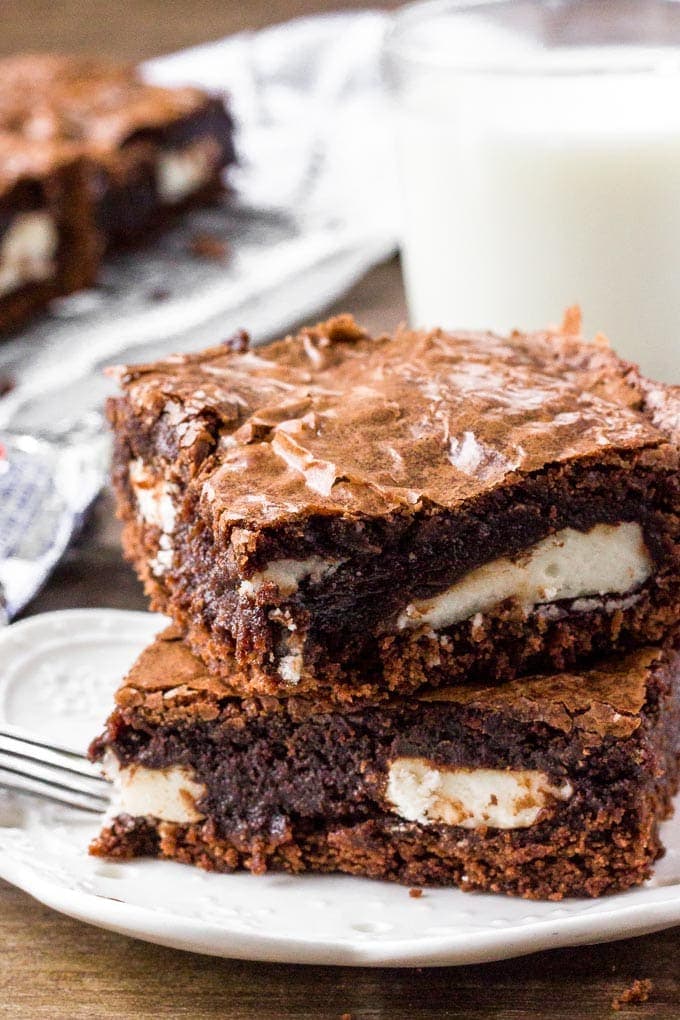 Want more Christmas desserts? Try these: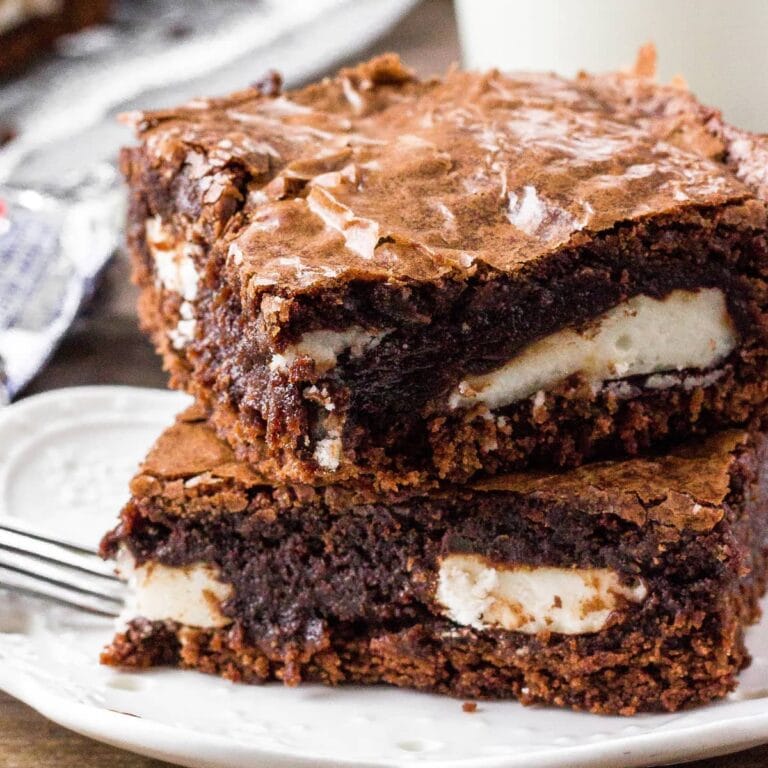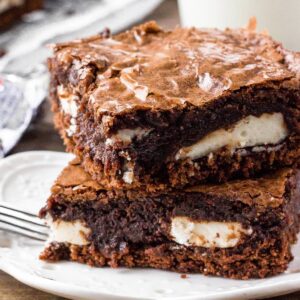 Peppermint Patty Brownies
Ingredients
1 box of brownie mix Family size, 13" x 9"
water oil, eggs (as called for on package)
24 miniature York Peppermint Patties
Instructions
Preheat oven to 325 degrees.

Spray a 13" x 9" pan with cooking spray.

Prepare brownie mix according to package instructions.

Pour half of the mix (or a little less) and carefully spread to coat the bottom of the pan.

Unwrap your peppermint patties and line them up in the pan, 6 x 4.

Pour remaining batter over the patties, carefully, and spread so all candy is covered.

Place in the oven for about 18-20 minutes. Watch closely as they finish. You don't want the candy to bubble up out of the top of the brownies. Just trust me on that one. (Ovens do vary. You can check the center with a toothpick for doneness.)

Allow to cool, and refrigerate for several hours to allow the candy to set. Let the brownies come to room temperature before cutting and serving.