Grilled Blueberry Dessert Pizza is a perfect dessert for your next cookout! Prep your ingredients ahead of time and bring everything together in just 10 minutes! (Brought to you by Julie from Bread Booze Bacon).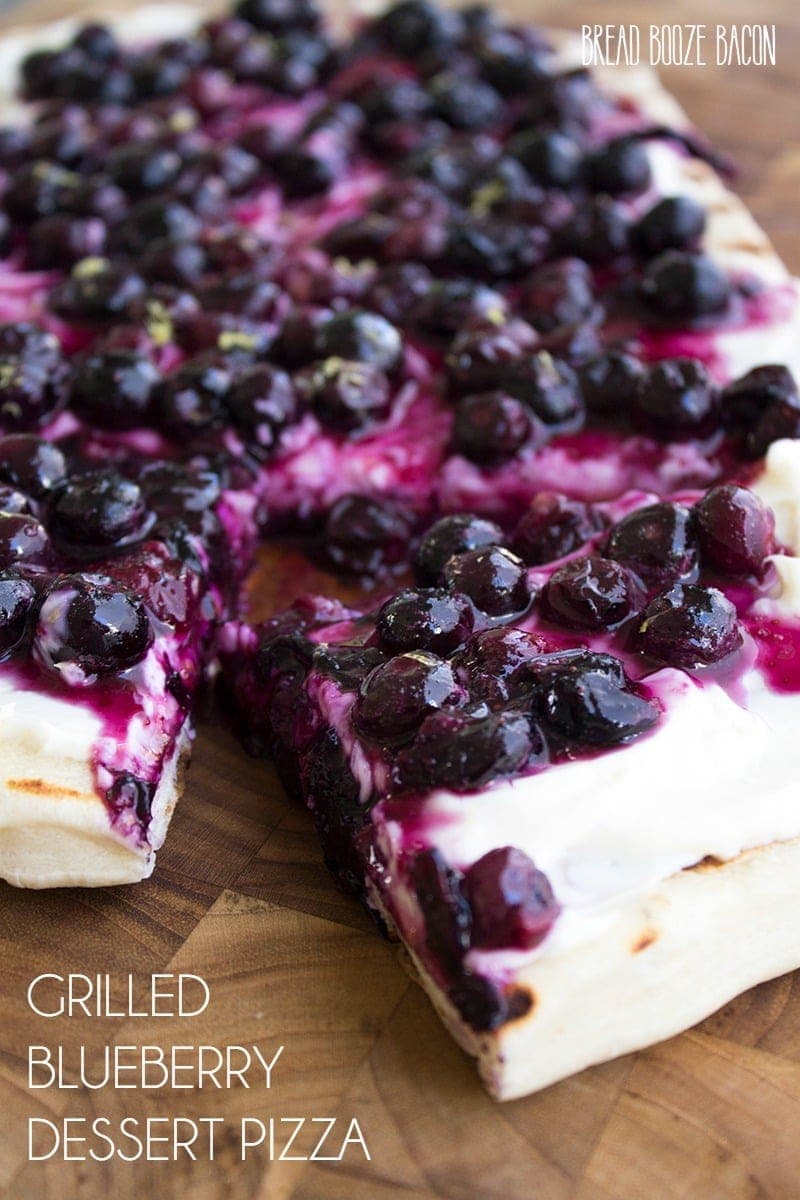 If you've never grilled pizza it's the jam. I have always made my pizzas in the oven. Even in the middle of the 120+ degree Arizona summers. It was one of the few sacrifices I make. (That and chocolate chip cookies.) But now that I've grilled my pizzas I may never go back! Unless it's winter. The extra warmth rocks!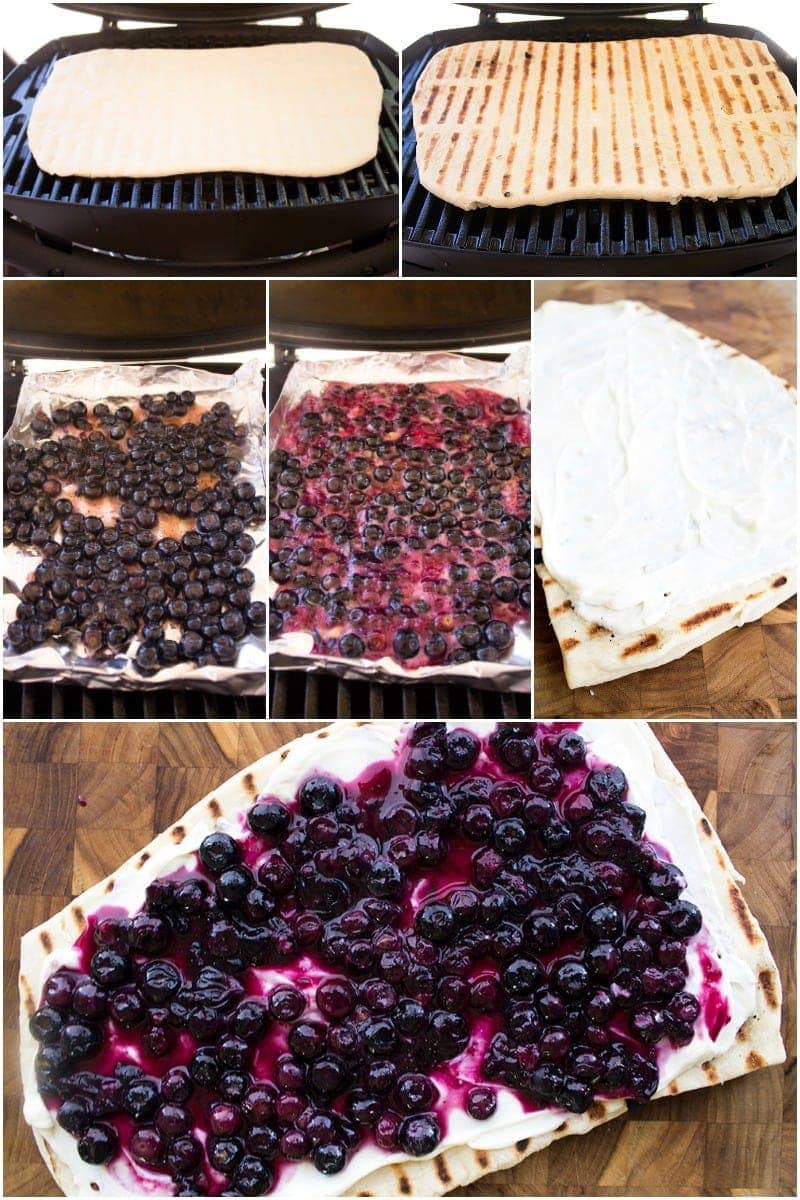 The biggest benefits of grilling your pizzas? 1) Not heating up the house because your oven is on. Which is great but not my favorite reason…which is weird. 2) Your pizza dough cooks in like 4 minutes. FOUR! No bake for 8 minutes, add toppings and bake some more. Grill for 2 minutes each side, top it, melt the cheese and BAM! 3) All those pretty grill marks and the extra flavor. Major presentation points kids.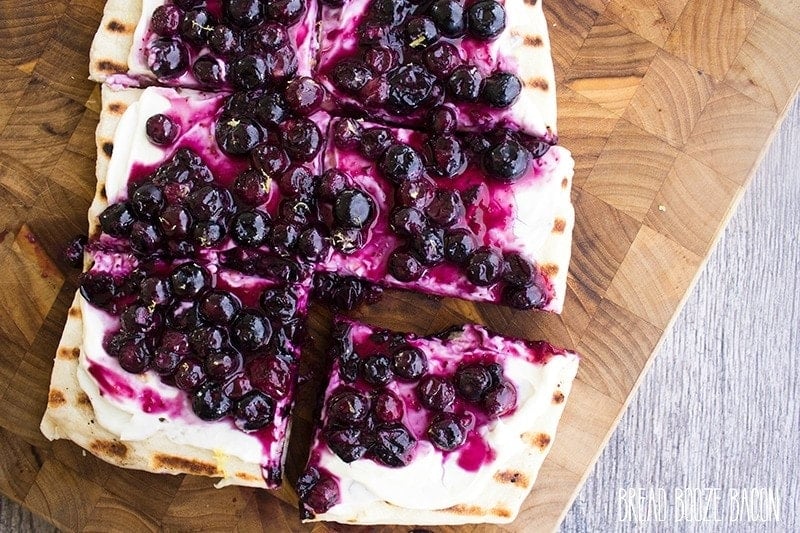 This pizza this the perfect dessert for your summer cookouts. The grill's already on, so why now make dessert on there too? I topped this luscious pizza with a honey lemon cream cheese (think no-bake cheesecake), macerated grilled blueberries, and a little lemon zest. Lemons and blueberries are best friends. While you will get a little messy, it's totally worth it! So light up the grill and enjoy those beautiful summer berries!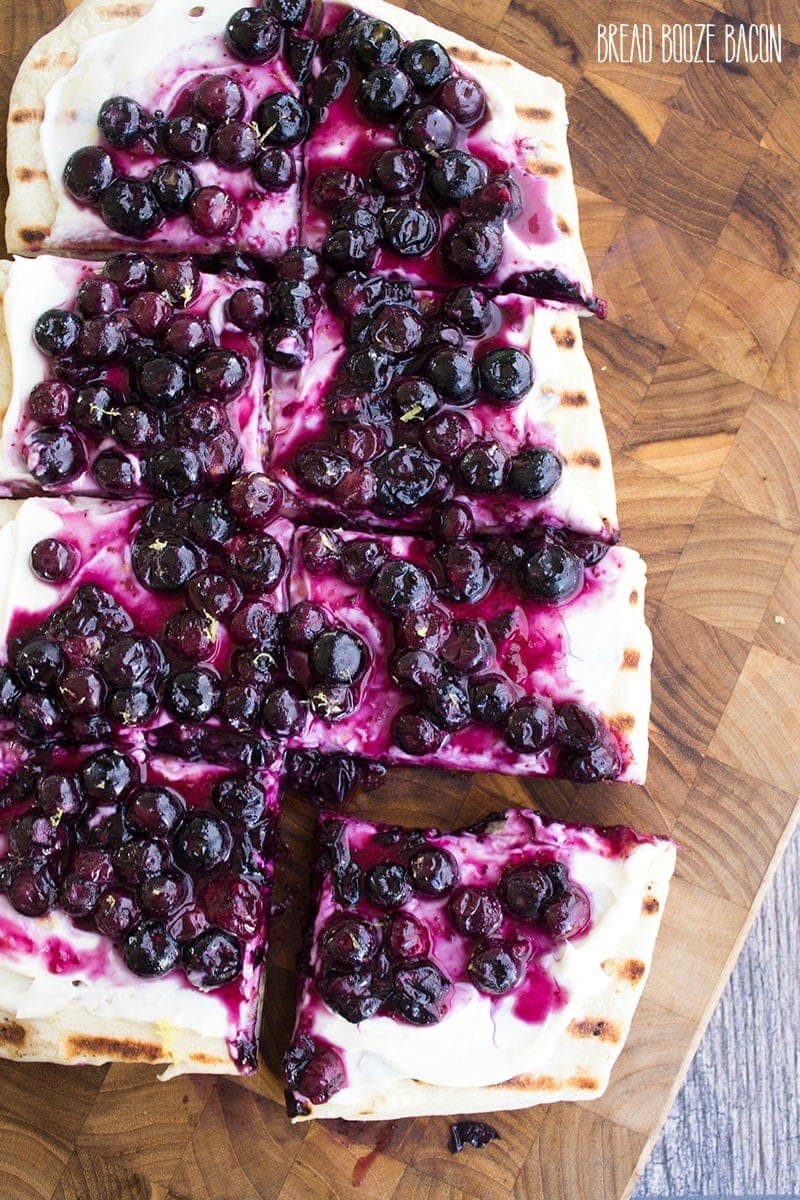 Hungry for more?

Grilled BBQ Pulled Pork & Peach Pizza | Homemade Pizza Dough | Italian Sausage & Caramelized Onion Pizza
Recipe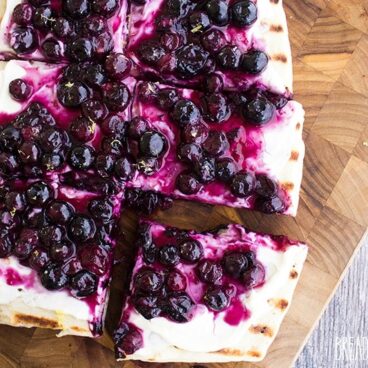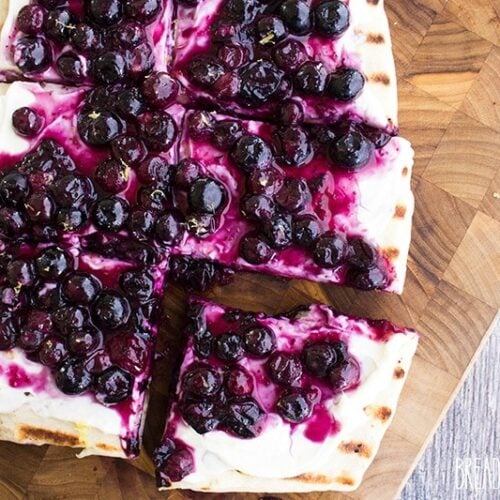 Grilled Blueberry Dessert Pizza
Grilled Blueberry Dessert Pizza is a perfect dessert for your next cookout! Prep your ingredients ahead of time and bring everything together in just 10 minutes!
Ingredients
1

pint

fresh blueberries

rinsed and dried

2

tablespoons

sugar

Pizza dough for one 12-inch pizza

store-bought or homemade

Vegetable oil

as needed for grill

4

ounces

cream cheese

softened

1

tablespoon

honey

1

teaspoon

lemon juice

Zest of 1 lemon

optional
Instructions
Place the blueberries and sugar in a bowl. Stir in to combine. Set aside and allow the berries to macerate for 30 minutes.

Preheat your grill to medium-high heat (or about 400 degrees F). If needed, brush your grill with vegetable oil to prevent sticking.

Roll out the pizza dough to a large rectangular shape.

Place the dough on the grill and close the grill lid. (if you don't have a lid, that's okay.) Cook for 2 minutes. The dough should be cooked and a bit crispy on the bottom.

Use a pair of tongs to flip the dough. Cook for another 2 minutes until the dough is cooked through.

Remove the dough to a cutting board or cookie sheet.

Take a 1-foot piece of foil and form it into a boat, creating raised sides around each edge to prevent the blueberries from spilling.

Pour the blueberries and sugar into the foil boat and spread into an even layer. Cook for 2 minutes, or until the sauce is bubbling and the blueberries are fragrant and soft.

Carefully transfer the foil boat to a baking sheet. (Take your time and don't let the blueberries spill!)

In a medium bowl, stir together the cream cheese, honey, and lemon juice until smooth. Smear the cream cheese mixture all over the top of the pizza dough. (You can do this while the blueberries cook to save time.)

Spoon the blueberries over the cream cheese. Sprinkle the blueberries with lemon zest, if desired. Serve immediately
Notes
Any type of berry will work here.
Nutrition
Calories:
223
kcal
Carbohydrates:
38
g
Protein:
5
g
Fat:
7
g
Saturated Fat:
3
g
Polyunsaturated Fat:
1
g
Monounsaturated Fat:
1
g
Cholesterol:
14
mg
Sodium:
399
mg
Potassium:
66
mg
Fiber:
2
g
Sugar:
15
g
Vitamin A:
222
IU
Vitamin C:
6
mg
Calcium:
18
mg
Iron:
2
mg
For more delicious summer desserts, try these: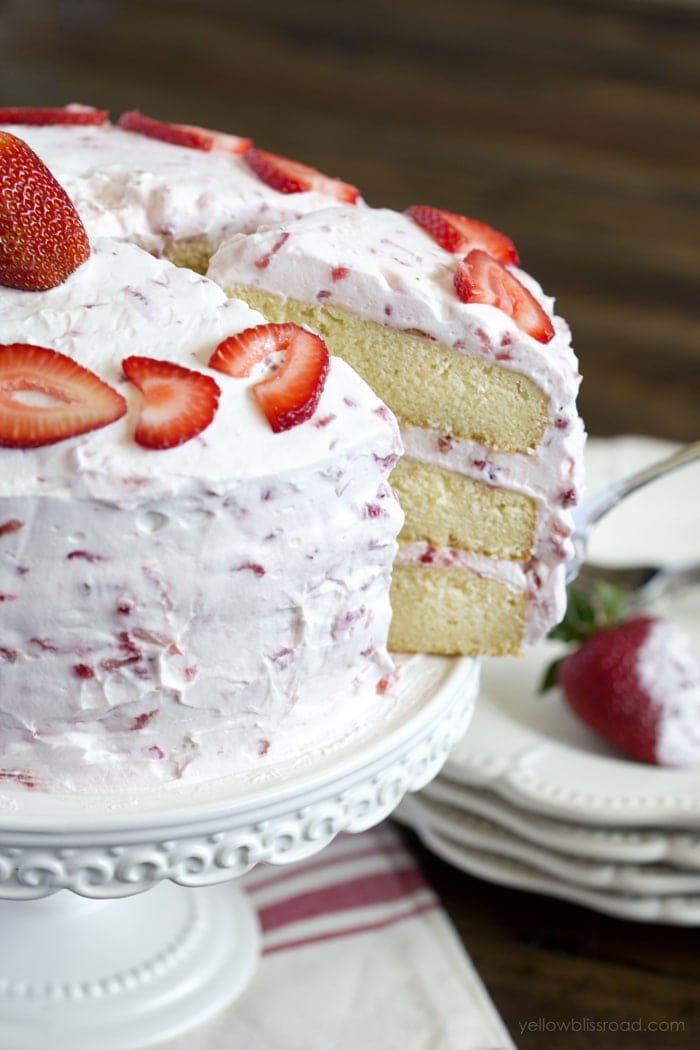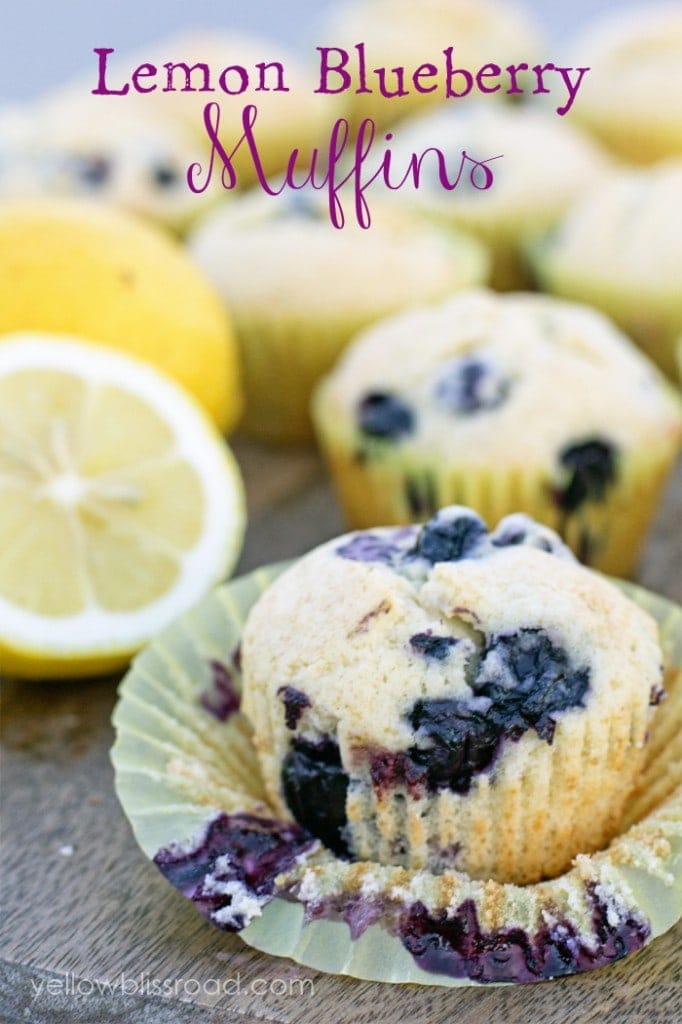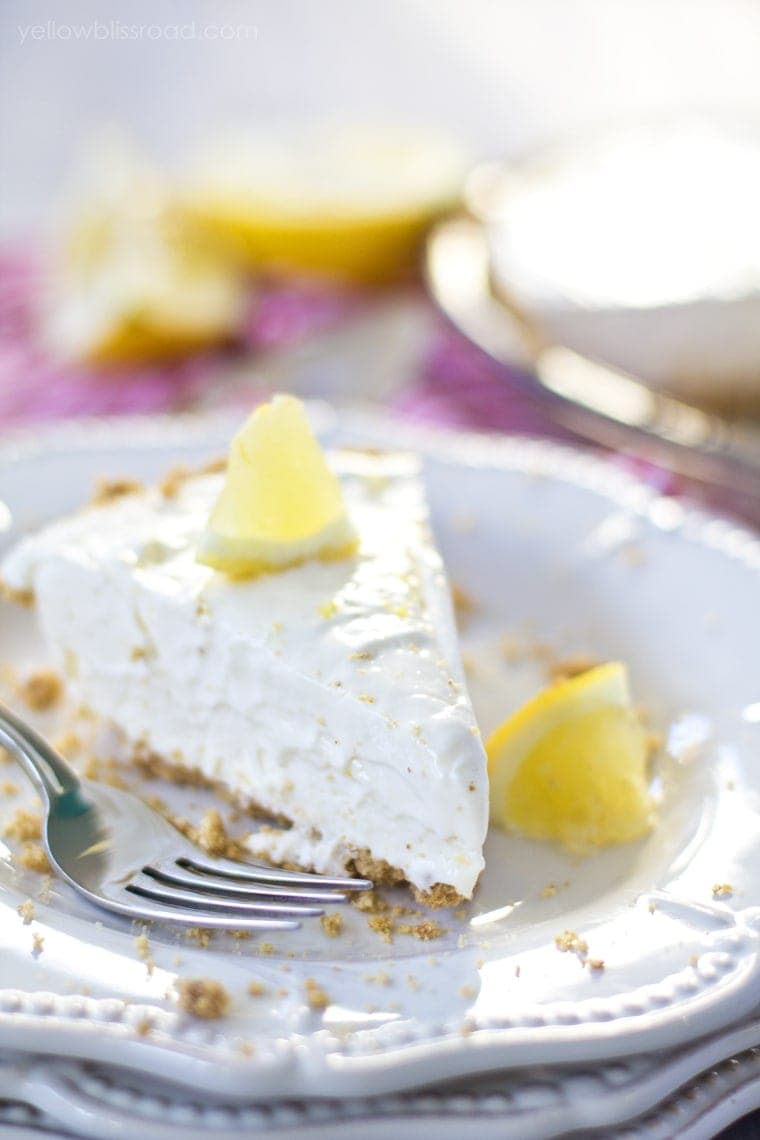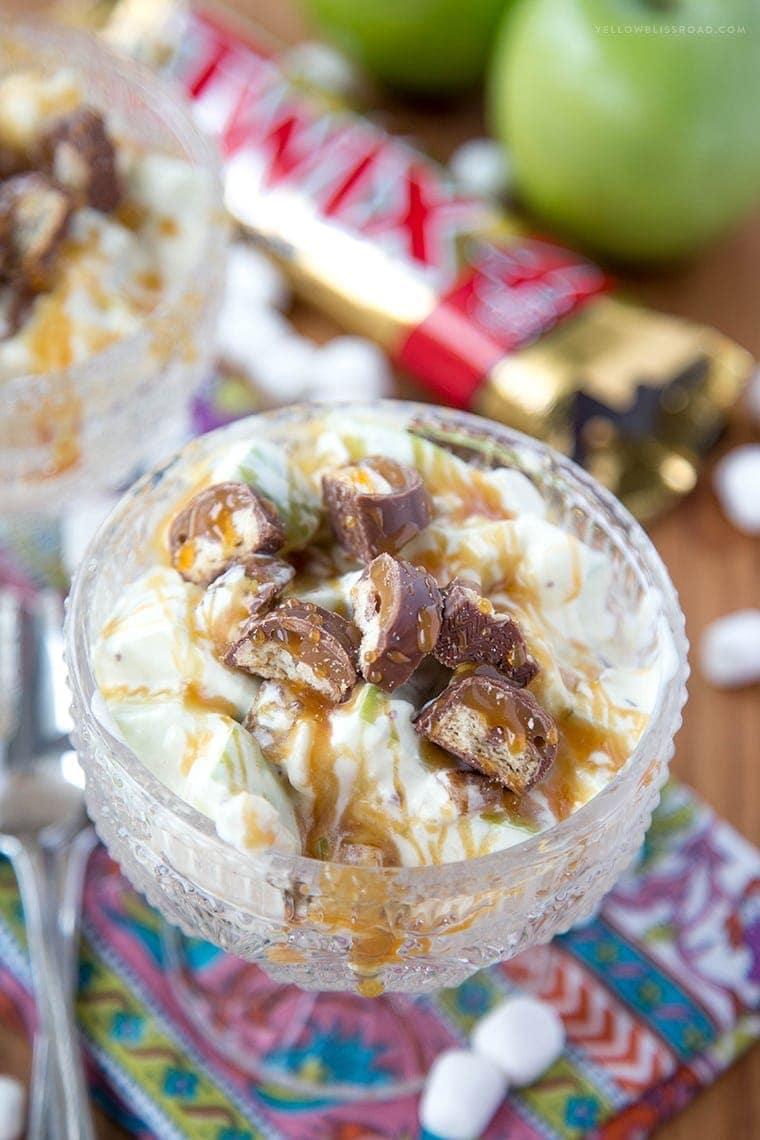 For all desserts go HERE and all recipes go HERE.