Croutons are my weakness. Well, really bread is my weakness, but crunchy bread covered in delicious garlic and butter, so rich with flavor? Well that my friends is pure heaven!
I never realized how easy it is to make homemade croutons until I tried it out for the first time last year, when I made my Chopped Cobb Salad with Spicy Garlic Vinaigrette.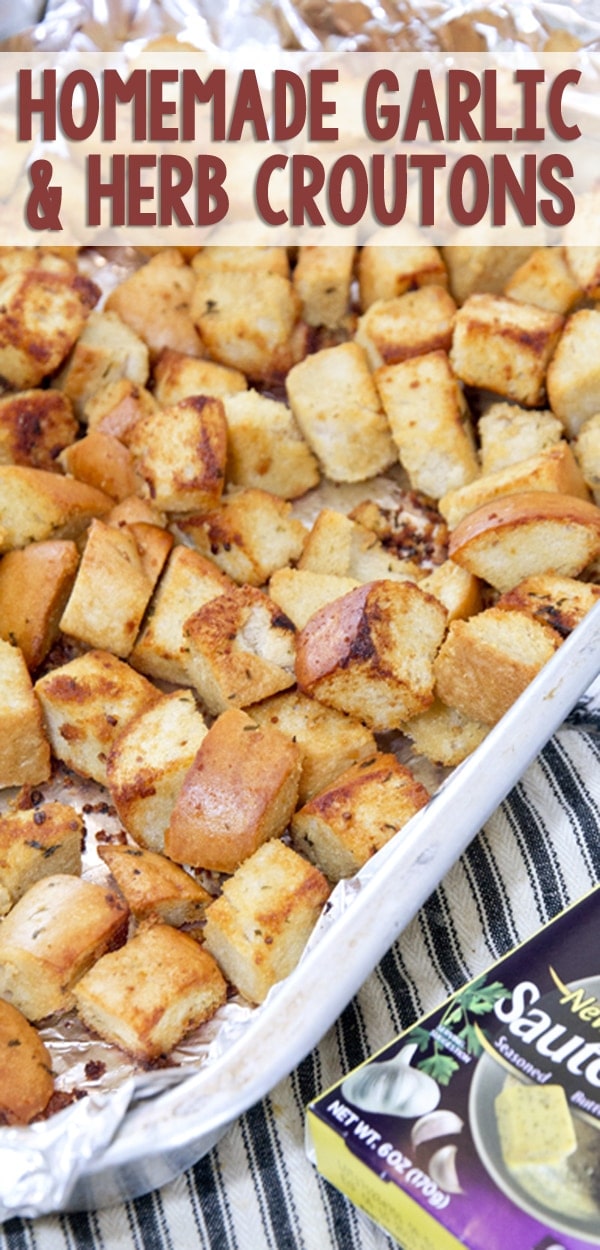 You'll need to start by leaving a loaf of french bread out on the counter overnight. You want it nice and crusty and crunchy so it can be coated with all of that buttery goodness. The next day you will cut the bread into one inch cubes.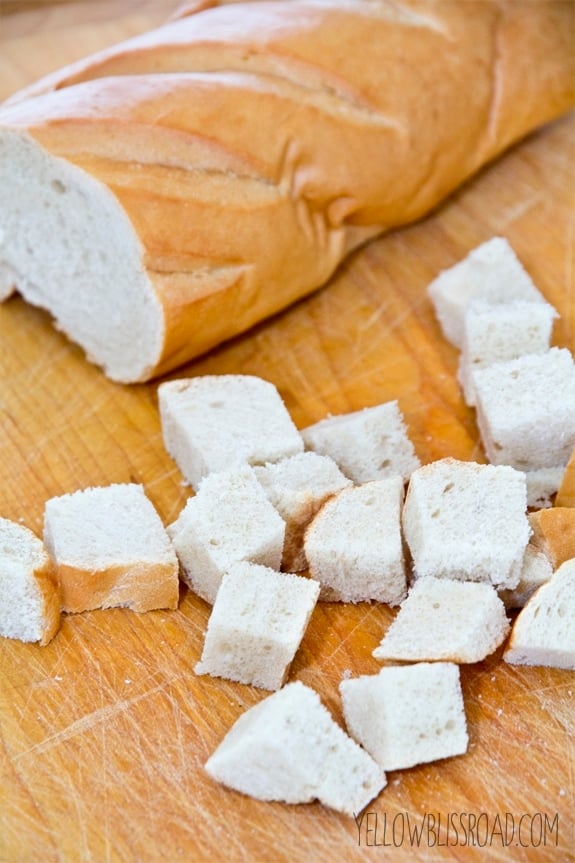 I used Land O Lakes Saute Express in Garlic and Herb; just melted it in a pan and tossed the bread in the melted butter until it was coated really well.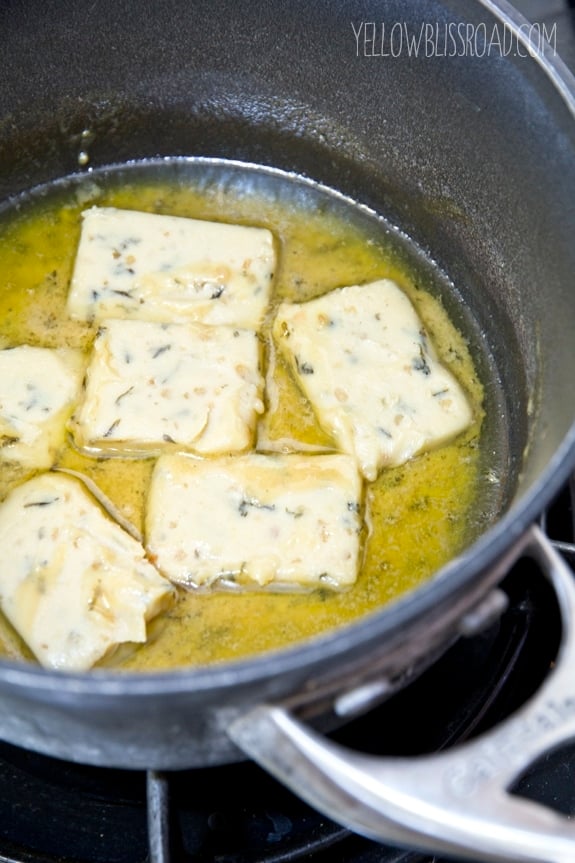 See all those yummy herbs?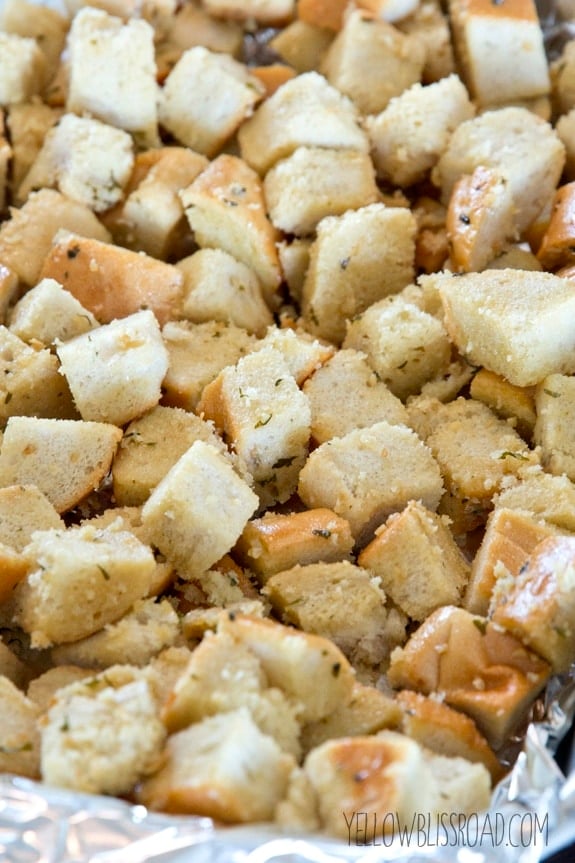 Arrange the bread in a foil lined pan and bake for 20-25 minutes. Allow to cool before eating. Or don't. I didn't.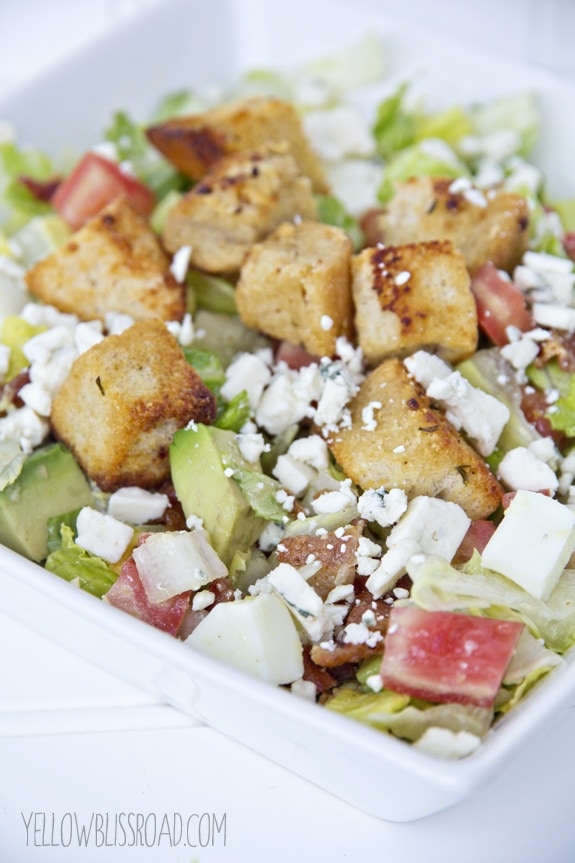 Toss a few on your salad for some added crunch. Or shovel them in your mouth by the fistfuls. No judgement here.
Store in an air-tight container.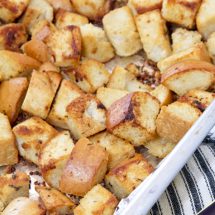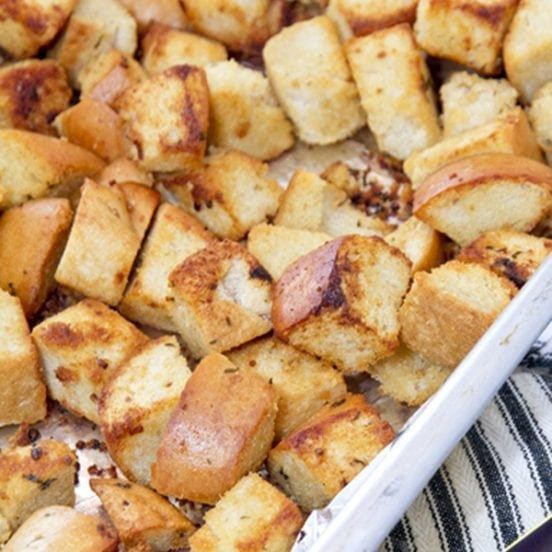 Ingredients
1 loaf french bread left out overnight
1 package Land O Lakes® Saute Express in Garlic & Herb
Instructions
Cut bread into one inch cubes. Place into a ziploc bag. Melt Saute Express butter over medium low heat, stir, and pour into the bag with the bread cubes. Shake well to coat. Place in a single layer in a 9x12", foil lined baking dish.

Bake in a preheated 350 degree oven for 20-25 minutes, turning bread several times to ensure even browning. Allow to cool before eating.
For more delicious summer salad recipes, be sure to check these out: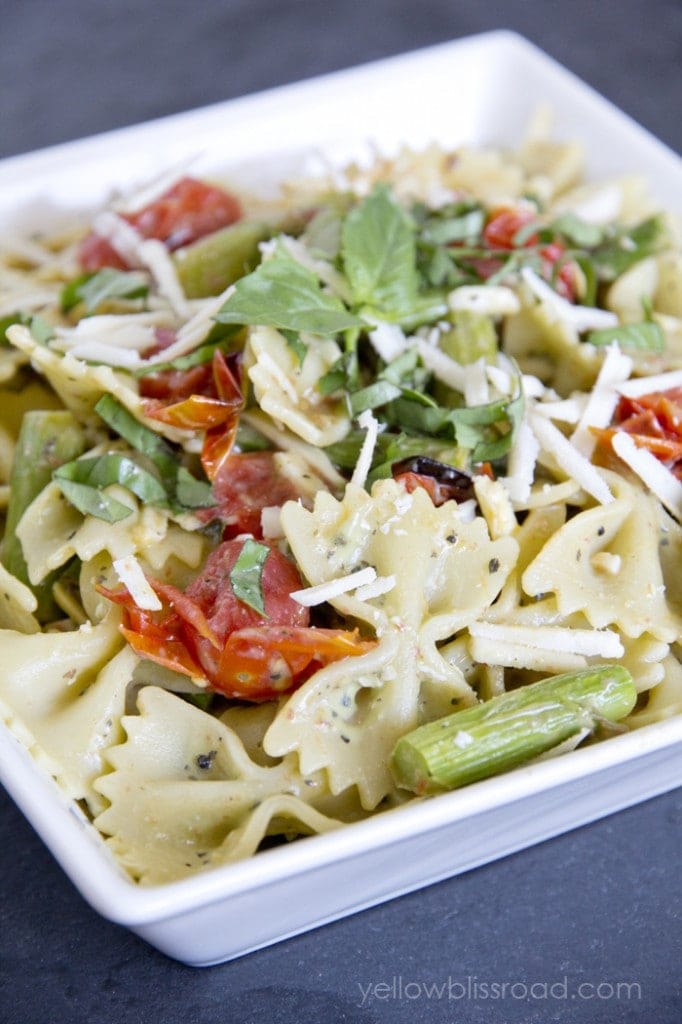 Pesto Pasta Salad with Roasted Tomatoes and Asparagus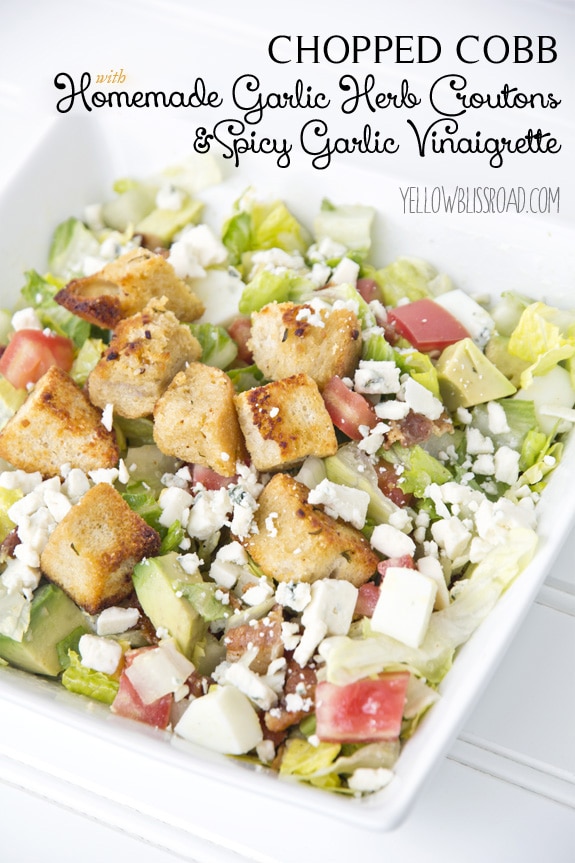 Chopped Cobb with Homemade Croutons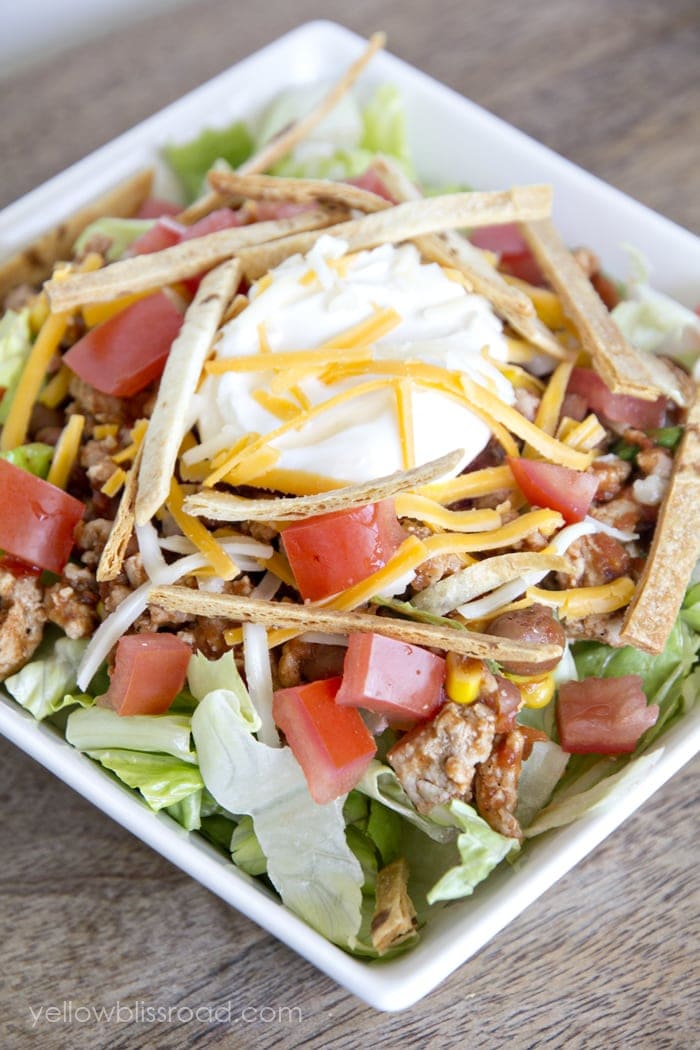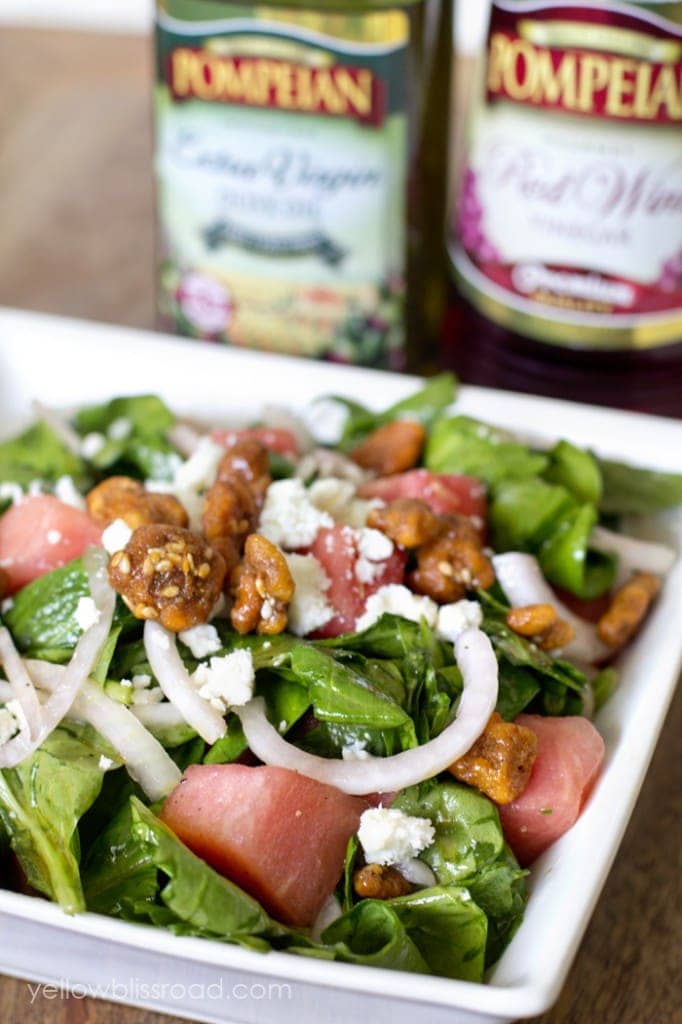 For lots of soups, salads and sides recipes, go here.
For a complete list of recipes on the site, go here.