Learn how to make tamales with my easy recipe and step by step instructions. Green Chile Chicken Tamales are made with shredded chicken and a homemade tomatillo salsa wrapped in masa dough then steamed in corn husks for a perfectly tender, flavorful tamale that everyone will love.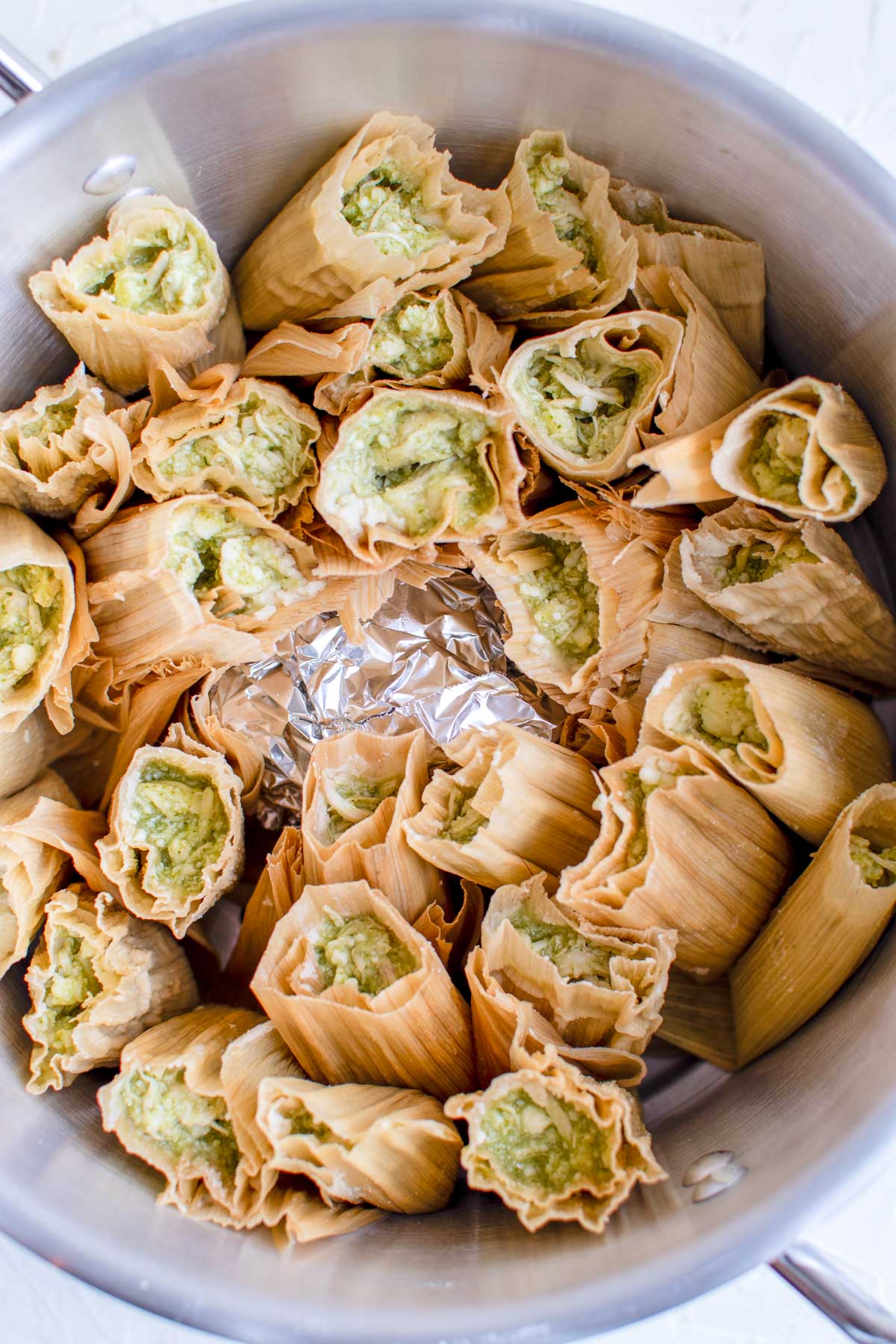 You can easily swap out the filling for shredded beef or shredded Carnitas pork, or even do a simple and meatless green chile and cheese filling. Sweet fillings include fruit preserves, raisins, pineapple and nuts.
What are Tamales made of?
Popular especially around the holidays, tamales feature a corn-based dough, or "masa," wrapped around a filling and steamed in a corn husk. The filling is traditionally chicken, beef or pork, but sweet tamales or cheese filled are also popular. Chicken tamales are my favorite!
Are tamales hard to make?
I have always been intimidated by the process of making tamales. After following this recipe, I realized that it's actually pretty easy. There are a lot of steps and it does take some time, which can make it seem like a daunting task. One tip I have is to cut the process into two parts, making the chicken and sauce one day, storing in the fridge, then making the masa and steaming the tamales the next day.
How to Make Chicken Tamales from Scratch
While there are quite a few steps to making these green chile chicken tamales from scratch, they aren't difficult to make. There are a number of shortcuts you can take as well, and I'll include those in the notes below. Here I will break down the recipe into easily manageable chunks.
Corn Husks
You can find the corn husks on Amazon, at most grocery stores in the Mexican aisle and at Mexican markets. They seem to also be readily available at Walmart. A 6-ounce package should contain 20-30 husks but could vary by brand.
The husks need to be softened so they can be easily wrapped around the tamale. Separate the husks, remove any fine strands and soak them in boiling water (off of the heat) for about an hour.
Green Chile Chicken Tamale Filling
This filling is made with poached chicken and a homemade tomatillo salsa. To save time you could use a rotisserie chicken or make a big batch of shredded chicken in the instant pot or slow cooker. You will need about 3 cups of meat, preferably chicken breast (like from my Oven Baked Chicken) but dark meat works too.
Tomatillo salsa is made by boiling tomatillos, onions, garlic, peppers and chicken broth, then blending the softened veggies with cilantro. The sauce is then mixed with the shredded chicken and some queso fresco to form the filling.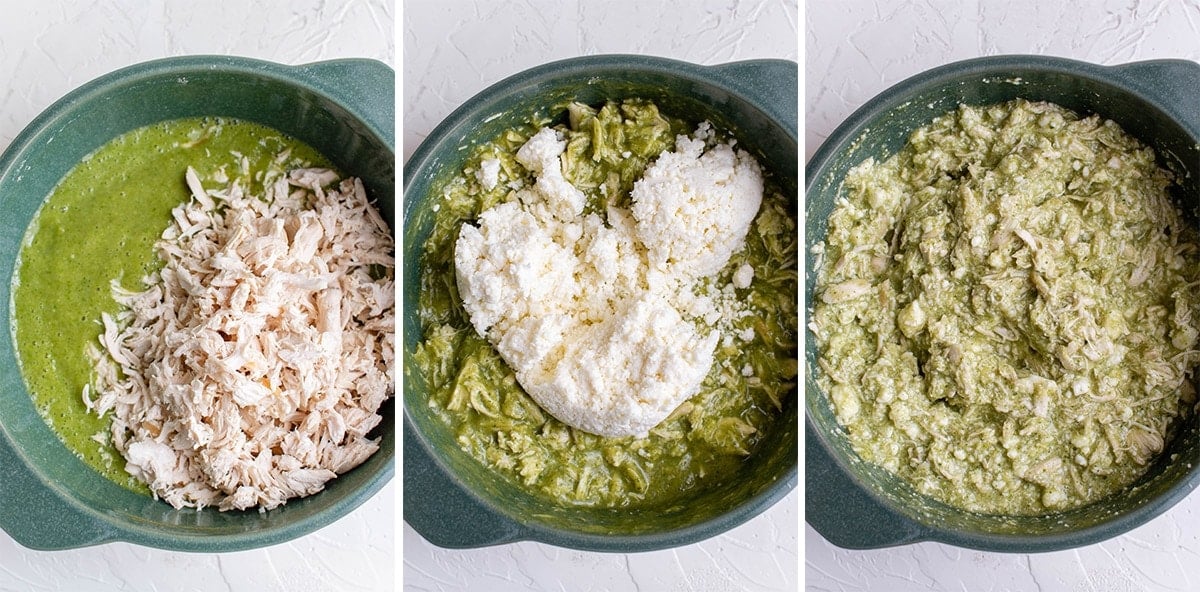 Masa
The dough that forms the tamale shell is made from instant yellow corn flour. The base of the recipe, and what binds it together, is vegetable shortening or lard. The shortening is usually found in the aisle with the oils. If you are concerned about using this ingredient, Crisco brand has no trans fats so it's the best option. If you really don't want to use shortening, or can't find it, you can use regular vegetable oil. Just beat it with the dry ingredients, then slowly add the broth like the recipe states.
Once the dough is formed, keep it covered with a damp paper towel so it won't dry out as you work. Spread a couple tablespoons of the dough onto each cornhusk, then add the filling and wrap.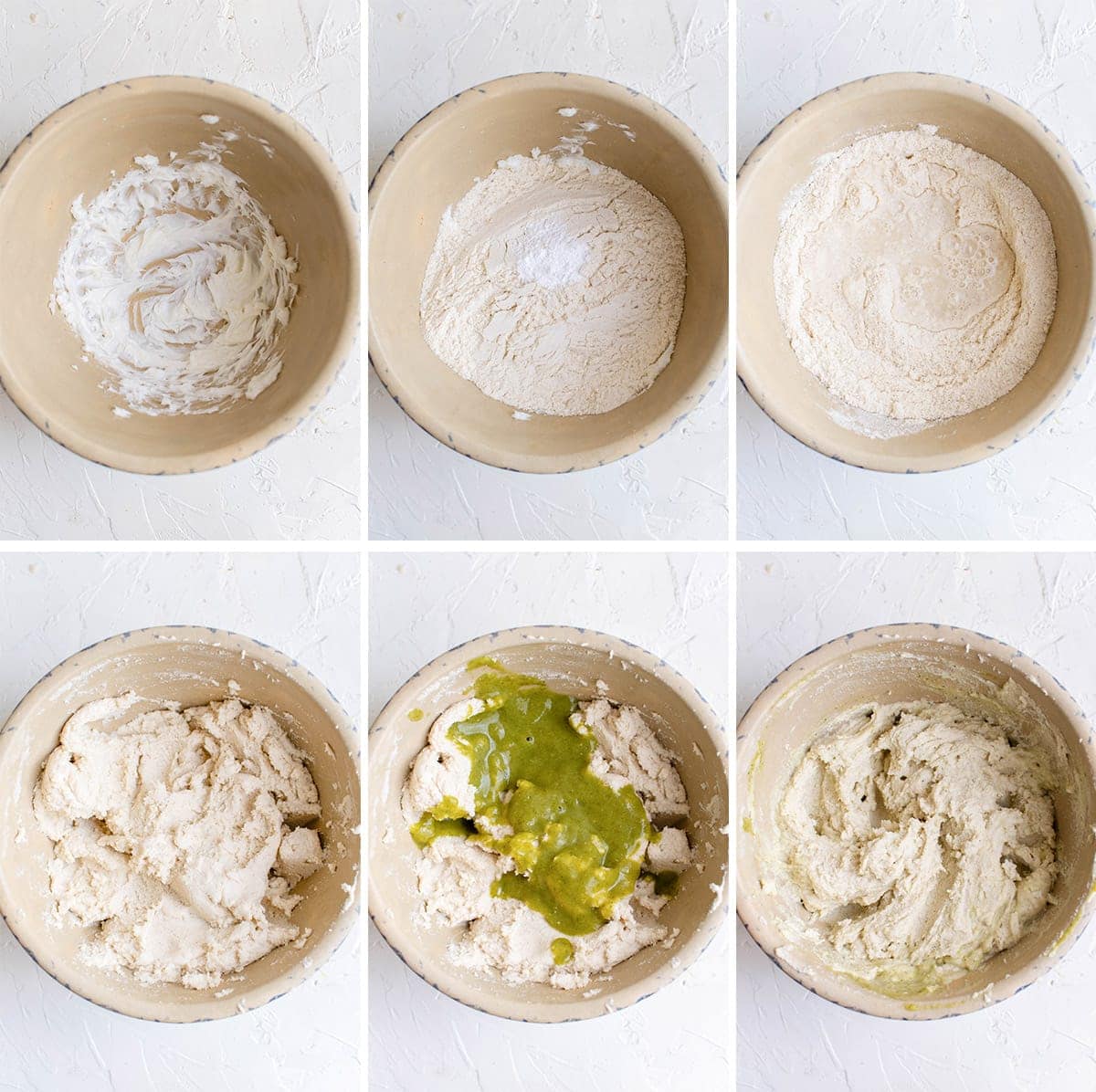 How to Steam Tamales
Stand up filled and wrapped chicken tamales in a large pot with a steamer basket at the bottom. I placed a ball of foil in the center which helps to keep the chicken tamales standing in case they don't fill the pot and also helps air to circulate. If you are making a double batch and can fill the pot, omit the foil. Fill with water, just to the base of the steamer basket, bring to a boil and cover. Continue added water as needed if it starts to run out, and cook for about an hour.
An important note to remember is that the tamales should never be sitting in water. They will get mushy instead of tender and fluffy.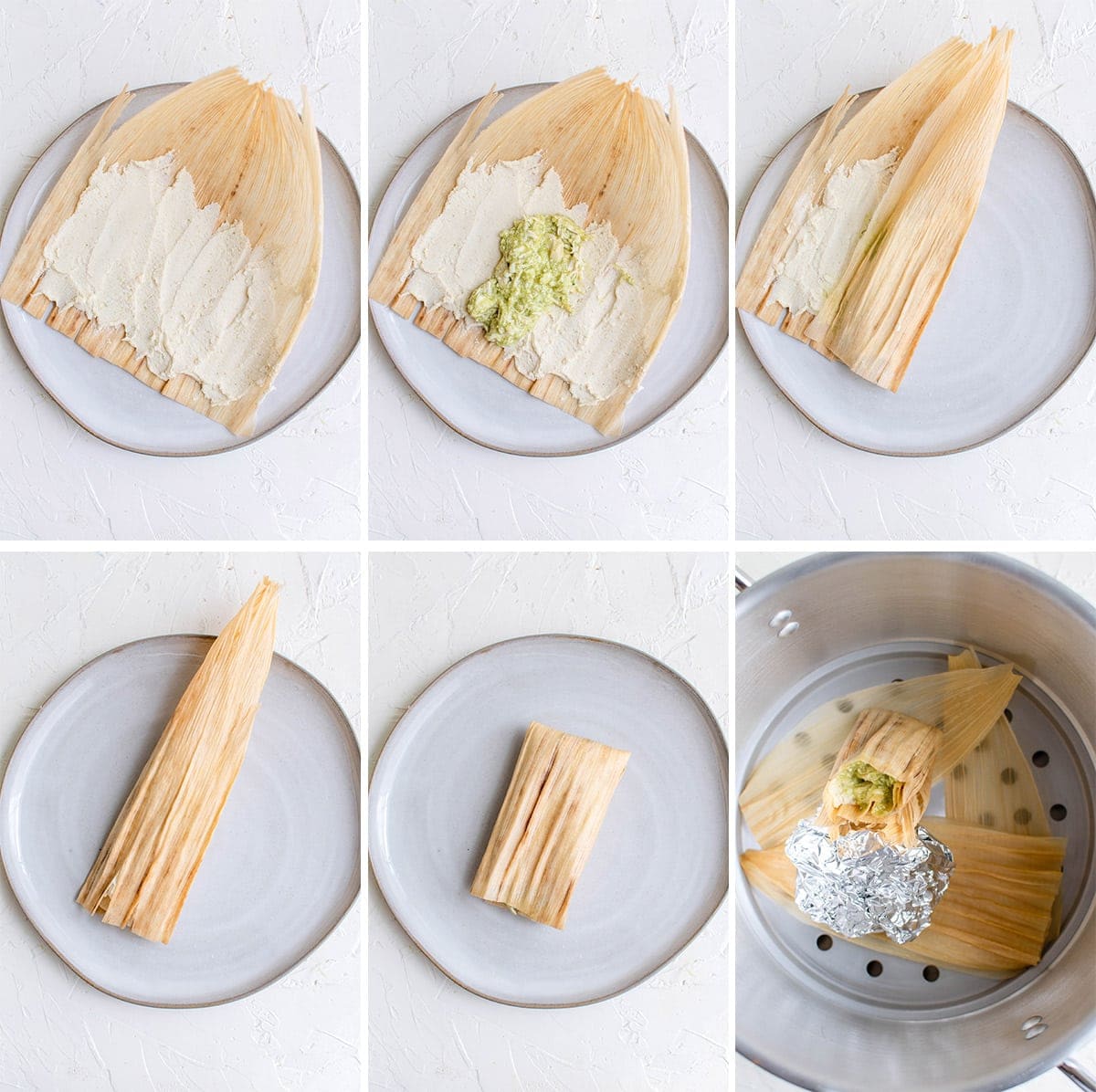 Other Ways to Cook Tamales
Slow Cooker Tamales – Layer tamales in the slow cooker, seam side down. Cook on high for 4-6 hours. The outer ones will cook a little faster. Test for doneness by pulling the husk away – if it separates easily, it's ready.
Instant Pot Tamales – Add a cup of water to the bottom of your Instant Pot or pressure cooker, then add a steamer basket. Fill the pot with your tamales, open side up, and steam for 20 minutes. Do a high pressure, natural release and check for doneness.
Chicken Tamales Recipe Notes and Tips
Store in an airtight container in the refrigerator for up to 4-5 days. Reheat in the microwave, wrapped in a damp towel for about a minute with the husk on.
Freeze in an airtight freezer bag or container for up to 4-5 months. For best results, wrap in parchment or plastic wrap first, then in the freezer bag. Thaw overnight in the fridge, then wrap in a damp paper towel and microwave.
Why are my tamales soggy? If water gets into the husk while they are cooking, the masa won't cook properly and the tamale will be soggy. It's important to make sure you wrap the corn husk tightly.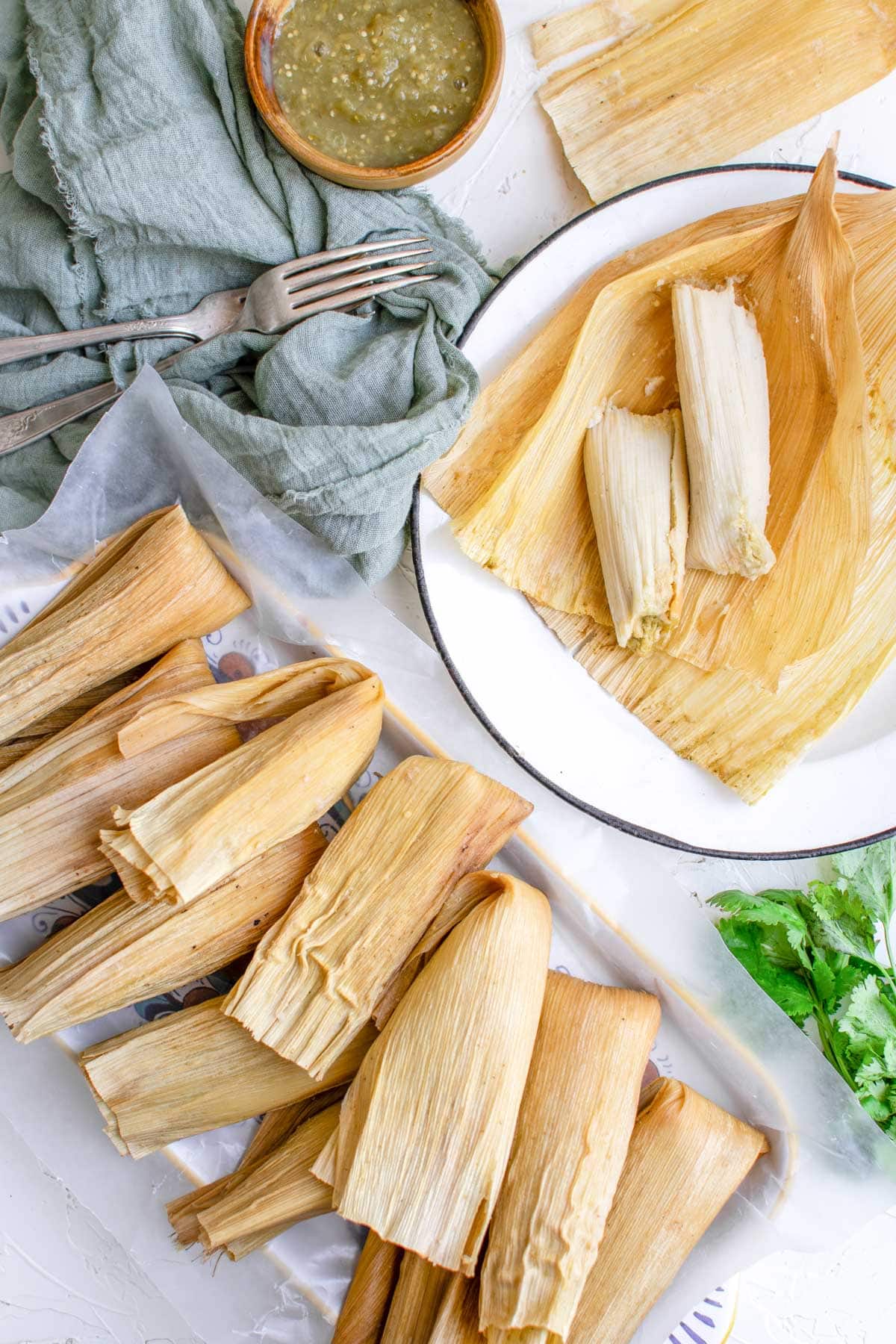 Serve Chicken Tamales with these favorite Mexican Side Dishes:
For dessert, try some Homemade Horchata or Fried Ice Cream!
If you've made this recipe, please come back and leave us a star rating or a comment below. Or, tag us on social media @yellowblissroad or #yellowblissroad for a chance to be featured.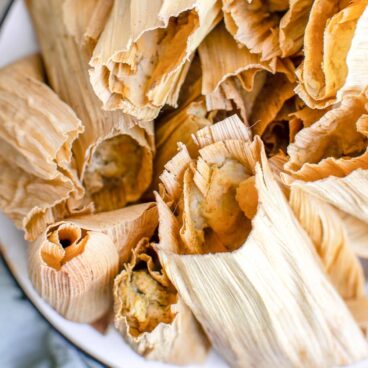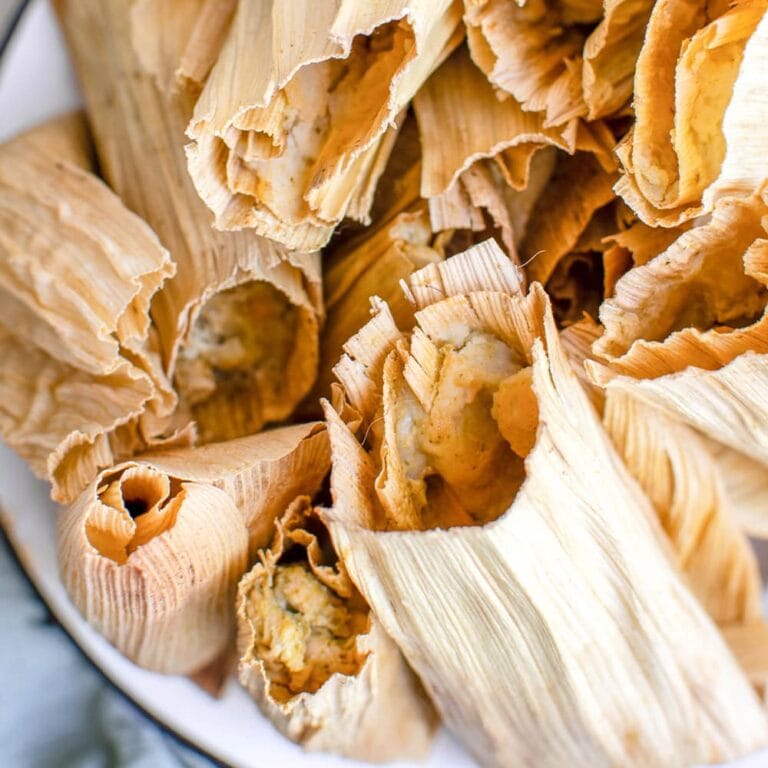 Green Chile Chicken Tamales
Learn how to make tamales from scratch with this easy recipe and step by step tutorial.
Cook Time
1

hour
30

minutes
Ingredients
For the chicken:
1.5

pounds

of boneless skinless chicken breast or chicken breast tenders

cleaned

1

head of garlic

cut in half lengthwise

1

large white onion

peeled with the ends cut off

1

teaspoon

chicken bouillon

chicken broth powder

8

cups

water

or enough to cover the chicken with 1 inch to spare at the top
For the sauce:
6-7

large tomatillos

peeled, washed and cut into four pieces

1

large white onion

peeled and cut in half

6

cloves

garlic

peeled

2

jalapeños

with the stems cut off

1

serrano chile

with the stem cut off

4 ½

cups

chicken broth

1

teaspoon

salt

1

bunch of cilantro

1

teaspoon

cumin powder
For the masa:
¾

cup

vegetable shortening

4

cups

instant yellow corn masa flour

I prefer the Maseca brand

1

teaspoon

baking powder

1

teaspoon

salt

plus more to taste

5-7

cups

chicken broth

from the boiled chicken
Other ingredients:
30

corn husks

10

ounces

Queso Fresco (I prefer the Cacique brand)
Instructions
Corn Husk Prep
Separate the corn husks from each other and remove any threads of silk.

In a stockpot over high heat, bring 8 cups of water to a boil. Remove from the heat and add the corn husks, making sure to keep the husks separate. Let them soak for at least 1 hour before using them.
Chicken
To a medium saucepan, add chicken breast, garlic, onion, chicken bouillon and 6-8 cups of water. Water should be an inch above the ingredients.

Bring to a boil, stirring occasionally, until chicken is cooked through; about 10-12 minutes.

Transfer chicken to a plate and strain the vegetables and broth through a fine mesh strainer, reserving and setting aside the broth to use again.
Sauce
Meanwhile, in another pot, cook the ingredients for the sauce.

Add the tomatillos, white onion, garlic, jalapeños, serranos, chicken broth and salt to a large boiling pot and bring to a boil. Cook for 10 minutes, or until the tomatillos start to turn yellow.

Strain the vegetables from the broth (no need to reserve) and add them to a blender. Sprinkle in cumin powder.

Let cool for 10-15 minutes, then blend until a smooth sauce forms. Pour into a large mixing bowl. Reserve about ¾ cup of the sauce and set it aside for use in the dough.
Filling
Pour the reserved broth into one of the saucepans simmer over medium-low heat for 5 minutes. Remove from the heat and set aside.

Shred the chicken, add it to the large bowl of sauce and stir to combine. Stir in the queso fresco. If the chicken mixture seems dry, add the warmed chicken broth a little bit at a time until desired consistency is reached. Add salt to taste.
Masa
To the large bowl of a stand mixer, add vegetable shortening and whip until fluffy and smooth (about 5 minutes).

In a separate bowl, mix together the instant corn flour, baking powder and salt then beat into the shortening until well incorporated.

Gradually add chicken stock, a little at a time, and beat on low speed until all broth has been added and a dough has formed. Increase speed to medium and beat for 10 minutes, until the dough is nice and fluffy. Pour in the reserve ¾ cup of green sauce and mix again on medium-low speed for several minutes. Taste and add more salt as needed. Cover with a damp paper towel so it doesn't dry out.
Tamale Assembly (visual instructions are included in the post)
Lay a cornhusk, rough side down, on a flat surface or hold it in your hand. Spread about 2-3 tablespoons of masa onto the lower half of the cornhusk, leaving a small border at the bottom. Spread the masa out evenly, not too thin or thick.

Add 1-2 tablespoons of the chicken mixture to the center. Fold in the sides of the husks then fold down the top, like a burrito. Repeat until all of the filling is used. Discard any leftover masa.

Optional: tie the husks with a small shred of husk or some cooking string. This isn't always necessary, but will help to hold the husk in place and could be helpful in identifying if you are making different varieties of fillings.
Steam the tamales
Add water to the bottom of a large pot and add a steamer basket.

Add three or four small pieces of soaked corn husks to the bottom of the pot. Smash a large piece of aluminum foil into a ball and add it to the center of the pan.

Place filled and wrapped tamales, standing open side up, into the pot. Lean against the foil and work your way out. Slide three or four large corn husks down the sides of the pan around the tamales and cover the pot with the lid.

Turn heat to medium high and cook for one hour, adding water down the side of the pot every 15-20 minutes or whenever the water has run out. Be careful not to pour the water over the tamales and don't fill above the steamer basket.

To test for doneness, pull a tamale from the pot and try to remove the husk. If it separates easily, it's done. If not, cook for an additional 15 minutes or more as needed.

Remove the pan from the heat and let the tamales cool for 15-30 minutes before serving.
Notes
Storage: Tamales can be stored in an airtight container in the fridge for up to 4-5 days or frozen for up to 4-5 months. Thaw before reheating.
Optional filling variations: For a simplified filling, shred 2-3 cups rotisserie chicken and combine with a 16-ounce jar of salsa verde (I like Herdez brand) and the queso fresco cheese.
Instead of shortening or lard, you can use vegetable oil. No need to beat, just mix with the dry ingredients for the dough. 
Nutrition
Calories:
248
kcal
Carbohydrates:
21
g
Protein:
13
g
Fat:
13
g
Saturated Fat:
4
g
Cholesterol:
32
mg
Sodium:
795
mg
Potassium:
366
mg
Fiber:
2
g
Sugar:
1
g
Vitamin A:
210
IU
Vitamin C:
12
mg
Calcium:
137
mg
Iron:
2
mg
Nutrition information provided is an estimate and will vary based on cooking methods and brands of ingredients used.