Learn how to make the best Mexican Horchata at home! A creamy, sweet Mexican drink made from rice, milk, sugar and cinnamon that's perfect for serving with your favorite Mexican dishes.
We love adding Horchata to our Taco Tuesday menu, serving it with Chicken Tacos, Authentic Mexican Rice and Refried Beans.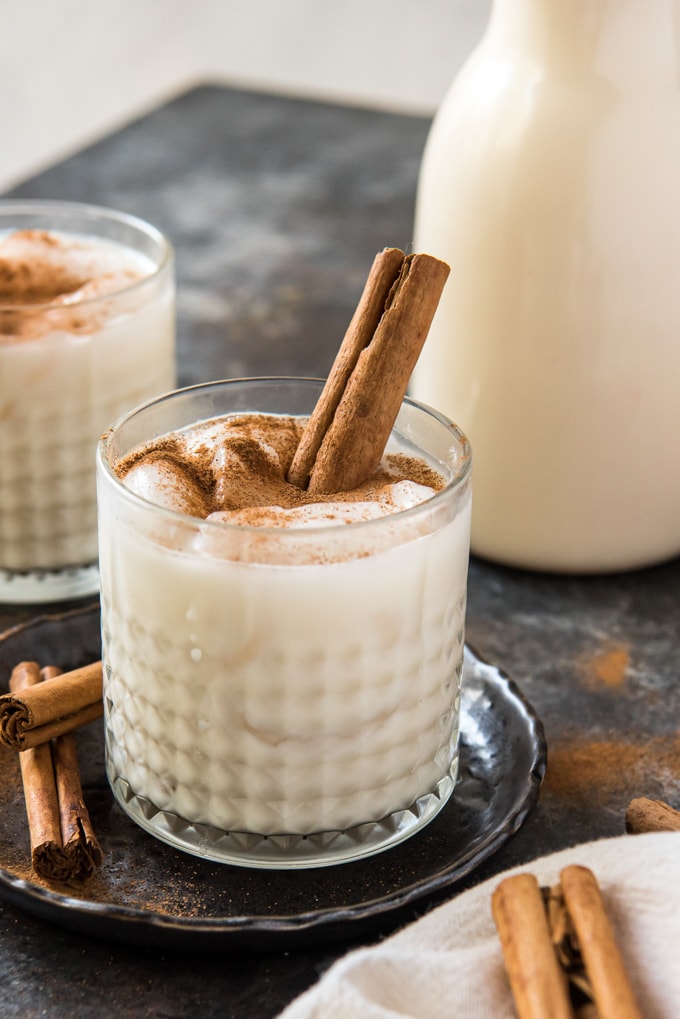 Cold, Refreshing, Delicious Horchata
The first time I tried Horchata was at a little Mexican taco stand in Arizona. My cousins had convinced me to try it even though I was pretty sure I wouldn't like it. After all, they were just kids and I had a much better sense of what was good and what wasn't. They got me to try a taste and I haven't looked back!
It's irresistibly creamy and incredibly easy to make. It tastes just as good, if not better, than the horchata I tasted at that taco stand years ago or that you'll find in Mexican restaurants today.
While it is a very fantastically simple recipe, it does take some patience while the ingredients have time to soak and soften. But I promise the result is totally worth the wait!
What is Horchata Made of?
Horchata is a sweetened rice and milk based drink that is popular in Mexico and other parts of Latin American. It's got just a few ingredients that you most certainly have in your pantry right now.
Long-grain white rice
Cinnamon sticks
Water
Evaporated milk
Granulated sugar
Grind the rice and cinnamon sticks in a blender and soak in water overnight, then strain and mix with milk and sugar. Pour over ice for a cool refreshing beverage to serve with all your fiesta favorites, like Ground Beef Tacos and Chicken Enchiladas.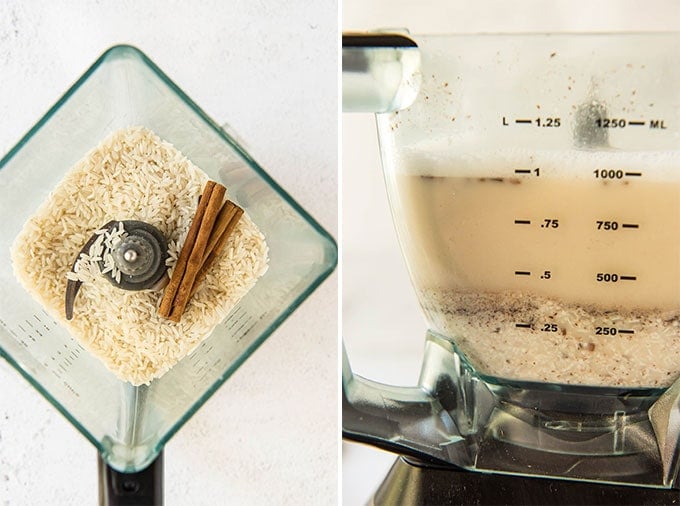 How to Make Horchata
Blend. Add long grain white rice and whole cinnamon sticks to a blender with some water and blend for a couple of minutes. The rice and cinnamon sticks should begin to break up into small bits. Add more water and blend again until all of the cinnamon and rice are finely ground.
Soak. Pour the mixture into a tall pitcher or other tall container with a fitted with a lid and let it soak for at least 6 hours, or even better, overnight.
Strain. Use a cheesecloth or a fine mesh strainer to strain the mixture into a large serving pitcher. Discard the rice left in the strainer.
Mix. Stir in sugar and evaporated milk to the rice and cinnamon mixture until the sugar is dissolved. Pour into glasses over ice for a deliciously creamy, chilled Horchata drink.
What does it taste like?
Simply put, it tastes like pureed rice pudding. It's creamy, smooth and sweet with a nutty flavor from the rice and ground up cinnamon. Horchata is usually served chilled, over ice, garnished with a sprinkle of ground cinnamon. Sometimes a splash of vanilla is added to round out the flavor.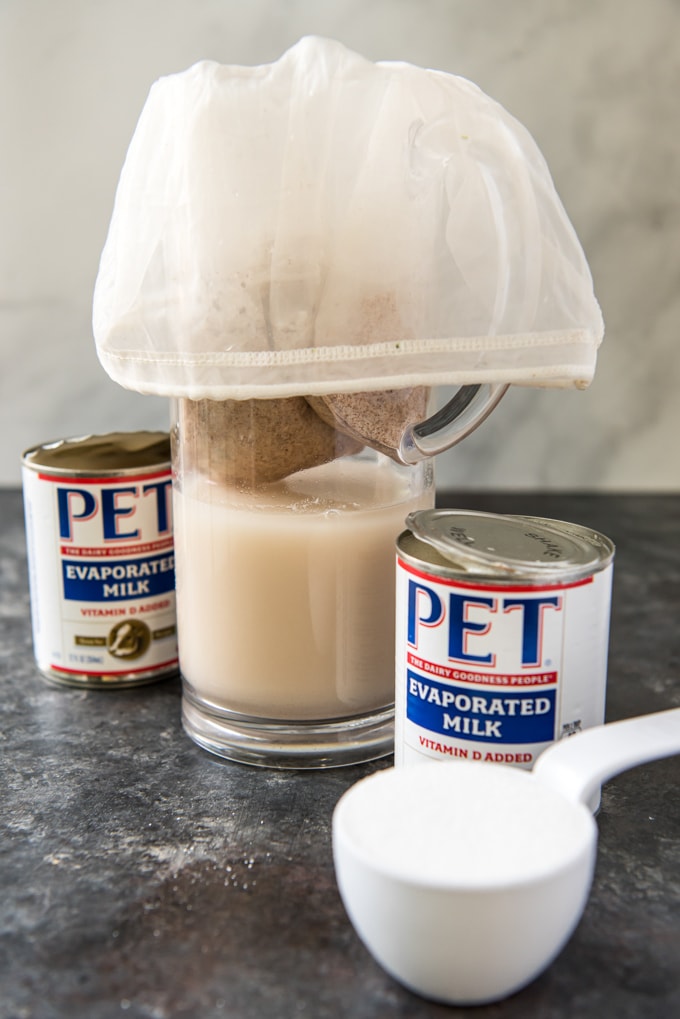 Top Tips and Variations
Use a good blender. While other appliances might get the job done, a blender is the best option for getting the most flavor from the rice and cinnamon sticks. Make sure your blender is powerful enough to grind the ingredients.
Use whole cinnamon sticks. Ground cinnamon is sometimes used in place of the sticks, and it may sound like a comparable replacement, but the taste and texture is vastly different.
Don't skip the soak. Give the rice and cinnamon plenty of time to soak. This process softens the rice and extracts flavor into the water.
Serve it on the rocks. Horchata is best when served very cold. Pour and serve over ice because horchata can warm quickly out of the fridge.
Dairy Free: To make this Horchata dairy free, you can replace the evaporated milk with your favorite nut or soy milk.
Flavoring: Add a splash of vanilla extract for a smooth flavor.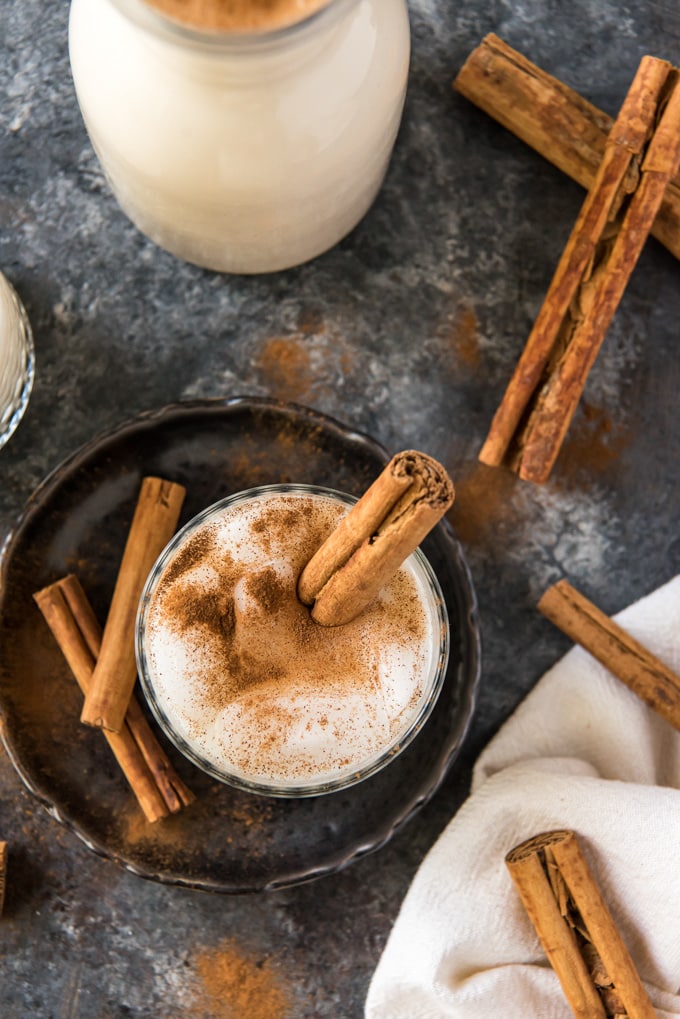 Popular Drinks You Can Make at Home
I consider it a treat to order a specialty drink at a restaurant because they can be pretty expensive. Once I realized that most of these drinks can easily be made at home it was like a whole new world opened up. Here are a few of our favorite drinks to make at home:
Recipe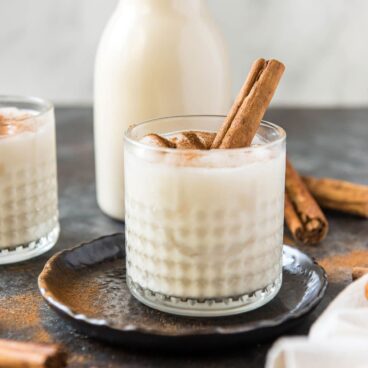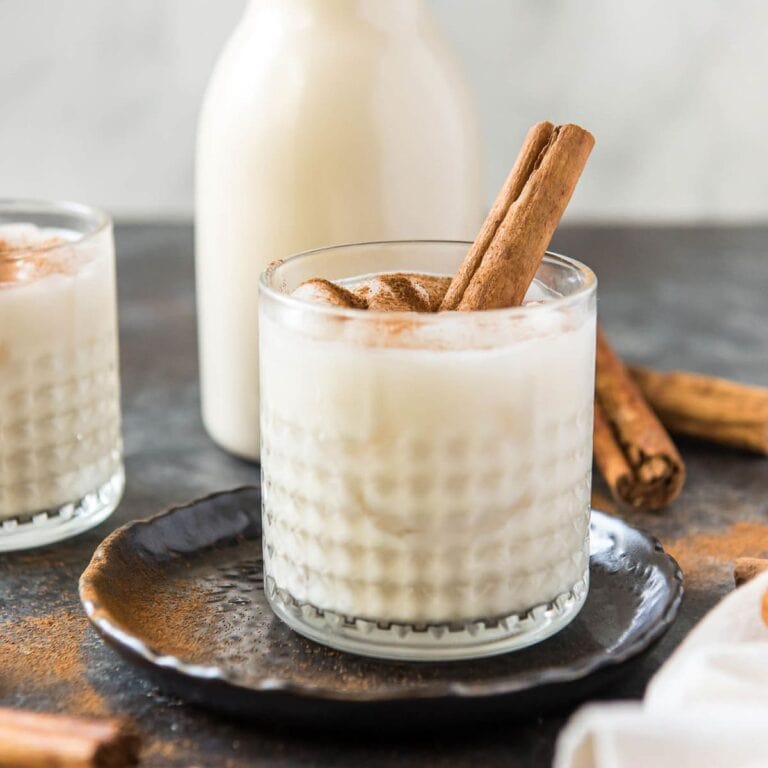 Horchata
A popular Mexican sweetened rice milk drink that's so easy to make at home.
Total Time
6

hours
15

minutes
Ingredients
1 ⅓

cups

uncooked long grain rice

2

cinnamon sticks

4

cups

water

2

cups

evaporated milk

1/2

cup

granulated sugar

Ground cinnamon for garnish
Instructions
Add uncooked rice, cinnamon sticks and 2 cups of water to a blender and blend for 2 minutes. Add 2 more cups of water and blend again until the cinnamon sticks and rice are finely ground.

Pour into a large pitcher or other tall container with a tight fitting lid and let soak for at least 6 hours or overnight.

Using a cheesecloth or a fine mesh strainer, strain the mixture into a large pitcher. Discard the rice.

To the pitchers, stir in sugar and milk until sugar is dissolved. Pour horchata over ice in glasses. Sprinkle cinnamon on top for garnish.
Notes
Ground cinnamon is sometimes used but doesn't have the same taste. Cinnamon sticks are highly recommended.
Nutrition
Calories:
386
kcal
Carbohydrates:
64
g
Protein:
11
g
Fat:
10
g
Saturated Fat:
6
g
Cholesterol:
37
mg
Sodium:
150
mg
Potassium:
423
mg
Fiber:
1
g
Sugar:
38
g
Vitamin A:
306
IU
Vitamin C:
2
mg
Calcium:
368
mg
Iron:
1
mg