Creamy and intensely flavorful, this Cheddar Bacon Ranch Refried Bean Dip Recipe is highly addictive and sure to be your new favorite appetizer and a hit at your next party.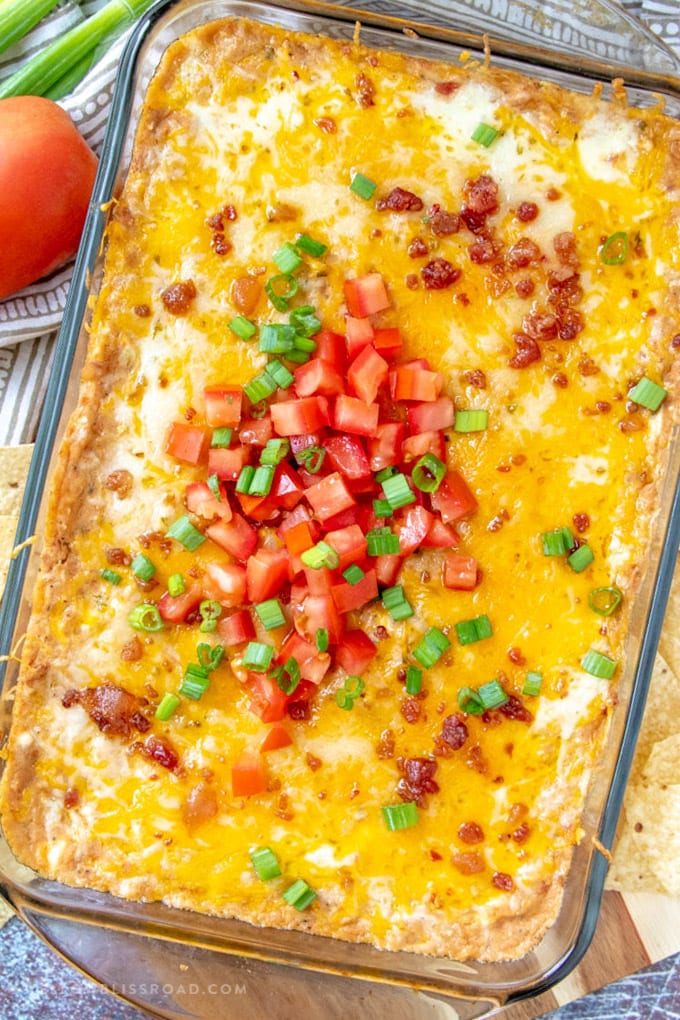 When I am planning my recipes, researching and writing them out, I try to keep a variety of food types from main dishes to desserts and everything in between. It was time to come up with a new appetizer but I was stumped at what to make. If you've been a long time reader you know that I strive to keep things uncomplicated, because life is hard enough. So while I was digging my brain trying to come up with some new and exciting appetizer to share with you, I tried to keep that in mind. And the result is this Cheddar Bacon Ranch Refried Bean Dip.
HOW TO MAKE REFRIED BEAN DIP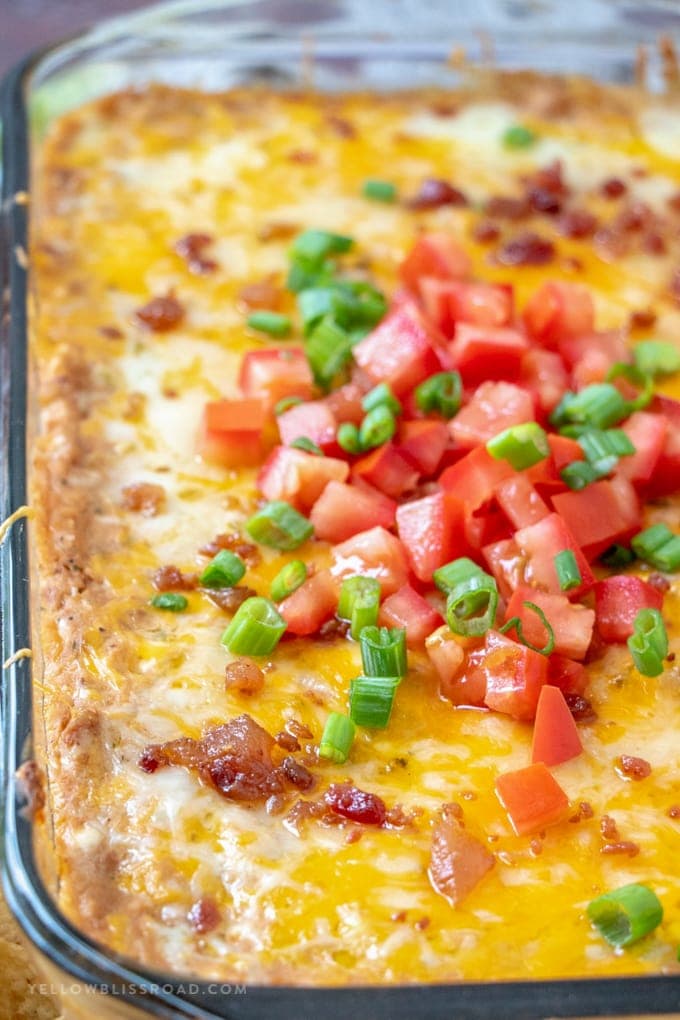 Cheese + Bacon + Ranch is a classic combination, also sometimes known as "crack" because of how addictive it is. I knew it would be a winner in this bean dip recipe. And oh boy was I right!
The ingredients are simple: 
Refried beans
Cheddar and Pepper Jack cheeses
Cream Cheese
Bacon
Ranch seasoning
Sour cream
All of the ingredients are combined to make one spectacular dip, full of incredible flavor, and oh so creamy and cheesy. Serve it with tortilla chips for dipper, or chunks of french bread, or potato chips. Or just eat it with a spoon and don't serve it to anyone!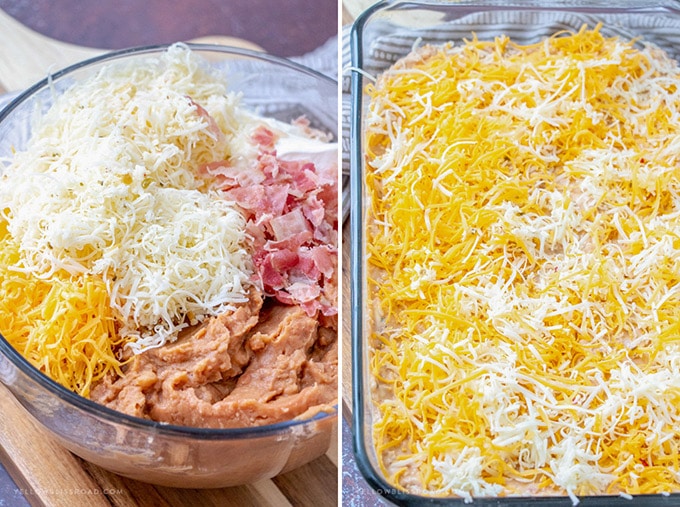 Tips and Tricks for making a spectacular Refried Bean Dip:
Soften the cream cheese first. Leave your cream cheese out on the counter (in the package) for 30 minutes to an hour before mixing to soften it enough to easily combine it into the dip. If you don't have time for that, break our your hand mixer or stand mixer and beat the cold cream cheese for a minute or two to get it nice and fluffy.
Use fresh cheeses. You have the option of buying pre-shredded cheeses for convenience, but for optimal flavor and melting I recommend freshly grating your cheese just before making your dip.
Garnish. I'll be the first to admit that a basic bean dip isn't the prettiest thing, so I added some tomato and green onions for garnish. They add some color and a nice bit of freshness. I say garnish everything – it only take a few extra minutes and makes anything you serve look restaurant quality.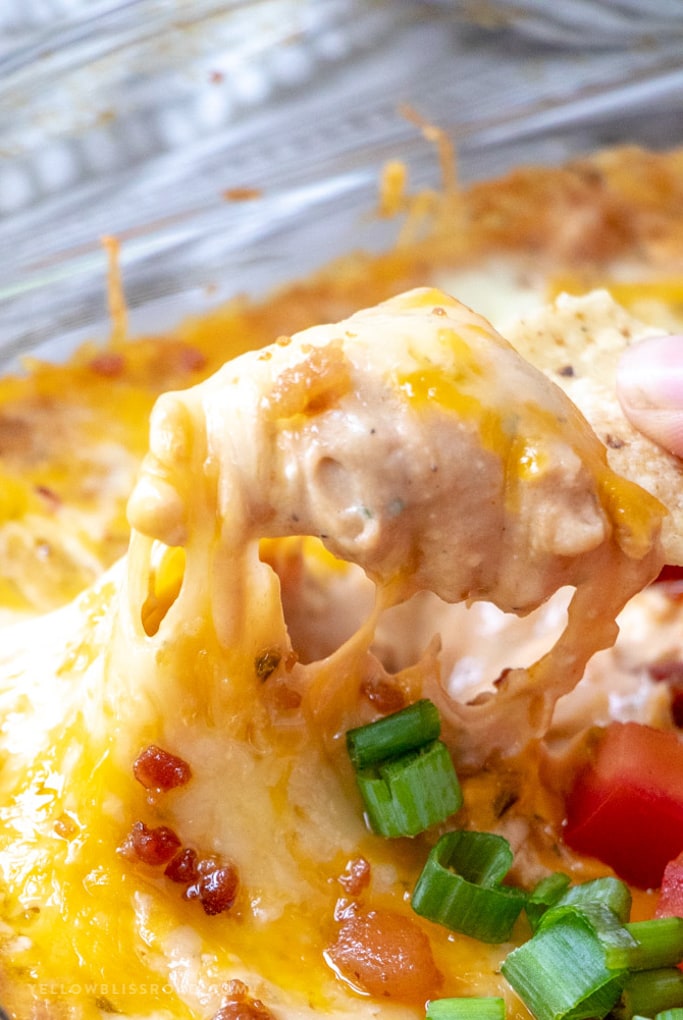 Get more delicious dip recipes here:
Tools used to make Refried Bean Dip Recipe:
11×7-inch Baking Dish: Lots of recipes from casseroles to cakes call for a 11″x7″ baking dish, so this glass baking dish is a good staple to have in your kitchen.
Box grater – I love the large handle, and the different grate sizes.
Cut resistant glove – I use one of these glove every single time I use my grater or mandolin. Keeps your knuckles safe for harm!
Mixing Bowls – You only need one of these bowls for this recipe, but this is an awesome set to have on hand. I use at least one of them nearly every day for all kinds of recipes.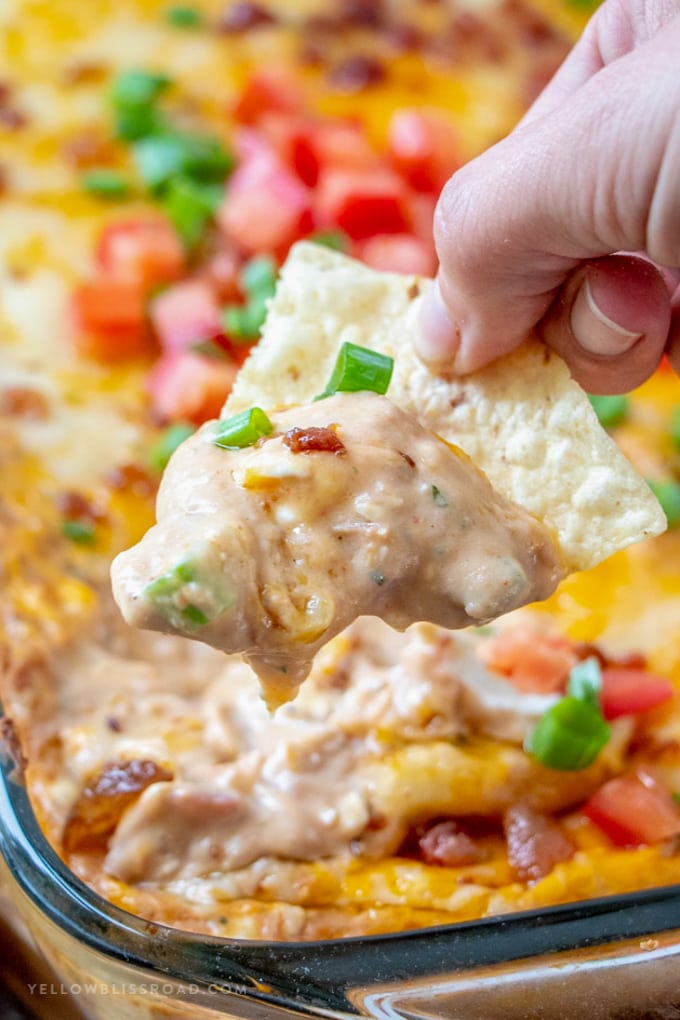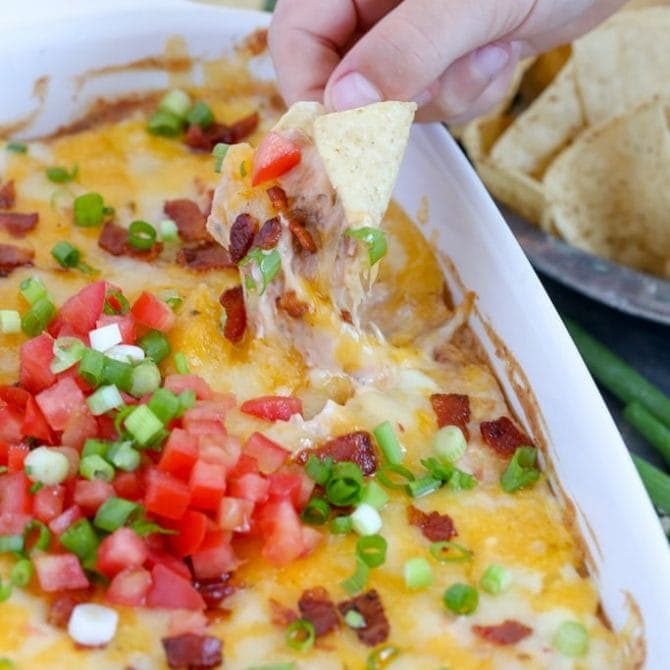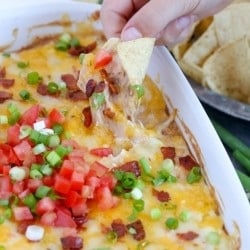 Cheddar Bacon Ranch Dip
Creamy and intensely flavorful, this Cheddar Bacon Ranch Refried Bean Dip Recipe is highly addictive and sure to be your new favorite appetizer and a hit at your next party.
Ingredients
2 15- ounce cans refried beans
4 ounces 2 cups sharp cheddar cheese, fresh shredded, divided
4 ounces 2 cups pepper jack cheese, fresh shredded, divided
1 cup sour cream
8 ounces cream cheese softened
4 slices bacon cooked and crumbled
1 packet Ranch seasoning 2 tablespoons
1 green onion sliced, for garnish
1 Roma Tomato diced, for garnish
Tortilla chips potato chips or chunks of bread for dipping
Instructions
Preheat oven to 350 degrees F.

Combine refried beans, bacon (some reserved for topping), half of the cheddar and pepper jack cheeses, ranch seasoning, sour cream and cream cheese in a large mixing bowl.

Pour into a medium baking dish (11x7-inch is perfect).

Top with remaining cheeses.

Bake uncovered for 20 minutes or until melted and bubbly.

Garnish with diced tomatoes and green onions if desired and serve warm with tortilla chips, french bread or crackers for dipping.