This 7 Layer Taco Dip is a delicious layered taco dip with refried beans, taco meat, guacamole, sour cream, salsa, lettuce, and shredded cheese.
Take this 7 Layer Taco Dip appetizer to a party and it's the first one gone! My family can't get enough of it! Even when I have a whole table full of easy appetizers like BBQ Chicken Wings, BLT Dip, and Cheesy Baked Garlic Dip.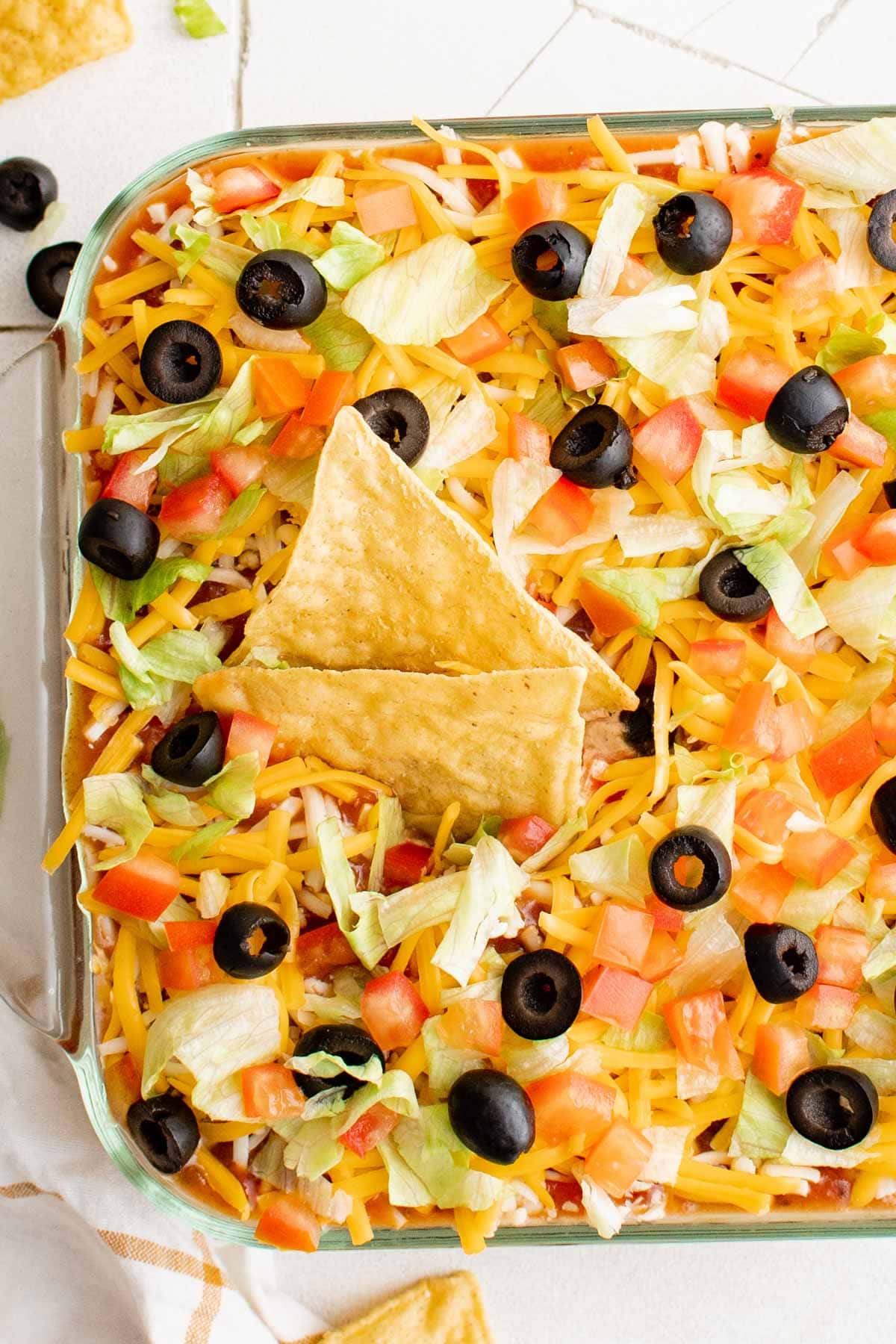 Pin this recipe for later!
Why This Is The Best 7 Layer Taco Dip Recipe
It's Super Easy – Not a ton of prep, just open a couple of containers and shred some cheese. Layer everything together and you're good to go.
Layers Of Flavor – There's something for everybody in this layered taco dip.
Customize As You Wish – Use refried black beans in place of the regular ones, add a layer of hummus, use different blends of cheese. Try topping with jalapenos for a spicy bite.
Ingredients for Layered Taco Dip
A complete list of ingredients with measurements can be found in the recipe card below.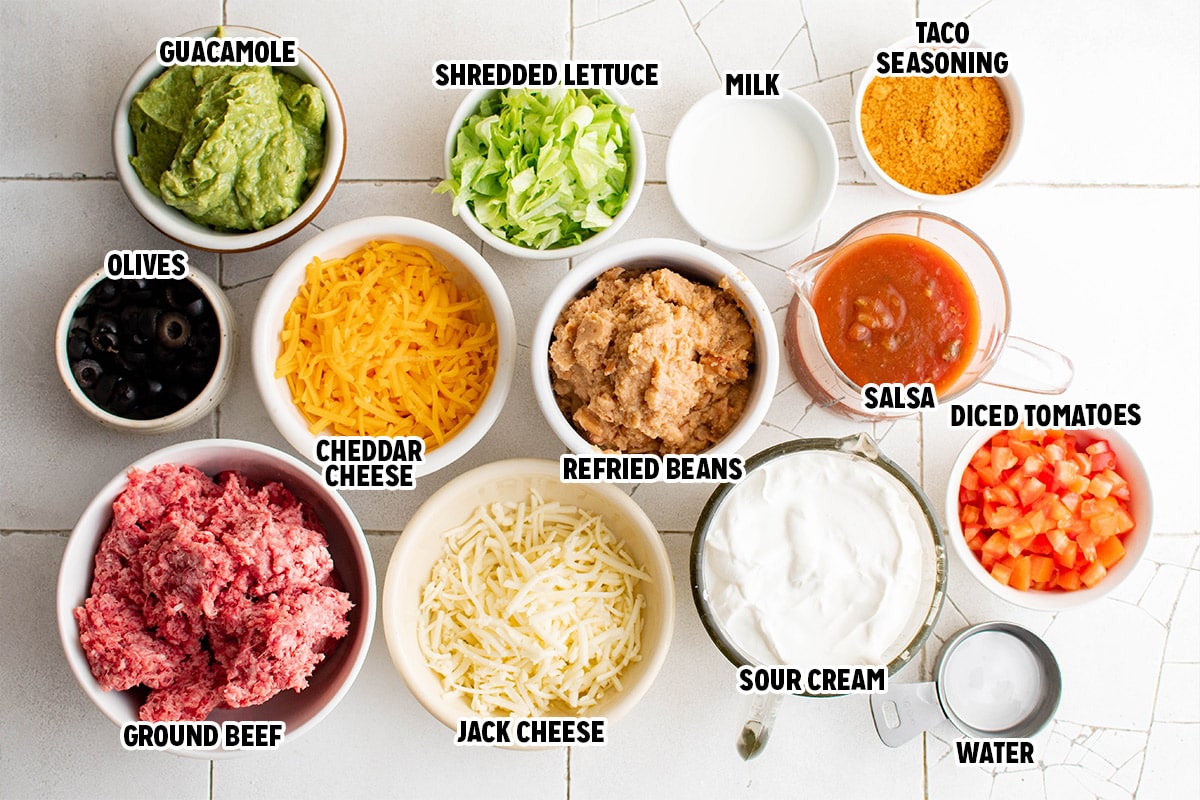 1st Layer – Refried beans. You can make your own Refried Beans or buy a can. I prefer Rosarita brand beans. I always add a few tablespoons of milk mixed into the beans so they aren't so thick and are easy to spread.
2nd Layer – Ground beef, taco seasoning, water.
3rd Layer – Guacamole. I find it much easier to buy a container of premade guac at the store.
4th Layer – Sour cream. Feel free to use a low-fat version. Add some taco seasoning to this layer as well.
5th Layer – Salsa. I much prefer a more blended salsa. Chunkier salsas are often too watery and tend to seep into the other layers. If your salsa has a lot of water, drain it through a metal strainer first.
6th Layer – Cheese. I am usually praising the use of freshly grated cheese, but since you aren't melting you can take a shortcut here and use pre-packaged shreds.
7th Layer – Shredded lettuce, either iceberg or Romaine.
Garnish – Sliced olives, diced tomatoes, sliced green onions. All are optional but recommended. Use Roma tomatoes because they have less juice and will be easy to de-seed and dice.
How To Make 7 Layer Dip
Get a detailed list of ingredients & instructions in the recipe card below.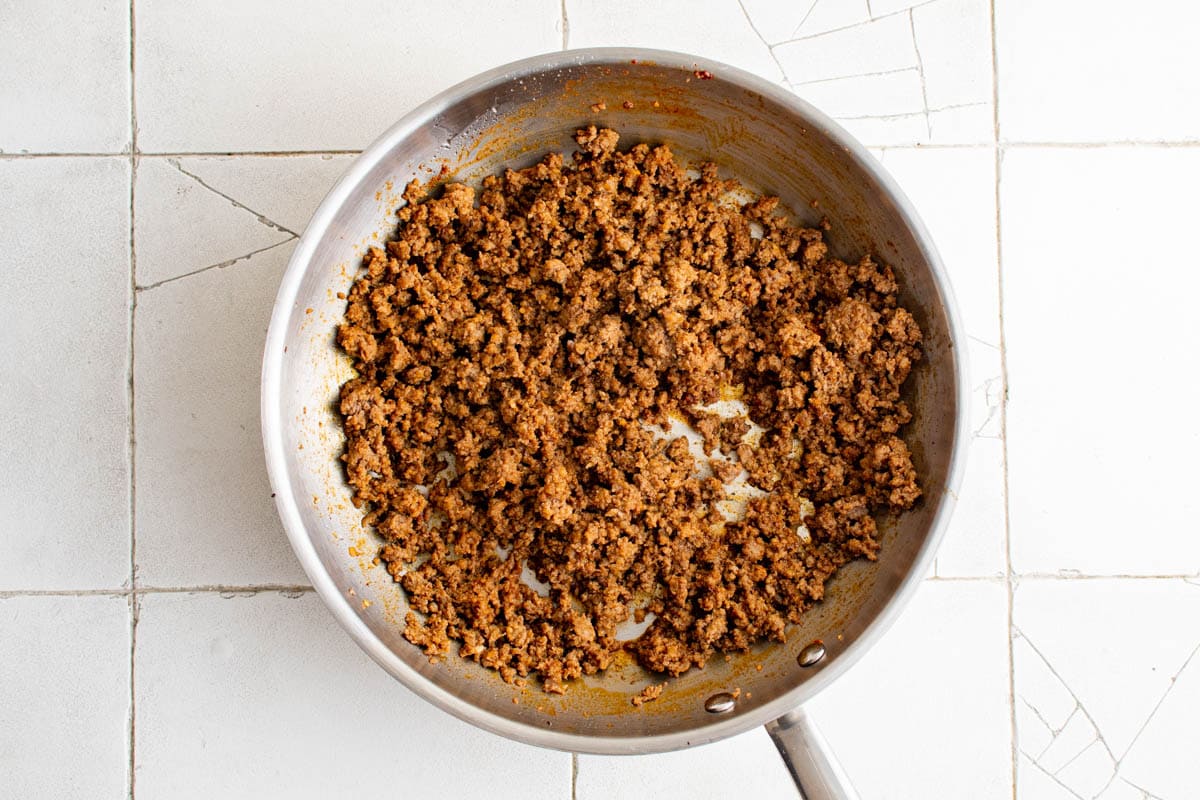 Cook ground beef with some taco seasoning and water, simmer, then set aside to cool.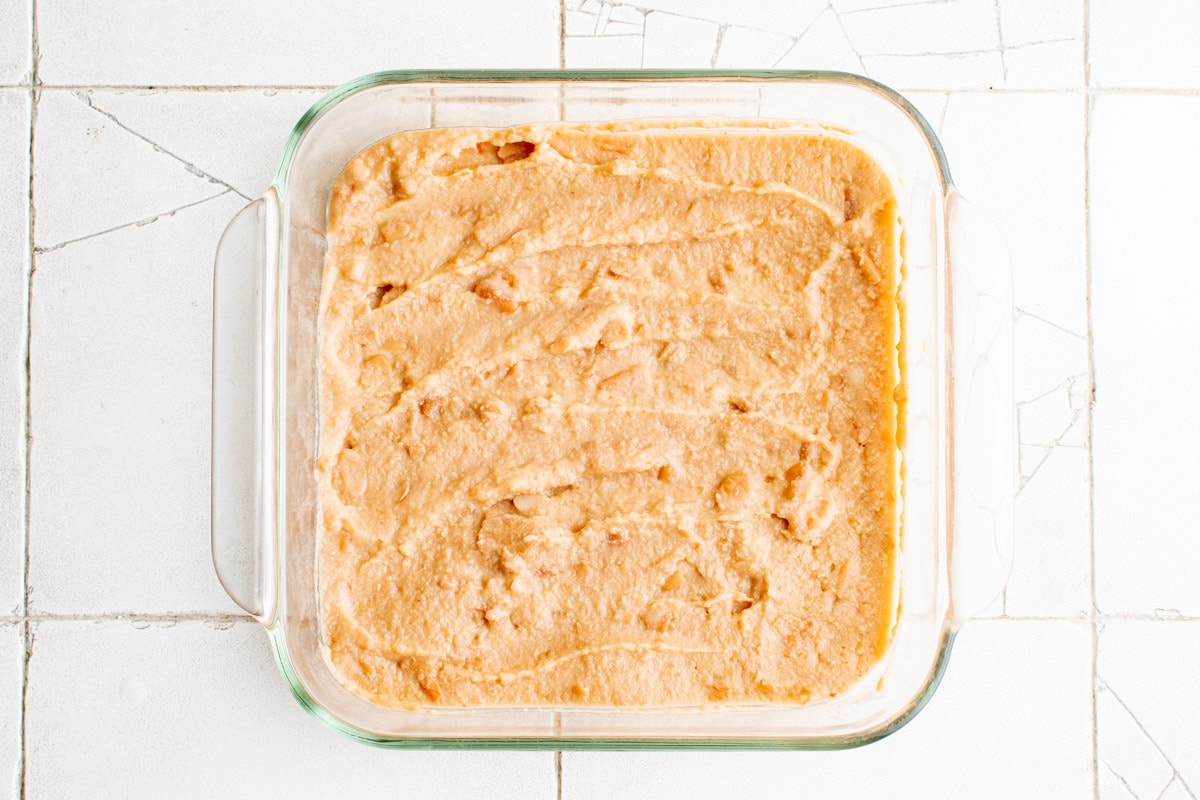 Mix refried beans with milk and spread along the bottom of a 2-quart casserole dish.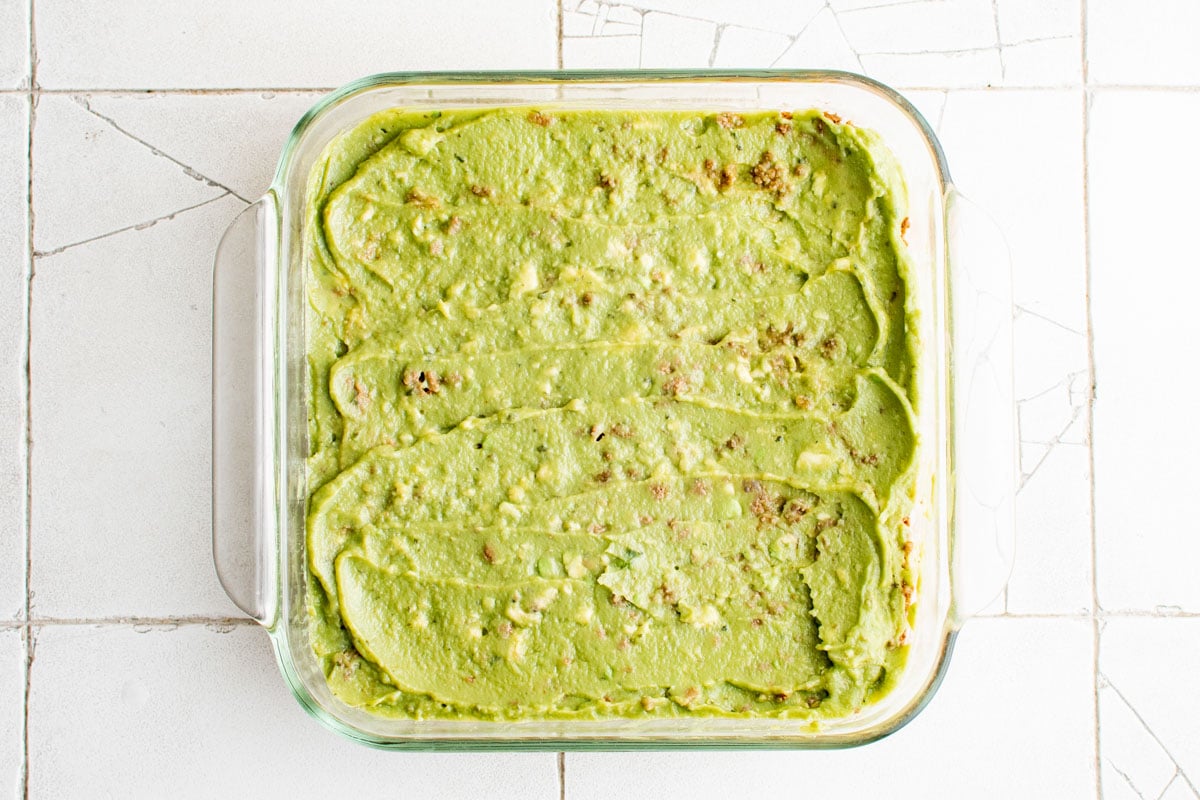 Layer taco meat on top of the beans, then guacamole on top of the meat.
Mix sour cream with taco seasoning and spread on top of the guacamole.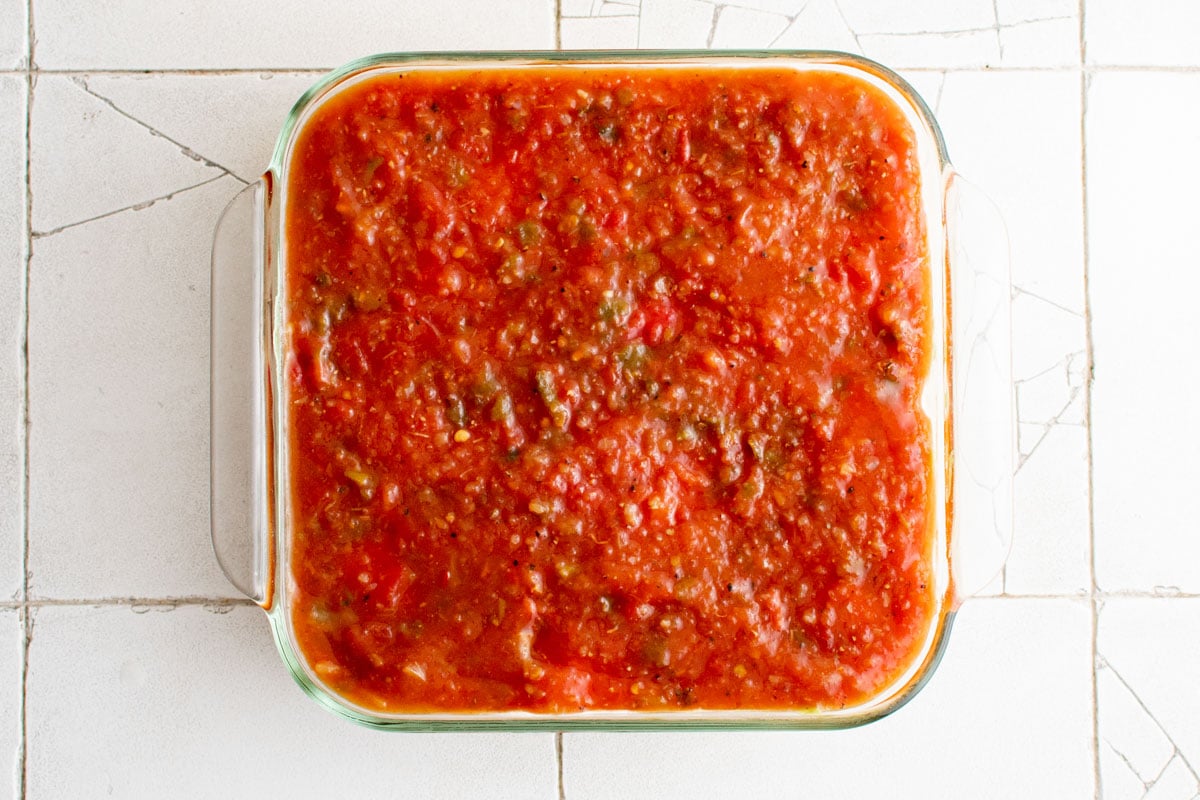 Spread salsa over the sour cream.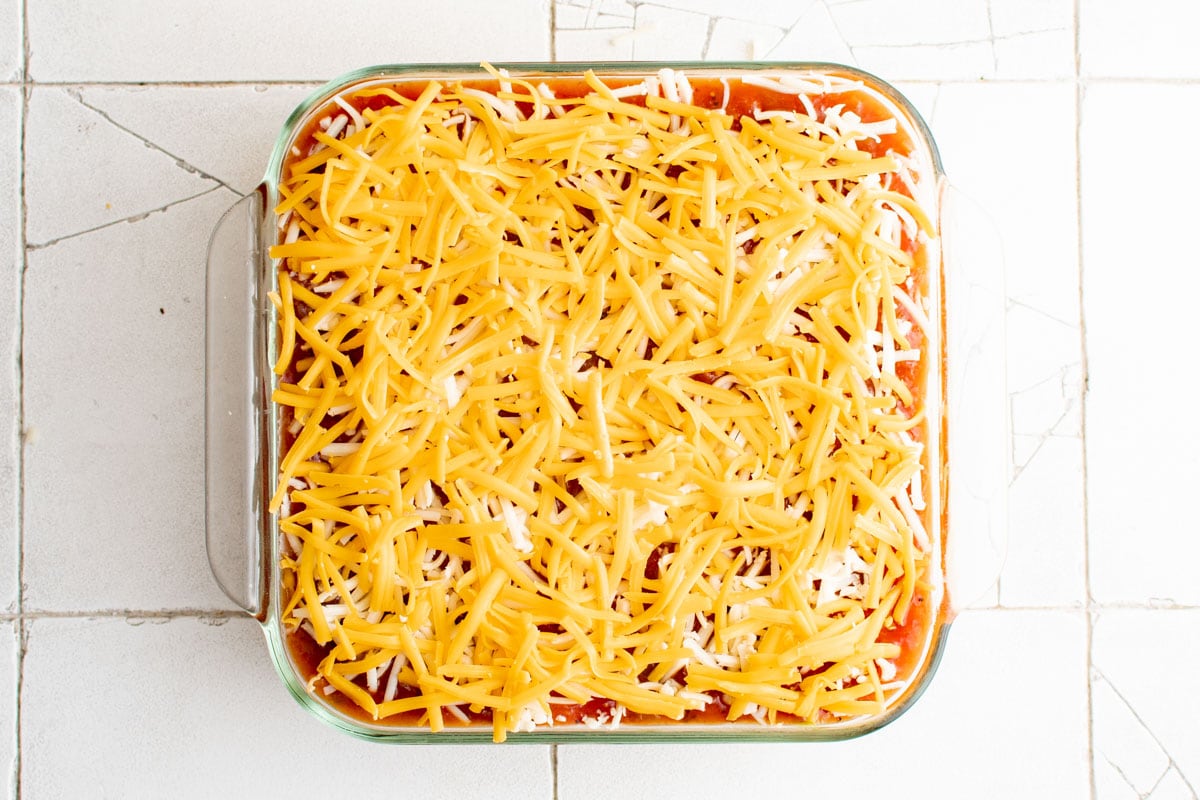 Sprinkle shredded cheese on top.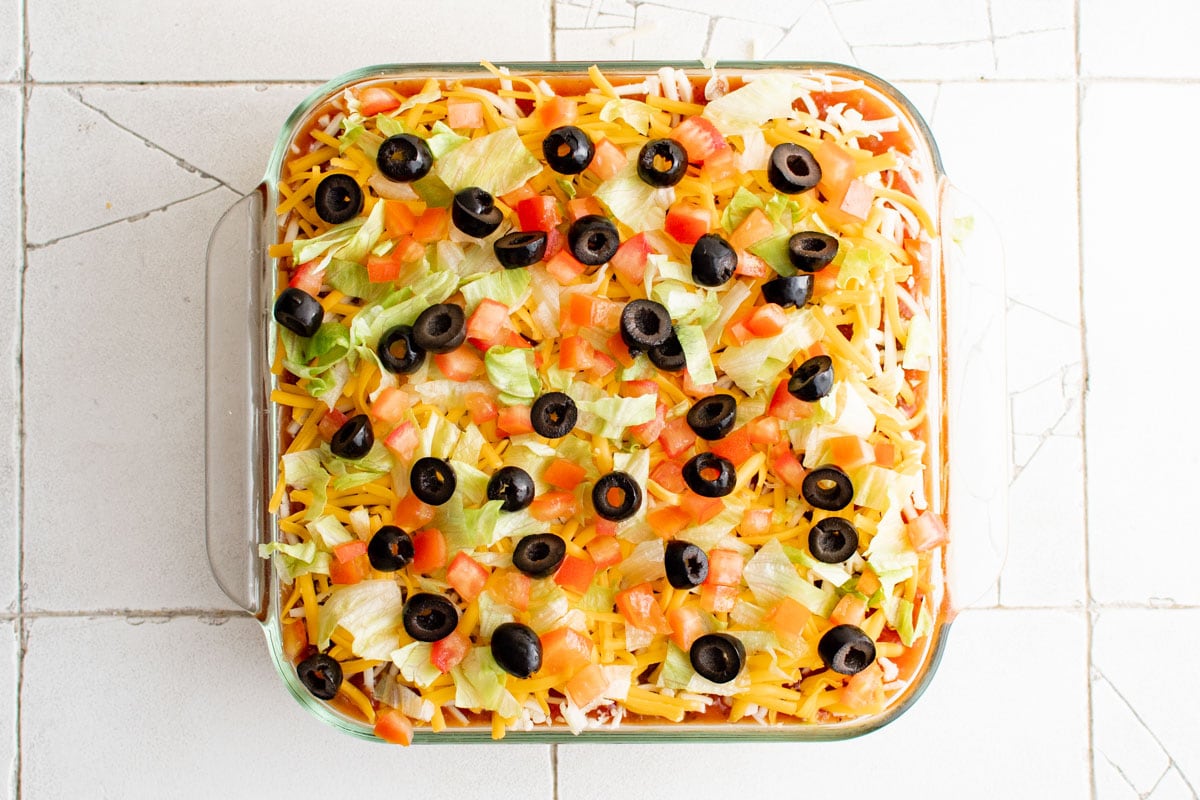 Top with shredded lettuce, sliced olives, and diced tomatoes.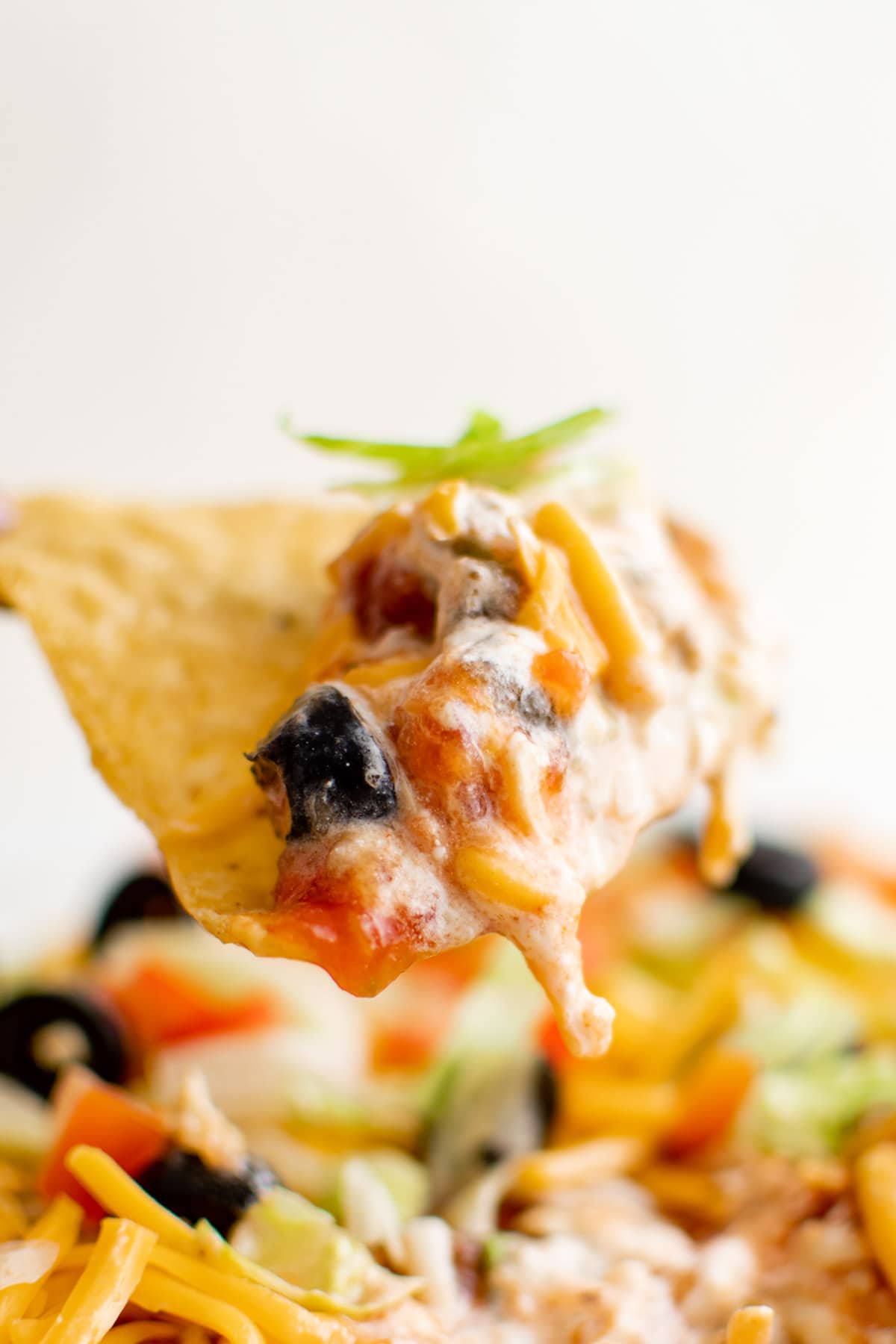 Serve immediately or chill for up to 24 hours, then serve with sturdy tortilla chips.
FAQs
Why is my taco dip runny?
Often the answer to this is that some of the ingredients are too watery, usually the salsa. This is why I recommend straining as much liquid out of it as you can. The lettuce should be thoroughly dried after washing as well.
Why do you add water to taco meat?
The water helps to create a sauce with the taco seasoning so it's nice and flavorful and juicy. We are only using a little water so it will just lightly coat the meat.
Can you store leftovers?
Leftover layer dip doesn't keep too well because of the guacamole, but if you can wrap it up tight you'll be able to enjoy it for a few more days. Pro Tip: Press plastic wrap down around the dip, gently pressing out as much air as possible.
Expert Tips
Canned refried beans can be a little grainy. Adding a couple of tablespoons of milk to them helps make them nice and creamy. Don't skip it!
Use an offset spatula to make easy work of spreading ingredients in layers.
Shred cheese using the smaller holes of a box grater for thinner shreds that are easier to pick up with your chip.
And speaking of chips, I prefer heartier, stronger chips. You don't want wimpy chips that will break under the pressure of this dip.
The beans do not need to be heated.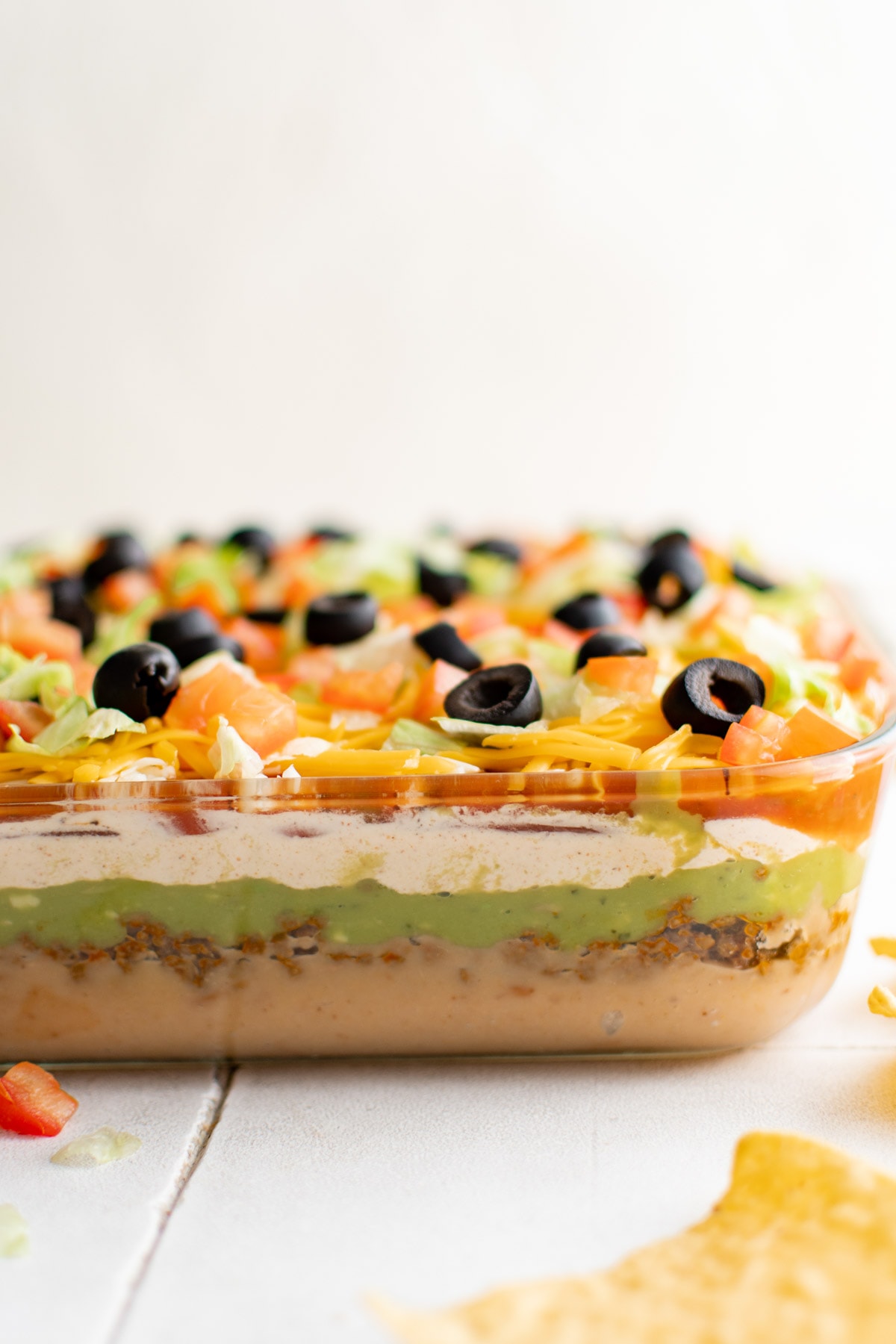 More Delicious Dips
Recipe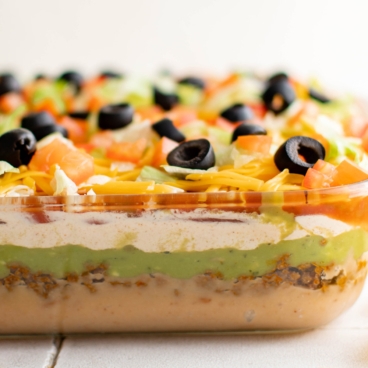 7 Layer Taco Dip Recipe
This 7 Layer Dip is layered with refried beans, taco meat, guacamole, sour cream, salsa, lettuce and cheese.
Ingredients
1

pound

ground beef

4

tablespoons

taco seasoning

divided

1/2

cup

water

15

ounce

can refried beans

2

tablespoons

milk

1 ½

cups

guacamole

2

cups

sour cream

1 ½

cups

salsa

3/4

cup

freshly grated sharp cheddar cheese

3/4

cup

freshly grated Jack cheese

2

cups

shredded iceberg or Romaine lettuce

2

ounce

canned sliced olives

drainedf (half the can)

1

Roma tomato,

seeded and diced
Instructions
Heat a large skillet over medium-high heat. Add the ground beef to the skillet. Cook, breaking it up with a spatula, until browned and no longer pink; about 8 minutes. Drain any grease from the pan and return to the heat.

Stir in 2 tablespoons of taco seasoning and ½ cup water. Bring to a simmer and cook, stirring occasionally, until water is evaporated; 4-6 minutes. Remove from heat and let cool slightly.

Place refried beans into a small bowl and mash with a fork to soften. Stir in milk to thin the beans. Spread evenly onto the bottom of a 2-quart casserole dish (preferably clear glass).

Spread the taco meat over the beans.

Evenly spread the guacamole on top of the taco meat.

Mix 2 tablespoons of taco seasoning into the sour cream with a pinch of salt. Evenly spread on top of the guacamole.

Spread salsa over the sour cream.

Sprinkle shredded cheese over the salsa.

Top with shredded lettuce, sliced olives and diced tomatoes.

Serve with your favorite hearty tortilla chips.
Notes
Make sure to use a well blended salsa and drain any excess liquid from it.
Nutrition
Calories:
462
kcal
Carbohydrates:
18
g
Protein:
21
g
Fat:
35
g
Saturated Fat:
14
g
Polyunsaturated Fat:
2
g
Monounsaturated Fat:
14
g
Trans Fat:
1
g
Cholesterol:
93
mg
Sodium:
1033
mg
Potassium:
661
mg
Fiber:
7
g
Sugar:
7
g
Vitamin A:
1199
IU
Vitamin C:
8
mg
Calcium:
270
mg
Iron:
2
mg