Honey Mustard Chicken is a simple baked chicken recipe that takes just minutes to prepare. Tender chicken breast brushed with two kinds of mustard and sweet honey  for a delicious combination everyone will love. 
If you love chicken dinners like we do, you need to have this honey mustard chicken in your recipe box! It's a favorite, along with Beer Can Chicken and Lemon Pepper Chicken.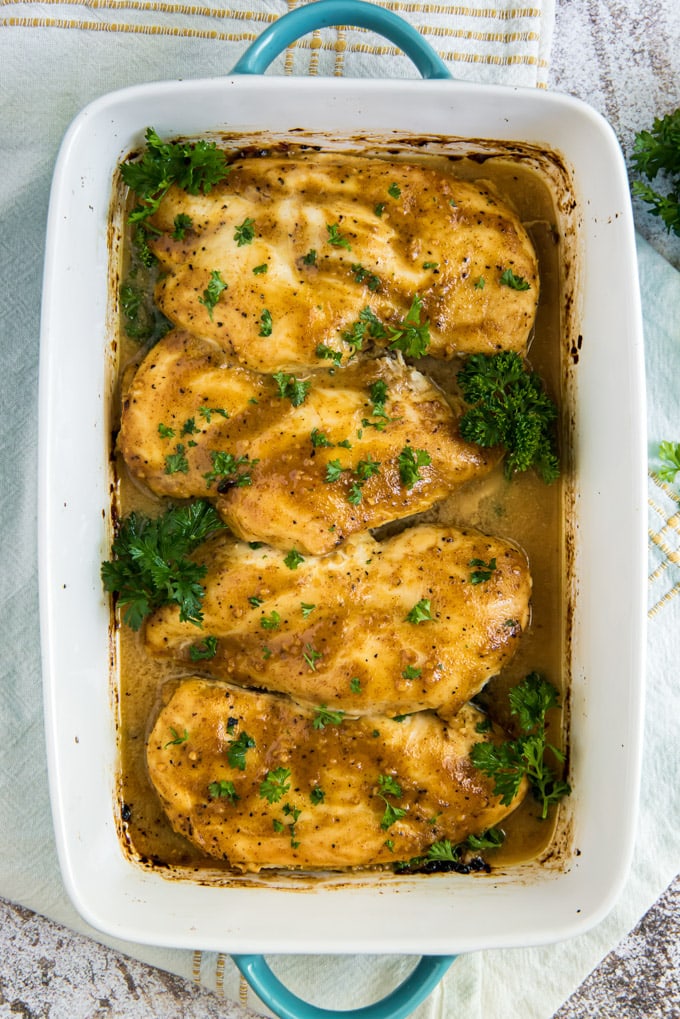 Baked Honey Mustard Chicken Breasts
We are constantly making chicken for dinner in our house. It's healthier, it's easy, and there are so many ways to change it up. But despite having what feels like 8 million chicken recipes on my site, even I struggle with how to prepare it most nights.
Honey Mustard Chicken is by far a favorite in our family. That little pop when you bite into the whole grain mustard totally gets me every time! And it's super simple; just mix, spread and bake!
TIPS FOR MAKING THE BEST BAKED CHICKEN
I've got lots of tips to share when it comes to my favorite chicken breast recipes, so let's dive in!
Add moisture to chicken breasts to help prevent them from drying out. Rub the chicken with a little olive oil before cooking or topping with a sauce helps. Honey Mustard Chicken with sauce on top helps to keep moisture in and adds a ton of flavor, too.
Chicken breasts do best at a high temperature (roasting) around 400-450 degrees Fahrenheit. This allows the chicken breast to cook quickly and retain a lot of moisture. Lower temps result in a longer cooking time and a higher chance of dry chicken, which is not what we want.
Make sure to let your chicken REST. This is so important when cooking any meat, but especially with this chicken breast recipe. When cooked at a high temperature the juices in the chicken quickly rush to the center, so when you cut into it right away, all those juices come pouring out and boom – dry chicken. Resting allows the juices to redistribute through the chicken breast and gives you a tender, juicy piece of meat every time.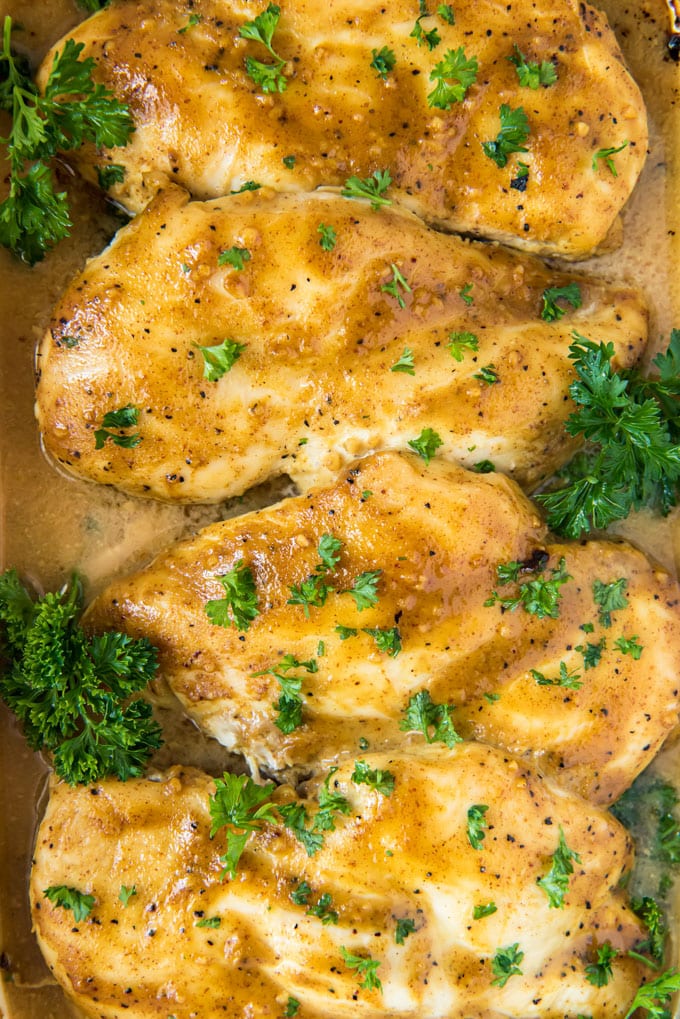 How to Make Honey Mustard Chicken Breast
Always start by preheating your oven. This gives the chicken a chance to cook evenly. Preheat to 400 degrees. Prep your pan.
Mix up the honey mustard sauce ingredients – ground mustard, dijon mustard, honey, garlic, paprika and lemon juice.
Give your chicken breasts a little beating. They should all be about the same thickness or they won't cook evenly. Or you could use cutlets, or if your chicken is really thick, just slice it in half down the middle.
Place chicken breasts side by side in your baking dish. It's ok if they are touching but not on top of each other. Season the chicken with salt and pepper. Spread that beautiful sauce to turn that boring chicken into beautiful, delicious honey mustard chicken.
Bake/roast in the oven until chicken is cooked. About 15-20 minutes. It will depend on your oven and the size/thickness of the chicken. Keep a meat thermometer handy so you can check for an internal temperature of 165 degrees F.
Let the chicken stand for at least 5 minutes before cutting into it. If you want more color or caramelization on top, flip on the broiler for the last several minutes.
Serving Suggestions
Honey Mustard Chicken has a distinct sweet and tangy flavor but it will still go with a lot of side dish options. Some of our favorites are Best Make Ahead Mashed Potatoes Recipe, Perfect Baked Potatoes, Easy Oven Roasted Asparagus and Grilled Zucchini.
What to do with Leftovers
Store leftover honey mustard chicken in an airtight container in the refrigerator for 4-5 days. Reheat in the microwave. If you want to freeze the cooked chicken, let if first cool completely, then freeze on a sheet pan in a single layer for an hour. Once frozen pop the chicken off the sheet pan and place in a freezer bag for up to 6 months.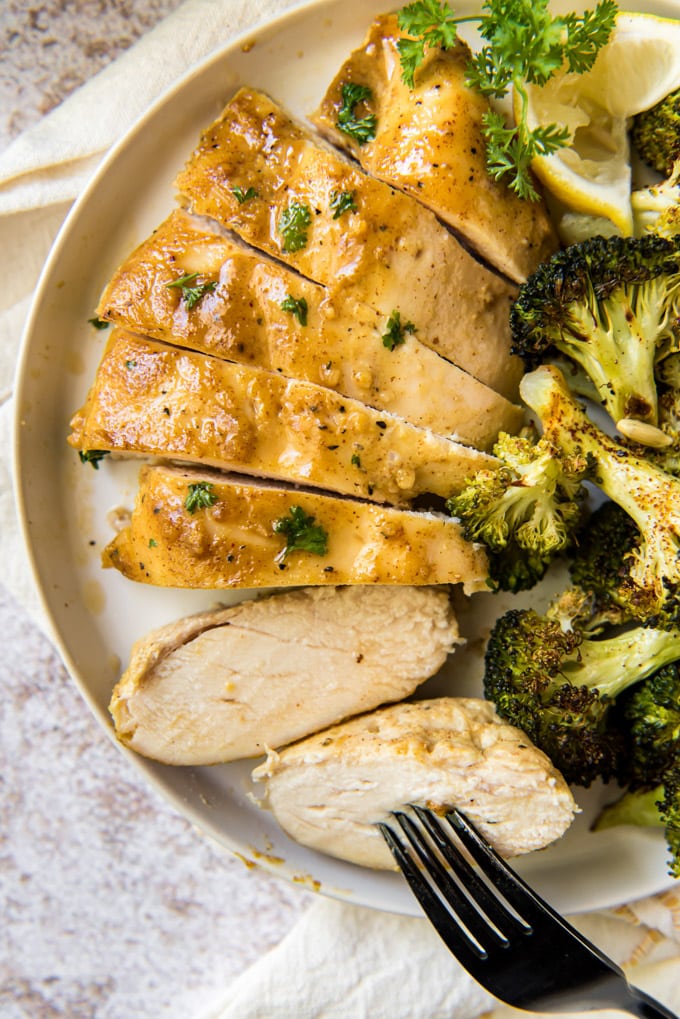 More chicken recipes you'll love:
Recipe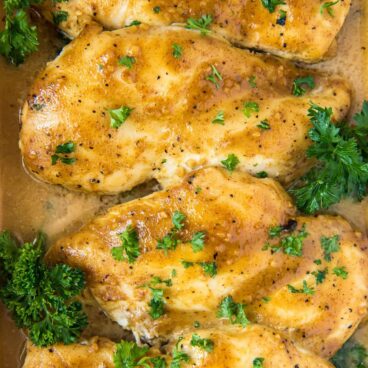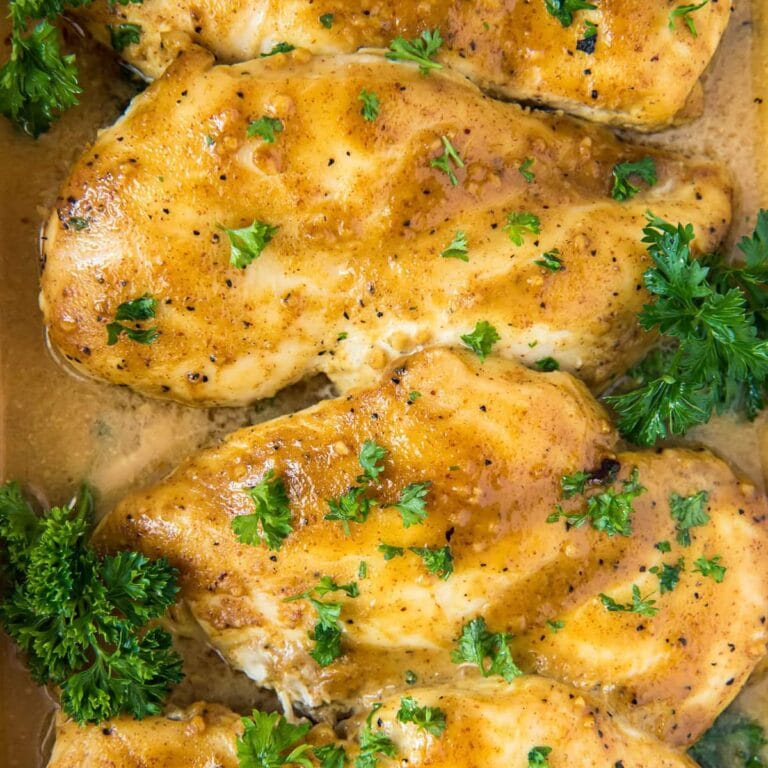 Honey Mustard Chicken
Honey Mustard Chicken is a simple baked chicken recipe with a sweet and tangy sauce that takes just minutes to prepare. Everyone loves easy baked chicken!
Ingredients
2

pounds

boneless skinless chicken breasts

(3-4 medium sized breasts)

¼

teaspoon

salt

⅛

teaspoon

black pepper

Fresh minced parsley

optional, for garnish
Honey Mustard Sauce:
2

tablespoons

whole grain mustard

2

tablespoons

dijon mustard

3

tablespoons

honey

2

garlic cloves

finely minced

1

tablespoon

lemon juice

¼

teaspoon

smoked paprika
Instructions
Preheat oven to 400 degrees F.

Combine honey mustard sauce ingredients in a small bowl and set aside.

Place chicken breasts in a large ziploc bag or between two pieces of plastic wrap and lightly pound until they are of even thickness.

Spray a 9x13-inch baking dish with nonstick cooking spray. Place chicken breasts in the dish side by side. Sprinkle with salt and pepper.

Brush sauce evenly on top of the chicken sauce on top of the chicken (use more or less to your taste).

Bake in preheated oven for 15-20 minutes or until chicken is cooked through and registers 165 degrees on a meat thermometer. (Depending on the thickness of the meat, this could take a few minutes longer).

Let stand for 5 minutes, then serve garnished with freshly minced parsley if desired.
Nutrition
Calories:
256
kcal
Carbohydrates:
12
g
Protein:
39
g
Fat:
5
g
Saturated Fat:
1
g
Cholesterol:
116
mg
Sodium:
464
mg
Potassium:
688
mg
Fiber:
1
g
Sugar:
11
g
Vitamin A:
104
IU
Vitamin C:
4
mg
Calcium:
18
mg
Iron:
1
mg