Baked Chicken Parmesan is a healthier version of the Italian-American classic. Lightly breaded and baked instead of fried, then covered with melted Mozzarella cheese and marinara sauce, this simple recipe is moist and full of flavor.
Italian food is a favorite at our house, and this light Baked Chicken Parmesan recipe quickly has topped the list of must make recipes! It falls in line with other Italian inspired favorites, like Shrimp Scampi and Homemade Alfredo Sauce.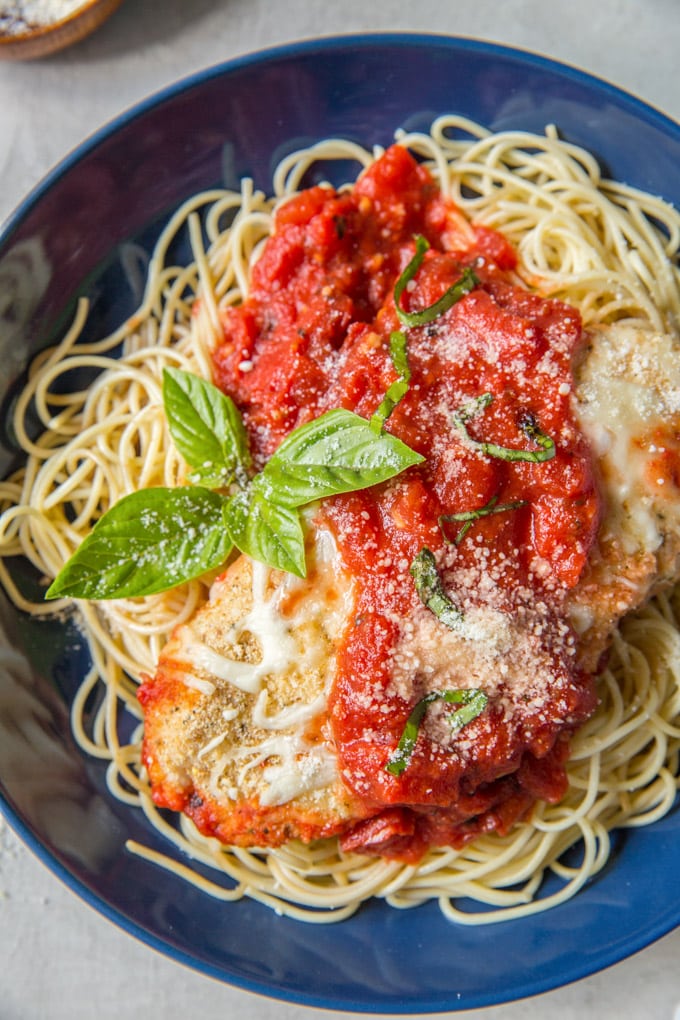 Baked Chicken Parmesan Recipe
I love to indulge in some really rich comfort food from time to time, and our favorite local Italian restaurant makes the best Chicken Parmesan! The bread and fry a huge chicken breast and serve it with a rich marinara sauce and homemade pasta. It is absolutely amazing and totally indulgent, and something I reserve for only special occasions.
I really wanted to be able to enjoy one of my favorite foods at home, but knew I needed to scale it down a bit in the calorie department.
My baked Chicken Parmesan has a delicious, crispy topping, but you only bread one side of the chicken and bake it, which helps to keep the calories down. It's paired with a homemade tomato sauce that isn't overwhelming and let's the flavor of the chicken shine through. My son, who usually has a very strong stance on how spaghetti should taste, loved this, and asked for seconds! It also pairs very nicely with my homemade roasted garlic bread and a copycat Olive Garden Salad.
Why is Chicken Parmesan made with mozzarella?
Did you know that Chicken Parmesan actually originated in the United States? The dish, originally called Chicken Parmigiana, was inspired by the traditional Eggplant Parmigiana that was a recipe brought to the states by Italian immigrants. It was quickly realized that Americans favored meat in recipes over eggplant and the American classic that we now know as Chicken Parmesan was born.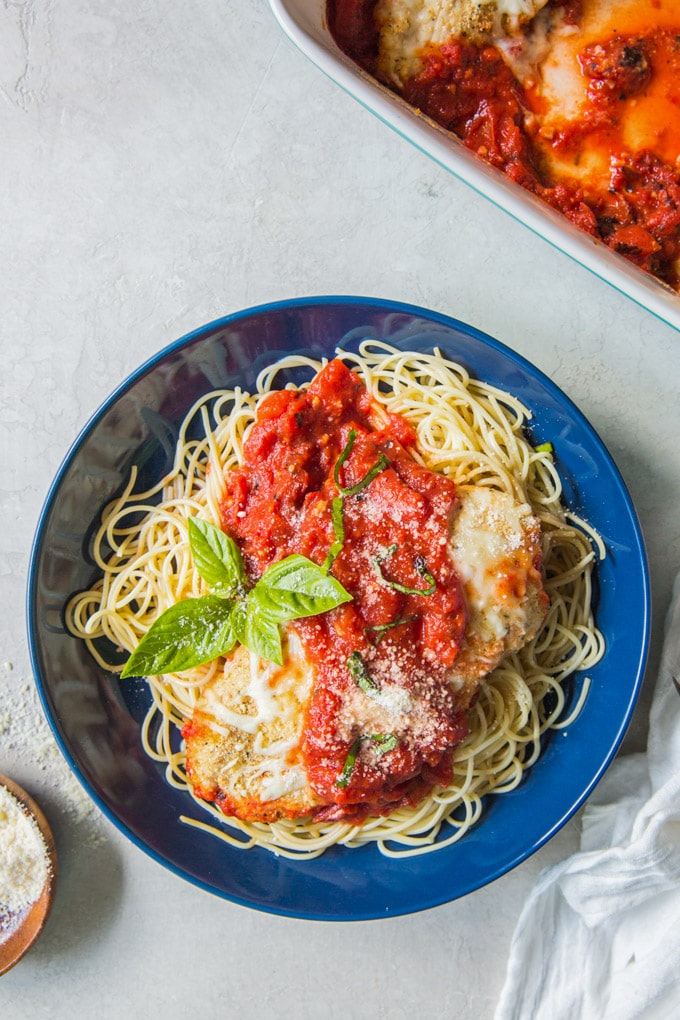 How to make Baked Chicken Parmesan
Start by making the sauce. A large can of crushed tomatoes is the base, and you add garlic, Italian seasoning and salt and let it simmer for a few minutes before spreading a few spoonfuls over the bottom of a 13″ x 9 " baking dish. Or you can use a jarred marinara or pasta sauce. Totally your choice.
Then it's time to prepare the chicken. Pound the chicken breasts until they are somewhat even in thickness. I just put the chicken in a zip top bag and pound with a heavy skillet. This helps ensure even cooking and that the chicken will be moist and not dry at the ends.
Coat one side in flour, then egg white, then Italian breadcrumbs mixed with Parmesan Cheese. Place the chicken, breaded side up, in the baking dish.
Bake the chicken for about 15-20 minutes or so in a 400 degree oven or until the breading is nice and crispy. In the last five minutes, add some shredded or sliced mozzarella cheese. You could also flip on the broiler to help the cheese melt quicker.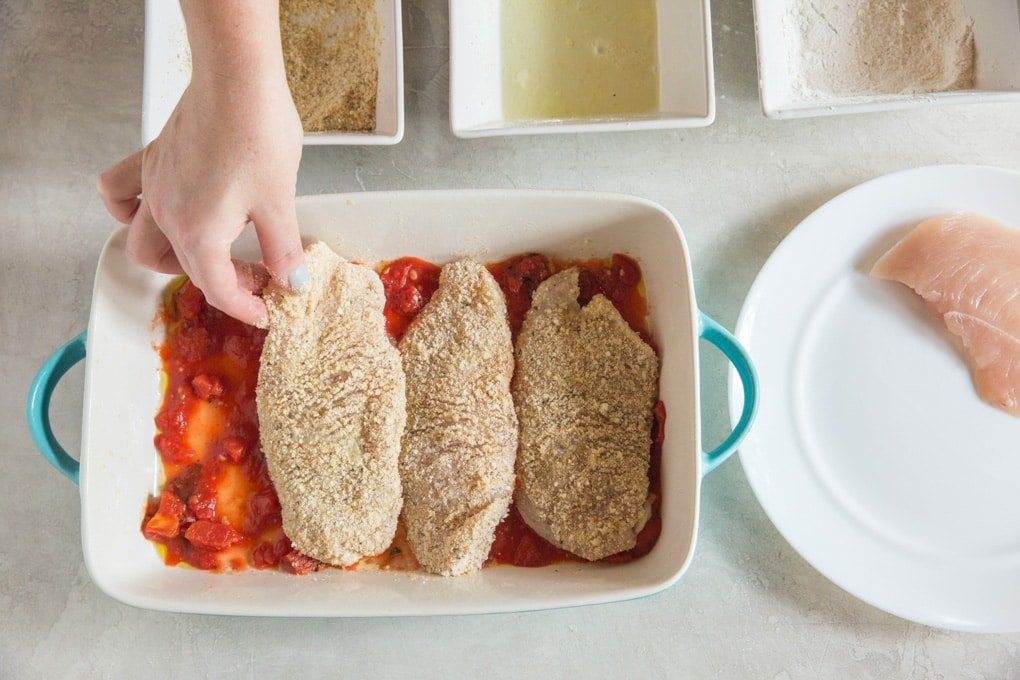 What to serve with chicken parmesan
Serve with veggies, pasta, or by itself, with tomato sauce. I really love to serve this dish with my 5-Minute Parmesan Ranch Broccoli.
What to do with leftovers?
Feel free to eat the leftovers cold, standing in front of the refrigerator. Not that I would know anything about that.
But really, leftovers should be stored in an airtight container and will stay fresh for about 3-4 days. Keep in mind that reheating leftover baked chicken parmesan will not yield a crispy breading, but it will be tasty just the same.
Can Chicken Parmesan be frozen?
Chicken Parmesan can be frozen once it's cooked all the way through, but the breading may be a little soggy. However, you can make chicken parmesan ahead of time and freeze for making at a later time.
Bread the chicken on one side using the instructions outlined in the recipe below.
Place the chicken breasts, breading side up, on a parchment paper lined baking sheet.
Pop the baking sheet into the freezer for 2 hour, then remove and stack chicken in a freezer container with sheets of parchment between each layer.
Freeze for up to 2-3 months.
To cook, thaw in the fridge overnight, then bake according to the recipe instructions.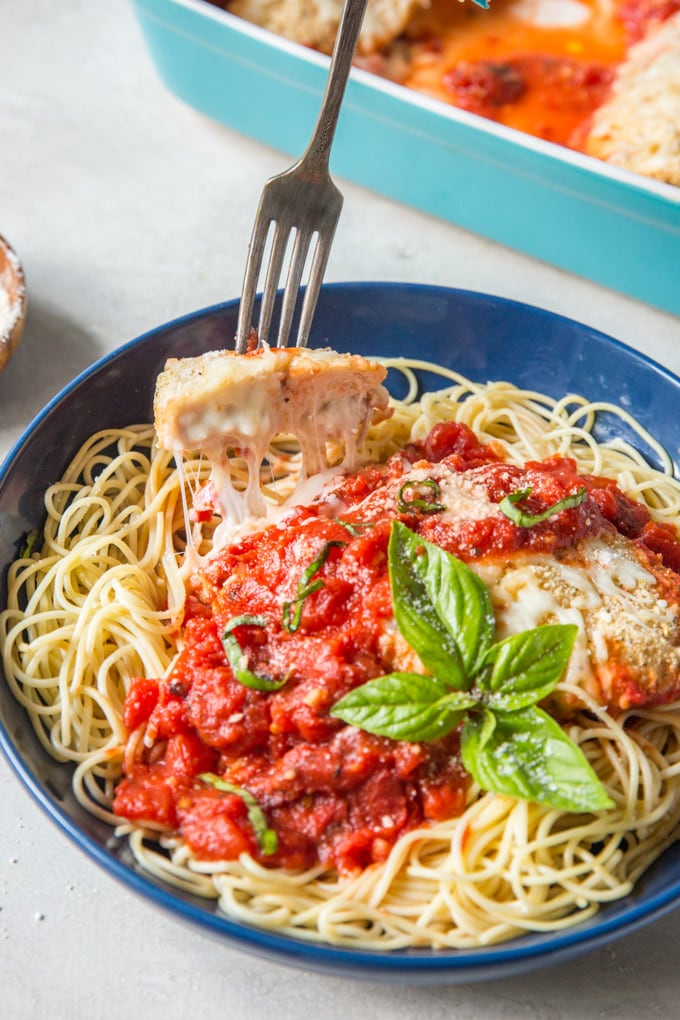 More Italian inspired recipes to try:
More Chicken recipes:
Recipe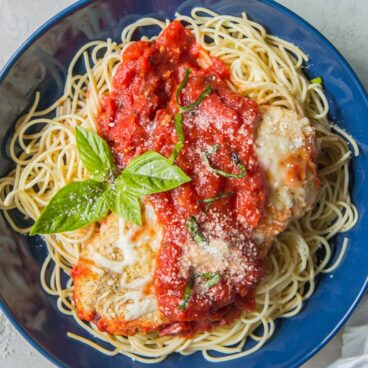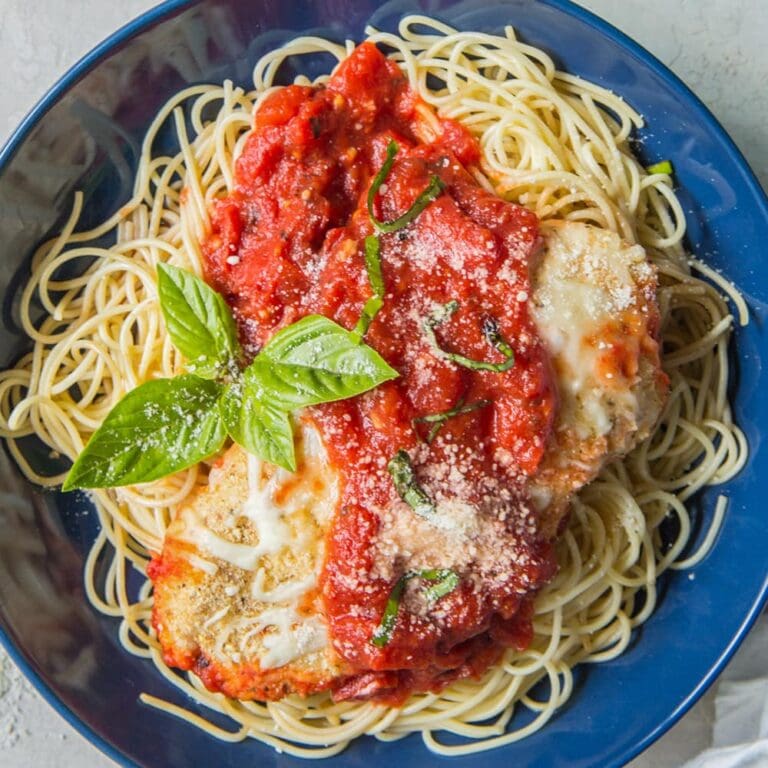 Baked Chicken Parmesan
Baked Chicken Parmesan is a healthier version of the classic that's lightly breaded and baked then topped with melted Mozzarella cheese and marinara sauce.
Ingredients
Sauce:
20

ounce

can crushed tomatoes

1/2

teaspoon

salt

2

teaspoons

Italian seasoning

1

tablespoon

minced garlic
Chicken:
4

chicken cutlets

1/4

cup

Italian Breadcrumbs

1/4

cup

grated Parmesan Cheese

2

egg whites

1/4

cup

flour

1/4

teaspoon

salt

1/4

teaspoon

pepper

4

tablespoons

shredded Mozzarella cheese
Instructions
In a medium sauce pan, heat tomatoes with salt, Italian Seasoning and minced garlic. Bring to a boil, then cover and simmer until ready to serve.

Preheat oven to 400 degrees.

Spray a 13″ x 9″ baking dish with cooking spray. Spoon just enough of the tomato sauce to cover the bottom of the dish, and spread evenly.

Prepare three shallow bowls – one with sifted flour and salt and pepper, whisk egg whites in the second, and mix the breadcrumbs with the Parmesan Cheese in the third.

Coat one side of the chicken in flour, then egg white, then the breadcrumb mixture. Place breaded side up in the prepared baking dish.

Bake in the preheated oven for 15-20 minutes, or until juices are clear and top is browned.

Sprinkle cheese on top of chicken, if desired, during the last five minutes of cooking time.

Spoon tomato sauce on top of chicken.

Serve with pasta or veggies.
Nutrition
Calories:
381
kcal
Carbohydrates:
24
g
Protein:
48
g
Fat:
10
g
Saturated Fat:
4
g
Cholesterol:
126
mg
Sodium:
1134
mg
Potassium:
1110
mg
Fiber:
4
g
Sugar:
7
g
Vitamin A:
541
IU
Vitamin C:
16
mg
Calcium:
234
mg
Iron:
4
mg