Italian food is a favorite at our house, and this light Chicken Parmesan quickly has topped the list of must make recipes!
It has a delicious, crispy topping, but you only bread one side of the chicken and bake it, which helps to keep the calories down. It's paired with a homemade tomato sauce that isn't overwhelming and let's the flavor of the chicken shine through. My son, who usually has a very strong stance on how spaghetti should taste, loved this, and asked for seconds! It also pairs very nicely with my homemade roasted garlic bread.
Start by making the sauce. A large can of crushed tomatoes is the base, and you add garlic, Italian seasoning and salt and let it simmer for a few minutes before spreading a few spoonfuls over the bottom of a 13″ x 9 " baking dish.
Then it's time to prepare the chicken. Pound the chicken breasts until they are somewhat even in thickness. I just put the chicken in a zip top bag and pound with a heavy skillet. This helps ensure even cooking. Coat one side in flour, then egg white, then Italian Breadcrumbs mixed with Parmesan Cheese. Place the chicken, breaded side up, in the baking dish.
Bake the chicken for 15 minutes or so in a 400 degree oven or until the breading is nice and crispy. In the last five minutes, add some shredded low-fat mozzarella if desired.
Serve with veggies, pasta, or by itself, with tomato sauce. Feel free to eat the leftovers cold, standing in front of the refrigerator. Not that I would know anything about that.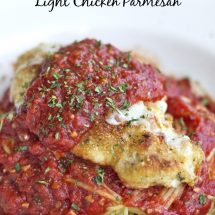 Ingredients
Sauce:
1-20 oz can crushed tomatoes
1/2 tsp salt
2 tsp Italian seasoning
1 Tbsp minced garlic
Chicken:
1 pound of chicken breasts pounded into cutlets
1/4 cup Italian Breadcrumbs
1/4 cup Grated Parmesan Cheese
2 egg whites
1/4 cup flour
1/4 tsp salt
1/4 tsp pepper
4 Tbsp shredded Mozzarella cheese
Instructions
In a medium sauce pan, heat tomatoes with salt, Italian Seasoning and minced garlic. Bring to a boil, then cover and simmer until ready to serve.

Preheat oven to 400 degrees.

Spray a 13" x 9" baking dish with cooking spray. Spoon just enough of the tomato sauce to cover the bottom of the dish, and spread evenly.

Prepare three shallow bowls - one with sifted flour and salt and pepper, whisk egg whites in the second, and mix the breadcrumbs with the Parmesan Cheese in the third.

Coat one side of the chicken in flour, then egg white, then the breadcrumb mixture. Place breaded side up in the prepared baking dish.

Bake in the preheated oven for 15-20 minutes, or until juices are clear and top is browned.

Sprinkle cheese on top of chicken, if desired, during the last five minutes of cooking time.

Spoon tomato sauce on top of chicken.

Serve with pasta or veggies.
You might also enjoy:
Hi! I'm Kristin, the creative mind behind Yellow Bliss Road where you will be inspired by tons of easy to follow recipes, lots of free printables, and a little sprinkling of life thrown in for good measure.