Baked BBQ Chicken Breasts are super simple to make with just a few pantry ingredients. Using the tips in this post, you'll have tender, juicy baked bbq chicken that's ready in about 20 minutes!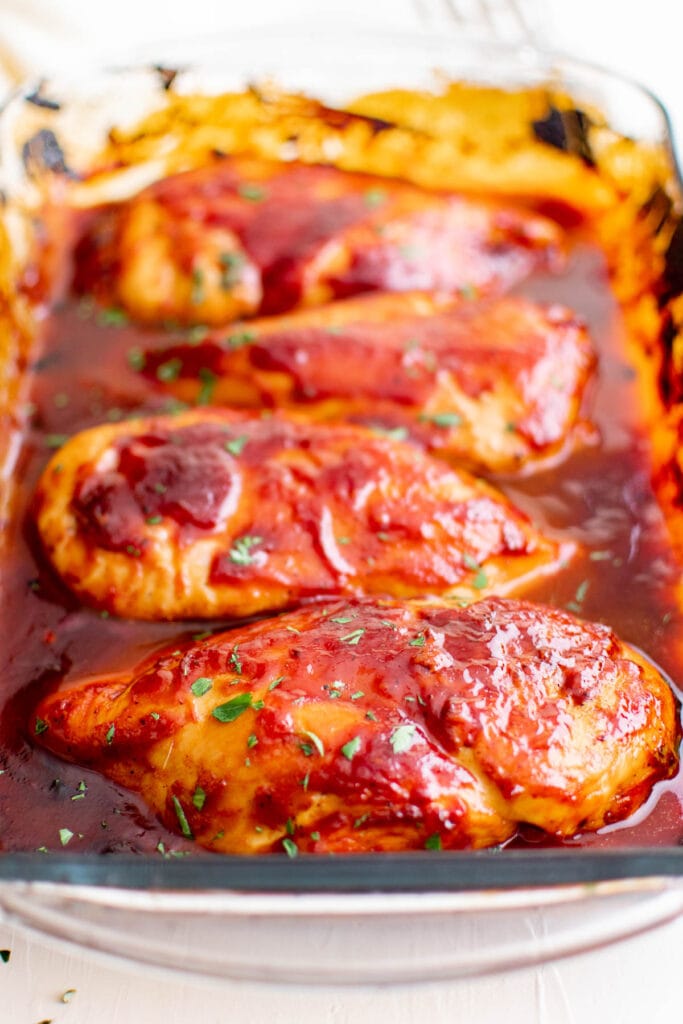 I pull out this Baked BBQ Chicken recipe when I need something on the table fast that no one will complain about! I usually pair it with Sour Cream Cornbread, Slow Cooker Baked Beans and a Garden Salad. The leftovers are great for BBQ Chicken Salad or BBQ Chicken Quesadillas.
Just like my Baked Chicken Breast recipe, this oven baked bbq chicken recipe uses simple spices and a quick roasting method to get the most tender and juicy chicken. I do have a secret weapon to get that sticky barbecue finish – the broiler!
Baked BBQ Chicken is one of the most popular chicken recipes and my weeknight dinner go-to for my busy family! It's easy to customize with different flavors of barbecue sauce or dry rubs and it make excellent leftovers, too.
Ingredients and Swaps
Chicken – I use boneless, skinless chicken breasts because they cook quickly and are super easy. You can also use boneless chicken thighs (you might need to add a little cooking time).
BBQ Sauce – When I don't have time for Homemade BBQ Sauce, my personal favorite to purchase is Sweet Baby Rays Sweet & Spicy because it's the perfect blend of sweet and heat.
Seasoning – I use my favorite Chicken Seasoning blend, but even a simple sprinkle of salt and pepper would be fine.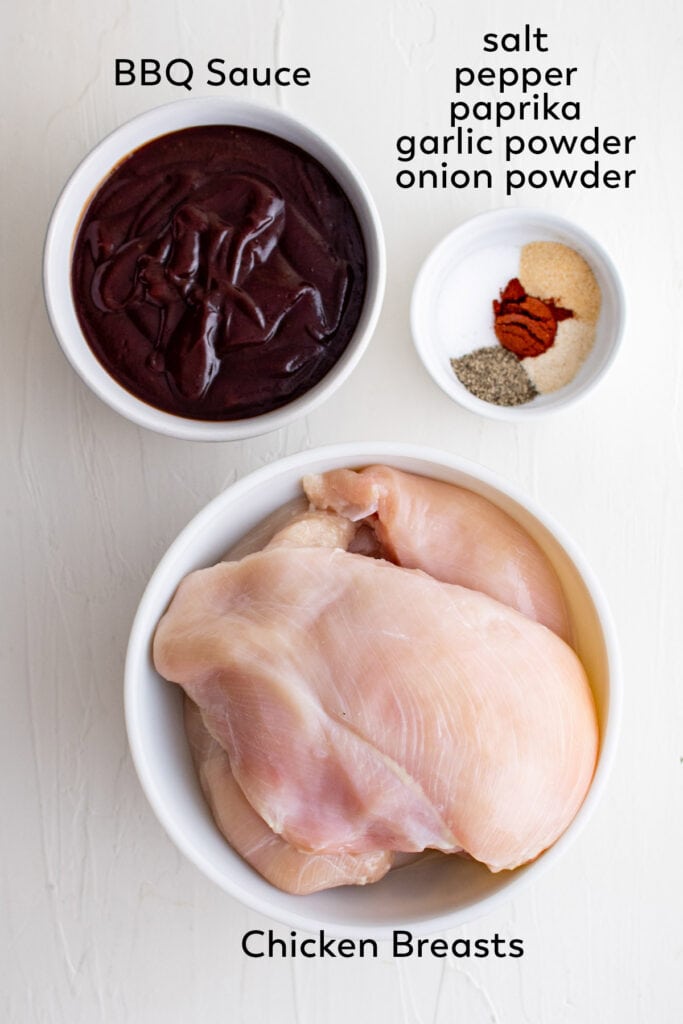 How to Make Baked BBQ Chicken Breast
Prep the chicken. Start with boneless, skinless chicken breasts that have been lightly pounded so they are the same thickness. This is so important to ensure that your chicken cooks evenly.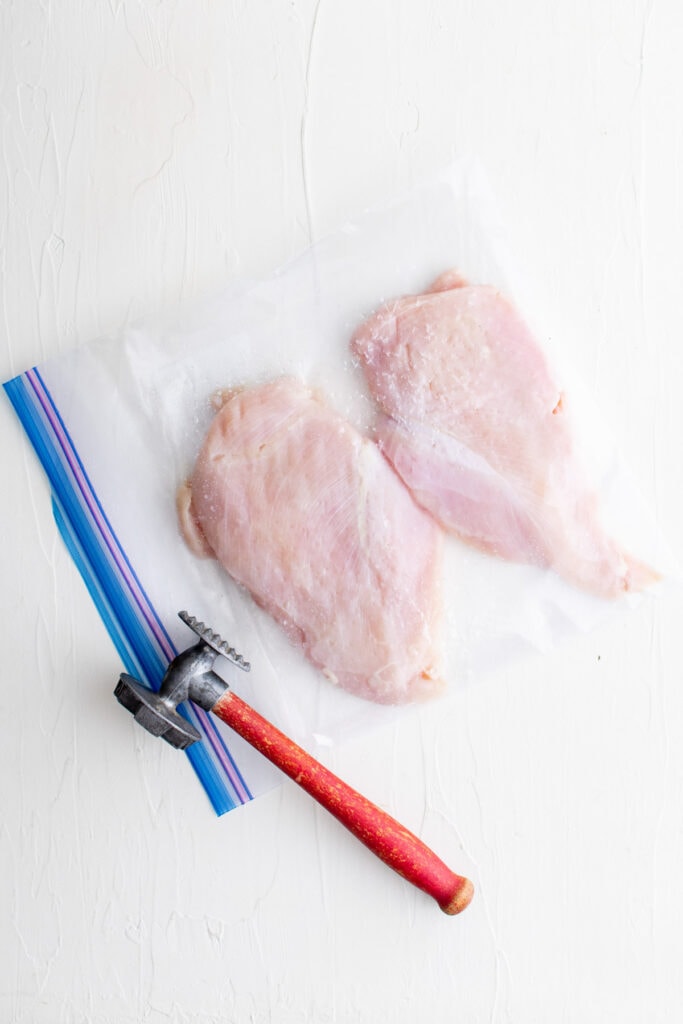 Season. Next rub the chicken with a blend of spices, mainly chili powder, garlic powder and salt and pepper.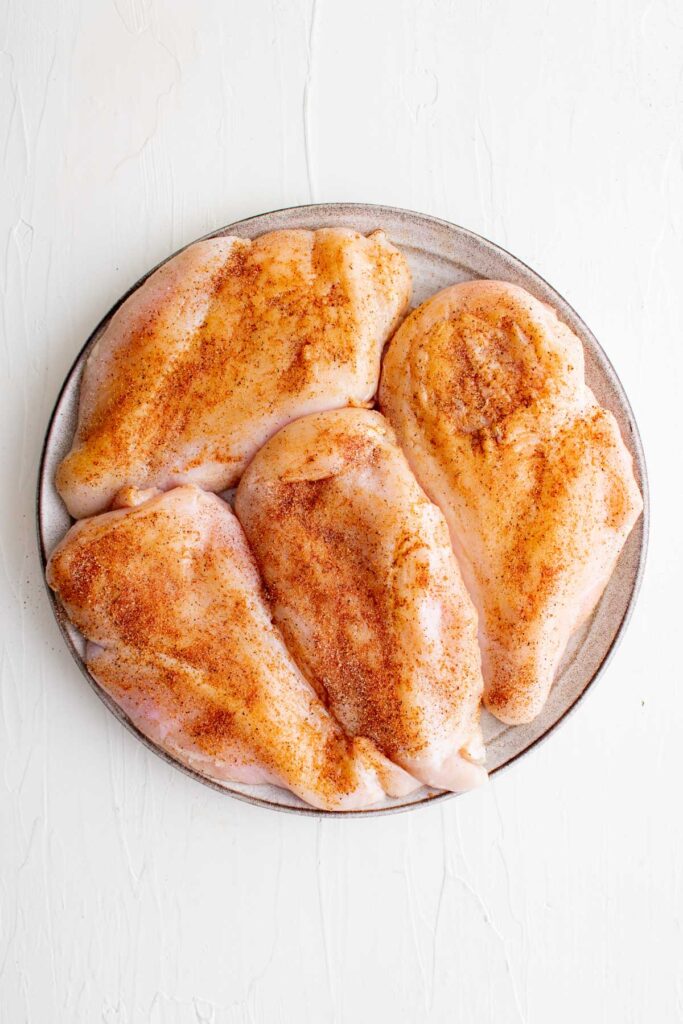 Sauce. Arrange the chicken breasts in a large baking dish or on a baking sheet, then brush with your favorite barbecue sauce.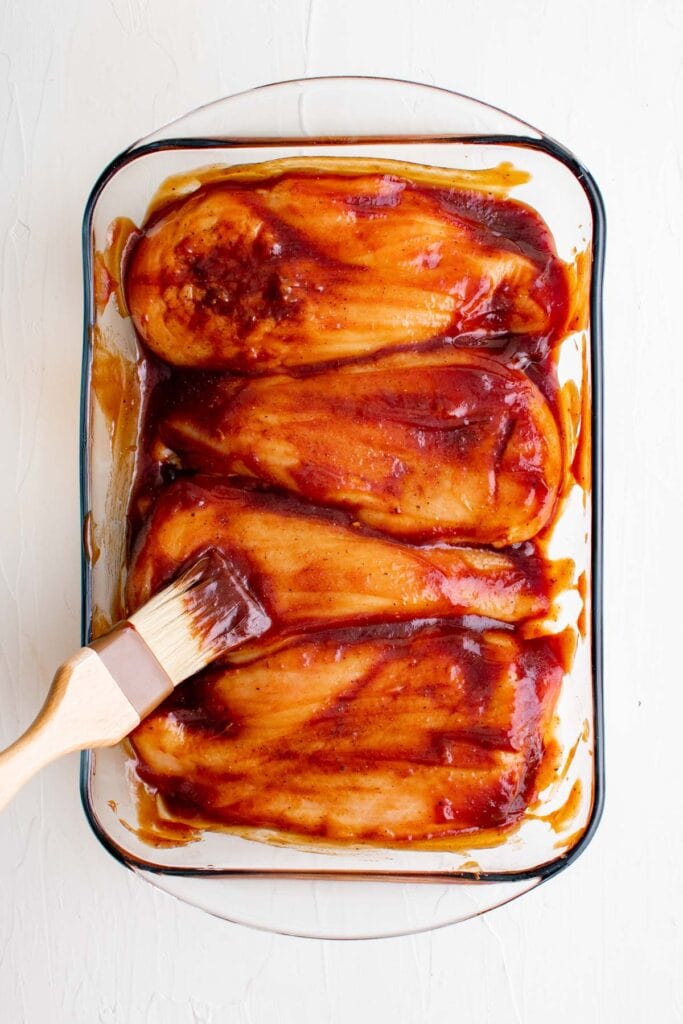 Bake. Bake the BBQ Chicken at a high temperature of 450 degrees. It will cook quickly, keeping the juices locked inside.
Pro tip: At the end, move the rack up and broil the chicken for the last few minutes to caramelize the bbq sauce. Be sure to watch it closely because as the sugars in the sauce caramelize, they can burn quickly.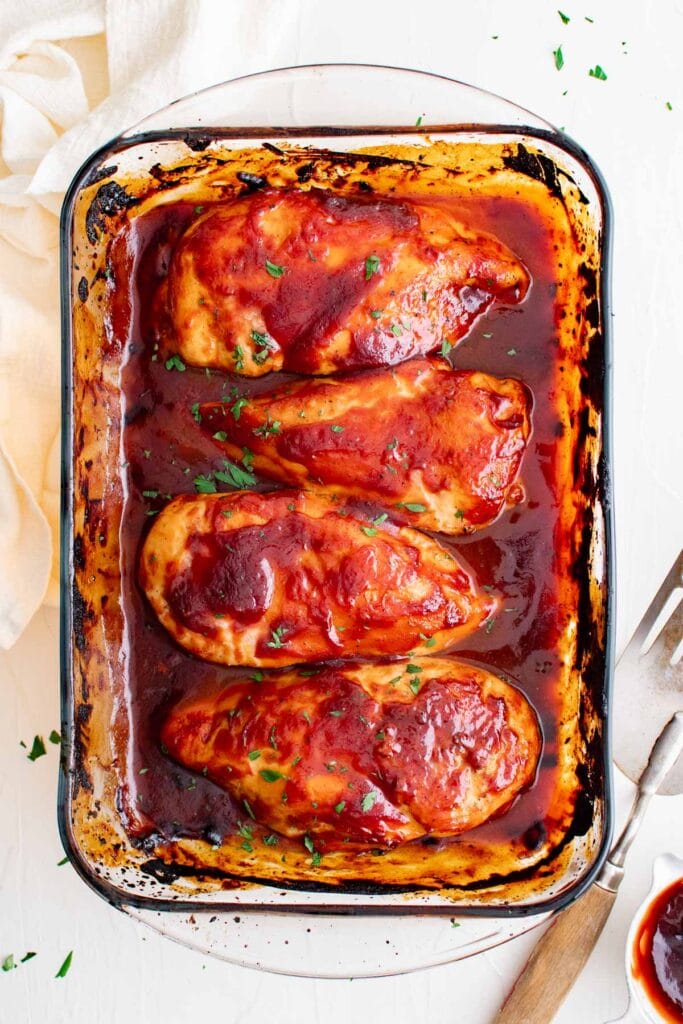 How long should you cook chicken in the oven?
Chicken Breasts – Chicken breasts can be tricky to bake because they are very lean with little to no fat making it overcook them. Bake the bbq chicken in a preheated oven at 450 degrees for about 15 minutes or until the juices run clear and the internal temperature reaches 165 degrees. Baking your chicken breasts at a high temperature for a shorter amount of time ensures that they retain their moisture.
Chicken Thighs – To bake boneless chicken thighs instead of breasts, preheat the oven to 450 degrees and just bake for a little longer, around 20-25 minutes, or until the internal temperature reaches 165 degrees in the thickest part of the chicken. Chicken thighs have a higher fat content so you don't have to worry as much about them drying out. Bone-in chicken thighs will take an about 35-45 minutes.
Expert Tips and FAQs
Don't wash your chicken. Washing chicken in the sink spreads harmful bacteria. All you need to do is pat chicken dry with paper towels.
Feel free to switch up the sauce and seasonings. This method will work just as well with teriyaki sauce or honey mustard. Or, add a little bit of brown sugar to the sauce for a sweet finish that caramelizes beautifully under the broil.
Chicken should be even in thickness. If you have a particularly thick piece of chicken, use a meat mallet to lightly pound the thicker parts so all pieces are roughly the same thickness and will take the same amount of time to cook.
Make Ahead: You can prep the chicken up to a day in advance, just be sure to cover it tightly and let it come to room temperature while your oven preheats.
Storage: Store leftovers in an airtight container in the fridge for up to 2-3 days after cooking. Reheat in the microwave or use leftovers for salads, sandwiches and wraps. To freeze, cool completely then place in resealable freezer bags for up to 6 months. Thaw in the fridge.
How do you keep BBQ chicken from drying out?
Lean cuts of meat, like breasts, tend to dry out quickly. The best way to ensure they stay moist and juicy is to keep an eye on the internal temperature, which should be between 160-165 degrees when you remove it from the oven.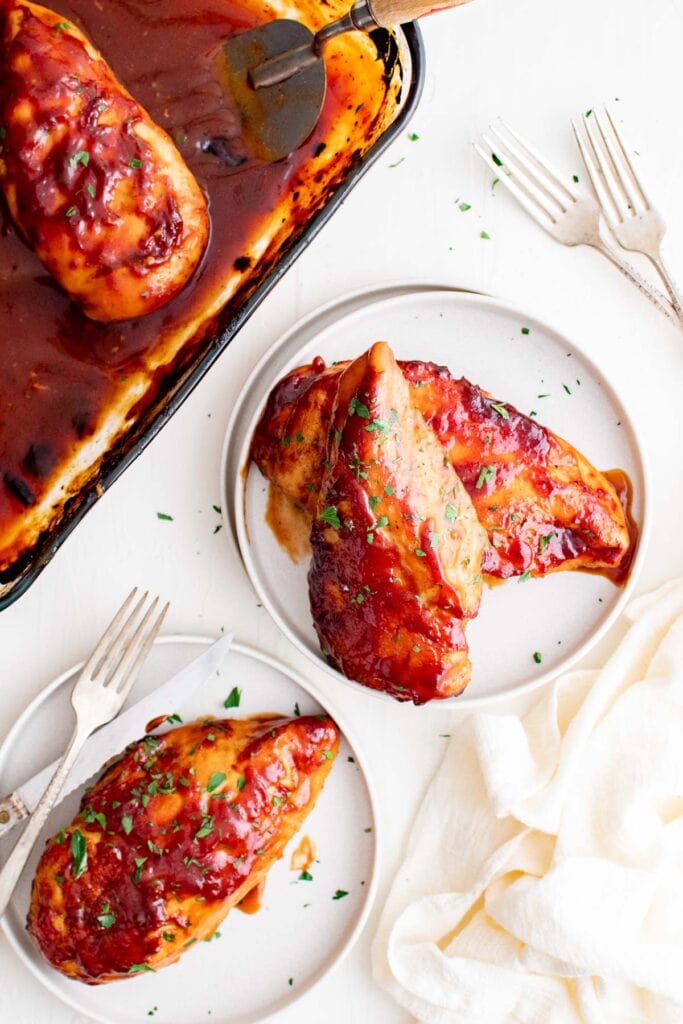 Serving Suggestions
This recipe is a very versatile entree, and goes so well with just about anything you want to serve it with. Some of our favorite side dishes include:
More Delicious Chicken Dinners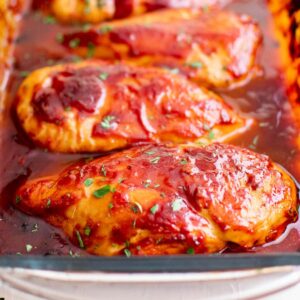 Baked Barbecued Chicken
Baked BBQ Chicken Breasts are simple to make with just a few ingredients. Learn how to bake tender, juicy bbq chicken in about 20 minutes!
Ingredients
4 boneless skinless chicken breasts medium size, about 2 pounds
1 ½ cups of your favorite barbecue sauce (or homemade)
1 teaspoon kosher salt
½ teaspoon black pepper
½ teaspoon garlic powder
½ teaspoon onion powder
½ teaspoon paprika
Optional garnish: fresh minced parsley
Instructions
Preheat oven to 450 degrees. Pound chicken breasts lightly so they are of even thickness.

Pour about a 1/2 cup of barbecue sauce in a 13" x 9" baking dish and spread to coat.

In a small bowl, whisk together salt, pepper, garlic powder, onion powder and chili powder. Sprinkle the seasoning mixture over both sides of the chicken and rub it in with your hands. Place chicken breasts side by side in the prepared baking dish, making sure there is no overlap.

Brush with barbecue sauce, enough to cover the chicken.

Bake in a preheated oven for 15 minutes, until juices are clear or a meat thermometer reads 160 degrees. Baste with more sauce after about halfway through.

Turn the broiler to high and move chicken to the top rack of the oven. Broil for about 5 minutes, or until sauce is caramelized – careful to watch closely to avoid burning.

Cover with foil and allow to rest for 5-10 minutes while the juices settle before slicing.

Garnish with fresh minced parsley if desired and serve hot. Spoon extra sauce from the pan over the chicken.
Notes
Store leftovers in an airtight container in the fridge for up to 2-3 days after cooking. Reheat in the microwave or use leftovers for salads, sandwiches and wraps. To freeze, cool completely then place in resealable freezer bags for up to 6 months. Thaw in the fridge.
Nutrition
Calories: 211kcalCarbohydrates: 30gProtein: 17gFat: 2gSaturated Fat: 1gPolyunsaturated Fat: 1gMonounsaturated Fat: 1gTrans Fat: 1gCholesterol: 48mgSodium: 1210mgPotassium: 455mgFiber: 1gSugar: 24gVitamin A: 266IUVitamin C: 1mgCalcium: 30mgIron: 1mg