Boneless, skinless chicken thighs are wrapped in smokey bacon and marinated in a delicate blend of honey, ginger, garlic and soy for a deliciously easy weeknight meal!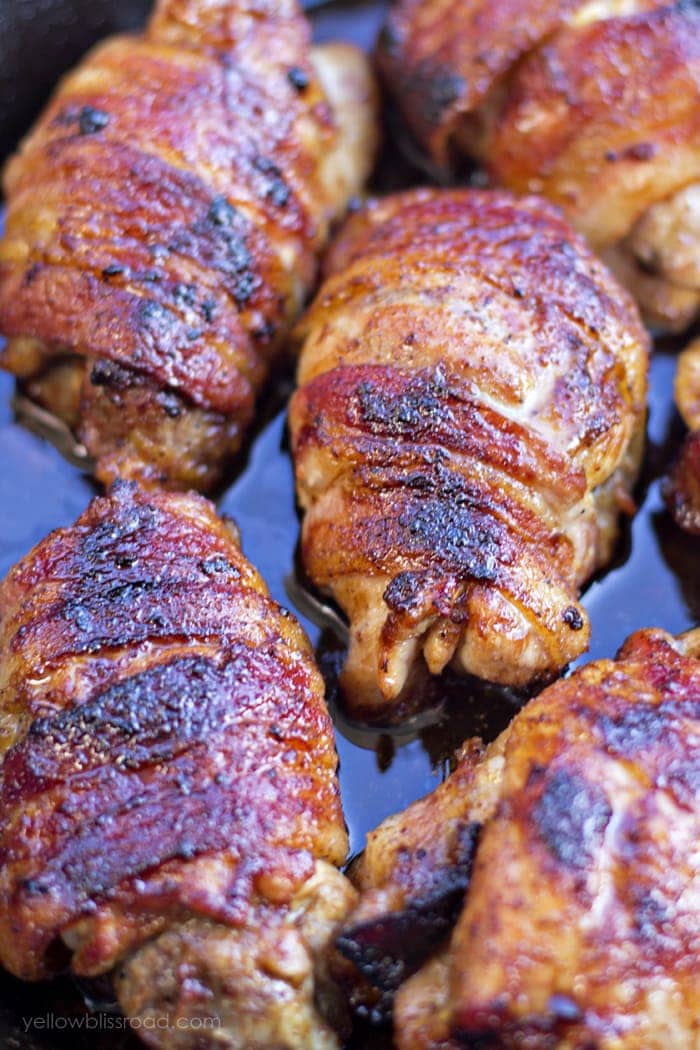 I am so excited to share this recipe today – Ten bloggers have come together in a "Chopped" style Mystery Basket challenge! Ten food bloggers each added an ingredient to the "basket," and we each had to choose at least three items and use them to create a spectacular dish. I am so impressed with the creative ideas that came through! Don't these look amazing? When you're finished reading my post, be sure to click around and save all the other recipes as well.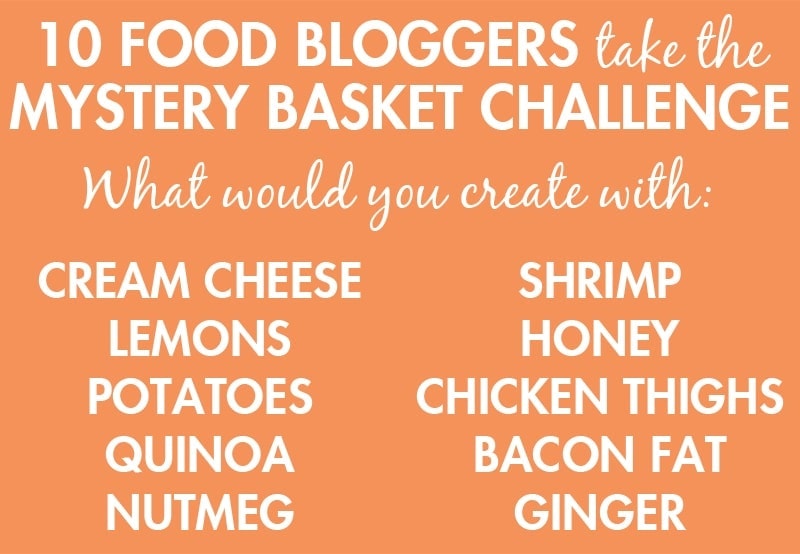 I used four of the ten ingredients in my recipe – Honey, Chicken Thighs, Bacon fat and Ginger.
This recipe is so easy. It starts with bacon. And really it could end there, because, well, BACON. But, you want to continue because I promise it will get even better.
So anyway, start with six boneless, skinless chicken thighs and 6 slice of bacon. Wrap those slices of bacon around the chicken thighs. I kept the thighs kind of folded as I wrapped them and I didn't use toothpicks, but it probably would have been easier if I had. This would be great for stuffing with a vegetable, too, like asparagus. Oh hey, more bacon?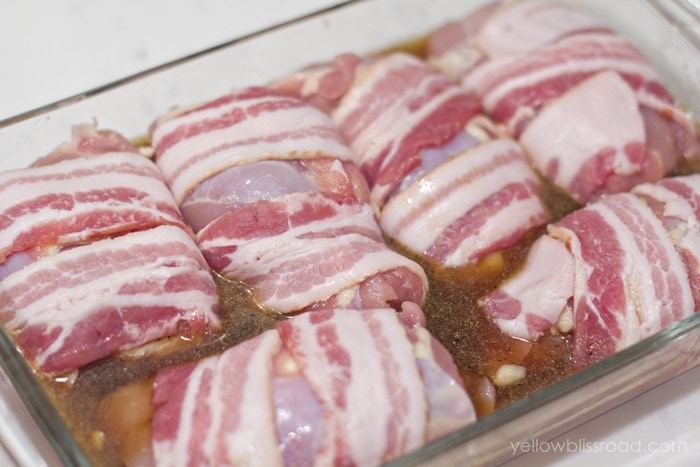 Mix up a yummy marinade of honey, ginger, soy sauce, garlic, salt and pepper and olive oil and let the chicken pieces marinate in the for a bit, flipping them after 10 minutes of so to absorb the marinade on both sides.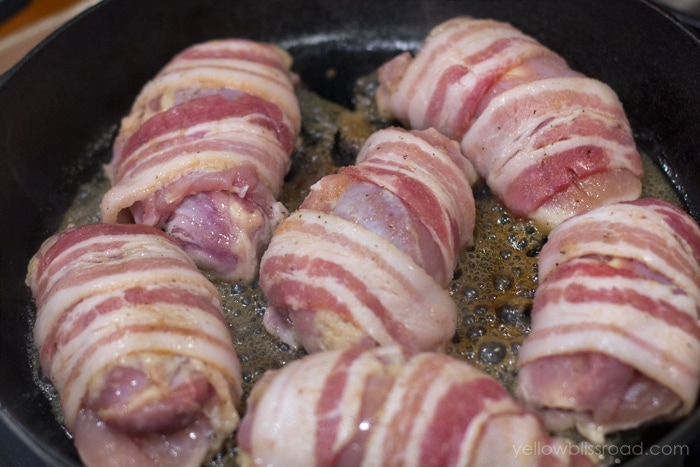 Heat a tablespoon or so of olive oil in a heavy bottom, oven safe pan. This is where I really love to use my cast iron to soak up the flavors of the bacon. Cook for a few minutes per side to let the bacon get a little crisp on the outside. You could skip this step and just go longer in the over, but the bacon doesn't crisp the same and no one likes wimpy bacon. You can use your tongs to turn the pieces on their sides for a few seconds to render them out a bit too, and spoon some of the sauce over them as they cook.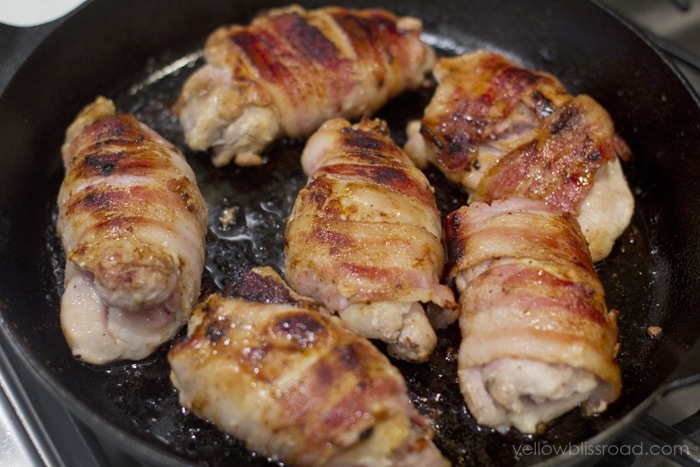 Now put those bad boys in the oven and let them cook til they're done, about ten minutes or so. Since there isn't a bone, they cook quicker, however because they're folded, you need to make sure they're cooked all the way through.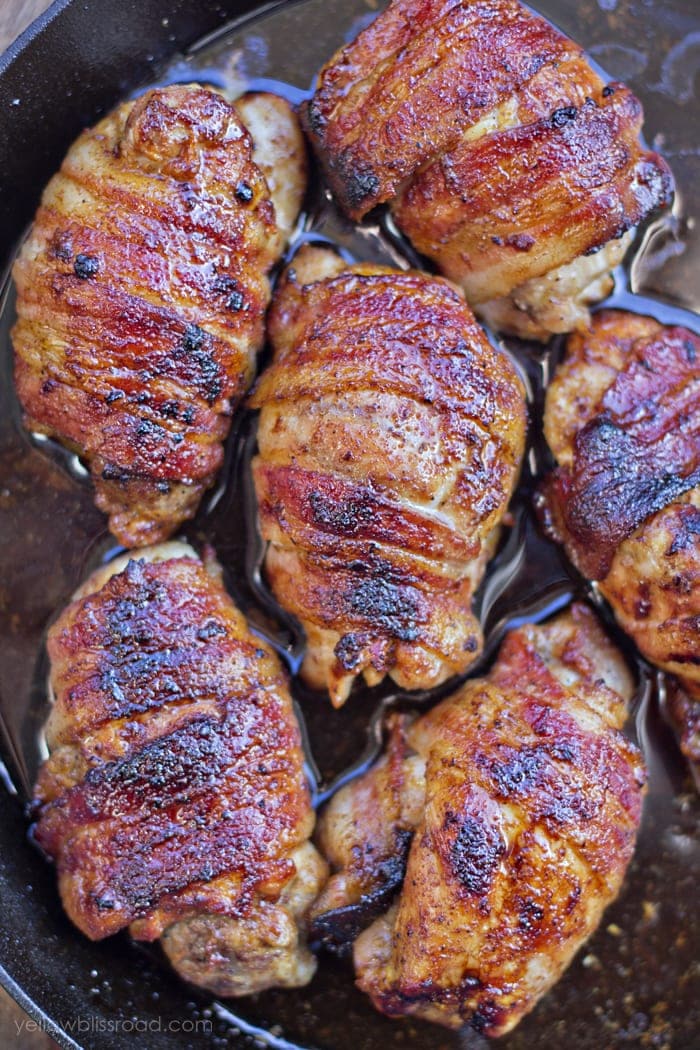 Aren't they beautiful? As soon as they come out of the oven, spoon some of that beautiful sauce over them again and serve them right away. They go well with rice or pasta and some yummy veggies. Be sure to save that sauce and use it on your side too!
Recipe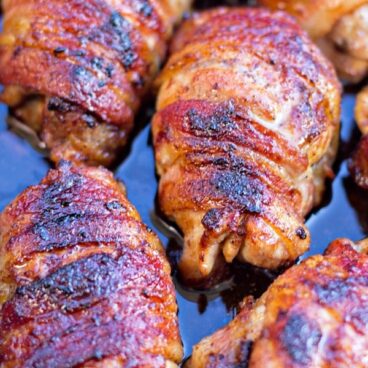 Bacon Wrapped Ginger Soy Chicken
Boneless, skinless chicken thighs are wrapped in smokey bacon and marinated in a delicate blend of honey, ginger, garlic and soy for a deliciously easy weeknight meal!
Ingredients
6

boneless skinless chicken thighs

6

slices

uncooked bacon

1/4

cup

chicken broth

1/2

teaspoon

ginger

1/2

teaspoon

garlic powder

1/2

teaspoon

onion powder

1/4

teaspoon

pepper

1/2

teaspoon

salt

2

tablespoons

soy sauce

2

tablespoons

honey

2

tablespoons

brown sugar
Instructions
Combine all ingredients for marinade except bacon and chicken in a shallow baking dish, about 11"x8".

Rinse and pat chicken dry. Keep folded and wrap with bacon slices. Secure with toothpicks if desired (just remove them before putting chicken in the oven so they won't burn). Place bacon wrapped chicken pieces into the marinade for 20-30 minutes, flipping halfway through to marinate both sides.

Preheat oven to 400 degrees. Heat 1-2 tablespoons olive oil in a heavy bottomed, oven safe pan over medium heat. Cook chicken pieces until bacon starts to crisp, about 3 minutes per side. Poor remaining marinade over the chicken and slide the pan into the oven. Cook for about 10 minutes, or until chicken is no longer pink.

Serve immediately.
Notes
I didn't use toothpicks to secure the bacon, but it might be helpful. Just make sure and remove them before serving.
Nutrition
Calories:
537
kcal
Carbohydrates:
21
g
Protein:
51
g
Fat:
27
g
Saturated Fat:
8
g
Polyunsaturated Fat:
5
g
Monounsaturated Fat:
11
g
Trans Fat:
1
g
Cholesterol:
244
mg
Sodium:
1626
mg
Potassium:
701
mg
Fiber:
1
g
Sugar:
20
g
Vitamin A:
72
IU
Vitamin C:
1
mg
Calcium:
36
mg
Iron:
2
mg
Quinoa & Kale Salad with Honey Ginger Dressing from Katie's Cucina
Thai Coconut Soup from Yummy Healthy Easy
Slow Cooker Honey Garlic Ginger Chicken from Your Homebased Mom
Thai Shrimp Salad with Peanut Dressing from Will Cook for Smiles
Honey Baked Chicken Over Lemon Rice from The Weary Chef
Honey Baked Chicken and Potatoes from Cravings of a Lunatic
Honey Ginger Shrimp Skewers from Five Heart Home
For more delicious chicken recipes, you can find these here on the site:
Pan Roasted Lemon Garlic Chicken
Brown Sugar & Garlic BBQ Chicken