My Baked Honey Mustard Chicken Drumsticks are a hit every time! With a sweet and tangy glaze these baked chicken drumsticks are a family friendly favorite.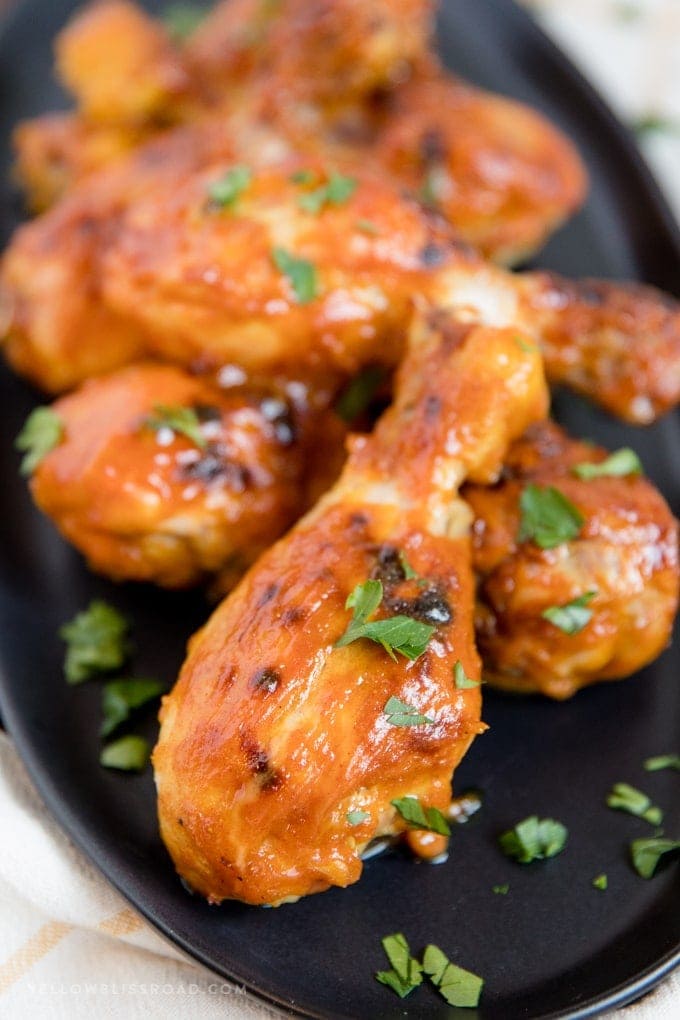 My boy has always had a thing for bones. Ribs, chicken, doesn't really matter. If there was a bone, he wanted it. Bone-in chicken is still one of his favorite things to eat, although nowadays he prefers to use a fork to get the chicken off the bone rather than gnawing it off like a barbarian.
My girl has taken a liking to chicken drumsticks only recently, as she was always the dainty one who preferred her meat to be cut for her into nice, bite-sized pieces. My husband loves pretty much anything I cook, he's awesome that way, and me – well, I am pretty much just in love with these Honey Mustard Chicken Drumsticks.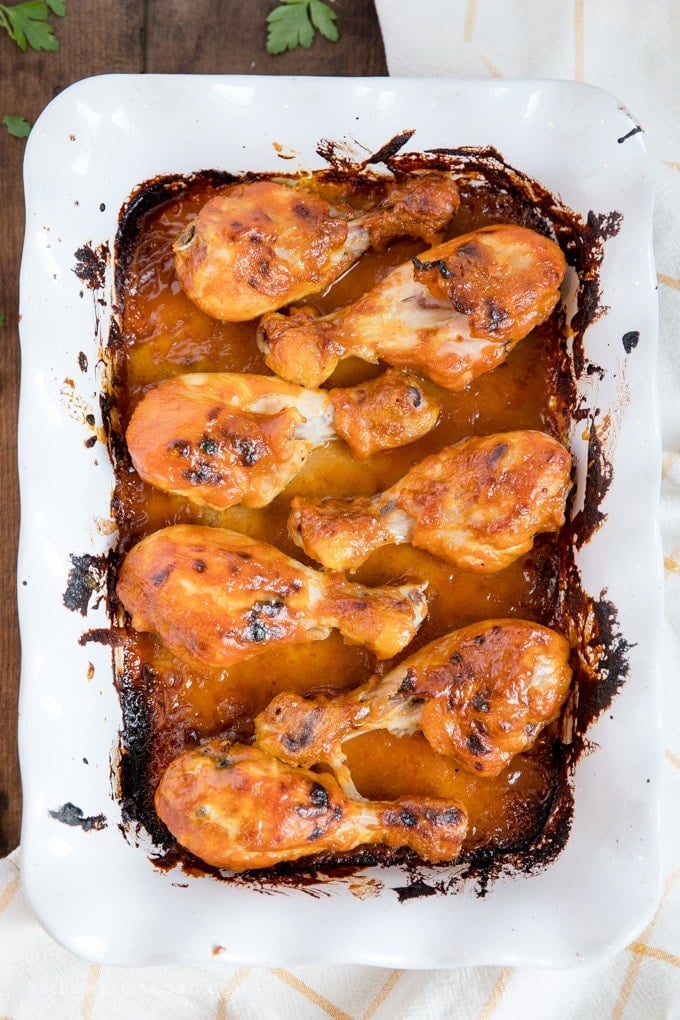 How to Make Honey Mustard
Making a quick honey mustard sauce sounds pretty self explanatory right? Honey + Mustard = Honey Mustard. Well, for the most part it is. A good honey mustard dipping sauce is delicious with all kinds of chicken or pork, and typically it has mustard, honey, maybe some mayo or sour cream and a little vinegar for tang. This combo creates a luscious, creamy, honey mustard dipping sauce.
But it depends on how you plan to use it. For my Baked Honey Mustard Chicken Drumsticks I like the sauce a little thicker and not so creamy so it will create more of a glaze, so I skip the mayo and vinegar, and add a couple of spices to the mix to add even more flavor to the chicken drumsticks.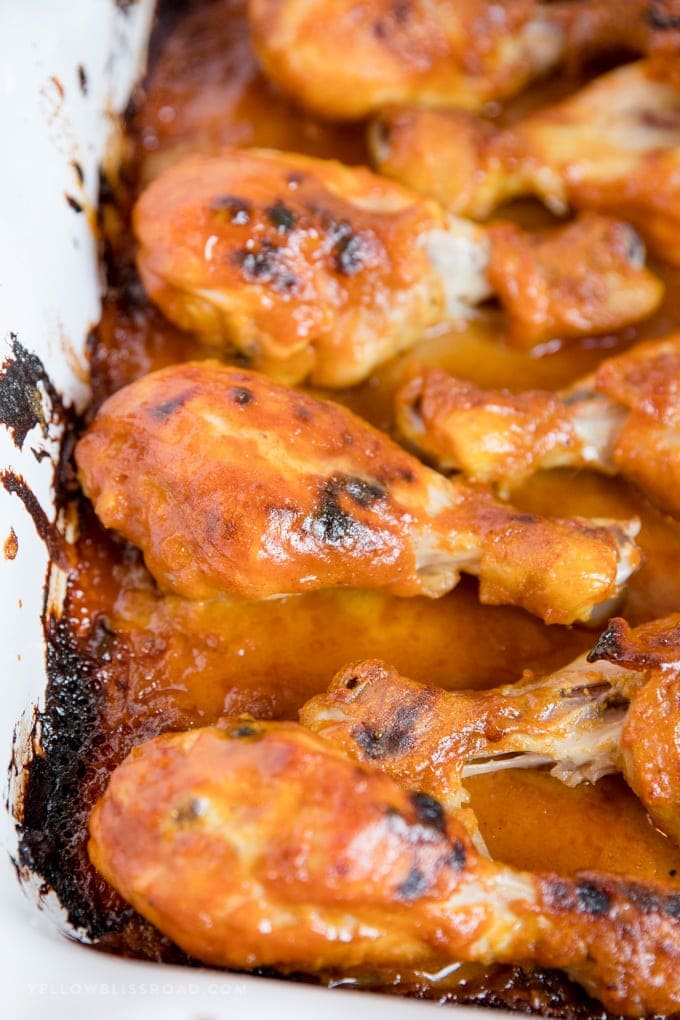 How to Make Baked Chicken Drumsticks
Baking chicken drumsticks is pretty simple. First, decide whether you want skin on, or skin off. Personally with this recipe, we are strictly skin off kind of people. But if you want to broil the chicken for a bit, you should be able to get it to crisp up quite nicely.
Removing the skin is the most time consuming part of this whole recipe, and it may take all of 7 minutes. Don't stress about getting every little bit, just get as much as you can.
Next lay out the chicken in a large baking dish. This recipe makes about 10-12 drumsticks and depending on the dish you use they may or may not all fit. But you can easily just use two smaller dishes. Season the drumsticks with salt and pepper and brush on the honey mustard sauce. It will take about 40 minutes to cook them all the way through, then at the end flip on the broil to get that lovely caramelization on the top.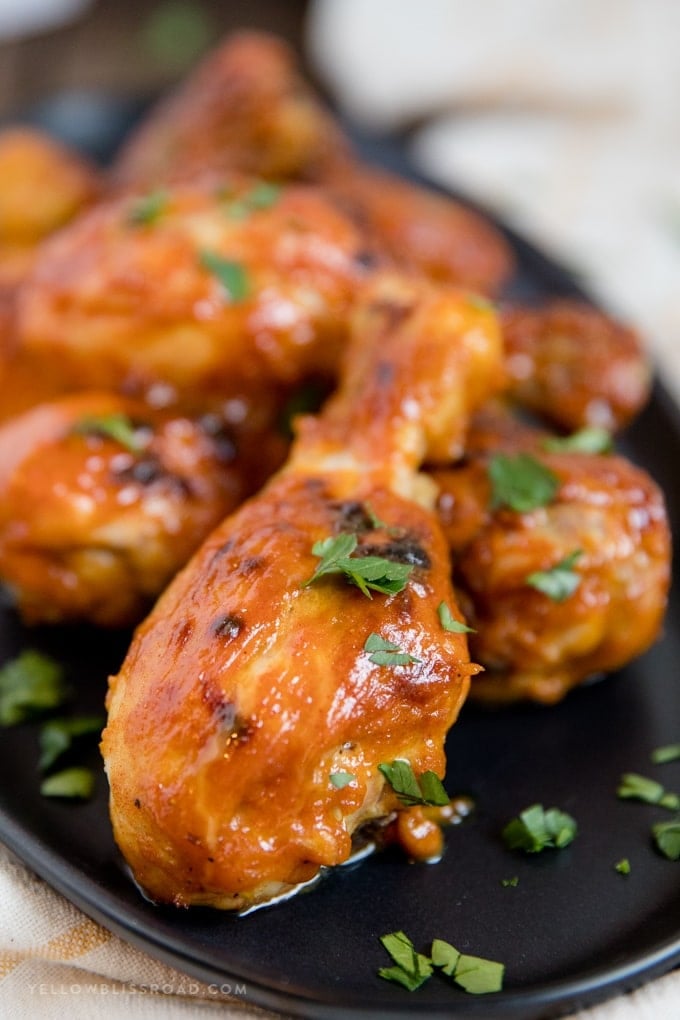 Want some more delicious chicken recipes? Try these:
Recipe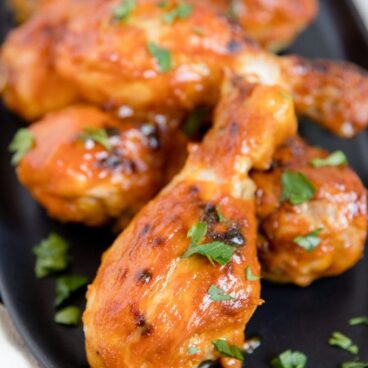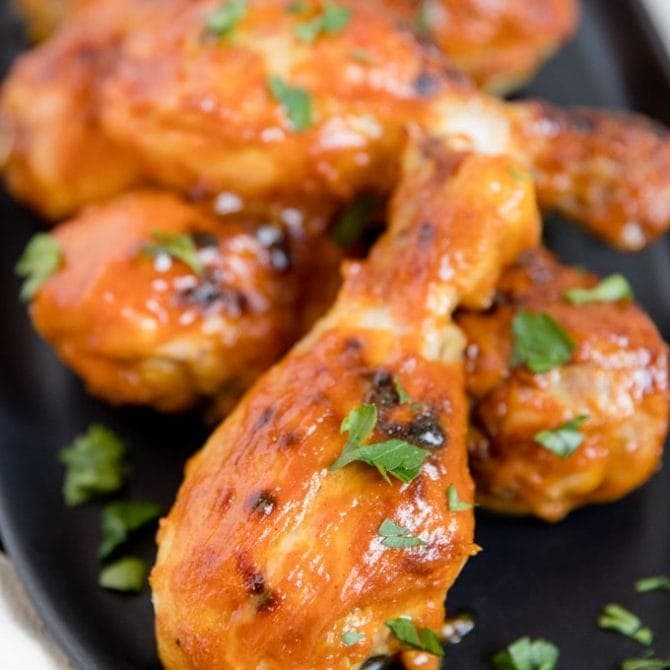 Honey Mustard Chicken Drumsticks
My Baked Honey Mustard Chicken Drumsticks are a hit every time! With a sweet and tangy glaze these baked chicken drumsticks are a family friendly favorite.
Ingredients
10-12

chicken drumsticks

skinless

½

cup

honey

¼

cup

yellow mustard

¼

cup

Dijon mustard

1

teaspoon

paprika

1

teaspoon

garlic powder

Salt & pepper

Fresh parsley

minced
Instructions
Preheat oven to 375 degrees F.

Remove skin from chicken and pat dry. *Note, you can also cook with the skin on and crisp it under the broiler. You can also use thighs or breasts but you may need to adjust the cooking time.

Spray a 13x9-inch baking dish generously with nonstick cooking spray and arrange chicken in it; close together but not completely touching (you may need to use two pans, depending on the size of your drumsticks). Season both sides of the chicken with salt and pepper (to taste - about 1 teaspoon salt and ½ teaspoon pepper)

In a small bowl, combine mustards, honey, paprika and garlic powder until smooth and well mixed.

Pour about ⅔ of the mixture over the chicken. Brush on to cover each piece with the sauce. Set aside the remaining sauce for basting.

Slide the pan into the oven uncovered, and roast for 30 minutes. Remove from the oven and, using a large spoon, baste the chicken with the sauce from the pan. Brush the remaining sauce from the bowl over the chicken. Roast for an additional 15 minutes and baste again.

Turn on the broiler and broil chicken for several minutes to help caramelize the sauce; about 4-5 minutes, watching closely to avoid burning. If using skin-on chicken this will also help to crisp the skin.

Remove from the oven and baste again with the juices from the pan. Tent with foil and let stand 10 minutes before serving.
Notes
It's up to you if you leave the skin on or not. I prefer this recipe without skin, but the skin does crisp up wonderfully under the broiler!
Nutrition
Calories:
453
kcal
Carbohydrates:
38
g
Protein:
35
g
Fat:
19
g
Saturated Fat:
5
g
Polyunsaturated Fat:
4
g
Monounsaturated Fat:
8
g
Trans Fat:
1
g
Cholesterol:
174
mg
Sodium:
542
mg
Potassium:
511
mg
Fiber:
2
g
Sugar:
35
g
Vitamin A:
355
IU
Vitamin C:
1
mg
Calcium:
43
mg
Iron:
2
mg