An ultra creamy pasta without cream? It's possible with this authentic Cacio e Pepe recipe! Just a few ingredients and you're on your way one of the easiest and most delicious pasta dishes ever!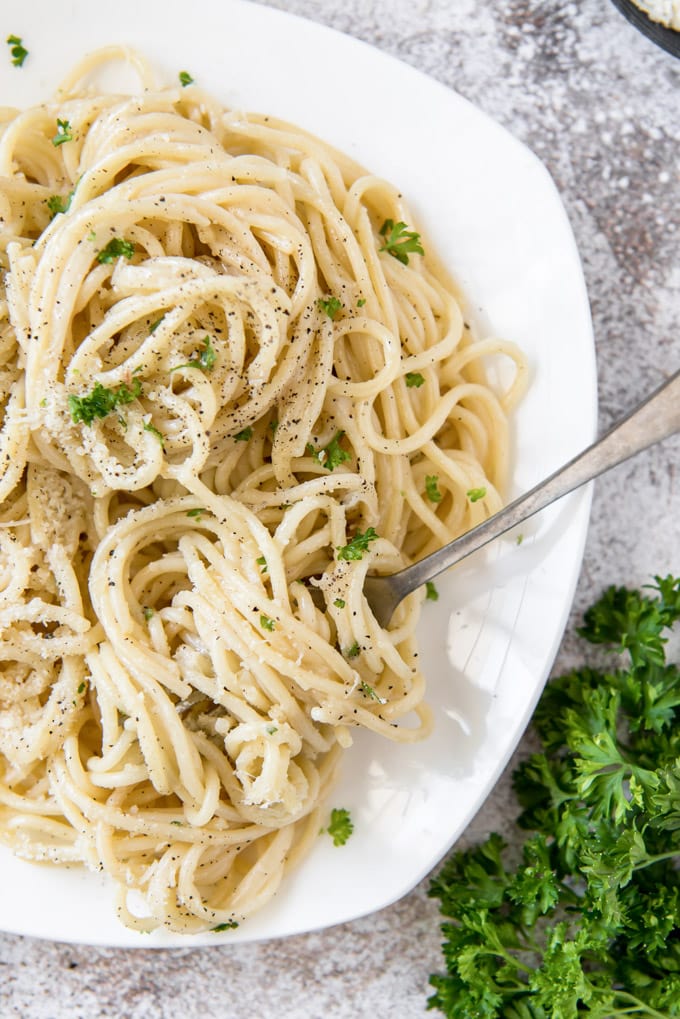 Cacio e Pepe is a simple, rustic pasta. It's incredibly creamy and can hold it's own next to Alfredo any day of the week. It's minimalist simplicity is what makes this dish so popular. It takes minutes to prepare and serving with a copycat Olive Garden Salad and some garlic bread makes for a complete meal you can make from scratch even on the busy weeknights.
There are only 6 ingredients in this recipe:
Pasta. I recommend spaghetti or bucatini but any long, thin pasta will work.
Salt. Normally I don't call attention to the salt in a recipe but in this case it's important to the flavor so make sure to follow the recipe.
Black Pepper. Another often forgotten about ingredient that is literally in the name of this dish, making it the star. Fresh cracked is best.
Butter. The base for the sauce so use the real stuff, not margarine.
Cheese. Pecorino Romano is traditional and has a nutty, deliciously salty flavor.
Water. Pasta water to be exact. You are going to be saving a good amount of the starchy, salted water to make the sauce.
I told you it was simple. It's similar to the way we make our One Pot Mac and Cheese but it's even easier to make. It's classy and elegant in it's simplicity making it a great date night or dinner party meal.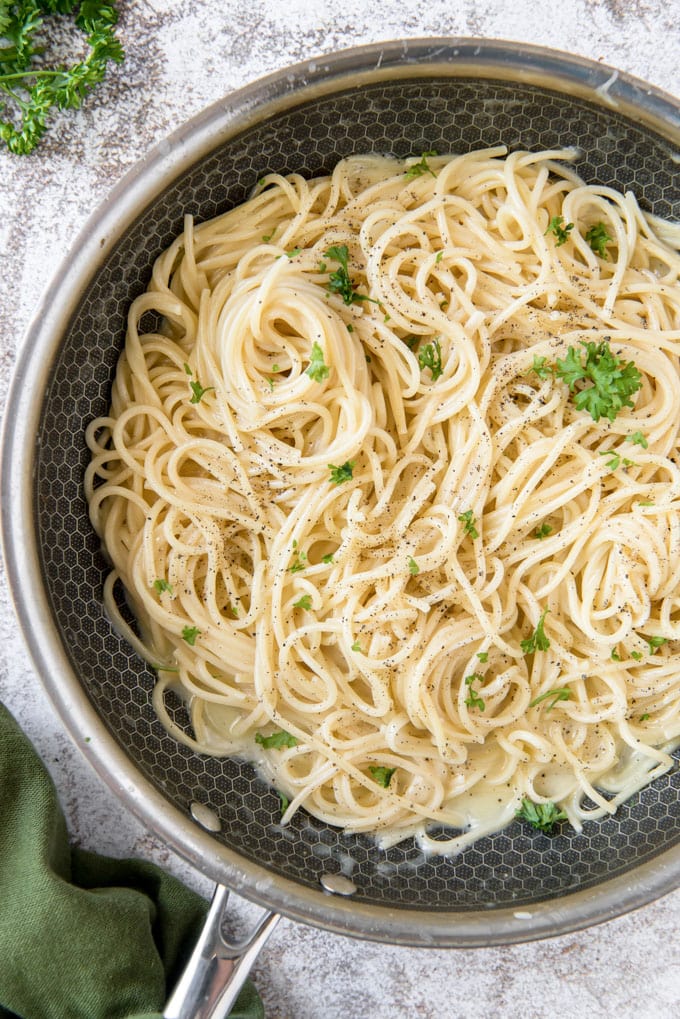 What does Cacio e Pepe mean?
Cacio e Pepe literally translates to "cheese and pepper" which are the main star ingredients of this dish that's a staple in Roman cuisine. The sauce is made using butter, cheese, black pepper and pasta water from the spaghetti. Instead of lots of heavy cream, the water thickens and binds the sauce. Toss it with the hot spaghetti and voila – simple, delicious pasta!
How to Make Cacio e Pepe
Boil 4 quarts of water in a large pot and add a whole tablespoon of salt to the water. Salting the water is one of the most important parts of cooking pasta because the pasta absorbs the salt (aka flavor) as it cooks. During the last minute or so of boiling, scoop out a cup of pasta water. When the pasta is finished cooking, turn off the burner and drain the pasta into a colander and set aside.
Put the pot back on the stove and add some butter. As it begins to melt add the hot pasta, black pepper and half a cup of the reserved pasta water and start tossing to combine sprinkling in the cheese while you toss to keep it from clumping. You do need to work quickly here because the water will cool and cause clumping instead of melting.
Serve garnished with more parmesan cheese and fresh minced parsley. Super easy, and ultra delicious.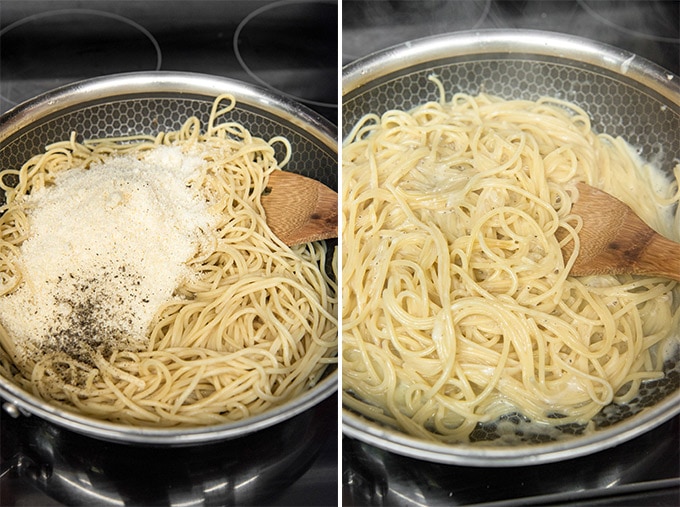 Why is My Pasta Clumping?
The most important component of Cacio e Pepe is speed. If the pasta cools too quickly, the cheese won't melt and will begin to clump instead. There are a couple of tricks to help this method work though.
Use a wide pan for cooking, like a skillet with high sides. This will concentrate the start in the pasta water.
Add some of the pasta water to the cheese in a separate bowl for a few minutes before the pasta is finished cooking. Whisk together then add to the finished pasta, stirring like crazy to get it all mixed together well.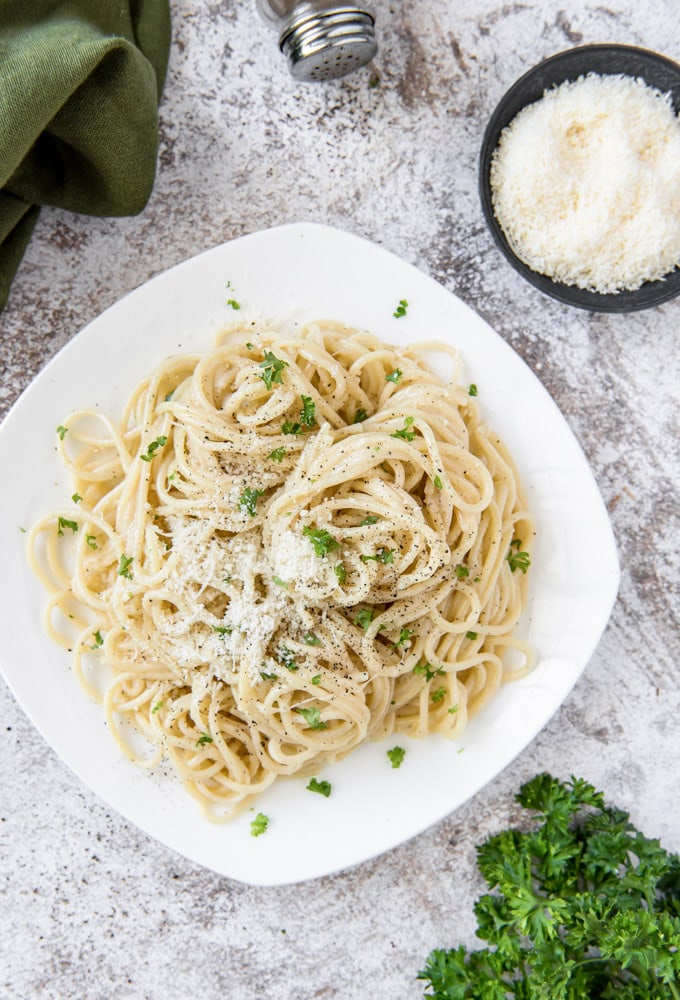 Want More Pasta?
If you love pasta as much as we do, you've got to try some of our other favorites:
Recipe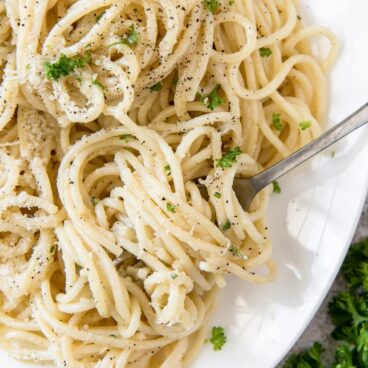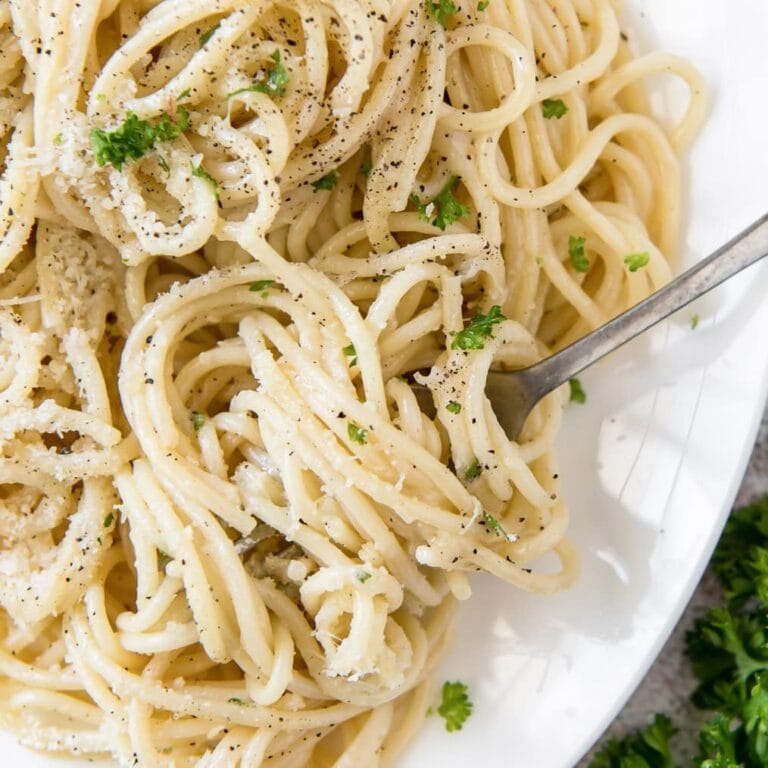 Cacio e Pepe
Cacio e Pepe is a super quick and simple pasta that you can make any time! Literally translated to "cheese and pepper pasta" this recipe is simply the best!
Ingredients
1

pound

bucatini or spaghetti

1

tablespoon

salt

3

tablespoons

unsalted butter

1 1/2

cups

Pecorino Romano cheese

freshly and finely grated, about 4-5 ounces

1

cup

reserved pasta water

1

tablespoon

black pepper

or more to taste
Instructions
Boil 4 quarts of water in a large pot. Once boiling, add 1 tablespoon of salt and the pasta. Cook pasta to al dente according to package directions. Towards the end, reserve a cup of pasta water and set it aside.

Drain the pasta using a large colander and set it aside. Place the pot back on the stove but keep the heat turned off. Add butter and as it starts to melt, add the pasta, cheese, black pepper and ½ cup of the pasta water. Working quickly to avoid clumping, toss the pasta with tongs to coat and melt the cheese. Add more pasta water as desired to form your sauce.

Serve immediately, garnished with more cheese and black pepper. Add fresh minced parsley for color, if desired.
Nutrition
Calories:
645
kcal
Carbohydrates:
87
g
Protein:
27
g
Fat:
20
g
Saturated Fat:
12
g
Cholesterol:
62
mg
Sodium:
2202
mg
Potassium:
305
mg
Fiber:
4
g
Sugar:
3
g
Vitamin A:
418
IU
Calcium:
432
mg
Iron:
2
mg