Spaghetti and Homemade Meatballs in a light and fresh Pomodoro Sauce – so easy and ready in under 30 minutes!
Pomodoro Sauce is probably my favorite sauce to make. I first had it years ago at Olive Garden, during my brief stint as a vegetarian in high school. It's just about the simplest sauce you can make – with just tomatoes, garlic, onions and basil quickly simmered together. It's ideal to use fresh tomatoes, but for this particular recipe I used canned. In my opinion they work just as well, and are much easier to keep on hand, but I'll put both options in the recipe below.
At OG, they have a dish called Capellini Pomodoro, which is how I first tasted this sauce (Capellini is just Angel Hair pasta). The sauce is designed to be just enough to coat the pasta, making it super light and not as heavy as traditional spaghetti sauce.
If you have been following for a while, you might remember a while back I taught my son to make meatballs. We have been making them together ever since. I had never realized how easy they are! All you need is an egg, grated Parmesan, grated onion and some seasoning. The higher the fat content of the meat, the juicier the meatball, but really the ratio is up to you. Mix up the ingredients with your hands and scoop onto a baking tray with a cookie scoop. Bake for 13-14 minutes – that's it! You could serve everything at this point, but I like to let the meatballs simmer in the sauce for ten minutes or so.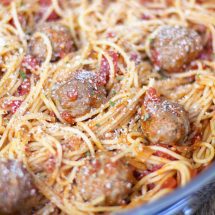 Spaghetti Pomodoro with Homemade 15 Minute Meatballs
Print
Pin
Rate
Cook Time: 25 minutes
Total Time: 25 minutes
Servings: 4 servings
Ingredients
For the Spaghetti Pomodoro:
1/2 lb Spaghetti or Angel Hair pasta
1-15 oz can diced tomatoes or 6 whole Roma tomatoes, diced
1-8 oz can tomato sauce
1/2 medium onion diced
1 tablespoon minced garlic
2 tablespoons fresh basil or 2 teaspoons dried
1 teaspoon granulated sugar optional
Salt and Pepper to taste
For the Meatballs:
3/4 pound ground beef higher fat content is better
1 egg
1/2 cup grated Parmesan
1/4 cup grated onion
1/4 teaspoon salt
1/4 teaspoon pepper
1 tablespoon dried Parsley
Instructions
Preheat the oven to 400 degrees.

Combine meatball ingredients with your hands in a medium bowl. Divide into 1-2 inch balls (a cookie scoop works great). Place on a foil lined cookie sheet and bake for 13-14 minutes.

Meanwhile, heat a large saute pan over medium heat. Add a tablespoon of oil and the onions and cook until translucent. Add tomatoes, tomato sauce, garlic, and basil and a pinch of salt and pepper. To balance the acidity, add the sugar, if desired. Bring to a gentle boil, cover and simmer over low heat for 15 minutes.

When the meatballs are done, take them out of the oven and transfer them to the saute pan to simmer with the sauce while you cook the pasta.

Bring a medium pot of water to boil and cook pasta according to package directions. Drain and toss with the sauce.

Divide into bowls and serve hot. Top with grated Parmesan and chopped parsley, if desired.
Notes
The sugar is an optional step, but really does help to balance the acidity level, especially if you are using canned tomatoes.This recipe makes approximately 1 dozen meatballs, but it depends on the size that you roll them.
 For more easy pasta dinners, be sure to check these out: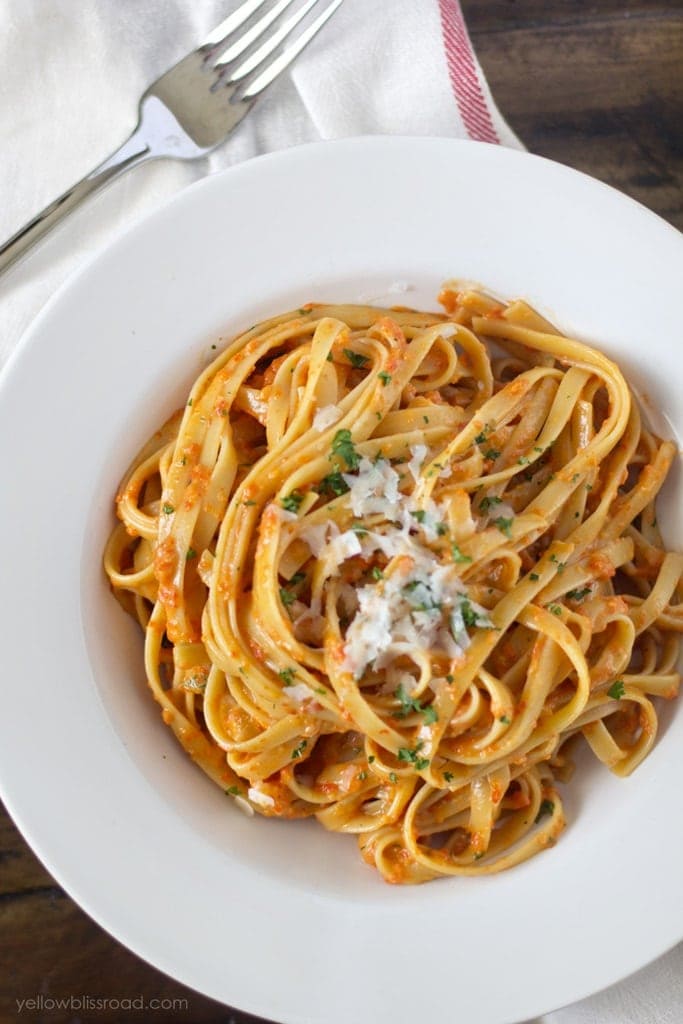 Roasted Garlic and Red Pepper Fettuccine Alfredo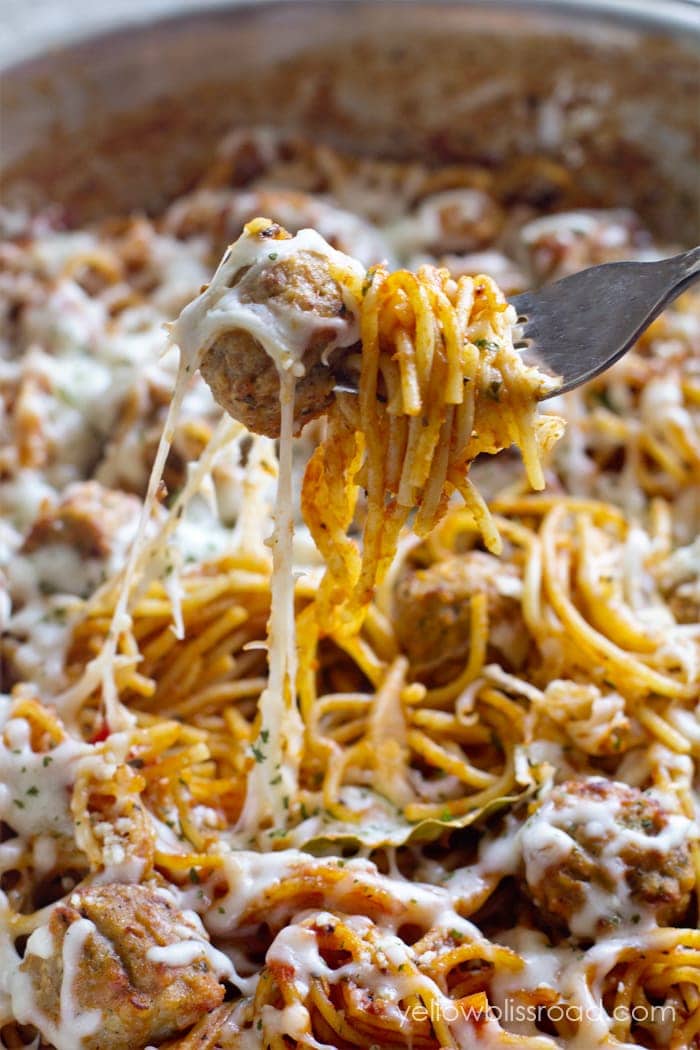 One Pan Spaghetti and Meatballs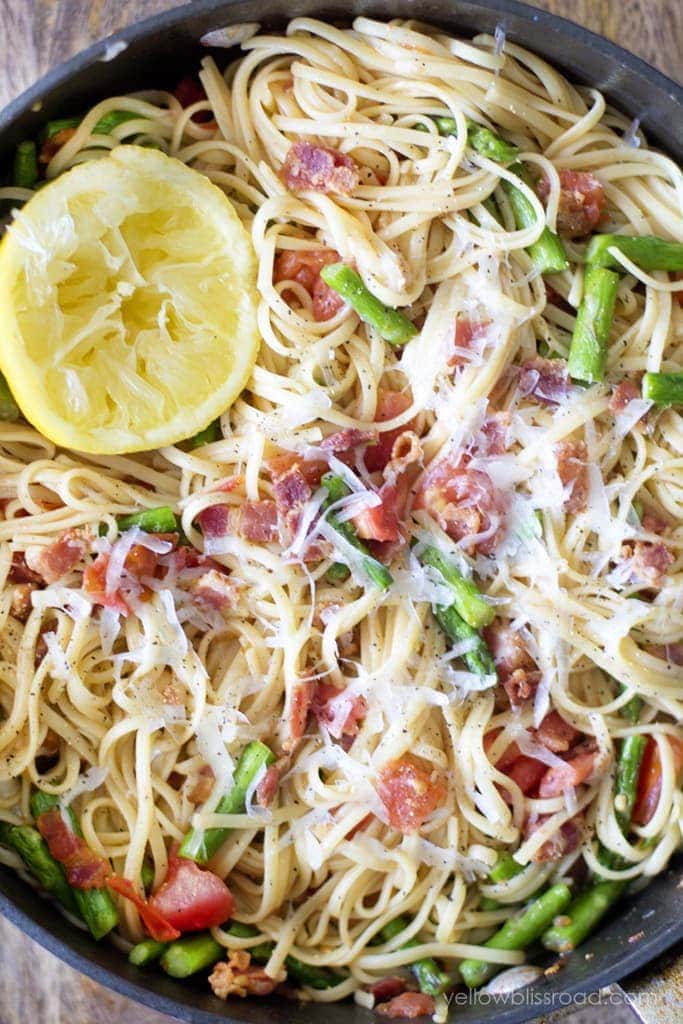 Spicy Lemon, Bacon and Asparagus Pasta
For all Main Course recipes, go HERE and for all Recipes, go HERE.
Hi! I'm Kristin, the creative mind behind Yellow Bliss Road where you will be inspired by tons of easy to follow recipes, lots of free printables, and a little sprinkling of life thrown in for good measure.