This Shaved Brussels Sprouts Salad is a perfect side dish for your fall get-togethers and especially Thanksgiving! Serve it hot or cold – it's sure to please with all of the flavors this simple salad has!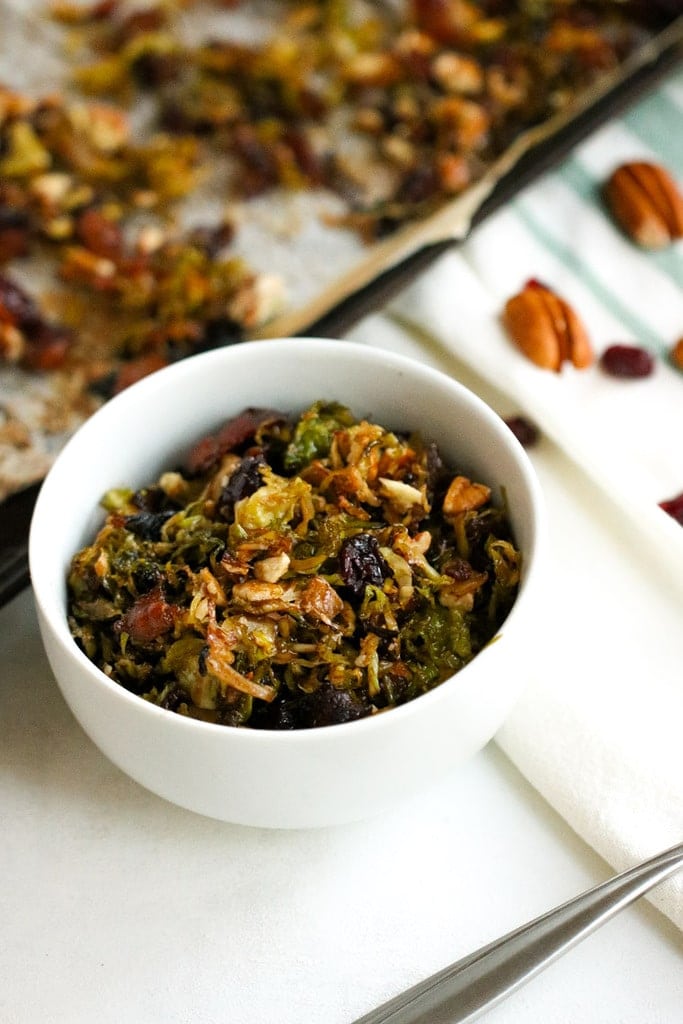 Hey all! Sam back from The Culinary Compass here to bring you what could be my new favorite fall side dish! This Shaved Brussels Sprouts Salad is easy to throw together with only five ingredients and so delicious.
Think of the savory bacon and bitter brussels sprouts with the acidity from the balsamic glaze, sweetness from the dried cranberries and crunch from the crushed pecans. It's got a little bit of everything that comes together perfectly for an elegant and classy Thanksgiving Side dish.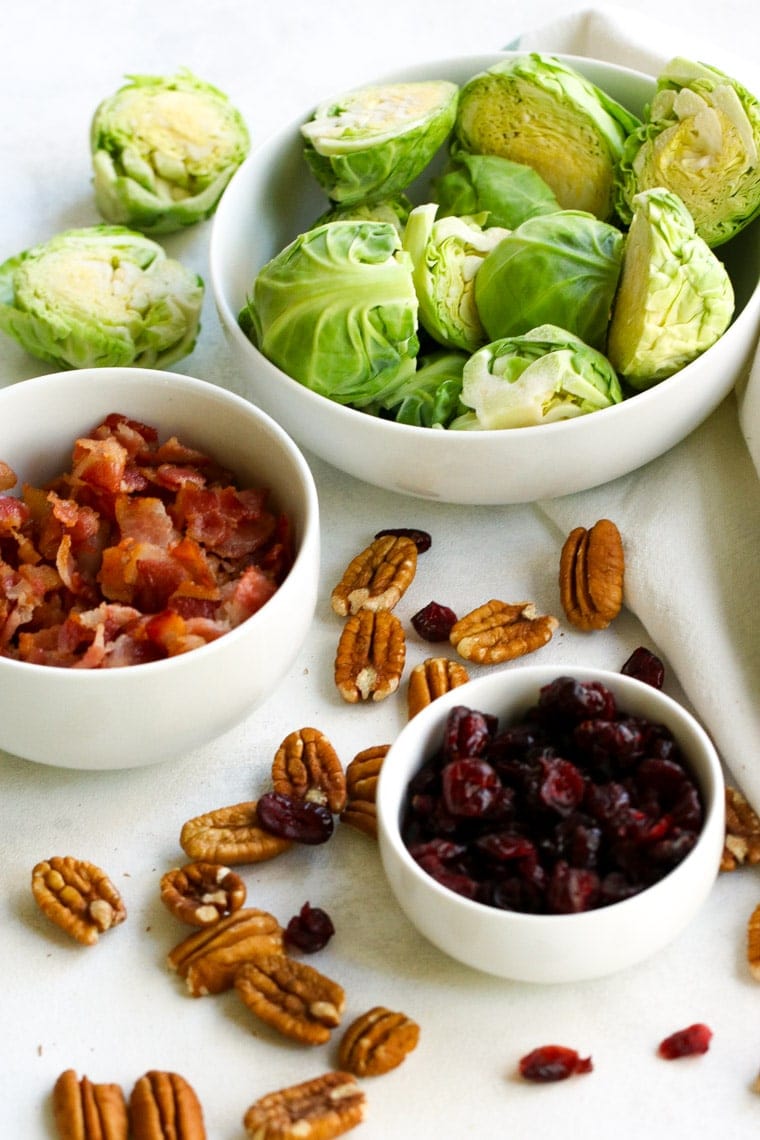 Something I love about this salad is how easy it is to throw together on Thanksgiving day. You could even prepare the salad ahead of time and broil while the turkey is resting – just add the dried cranberries and pecans before your serve it!
If the oven space is taken up, you really don't need to broil it. It's all about how you like your brussels sprouts. Personally, I'm a sucker for some crispy edges so I make sure to broil before I serve it.
These flavors would also be perfect for a stuffing! I would prepare a bag of stuffing normally and toss with this salad to make an incredibly easy and tasty stuffing. You could bake it to get those same toasty edges and make sure all of those flavors are playing together.
I would be lying if I didn't say I also made this to eat for lunch throughout the week. I made some chicken breast to serve with it and ate it straight from the fridge. Be sure to save this recipe for meal prep or even just to make extras to have as leftovers!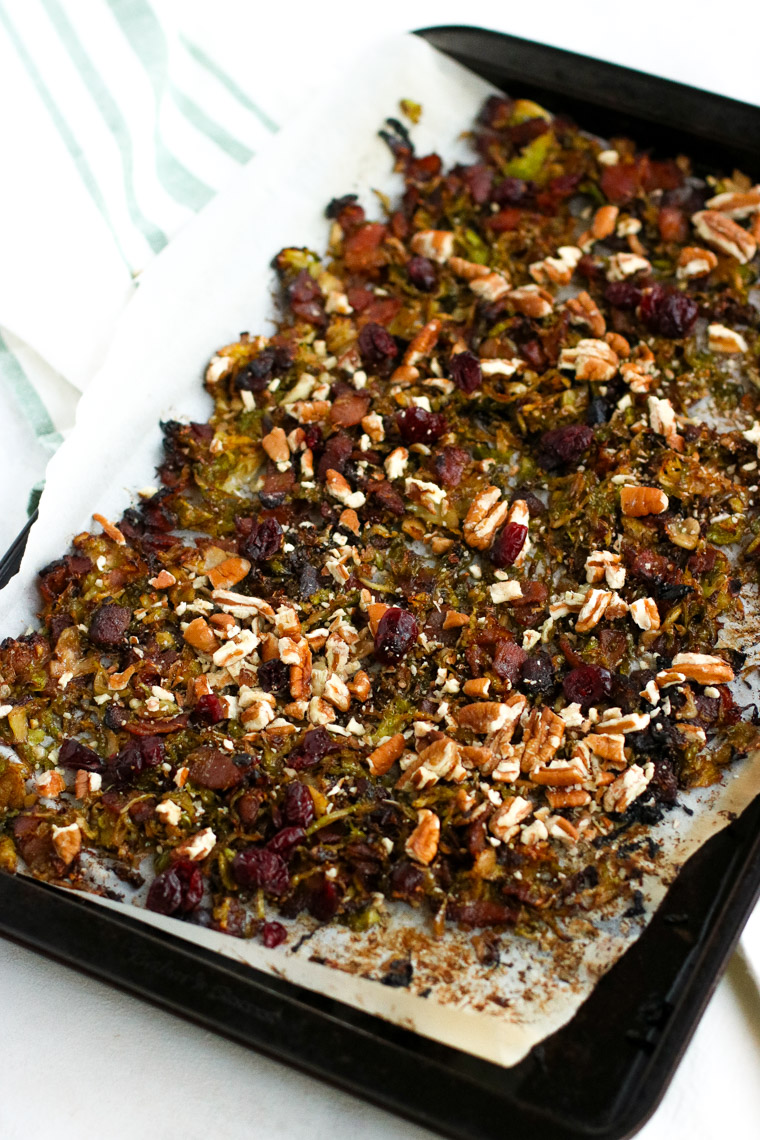 If you're looking for more great side dishes for Thanksgiving try these Creamy Garlic Mashed Potatoes or this Green Bean and Bacon Casserole.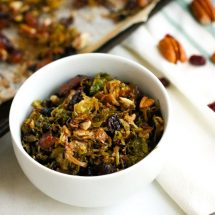 Shaved Brussels Sprouts Salad
This Shaved Brussels Sprouts Salad is a perfect side dish for your fall get togethers!
Print
Pin
Rate
Prep Time: 10 minutes
Cook Time: 25 minutes
Total Time: 35 minutes
Servings: 6 side servings
Ingredients
8 oz bacon cut into pieces
1 lb Brussels sprouts shaved or cut thin
2 tbsp balsamic glaze
1/2 cup pecans crushed
1/4 cup dried cranberries
Instructions
In a large saute pan, heat over medium heat until bacon pieces are just crispy, about 8-10 minutes. Add in shaved brussels sprouts and stir to combine. Heat until brussels sprouts start to wilt and turn translucent, about 5 minutes. Add in balsamic glaze and stir to combine.

Preheat broiler on high and keep baking rack in the middle of the oven. Prepare a baking sheet with parchment paper or a silicon mat. Spread the mixture until even on the sheet. Place in oven for 1-2 minutes. Stir and repeat until desired crisp is reached. 5 cycles of two minutes gave crispy edges without any burned flavor. Top with crushed pecans and dried cranberries, stir and serve.
For more Thanksgiving side dishes, here's a great one!
Cranberry Pecan Roasted Vegetables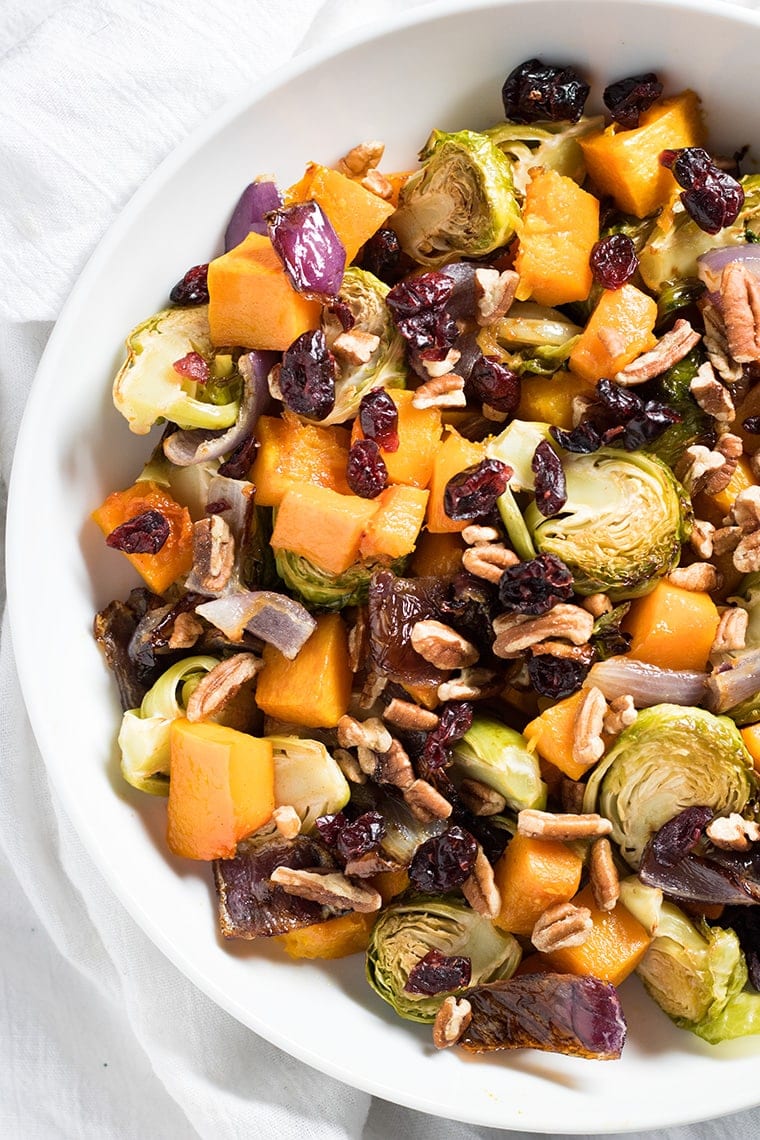 And here are a few more delicious Thanksgiving side dishes:

Sam is the blogger behind The Culinary Compass where she loves to try new dishes and ingredients from around the world. She hopes to bring experiences of new cultures to her readers without having to leave their home!