This Roasted Brussels Sprouts Salad is a perfect side dish for your fall get-togethers and especially Thanksgiving! Serve it hot or cold – it's sure to please with all of the flavors this simple salad has!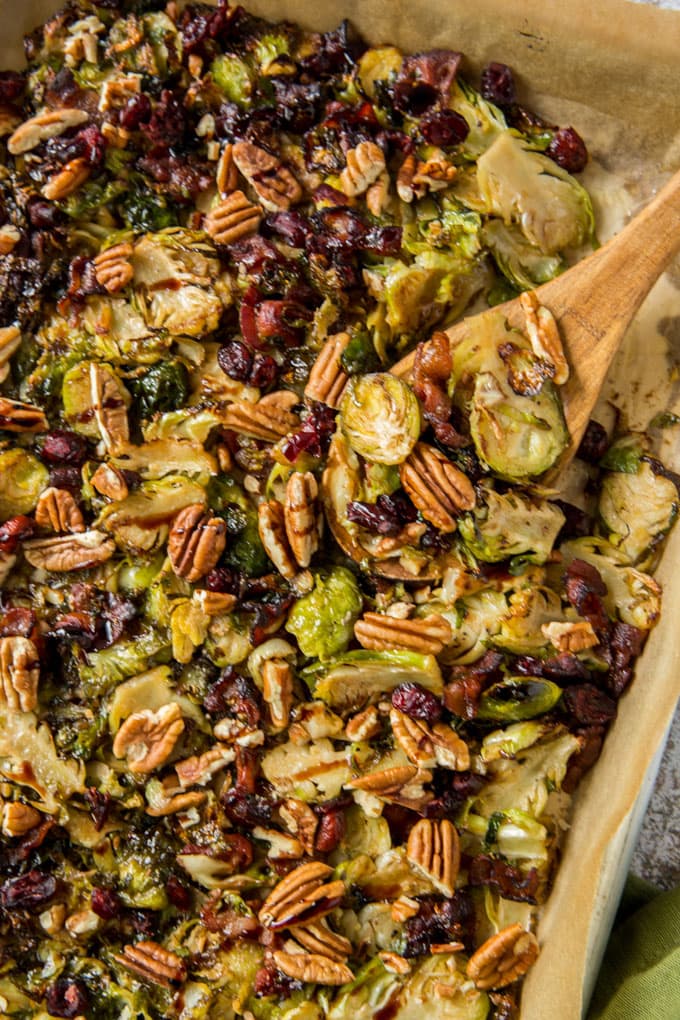 Roasted Brussels Sprouts Salad Recipe
I would like to introduce you to your new favorite fall side dish! This Roasted Brussels Sprouts Salad is easy to throw together with only five ingredients and so delicious.
Think of the savory bacon and slightly bitter Brussels sprouts with the acidity from the balsamic glaze, sweetness from dried cranberries and crunch from the crushed pecans. It's got a little bit of everything that comes together perfectly for an elegant and classy Thanksgiving Side dish.
Brussels sprouts have always gotten a bad rap, mostly because people would overcook them and create a mushy rancid tasting mess. They can't be undercooked though, because they are too tough to eat. It's a delicate balance of finding that sweet spot where they are cooked just right – tender, but not mushy – and I've found it! The bright, acidic balsamic glaze really makes these little beauties come alive!
What are Brussels Sprouts?
They look like little mini cabbages, and until recently they were always that vegetable that everyone loves to hate. Brussels Sprouts (with an "s") are named for the city of Brussels in Belgium where they were originally cultivated in the 1600s. They are high in vitamins A and C, and also a good source of iron. They can have a slightly bitter taste, but roasting them like we are balances the bitter with a little bit of sweetness.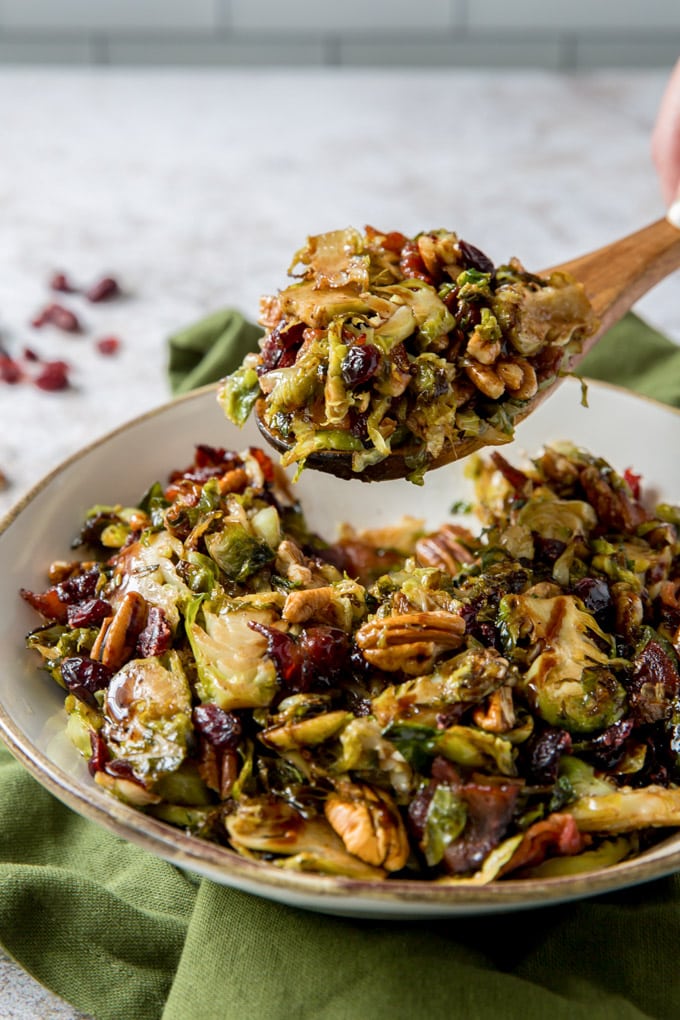 How To Make Roasted Brussels Sprouts Salad
Start by preheating the broiler of your oven and place the rack in the middle of the oven. Grab a large, rimmed baking sheet and line it with parchment paper.
Shave brussels sprouts using one of the methods described below. It doesn't matter which method you use; they all work quite well.
Fry up some diced bacon until just crispy. Stir in the shaved brussels sprouts and cook for a few minutes. Once they start to become translucent, add some balsamic glaze. You can make your own or buy a premade balsamic glaze at the grocery store.
Spread the balsamic glazed brussels sprouts and bacon onto the prepared baking sheet.
Roast in the oven for a couple of minutes, then stir and repeat every couple of minutes until you like the crispiness. It usually takes me 4-5 cycles of stirring and roasting.
Stir in dried cranberries and crushed pecans, and serve. You could even do this right before the last cycle or roasting to toast the pecans a little.
Tips and Tricks
Something I love about this salad is how easy it is to throw together on Thanksgiving day. You could even prepare the salad ahead of time and broil while the turkey is resting – just add the dried cranberries and pecans before your serve it!
If the oven space is taken up, you really don't need to broil it. It's all about how you like your brussels sprouts. Personally, I'm a sucker for some crispy edges so I make sure to broil before I serve it.
These flavors would also be perfect for a stuffing! I would prepare a package of stuffing and toss with this salad to make an incredibly easy and tasty stuffing. You could bake it to get those same toasty edges and make sure all of those flavors are playing together.
I would be lying if I didn't say I also make this to eat for lunch throughout the week. I made some baked chicken breast to serve with it and ate it straight from the fridge. Be sure to save this recipe for meal prep or even just to make extras to have as leftovers.
How To Shave Brussels Sprouts
In order to be able to eat the sprouts in this salad, they'll need to be cut down small enough so they can cook quickly and be easy to chew. There are a few different ways to get those brussels sprouts shaved.
Mandoline – This seems like the obvious choice, and I think it produces the prettiest result. Stick a fork in the brussels sprout to protect your fingers and keep a good grip on the sprout. Swipe quickly across the blade to create those beautiful shaved strips.
Food Processor – Use the slicing blade and get your sprouts cut down quickly. This is especially useful if you have a lot of sprouts.
Knife – You don't need to have a fancy tool to get the job down. Just grab a sharp kitchen knife and start slicing thin slices.
More great veggie side dishes:
Recipe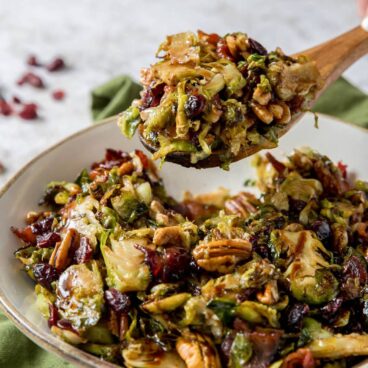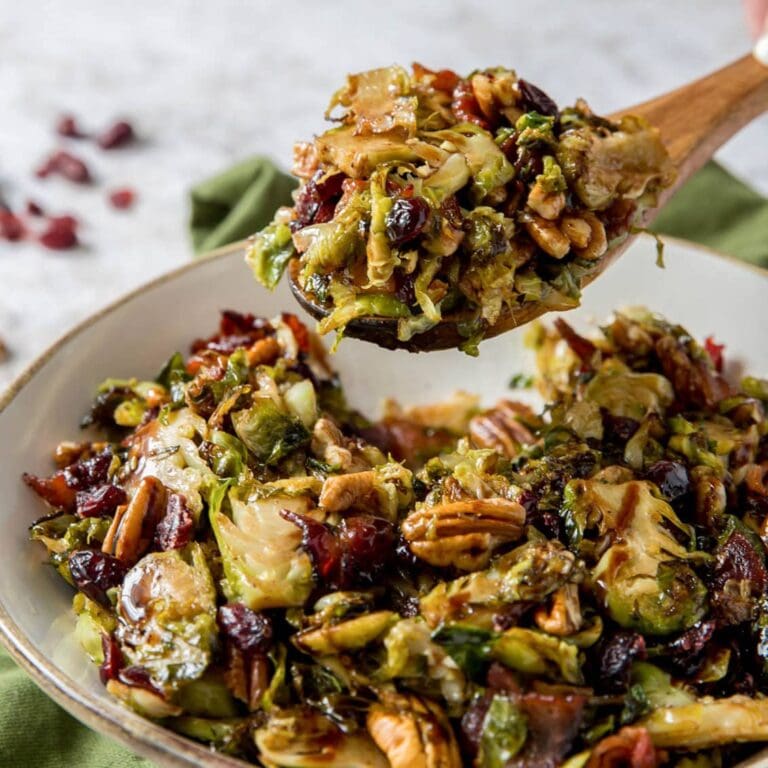 Roasted Brussels Sprouts Salad
Roasted Brussels Sprouts Salad is a perfect side dish for your fall get-togethers and especially Thanksgiving! Serve it hot or cold - it's sure to please!
Ingredients
8

ounces

bacon

cut into pieces

1

pound

Brussels sprouts

cut thin or shaved

2

tablespoons

balsamic glaze

1/2

cup

pecans

crushed

1/4

cup

dried cranberries
Instructions
Preheat the broiler of your oven and place the top rack in the middle of the oven. Line a large, rimmed baking sheet with parchment paper or a silicone mat.

Heat a 10-inch saute pan over medium heat and add diced bacon; about 8 minutes. Cook until the pieces are just barely crisp, then add shaved brussels sprouts. Stir to combine and cook for an additional 5 minutes. Drizzle in balsamic glaze and stir to combine.

Spread the sprouts and bacon mixture evenly onto the prepared baking sheet. Roast under the broiler for 2 minutes, then stir and roast again for another 2 minutes. Repeat this process a few times until the sprouts are crispy around the edges. Mine usually take 4-5 cycles.

Top with crushed pecans and dried cranberries, stir and serve warm.
Nutrition
Calories:
271
kcal
Carbohydrates:
15
g
Protein:
8
g
Fat:
21
g
Saturated Fat:
6
g
Cholesterol:
25
mg
Sodium:
269
mg
Potassium:
403
mg
Fiber:
4
g
Sugar:
6
g
Vitamin A:
584
IU
Vitamin C:
64
mg
Calcium:
39
mg
Iron:
1
mg