Smoked Sausage & Rice Skillet with Sweet Peppers
One Pan Meals are quick and easy, and this One Pan Smoked Sausage and Rice Skillet is at the top of my list of favorites!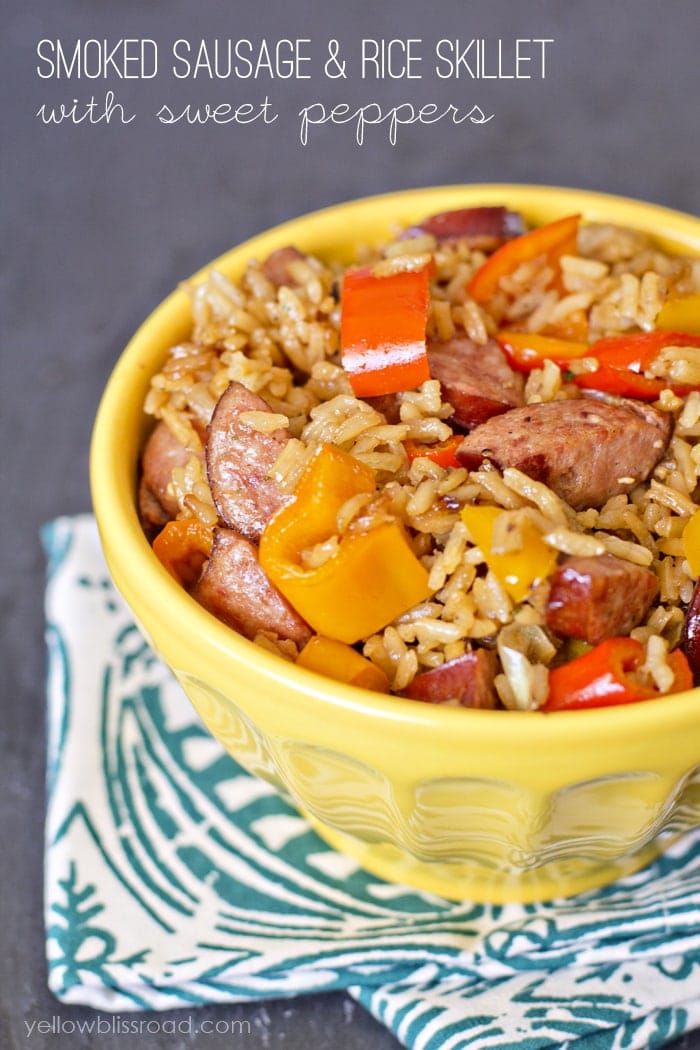 It's hot today. Like mid-nineties hot. It's windy too. Living in Southern California we are somewhat used to Santa Ana winds, as we call them, but when you have those high winds combined with the awful heat, it's pretty much unbearable to be outside. Which of course makes it a good to cook something yummy.
Since I'm not planning on braving the outdoors much today, I figured it was a good time to use up some ingredients I found in the fridge. Today it was half a pound of smoked turkey sausage and some sweet peppers. I love those sweet little peppers! At my local grocer they come in a bag with yellow, red and orange. They are sweet and crunchy and go perfectly with hummus or even my spinach artichoke dip. But today they are being combined with some savory turkey sausage to make up this delicious one pan dish.
My one pan dishes are also a great way to get my kids to eat some healthy veggies. It's hard to escape them when they're mixed in to something this delicious!
The best part is they are easy to make, and everything is done in one pan for quick clean up!
Start by heating some oil and sauteing some diced onion and smoked sausage.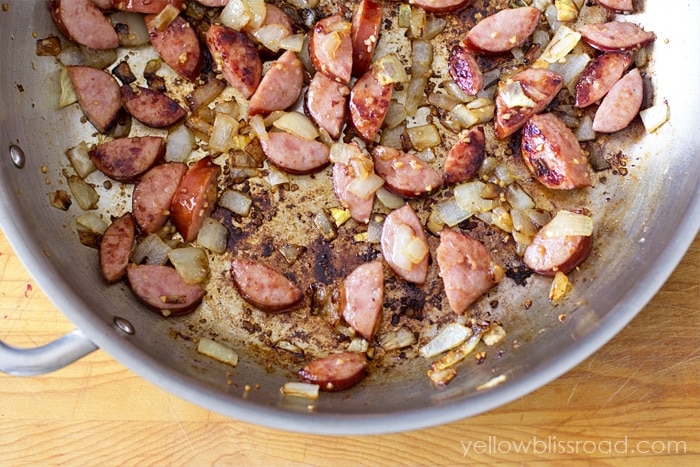 Next add the rice an garlic and stir it up a bit, cooking until the rice just starts to brown.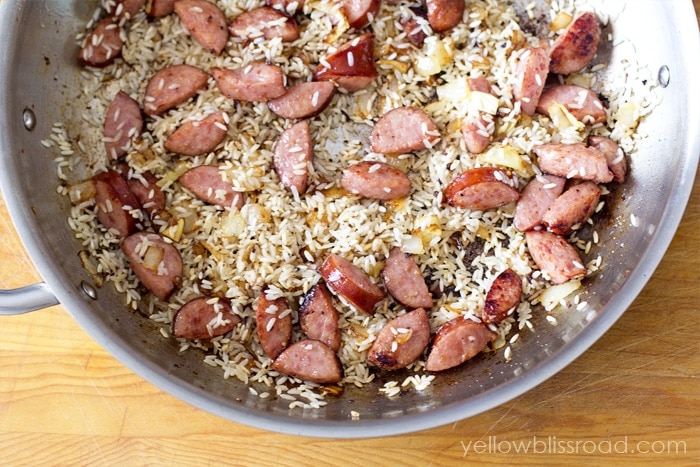 Add the liquid and sweet peppers, and bring it to a boil.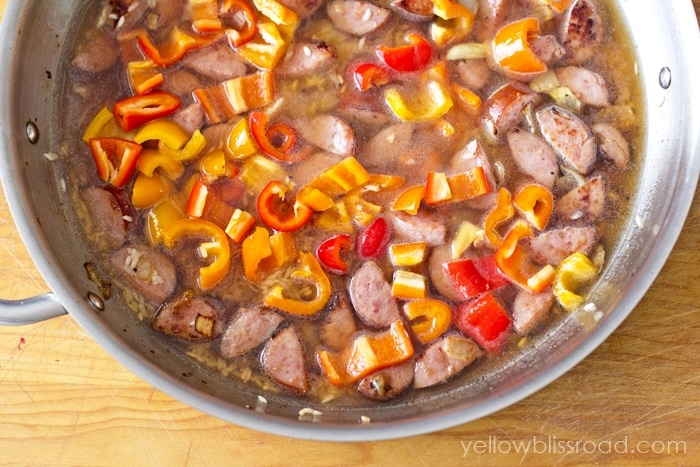 Cover it up and let it cook until all of the liquid is absorbed; about 20 minutes.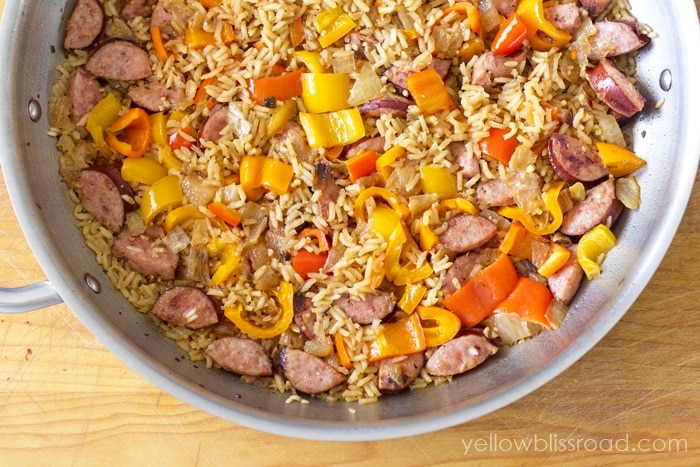 Does it look yummy?? It's got such a great smoky flavor – your whole family will love it!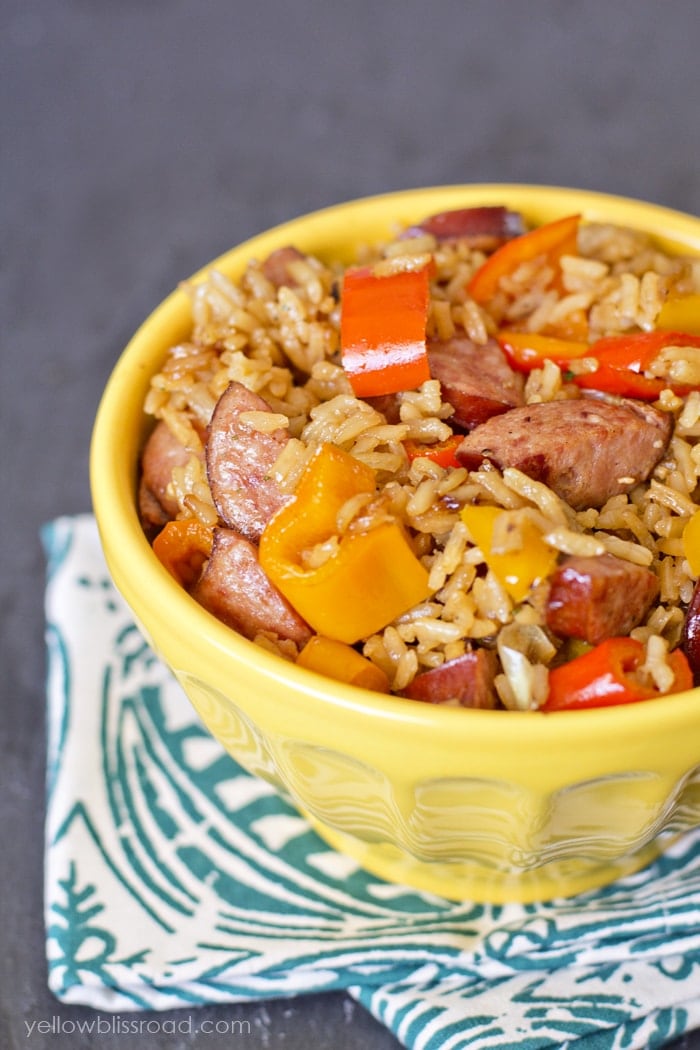 If you've made this recipe, please come back and leave us a star rating or a comment below. Or, tag us on social media @yellowblissroad or #yellowblissroad for a chance to be featured.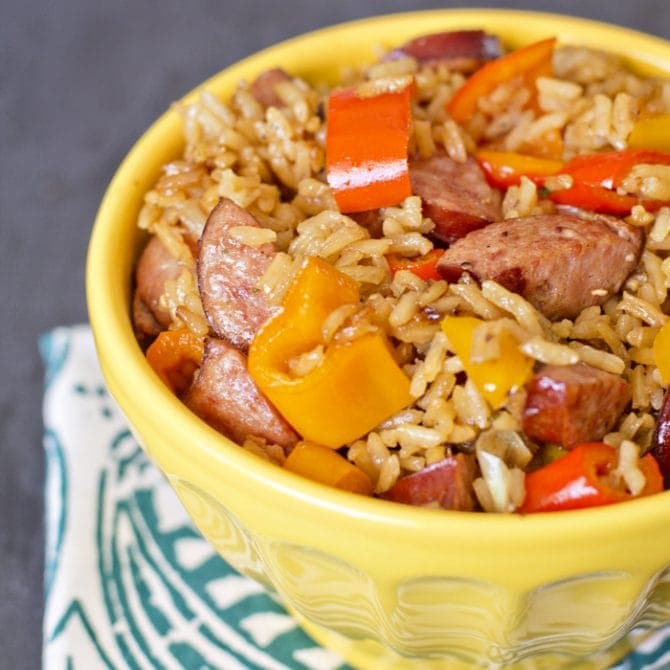 One Pan Smoked Sausage & Rice with Sweet Peppers
Ingredients
1/2

pound

Smoked Sausage

1

cup

rice

1

Tbsp

Olive Oil

2

cups

water

1

cup

diced Sweet Peppers

1/2

cup

diced onion

1

Tbsp

minced garlic

2

tsp

salt
Instructions
In a large skillet, heat olive oil over medium heat. Add onion and cook until soft.

Add sliced sausage and garlic and cook for five minutes, stirring often.

Add rice and stir for several minutes until rice starts to brown.

Add water, salt and pepper, and sweet peppers and stir.

Bring to a boil, cover and reduce heat to low.

Continue to cook, covered, for 20 minutes. If there is still liquid in the pan, remove lid and cook for a few more minutes, or until liquid is completely absorbed.
Eating right isn't the only way we try to keep healthy around here. It's so important to me to make sure the products I use in my home are good for our health too. That's why I'm so excited to be a part of Finish's Alliance of Moms!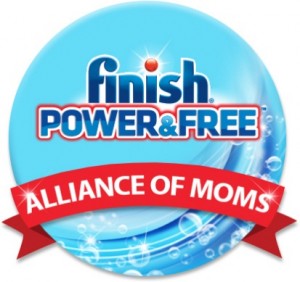 If you know me, you know that I am always honest about what I think, especially when it comes to endorsing (or not endorsing) products. The Finish line of dishwasher detergents is something I've always used in my home, and will continue to use. The latest Power & Free line is a perfect example of how I keep my family healthy by not using harsh chemicals to wash our dishes. I love this line of products because they really work!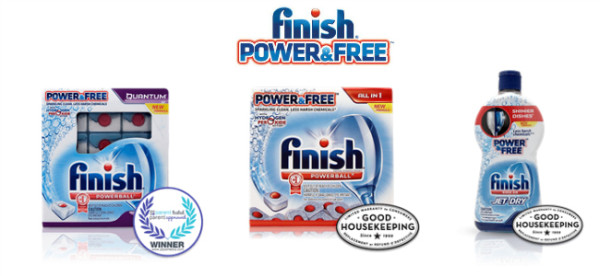 Their new Power & Free products rely on  hydrogen peroxide to get the job done, so it contains less harsh chemicals. Finish products are designed to be less harsh so that they can even be used with baby products, like the Nuk bottles and sippy cups!
Stay tuned as I continue to use the new Power & Free products. I will keep you informed on my thoughts during the process and would love it if you #CleanItForward and take the Power & Free challenge with me. Just replace your current dishwasher products with the new Finish line. You'll be glad you did, I promise!
Be sure to follow Finish on Facebook and check out their website for some great product coupons.
 I am a member of the Finish Power & Free Alliance of Moms, a sponsored program. All thoughts and opinions are my own.


For more One Pot Meals, you should check these out: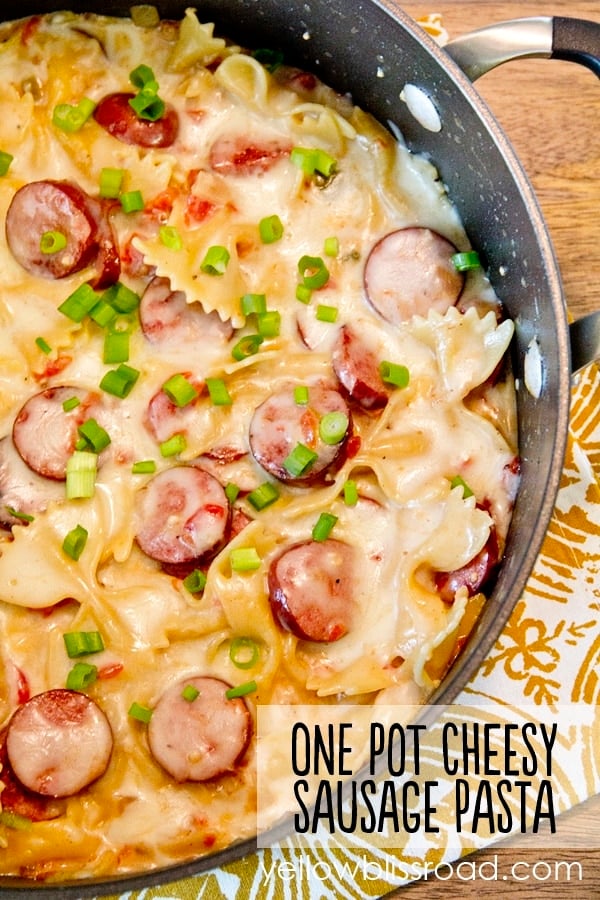 Cheesy Smoked Sausage and Pasta Skillet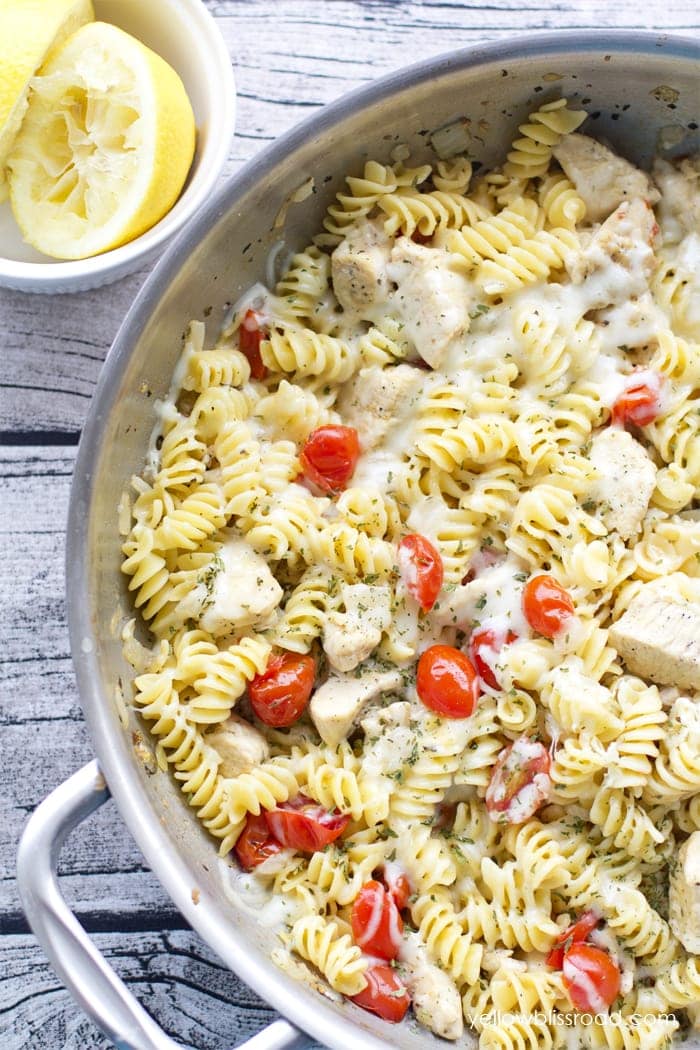 Spicy Lemon Chicken Pasta with Tomatoes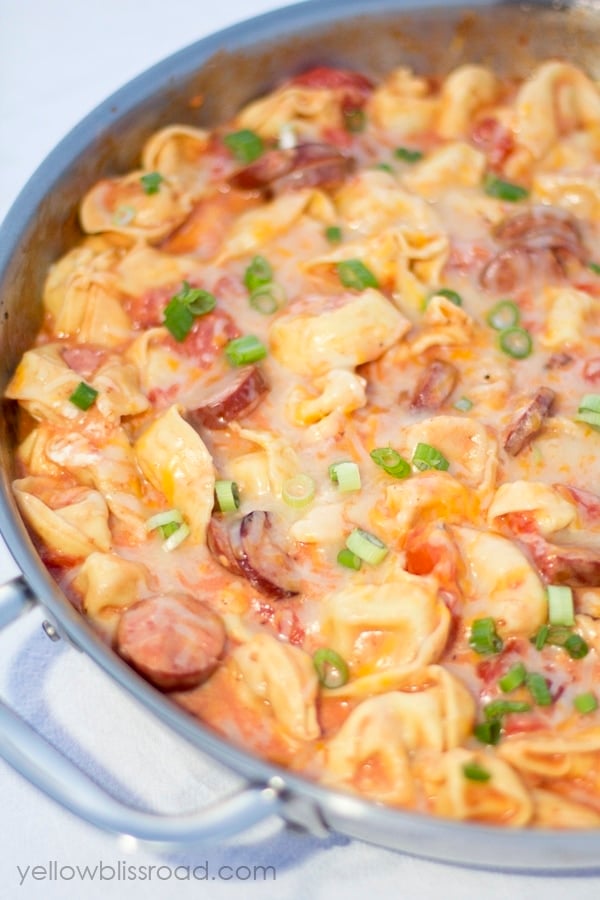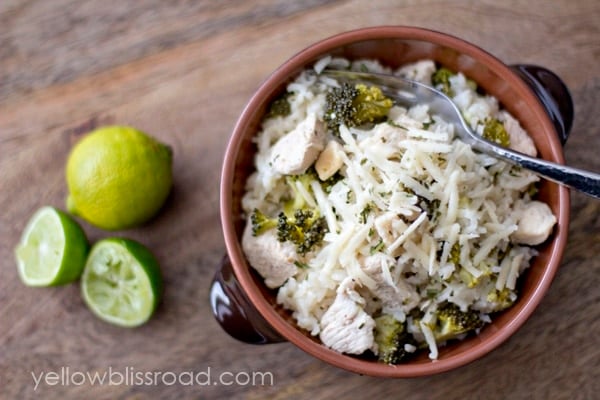 Chicken, Broccoli and Rice Skillet 
 For all of my one pot meals, go here.
For a complete list of my dinner recipes, go here.