Saving you time and bringing you back to the family dinner table with simple, nourishing meals.
Is This You?
You're tired of planning dinner every single night.
You end up getting takeout more nights than you'd like.
Your family is tired of eating the same meals over and over again.
You spend too much time planning, prepping, cooking, and grocery shopping.
Finally! Make Dinnertime Easy.
I've put together a complete meal planning system for you. It includes an 8-week plan of dinners, meal prep tips, and grocery lists to save you time, stress, and money. Plus each week includes recipes for dessert, snacks, and breakfast.
In this book, you'll learn time management tips to help get you in and out of the kitchen fast, food safety and storage, and so much more.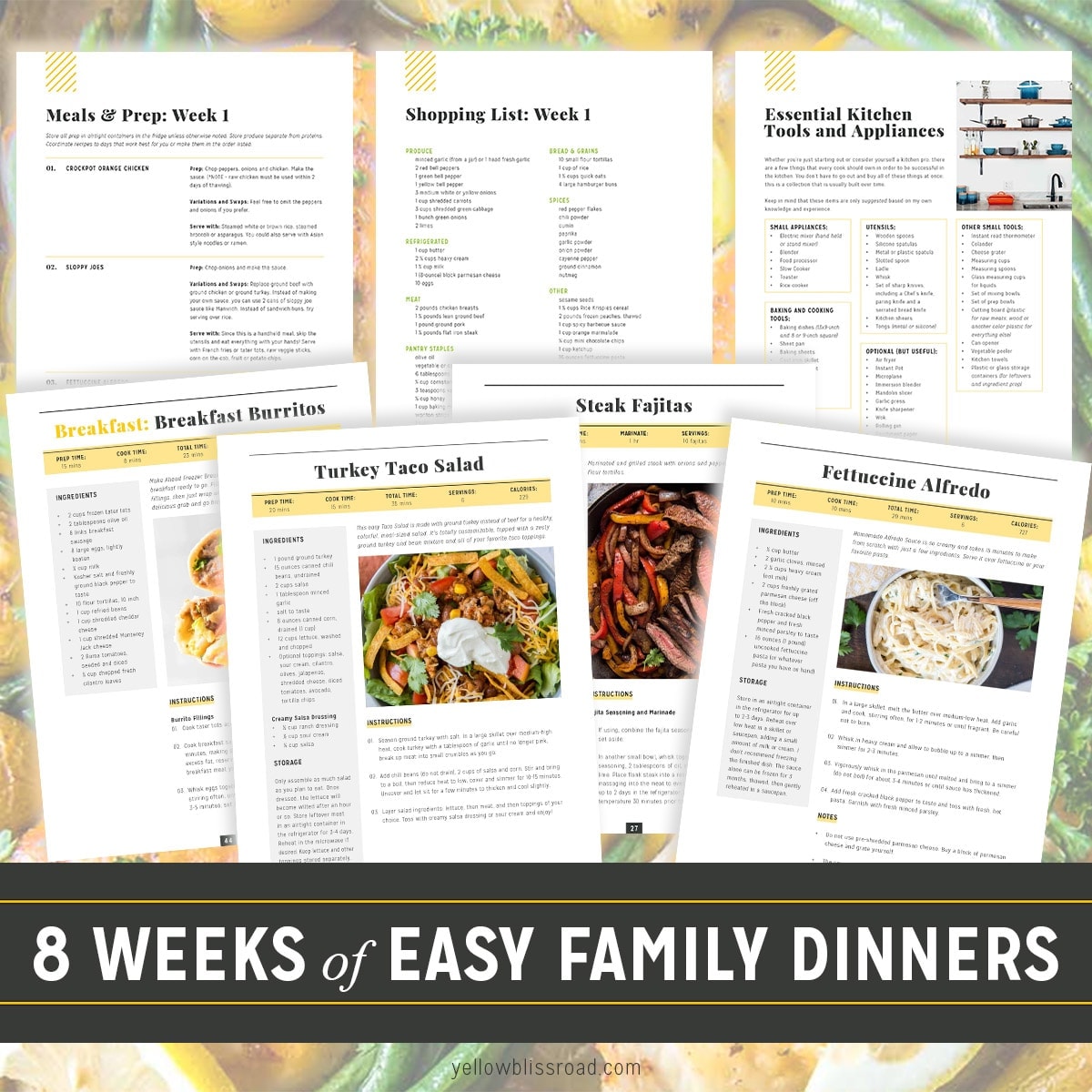 What's Included
8 weekly meal plans
Detailed shopping list for each week
Meal prep tasks for each week
Over 60+ simple recipes (with ingredient swaps)
Plus my easy back-up dinner ideas for busy nights
Ideas for side dishes
Recipes for dessert, snack and breakfast
Get my tried-and-true system for easy meal planning.
I've compiled my most popular family dinner recipes, along with all my best tips for meal planning success.
These recipes have all been tried and tested by my readers and my own (picky) family!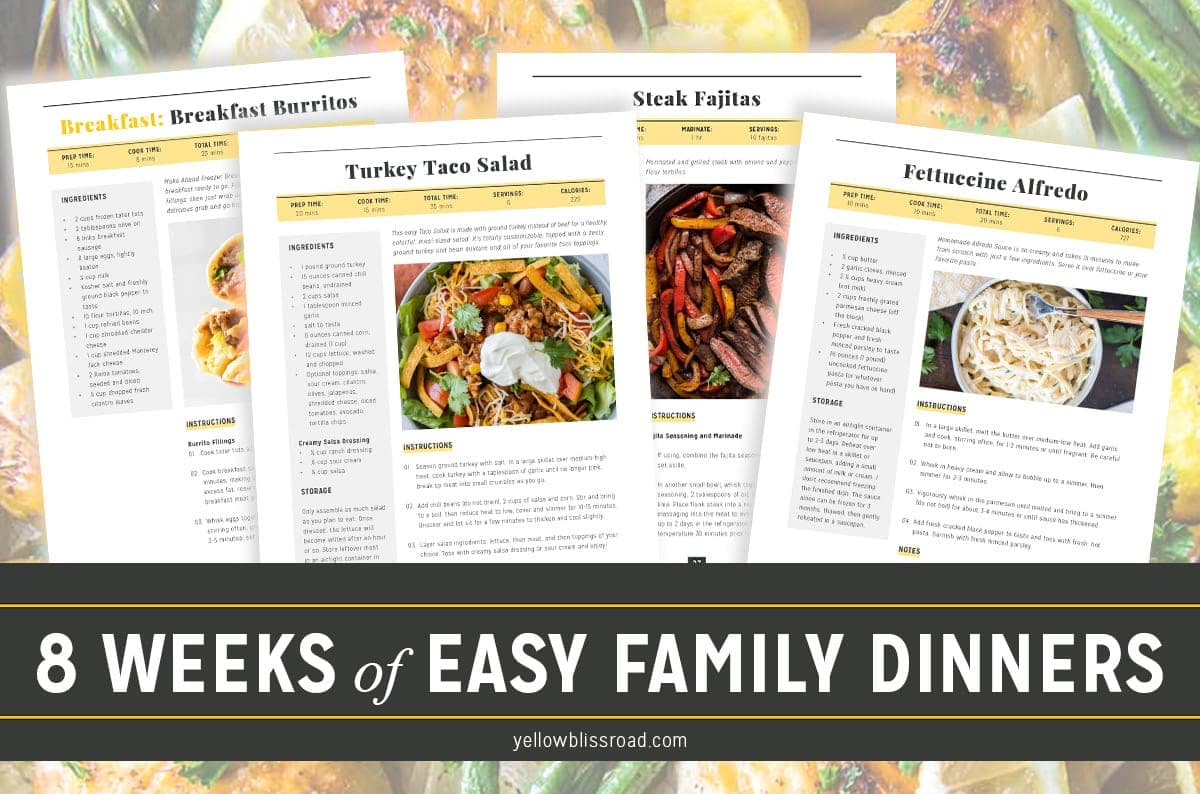 This is for you if…
You like simple recipes with basic ingredients (nothing fancy!)
You want recipes that your family will actually eat.
You don't want to spend more than an hour on dinner.
You want a detailed plan of what to do and when to do it.
Sample Menus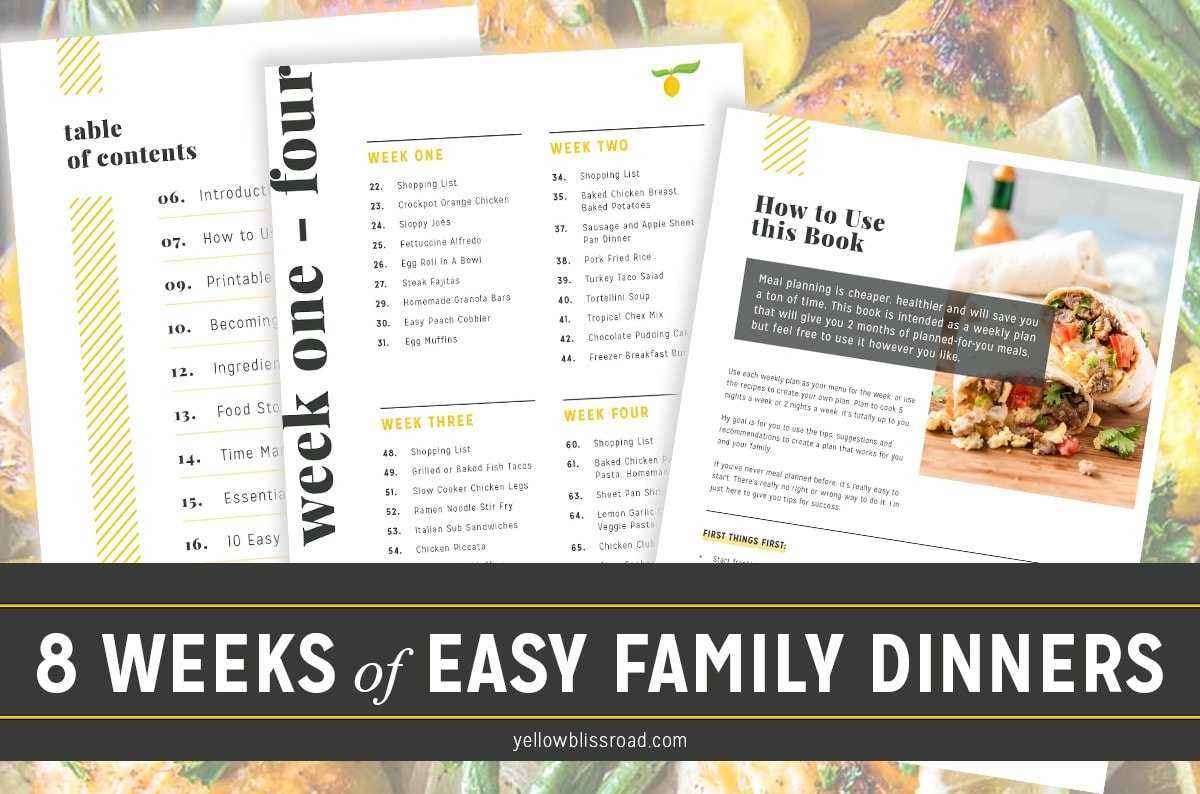 FAQs
How do I download the ebook?
Upon purchasing, you'll be automatically redirected to a page where you can download the book. Additionally, you'll receive an email with a link to download.
What format is the ebook?
8 Weeks of Easy Family Dinners comes as a digital (PDF) ebook that you can print out or save to your desktop, tablet, or smartphone.

Are these meals kid and family-friendly?
Absolutely! All meals included are totally kid-approved and family friendly.
How many servings are in each recipe?
Most of the recipes will serve 4-6 people. Some will make more, which is perfect for leftovers!
Will these recipes work for me if I have dietary restrictions?
You may need to make adjustments if you have any dietary restrictions. The recipes as written may include gluten, dairy, eggs, and other potential allergens.
What is the return policy?
Refunds and returns are not available for this digital product.