Whip up this delicious Black Bean and Mango Salad! So colorful and fresh with a light vinaigrette, it's perfect as a side dish or for the main course!
Forget bikini season! Warm weather means it's salad season! Nothing makes you feel better than eating a vibrant, healthy salad, chock full of amazing flavors and colors! You'll definitely want to add this Black Bean and Mango salad to your host of black bean recipes. The beans add protein and a solid texture to the salad, while the mangoes add sweet, tropical tones. Add the vinaigrette made with honey and cumin, and you have an amazing taste combination that everyone is sure to love!
Ingredients for Black Bean and Mango Salad
Romaine lettuce
Cherry tomatoes
Carrots
Red onion
Mangoes
Black beans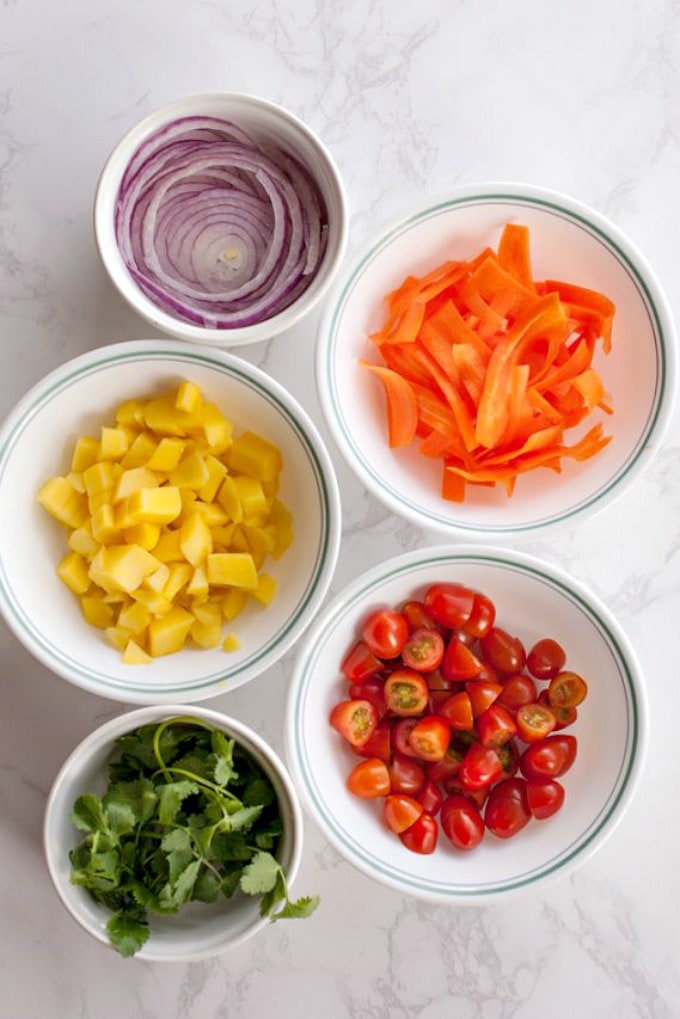 For the salad, chop the lettuce into bite-sized pieces. Then halve those cherry tomatoes. You can julienne your carrots, or peel them into wide strips like I did. Then just thinly slice your red onion, and you are almost set! Working with mangoes can be a bit tricky. They have that big seed in the middle and are kind of slippery when you peel them. To get around both problems, you can cut your mango like this:
First, cut off one side as close to the pit as you can. Then use a knife to slice the flesh into squares, being careful not to cut through the skin. Then you just pick up the mango and holding both ends, press up in the middle on the back until the mango flips inside out – like the picture below.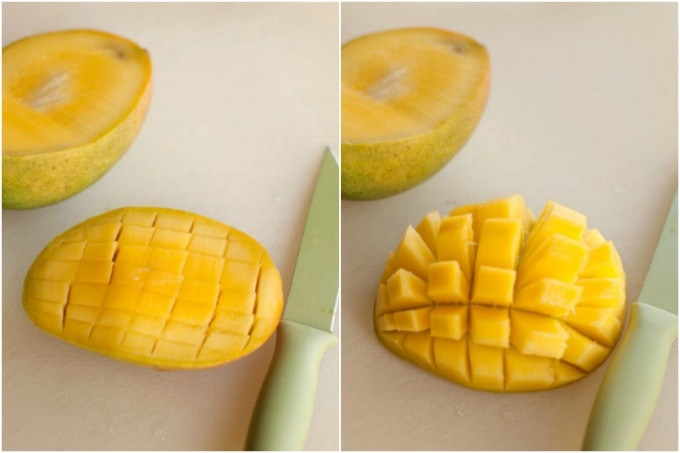 Now you can carefully slide a knife along the bottom to cut off the squares. Alternately, instead of flipping the mango like this, you can just use a spoon to scoop out the cut flesh.
Then you put everything together to make this gorgeous salad!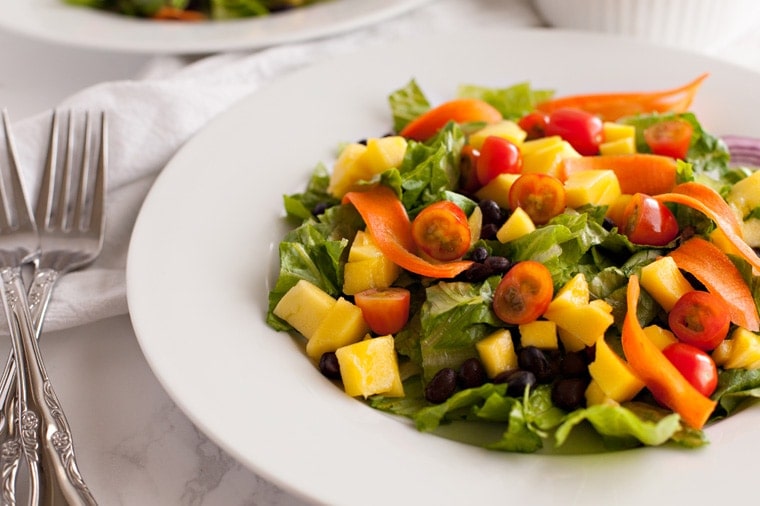 Now to make the vinaigrette, you will get a jar with a lid and add all your dressing ingredients and then shake the heck out of that jar! Save the dressing until just before serving the salad. Feel free to garnish with cilantro if desired.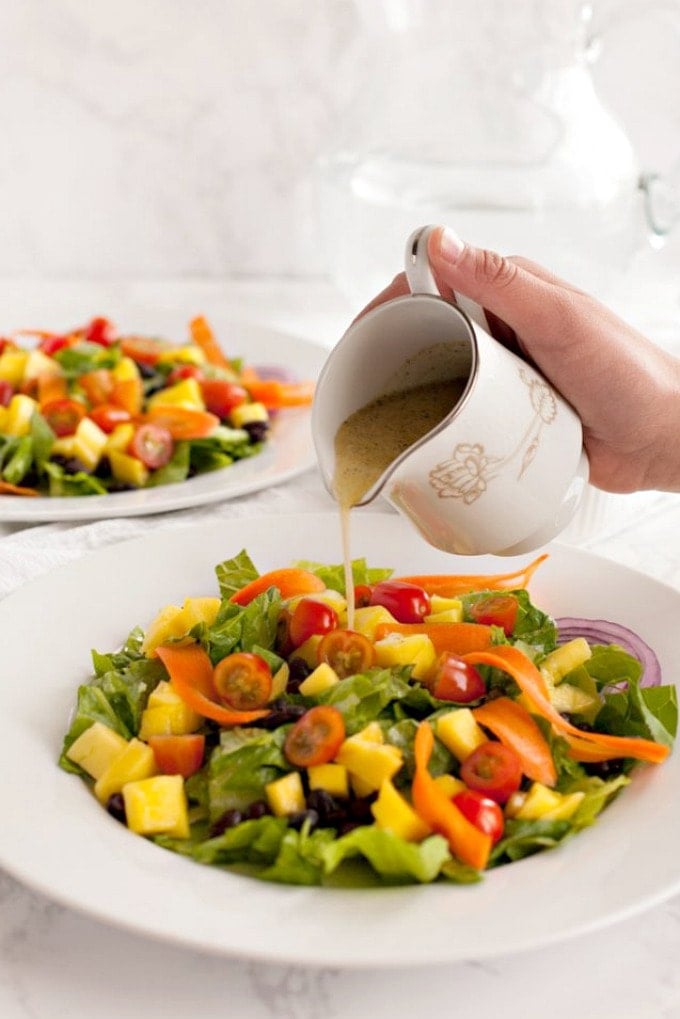 This is one black bean recipe you do not want to miss! This Black Bean with Mango Salad is full of nutrients and is so gorgeous to look at! Make it today! Your body will thank you!
Looking for more summer salad recipes?
These black bean recipes are my favorite!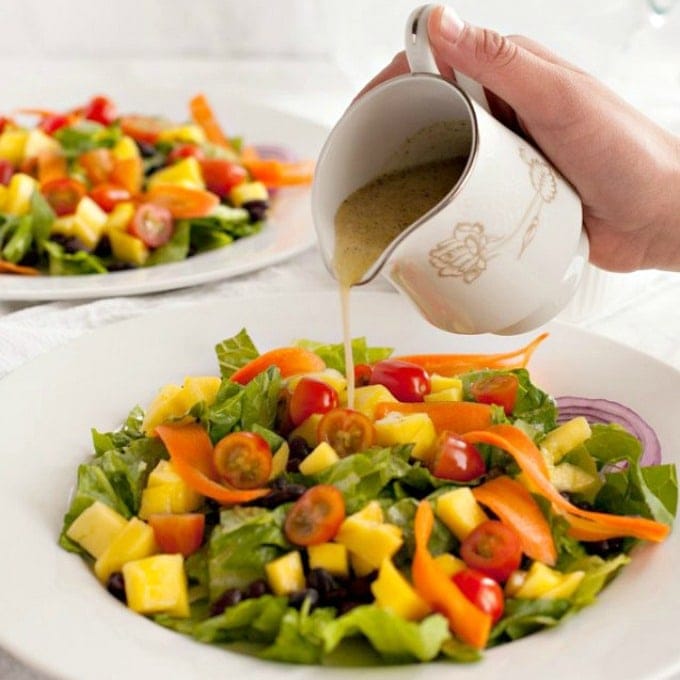 Black Bean and Mango Salad
Whip up this delicious Black Bean and Mango Salad! So colorful and fresh with a light vinaigrette, it's perfect as a side dish or for the main course!
Ingredients
For the Salad
1 head Romaine lettuce cut into bite-sized pieces
1- pint cherry tomatoes halved
4 carrots peeled and julienned or sliced thinly
1/4 red onion thinly sliced
2-3 mangoes cut into chunks
1 can black beans drained and rinsed
cilantro optional for garnish
For the Dressing
1/4 cup lime juice
1/4 rice vinegar or red wine vinegar
2 tablespoons honey
1/4 teaspoon ground cumin
2 teaspoons olive oil
salt & pepper to taste
Instructions
For the Salad
In a large bowl, mix together the chopped lettuce, tomatoes, carrots, onions, mangoes, and black beans. Refrigerate until ready to serve.
For the Dressing
In a jar with a lid, mix together the lime juice, vinegar, honey cumin, olive oil, salt, and pepper. Shake vigorously until everything is well-blended. Pour on the salad just before serving.