The Amaretto Sour is a classic cocktail that is a perfect option for a cocktail party menu or as a pre-game drink for date night. This recipe combines bourbon, amaretto, lemon juice, simple syrup and an egg white to form a sweet and sour drink that will delight your tastebuds!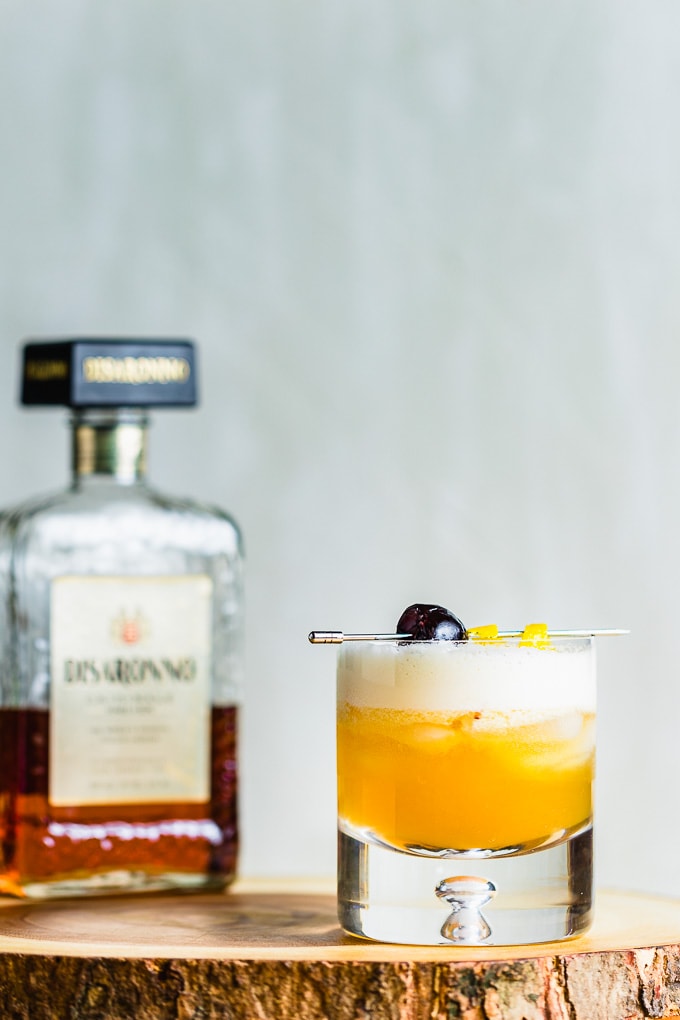 The Amaretto Sour, along with many other "sours" are often overlooked when curating a cocktail party menu. Sometimes viewed as overly sweet or lacking in sophistication, the drink can get a bad rap. However, if it is prepared perfectly using fresh ingredients, as opposed to overly sweet mixes, it has the potential to be favorited even by its critics.
This recipe does not include any sour mix. Instead, we use freshly squeezed lemon juice and a splash of simple syrup to give it a cleaner, more natural taste. Using a pasteurized egg white gives it a frothy consistency that is nothing short of decadent.
The substitution of a blood-red Amarena cherry for garnish, for an artificially colored maraschino cherry, adds another layer of flavor and sophistication. In short, this is NOT the amaretto sour you drank in college!

What is Amaretto?
Amaretto is an Italian liqueur that is slightly sweet with almond as the predominant flavor. It can be seen gracing dessert carts at weddings, can be used as an addition to coffee, and is often used by pastry chefs to enhance the flavor of baked goods.
There are a variety of different amarettos, but the most widely recognized brand is Di Saronno, which is named after the city, Saronno, where the amaretto liqueur originated. We used Di Saronno for our recipe, but you could certainly use other brands, such as Luxardo or DeKuyper.
How to make an Amaretto Sour
Start by gathering your ingredients, and tools. For this recipe, you'll need a cocktail shaker, a jigger to measure your liquids, and a rocks glass filled with ice. Ingredients are freshly squeezed lemon juice, simple syrup, amaretto, bourbon, and a pasteurized egg white, lightly beaten, and ice. You will also need a lemon peel and Amarena cherry for garnish.
To the cocktail shaker, add the lemon juice, simple syrup, bourbon, amaretto, and the egg white.
Before adding the ice, it is important to do what is referred to as a "dry shake". This means you will shake your drink vigorously without any ice for about 30 seconds to help create the foamy texture the egg white imparts. Then, add 2 ice cubes and continue to shake until the ice is almost fully dissolved and is no longer "noisy".
Strain and pour over fresh ice. Garnish with the lemon peel and Amarena cherry. Serve immediately and enjoy!

Amaretto Sour Recipe Tips
What about the egg? As long as the egg is pasteurized, it's safe to eat raw. However if you have concerns you can leave that part of the recipe out.
Make ahead? I do not recommend making this drink ahead of time. It's much better fresh and it's so easy it only takes a few minutes.
Cocktail Party Menu
So you're having a cocktail party and you want to impress your guests with drinks that are not only delicious but also beautiful. Have no fear, we've got you covered right here!
Naturally, this Amaretto Sour cocktail will be on your menu. I always recommend offering a spritz option for cocktail parties, so either the Aperol Spritz, or the Limoncello Spritz would be great additions.
I'd also consider adding a tequila-based cocktail, like this Apple Margarita, or this Cadillac Margarita.
And a cocktail party wouldn't be complete without some food. Here are some of my favorite appetizers to serve alongside cocktails.
Recipe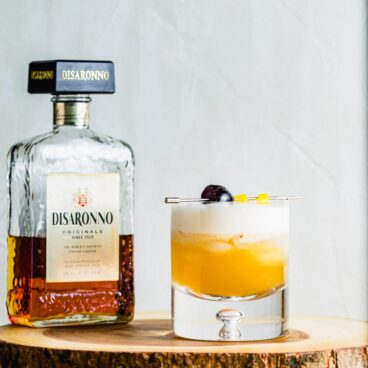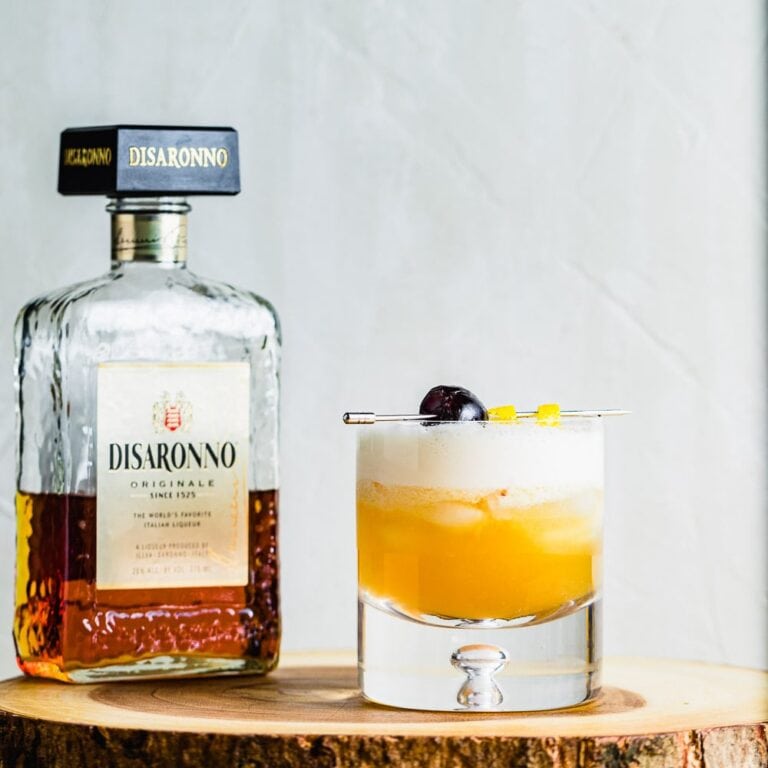 Amaretto Sour
The Amaretto Sour combines lemon juice, simple syrup, an egg white, amaretto, bourbon and ice to create a silky smooth cocktail that will impress your guests and your tastebuds!
Ingredients
1.5

ounces

Amaretto

.75

ounce

bourbon

1

ounce

lemon juice

freshly squeezed

1

teaspoon

simple syrup

`1

medium

egg white

pasteurized

1

cup

ice

divided

1

large

Amarena cherry

for garnish

1

large

lemon twist

for garnish
Instructions
To a cocktail shaker, add amaretto, bourbon, lemon juice, simple syrup and egg white.

Shake vigorously for 30 seconds doing a "dry shake".

Add two ice cubes and continue to shake until the ice is dissolved.

Add the remaining ice to a rocks glass.

Strain and pour over the fresh ice.

Garnish with lemon peel and cherry. Serve immediately.
Notes
When using egg whites in cocktails, it is important to do a "dry shake" aka a shake without ice, in order to create the silky/foamy texture of the egg white. Once that texture is achieved you can add the ice.
We used an Amarena cherry for the garnish. We buy ours from Trader Joe's, but if you cannot locate these, you can also use a Maraschino cherry.
If you do not have bourbon, you can substitute with brandy.  
Nutrition
Calories:
238
kcal
Carbohydrates:
25
g
Protein:
4
g
Fat:
1
g
Saturated Fat:
1
g
Polyunsaturated Fat:
1
g
Monounsaturated Fat:
1
g
Sodium:
71
mg
Potassium:
144
mg
Fiber:
1
g
Sugar:
23
g
Vitamin A:
7
IU
Vitamin C:
12
mg
Calcium:
16
mg
Iron:
1
mg