A classic Cadillac Margarita is delicious, and feels just as fancy as the name sounds. It's a simple drink made with top shelf tequila and topped Grand Marnier liqueur for an easy to make cocktail that will make you look and feel like a total pro.
Everyone knows that in the world of cocktails nothing beats a good Margarita. Unless of course you top it with some Grand Marnier and make it a Cadillac Margarita! Looking for more delicious cocktails to try? How about Rum Punch or a Blue Lagoon Cocktail?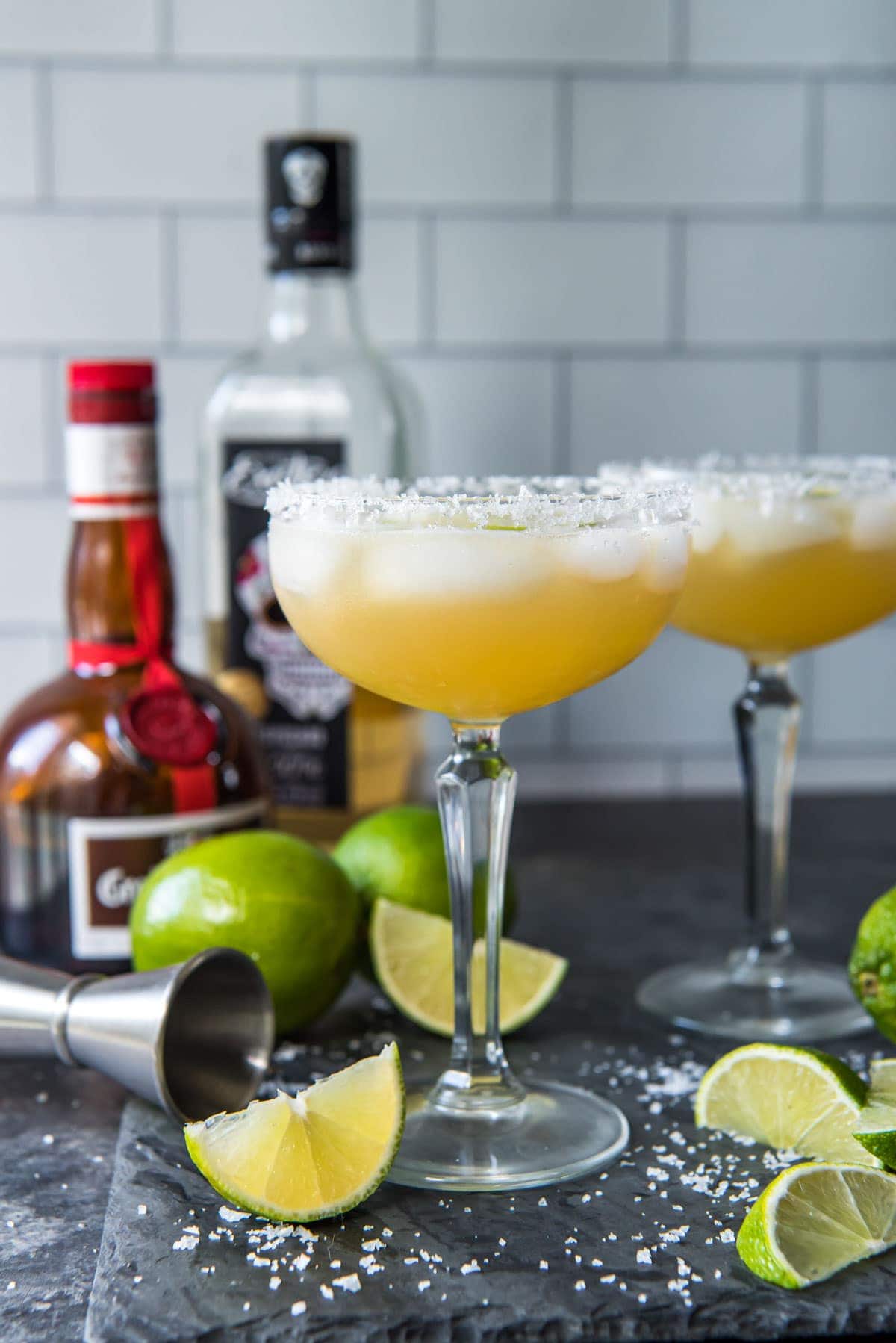 The Best Cadillac Margarita Recipe
I was hooked after savoring my first Cadillac Margarita in my early 20s. This was my first experience into the world of high class cocktails and it was marvelous. It tasted like the margaritas I was used to, only much, much better. The bittersweet orange flavor along with the warm and woodsy cognac flavor took that simple lime and tequila over the top.
Since then, Grand Marnier has been a top favorite flavor of mine, from cocktails to this Grand Marnier souffle dessert. The cocktail is a lot easier to make than a souffle, so let's make Cadillac Margaritas!
Why is it called a Cadillac Margarita?
This cocktail uses top shelf liquor, earning it the title "Cadillac." While it's quite a simple drink with only 3 ingredients, they are high quality.
What is the best type of Tequila for a Margarita?
A regular Margarita uses tequila blanco, or "new" tequila, while a Cadillac Margarita is more nuanced and calls for a higher quality tequila reposado that has been aged for longer than two months. Both are derived from the blue agave plant.
Reposado is more expensive than agave tequila or silver tequila, so try and find a mid-range priced brand like Patron or Herradura. Reposado will range in price from $20-100 for a 750mL bottle.
Ordering this drink at a bar? Ask the bartender for their recommendation.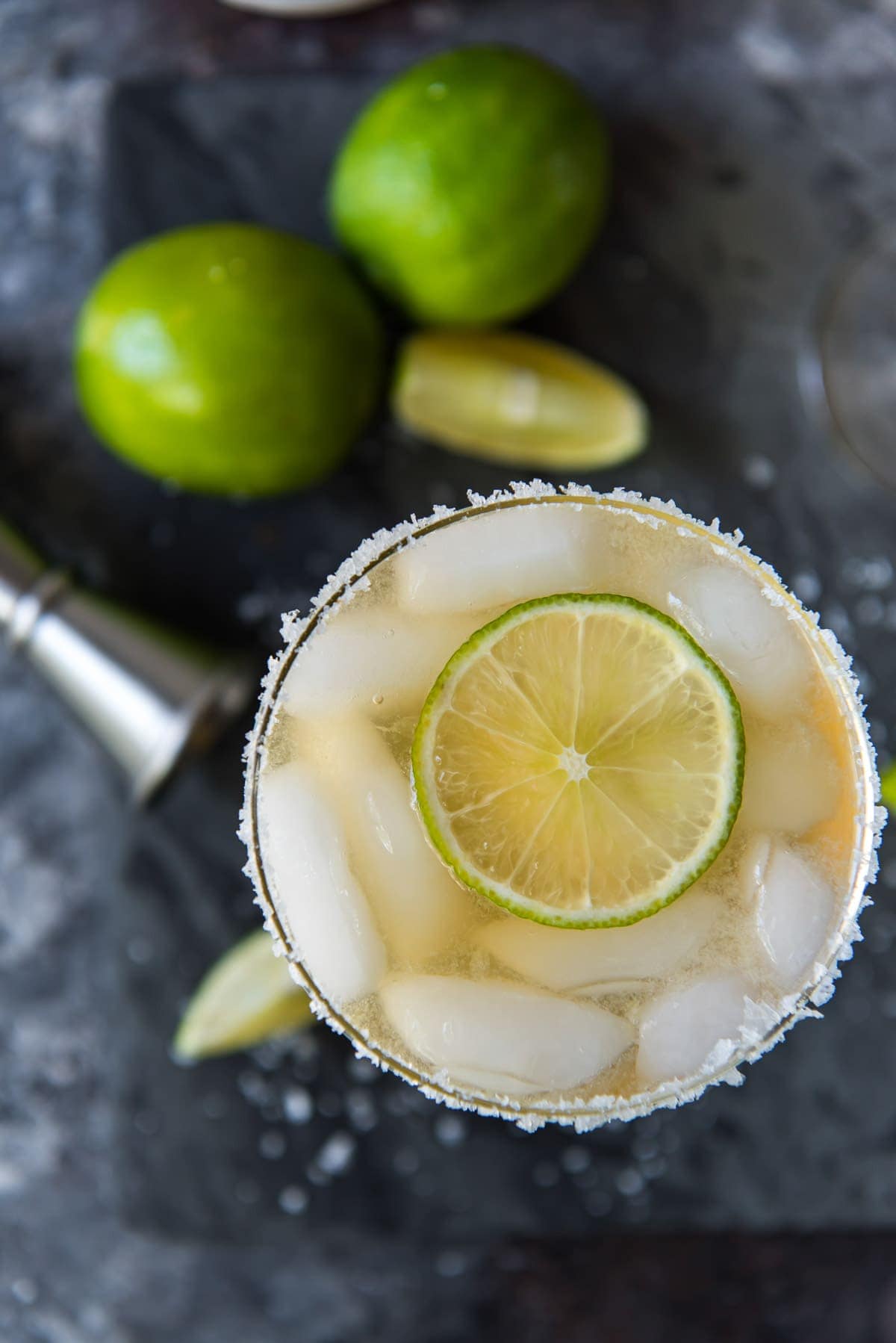 Grand Marnier or Cointreau?
Grand Marnier is a sweet orange liqueur that blends cognac, bitter orange, and sugar. It is aged with a high quality brandy cognac.
Cointreau is a brand of triple-sec that uses a mixture of sweet and bitter orange peels and sugar beet alcohol. It is not aged and the flavor is not as intense.
Overall, Grand Marnier is fancier than Cointreau, with a more intense flavor. While one can be swapped for the other, Grand Mariner is the only way to make a proper Cadillac Margarita, in my opinion, for the more nuanced, intense flavor it brings to the cocktail.
You can also use Grand Marnier to cook with, like in this delicious Slow Cooker Chicken with Orange Sauce and Grand Marnier French Toast.
How To Make A Cadillac Margarita
Grab your glasses. You can use any cocktail glass you like, but a high class drink deserves a high class vessel and I love to use these coupe glasses. You can also use a regular margarita glass or whatever you have on hand.
Wet the rim of the glass with a lime wedge and dip gently in coarse salt.
Add reposado tequila, grand marnier, and fresh lime juice to a cocktail shaker filled with ice and give it a good shake.
Strain into a glass filled with ice. Garnish with a lime if you want.
Expert Tips and Tricks
For the best Cadillac Margarita, get the best quality tequila you can afford.
Use fresh lime juice rather than bottled juice.
Skip the Cointreau and go for the Grand Marnier. It's clearly the better booze in this situation.
If you want to be super fancy, save the Grand Marnier til the end and pour it on top of the tequila and lime juice in the glass. It will look pretty in the glass and will make you look like a pro.
You can use a shot glass to measure your tequila – 1 shot is 1.5 ounces.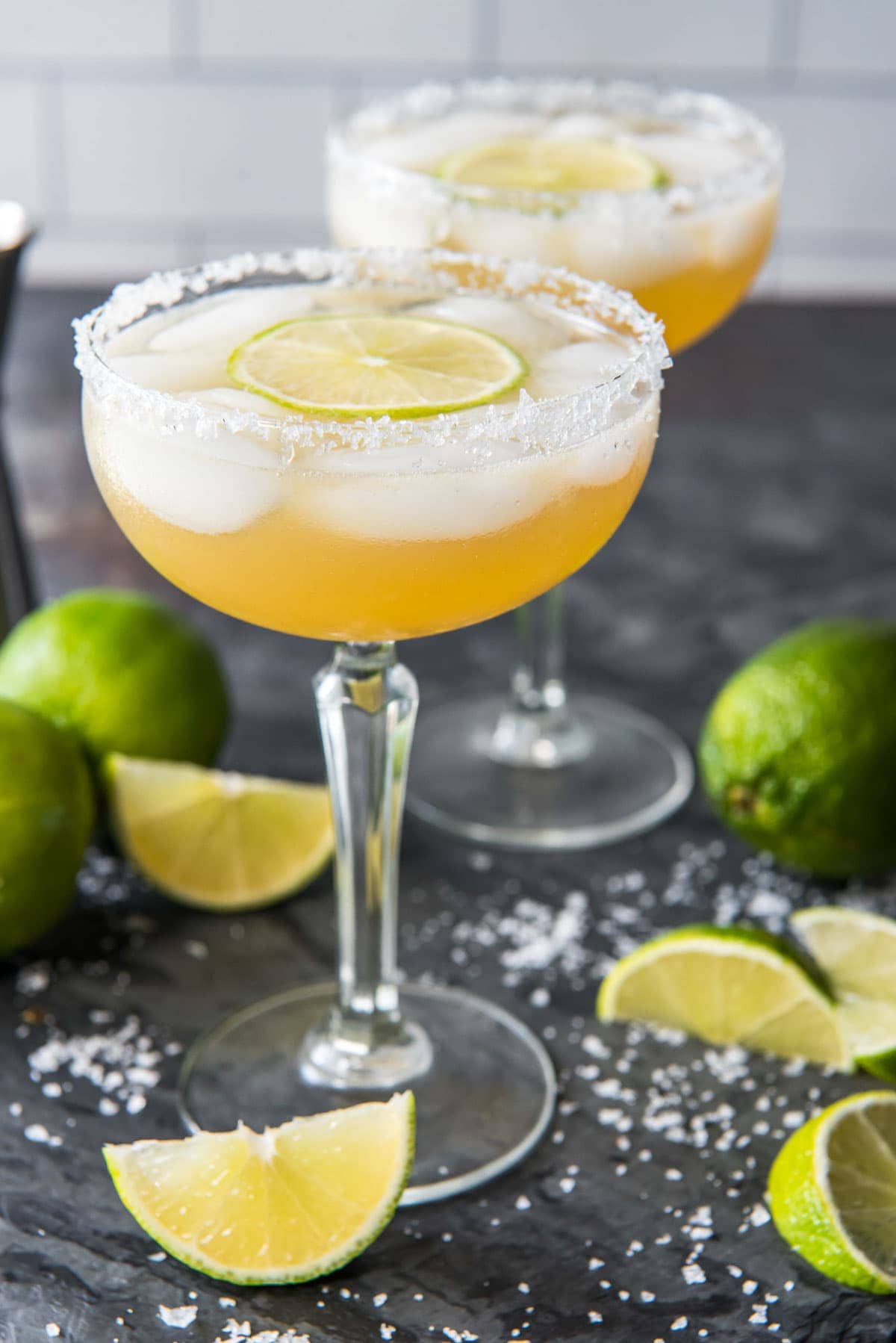 More Delicious Cocktails to Try
Recipe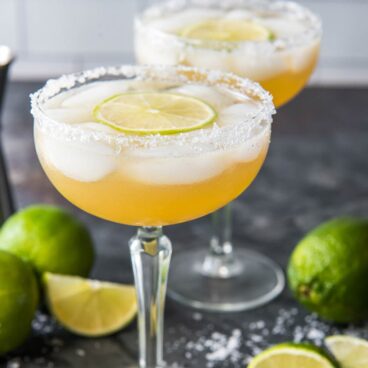 Cadillac Margarita
A Cadillac Margarita is a sophisticated yet simple cocktail made with top shelf tequila, lime juice and Grand Marnier liqueur.
Ingredients
1 1/2

ounces

premium reposado tequila

Patron or Herradura

1

ounce

Grand Marnier

or Cointreau

3/4

ounce

freshly squeezed lime juice

Coarse salt

Lime wheel or wedge

1/2

ounce

agave syrup or simple syrup

optional
Instructions
Use a lime wedge to wet the rim of a cocktail glass, then roll it in a plate of coarse salt.

Pour the tequila, Grand Marnier, and lime juice into a cocktail shaker filled with ice cubes. Shake well.

Strain into the prepared cocktail glass filled with ice. Garnish with a lime wheel if desired.
Notes
A classic Cadillac uses Reposado Tequila, but you could swap another if it's what you have. 
The syrup is optional if you want a sweeter drink. 
Nutrition
Calories:
191
kcal
Carbohydrates:
11
g
Protein:
1
g
Fat:
1
g
Saturated Fat:
1
g
Sodium:
3
mg
Sugar:
9
g
Vitamin C:
6
mg