Learn how to assemble an epic antipasto platter with just a few simple tips. Customize to your heart's desire and serve this delicious and beautiful meat and cheese board to party guests or make it a simple weeknight dinner.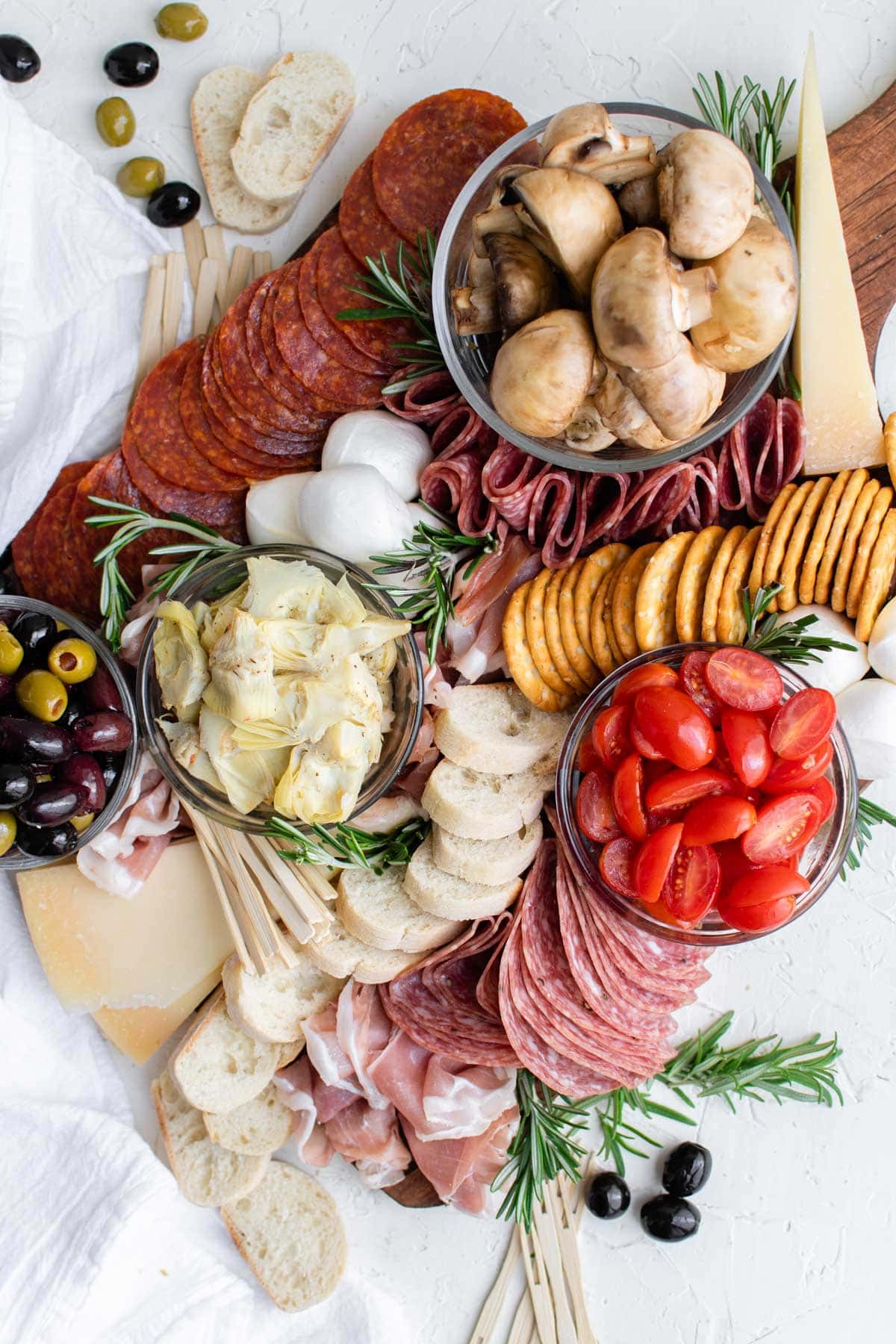 I love a good cheese board. Heck I even love a totally mediocre cheese board. But this, this cheese board is anything but mediocre. Let's dive in and I'll show you how to make the best antipasto platter ever!
Remember my Christmas Tree Fruit & Cheese Platter? It's super cute and perfect for the holidays. The antipasto platter is perfect for serving alongside it!
Upscale Italian restaurants always serve an antipasto platter before the meal. Some let you choose the meats and cheeses that go on it, plus dips, veggies, relish (olives and pickles) and breads or crackers and some just have it on the menu and you have to order it. At our favorite Italian restaurant, Palo on Disney Cruise Line, the server comes around with a cart filled with cured meats, chunks of Parmesan cheese, marinated olives, mushrooms and peppers, and infused oils. It's truly the our favorite part of the entire meal! We choose our favorites and fill our bellies; then hope we still have room for the main course but it's so worth it!
Antipasto is similar to a charcuterie board, although charcuterie is a french term and has cooked meats and it often a term used to describe any platter of items that includes cooked meats.
What should be on an Antipasto Platter?
An antipasto platter usually includes a variety of savory items. Here are a few examples:
Cured meats like salami and pepperoni.
Fresh cheese such as bocconcini balls (fresh mozzarella), Parmesan cheese or slices of provolone, mozzarella or gouda.
Marinated vegetables like olives, peppers, mushrooms and tomatoes.
Pickles or pickled items like peppers or pepperoncinis.
Nuts like almonds or cashews.
Spreads or jams like boursin cheese or fig jam.
Crackers, crostini or crispy flatbread.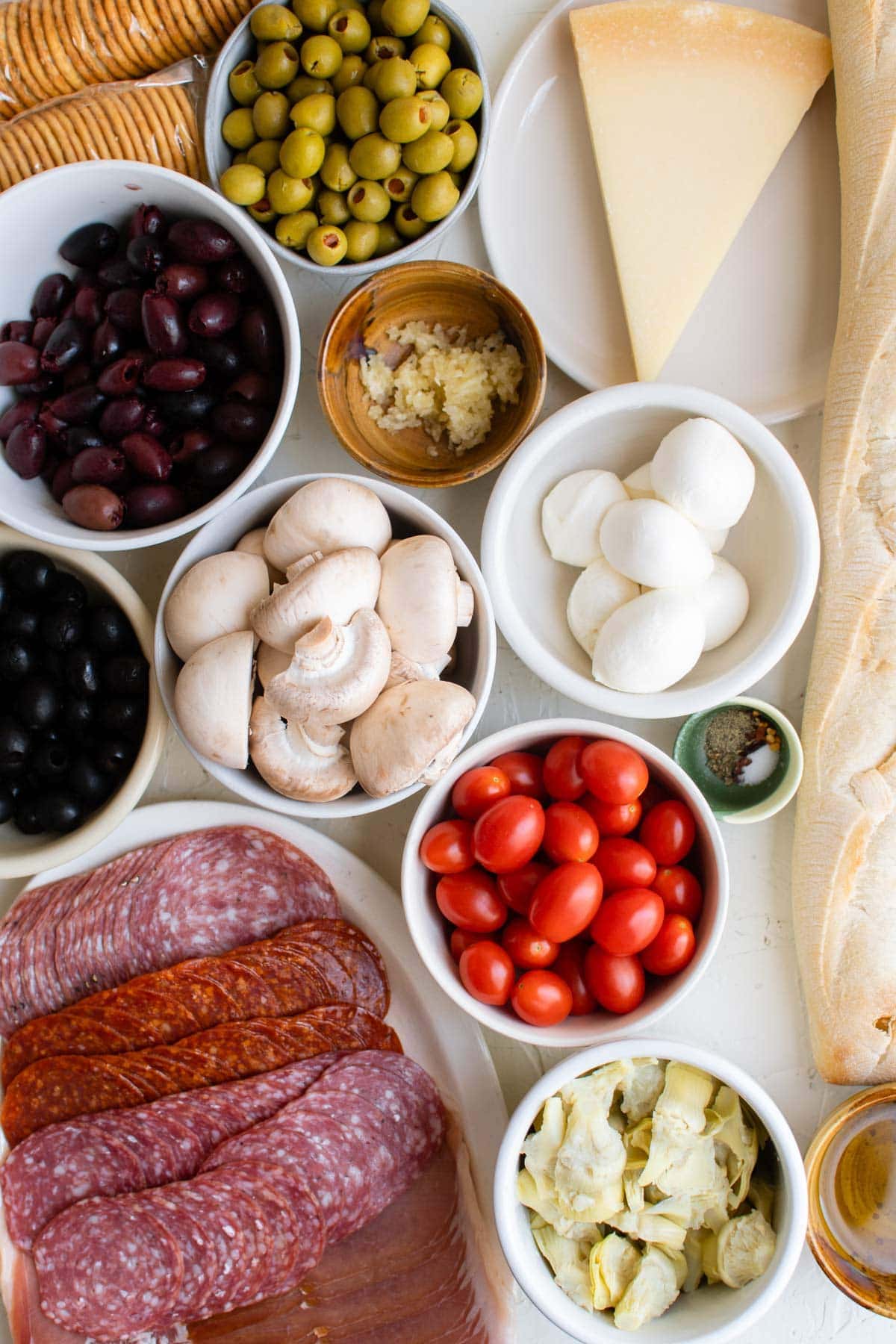 What is the difference between Antipasti and Antipasto?
Whenever I hear the word "antipasto" I think "not pasta" because it sounds like the "anti" pasta! It actually means appetizer, or literally, "before the pasta." Antipasti is just the plural of the word antipasto.
How to Assemble the Best Antipasto Platter
Marinate the vegetables. Quarter artichokes and slice mushrooms in half. Tomatoes can be left whole, or if they are pretty big you can slice them in half as well. Toss them with the homemade marinade of olive oil, garlic and salt and pepper then refrigerate for at least 3 hours or up to a 48 hours.
Grab a large platter as your base. The size really depends on how many you're feeding. A wooden cutting board or marble board works well, or just a large ceramic serving platter.
Arrange a few small dishes like these around the platter. Mis-matched is totally fine here if going for more of a rustic look (my preference) or get matchy-matchy for something a little more elegant. Try to use an odd number of dishes, like 3 or 5.
Add marinated veggies and olives to the small dishes, as well as any spreads or nuts you are including.
Arrange cheeses randomly around the platter.
Arrange cured meats either in stacks, or folded if possible, and tuck them in between the dishes and cheeses.
If you want to get extra fancy, add a few sprigs of rosemary or parsley around the platter to fill in empty spots.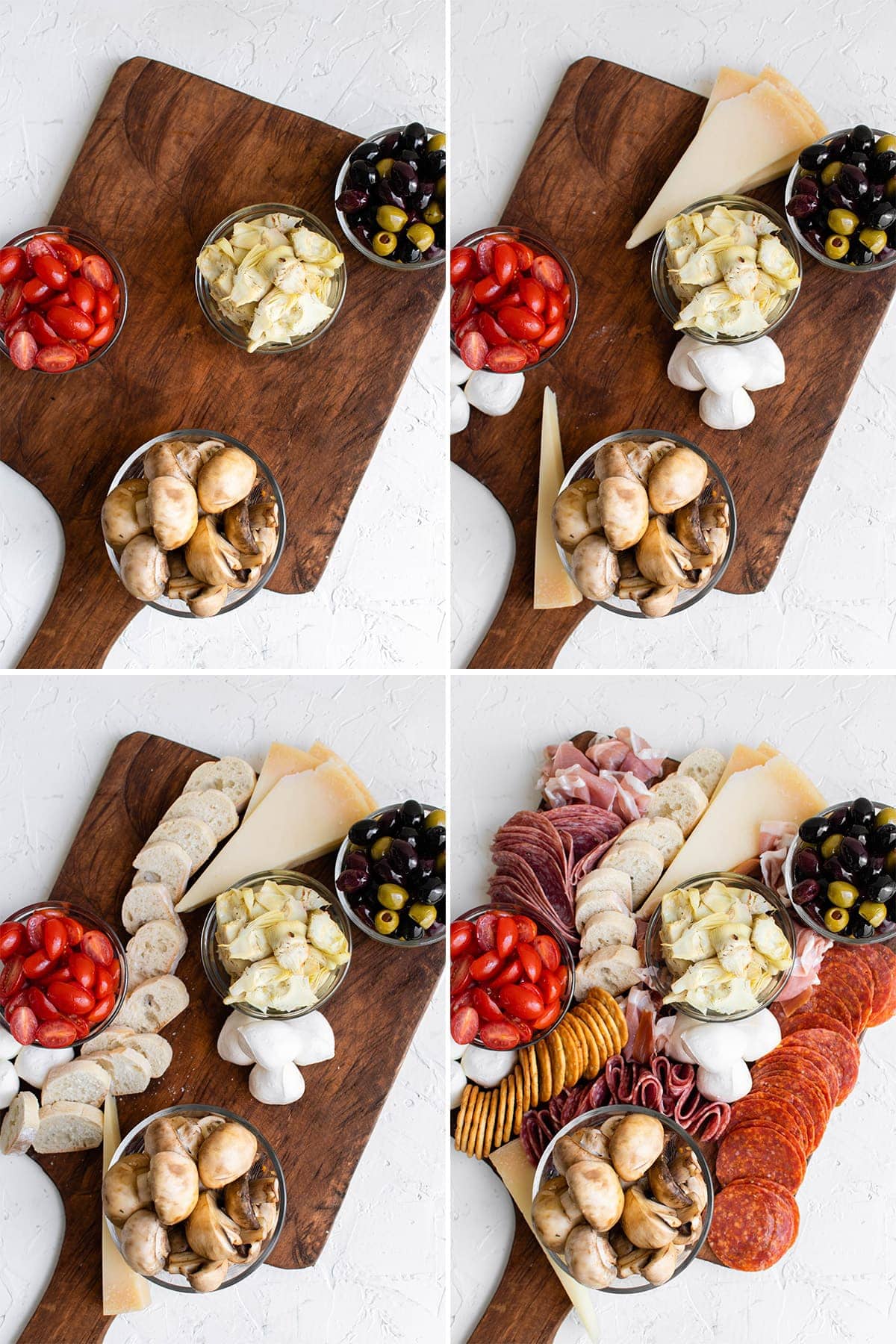 Make Ahead and Storage Tips
The antipasto platter can be assembled up to 24 hours in advance. Cover individual dishes with plastic wrap, as well as the entire platter, and refrigerate for up to 24 hours. Do not refrigerate nuts or cracker/breads.
Store leftover marinated items separate from the meats and cheese and eat within 2-3 days. Store nuts, breads and crackers in resealable bags at room temperature. Breads are usually good for a few days, for crackers just refer to the packaging.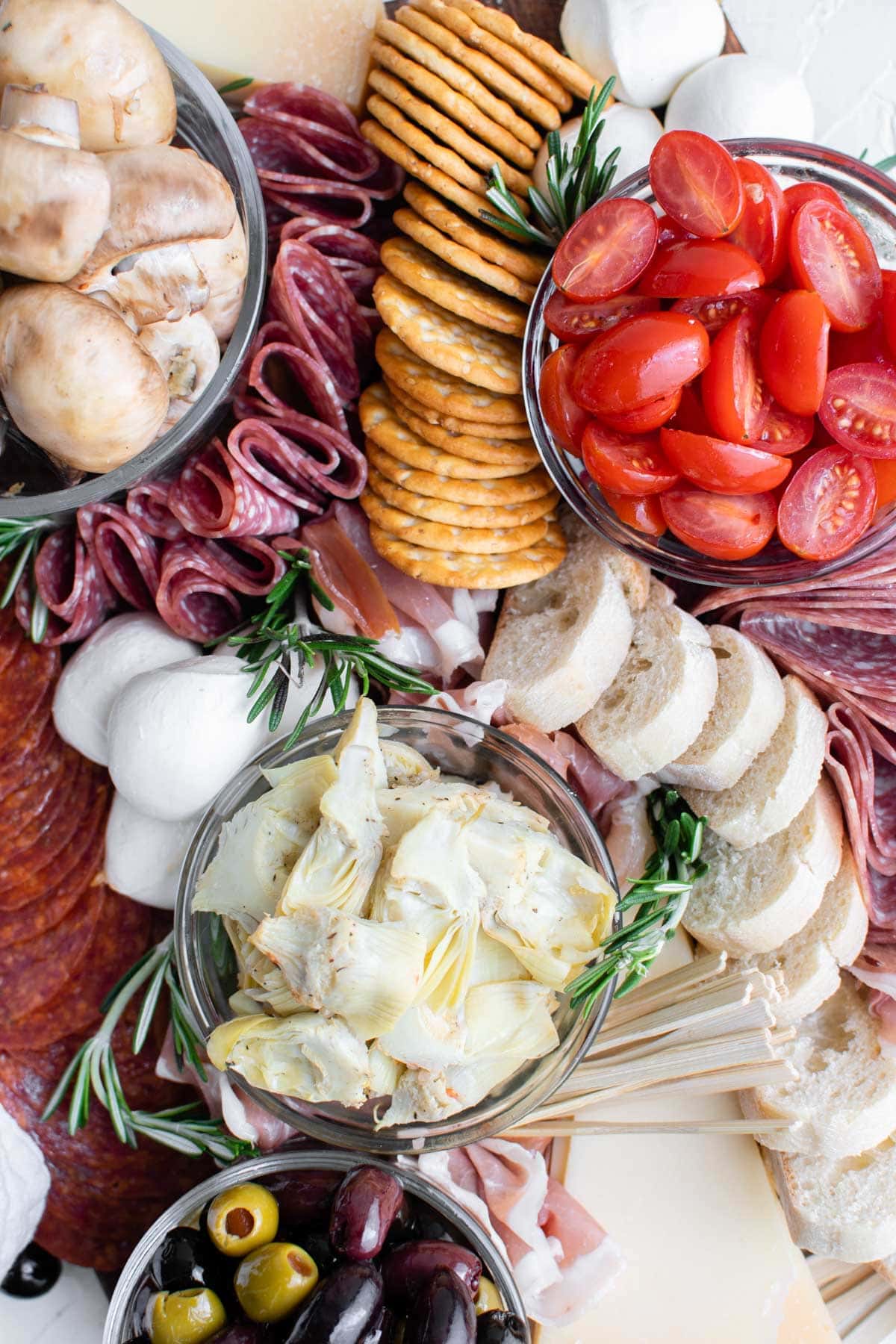 More Italian Appetizers
Recipe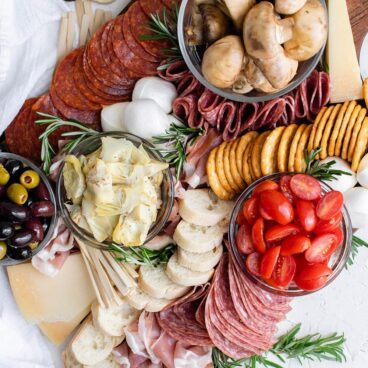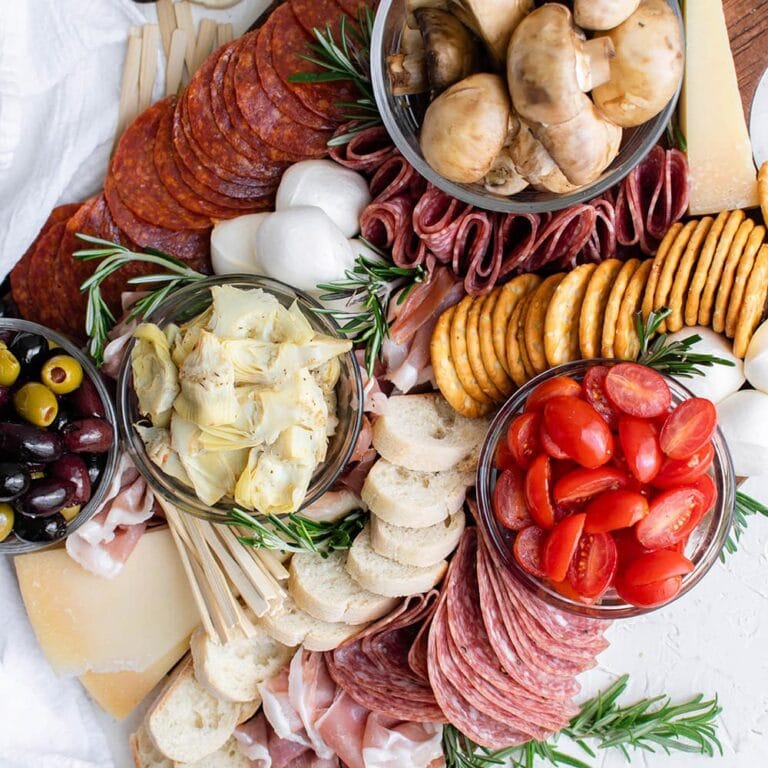 Antipasto Platter
Learn how to assemble an epic antipasto platter with some simple tips. It's an easy customized and beautiful appetizer meat and cheese board.
Ingredients
Antipasto Platter
6

ounces

Sliced cured meats: Salami, Prosciutto, Sopressata, Pepperoni, etc.

6

ounces

Fresh cheese: Bocconcini balls, chunks of Parmesan, slices of provolone or mozzarella

2

cups

Vegetables: Artichokes, mushrooms, grape or cherry tomatoes

quartered/diced

6

ounces

Marinated Olives

variety of green, black, kalamata
Vegetable marinade
1/4

cup

extra-virgin olive oil

2

cloves

finely minced garlic

Salt and pepper
Optional
Flatbread, crostini, crackers or crispy breadsticks
Instructions
Whisk together marinade ingredients and toss with the vegetables. Refrigerate for at least 3 hours, and up to two days.
Assembly
Place marinates veggies, and olives in separate small dishes and place on a platter or wooden cutting board. Arrange meats and cheeses on the platter around the bowls. Refrigerate up to 24 hours, covered with plastic wrap, or serve immediately.

Tuck bread or crackers around the edges or serve on a separate plate just before serving.
Notes
Nutritional information is approximate and will vary by the items you include. 
This platter is completely customizable. Choose as much or as little of the items as you like, and feel free to add things I didn't include. 
Serve with flatbreads, crispy breadsticks or crackers.
Nutrition
Calories:
356
kcal
Carbohydrates:
4
g
Protein:
18
g
Fat:
30
g
Saturated Fat:
10
g
Cholesterol:
42
mg
Sodium:
1538
mg
Potassium:
247
mg
Fiber:
1
g
Sugar:
1
g
Vitamin A:
333
IU
Vitamin C:
1
mg
Calcium:
356
mg
Iron:
1
mg