Christmas Tree Fruit & Cheese Platter
This Christmas Tree Fruit & Cheese Platter is an adorable way to spruce up your holiday table. It's a basic cheese board with fruit that's totally customizable and great for holiday parties or just something fun for the kids on Christmas.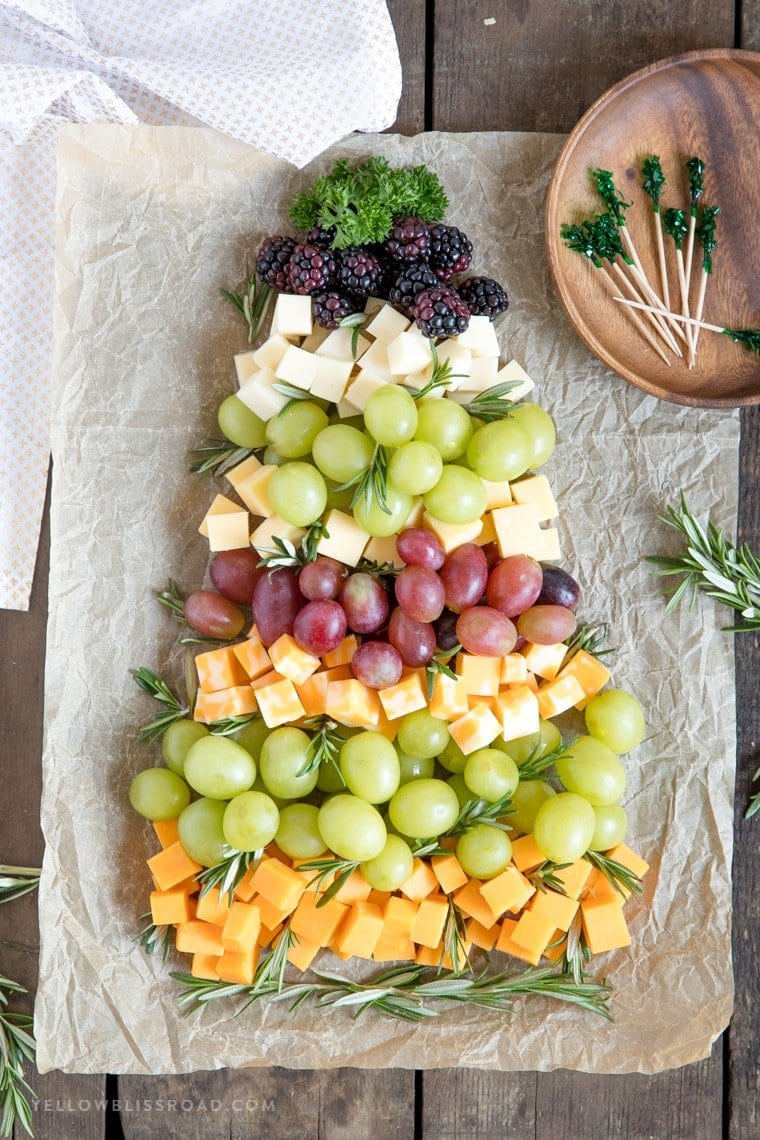 Christmas Fruit and Cheese Platter
Cheese Boards are all the rage right now. I mean, there are even books on how to make a cheese board. I love a good cheese and when paired with the right things, a good cheese platter can be the absolute hit of your party.
My daughter and I set out one weekend to create a fun and festive fruit and cheese platter for the holidays and this Christmas Tree Fruit & Cheese Platter was born. Now I do not take credit for the idea, because I have seen several similar fruit platters floating around. However we picked the fruits and cheeses that we like and felt that rosemary gave the look and feel of a real Christmas tree. Pretty, right?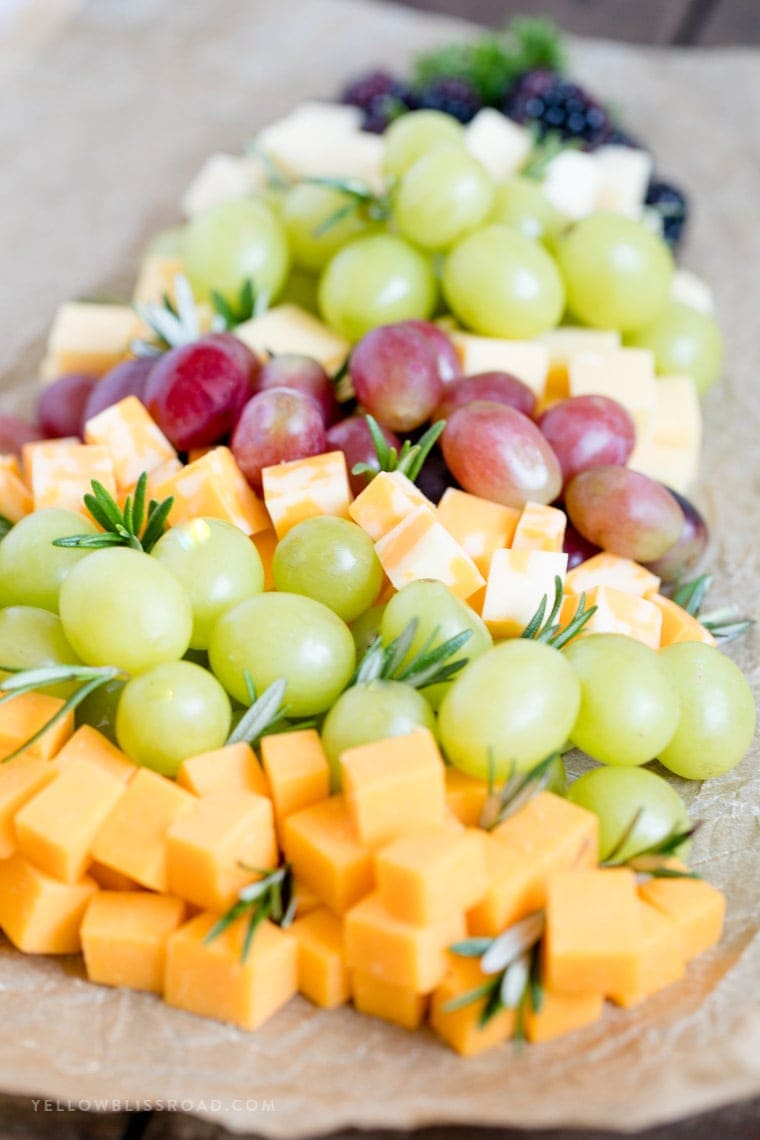 How to Plan a Fruit & Cheese Platter
Choose your fruits and cheeses. Keep in mind that not all fruits pair well with cheese. For example, bananas and oranges do not; grapes and berries, do. Depending on what fruits are in season where you live, you have a variety of options. I like to include a variety of cheeses. Mix some sharper, firmer cheeses like sharp cheddar, Parmesan and blue cheese with some milder, softer cheeses like jack, Colby and mozzarella. Texture is as important as taste. Here is a great article on what NOT to pair with cheese.
Plan the layers. Start with the cheese that you feel will be most popular, like cheddar, and layer that on the bottom. I actually drew this out on a piece of paper first so I would know how much of each cheese to cut. I figured Parmesan is one kind of cheese that most people wouldn't eat a ton of so I placed it at the top. The middle cheese layers are colby-jack and Gouda.
Shape the tree with a flat layer first. Starting with the bottom layer, in this case the cheddar cheese, make a single layer of cheese in the shape of the bottom of the tree. Then add a single layer of fruit, then the next cheese, and so on up the tree shape until you get to the point at the top. Once you have the basic shape, start filling it in with more cheese and fruit to make your tree shape fuller.
Garnish. I used some fancy parsley for the top of the tree, but you could use star shaped crackers or even cut a star shape out of one of the cheeses. The "needles" of the tree are just bits of rosemary that I tucked into any empty spaces (it works great as filler for your fruit and cheese platter Christmas tree!).
That's it! Easy peasy, and you have a beautiful fruit and cheese platter for Christmas that is sure to impress your guests. Make sure to include toothpicks so your guests can easily grab their favorites.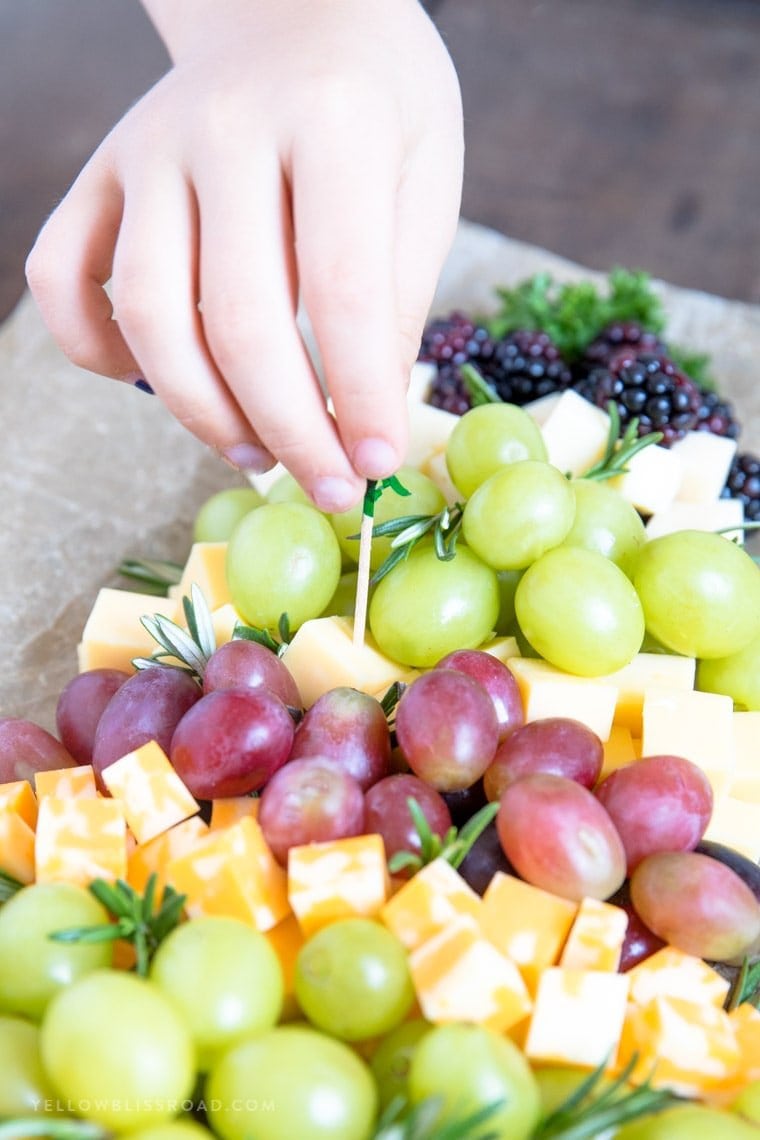 Tips and FAQs
How much cheese per person? Plan on roughly an ounce and a half of cheese per person for an appetizer.
How much fruit per person? About ½ a cup per person should be enough.
Add some crackers, crunchy breadsticks or pretzels on or near the cheese platter.
Have some pretty toothpicks nearby for guests to serve themselves with having to use their fingers.
Complete Your Christmas Appetizer Spread
And for more holiday tips and tricks:
If you've made this recipe, please come back and leave us a star rating or a comment below. Or, tag us on social media @yellowblissroad or #yellowblissroad for a chance to be featured.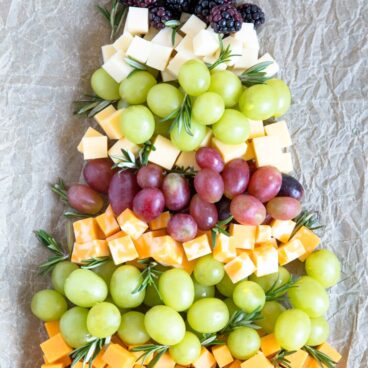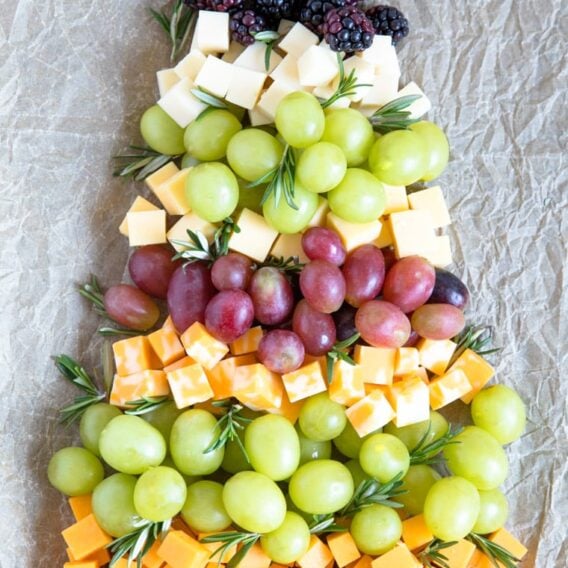 Christmas Tree Fruit and Cheese Platter
An adorably festive fruit and cheese tray, made in the shape of a Christmas tree that's perfect for holiday parties!
Ingredients
3

ounces

Sharp cheddar cheese

2

ounces

Colby-Jack cheese

2

ounces

Gouda cheese

1

ounce

Parmesan Cheese

2

cups

red grapes

4

cups

green grapes

1

cup

blackberries

fresh rosemary sprigs

fresh parsley sprigs
Instructions
Cut the cheese into bite sized chunks. Wash the fruit, plucking the grapes off of the vine or cutting them into small clusters of 4-5 grapes each.

On a large flat serving board, arrange a single layer to shape the tree. Start at the bottom and work your way up: Cheddar cheese, then green grapes, then colby-jack cheese, red grapes, gouda, green grapes, parmesan, and finally blackberries.

Once you have the initial shape, you can build up the tree by adding more layers of fruit and cheese.

Once you are happy with the shape, begin tucking in small sprigs or rosemary and parsley to fill out your tree. A star cracker would be a cute addition at the top if you can find them.
Notes
Amounts are approximate. You can use more or less of any ingredients, depending on your taste. 
Use any type of firm cheese you like. I just listed the ones I prefer. 
Same with the fruit - I think grapes work best because they don't leak juices or turn brown, but you can use mandarin orange slices, berries, apples (soak in lemon juice first), kiwi. 
Nutrition
Calories:
196
kcal
Carbohydrates:
23
g
Protein:
8
g
Fat:
9
g
Saturated Fat:
6
g
Cholesterol:
28
mg
Sodium:
226
mg
Potassium:
273
mg
Fiber:
2
g
Sugar:
19
g
Vitamin A:
358
IU
Vitamin C:
7
mg
Calcium:
233
mg
Iron:
1
mg