My Free Printable Christmas Planner includes everything you need to help keep you organized for the holidays! There are calendars, a weekly agenda and daily planner, a budget and gift trackers, a Christmas wish list and so much more in this beautiful printable planner.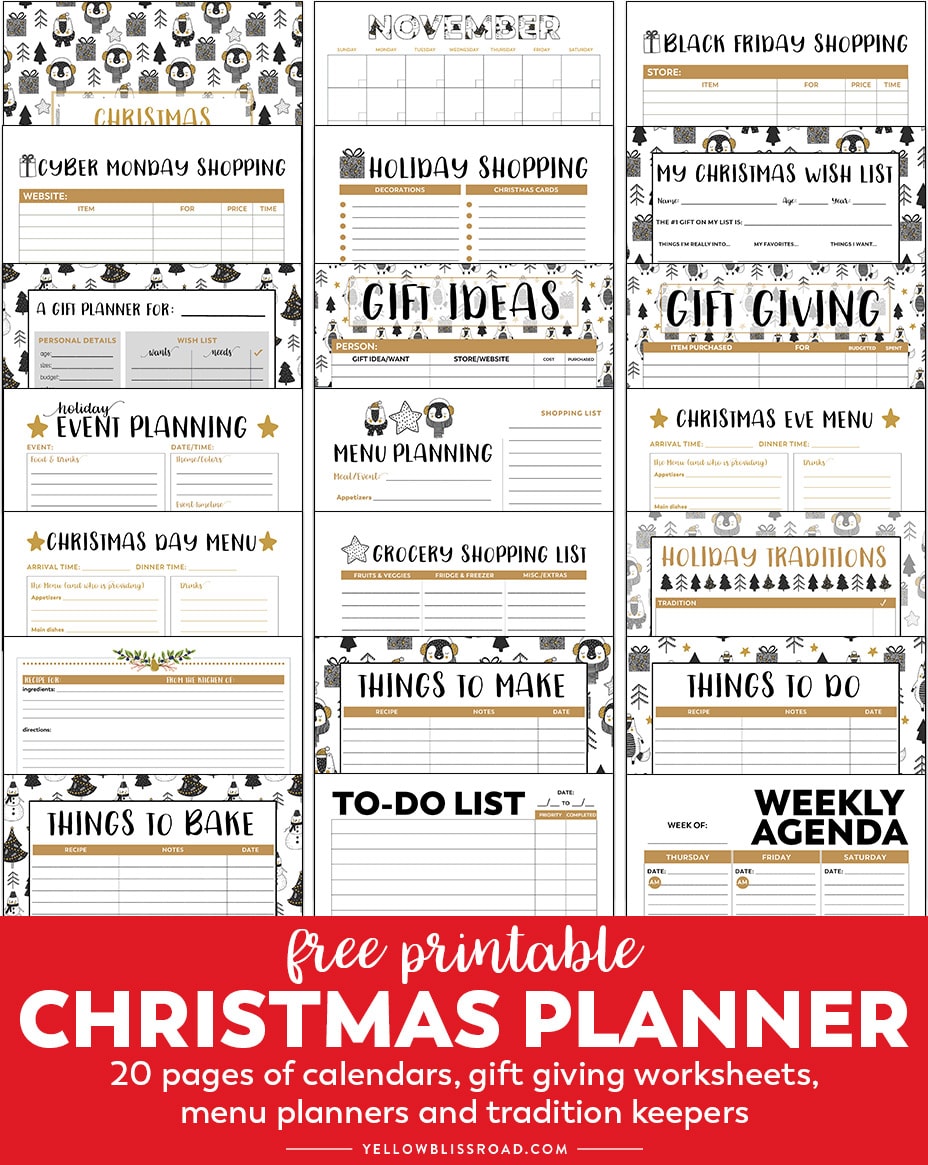 For the past few years, I have released a Christmas planner in the fall. These printable planners were always sold in my shop but this year time got away from me and I thought it just wasn't going to happen. Then I started getting emails asking when the planner was coming out, and I knew I had to make the time! I decided however, to make this year's printable planner FREE for all!
Do it All With This Free Printable Planner
The holiday season is such a busy time of year. Once Halloween is over, it seems we are in full swing holiday mode, and that's certainly true in the stores. Staying organized is key to making the season run smoothly, whether you've got a small immediate family or a huge extended one. With kids, there are always parties, teacher gifts, visits to Santa, Christmas plays, cookie baking and other traditions to keep up with. How do you do it all?! With my free printable Christmas Planner of course!
What is Included in the Printable Planner?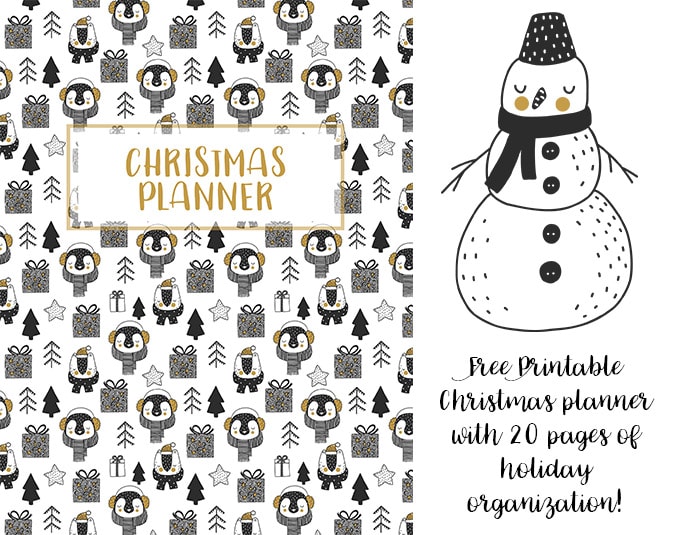 My printable Christmas Planner includes tons of pages to help you stay on track and organized. Each of the pages is color and design coordinated in a neutral gold, black and white with adorable Christmas-themed drawings, including a cover page and a page for notes.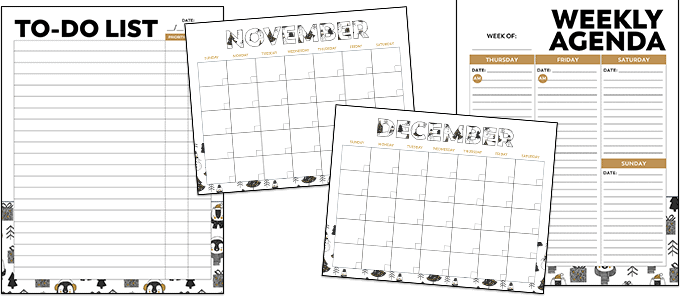 November and December Calendars
Weekly Agenda (2-page spread)
To-Do List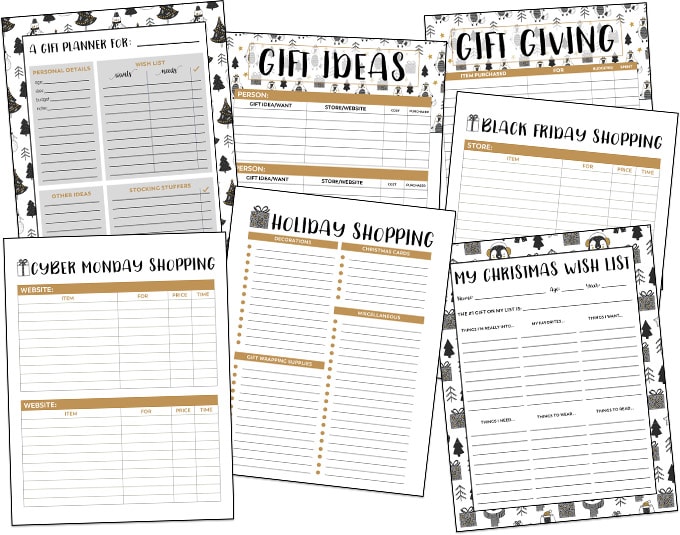 Shopping & Gifts
Budget Tracker
Holiday Shopping List
Black Friday Shopping List
Cyber Monday Shopping List
Gift Ideas Chart (for planning)
Gift Giving Chart (for purchases)
Personalized Gift Planning (for each person on your list)
Christmas Wish List (for kids or adults)

Traditions
Things to Make
Things to Bake
Things to Do
Holiday Traditions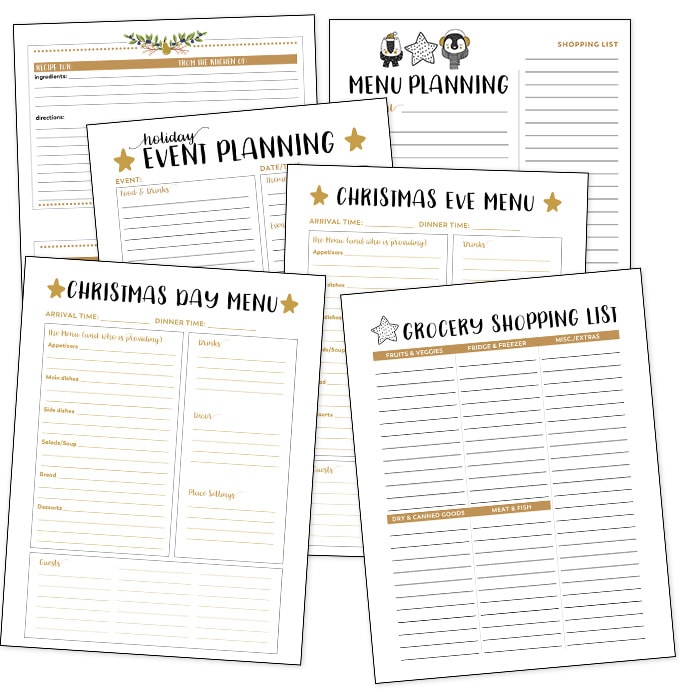 Meal & Event Planning
Party Planning Tips
Event Meal Planning with shopping list
Christmas Eve & Christmas Day Event/Meal Planners
Grocery Shopping List (full page)
Recipe Cards (for gifting or keeping)
How to Use the Printable Planner
Each page is a full 8 1/2″ x 11″ sheet, easily printed on your home printer. You have a few options for putting the printable planner together.
Hole punch the pages and keep them in a 3-ring binder or a folder with fasteners. You can get really fancy break them up into labeled sections and add a zippered pouch for for pens and receipts.
Clip the pages onto a clipboard and hang it in your office or kitchen for easy access.
For A5 size printing, set your printer to print 2 to a page or set to A5, then cut the pages to fit in your A5 size planner.
Ready to download the printable planner and have your most organized Christmas ever? Just click the image below! A new window will open and you'll see the full planner. Depending on your browser, you should be able to click to print (printer icon in Chrome), or click to download (arrow icon in Chrome).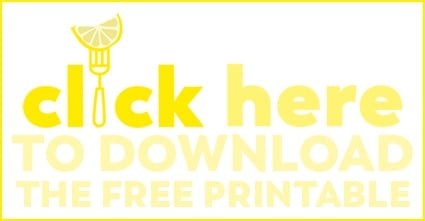 See how to use the planner here with our 2017 planner video:
More Christmas Planning Tips
I hope you enjoy your free Christmas Printable Planner! Please note that all free printables on this site are protected by copyright and are not to be sold or redistributed, altered or copied in any way. Thank you for helping us to keep free content free for all!