Are you hosting Thanksgiving dinner for the first time? Or maybe you've hosted before and it didn't go so well? Even if you're the annual Thanksgiving or Christmas host, I've got some tried and true recipes and tips that will help you survive the holidays, whether it's your first time or thirty-first! Not to mention, free printables to help keep you organized for hosting Thanksgiving AND Christmas! And if you really want to maximize your organization for the holidays this year, check out the our popular Christmas Planner in the YBR Digital Designs Shop!
1. Plan Ahead. Get a head count of how many people are coming to Thanksgiving dinner, then plan your food and drink accordingly. This handy chart should help.
via Whole Foods

MY LATEST VIDEOS
2. Make Lists. Lots of them. Get organized for the day using these great planning list printables. Included in the printable pack are a daily schedule/countdown, party planner lists for Thanksgiving and Christmas, a shopping list, and two sets of leftovers/take-home labels for Thanksgiving and Christmas. You can download the printables at the end of this post.
3. Start the day with a yummy, relaxing breakfast. Have family coming over early, or maybe even the night before? Get the day started right with a delicious breakfast or brunch featuring my Baked Pumpkin Pie French Toast. You can make it the night before and just pop it in the oven in the morning. My Pumpkin Apple Bread would be a good option, too.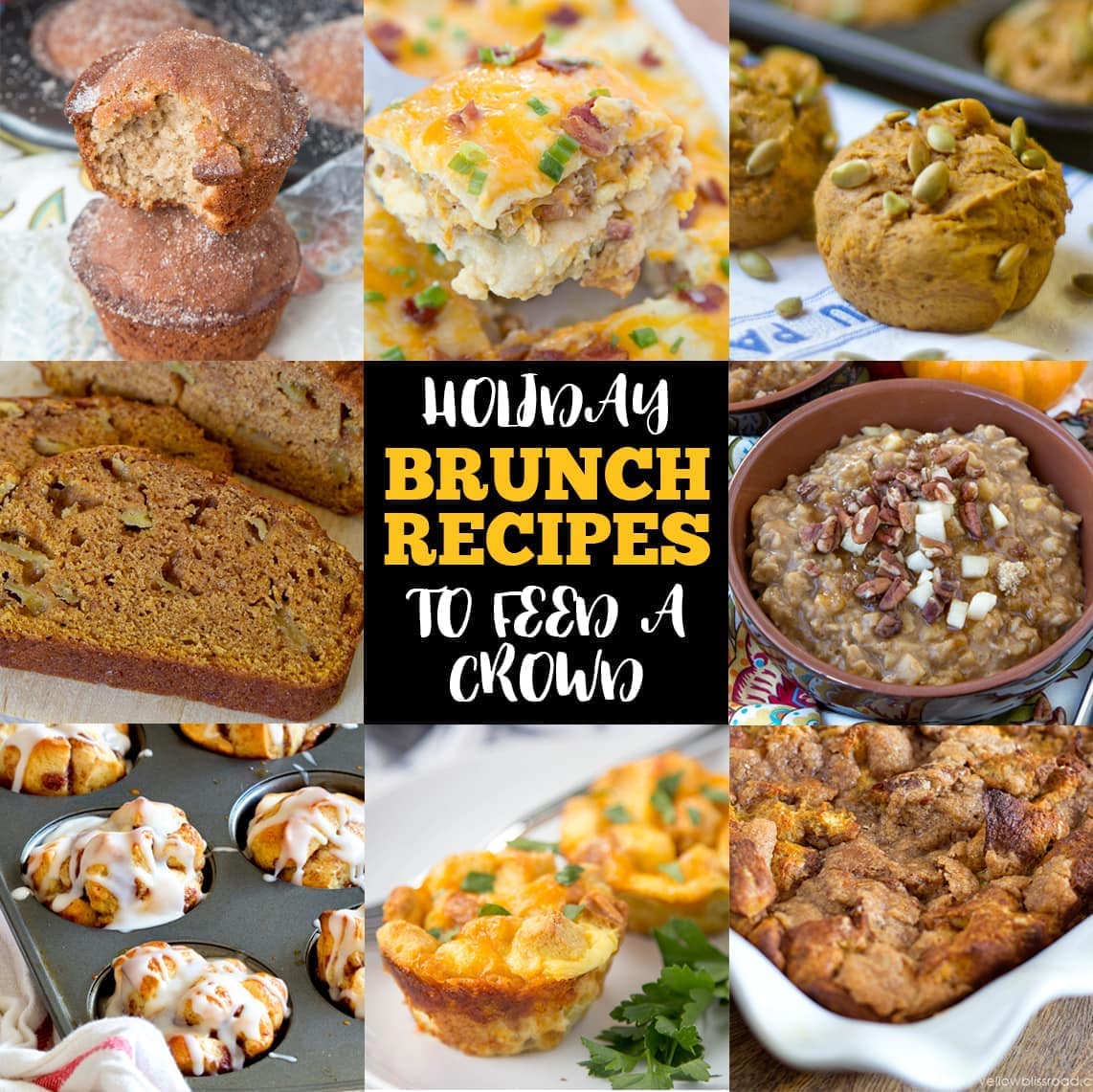 Pumpkin Spice Latte Muffins | Breakfast Enchilada Casserole | 2 Ingredient Spiced Pumpkin Muffins | Pumpkin Pie & Apple Oatmeal | Pumpkin Pie French Toast | Easy Egg & Sausage Breakfast Muffins | French Toast Cinnamon Roll Muffins | Pumpkin Apple Bread
4. Find recipes that you can prepare ahead of time. The less time you have to spend in the kitchen on the actual day, the better! After all, you'd rather spend time with your family, right? Do a Pinterest search for Make Ahead recipes, there are lots! Or try a couple of my favorites.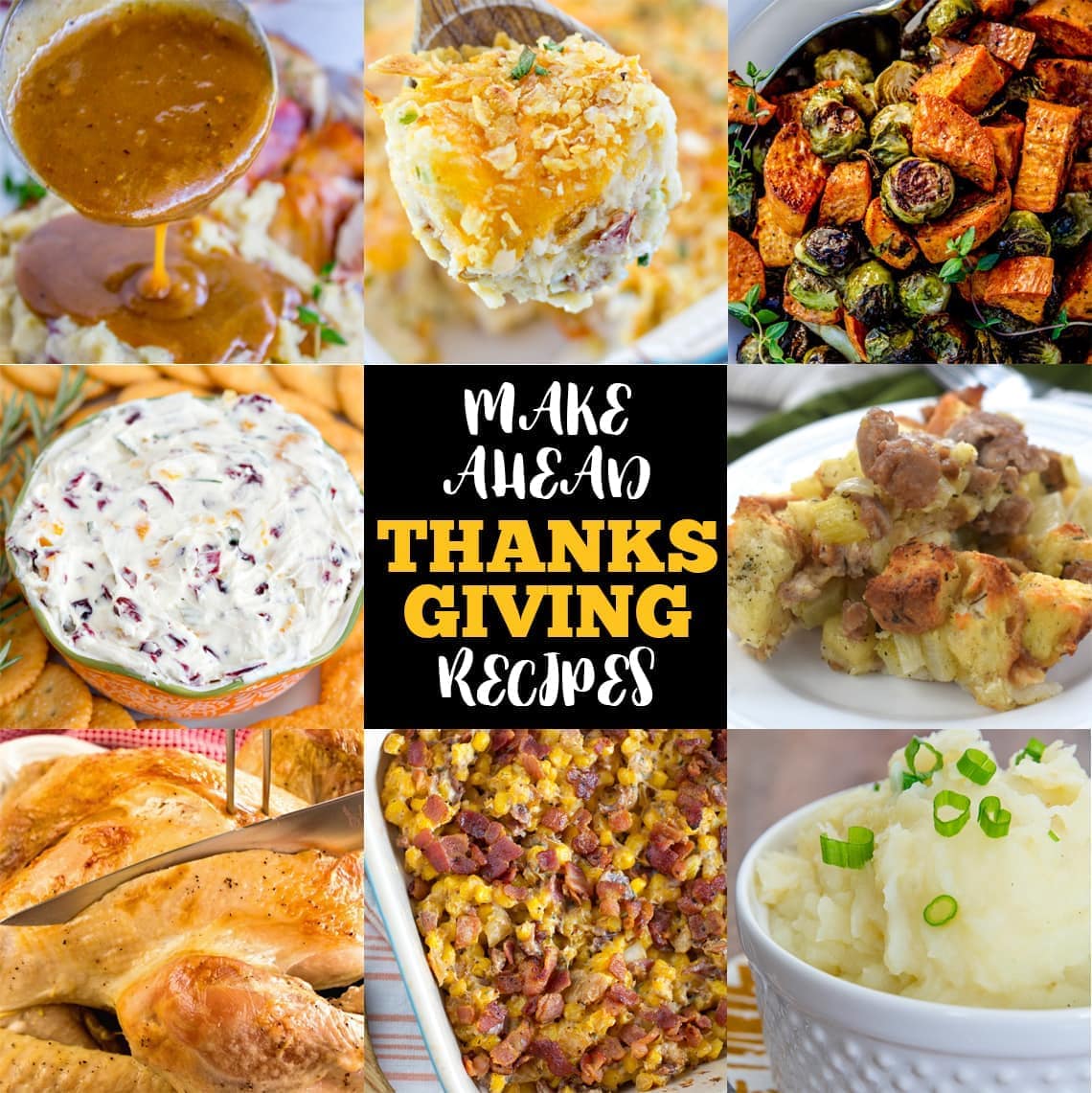 Make Ahead Turkey Gravy | Twice Baked Potato Casserole | Roasted Sweet Potatoes & Brussel Sprouts | Make-Ahead Stuffing | Make Ahead Mashed Potatoes |  Corn and Bacon Casserole | Slow Cooker Make Ahead Turkey | Cranberry Rosemary Cheese Spread
4. Go easy, go traditional. Don't feel like you have to prepare a five star, gourmet meal on your first try. Or even on your tenth. Thanksgiving is all about tradition, so when in doubt, go with comfort. What did your family always have on the menu when you were growing up? Here are a few versions of some of our favorites.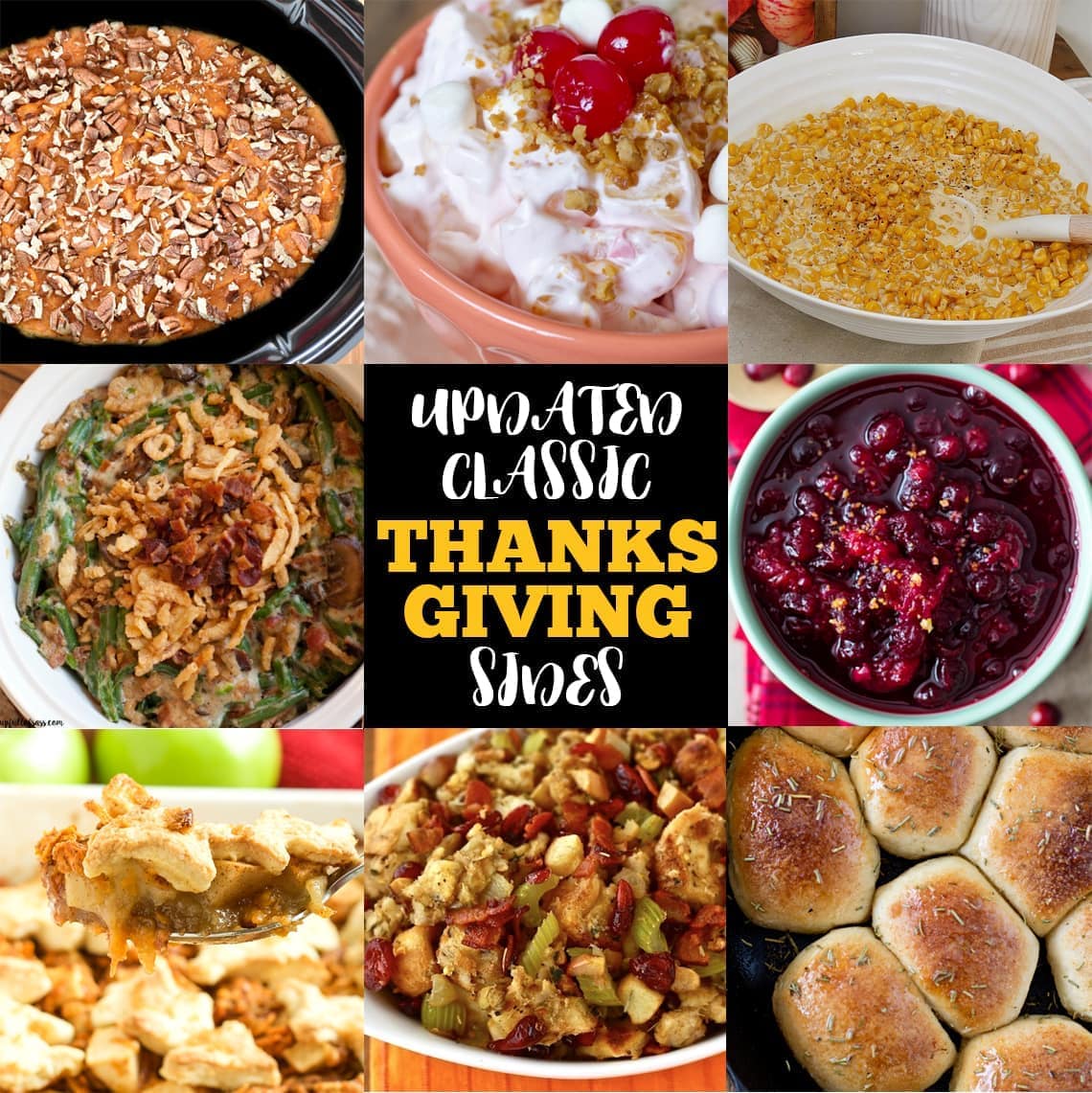 Slow Cooker Sweet Potato Casserole | Sour Cream Salad | Slow Cooker Creamy Corn | Orange Cranberry Sauce | Semi-Homemade Rosemary & Garlic Rolls | Cranberry Pistachio Stuffing | Sweet Potato & Apple Cobbler | Green Bean & Bacon Casserole
5. Have someone else bring appetizers and dessert. You are doing enough making the meal, pawn the before and after dinner goodies to your guests! Don't feel bad for asking someone to bring a dessert or a snack. On Thanksgiving, everyone's expected to pitch in! If they're not sure what to bring, offer suggestions. These are all crowd pleasing favorites.
Appetizers:
Cranberry Barbecue Meatballs | Skinny Taco Dip | Bacon & Cheddar Jalapeno Pinwheels | Cheesy Bacon Ranch Dip | Caramelized Onion, Bacon & Goat Cheese Dip | Cheddar Bacon Ranch Pinwheels | Jalapeno, Bacon & Corn Cheese Dip | Sausage & Cheese Bites
 Desserts:
Twix Apple Fluff Salad | No Bake Pumpkin Pie Bars | Pumpkin Oreo Cheesecake | Chocolate Pecan Pie | Cinnamon Apple Bundt Cake | Snickerdoodle Apple Cobbler | Pumpkin Bread Pudding | Slow Cooker Cranberry Apple Cobbler
6. Go for easy with your decorations – You don't have to make your home look like Disneyland at the holidays. Add some easy decor with these tips and printables!
Free Printable Thanksgiving Kids Table Decor | Thanksgiving Tablescape Ideas | Fresh Fruit Centerpiece | Thanksgiving Printables | Printable Activities for Kids | Easy Thanksgiving Centerpiece | Thanksgiving Subway Art | Thanksgiving Table Printable Set
7. Ask for help – and accept when it's offered! Don't feel like you have to be the only one in the kitchen. The kitchen is where everyone gathers for holidays. It's funny how people seem to migrate that direction, no matter what. Plus, it's more fun with help! I can't wait to host Thanksgiving in my new kitchen!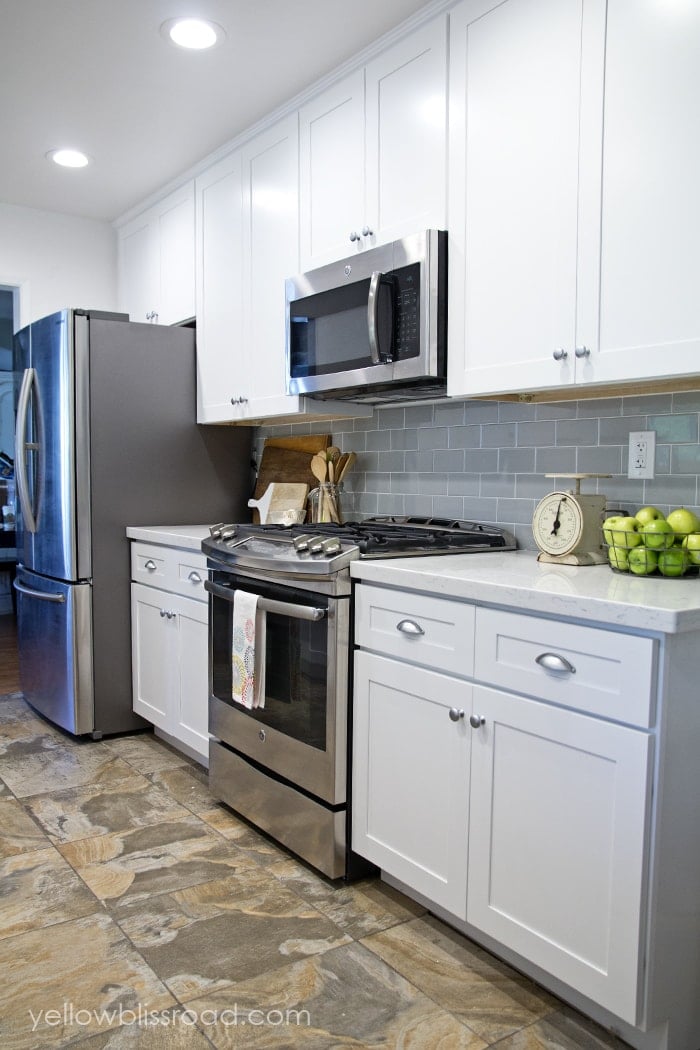 8. Don't Sweat the Small Stuff. Have a good time, Thanksgiving is after all about family and being grateful for what you have. So what if the stuffing is mushy or the potatoes were over-mixed. Laugh it off, and just enjoy it.
Follow my simple tips and you're well on your way to handling Thanksgiving or Christmas!) hosting like a pro!
Here are the printables available for download.
For the Leftovers Labels:
Print on 2.5″ sticker sheets, or cut out with a 2.5″ circle punch and attach to take home bags.
As a bonus, there are Christmas downloads in there too!
Hi! I'm Kristin, the creative mind behind Yellow Bliss Road where you will be inspired by tons of easy to follow recipes, lots of free printables, and a little sprinkling of life thrown in for good measure.