Document those important milestones, like the first day of school, with these free printable First Day of School Chalkboard signs! The printables are available for every grade, Preschool and Pre-K through High School. Download just the year's sign or download the whole set of First Day of School signs all at once. 
Be sure to check out the latest 1st Day of School signs HERE. This 2016 update includes TK (Transitional Kindergarten!). Looking for LAST DAY OF SCHOOL Chalkboard signs? Find them HERE. If you are having trouble, please read the tips in the FAQ section.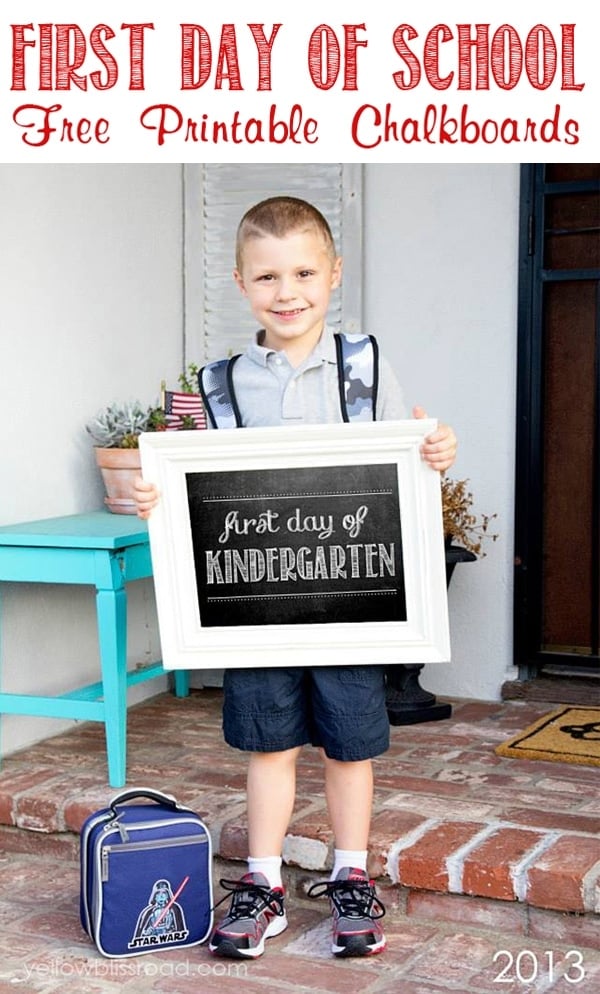 First Day of School Printable Chalkboard Signs
Here it is, the moment you've been waiting for! You loved the last day of school chalkboard printables so much that I had to be sure and give you the first day of school chalkboards, too!
The first day of Kindergarten is a momentous occasion, so I created these adorable printable chalkboard signs when my son started kindergarten. We have used them every year since and they have become quite popular here on the website.
HOW TO USE MY FREE PRINTABLE FIRST DAY OF SCHOOL SIGNS:
Choose the page you'd like to print. Each grade is on a different page so you do now have to print them all.
Print them out on 8 ½ x 11-inch cardstock.
If desired, trim to fit an 8×10-inch frame and have your kids hold them in the same frame each year. Or have fun with different frames.
Tools needed for this project:
You may need one or more of these tools to help in printing and creating the projects described above: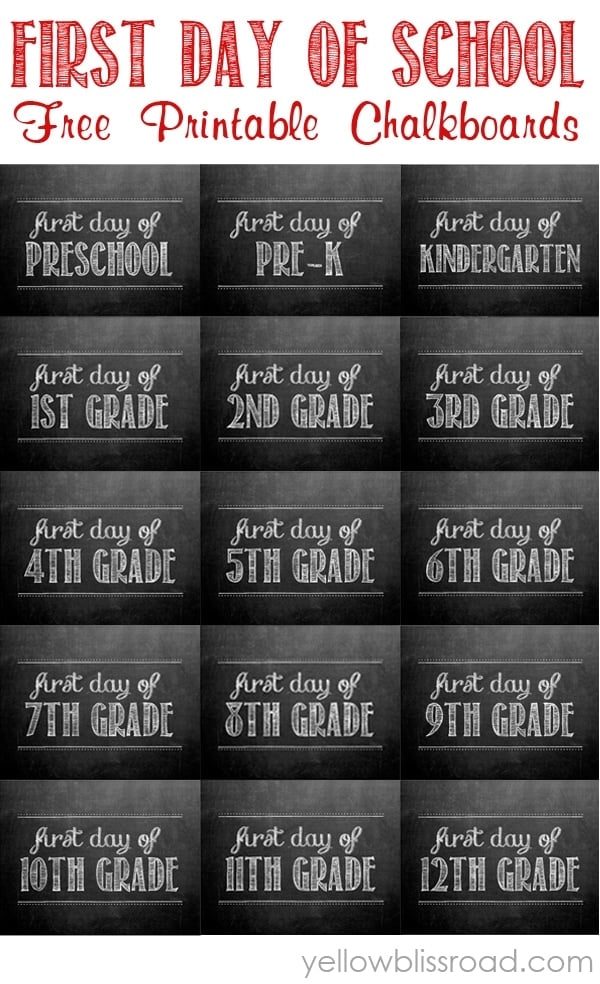 HOW TO DOWNLOAD
To download the printables, click on the link below. You will be taken to a page where you can choose which grade to print, pr dpwnload the entire set at once.
IF YOU ARE HAVING TROUBLE PRINTING, PLEASE DOWNLOAD THE FILE OF YOUR CHOICE, THEN PRINT FROM YOUR COMPUTER.
If you are having trouble printing:
Download the file of your choice, then print from your computer.
Open an incognito window on your internet browser and then open the first day of school signs.

FAQs:

Be sure to check out these other free printables:
We've got lots of delicious recipes here too!