Christmas Potpourri in a Jar is like bottling up the scent of the holidays. With fresh cranberries, oranges, cinnamon, cloves, allspice and nutmeg, these DIY Christmas gifts is a simple stovetop potpourri that everyone will love.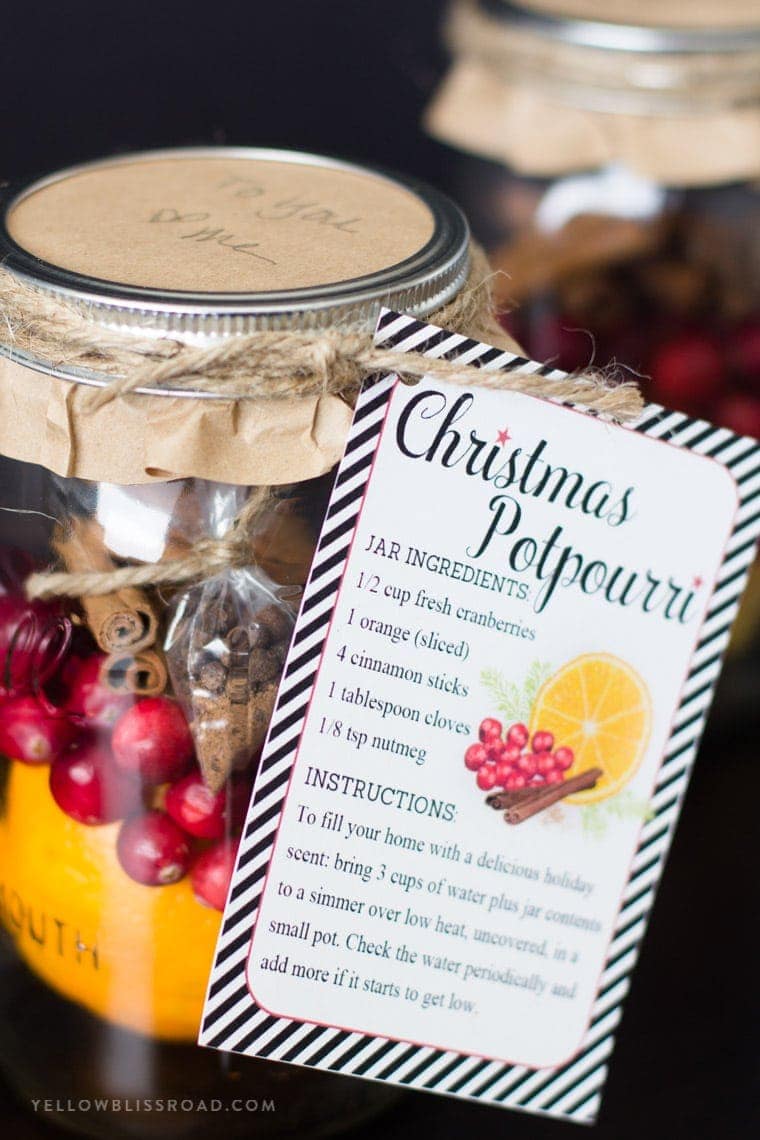 Looking for unique and beautiful DIY Christmas gifts? Grab the free printable below and get all the details to make a few of these Christmas Potpourri in a Jar Homemade Christmas gifts for family, friends, neighbors and teachers!
I'm really excited about this Christmas Potpourri, because it's a great non-food gift that I can give to my kids' teachers (I mean, they get tons of candy and cookies already!) and I LOVE how the free printable tag turned out!
I love to fill my home with amazing scents during the holidays, and there's no better combination than citrus and cranberry mixed with cinnamon and spices. This is a simple recipe that you can simmer on your stovetop or in a crockpot to help fill your home with these delicious scents of the holidays. All of these ingredients are combined in a small pot on the stove and simmered for hours.
This Christmas Potpourri in a Jar comes with a free printable and is crazy easy to put together. It looks stunning, and it's not just another food gift.
Potpourri Ingredients
These are the ingredients you'll wrap up for your gifts. You can also just simply drop all of this in a pot of water and simmer it for yourself!
½ cup fresh cranberries – make sure they are really fresh. You'll start seeing these in the produce department around early November, maybe even late October.
1 small orange – The size you purchase will determine what type of vessel you can use to assemble the gifts. Larger oranges won't fit through the mouth of the jar, and you don't want to slice the oranges. Clementines are great for smaller jars.
4 cinnamon sticks – These seem to come in varying lengths, but are usually about 3-inches long. You can always find a large bottle of these at Costco.
Whole cloves or allspice (or both) – I've used both with fantastic results. But you can choose to use just one of whichever is your preference.
Ground nutmeg
How to Make These DIY Christmas Gifts
For the assembly, you'll also need:
Wide-Mouth, Quart Jars or cellophane gift bags – The jars are obviously more expensive, but they do have the biggest impact. As you can see in the images, I fit a small navel orange inside.
Kraft paper or wrapping paper – Kraft paper is stronger, wrapper paper tends to rip, so choose wisely.
Ribbon or twine – I like the rustic look of twine, but use whatever you have on hand.
Scissors
a Printer – if you don't have a home printer, you can have these printed at your local office supply store for a few dollars.
Paper/Cardstock – I tend to prefer cardstock because it holds up better. But it's your call.
Bag Instructions: Place the ingredients inside the jar or cellophane bag and tie a ribbon around the top, attaching the tag with the ribbon.
Jar instructions: Top the lid of the jar with brown kraft paper, wrapping paper or any other paper you like, secure with the jar lid band, then tie on the free printable gift tag with a ribbon or twine. The gift tag doubles as the instructions!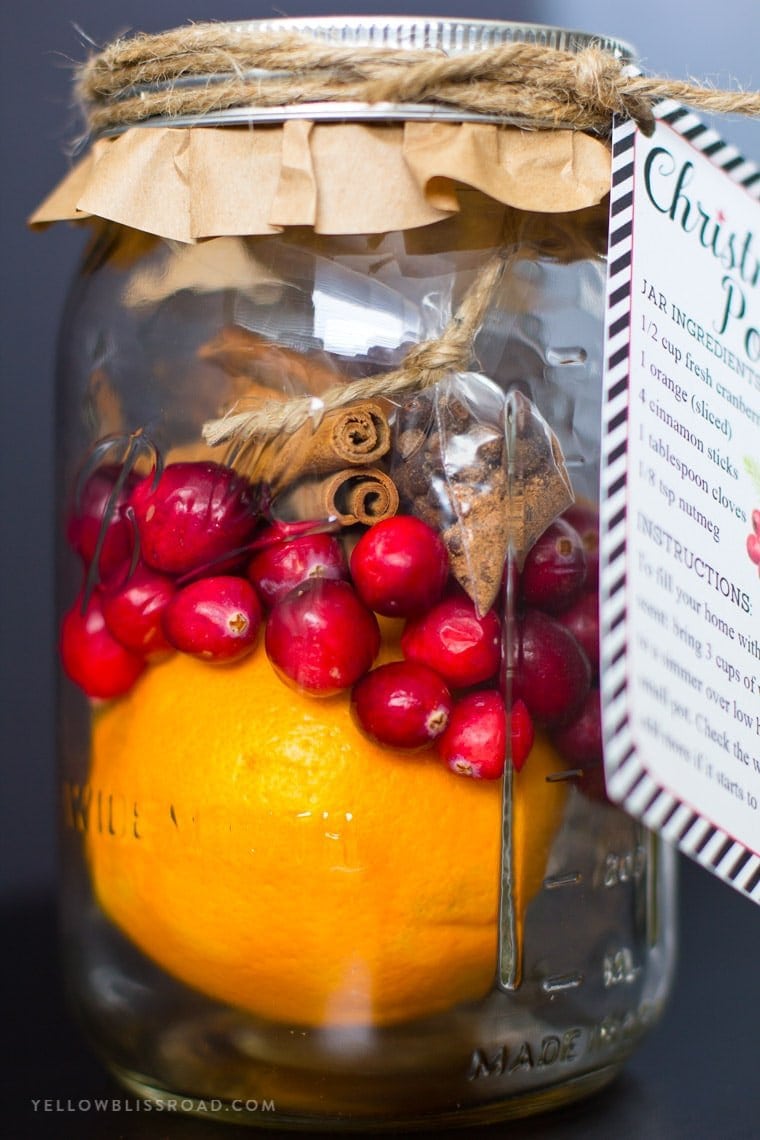 A Few Things to Note
You want to make sure that the vessel you choose is large enough for the oranges. If you plan to use small navel oranges, or maybe fresh oranges from your backyard tree, I suggest using cellophane gift bags that would be able to accommodate the larger pieces of fruit. There's nothing worse than having to jam that orange through the mouth of a jar and the recipient not being able to get it out!
If you opt for mason jars, be sure to use the wide mouth mason jars ones, for the same reason as above.
You'll note that on the recipe card it says "cloves" but in the image I used allspice. While these two spices do have different scents, they each blend nicely and one can be swapped out for the other based on what you have available. Or you can use both.
For the spices, it's easiest if you place them in a small bag so they don't just fall to the bottom. I simply cut the corner of a ziploc bag, poured the spices into that corner piece, then tied it with a small piece of twine. (See the video for the visual). You could also just pour them into the bottom of jar if you like.
I recommend printing on cardstock for the best results.
Be sure to make one of these cute Christmas gifts for yourself – trust me, these smell amazing and you'll be glad you did. This recipe works beautifully in the slow cooker, too!
Make Ahead Instructions
You can make these jar gifts about a week in advance.
Assembled jars should be refrigerated and gifted within a week to maintain freshness of ingredients.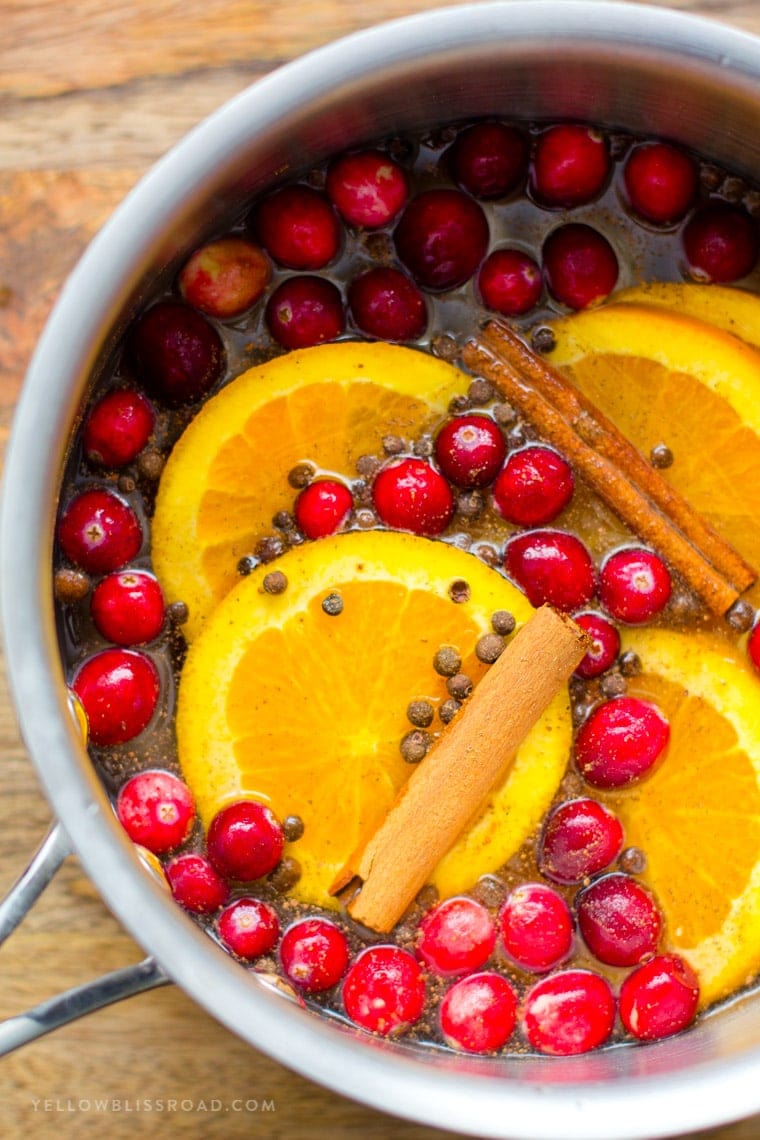 Please note – all printables on this site are free for personal use only. They are protected by copyright and not to be sold, altered or redistributed in any way. Thank you for keeping the items we share free for all!
More DIY Christmas Gifts and FREE Gift Tags
Holiday Tips and Gift Guides
Recipe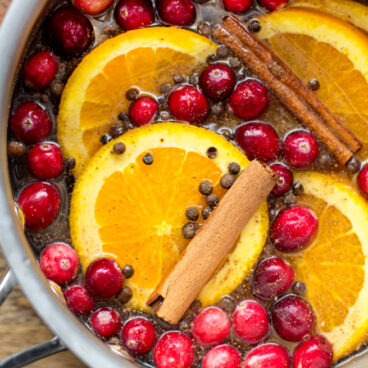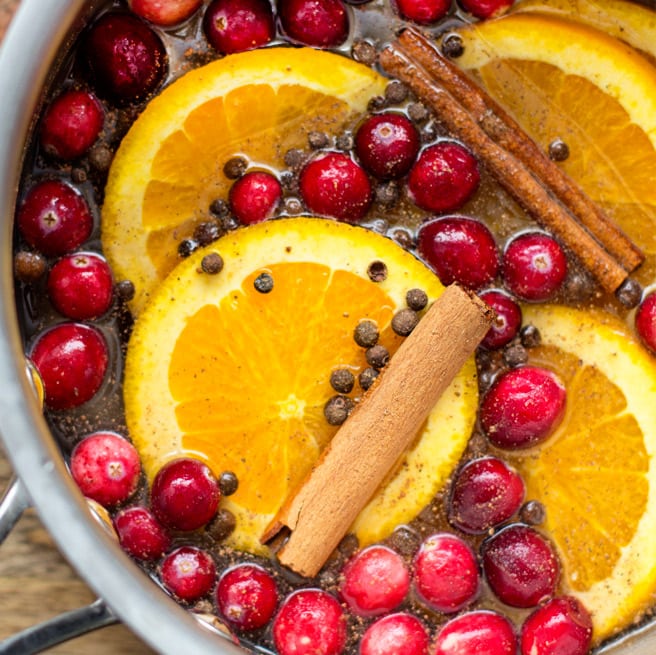 Christmas Potpourri
Make a unique and beautiful DIY Christmas gift! Christmas Potpourri Jars are pretty and practical gifts for friends, teachers and neighbors.
Ingredients
1/2

cup

fresh cranberries

1

small orange

clementines work great

4

cinnamon sticks

1

tablespoon

whole cloves or allspice

1/8

teaspoon

ground nutmeg
Instructions
Slice the orange Into thick slices or quarters. Place all of the Ingredients In a 3-quart (or larger) pot on the stove. Pour in enough water to cover the Ingredients by at least an inch.

Simmer on low heat, uncovered, checking periodically and adding more water If needed.

Slow Cooker: Add Ingredients to the pot and cover with water. Set to low and leave uncovered.
Notes
You can simmer this all day If you like, or until the scent dissipates.
Assembled jars should be refrigerated and gifted within a week to maintain freshness of ingredients.