Here is an easy to make, DIY Advent Calendar to use during the Christmas season! Simply print them out, cut and shape them, and fill them with activity cards and surprise treats!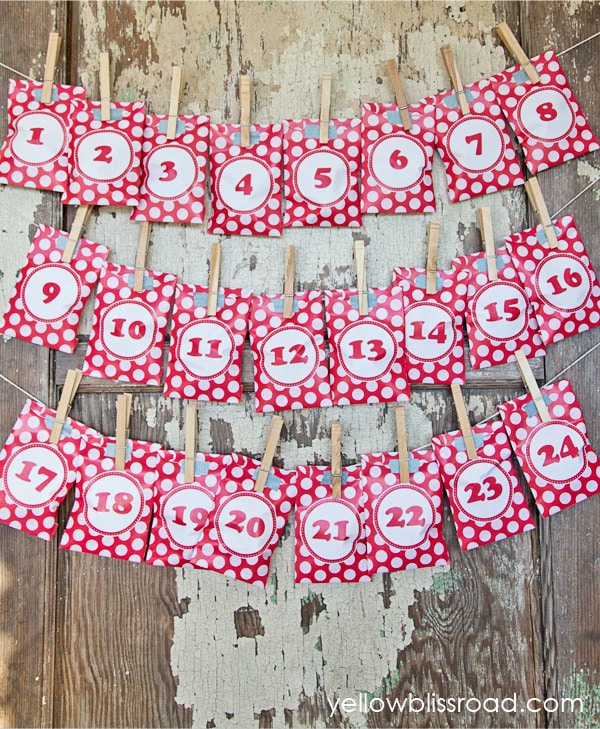 Today's free printable is a fun and festive Advent Calendar Kit! I remember as a child to keep time during the advent season, we always had an Advent Calendar. It was usually a little store-bought, cardboard calendar with simple chocolates behind little flaps, or sometimes a Bible verse. It was something I always looked forward to, so I knew it was something I'd want to do with my own kids.
HOW TO MAKE A DIY ADVENT CALENDAR
With my free printable treat bags (template used with permission) you can easily make this countdown to Christmas that your kids will LOVE! Fill them with candy or use my printable activity cards to create your own Christmas magic. The cards are blank so you can fill in your own activities that apply to your family. The bags are so easy to put together. You just print out the pdf (download below), cut out the bag, fold the flaps, and glue together. Both the cards and bags are available in either red or green; you can select which to download below or mix and match as you go!
HOW TO PUT THE BAGS TOGETHER:
Print the pdf download (available below) and cut out the individual pages. Fold the bottom flap up.
Fold the side, using the narrower side as a guide.
Fold in the other side so they sit on top of each other to form the sides of the envelope.
Using a glue stick, place glue on the outer flap then press it down to seal.
Fold up the bottom (square edges) flap and glue it to seal and form the pouch.
Fill out the activity cards if desired, and fill the bags with cards and treats. A couple of Hershey kisses or mini candy canes fit nicely.
You can seal the envelopes if you like, or simply fold the flap over. If you have curious little ones, you might want to seal the bags with glue or a piece of tape!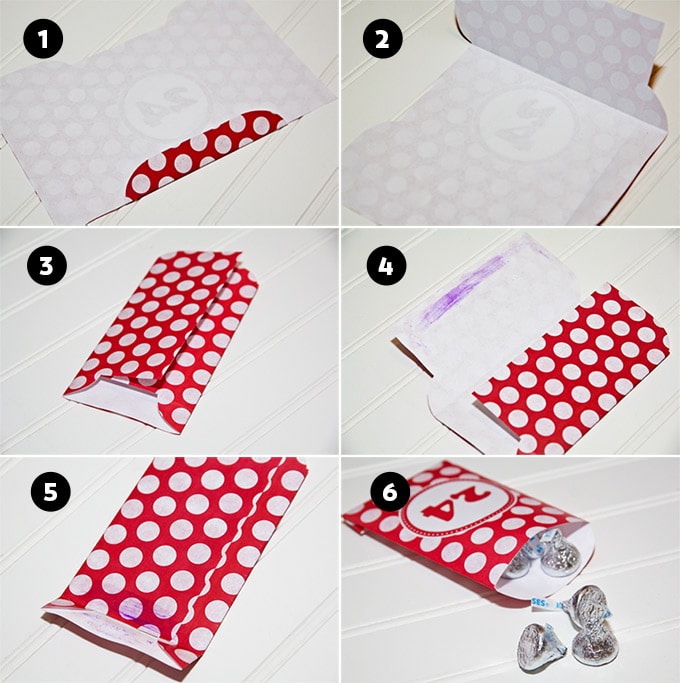 WHAT SHOULD I FILL THE BAGS WITH?
You can fill the bags with any small treats you like, like small chocolates or other candies. You can use the included blank cards to fill in activities or scripture or acts of kindness. Some suggestions for activities would be:
Bake Christmas cookies.
Buy a toy for a child in need and donate to a charity.
Sing Christmas carols.
Watch a Christmas movie.
Have a snowball fight.
Drink Hot Chocolate.
Write a letter to Santa.
Secretly deliver a treat to a neighbor.
I know my kids will be so excited to see this Advent Calendar go up on December 1! Do you have any special Advent activities? I'd love some new ideas!

WHERE DOES THE ADVENT CALENDAR COME FROM?
The Advent Calendar tradition began in the mid-19th century, when German Protestants lit candles or made chalk marks on their doors to count the days leading up to Christmas. The first printed Advent Calendar, with it's little doors that opened, was produced by Gerhard Lang in Germany in the early 1900s.
Today, these calendars don't necessarily follow the Christian Advent season which begins 4 Sundays before Christmas which is often at the end of November. The calendars the you find in stores generally include 24 days, which is December 1-24, because the actual numbers of days during Advent fluctuates from year to year.
WHAT DOES EACH DAY OF ADVENT MEAN?
Advent is a season observed in many Christian churches as a time of waiting and preparation for the celebration of the birth of Christ at Christmas. The term is a version of the Latin word meaning "coming." There are 24 days (some observe 25, with Christmas being the last) and four Sundays in Advent.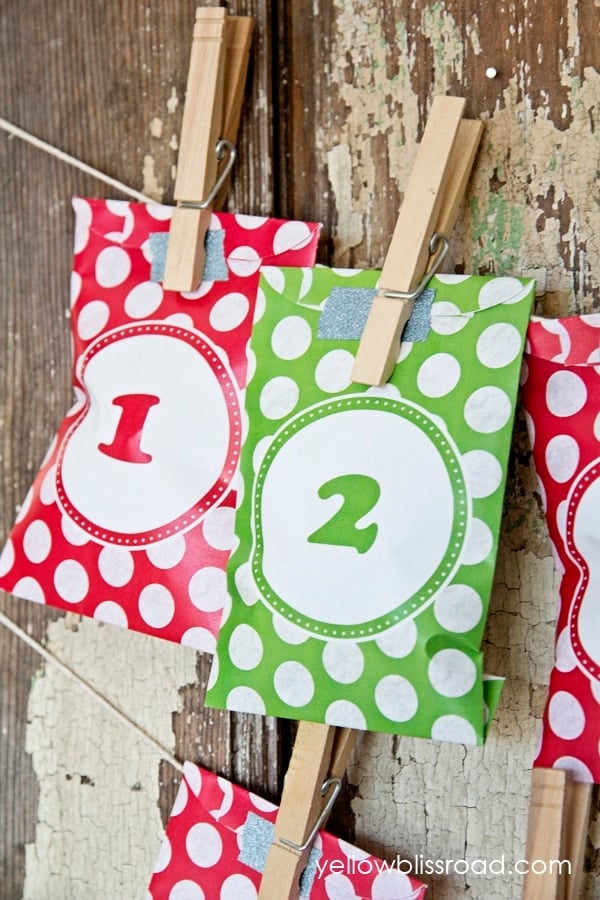 Tools needed for this project:
You may need one or more of these tools to help in printing and creating the projects described above:
Color printer – This device offers beautiful color printer on a variety of paper sizes, mobile printing (from your mobile device), scanning and copying and much more!
Printer Paper – A basic copy paper that you probably already have in your printer is all you need for this project. Each envelope prints on a single sheet, so you will need 24 sheets of paper.
Sharp scissors – needed for cutting cardstock, especially when cutting into shapes for cards and tags.
Glue Stick – If you have a purple glue stick, this is most helpful for gluing the white paper together in just the right spots.
More free Christmas printables:
If you are looking to get more organized this holiday season, be sure to pick up our 2018 Christmas Planner, full of tons of pages for organizing and planning!
>>>>> DOWNLOAD THE FREE PRINTABLES HERE <<<<<
FREE PRINTABLE USAGE COPYRIGHT:
As with all of my downloads, I strive to bring free quality content- but I need your help. Please share these by sending people to this post and asking them to download here. If you'd like to feature these on your blog, please use the image at the top of this post in full or request a watermarked image from me of the individual print you'd like. This helps me keep the great free stuff coming!
All printables are gifts of love from the designers for PERSONAL USE ONLY, and are not to be claimed as your own or sold for profit. Thank you.