A free Christmas printable with the popular Christmas carol "O Come All Ye Faithful" lyrics. It makes a lovely addition to your holiday decor, and perfect for making Christmas cards and gift tags.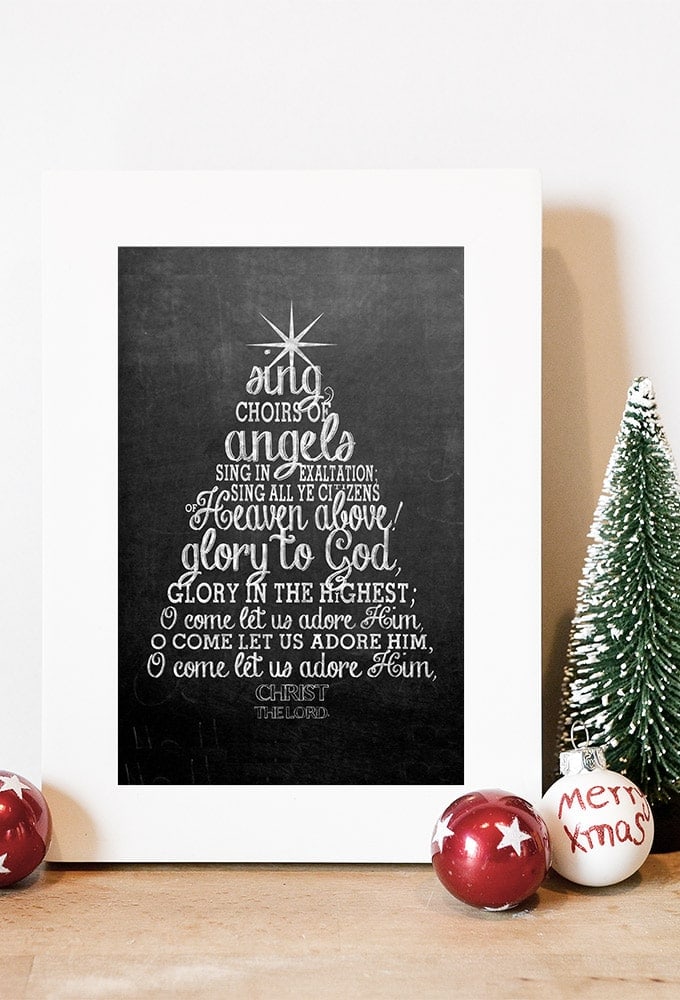 I love creating and designing, but sometimes you just don't want to mess with a good thing…which is why I created a new printable with kinda the same idea as one of my previous (and most popular) printables, with an updated chalky twist. Don't worry, it's also available in two other color combinations.
When I surveyed on Facebook, one of the songs that popped up as a favorite was "O Come All Ye Faithful." It's a favorite of mine too, and I was humming it for the rest of the day. I knew that was the one I had to go with. So, Celeste, this is for you!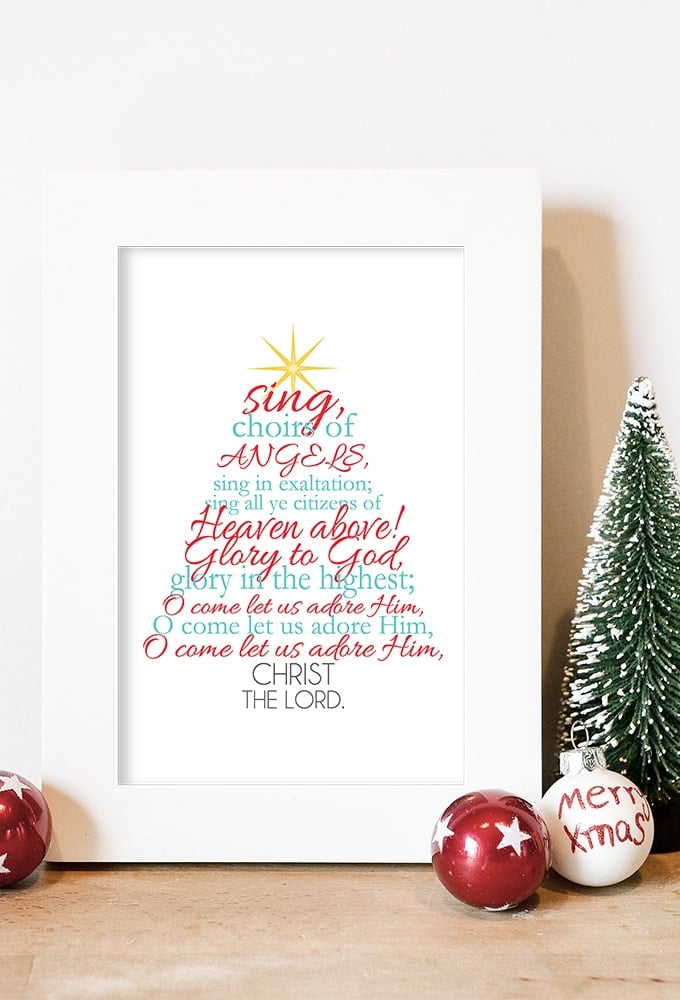 O COME ALL YE FAITHFUL LYRICS
This beloved hymn is a beautiful announcement of the birth of Christ.
Sing, choirs of angels
Sing in exultation
Oh, come, oh come ye to Bethlehem
Come and behold Him
Born the King of Angels

O come, let us adore Him
O come, let us adore Him
O come, let us adore Him
Christ the Lord
WHO WROTE O COME, ALL YE FAITHFUL?
O Come All Ye Faithful is a beautiful Christmas hymn that has been attributed to many writers but was originally written by John Francis Wade in Latin (Adeste Fideles) in the 1700s. However, the English version of the O Come All Ye Faithful lyrics that we know and love today was translated by an English Catholic priest in 1841.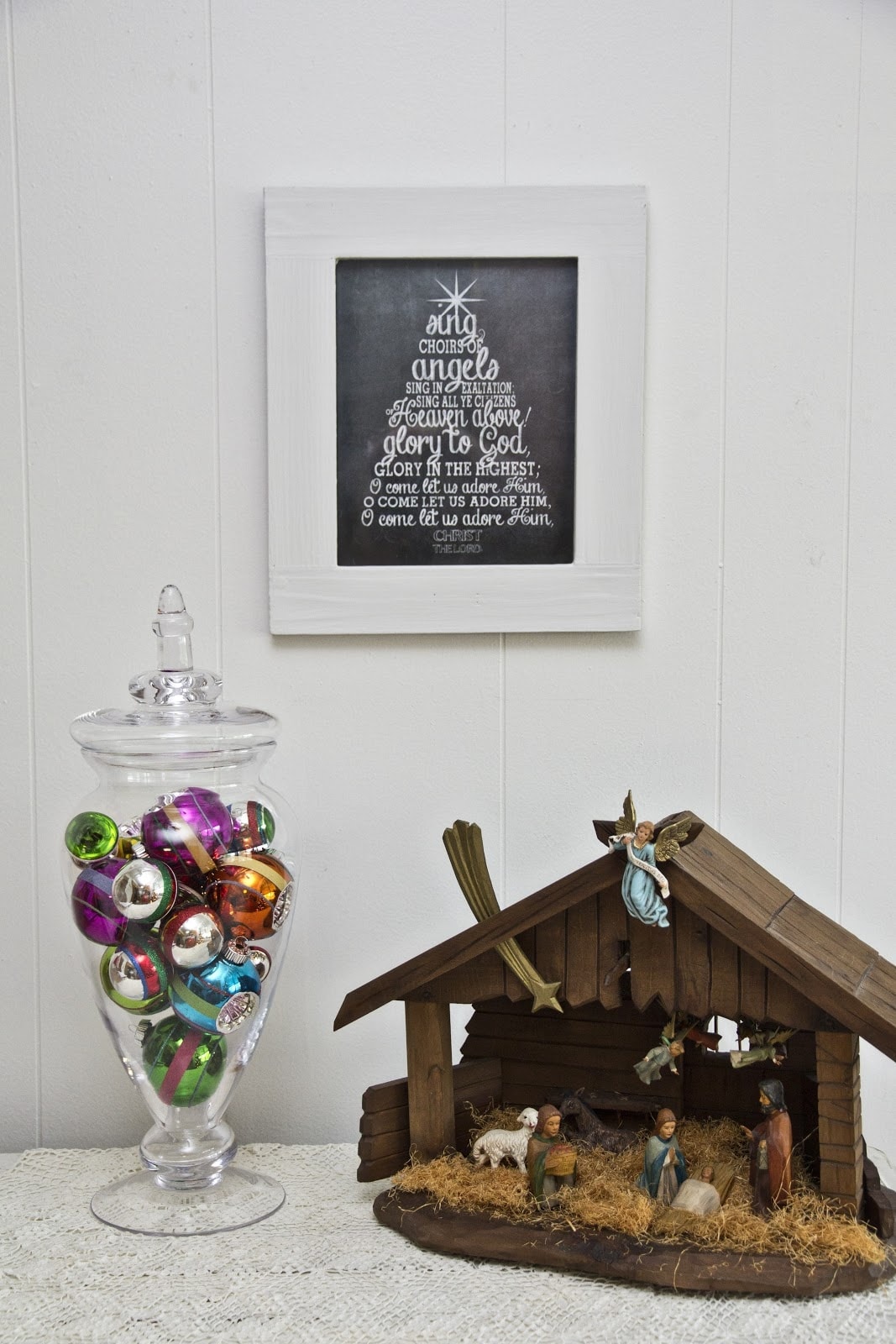 HOW TO USE MY FREE CHRISTMAS PRINTABLES:
Print them out on 8 ½ x 11-inch cardstock. Trim to fit an 8×10-inch frame and hang on your wall or stand up on table for display.
Reduce size to fit on half a page, print on cardstock and fold in half to create DIY Christmas cards.
Print several to a page, cut out to use as Christmas tags. Just punch a hole at the top and loop a ribbon through to attach to gifts.
Tools needed for this project:
You may need one or more of these tools to help in printing and creating the projects described above:
Color printer – This device offers beautiful color printer on a variety of paper sizes, mobile printing (from your mobile device), scanning and copying and much more!
Cardstock – A heavier paper is my first choice when printing anything for display, gift tags and cards or tags.
Sharp scissors – needed for cutting cardstock, especially when cutting into shapes for cards and tags.
Paper Trimmer – Helpful when trimming to size, especially from 8 ½ x 11-inch paper.
More free Christmas printables:
If you are looking to get more organized this holiday season, be sure to pick up our 2018 Christmas Planner, full of tons of pages for organizing and planning!
FREE PRINTABLE USAGE COPYRIGHT:
As with all of my downloads, I strive to bring free quality content- but I need your help. Please share these by sending people to this post and asking them to download here. If you'd like to feature these on your blog, please use the image at the top of this post in full or request a watermarked image from me of the individual print you'd like. This helps me keep the great free stuff coming!
All of my free printable designs are for personal, non-commercial use only. Please do not sell, redistribute or attempt to recreate the images for sale.
HOW TO DOWNLOAD THE "O COME, ALL YE FAITHFUL" LYRICS FREE PRINTABLE:
If chalkboard's not your thing, that's ok, because I added some color versions for you too!
>>>>> Download the Chalkboard Printable. <<<<<
>>>>> Download the Color Printables: Green & Gray | Aqua & Red |  Red & Green <<<<<