If you're in need of some holiday cheer, snuggle up and watch some the best Christmas movies with a family movie night! With free printables and tons of tips and recipes, these Christmas movie night ideas are sure to send the bah-humbugs packing.
Every December we set aside time to have family movie nights. Actually we do this all year round, but even more so during the holiday season because there are so many wonderful Christmas movies to watch. This year I thought it would be fun to add to the anticipation (plus my kids always like to know what's coming, they're funny like that) so I created a few printables to help you bring a lot more holiday magic to movie night. I also have some fun ideas and recipes to help you jumpstart your own movie night tradition, plus a list of the top 25  best Christmas movies! Whew, that's a lot of stuff!
How to Plan a Family Christmas Movies Night
Christmas movies are abundant this time of year, all you have to do is turn on your TV and you'll see plenty of them starting December 1. Even before that there are weeks of movie night countdowns on Freeform (formerly ABC Family) with an abundance of fun family movies featuring both holiday films and standard favorites like the Harry Potter marathon. Freeform isn't the only place to view Christmas movies…you can find them in abundance on Hallmark Channel, Lifetime and of course Netflix, Hulu, and the list goes on. Not only will you find classic and new big screen movies, but each of these stations is known for creating original movies as well. One of the best ways to stream movies nowadays though, is with Amazon Prime Video.
Leading up to the season I was worried with ABC Family switching to Freeform that we'd lose the 25 Days of Christmas, thankfully I was wrong! The movie line up changes every year, so be sure to check them out for the current season. This list is from 2017; while most of the movies are standard each year, the times and dates change. Follow Freeform on Facebook so you'll know when it's updated. I'll also add it here when the new list is released.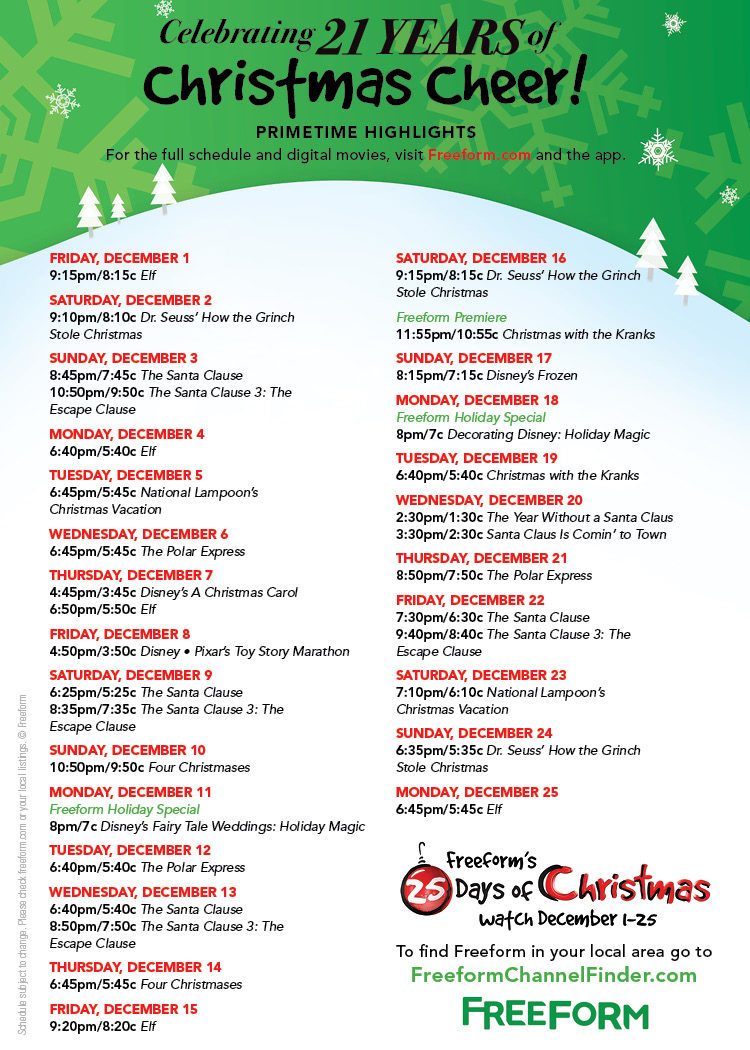 The Best Christmas Movies Ever
We always set aside time to watch a few of these movies and shows, and while it's fun to watch them live, it's much more enjoyable to watch them commercial free, and straight from Netflix or a Blu-Ray. You can find holiday movies in abundance this time of year in any big box store. Christmas movies are streaming year-round on Amazon, Roku and Hulu So grab yourself an Amazon Fire Stick, Roku or other streaming device, and let's count down our favorites!
Which takes us to Step One in starting a Christmas movie night tradition.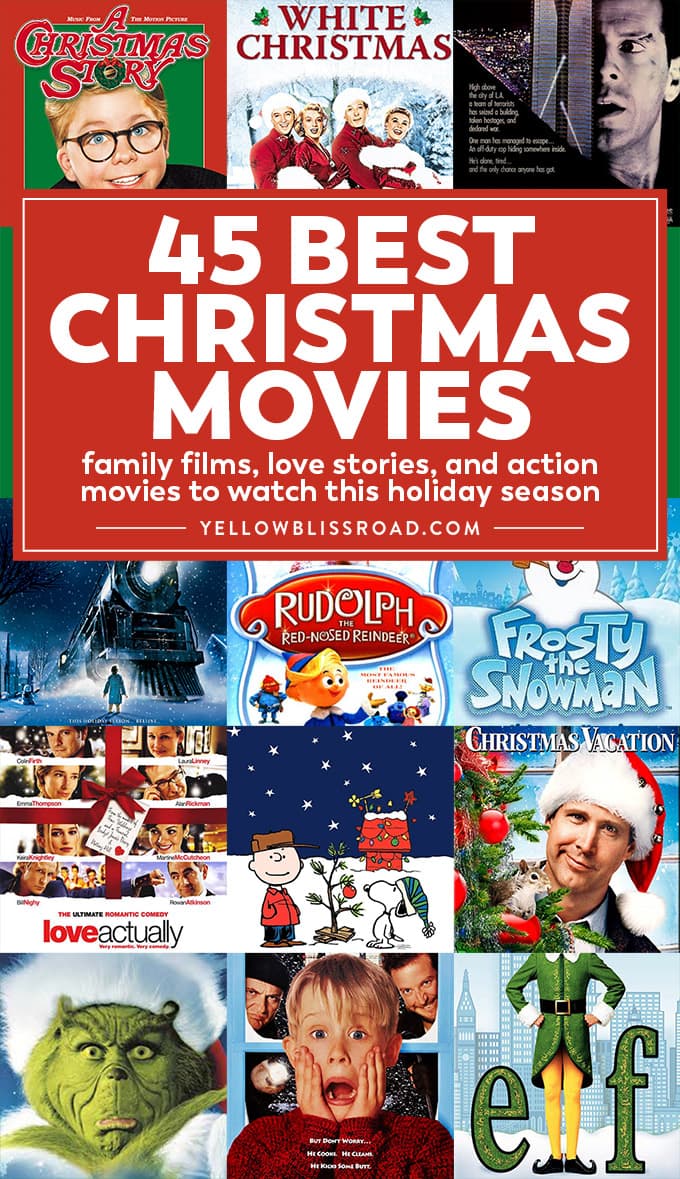 1. The Movies
Our personal favorites are Elf, A Christmas Story, The Polar Express, Christmas with the Kranks and A Charlie Brown Christmas. We make sure and watch these every year, but this year I'm thinking we need to add to that list.
Whether you're looking for family films that have stood the test of time, romantic holiday comedies, or new classics, there's something for everyone on this list of the Best Christmas Movies!
Disclosure: Below are affiliate links to Amazon where you can buy or stream the movies.
Christmas Movies for the Family
Family favorites from the last 20 years.
Christmas Movie Classics
These classic movies have stood the test of time and continue to delight adults and children alike.
Newer Christmas Movies for Grown-Ups (2000+)
Cuddle up on the couch with your significant other, or plan a girls night in. Pop some corn, open a bottle of wine and enjoy these newer Christmas movie classics.
Action-Adventure
These movies may not be the warm and fuzzy type, but they are set during the holidays so they get added to the list!
Die Hard – Even the biggest haters of Rom Com can enjoy a Christmas movie when it include Bruce Willis.
Lethal Weapon – Another classic action film set during Christmas time.
Kiss, Kiss, Bang, Bang – While not a heart-warming tale, this movie starts with a guy robbing a store to get his kid a Christmas present, so it totally counts.
So really this list started out a few years ago as a top 25 but my readers have recommended so many to add that it's reached 45!
Ok, so yes, that's 46 movies. Once I had my list I couldn't decide what to cut so you get a few bonus selections!
Use this handy Free Printable Christmas Movie Checklist to select the movies your family really wants to watch. A lot of the most popular movies you see above are included, plus there is space to write in even more. To print, click on the image, then right click and save to your computer.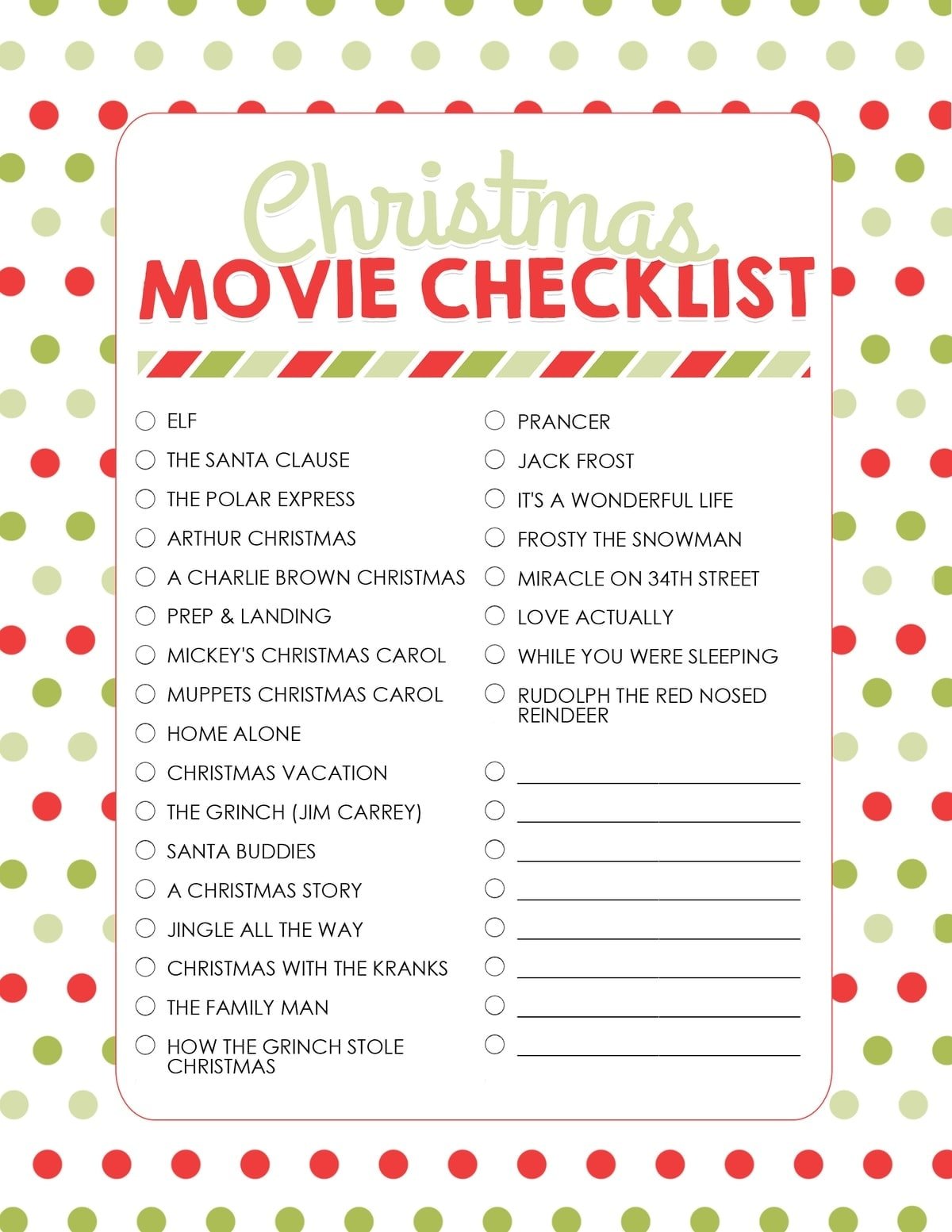 Alright, so you've got your movies, now it's time to figure out where you're going to watch them.
2. The Location
It might seem a little silly, but location might actually be a tough choice. I mean, you might want to snuggle up in bed and watch a sweet movie like A Charlie Brown Christmas, or pile up the blankets and pillows in the living room and watch a comedy like Elf? If you're in California, like me, or any other warmer location, you might even consider having a movie night under the stars with a big blow up screen and a backyard bonfire. Whatever you choose, make sure that you have enough space for everyone to spread out and get comfy.
3. The Food
Every good party revolves around the food, right? Plan ahead and make some extra special goodies to set the mood. You can plan around the movie, like Peppermint Patty Brownies, or Grinch Oreo Pops, or just have some seasonal favorites on hand. Whether you're planning a special stay up late Christmas movie night, or a whole evening of movie fun, having fun snacks and drinks on hand is a must.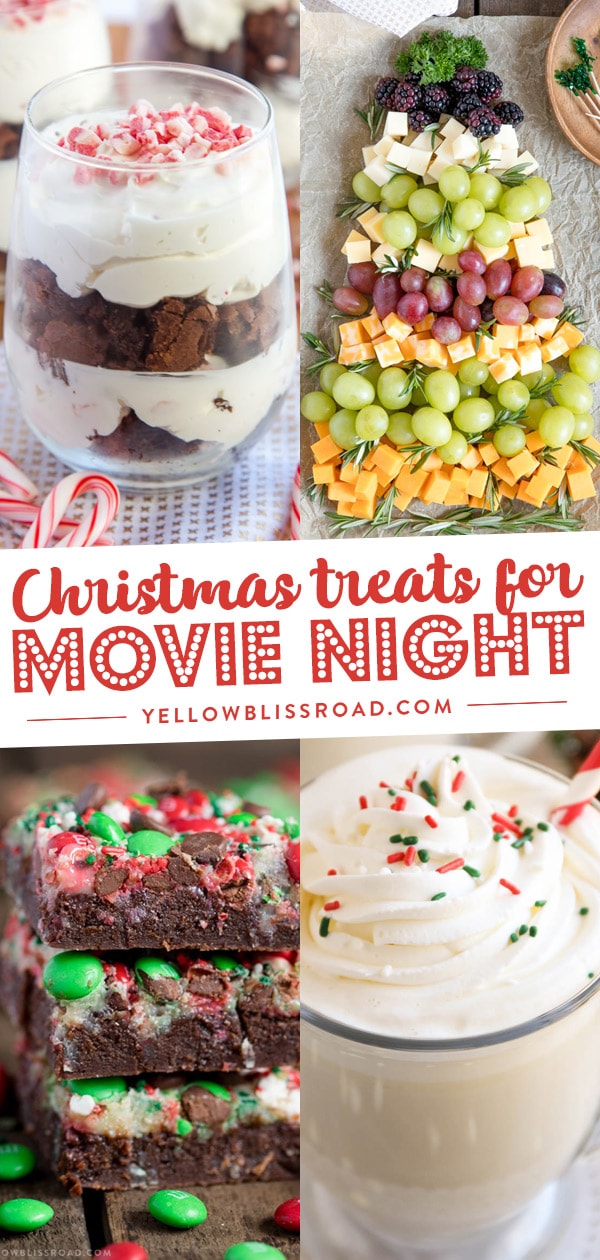 Some delicious Christmas Treats to Enjoy on your Christmas Movie Night:
Want even more ideas? Try this list of 25 Easy Holiday Treats, or these 50+ Christmas Cookies.
To get you on your way to planning the perfect Christmas movie night, I'm including some fun free printables. To print, click on the image, then right click and save to your computer. I recommend printing on cardstock.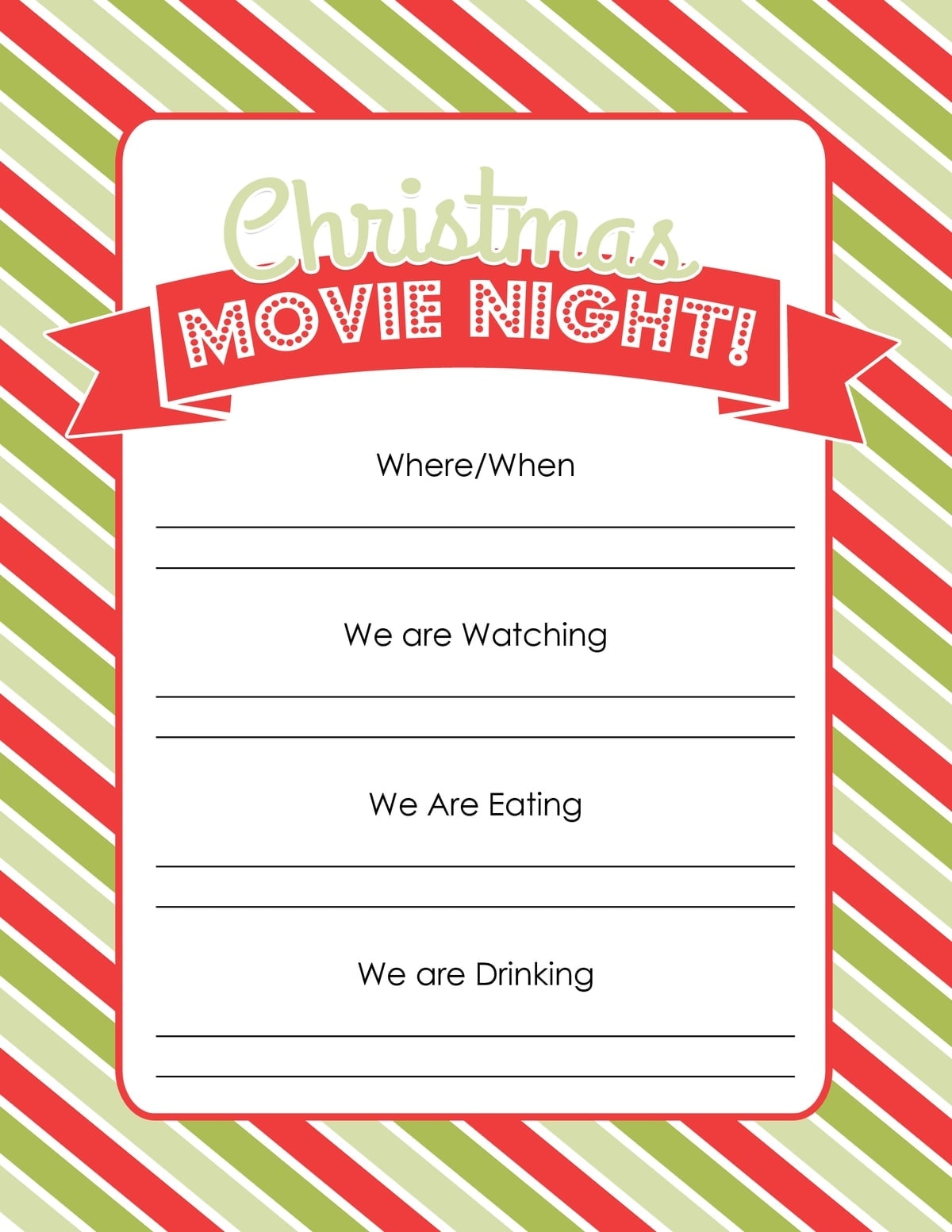 Need some ideas for using the printable Movie Night Invitation?
Place the invite on your family's pillows as a late night movie night surprise. Have them bring their pillow and blankets and meet you in the family room.
Pin the invite onto the family bulletin board so everyone can anticipate what's coming!
Tape an invite to a neighbors front door inviting them over for a fun get-together.
Mail to friends or family inviting them over for a special movie night Christmas party.
Tuck an invite into your spouse's pocket inviting them for a special romantic movie night.
I hope these ideas help you to get started planning your own Christmas movie night tradition with your family and friends!
Looking for more Holiday Organization?
Christmas Planner – 20 pages to keep you organized this holiday season! (And it's FREE!)
How to Host the Holidays – This planner gives you actionable tips for having a stress-free holiday, and it's full of free printables!
For more family friendly holiday ideas: