Hey everyone, it's Keturah from Two Sisters Kitchens. I'm excited to share with you this extremely easy recipe for White Chocolate Peppermint Bark!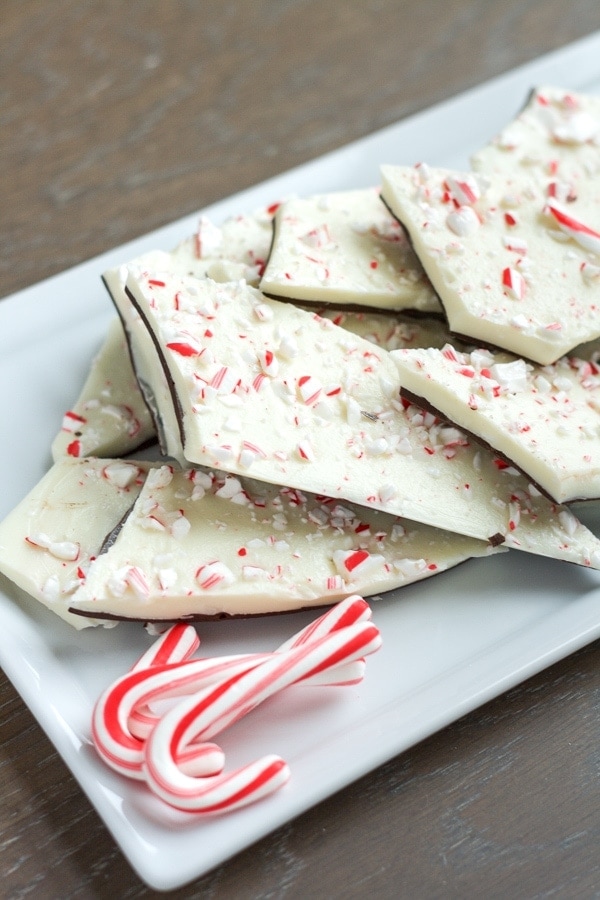 It's that time of year again. And I feel like every year the holidays get here faster and faster. That could be because I'm so busy with my three boys and watching them grow doesn't always give me much time that is wasted. Either way I love this time of year. It gets cold outside (at least where I live) there's plenty of time with family and friends and of course, I can listen to Christmas music! What's not to love?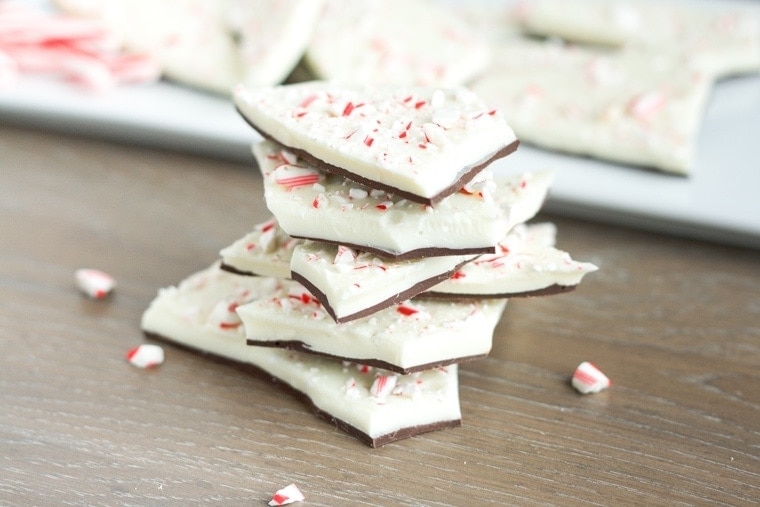 I instantly had a taste for this recipe when my sister made her white chocolate reindeer popcorn for our blog and just like that white chocolate was on my mind! And of course one of the best things about making this peppermint bark, is how simple it is to make. Its a great go-to recipe when you want to bring something festive to a party or gathering and of course on your dessert table at Christmas Eve. It's also great to tie up in cute cellophane and hand it out to neighbors, teachers etc.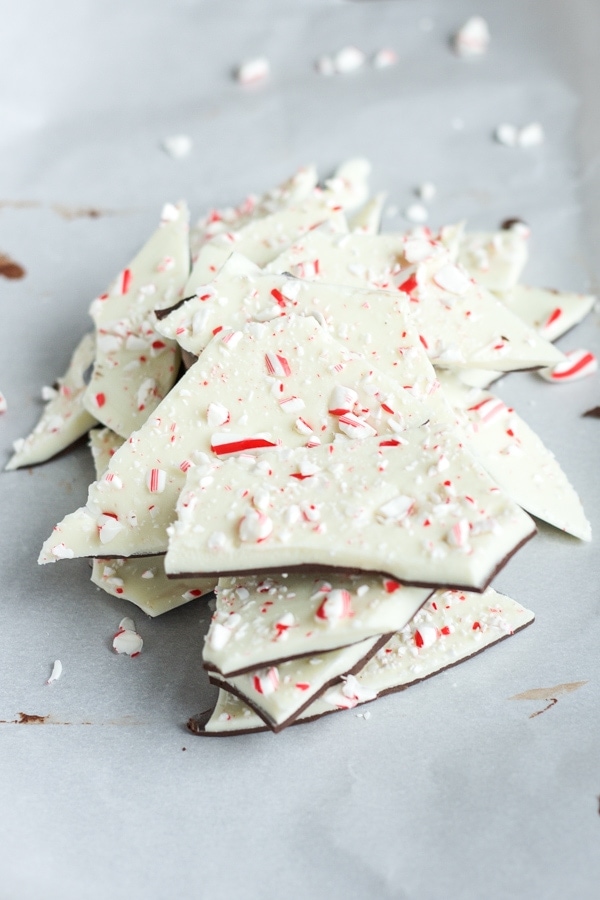 I like to melt the chocolate in a double boiler because I feel I can control how hot it gets. Microwaving is a great option too and if you prefer to do it this way be sure to do it in short bursts to keep it from getting too hot and add a teaspoon of vegetable oil to it. And of course stir it frequently!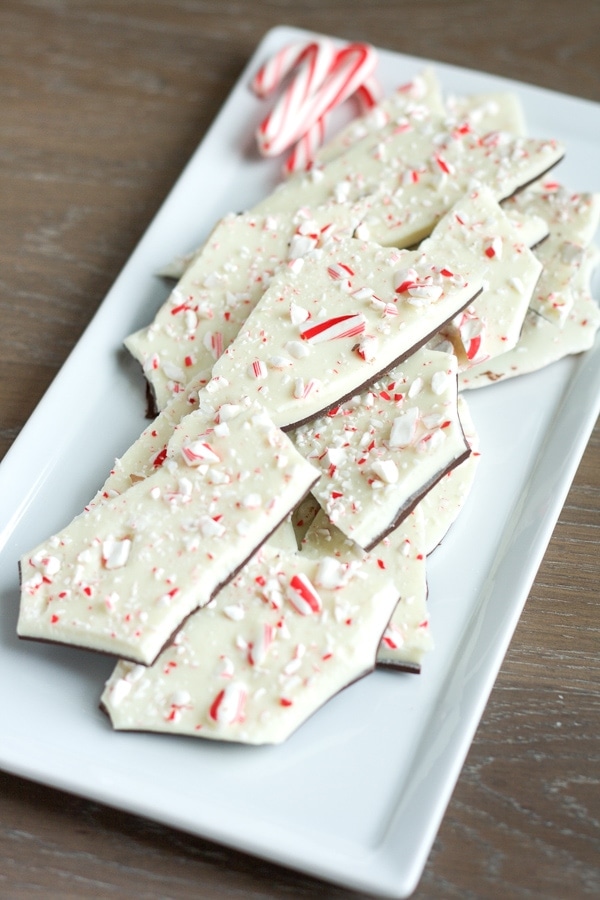 I hope this recipe finds it way into your kitchen and onto your table! Enjoy, and Happy Holidays!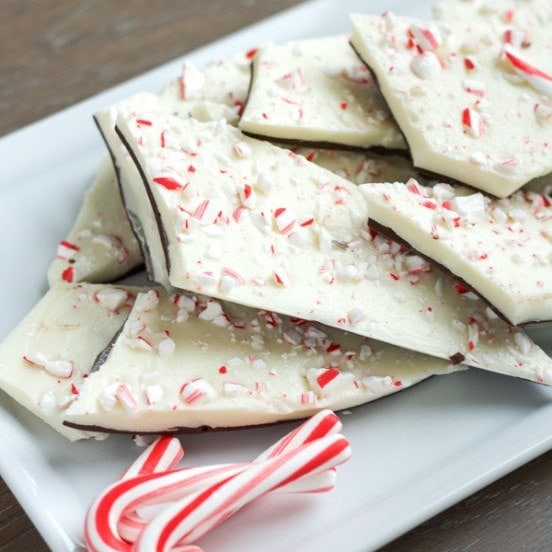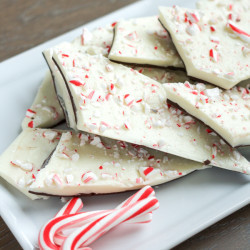 Peppermint Brittle
Ingredients
6 ounces semi sweet chocolate broken into pieces, use high quality chocolate
10 ounces white chocolate broken into pieces, use high quality chocolate
1/2 tsp peppermint extract optional
4 mini candy canes crushed
Instructions
Line an 8"x"8 baking pan with parchment paper trying to make it as smooth as possible; set aside.

In a double boiler, first melt the semi sweet chocolate, stirring continuously - don't let the water boil.*

Once melted pour into the prepared pan and spread evenly.

Set aside and let set to room temp, don't cool in the refrigerator

Once the semi-sweet chocolate layer is set, melt the white chocolate in the double boiler.

Once melted add the 1/2 tsp of peppermint extract and stir well to combine.

Pour on top of the semi sweet chocolate layer and spread evenly, tapping the pan lightly on the counter to even it out.

Sprinkle the crushed candy cane on top of the white chocolate.

Let cool and once hardened break into pieces.

Store in an air tight container in the refrigerator and enjoy!

*To microwave, place the chocolate in a glass bowl with a teaspoon of vegetable oil. Microwave on high in 20-30 second intervals, stirring between each one, until chocolate is melted.
 For more Christmas treats, try these:
Chocolate Peppermint Crunch Bundt Cake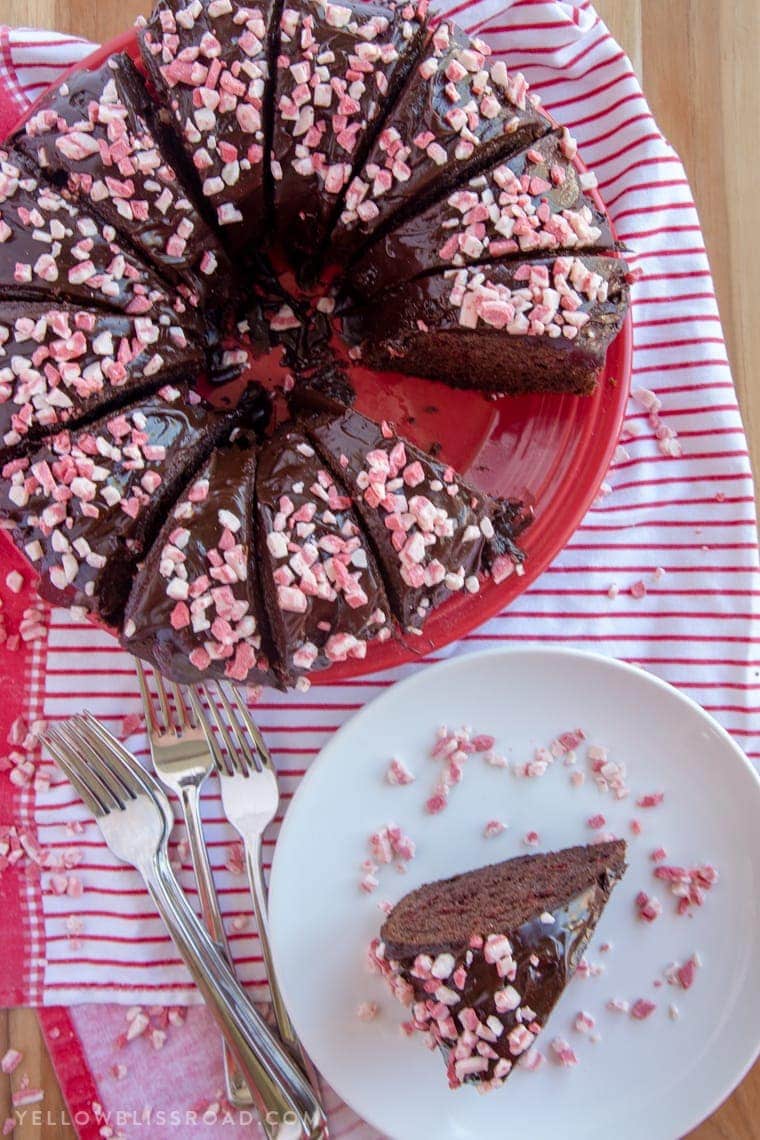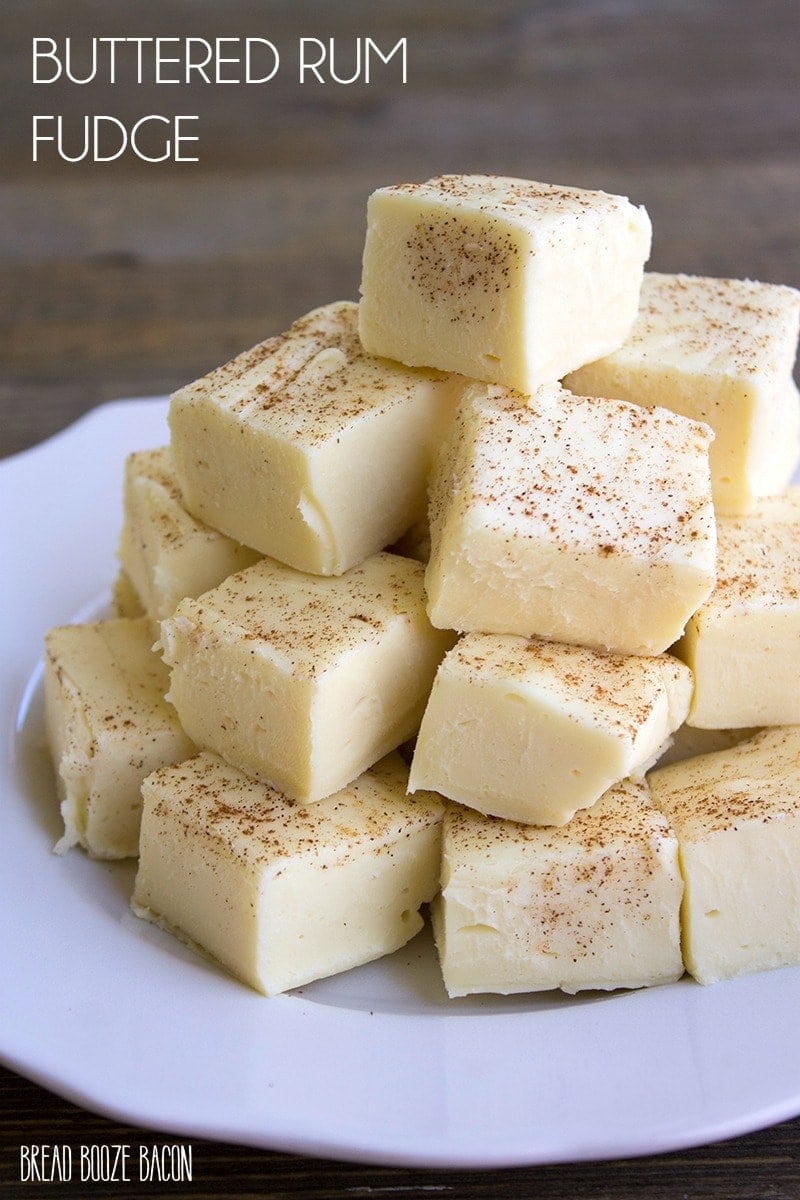 Chocolate Sugar Cookie Blossoms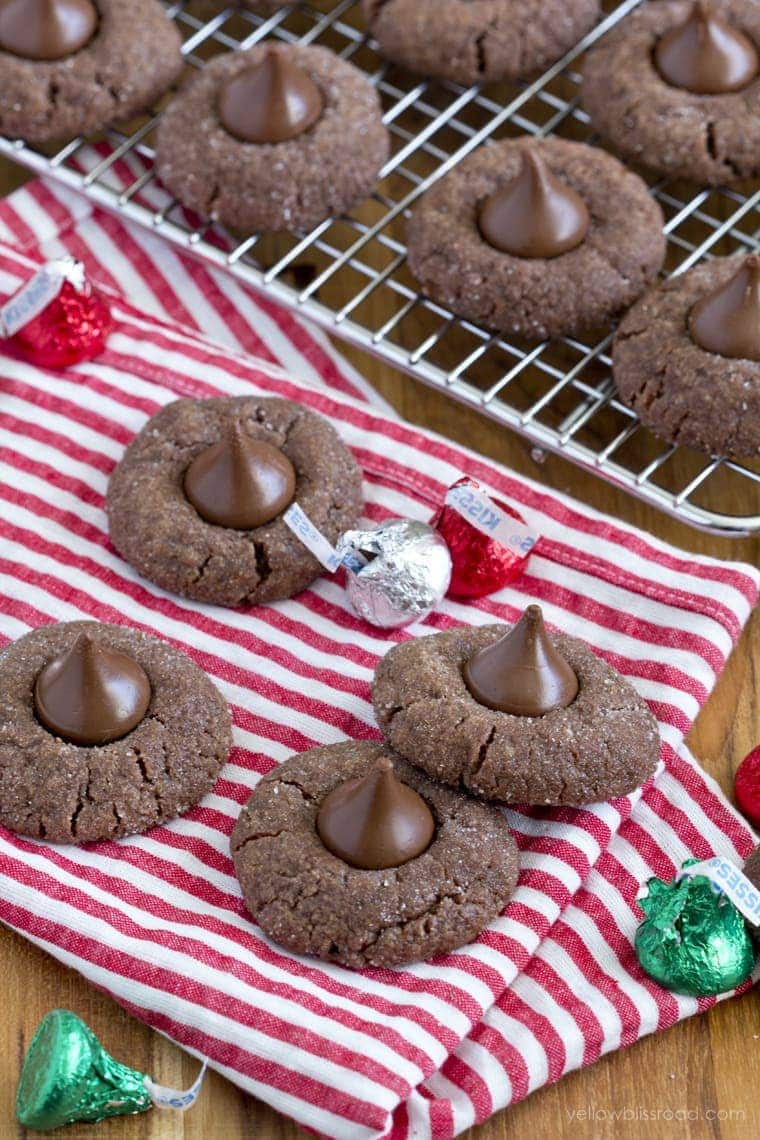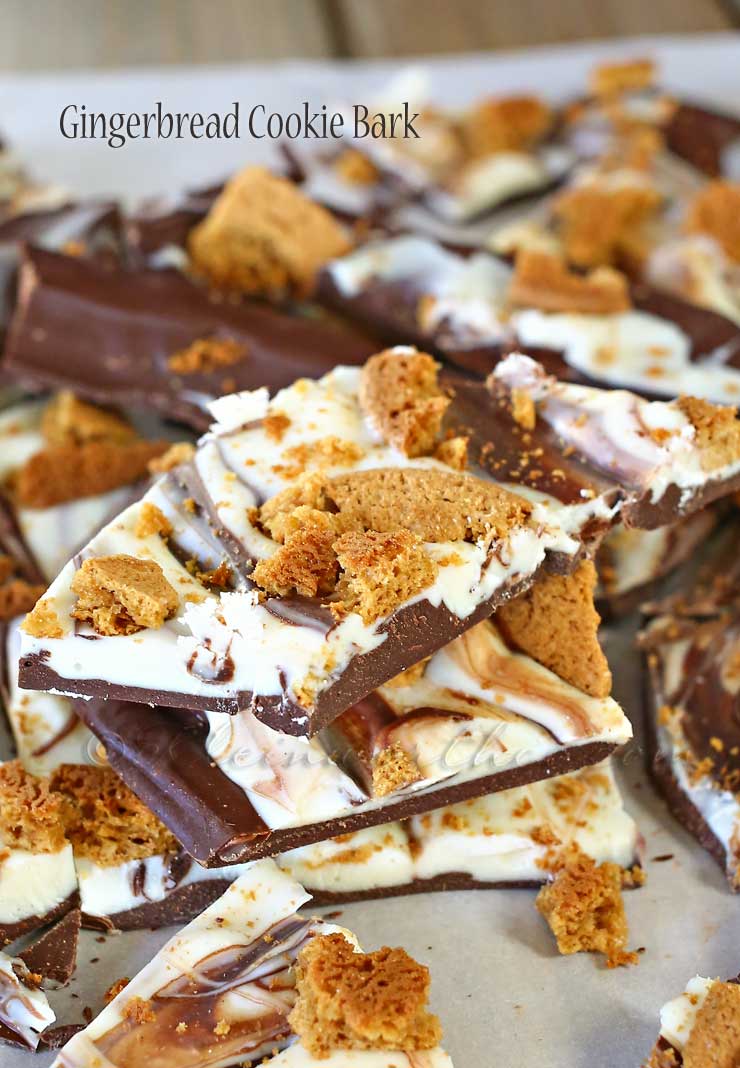 For all things Christmas go HERE, for all desserts go HERE and for all recipes go HERE.