Cranberry Chocolate 7 Layer Magic Bars have layers of graham cracker, gooey white and dark chocolate and chewy cranberries and coconut. They are the classic magic layer bars you know from your childhood, turned up for the holidays!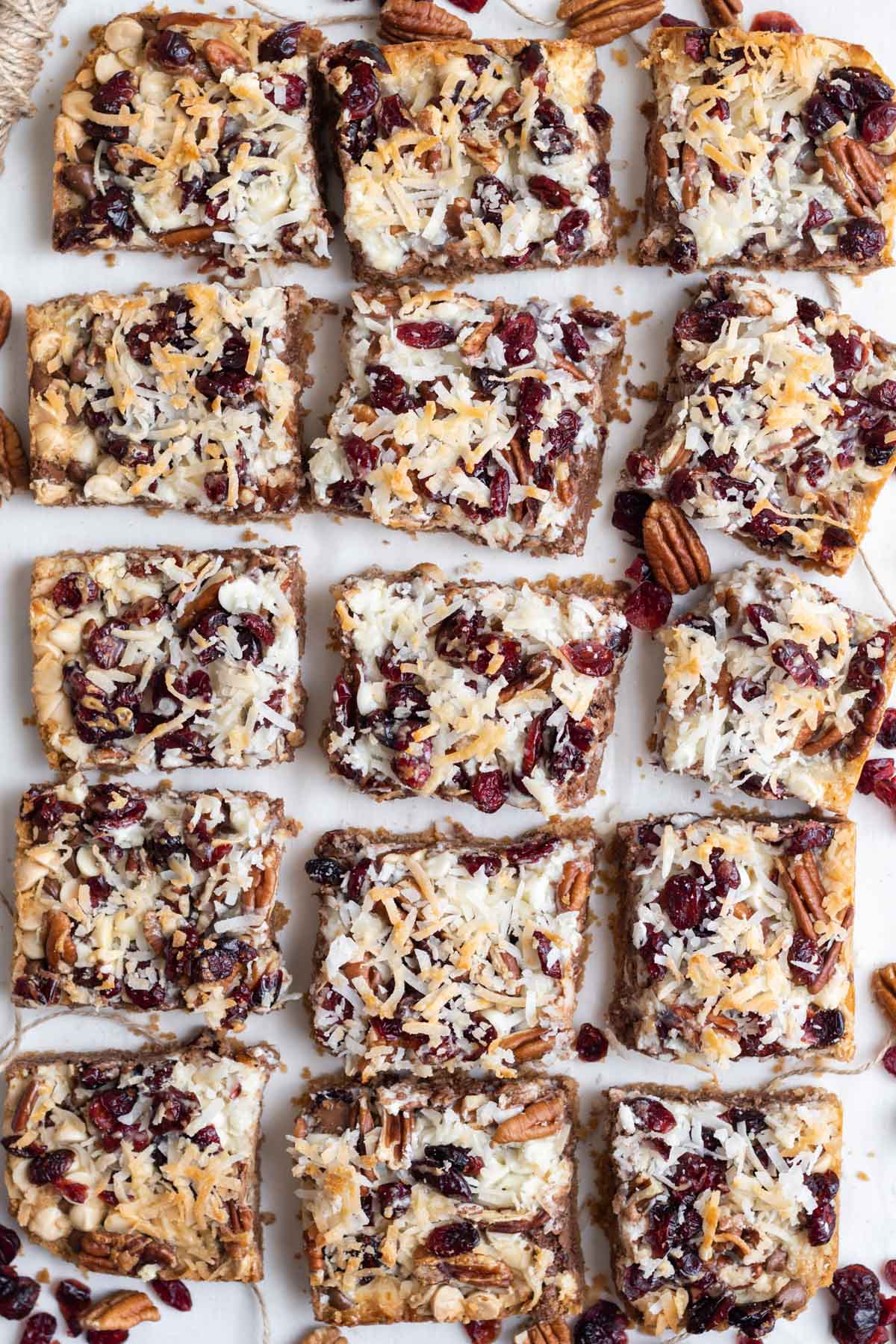 I love making 7 layer bars on top of thick chewy brownies, like these Christmas Magic Layer Brownie Bars, but there's something to be said about sticking with a classic.
I love cranberries and I'm always looking for some way to add them to recipes. They are perfect in Cranberry Muffins and pair so nicely with the cheese in my Cranberry Brie Bites.
Holiday 7 Layer Magic Bars
There are 7 layers of absolute yumminess in these magic bars, and you'll want to count each one.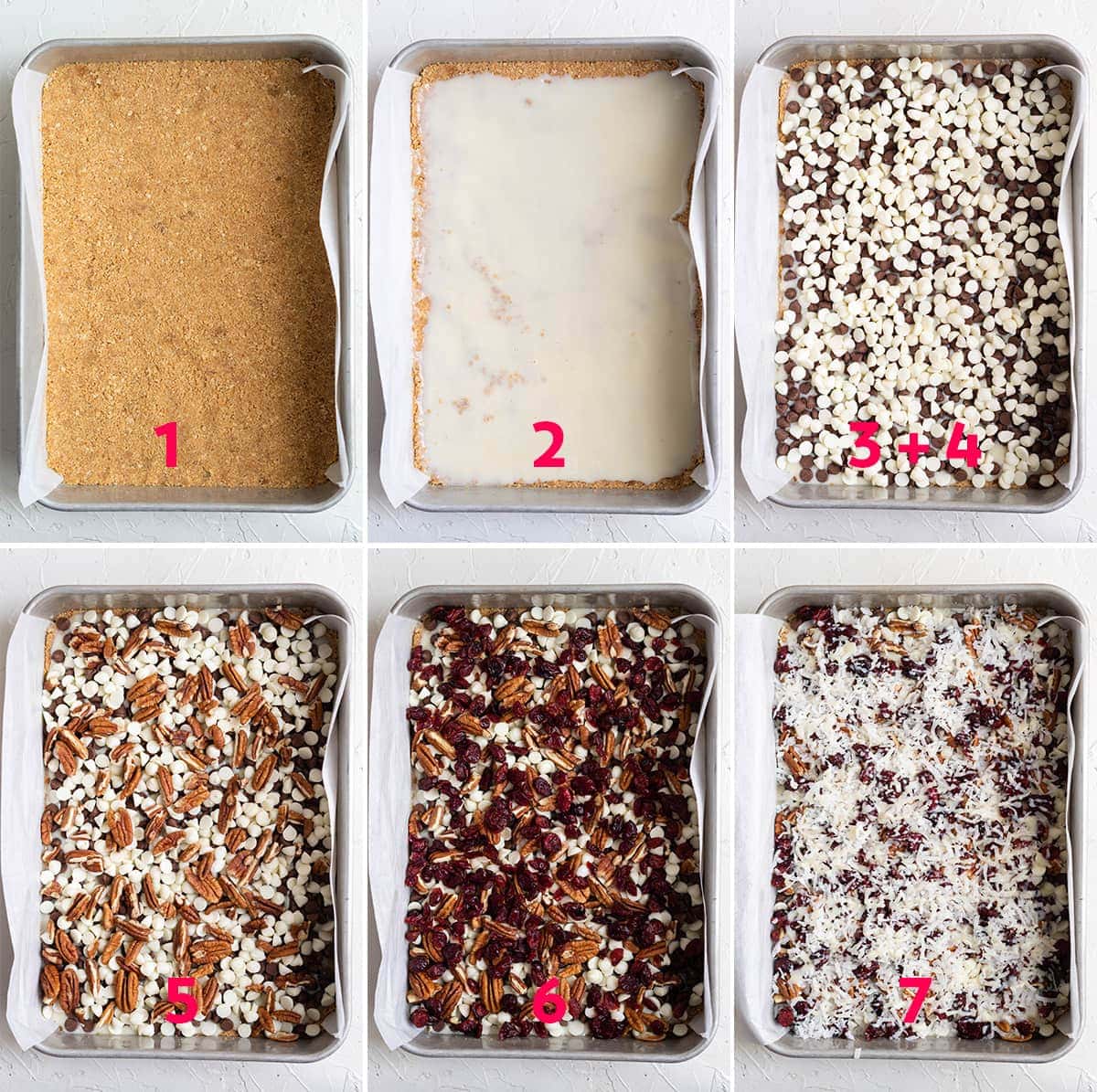 Graham cracker base: Mix some butter and brown sugar with 2 cups of graham cracker crumbs. The best way to do this is with a food processor but if you don't have one, you can just smash the crackers in a plastic bag with a rolling pin.
Sweetened condensed milk: This is basically milk with most of the water removed and sugar added. It's sticky and gooey and creates the base for our magic bars.
White chocolate chips: while technically not "chocolate" these are sweet and pair really well with the tart cranberry and the bitter dark chocolate.
Dark chocolate chips: These are the most bitter of the chocolates, but also have the richest chocolate flavor. It's up to you if you want to use dark, semi-sweet or even milk chocolate here.
Dried cranberries: The star of the holidays, cranberries add tartness in contrast with all the sweet. They are also the official fruit of the holidays. (I just made that up but it's a good idea, yes?)
Pecans: Adding some texture to all the gooey sweetness is a good call, and pecans add crunch without being too hard. Chop them into small pieces of leave them whole – your call.
Coconut: There are two different kinds of shredded coconut that you'll often find at grocery stores. One is sweetened and the other is not. You want the sweetened one.
So that's our 7 layers for our Cranberry Magic Bars! Sounds pretty yummy right? Let's talk about how to make them.
Chocolate Cranberry Magic Bars
I always make these in a 13×9-inch baking dish. Line it with parchment paper and spray it with nonstick cooking spray. I recommend parchment because foil tends to stick, even after it's been sprayed. Press the graham cracker mixture into the bottom of the dish to form the base, then drizzle on the sweetened condensed milk. Don't spread it or it could separate the crust. Then add the toppings and bake.
Recipe Notes and Tips
This recipe is easily double or halved. Just use two pans to double it, or one 8×8 pan to make a smaller batch.
Make sure you choose the right ingredients. You want sweetened condensed milk, not evaporated. There is a difference and it will ruin your magic bars.
Pick the chocolate that you love. If you don't like white chocolate, you don't have to use it. Same goes for the regular chocolate.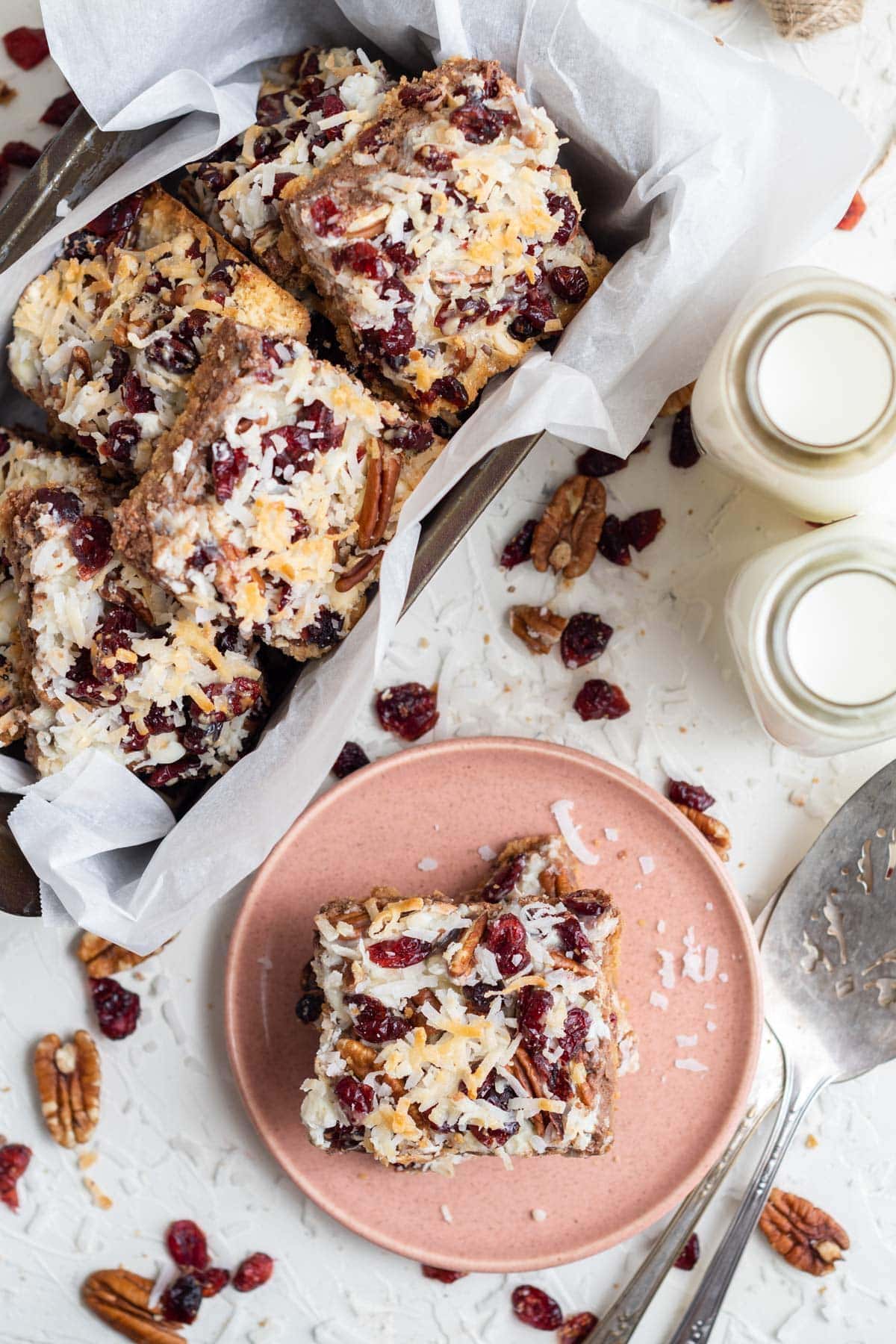 More Holiday Treats to Love
Recipe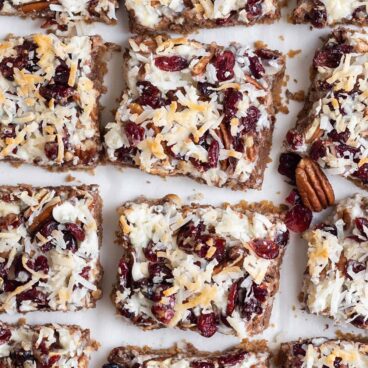 7 Layer Cranberry Magic Bars
Cranberry Chocolate 7 Layer Magic Bars are a holiday classic with layers of graham cracker, white and dark chocolate, cranberries and coconut.
Ingredients
2

sleeves of graham crackers

crushed (18 full sheets)

8

tablespoons

butter

melted

3

tablespoons

brown sugar

A pinch of salt

11

ounces

white chocolate chips

about 2 cups

11-12

ounces

chocolate chips (milk, semi-sweet or dark)

about 2 cups

1

cup

sweetened dried cranberries

1

cup

sweetened shaved coconut

1

cup

pecan pieces

14

ounce

can of sweetened condensed milk
Instructions
Preheat the oven to 350 degrees Fahrenheit. Line a 9x13 inch baking pan with parchment paper and spray with non-stick spray. Set aside.

Mix the crushed graham crackers, butter, brown sugar and pinch of salt together in a bowl then press the crust evenly into the bottom of the baking dish.

Drizzle ¾ of the can of condensed milk over the crust, but don't spread it as the crust will start to come apart.

Next, sprinkle the milk chocolate chips, white chocolate chips, cranberries, pecans and coconut in layers and drizzle the top with the remaining condensed milk.

Bake for 20-25 minutes, or until the top turns a light golden color.

Remove from the oven and let cool for 10 minutes before slicing into bars and serving.
Notes
Nutritional information as always is approximate and is based on the recipe cut into 12 bars. You could get as many as 16 bars, depending on how you cut them. 
Feel free to use whatever kind of chocolate you like, milk, dark, white, etc. 
Nutrition
Calories:
601
kcal
Carbohydrates:
66
g
Protein:
8
g
Fat:
36
g
Saturated Fat:
22
g
Cholesterol:
37
mg
Sodium:
197
mg
Potassium:
437
mg
Fiber:
3
g
Sugar:
55
g
Vitamin A:
334
IU
Vitamin C:
1
mg
Calcium:
238
mg
Iron:
1
mg