These homemade Cranberry Muffins are fluffy and moist with the perfect balance of sweet and tart flavors. They make a delicious breakfast, snack or dessert.
My kids are huge fans of all kinds of muffins, especially Sour Cream Banana Muffins and Lemon Blueberry Muffins. They're perfect for snacking or packing in lunches.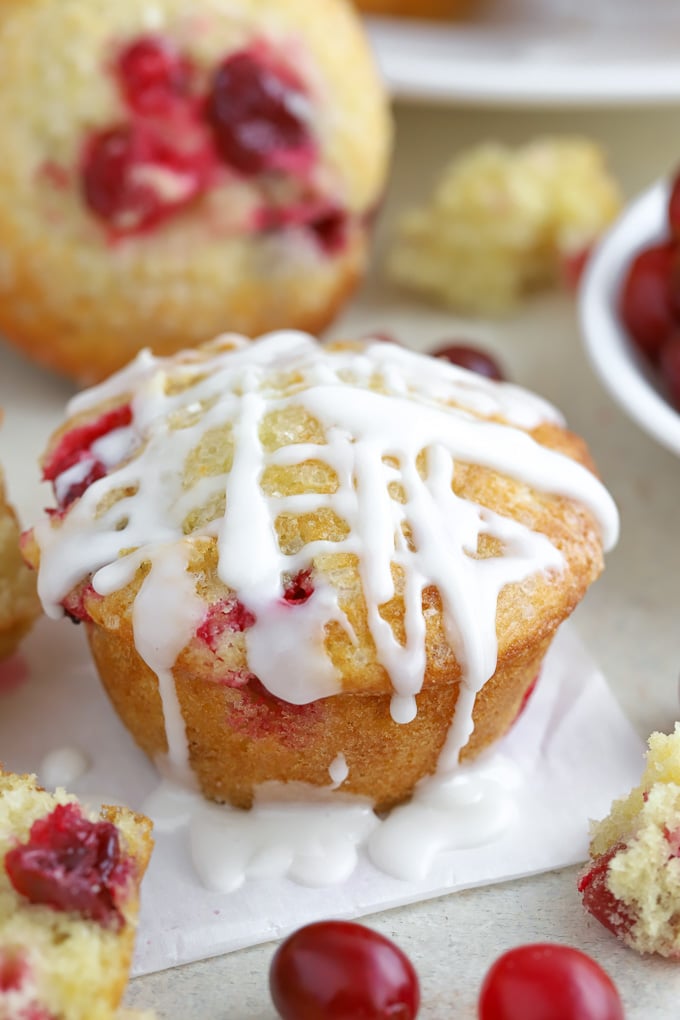 Cranberry Muffins Recipe
It's officially cranberry season and I couldn't be happier. These Cranberry Muffins are bringing all the cozy, homey, holiday-feels. Quick breads and muffins are great for this time of year. They come together fast, the flavor possibilities are endless, and they are perfect alongside a cup of hot coffee or tea. Banana Nut Muffins and Apple Bread are two of our favorite quick breads, and now these Cranberry Muffins are on frequent rotation, too.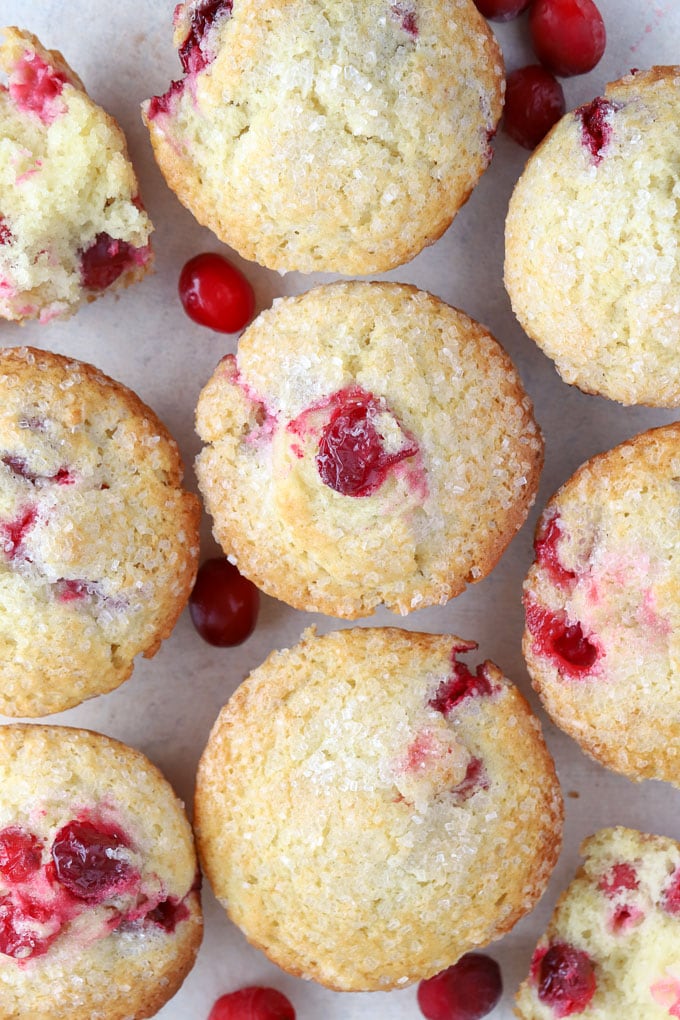 How to Make Cranberry Muffins
These muffins are flavored with almond extract, studded with tart cranberries, sprinkled with coarse sugar, and drizzled with a powdered sugar glaze. They bake up moist, tender and perfectly sweet. Here's how to make them:
Combine dry ingredients: flour, baking powder, baking soda, sugar, and salt.
Mix the wet ingredients: buttermilk*, oil, eggs, and almond extract.
Combine the wet and dry ingredients, then stir in the cranberries.
Divide the batter between 12 standard muffin cups and sprinkle the tops with coarse sugar.
Bake and cool.
Drizzle the muffins with a quick glaze made from powdered sugar, milk and almond extract.
I love the combination of almond and cranberries together, so these muffins have a fairly prominent almond flavor. If you'd prefer the traditional orange-cranberry flavor combination, you can swap the almond extract for vanilla extract and add the finely grated zest of one large orange right into the batter.
*Buttermilk helps to make these muffins light and tender. If you don't have buttermilk on hand you can try one of these Buttermilk Substitutes (five options to choose from).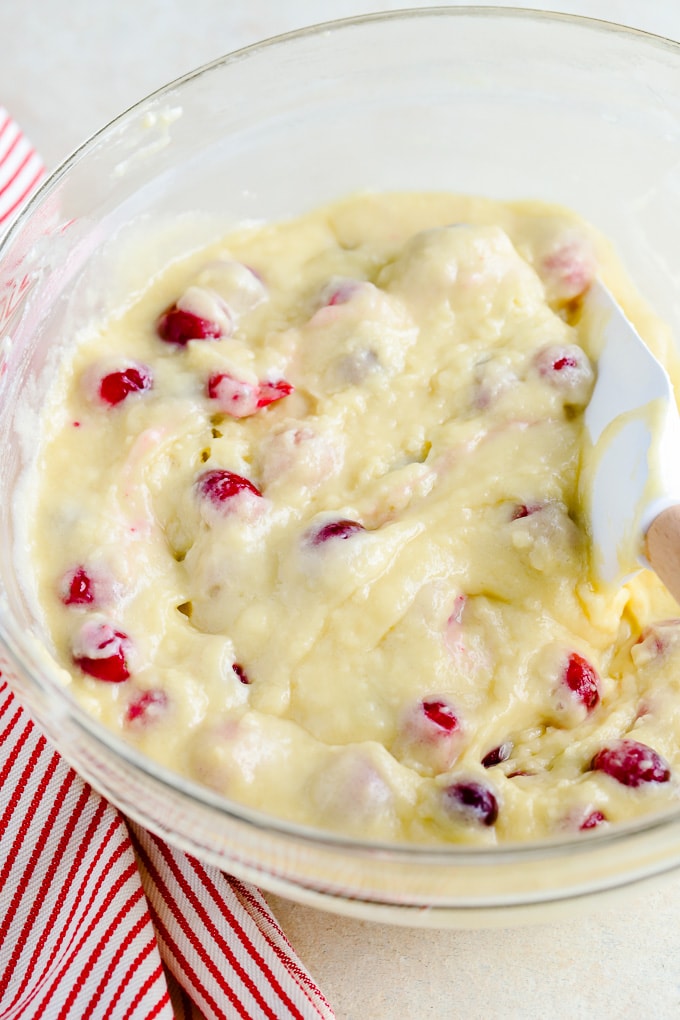 Can You Bake with Frozen Cranberries?
Yes! Frozen cranberries are easy to use in place of fresh cranberries. If you'd prefer to use frozen cranberries, keep them frozen and stir them into the batter straight from the freezer. Note: You might need to increase your bake time a minute or two.
If you want to make this recipe year round, look for frozen cranberries in the freezer section of your grocery store, or stock up during fall and winter months and freeze them yourself.
Storage Tips
Allow muffins to cool completely before storing.
Keep muffins fresh by storing them in a sealed plastic bag or airtight container at room temperature for up to 3 days.
Freeze in sealed plastic bags for up to 3 months.
More Muffins and Quick Bread recipes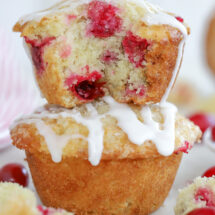 Cranberry Muffins
These homemade Cranberry Muffins are fluffy and moist with the perfect balance of sweet and tart flavors. They make a delicious breakfast, snack or dessert.


Print
Pin
Rate
Prep Time: 15 minutes
Cook Time: 17 minutes
Total Time: 32 minutes
Servings: 12
Calories: 255kcal
Ingredients
Muffins:
2 cups all purpose flour
1 ½ teaspoons baking powder
½ teaspoon baking soda
¾ cup granulated sugar
¼ teaspoon salt
¾ cup buttermilk
½ cup vegetable or canola oil
2 large eggs
1 ½ teaspoons almond extract
1 ½ cups fresh or frozen cranberries
3 tablespoons sparkling sugar or coarse/raw sugar
Icing:
5 tablespoons powdered sugar
1 teaspoon milk
Drop of almond extract
Instructions
Muffins:
Preheat oven to 375°F.

In a large bowl, combine flour, baking powder, baking soda, granulated sugar, and salt.

In a separate bowl, whisk buttermilk, oil, eggs, and almond extract.

Pour the wet ingredients into the dry ingredients and stir with a rubber spatula or wooden spoon until mostly combined. Add cranberries and stir until just combined, being careful not to overmix.

Grease 12 standard muffin cups or line with paper liners. Divide the batter between the 12 cups, filling each about ¾ full. Sprinkle the tops with coarse sugar. Bake for 15-20 minutes, until a toothpick inserted into the center comes out clean. Place the pan on a wire rack to cool for 10 minutes, then carefully remove each muffin and place directly on the rack to cool completely.
Icing:
Whisk all ingredients until smooth. If necessary, add more powdered sugar to thicken, or more milk to thin. Drizzle the icing on the cooled muffins.
Nutrition
Calories: 255kcal | Carbohydrates: 37g | Protein: 4g | Fat: 11g | Saturated Fat: 8g | Cholesterol: 29mg | Sodium: 122mg | Potassium: 114mg | Fiber: 1g | Sugar: 20g | Vitamin A: 72IU | Vitamin C: 2mg | Calcium: 47mg | Iron: 1mg