This Free Printable Christmas Scripture Tree speaks to the true meaning of Christmas. Available in a variety of colors and backgrounds, it's the perfect addition to any Christmas decor!
*This post has been updated from 2010.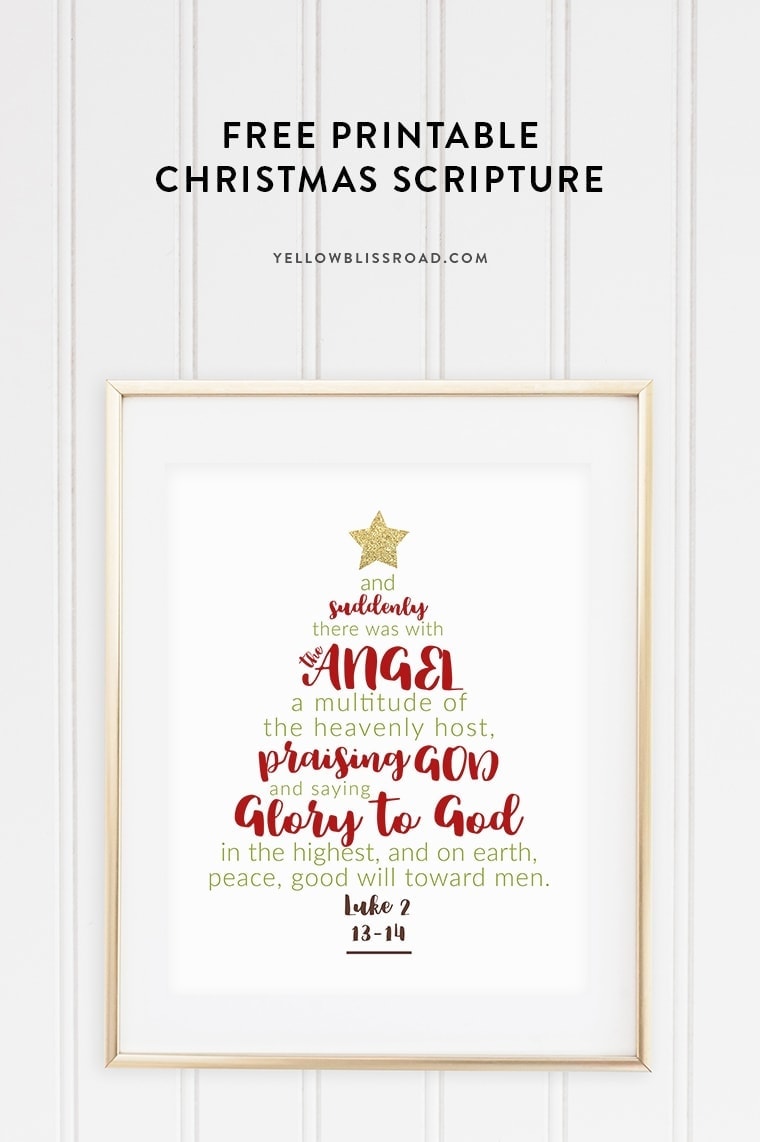 I created the printable Scripture Tree nearly 6 years ago and it's still popular during the holiday season. Here is a photo of the original: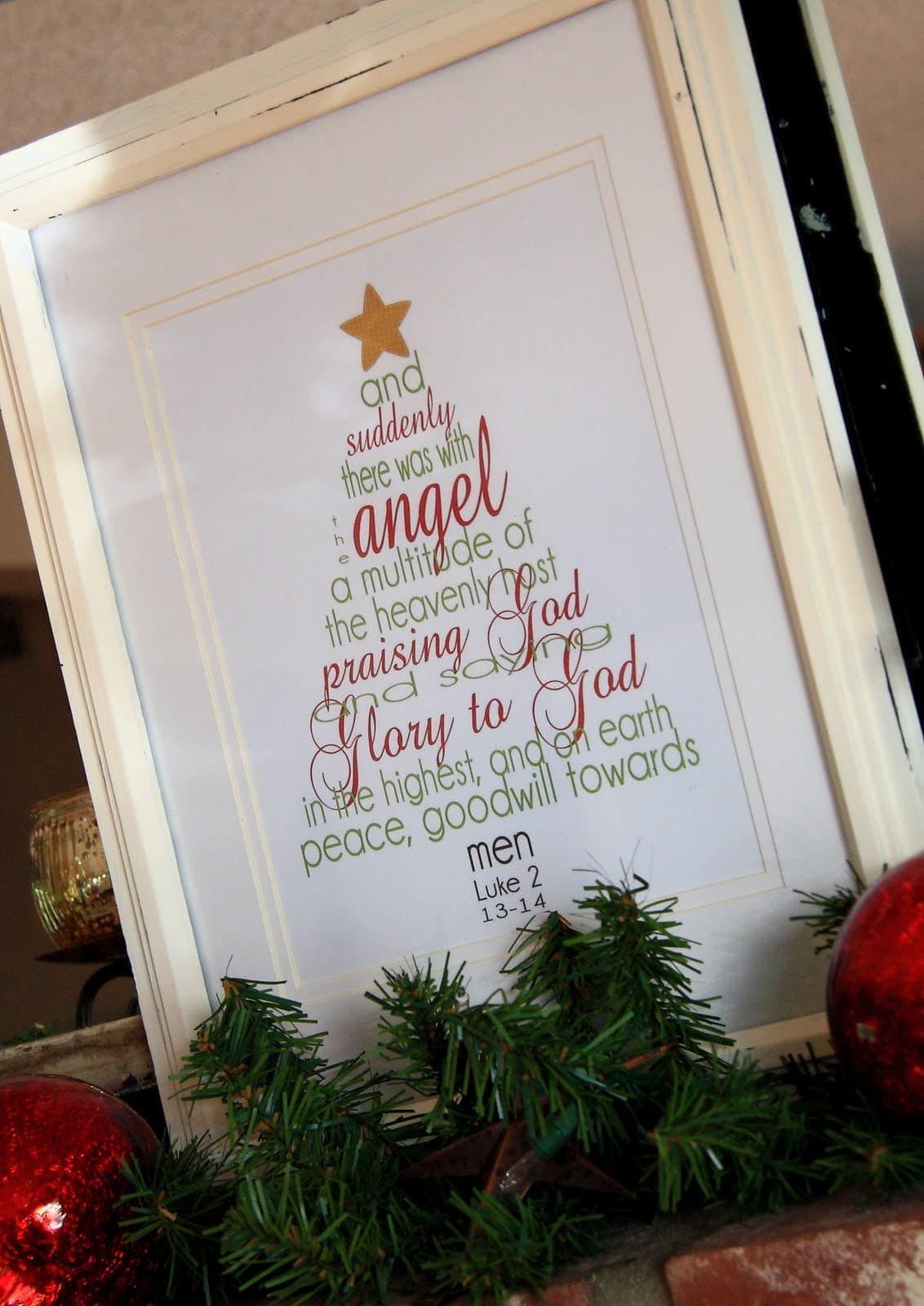 I have been thinking the past few Christmases that the original design feels a little dated, so I gave it a little makeover with fresh colors and fonts. Of course one print just wasn't enough so I updated the design into a chalkboard print, too. Then I started playing around with it even more and came up with an updated design that I think I love even more!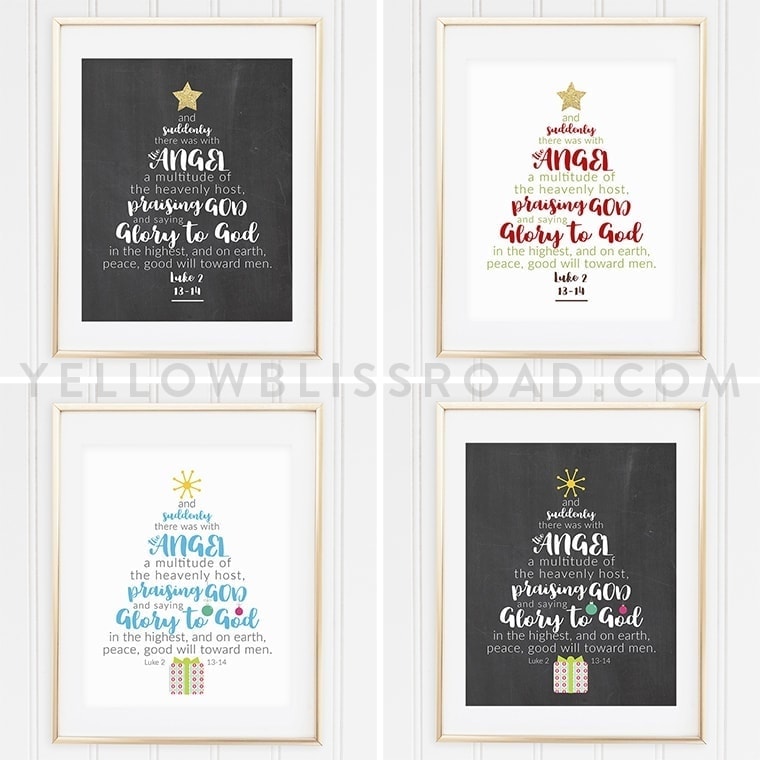 DOWNLOAD THE FREE PRINTABLE CHRISTMAS SIGNS HERE (clockwise from top left):
CLASSIC CHALKBOARD | CLASSIC RED & GREEN | UPDATED PASTELS | UPDATED CHALKBOARD PASTELS
If you'd still like to download the original, you can do that HERE. All designs are free for personal use only. I do not give permission for my design to be recreated or sold in any way.
HOW TO USE FREE CHRISTMAS PRINTABLES:
Print them out on 8 ½ x 11-inch cardstock. Trim to fit an 8×10-inch frame and hang on your wall or stand up on table for display.
Reduce size to fit on half a page, print on cardstock and fold in half to create DIY Christmas cards.
Print several to a page, cut out to use as Christmas tags. Just punch a hole at the top and loop a ribbon through to attach to gifts.
Tools needed for this project:
You may need one or more of these tools to help in printing and creating the projects described above:
Color printer – This device offers beautiful color printer on a variety of paper sizes, mobile printing (from your mobile device), scanning and copying and much more!
Cardstock – A heavier paper is my first choice when printing anything for display, gift tags and cards or tags.
Sharp scissors – needed for cutting cardstock, especially when cutting into shapes for cards and tags.
Paper Trimmer – Helpful when trimming to size, especially from 8 ½ x 11-inch paper.
For more free Christmas printables, check these out:
For all Christmas go HERE and for all free printables go HERE.
If you are looking to get more organized this holiday season, be sure to pick up our 2018 Christmas Planner, full of tons of pages for organizing and planning!