Our 2019 Holiday Gift Guide has something for everyone on your list. There are gift ideas for HER, gift ideas for HIM, stocking stuffer ideas and more. We are here to help take the guesswork out of shopping with gift ideas that are fun, practical, quirky, luxurious and budget friendly.
This guide includes Amazon affiliate links to each product shared. Be sure to check out our other HOLIDAY GIFT IDEAS!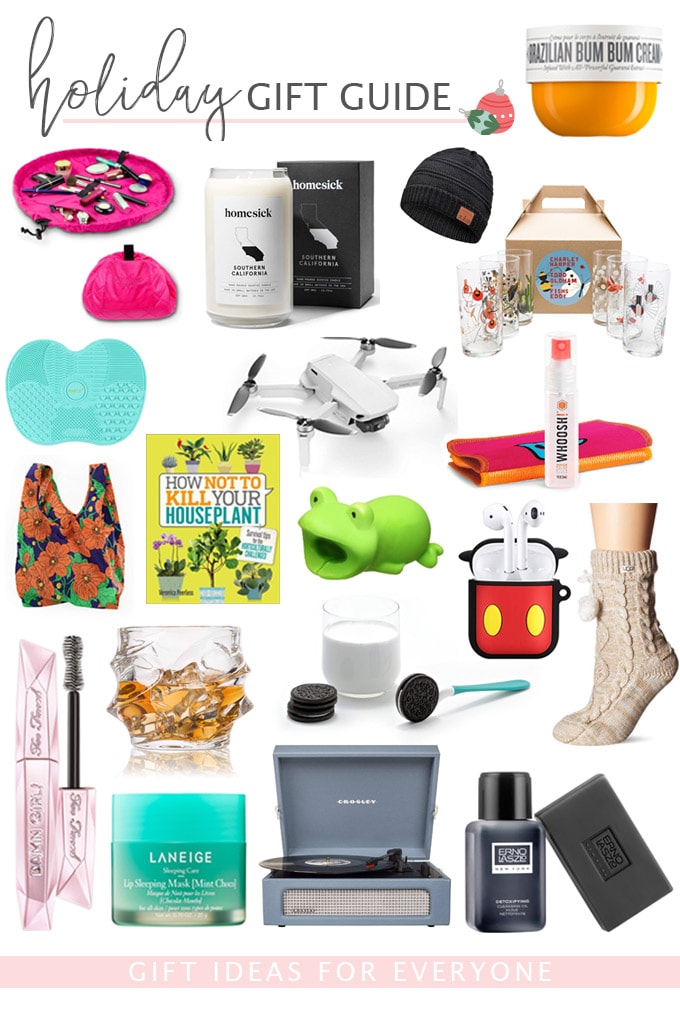 HOLIDAY GIFT GUIDE
I have been working on this gift guide for weeks and I am so excited to finally share it with you! I love Christmas and the whole holiday season. But my favorite part is shopping for gifts for my family and friends. I take it very seriously, jotting down ideas all year long for items and products I think they'll like. I pride myself on being the best stocking stuffer around!
My husband is the opposite. He hates shopping and struggles at coming up with ideas on his own, so he needs a little help. The best part about this list is that it will help everyone from the expert gift givers to those a little less proficient at the art.
I also happen to love lists. They help keep me organized and on track. I make list in Google Docs, in notes on my phone and even on Amazon. I have a shopping list for every person on my gift list! If you are the paper and pen type, be sure to download our free printable Christmas Planner that has tons of helpful lists for shopping and planning.
GIFTS FOR EVERYONE ON YOUR LIST
Have you ever looked at your list and felt completely overwhelmed? Ever thought to yourself, "gift cards for everyone!" because it just seems easier? Not that I'm against gift cards; I think they make great gifts because your recipient can get anything they like. But I really love shopping for, wrapping, and giving a physical gift. I put care and thought into each one and pick the paper and ribbon.
That's not to say that some people aren't more difficult to shop for than others. My 12 year old son has proven to be the toughest this year because he wants cash and video games. But I did find THIS. I know he'll love it and it's something he'd never think to ask for, but it's perfect for him! I spend hours looking for the perfect gifts, and you get the benefit because I'm sharing a bunch of those ideas with you!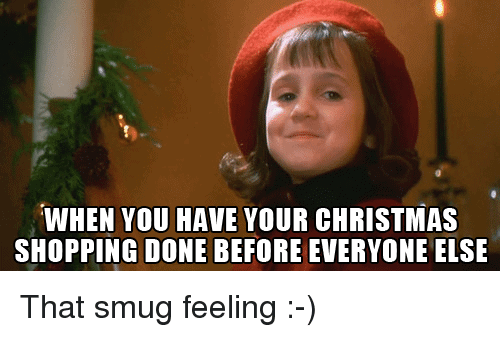 HOW TO SHOP OUR GIFT GUIDE
Shopping is easy if you're an Amazon Prime member. Two day shipping – what did we ever do before you? To shop for the item, just click on the link provided and add it to your cart. You'll also find more information like sizing, ingredients, etc. Then come back and look for more great gifts in our holiday gift guide!
GIFT WRAPPING TIPS
Save money and purchase your wrap, bags, tissue, ribbon and gift tags at after Christmas sales where you can find discounts of up to 75% off.
Instead of purchasing gift tags, cut up old holiday cards. Write on the blank side, and tape to the package. This does double duty as the card acts as a package decoration.
Keep all of your supplies in a small box (scissors, tape, tags, etc.) and store with your gift wrap. That way you don't have to hunt for them each time.
Wrap in batches. Don't try to wrap all of your gifts on Christmas Eve. In the weeks leading up to Christmas, plan to have a few wrapping sessions to help you break it up and not seem so overwhelming.
Purchase a gift wrap storage container to keep you organized.
Finally – and this may be my very best tip – you don't have to be fancy. Brown kraft paper and a black sharpie looks the same as expensive wrapping paper when it's torn off and crumpled on the floor!
Ready for the 2019 Holiday Gift Guide? Let's go!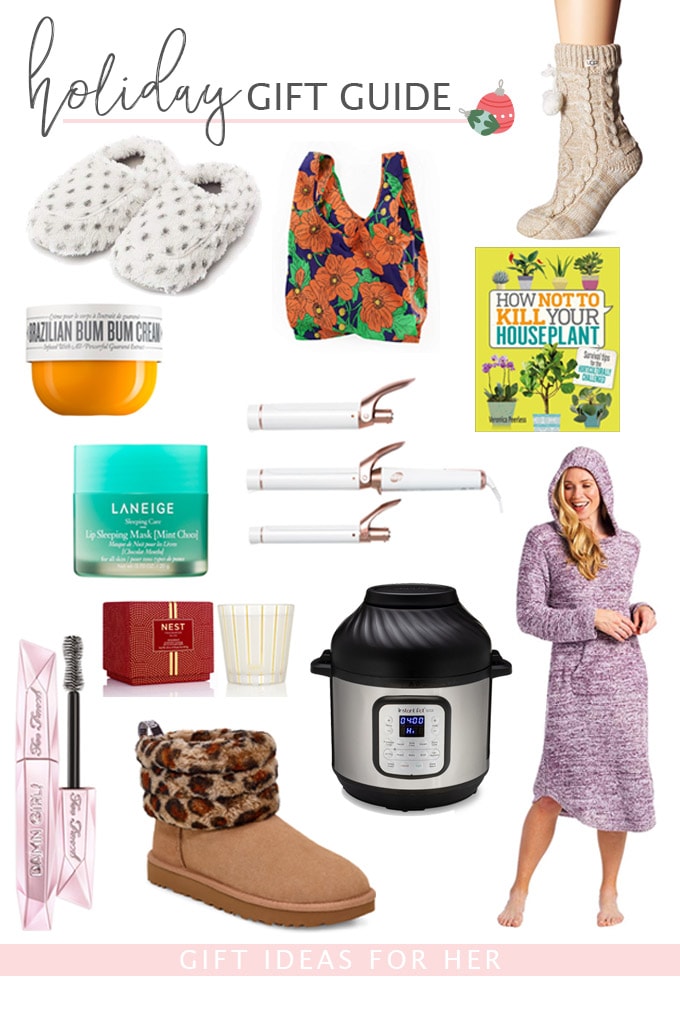 GIFTS FOR HER
The gift ideas you'll find below are some of my favorite products, and a lot I use myself. Some are on my own personal Christmas list this year…hint, hint.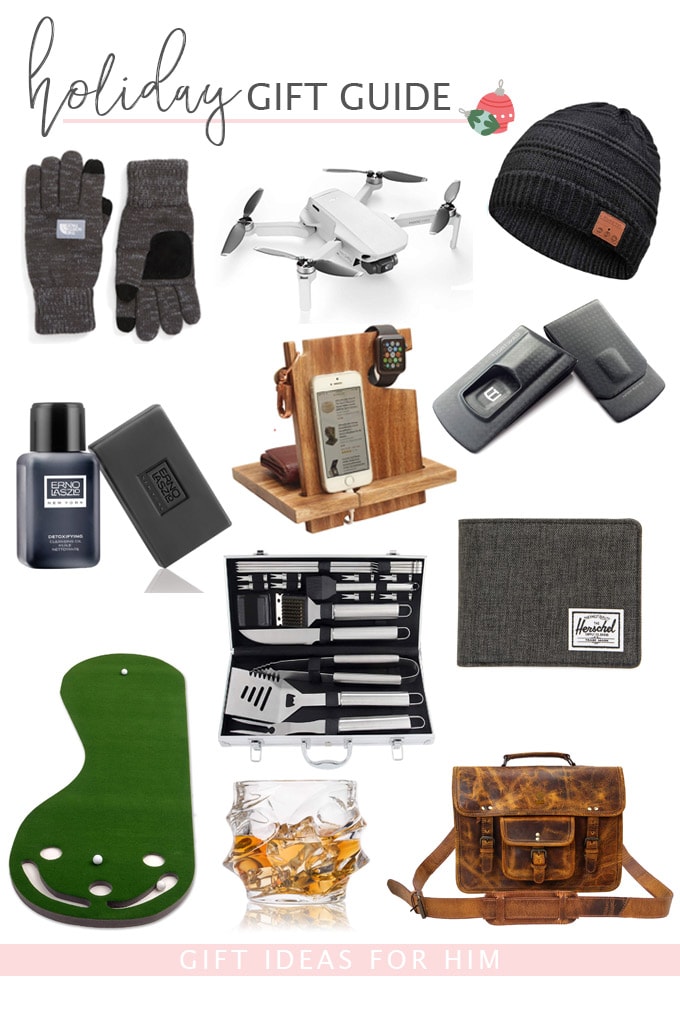 GIFTS FOR HIM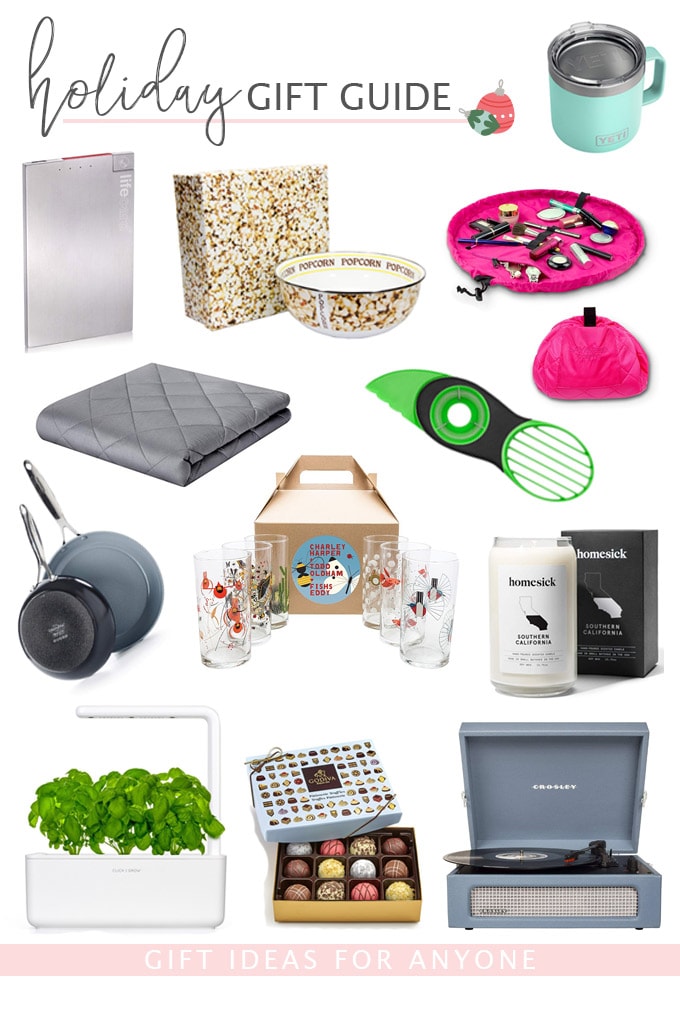 GIFTS FOR ANYONE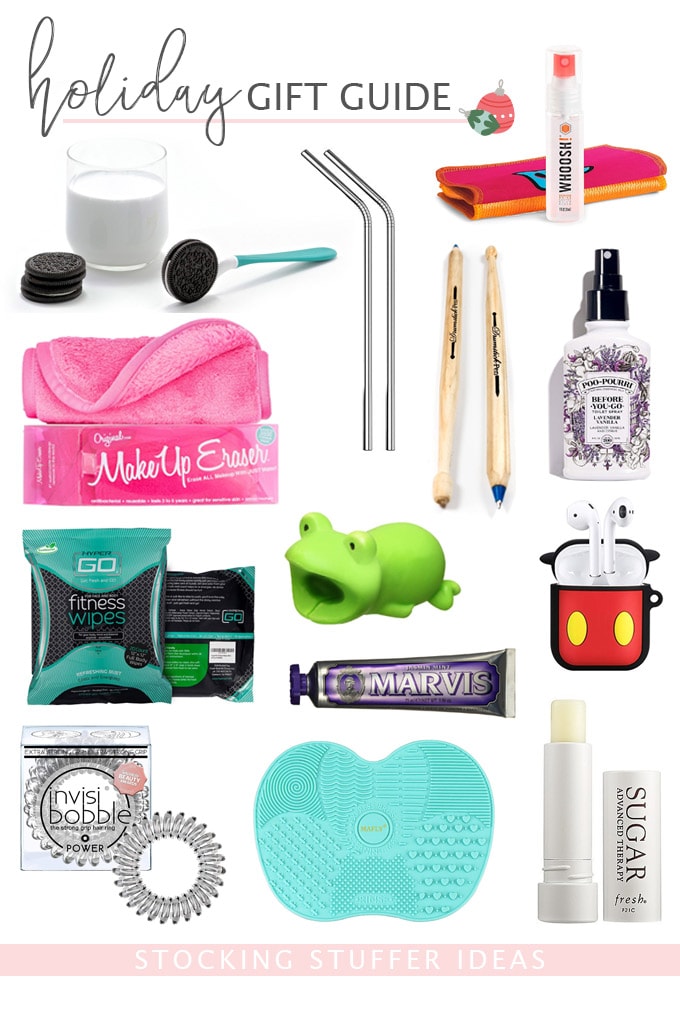 STOCKING STUFFERS
So that's our holiday gift guide for 2019. Is there a gift you love to give that you didn't see? Let us know in the comments!