The stockings were hung by the chimney with care, in hopes that Santa would leave sweet treasures in there! Choosing stocking stuffers for my family is one of my favorite things to do all year. These small and simple gifts can be the best things about the holidays! I spend lots of time thinking about each person and coming up with stocking stuffer ideas that fit their personality; from my gadget loving husband to my bug-hunting son to my unicorns & glitter daughter, I get to think about the very things I love about their personalities and find little trinkets they will treasure.
Packing the stockings however, can be challenging since I usually end up buying too many stocking stuffers! So it you're like me and end up with more than will fit in the stocking, buy bigger stockings! I'm totally kidding…kind of…but seriously, I pack those extra goodies up and save them for special occasions throughout the year. As a result, my stocking stuffer ideas become simple treats and gifts all year long, for things  like good grades, Easter baskets and just because kinds of days.
STOCKING STUFFERS FOR TEENS

The teen years can be the toughest years, as teens are spending more and more time with their friends and less time communicating with their parents. I hate to say it but it starts in the tween years, which I'm currently wrapped up in! Ask my kids what they want for Christmas and all you get is a shoulder shrug therefore coming up with stocking stuffer ideas has become more difficult. Gone are the days of mile long lists and bouncy visits to Santa's house. Now we get bouncy visits to their bedrooms with their ipads and phones, which is where they prefer to spend most of their time.
So in preparation for this holiday season, I have compiled a list of approved stocking stuffer ideas for teens, since they seem to be the hardest age bracket to buy for! Everything on the list is under $20 and available on Amazon. What I usually do is choose a few of the larger ticket items, and then supplement with their favorite treats like candy and gum and other small trinkets. If you're not careful, those stocking stuffers can overtake the actual presents!
Stocking Stuffer Ideas for Teen Girls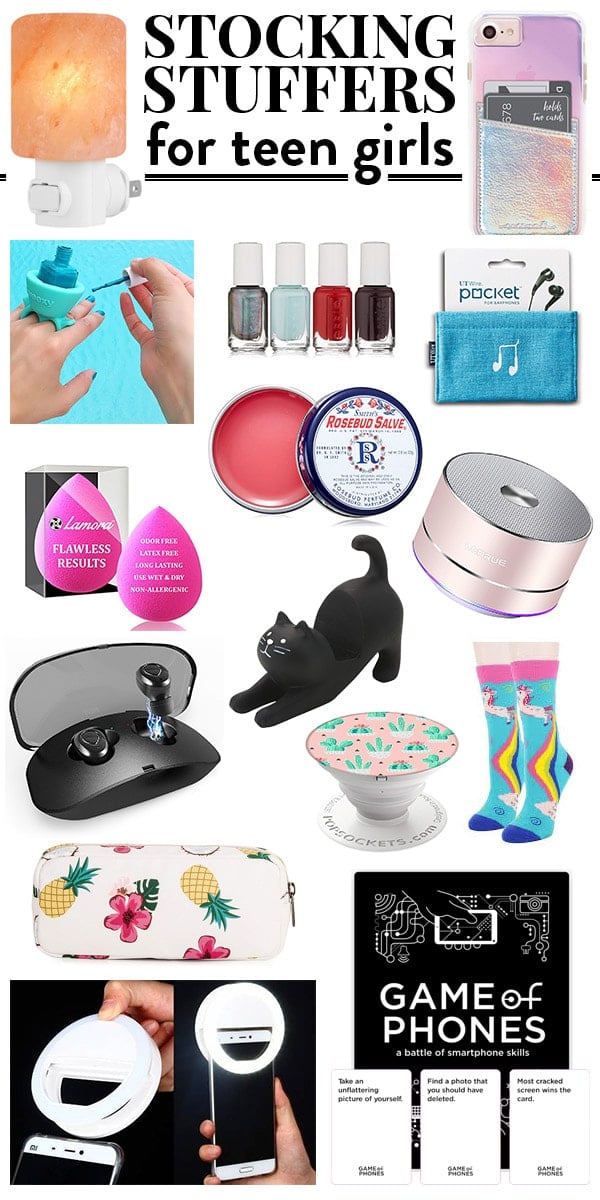 Stocking Stuffer Ideas for Teen Boys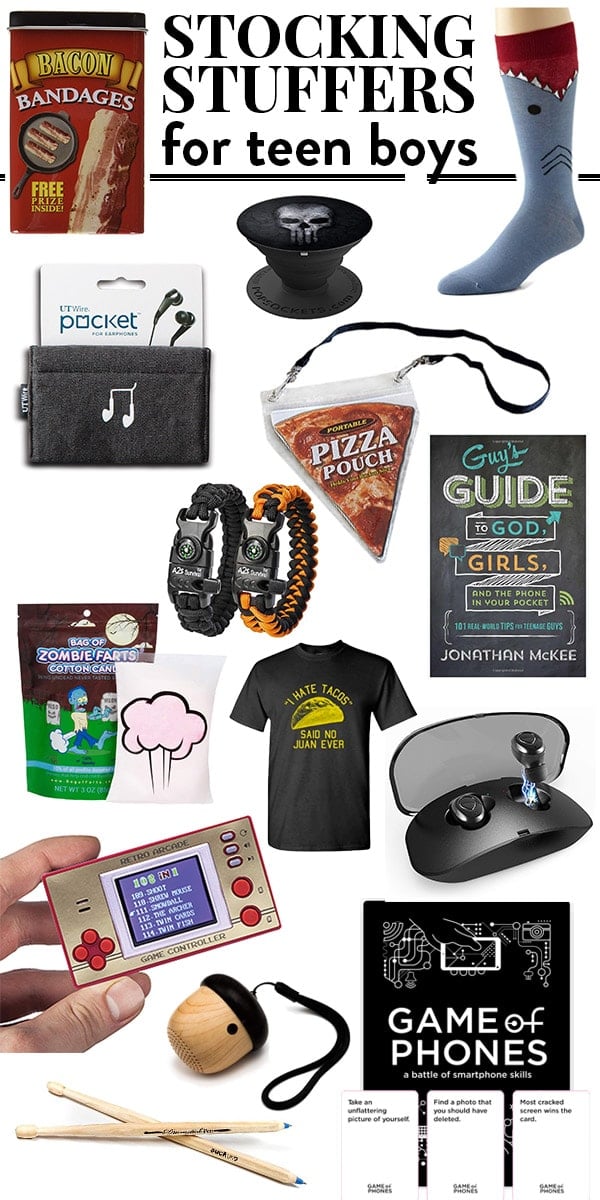 MORE STOCKING STUFFERS FOR TEENS
Washi tape
Stickers
Lipgloss/lipstick
Makeup
Body wash
Perfume/Body spray
Hair brush
Hair ties
Headband
Bobby pins
Hair clips
Inexpensive jewelry
Candy
Nuts/Snacks
Gum
Small notepad
Pens
Markers
Gloves
Beanie
Handheld games
Buttons
Playing cards
Gift cards
Cash
FIND GIFTS FOR EVERYONE ON YOUR LIST WITH OUR HOLIDAY GIFT GUIDES!
Be sure to stop by and check out all of our HOLIDAY GIFT GUIDES, including gifts for her, gifts for foodies, stocking stuffers and more coming soon.