Search our lists of nearly 100 stocking stuffers for teens – stuff that they'll actually want and will actually use! Good things come in small packages, and I've got the proof right here.
I'm sharing my tips and ideas for stuffing your teen's stockings with budget-friendly, unique and practical goodies that they will love! There are over 80 stocking stuffer ideas for teen boys and girls on this list – small gifts and treasures that will be just as memorable and meaningful as what's under the tree.
Bonus – Most of these gift ideas will also work as stocking stuffers for college students and tweens!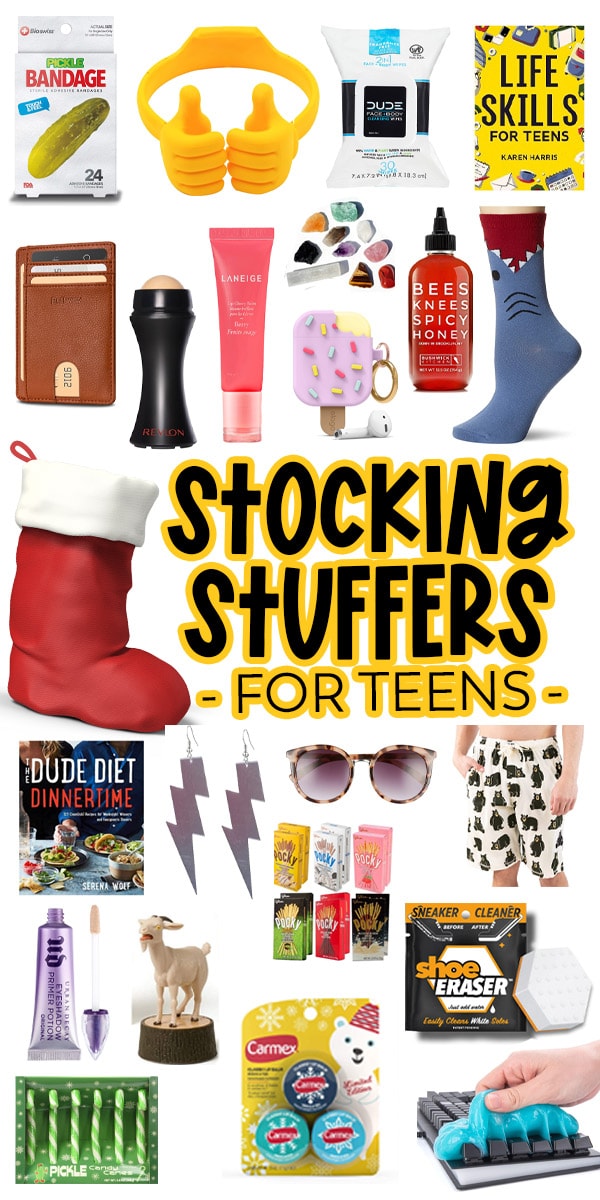 Pin this recipe for later!
Great Stocking Stuffers for Teens
The stockings were hung by the chimney with care, in hopes that Santa would leave sweet treasures in there! Choosing Christmas stocking stuffers for teens in my family is one of my favorite things to do all year. These small and simple gifts can be the best things about the holidays!
I spend lots of time thinking about each person and coming up with stocking stuffer ideas that fit their personality; from my gadget-loving husband to my video game-obsessed teen son to my glitter-obsessed tween daughter, I get to think about the very things I love about their personalities and find little trinkets they will treasure.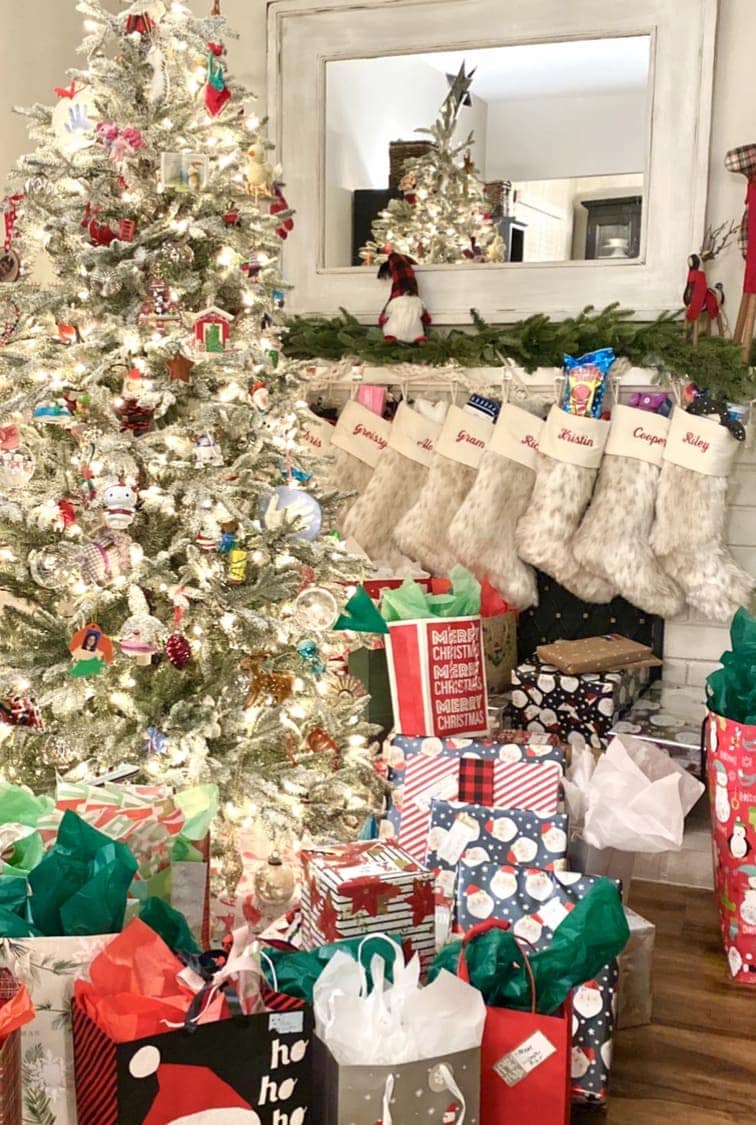 As you can see, we take out stockings very seriously around here!
The teen years can be the toughest years, as teens are spending more and more time with their friends and less time communicating with their parents. Gone are the days of mile-long lists and bouncy visits to Santa's house. Gone are the days when wrapping up a tiny stuffed animal was all it took to get that crooked-toothed grin. These days they want bigger, shinier, and more connected things, and we get bouncy visits to their bedrooms with their game consoles and phones in hand.
So in preparation for this holiday season at home, I have compiled a list of teenager-approved stocking stuffer ideas for teens. There are stocking stuffers for teen boys and stocking stuffer ideas for teen girls, all of which have been approved by my own angsty teens. I guarantee you will find something on this list to please yours, too!
Expert Tips for Stuffing Stockings
Try to keep to a budget – it's easy to go overboard filling stockings.
Collect small trinkets year round. I have a big box where I toss makeup samples and other things that I get for free or cheap.
Splurge on a few things, but mostly keep items to under $5.
Keep the size of your stockings in mind. I've purchased things that I thought would fit and then actually didn't. Keep a stocking in that box so you can see if things will fit.
As you collect them, store items for each recipient in separate boxes or bags. Cut tags, remove packaging, add batteries, and all other prep work before the big night. This makes things much easier on Christmas Eve!
Create traditions – my kids know there will be a chocolate Santa and a Christmas ornament in their stocking every year, and they can't wait to see what I picked out for them.
FAVORITES LISTS! Have your kids fill out a list with their favorite scents, candy, flavors, etc to help you in your quest. Our Free Printable Christmas Planner has a blank (and totally adorable) wish list, plus shopping lists galore to keep you organized.
Do You Wrap Presents in a Stocking?
You don't need to wrap anything that goes into a stocking unless you really want to. The best part is the stockings are the wrap!
We usually open our stockings last, after the gifts under the tree.
How to Use This Gift Guide
As you browse the lists for teenage boys and girls, click the links to view details about the items, including options and pricing. These are affiliate links and I may earn a small commission when you click on the links or make purchases, at no additional cost to you.
Please note, while we do our best to ensure the availability of the products we share, some items may become unavailable or sell out.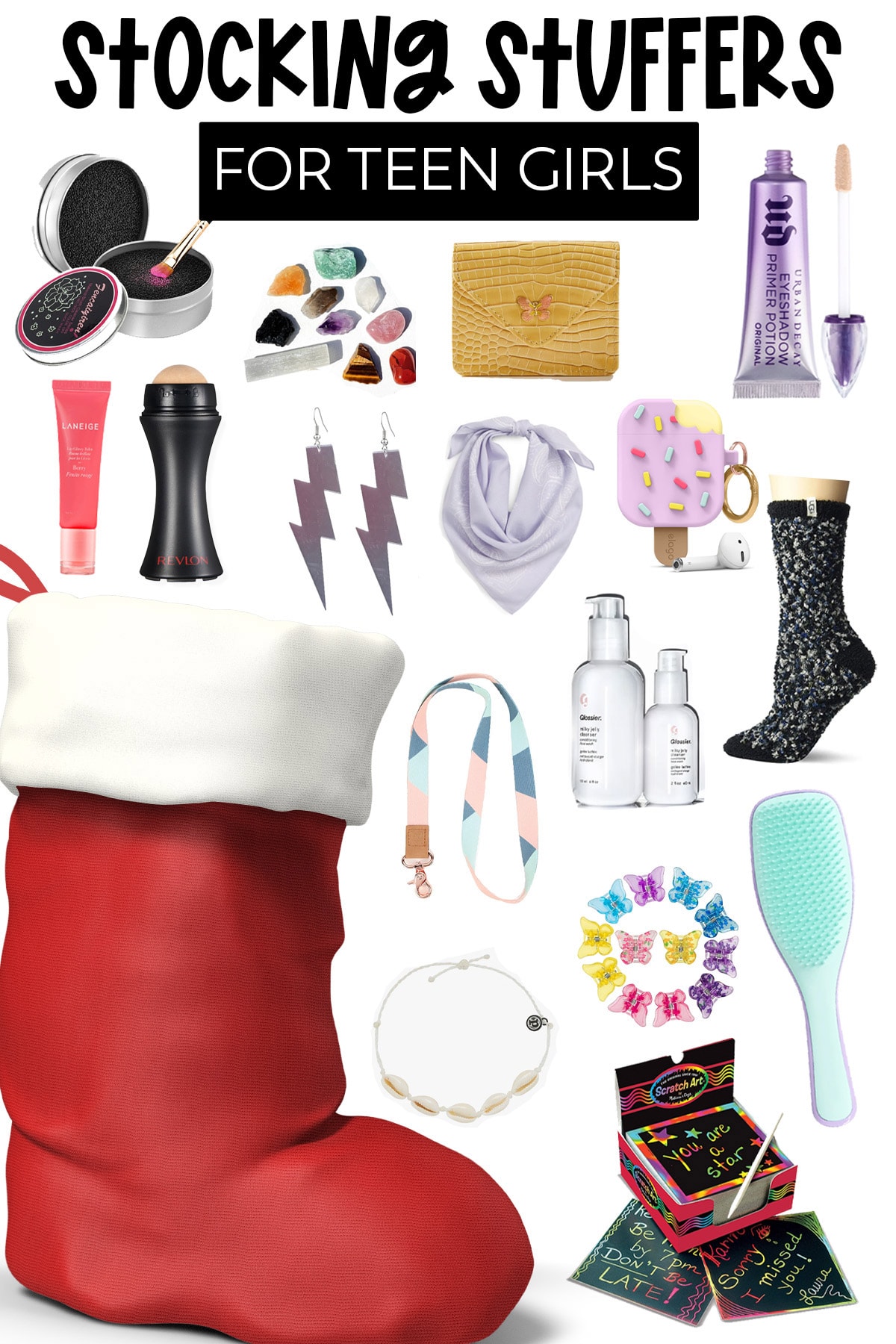 Stocking Stuffer Ideas for Teen Girls
FREE PRINTABLE
CHRISTMAS PLANNER!
Stay organized this holiday! Daily and weekly planners, budget and gift trackers, menu planning and so much more.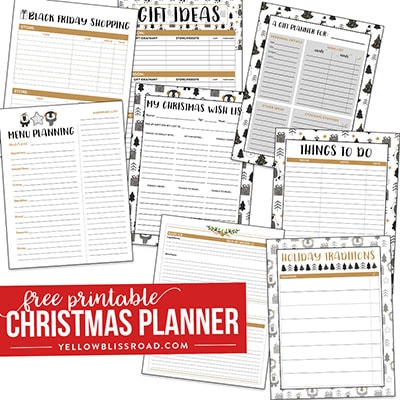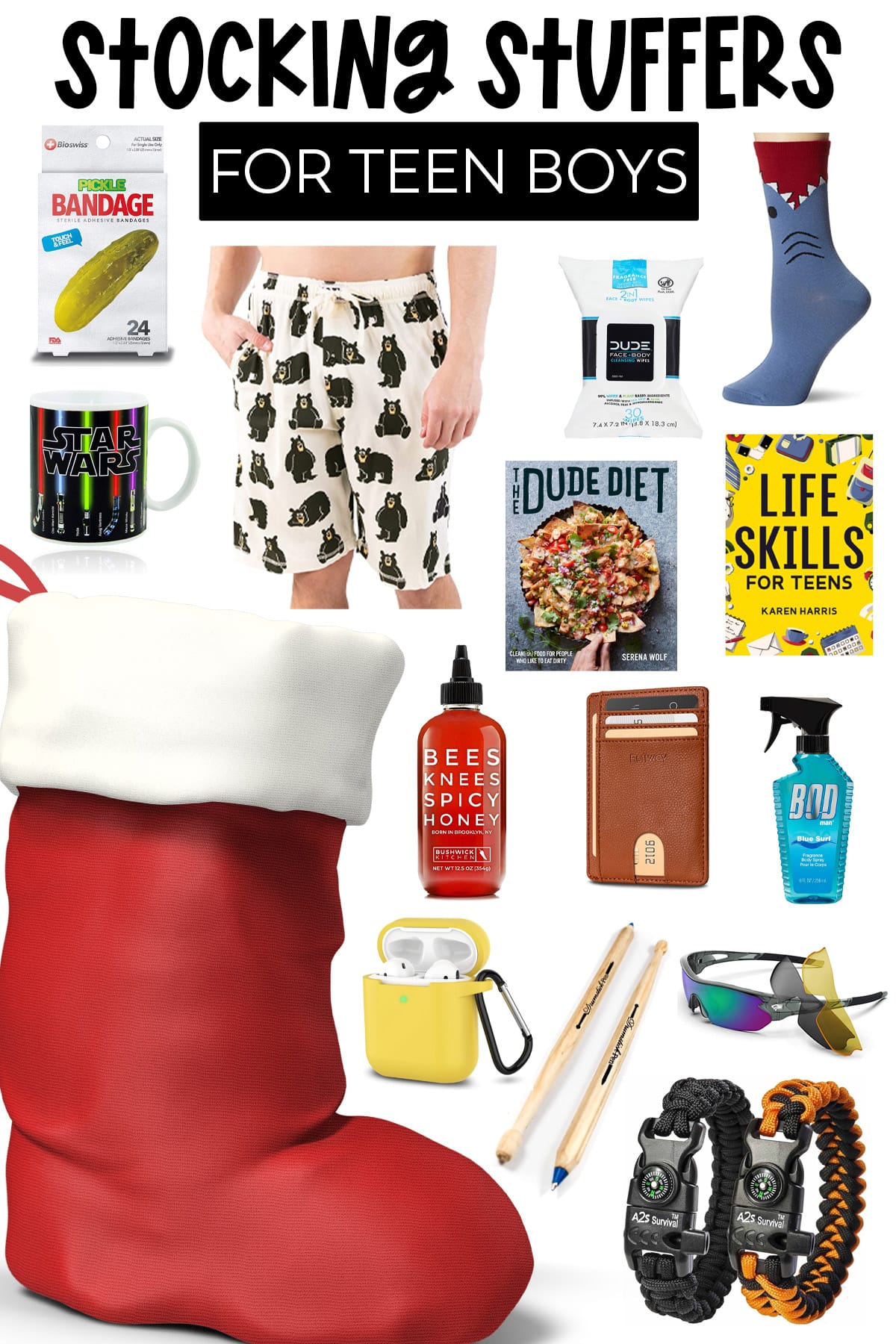 Stocking Stuffers for Teen Boys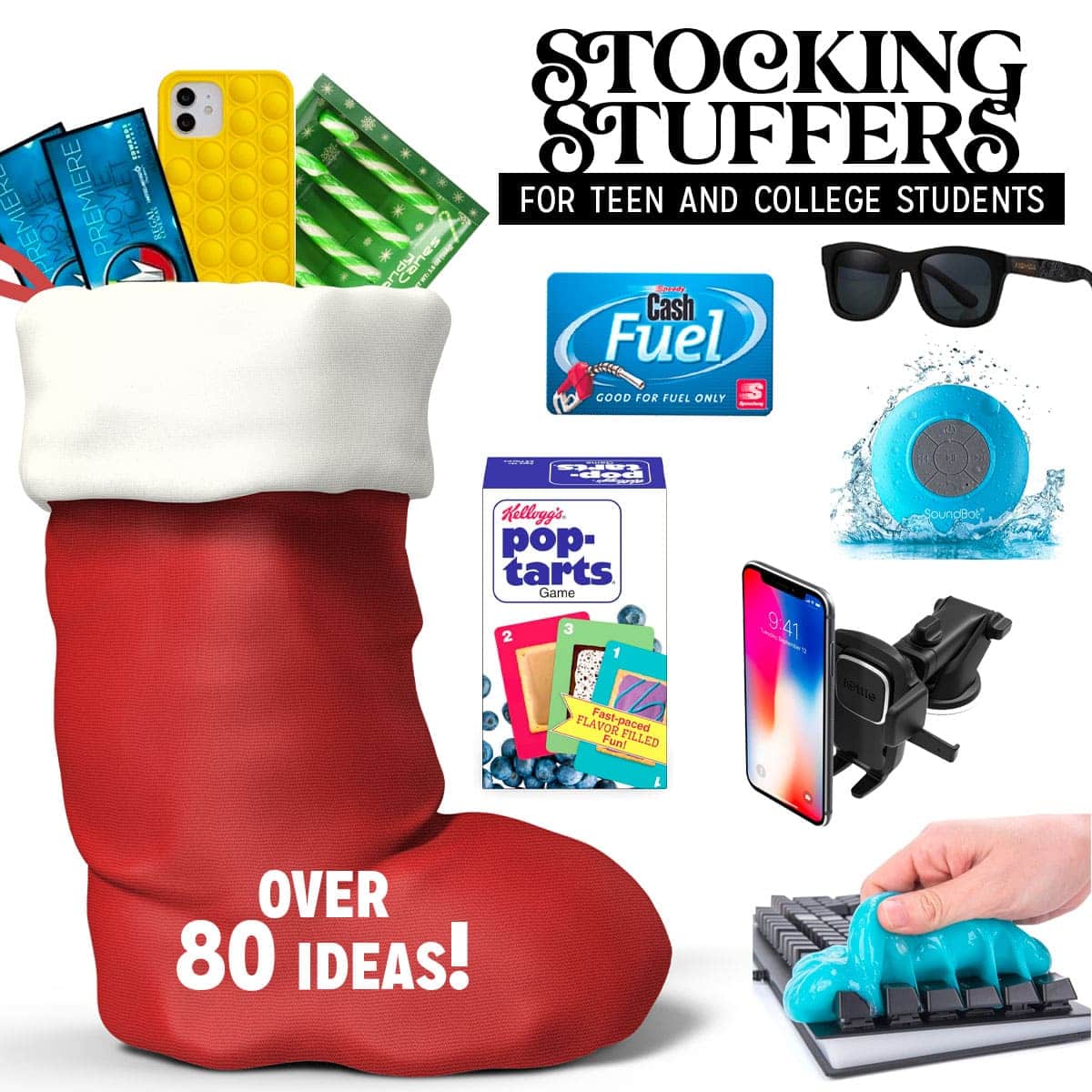 More Teen Stocking Stuffer Ideas
These are perfect filler items and toys to add to your teen's Christmas stocking. Take that wish list with you when you shop so you know their color, flavor, or scent de jour!
There are a lot of links, and then just a long list of non-specific suggestions. That's when that favorites list will come in handy!
Toaster Bags (Make grilled cheese in the toaster!)
Chocolate Santas
Christmas tree ornament
Washi tape
Stickers
Lipgloss/lipstick
Makeup
Body wash
Lotion
Nail polish
Keychain
Perfume/Body spray
Hair Brush/comb
Small gift sets

Toothbrush

Hair ties
Sunglasses
Wallet
Pocket Journal

Headband

Bobby pins
Hair clips
Inexpensive jewelry
Candy
Nuts/Snacks
Gum
Small notepad
Pens
Markers
Gloves
Beanie
Handheld games
Buttons
Playing cards
Phone Charger
Popsocket
Polaroid camera film
Phone case
Apple Music Subscription
Gift Cards
Gas card
Cash
Gifts for Everyone on Your List
Be sure to stop by and check out all of our ALL NEW 2022 Holiday Gift Guide and Stocking Stuffer Ideas for Kids! We have extensive gift lists with hundreds of ideas to fit every personality and every budget.
Be sure to check out our holiday recipes, too: