75 Stocking Stuffers for Teens (Teen Stocking Stuffers)
I'm sharing my tips and ideas for stuffing your teen's stockings with budget friendly, unique and practical goodies that they will love! There are over 70 stocking stuffer ideas for teen boys and girls on this list – small gifts and treasures that will be just as memorable and meaningful as what's under the tree.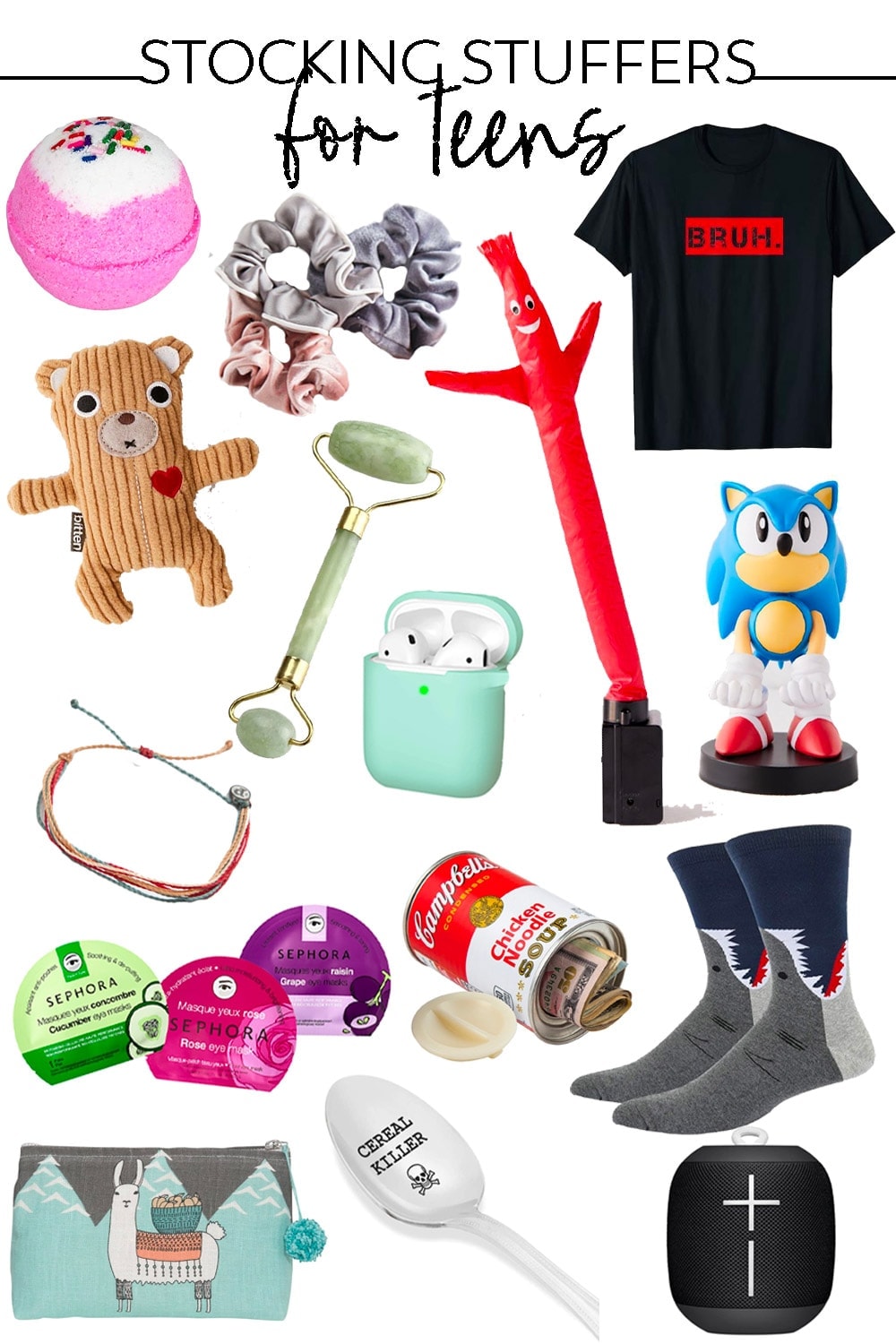 The stockings were hung by the chimney with care, in hopes that Santa would leave sweet treasures in there! Choosing stocking stuffers for my family is one of my favorite things to do all year. These small and simple gifts can be the best things about the holidays! I spend lots of time thinking about each person and coming up with stocking stuffer ideas that fit their personality; from my gadget loving husband to my video game obsessed teen son to my glitter obsessed tween daughter, I get to think about the very things I love about their personalities and find little trinkets they will treasure.
Stocking Stuffers for Teens
The teen years can be the toughest years, as teens are spending more and more time with their friends and less time communicating with their parents. Gone are the days of mile long lists and bouncy visits to Santa's house. Gone are the days where wrapping up a tiny stuffed animal was all it took to get that crooked toothed grin. These days they want bigger, shinier, and more connected things, and we get bouncy visits to their bedrooms with their game consoles and phones in hand.
So in preparation for this holiday season at home, I have compiled a list of teenager approved stocking stuffer ideas for teens. There are stocking stuffers for teen boys and stocking stuffer ideas for teen girls, all of which have been approved by my own angsty teens. I guarantee you will find something on this list to please yours, too!
Expert tip – Have your kids fill out a list with their favorite scents, candy, flavors, etc to help you in your quest. Our Free Printable Christmas Planner has a blank (and totally adorable) wish list, plus shopping lists galore to keep you organized.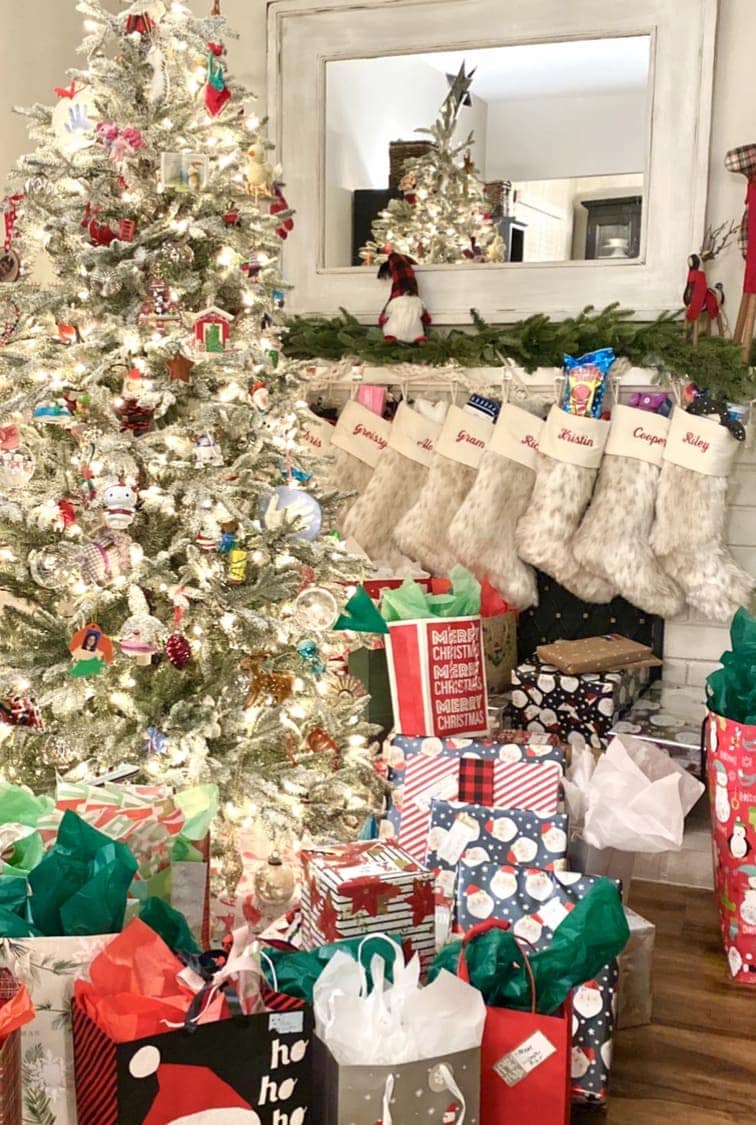 Do You Wrap Presents in a Stocking?
You don't need to wrap anything that goes into a stocking, unless you really want to. The best part is the stockings are the wrap!
We open our stockings last, after the gifts under the tree. 
Stocking Stuffer Ideas for Teen Girls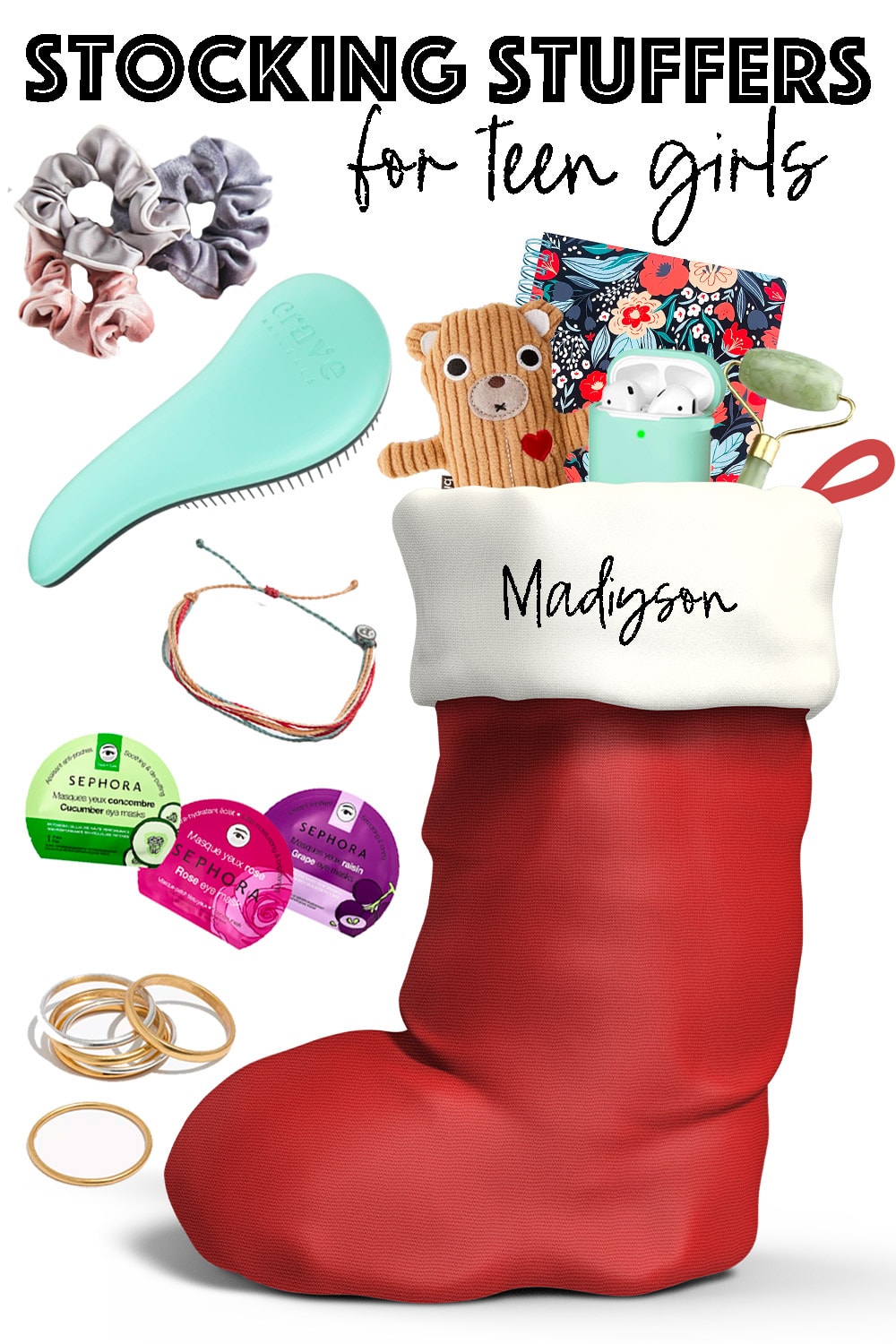 Stocking Stuffers for Teen Boys
More Teen Stocking Stuffer Ideas
These are perfect filler items to add to your teen's stocking this Christmas. Take that wish list with you when you shop so you know their color, flavor or scent de jour!
Chocolate Santas

Christmas tree ornament

Washi tape

Stickers

Lipgloss/lipstick

Makeup

Body wash

Lotion

Nail polish

Keychain

Perfume/Body spray

Hair brush/comb

Toothbrush

Hair ties

Sunglasses

Headband

Bobby pins

Hair clips

Inexpensive jewelry

Candy

Nuts/Snacks

Gum

Small notepad

Pens

Markers

Gloves

Beanie

Handheld games

Buttons

Playing cards

Phone Charger

Polaroid camera film

Phone case

Gift cards

Cash

Gifts for Everyone on Your List
Be sure to stop by and check out all of our 2020 Holiday Gift Guide and Stocking Stuffer Ideas for Kids! We have gifts to fit every personality and every budget.
Be sure to check out our holiday recipes, too: