Do you do stockings with your family? I always had a stocking as a child, and even as an adult, my parents still filled one for me. Filling stockings for my kids is arguably one of my favorite parts of Christmas. I love choosing small trinkets as stocking stuffer ideas for my kids that I know they will love and that fit their little personalities, choosing their special ornament for the tree each year, and picking out some of their favorite treats to include. The joy on their faces when pulling out those little treats and trinkets is better then seeing what Santa left under the tree.
65 Easy Stocking Stuffer Ideas for Kids
Sometimes choosing stocking stuffers can be the toughest part, though! There are a lot of things to choose from, and sometimes it's hard to narrow it down. So I've put together a list of some of my favorite things to include in my kids stockings each year. I often find a lot of these items in the dollar bin at Target (I start collecting them around September). Whatever doesn't fit in their stocking becomes small prizes I can use throughout the year for good behavior, grades, etc.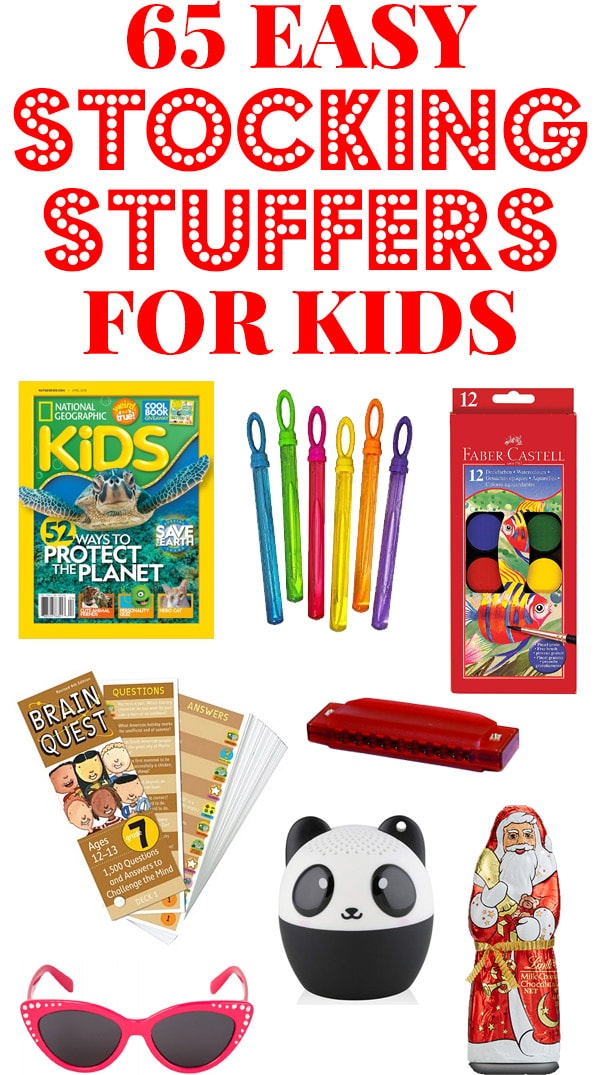 5 Food/Treat Stocking Stuffers Ideas
5 Art Supply Stocking Stuffers
5 Craft Stocking Stuffers
 5 Holiday Stocking Stuffers Ideas
5 Activity  Stocking Stuffers
5 Stocking Stuffers to Wear
5 Toy Stocking Stuffers Ideas
5 Educational Stocking Stuffers
5 Just for Fun Stocking Stuffers Ideas
Miscellaneous Stocking Stuffers
CHECK THESE POSTS FOR MORE CHRISTMAS GIFT IDEAS:
Check one more thing off your list with these simple and easy Stocking Stuffer Ideas for kids! So many stocking stuffers to choose from!