Learn my best tips for collecting great stocking stuffers for kids and fill your kids' stockings with fun, unique and budget friendly items. There are over 100 kids stocking stuffers on this list – small gifts and treasures that will be just as memorable and meaningful as the big stuff.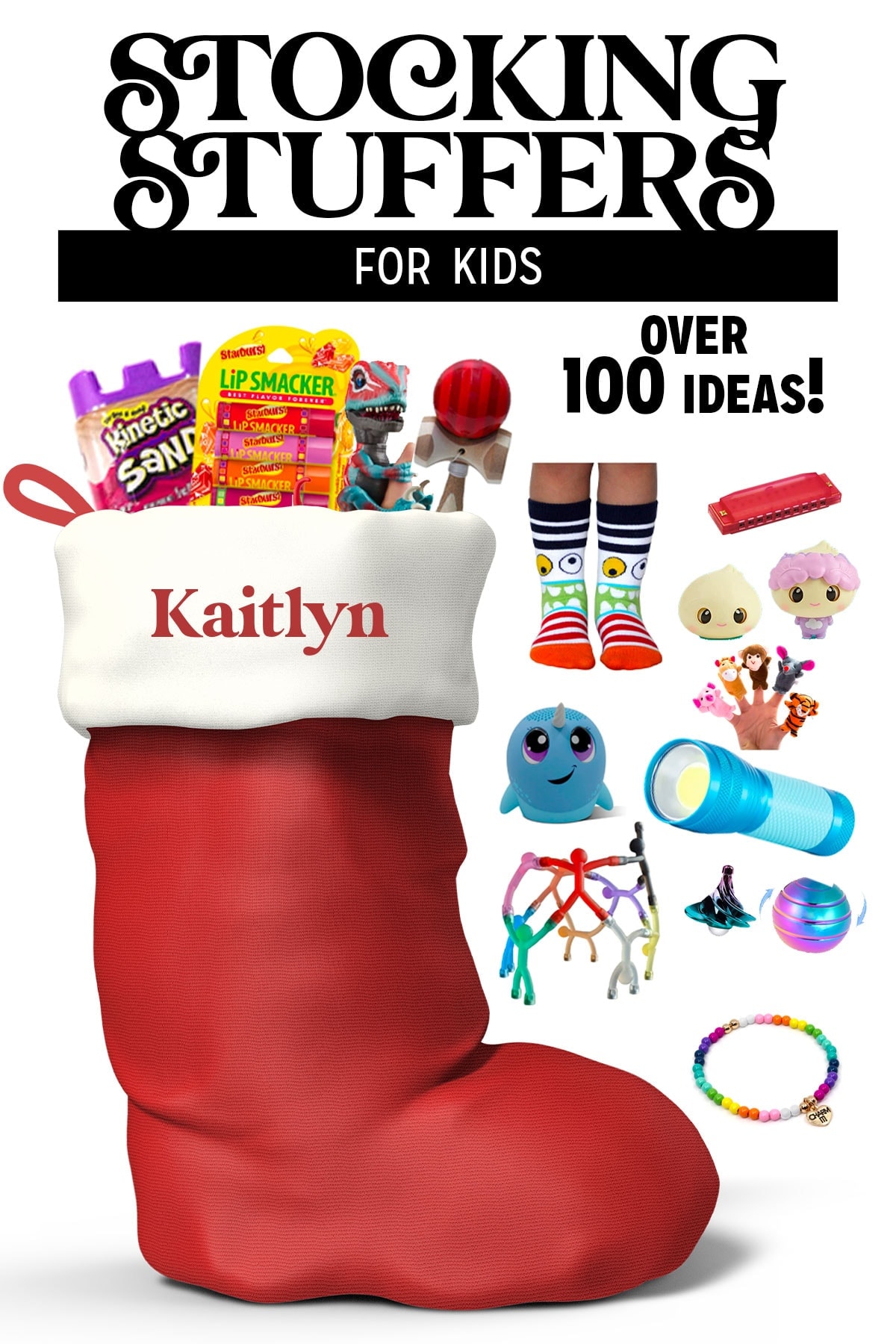 Check one more thing off your list with these simple and easy Kids Stocking Stuffer Ideas! So many stocking fillers to choose from! Do you have any ideas you'd add to the list? Leave me a comment below!
Stocking Stuffer Ideas for Kids
Are you tired of spending money on kids stocking stuffers just to fill up your kids' sock with junk? I have become an expert stocking stuffer over the last 20 years and I'm here to share my greatest tips, tricks and go-to gifts!
I'm talking practical, useful and meaningful items that won't just be used once and buried in the sock drawer.
Finding the perfect stocking stuffers for kids can be challenging. I mean let's face it – some people don't fill stockings because it's hard to come up with a bunch more ideas and money for little gifts when the big ones are already under the tree.
And then there's the issue with making everything fit in that little furry sock.
What Do You Fill in Kids Stockings?
A Christmas stocking is an empty sock that's hung on your fireplace mantel, wall or door that is left out in anticipation of Santa's arrival. When Santa Claus arrives on Christmas Eve, he fills it with small toys, candy, fruits, coins, or other small gifts.
Filling stockings for my kids is arguably one of my favorite parts of Christmas. I love coming up with ideas for kids stocking fillers that I know they will love and that fit their personalities, choosing their special ornament for the tree each year, and picking out some of their favorite treats to include. The joy on their faces when pulling out those little treats and trinkets is better than seeing what Santa left under the tree on Christmas morning.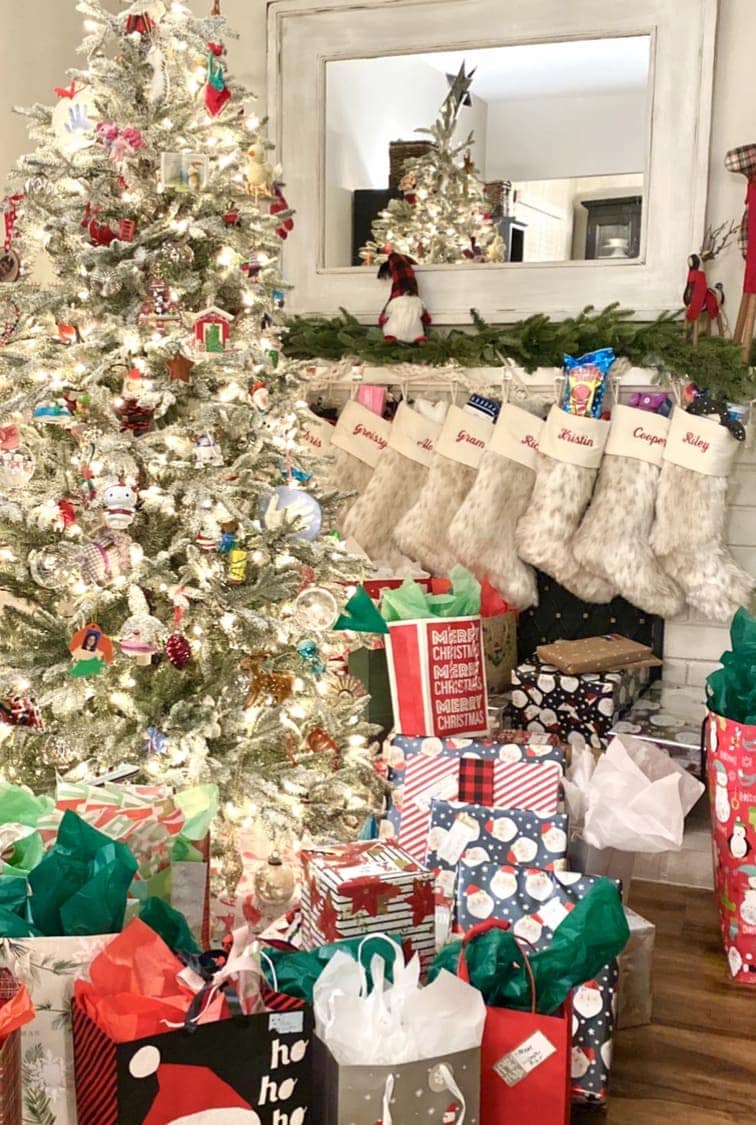 Expert Tips for Choosing the Best Stocking Stuffers for kids
Budget. You don't want to break the bank on stocking stuffers so setting a budget will help keep you on track. Use our free printable Christmas Planner to get started.
Make a list. I know this was a big tip in my 2021 Holiday Gift Guide, but it's not any less true now.
Pay attention. What's that? Listen to your kids! Anything they mention could be something you can jot down as a stocking stuffer idea. Just things that kids talk about in passing can be super meaningful when it comes to stuffing that sock.
Collect things year round. One of my simple pleasures is getting a quarterly subscription box from Fab Fit Fun. It's got all kinds of goodies for hair and makeup, clothes and other goodies as well as opportunities to score product at 70% off several times a year. What I can't use goes into the Christmas box. Same for makeup samples I get when buying my beauty supplies. These work really well for my older girls. Keep your eyes peeled for little things you see at the store, and things your kids are playing with at the checkout aisle.
Check the dollar bins. Lots of big box stores like Target, Walmart and even Michaels have budget aisles. The Dollar Tree is a great place to look, too.
Throw in some candy as filler. Everyone loves candy. My grandma always used to put an orange in our stockings for tradition. For us it's chocolate santas.
Whatever doesn't fit in their stocking can be saved as small prizes to use throughout the year for good behavior, grades, etc.
Add sample or mini sizes of things like body wash and soap, things they actually need. Kids love cute little mini versions of their favorite things.
Don't wait until midnight Christmas Eve to see if it all fits! Do a dry run a week or a few days before.
How to Shop This List
Throughout this comprehensive list, you'll find over 100 ideas! Some include links for specific items so you can get more details, including options and pricing. The other half of the list is simply ideas you can look for at your local retail store.
Please note, while we do our best to ensure availability of the products we share, some items may become unavailable or sell out. So, shop early!
101 Kids Stocking Fillers
I've pulled together this amazing list based on items that have been a hit in my kids' stockings over the years, and things I wish I'd thought of. There are a lot of links to specific items, and also just a bunch of ideas that you can find at just about any big box store. Have fun shopping!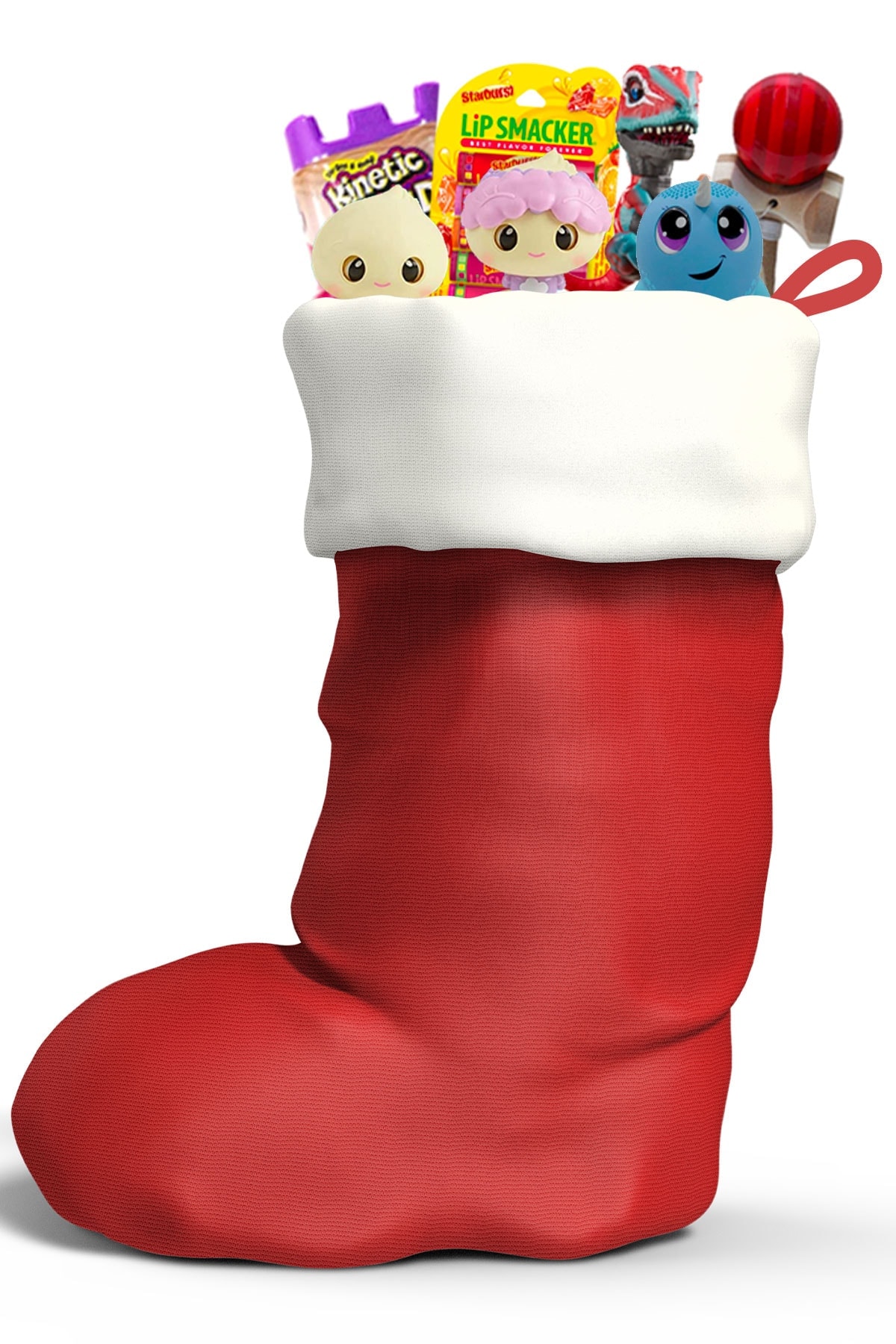 Their favorite snack in mini size, like Goldfish, Cookies, Nuts and Fruit snacks

Their favorite candy, full size or mini

Gum or mints

Holiday themed treats

Beads

A new ornament for the tree

Novelty games

Candy Filled Candy Cane shapes

Cheap holiday toys (tops, ball mazes, etc.)

Socks

Sunglasses

Gloves

Scarf

Hair ties, scrunchies and clips

T-shirt with favorite character

Small packs of Legos

Bouncy Balls

Jumprope

Whistles

Bubbles

Fingerlings

Small Books

Flash cards

Magazine subscription (We love National Geographic Kids)

Calculator

Trivia games (Like

BrainQuest

)

Wendy's Frosty gift certificates (supports the

Dave Thomas Adoption Foundation

)

Stickers

Tattoos

Cash/Coins

Movie Tickets

Video games

Wallet

Silly Bandz

Playdough (get a recipe to make your own

here

)

Silly Putty

Silly String

Rubber duckies

Mini stuffed animals

Nail polish

Coupon book with dates with mom, etc.

Domino

Band-aids

Mini plastic animals

Post-it notes

Washi tape

Brush or comb

Magic tricks

Crazy socks

Collections (rocks, coins, etc)

Yummy smelling soap/body wash

Lotion

Character Underwear (little kids love this!)
Gifts for Everyone on Your List
Be sure to stop by and check out all of our ALL NEW 2021 Holiday Gift Guide and Stocking Stuffer Ideas for Teens! We have extensive gift lists with hundreds of ideas to fit every personality and every budget.
Not sure what to get? Gift cards to their favorite store, fast food or ice cream always make a great gift, no matter their age.
Be sure to check out our holiday recipes, too:
We've also got tons of free printables for Christmas: