It's finished! It's finished! I can't believe it's finally finished!! Remember eight weeks ago when I shared my plans for remodeling my kitchen?
Over the last eight weeks I took my completely outdated 1950s kitchen from this:
Original kitchen: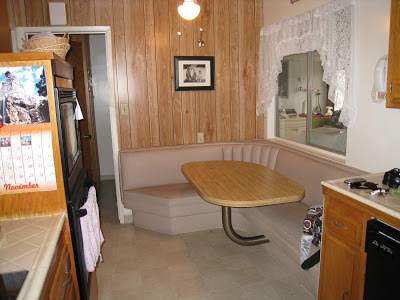 After removing the built in bench and table: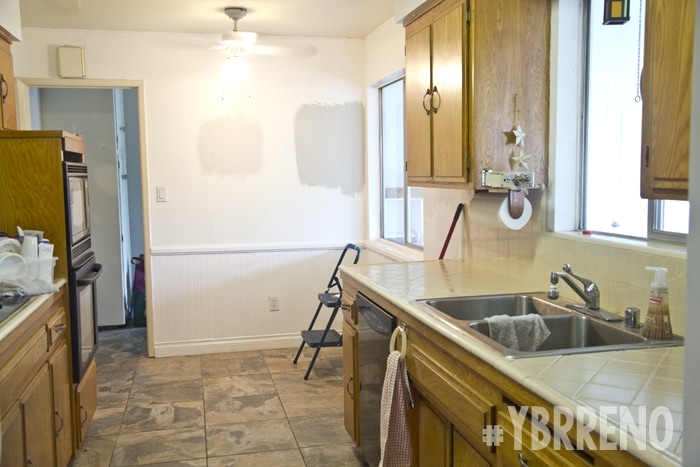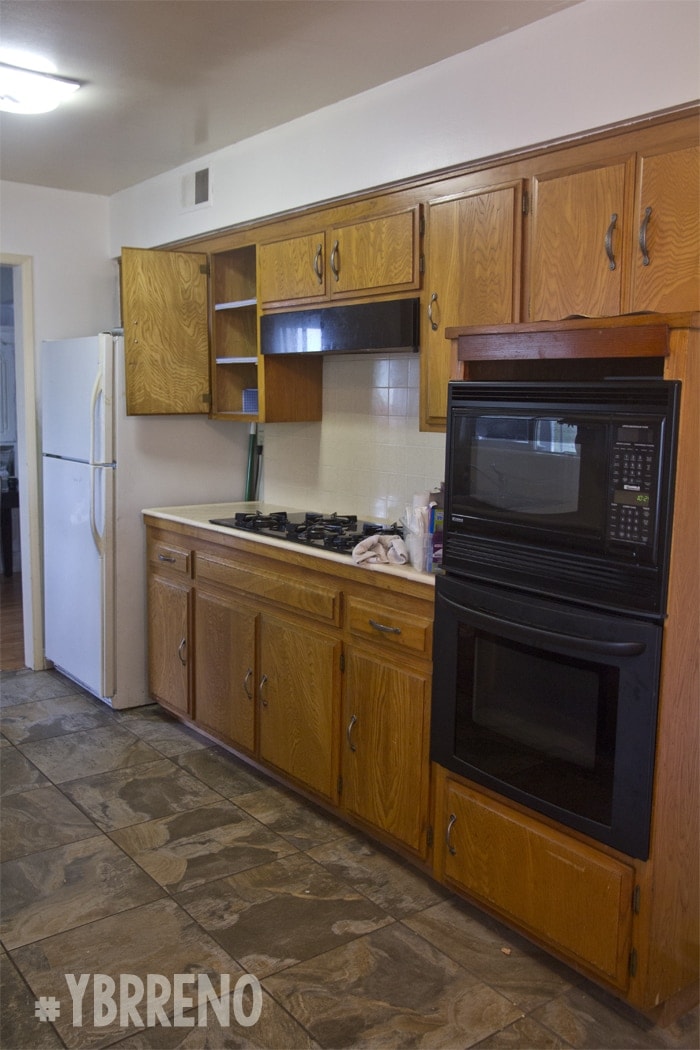 To THIS: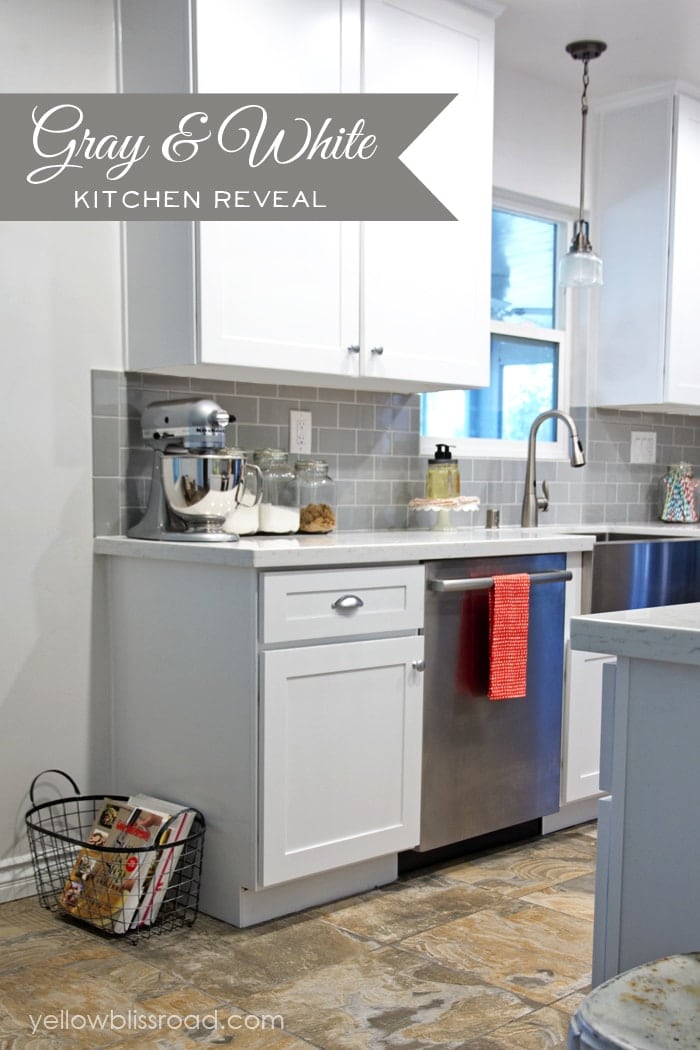 To say I am ecstatic with the outcome would be a gross understatement. My kids keep asking me, "Mommy do you like your new kitchen?" I am thrilled. It came out just like I pictured – only better. This is definitely by far the biggest project I have ever taken on, designed and budgeted for and I'll admit it was exhausting and it was scary. I opted to work with a contractor since there was no way I could DIY this, and quite frankly, I just didn't want to. I wanted it done right!
It took a total of eight weeks to be finished, but while that was incredibly hard, it was oh so worth it. I'll quit yacking now and let you enjoy the photos. There are a lot. I'll share a source list at the bottom of the post.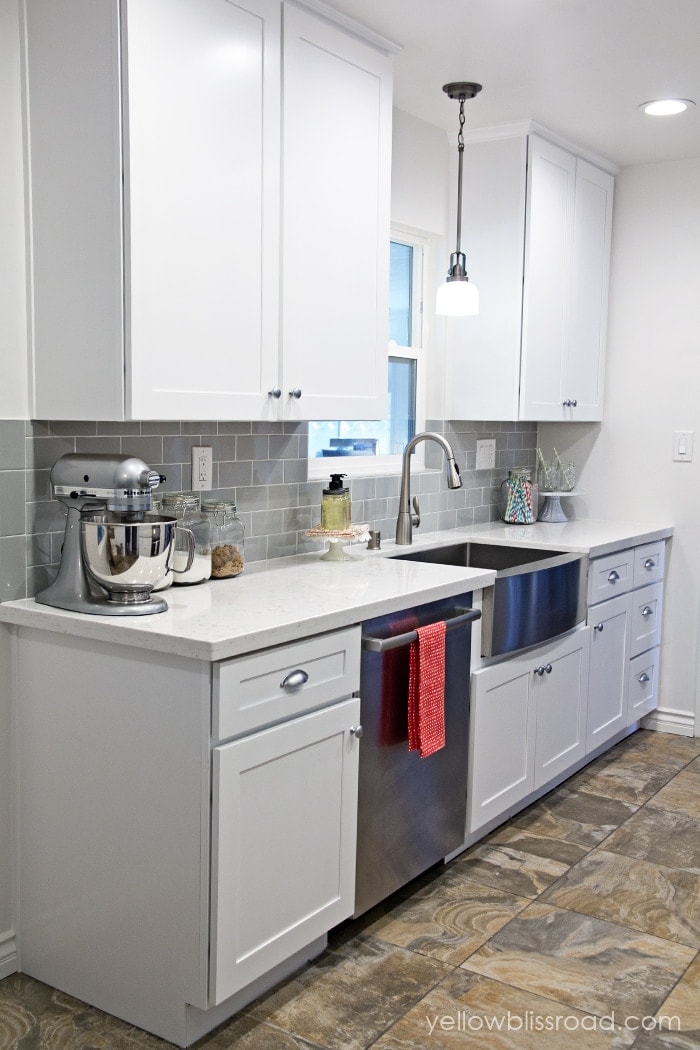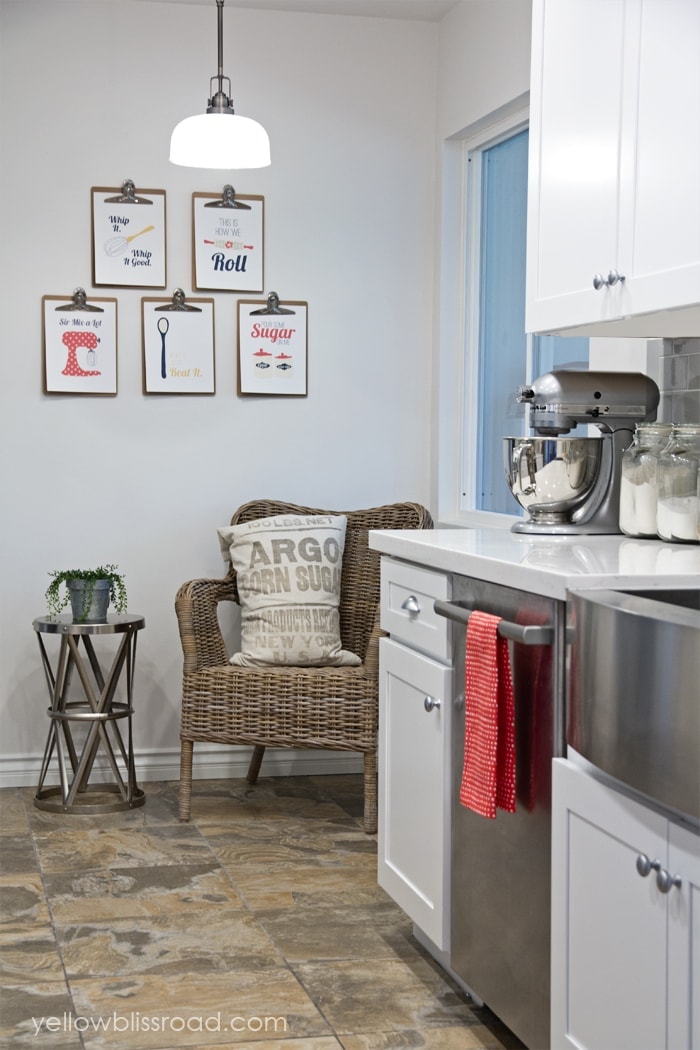 The printables on the wall were created by me. They will be available to download in a separate post. I opted for clipboards instead of frames because I like the flexibility it gives. I'm looking forward to changing them out for the seasons (and sharing more fun sets with you!).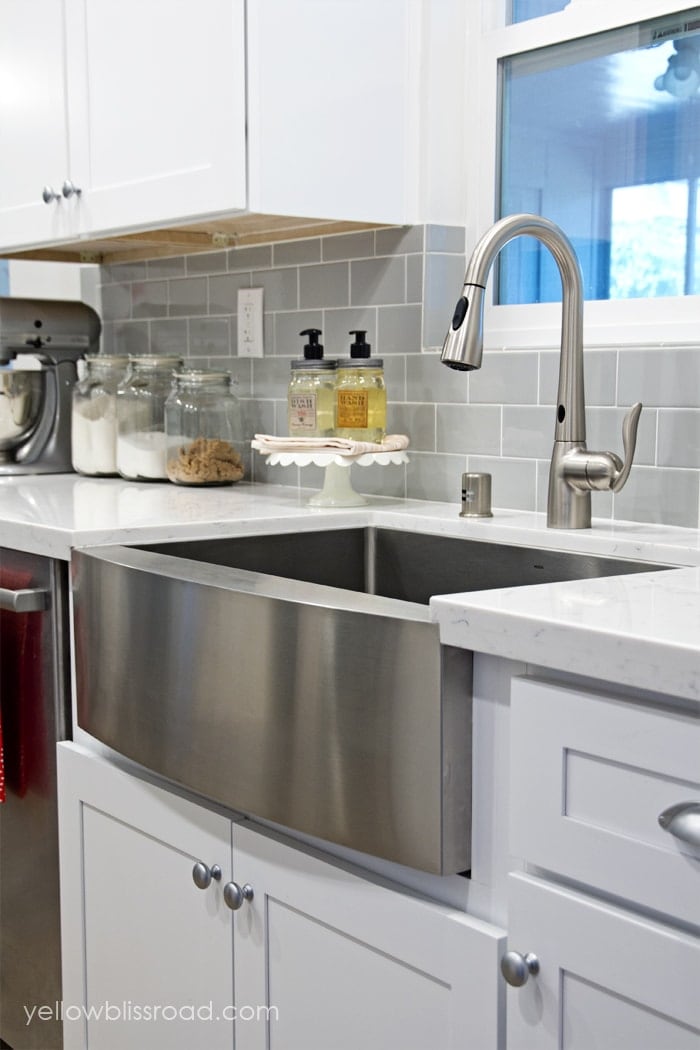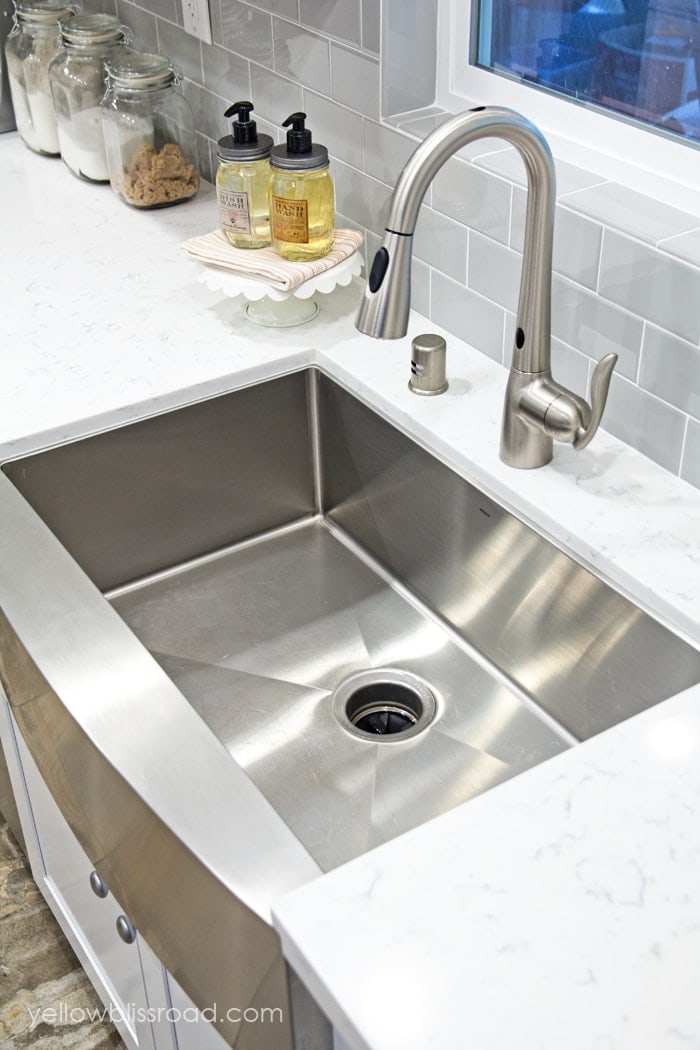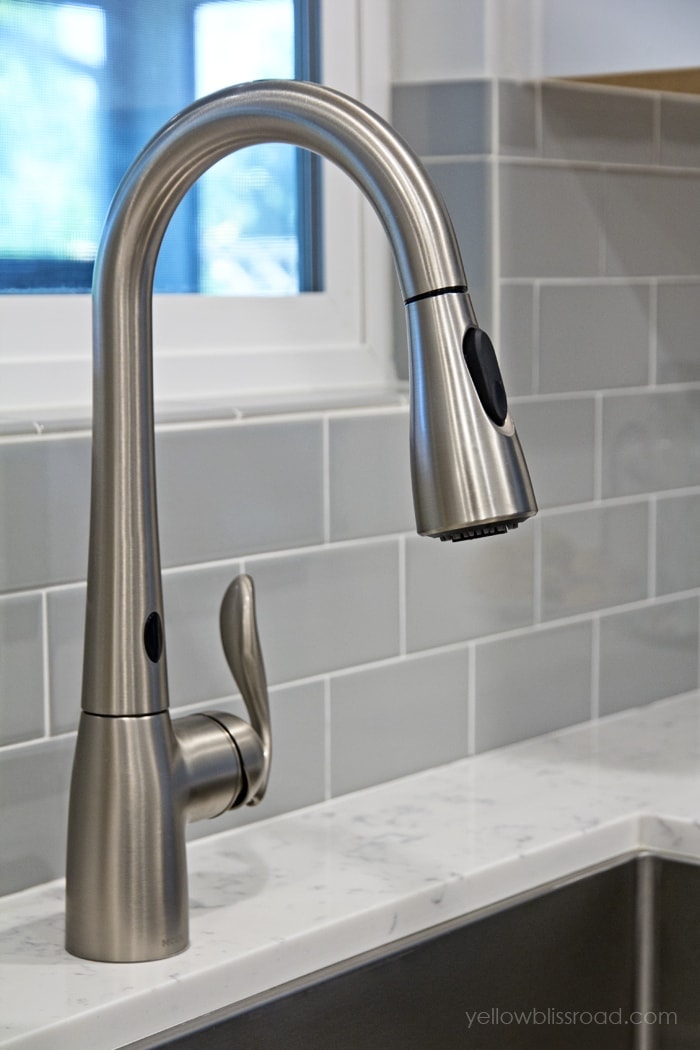 I am IN LOVE with this sink and faucet from Moen. Like, I want to sleep in this sink and take showers with this faucet. They are that awesome. The faucet is MotionSense, which means it has a motion sensor so you don't have to touch the handle. This comes in handy when your kids have super messy hands and you don't want them  touching anything. And I love the spot-resist finish!
The apron front, farm style sink has been especially handy with large cookware, and it looks beautiful.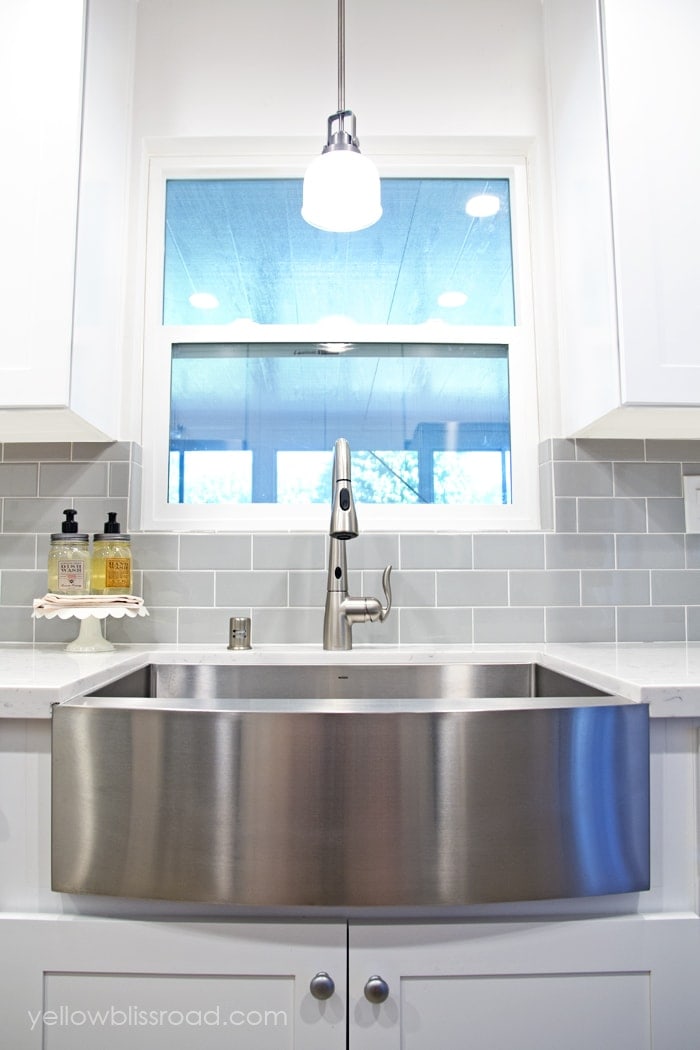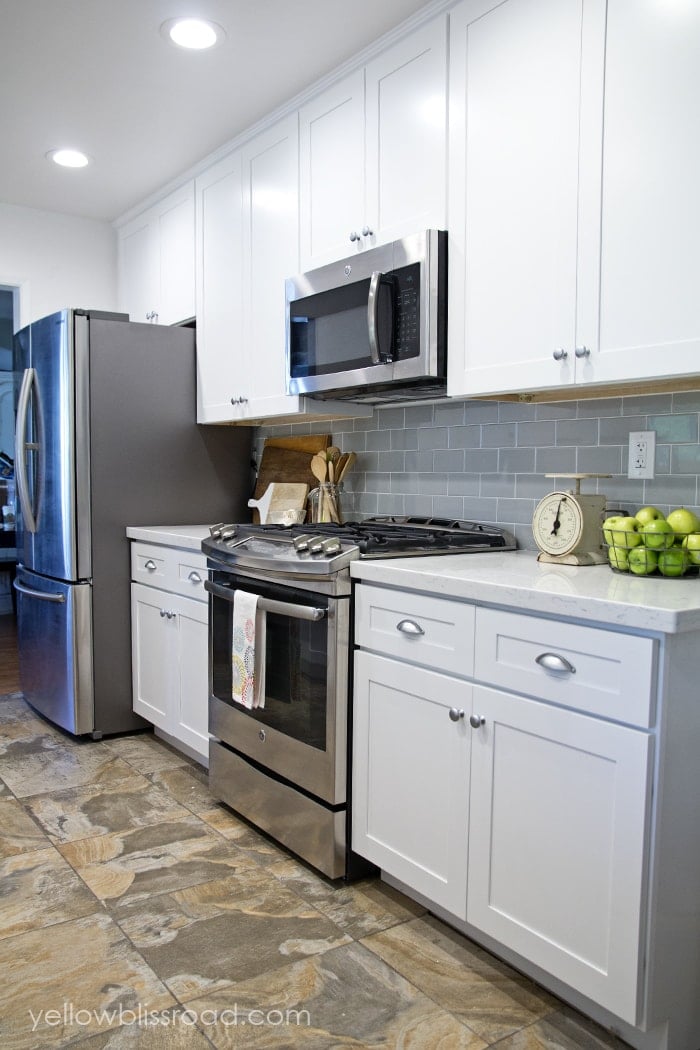 I opted to change the layout of this side of the kitchen to allow for more counter space, something my old kitchen was sorely lacking. It feels so nice to have that extra space!
Yes, I know the fridge is huge, but I don't care. I big double puffy heart love it.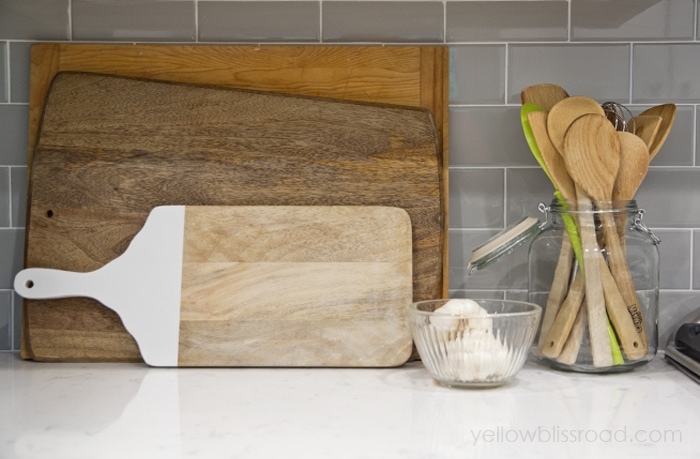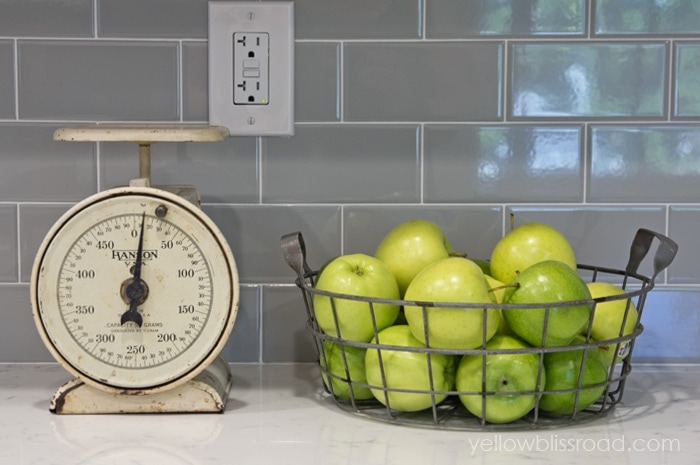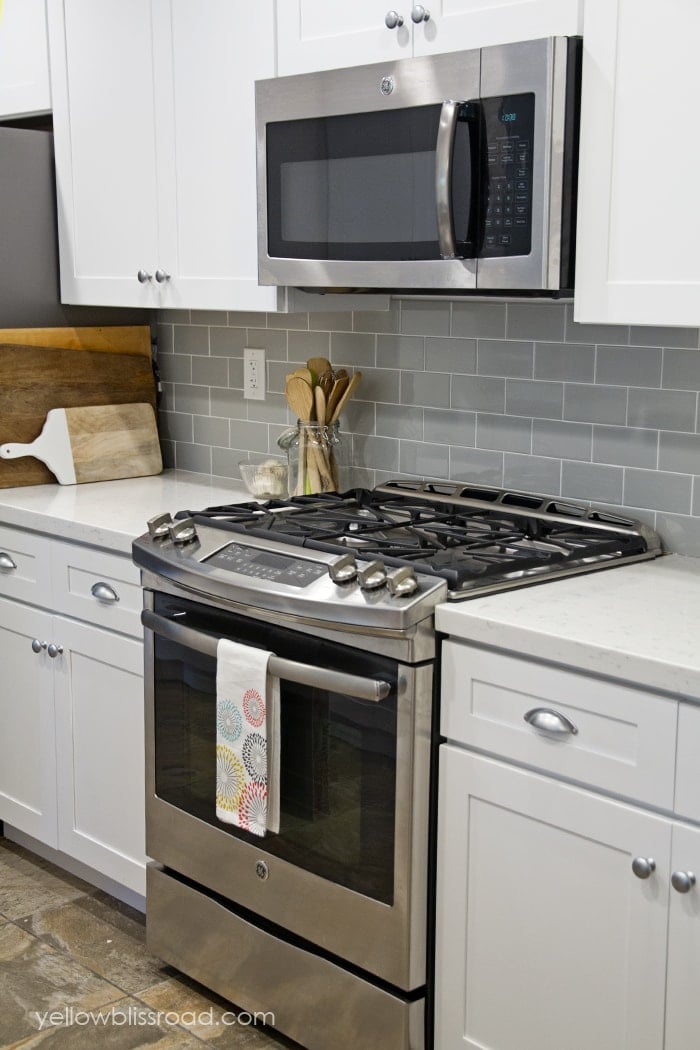 I agonized over this stove. Gas or electric? Dual Fuel? Slide in? Gosh, seriously I spent HOURS reading reviews and trying to weigh the options. I love to cook so it was really important for me to make the right choice. So far, I LOVE it!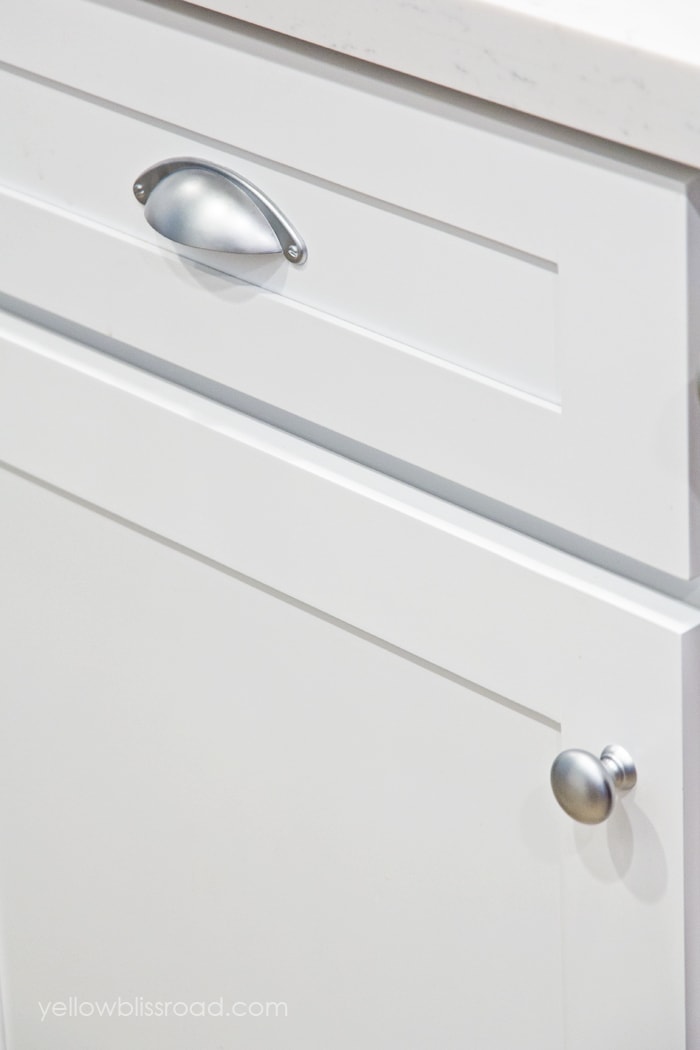 Hardware for the cabinets from D Lawless. It's an amazing, family owned company and they were fabulous to work with.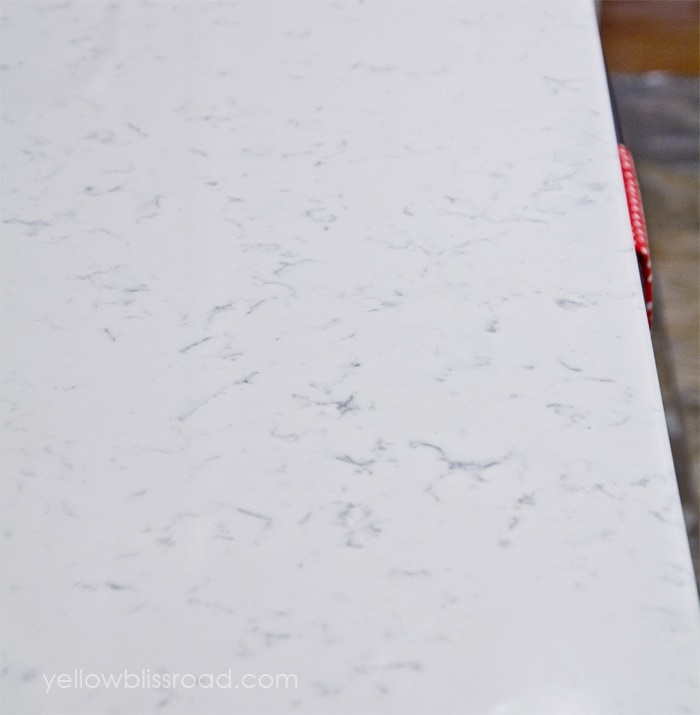 I tried to get a good photo of the countertops but the lighting is so bad in the kitchen (very little natural light) that this was the best I could do. Another decision I agonized over!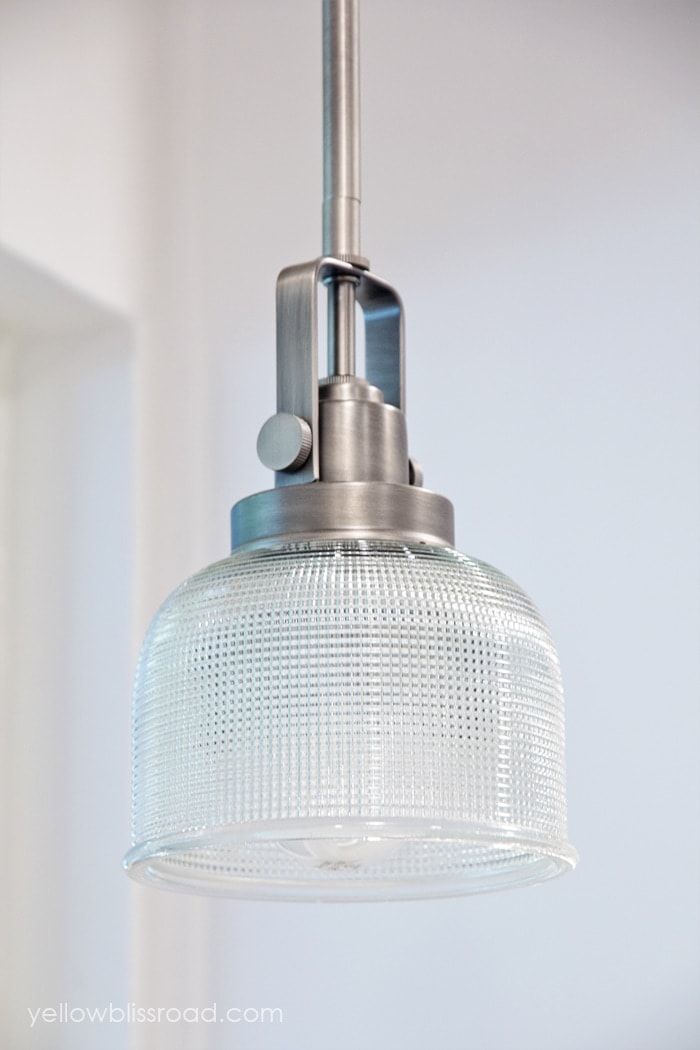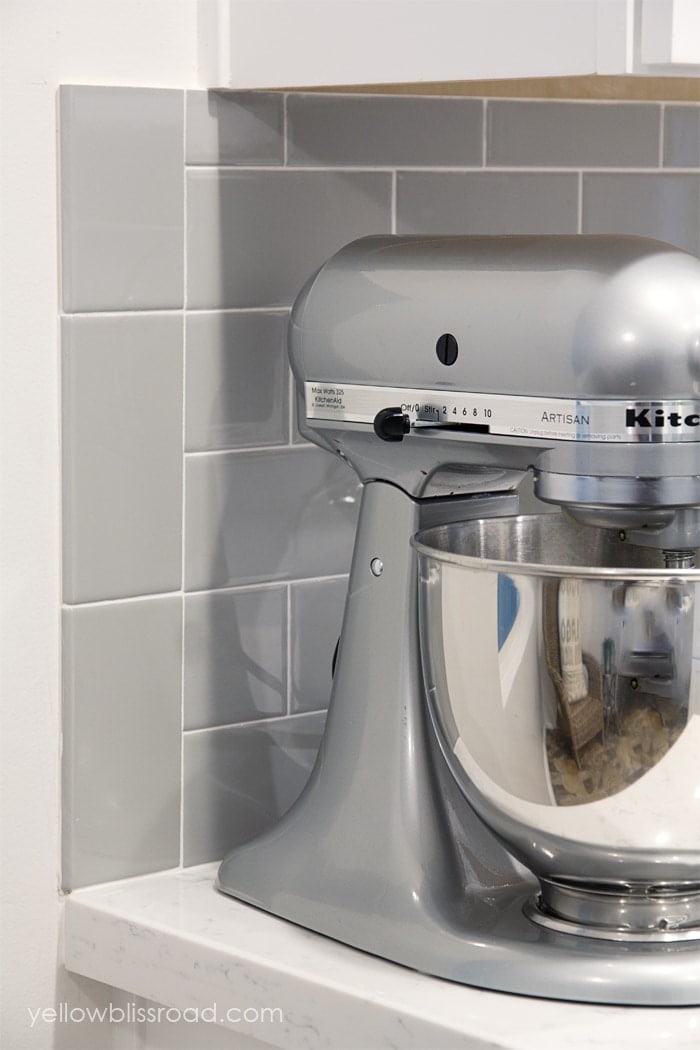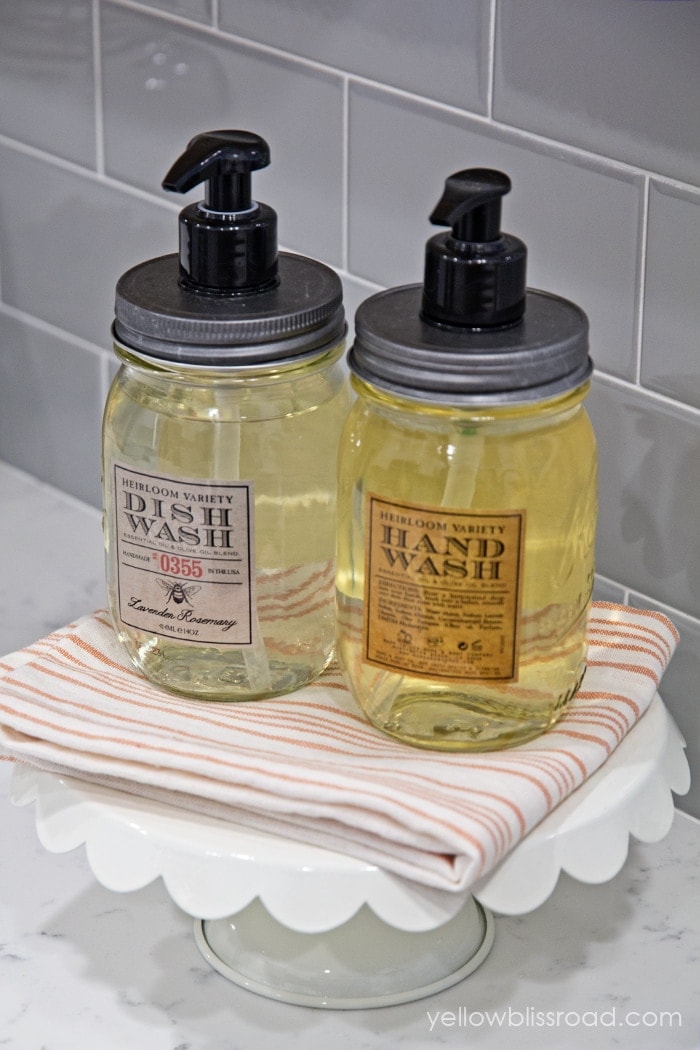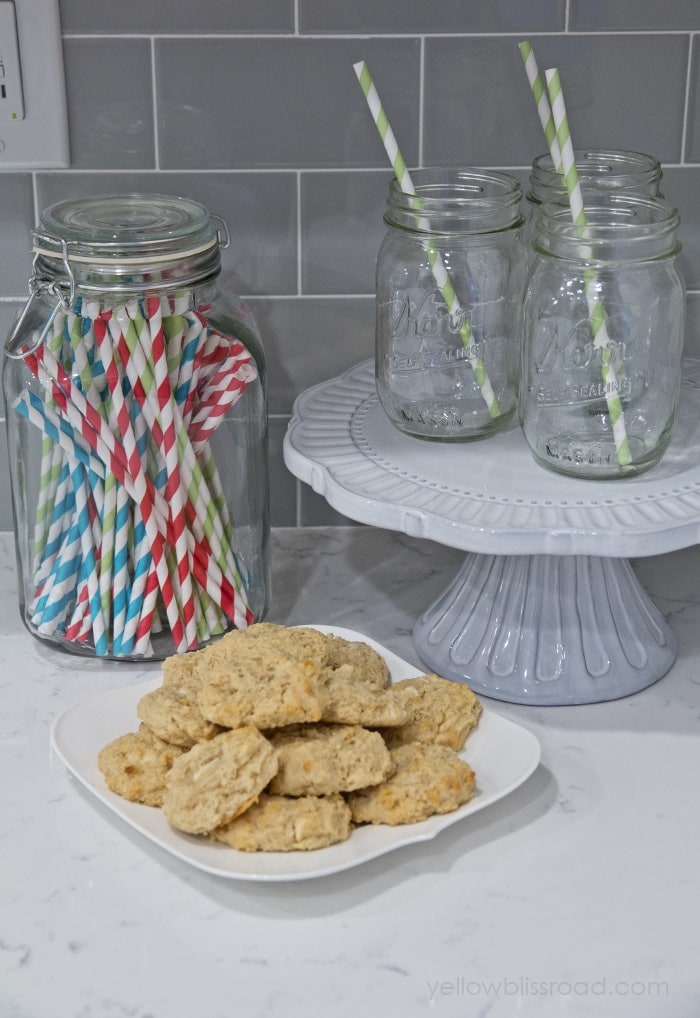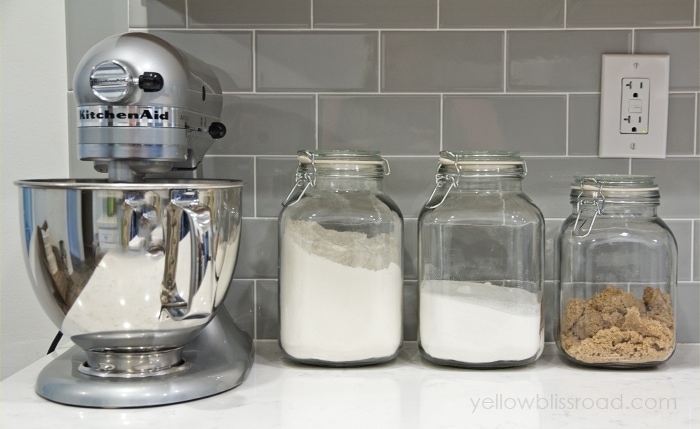 SOURCE LIST: 
Wall Paint: Provided by Sherwin-Williams Snowbound (white with a subtle hint of gray)
Trim Paint: Provided by Sherwin-Williams Extra White (straight out of the can white)
Cabinets: Koville (local)
Subway Tile: Desert Gray by Daltile
Counters: Cashmere Carrera by MSI
Cabinet Hardware: Provided by D Lawless – Knobs / Pulls
Lighting: Wayfair
Sink: Provided by Moen
Faucet: Provided by Moen
Wicker Chairs: IKEA
Jars: World Market
Cake Stands: White – World Market, Gray – no longer available
Soaps: World Market
APPLIANCES: (affiliate links)
I did extensive research on Consumer Reports and other sites when choosing my appliances, and each of them are very highly rated. They were all purchased at Best Buy, and I had a great experience there!
Dishwasher: Bosch Dishwasher
Refrigerator: Samsung French Door Refrigerator with ShowCase Fridge Door
Range: GE Gas Slide-In Convection Range
Microwave: GE Over-the-Range Microwave
I was provided some of the products as listed above. All honest opinions and text are 100% mine.
Read more about my plans for my bathroom remodels.