Hello again Yellow Bliss Road Readers! I'm Alice W. from Thoughts from Alice, and I have some easy ideas for Thanksgiving table decorating to share with you today! I have always dreamed of hosting Thanksgiving dinner outdoors, but since I live in Western New York, it is typically far too cold. This year, I decided to create a Thanksgiving themed table setting, on our back patio, to use while the weather is nice. And who knows? Maybe Thanksgiving will be an unusually warm day around here and we can enjoy it outside! These simple tablescape ideas can be done indoors or out, so I hope you find some inspiration here whether you live in a warm or cool climate.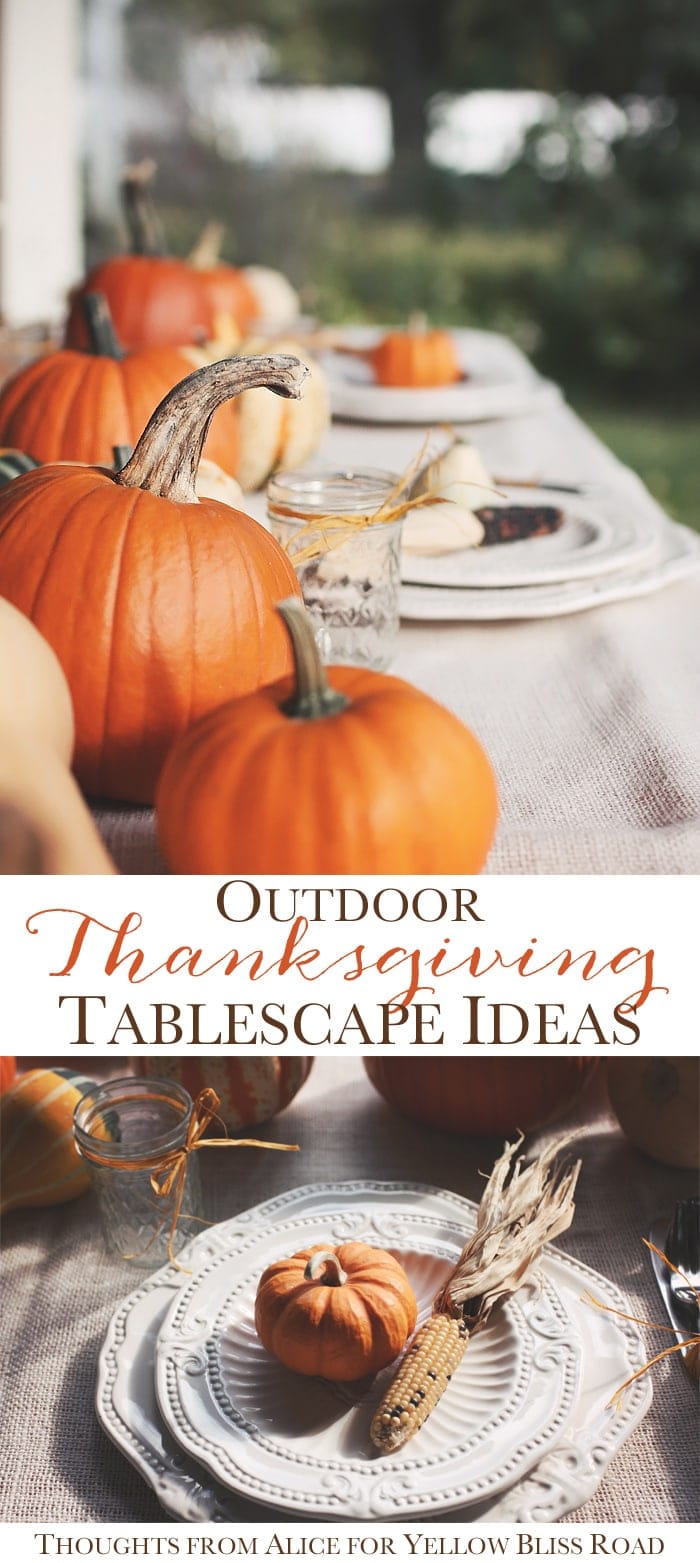 I started with a basic plastic folding table and covered it with a large piece of dark orange fabric that I purchased at a thrift store. The edges were unhemmed, but I was going for a rustic look anyways. I used white burlap fabric on top, that I purchased at a craft store.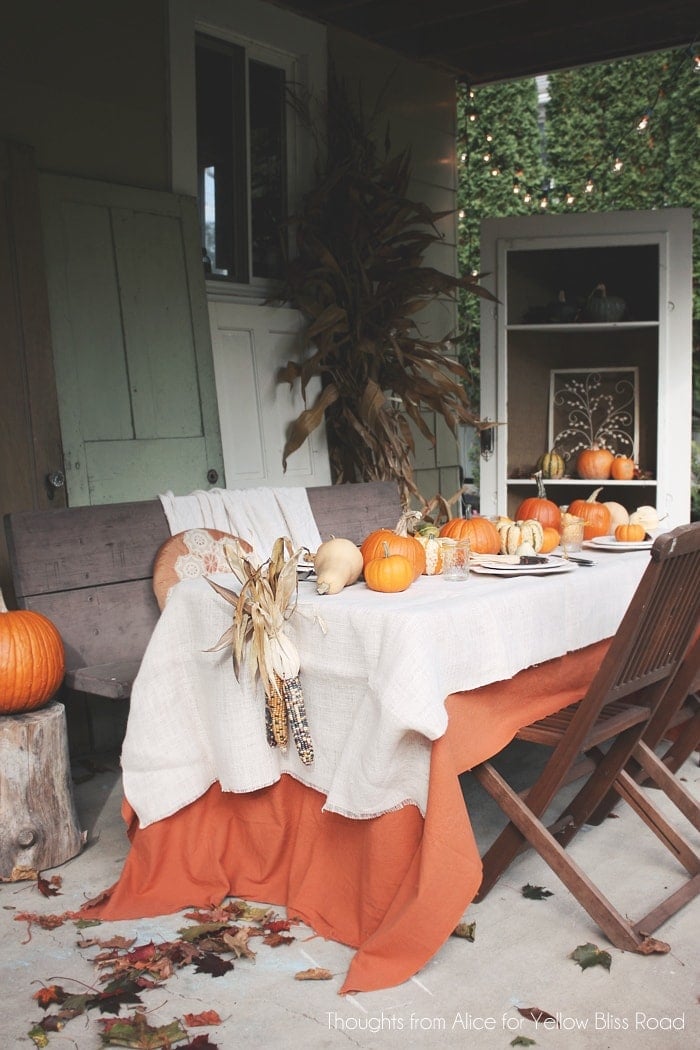 This tablescape is not formal, so I used our everyday dishes and silverware. I tied the silverware in yellow raffia for an extra touch. I love adding little details like that, especially when I am hosting a holiday dinner.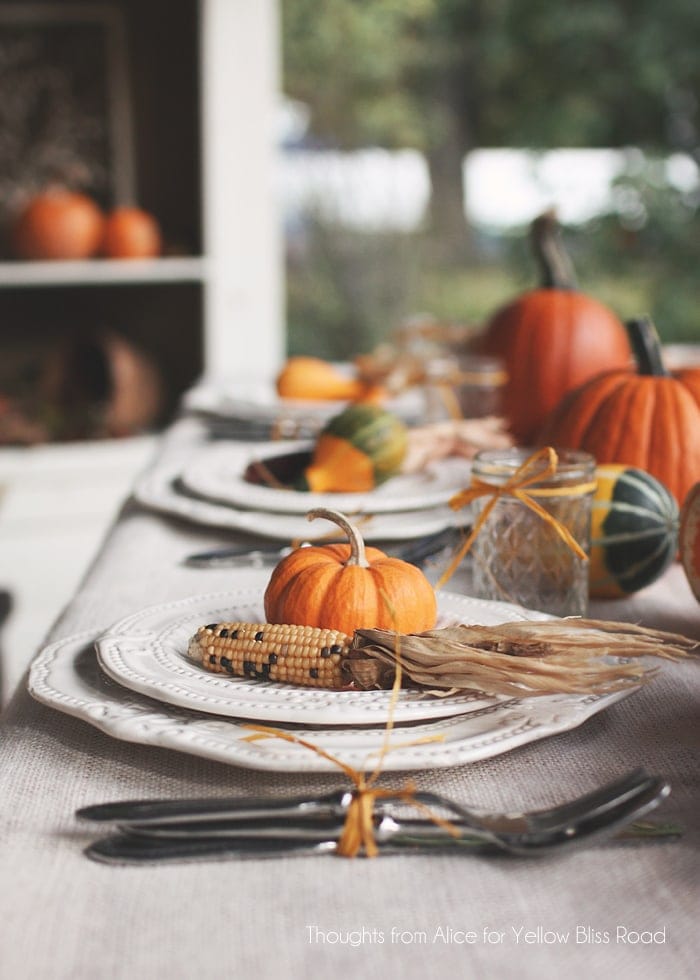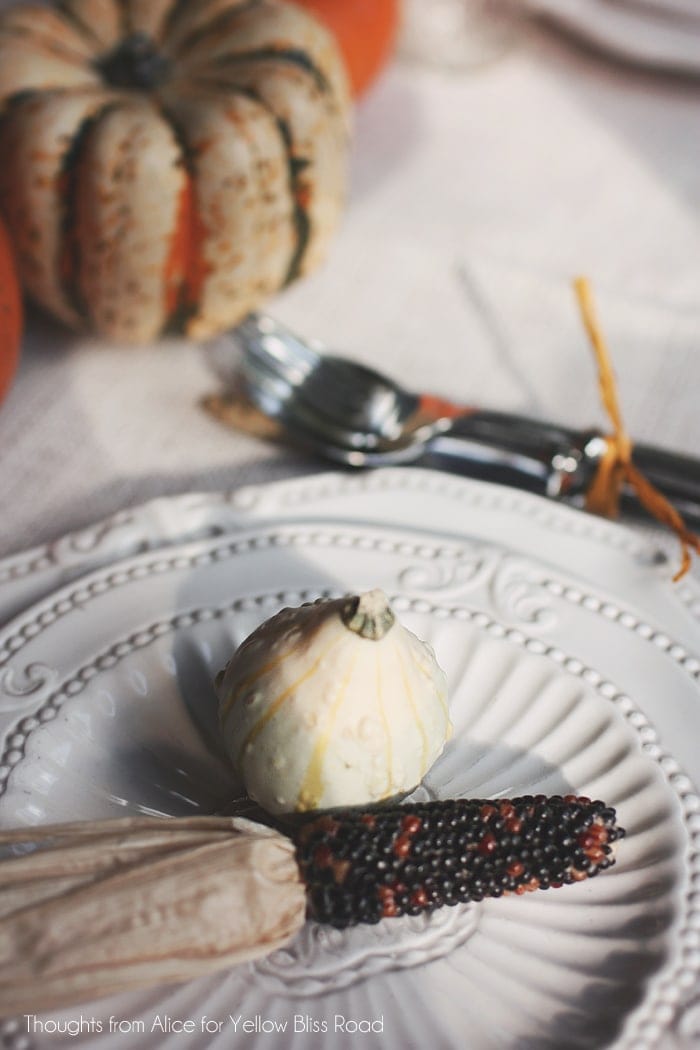 Keeping with the informal theme, I chose to use canning jars for glasses and gave them some simple bows, with the raffia, as well.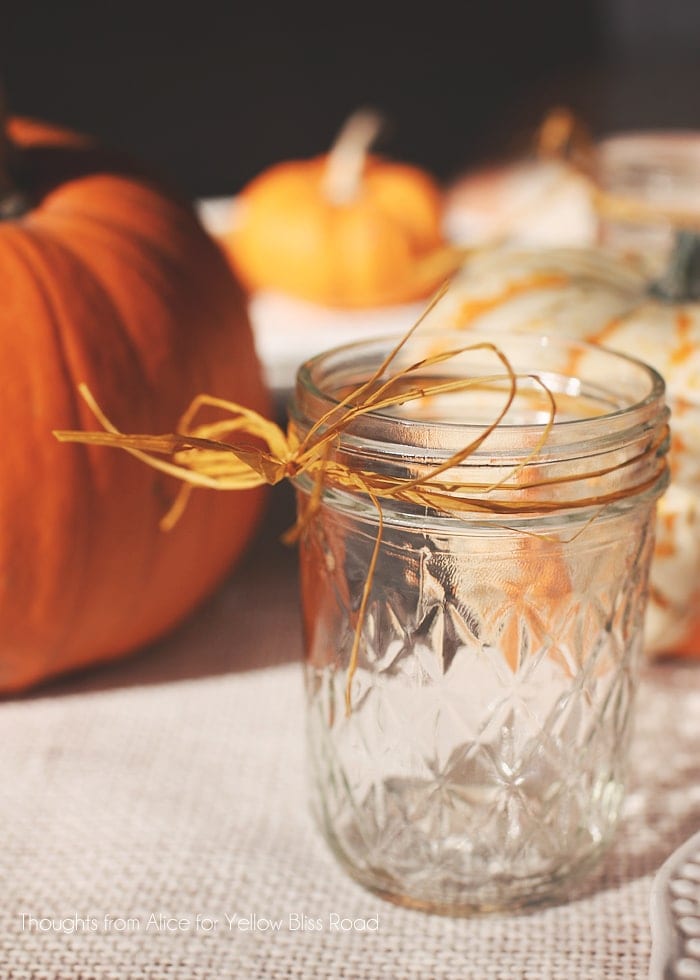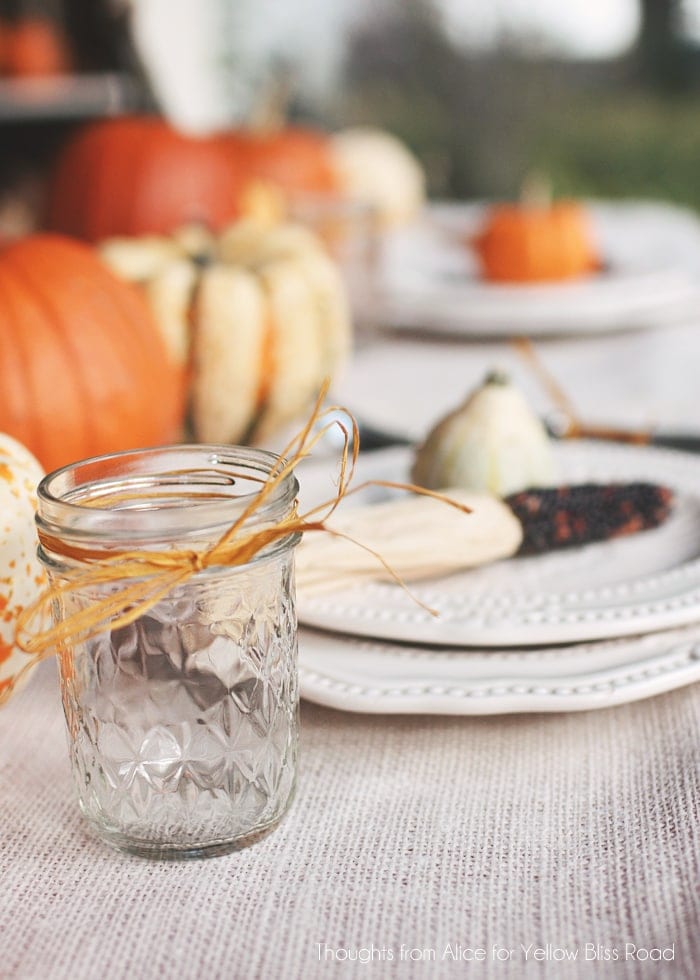 Each plate at the table was adorned with a small pumpkin or gourd and Indian corn.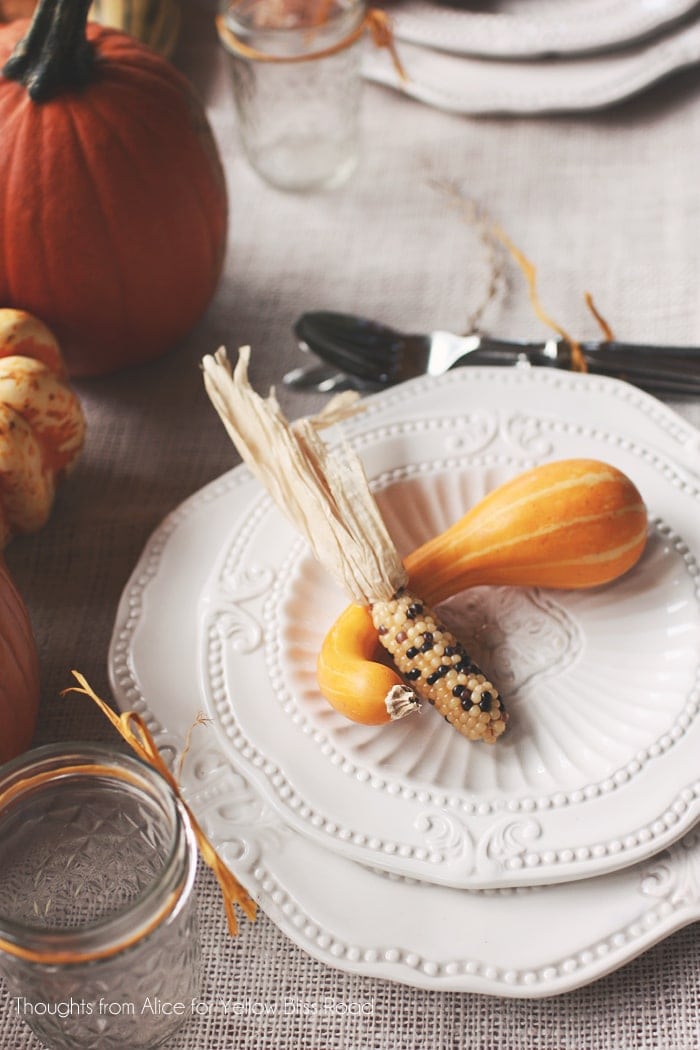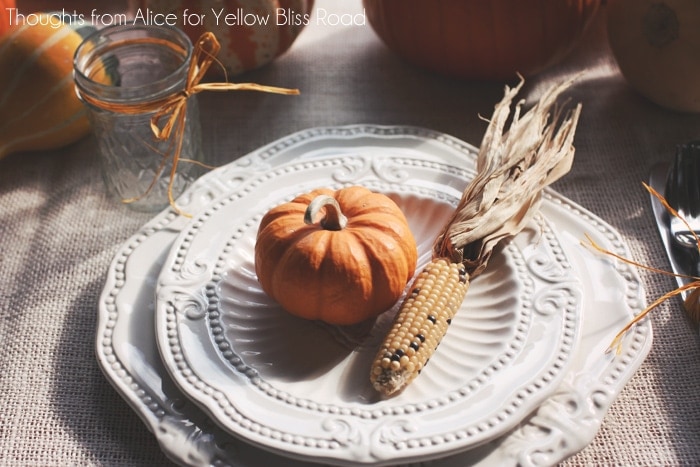 I purchased various pumpkins, gourds and squash at local farmer's markets this year. I love using them all throughout my home during the season, but especially on the table. For an easy centerpiece for this table, I simply arranged them down the middle.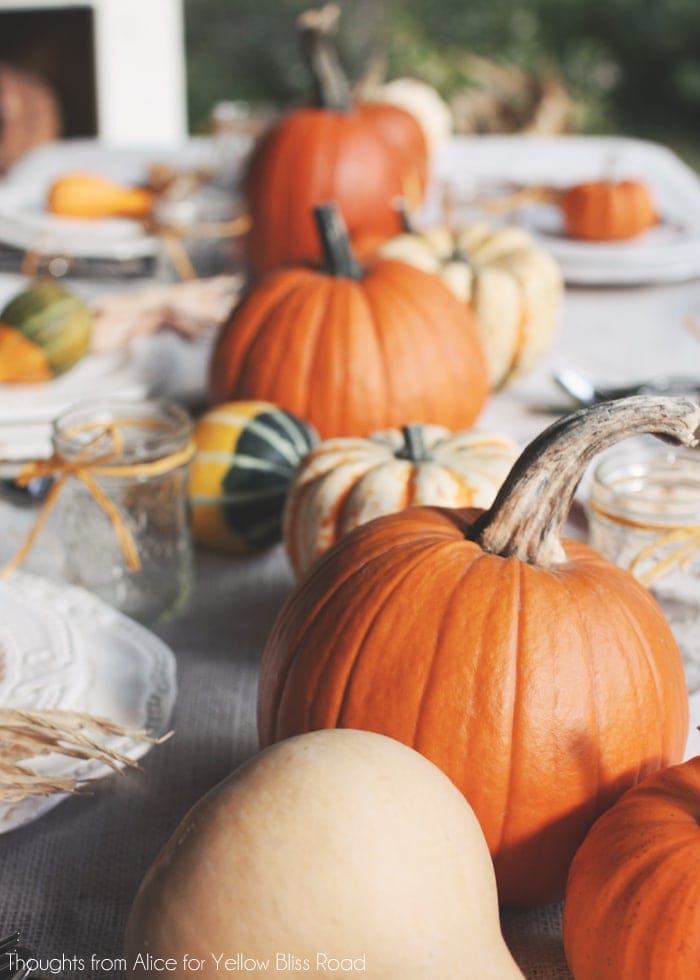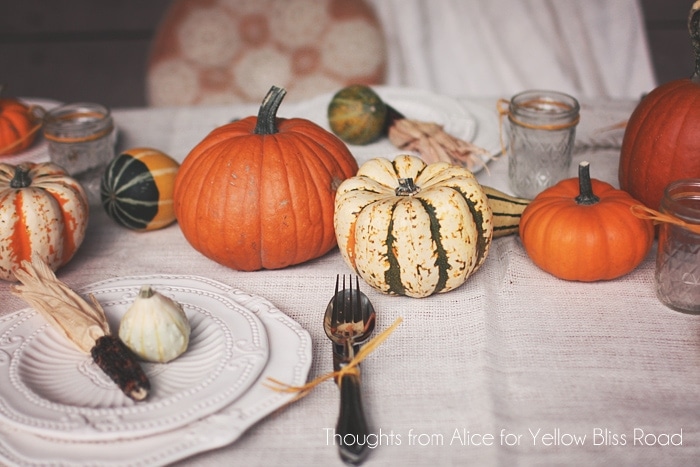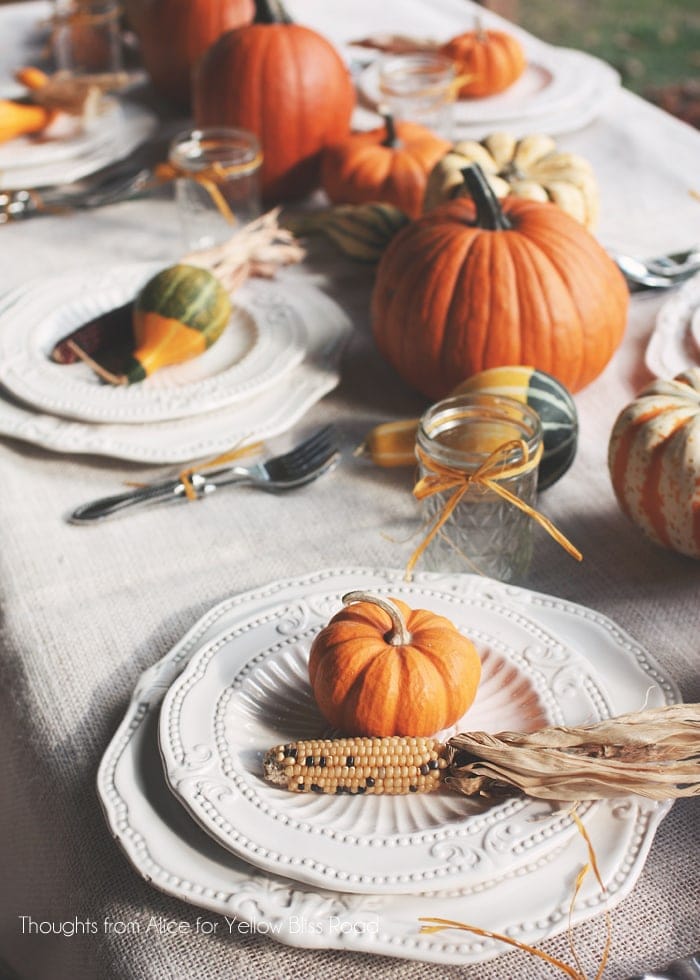 To decorate the end of the table, I attached some Indian corn with a safety pin. Easy as that!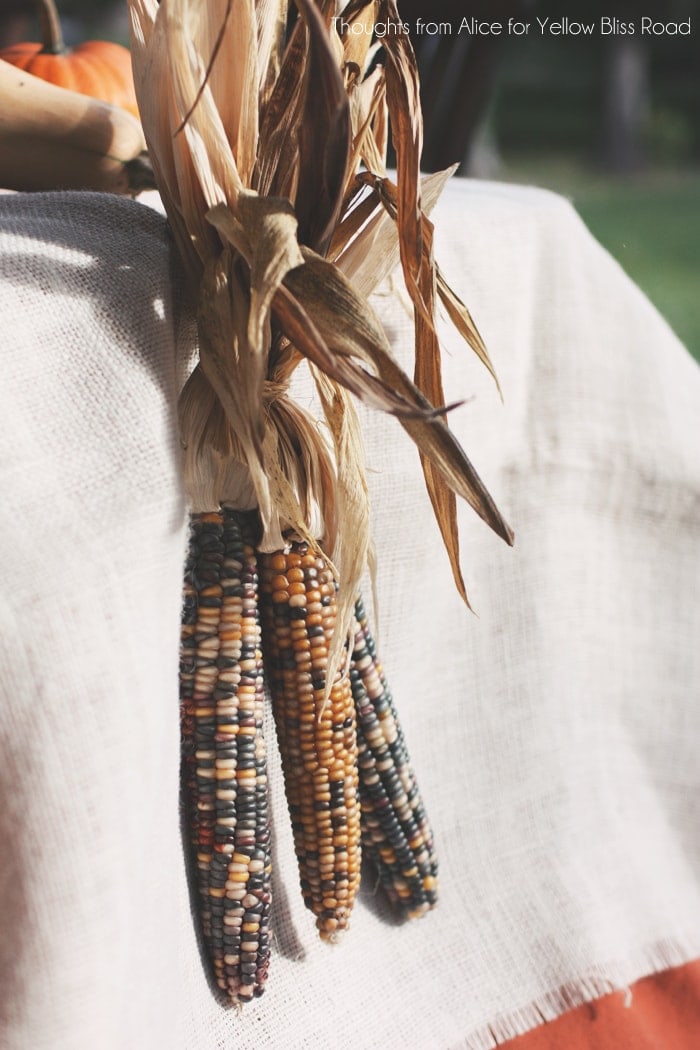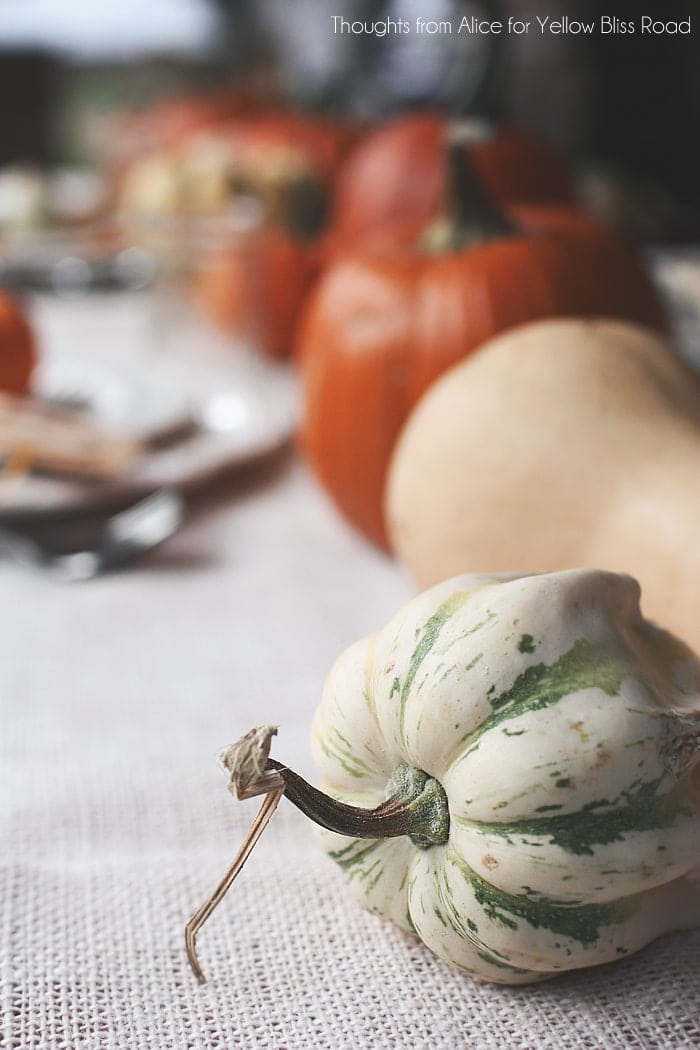 I typically don't decorate very traditionally for the holidays, but since I have a more rustic woodland, neutral theme in our dining room this year, I decided the classic fall colors and style would be perfect out here. I really love how it all came together!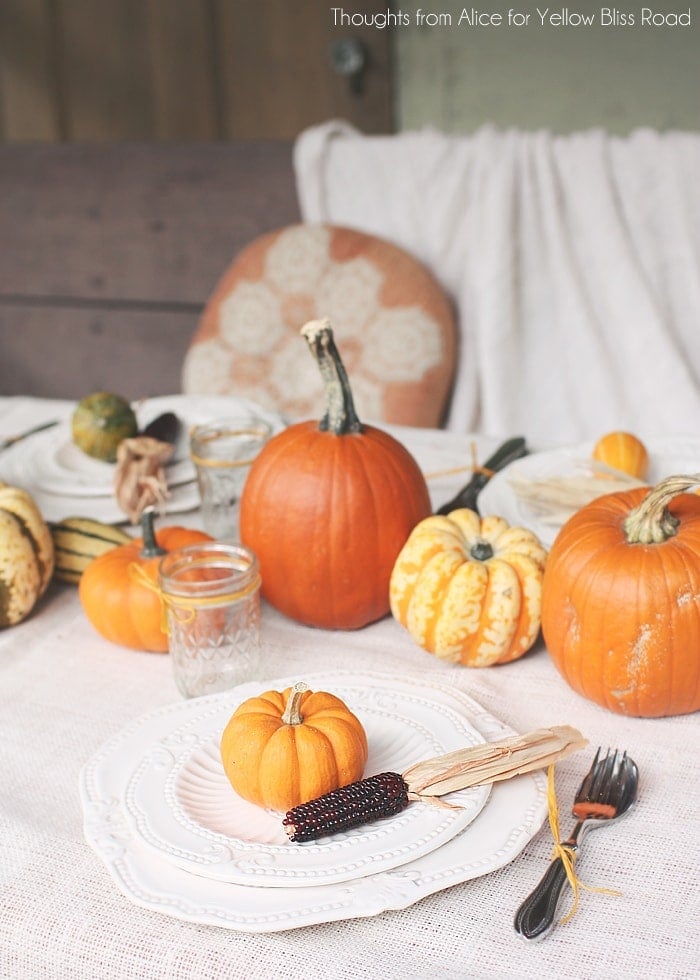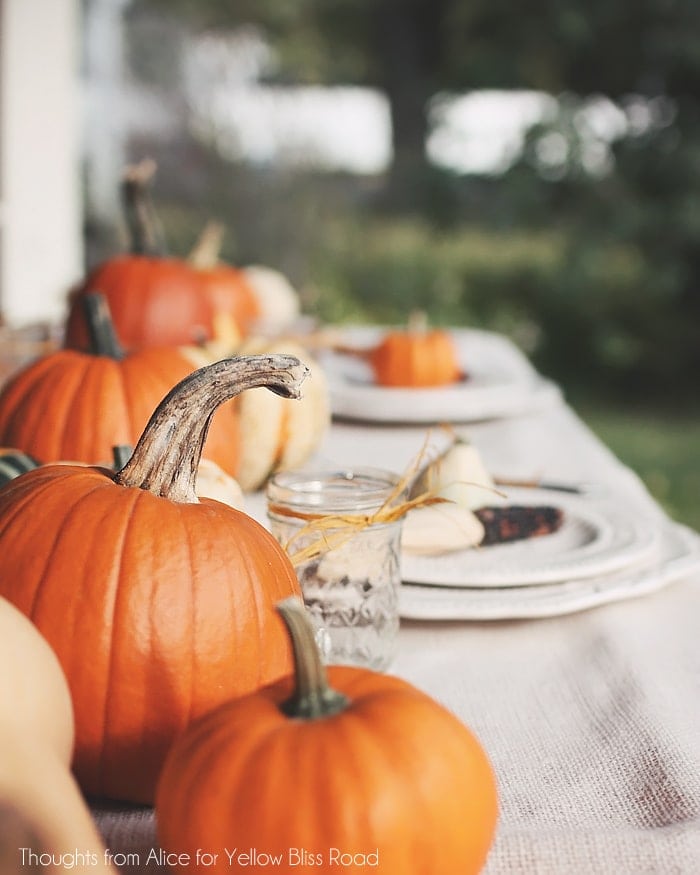 My family loves it out here too, especially with the hanging patio lights. My kids love those! I am sure we will enjoy some meals out here before Thanksgiving.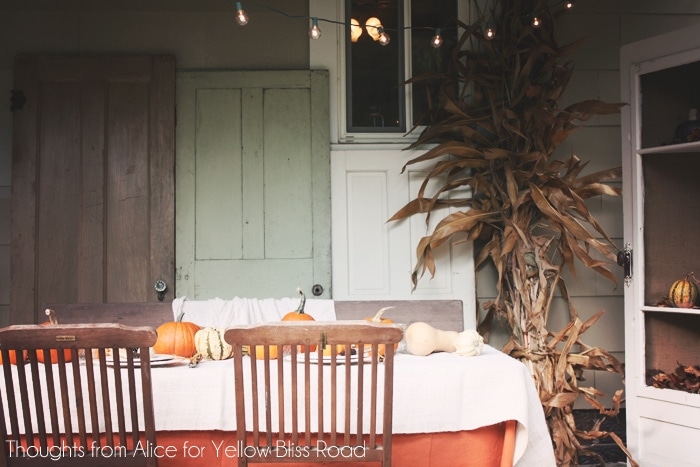 The giant corn stalks came from the farmer's market too. I have never decorated with them before and could't believe how huge they are! They definitely create a statement for fall.
I will be sharing my full fall home tour on my own blog tomorrow. I hope you will pop over to visit me and see how I have decorated the rest of our home! I am so excited to share it all as fall is my absolute favorite time of year, and I love decorating my home for it.
 Here are a couple of my other recent posts that you might enjoy: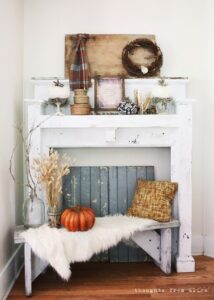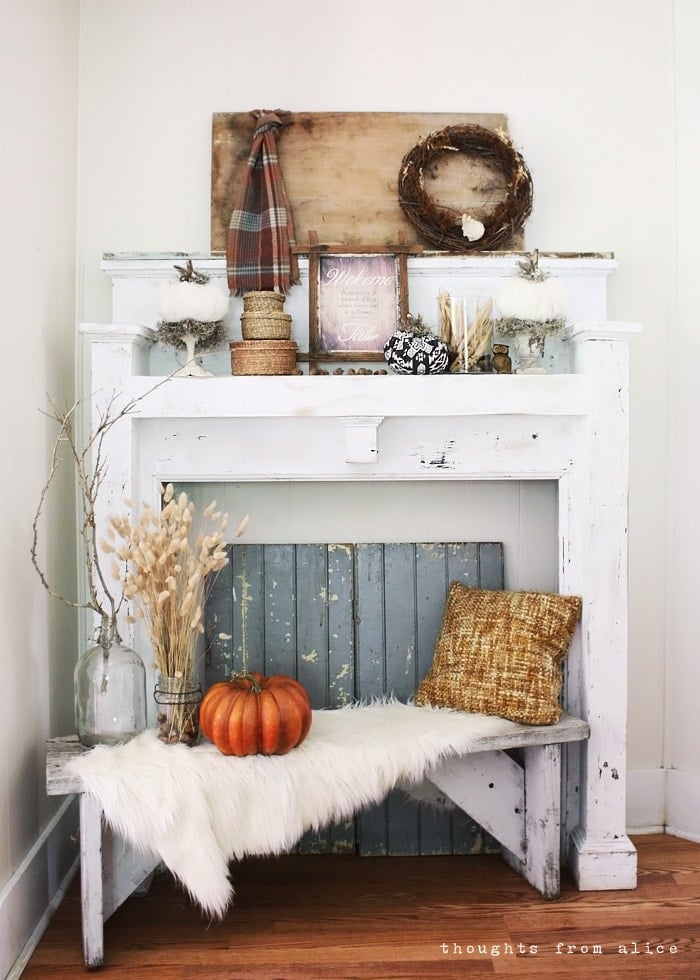 Rustic Fall Mantel Vignette & a Free Printable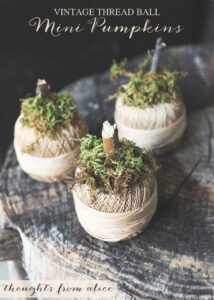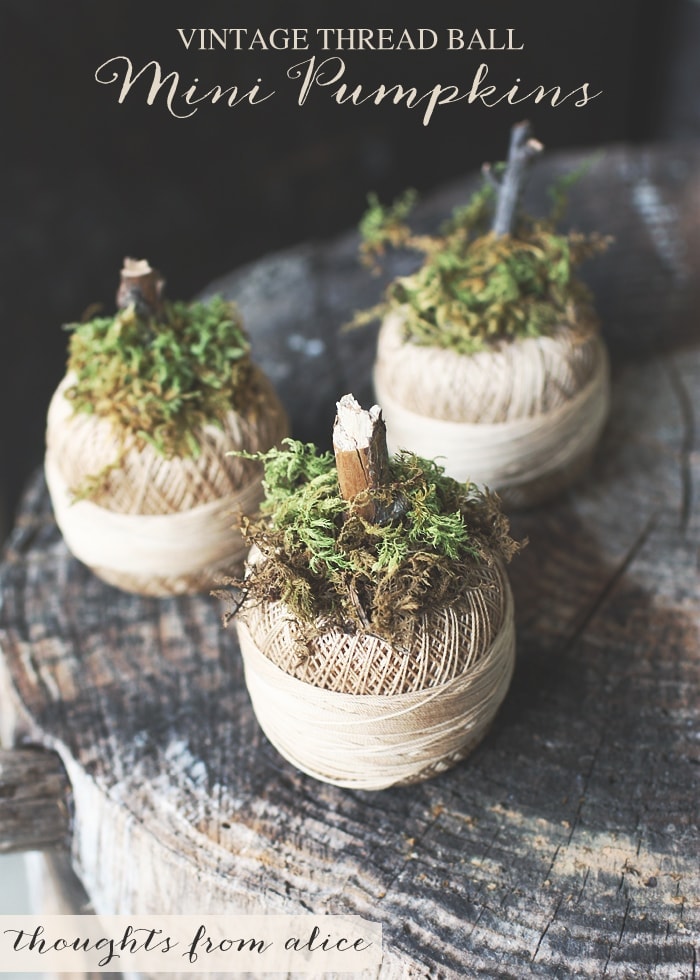 Vintage Thread Ball Mini Pumpkins
Till next time…
~Alice W.
For more great Fall Decor ideas, be sure to check these out: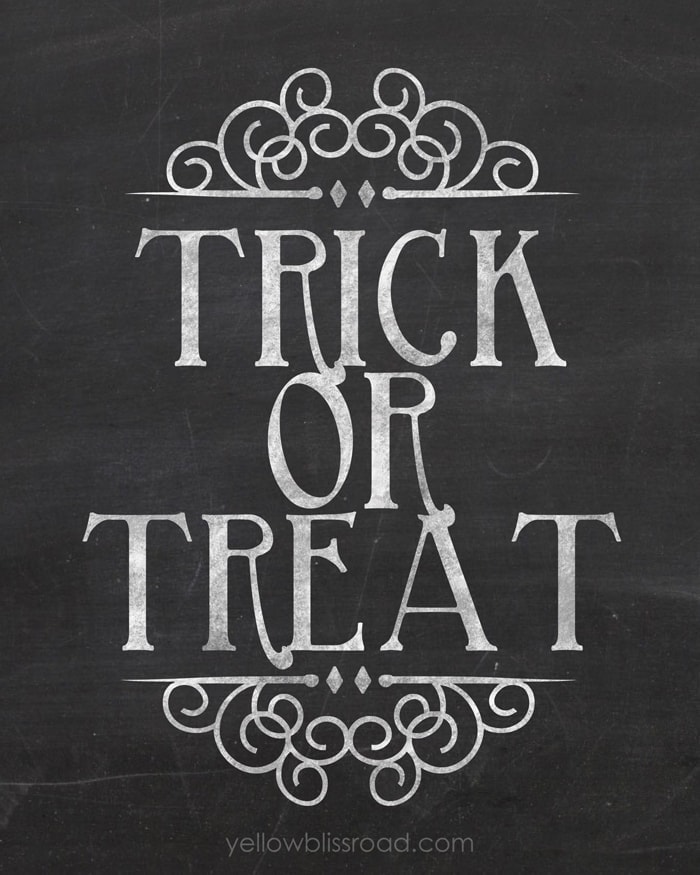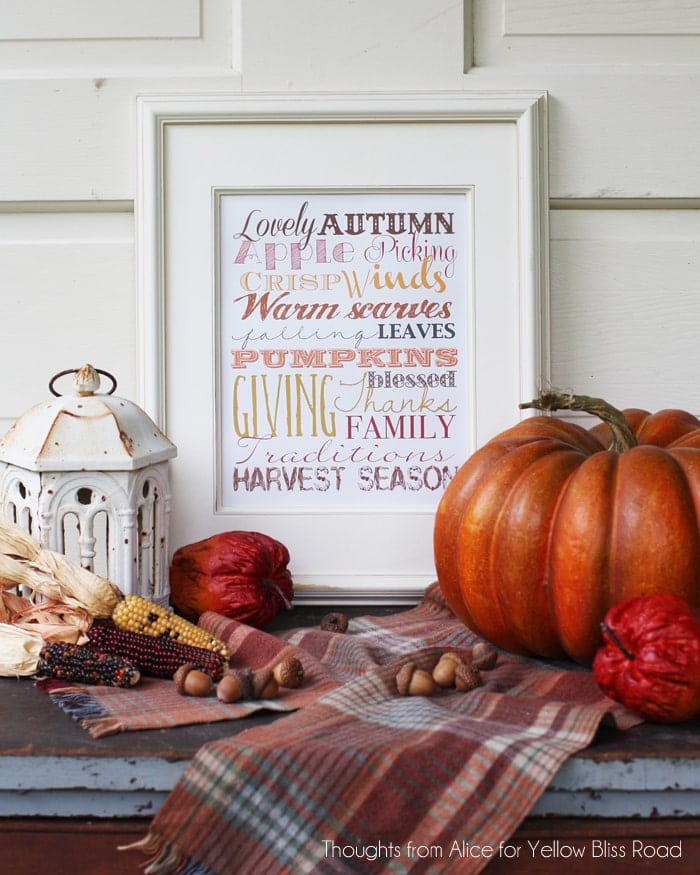 For all things related to Fall, go HERE.