If you're new here, and are visiting from the blog hop, WELCOME! I'm Kristin and I'm so glad you're here! You can read a little more about me and what my blog is all about by clicking on that little photo of me over there in the sidebar. —->>>
I'd love for you to follow along for more free printables, recipes, crafts, decor and more. You can find me on Facebook, Instagram, Pinterest or Twitter, or subscribe to the email list.
Thanksgiving is quickly approaching and I realized that I haven't done much on the blog for Thanksgiving. I decided it was time to change that so I created a fun free printable collection, perfect for your Thanksgiving celebration this year!
This printable collection is perfect to give a little festive charm to your Thanksgiving celebrations.

There are several files to download:

Three- 2 inch tags. Attach to homemade treats or leftovers, or use as cupcake toppers.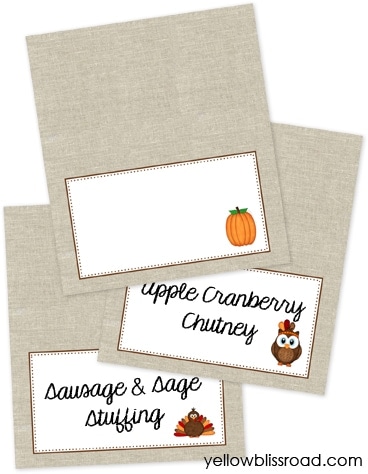 3 Placecards/Food Labels. Write the names of your guests and set at each table setting or write each item from your menu and use as labels for your food table.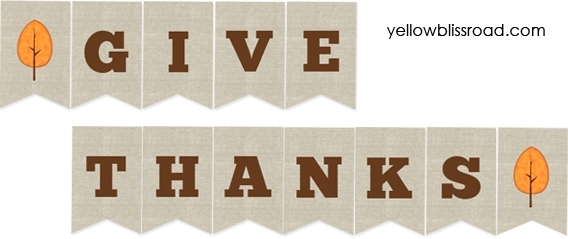 "Give Thanks" Banner. Each flag in this banner is about 4 1/2″ tall. String it up as the backdrop for a food table or use it to decorate your mantel.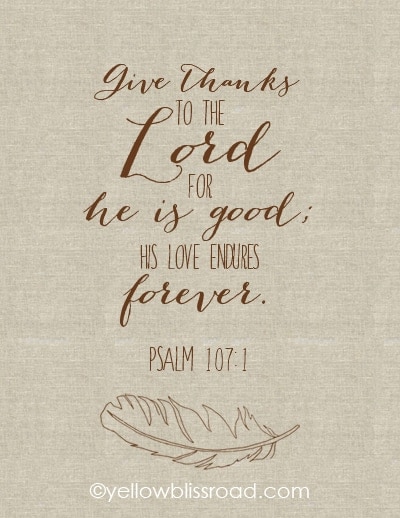 "Give Thanks" Scripture Print. Frame this printable and hang on your wall or set out on a table as a reminder of what this holiday is all about. I think it's appropriate to leave out all year long!
As with all of my free printables, they are for PERSONAL USE ONLY. They are not for sale in any way, and please do not attempt to recreate for sale.
Click on the button below to download. You will be taken to a page and can choose which of the files you would like to download.