These Cream Cheese Sausage Balls are little savory bites of heaven that pack a real flavor punch. Made with pork sausage, Bisquick, cheese and seasonings, Bisquick Sausage Balls are a classic appetizer that everyone will love!
Add this easy appetizer to your party food recipe book alongside other favorites like Greek Salad Pinwheels and Spinach Artichoke Dip!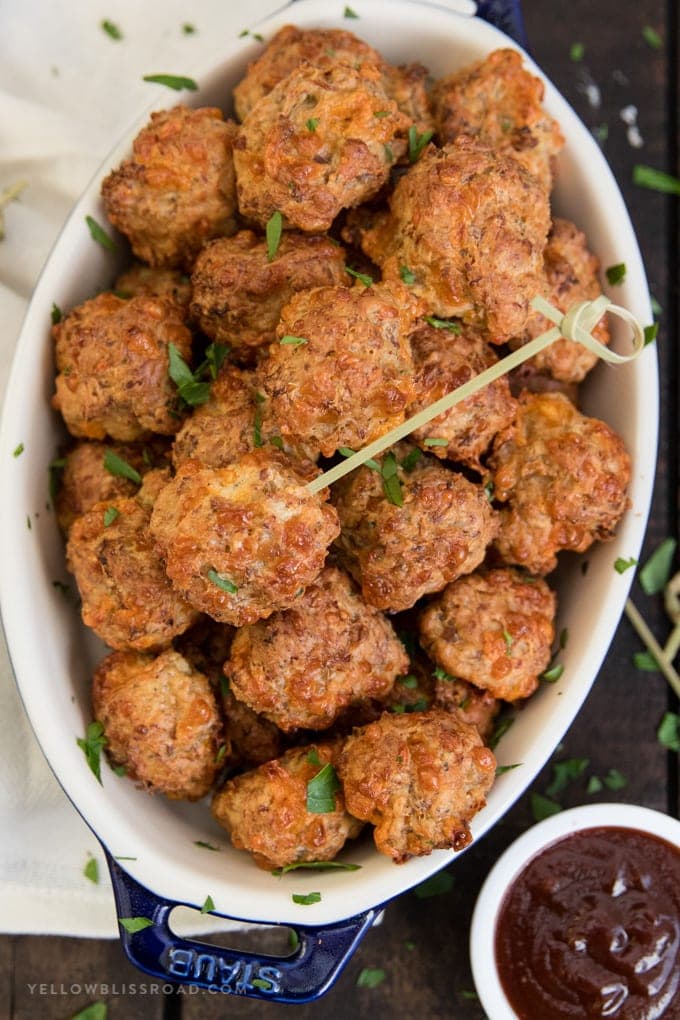 Years ago, my children were watching Trisha Yearwood's cooking show (they are still fans to this day) and she was making these "sausage hors d'oeuvres" as she called them. My kids thought they looked like the best thing ever and demanded (ok they asked nicely) that we make them right away. We did and they were just as amazing as they looked! Also known as Bisquick Sausage Balls or Sausage Cheese Balls, these little bite sized snacks were beyond delicious.
HOW TO MAKE CREAM CHEESE SAUSAGE BALLS
Not only are these Sausage Balls super tasty, but they are also incredibly easy to make. This time around I decided to kick up the flavor by adding cream cheese and a few seasonings to the mix. Here are the ingredients you'll need to make Bisquick Sausage Balls:
1 (16-ounce) package ground pork country sausage
Cream cheese
Cheddar cheese
Bisquick
Seasonings (Garlic powder, onion powder, sage, parsley)
Milk
Cooking instructions:
Combine the ingredients in a large bowl. I recommend using a stand mixer or a hand mixer to combine the ingredients as the mixture is quite thick.
Line a rimmed baking sheet with foil or parchment paper and form the sausage balls either with your hands or using a cookie scoop for uniform sized balls.
Arrange them on the baking sheet close together but not touching. Because they don't flatten out as they bake you can fit a lot more on the baking sheet than if you were making cookies.
They take about half an hour to bake and you can eat them pretty much right away. Be sure to have some barbecue sauce on hand for dipping!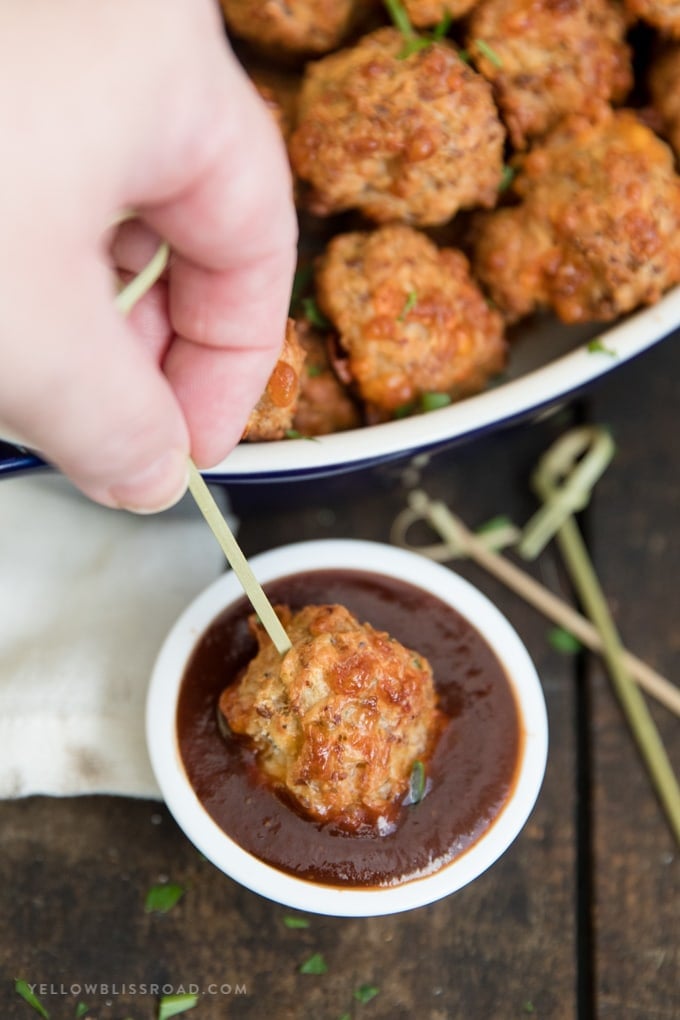 CAN YOU FREEZE BISQUICK SAUSAGE BALLS?
Absolutely! Allow the Sausage Cheese Balls to cool completely before storing in an air-tight container or ziploc freezer bag. They can be stored in the refrigerator for up to 4 days, or the freezer for up to 6 months. To reheat, bake at the same temperature until heated all the way through (10 minutes or so). Microwave defrosted sausage balls by wrapping with a damp towel and heating for 30 seconds to a minute on high. The damp towel will keep the balls from drying out.
HOW TO SERVE CREAM CHEESE SAUSAGE BALLS
We love to dip! I serve these Sausage Cheese Balls with barbecue sauce (Sweet Baby Ray's Spicy BBQ Sauce is our favorite). These would also be delicious with ranch dressing or a honey mustard dip. We usually serve them with fancy toothpicks, but these little bamboo picks are adorable too.
Can I make this recipe without bisquick?
If you don't have any Bisquick on hand but are really craving these delicious sausage balls, you can mix up a few dry ingredients to substitute the package mix. For a batch of the homemade version, you will need 6 cups of flour, 3 tablespoons of baking powder, 1 teaspoon of salt, and a cup of butter OR vegetable shortening. Mix the dry ingredients in a food processor until blended, then pulse in the fat (butter or shortening) until it resembles a cornmeal texture. Store mix in an airtight container in the refrigerator for up to 3 months.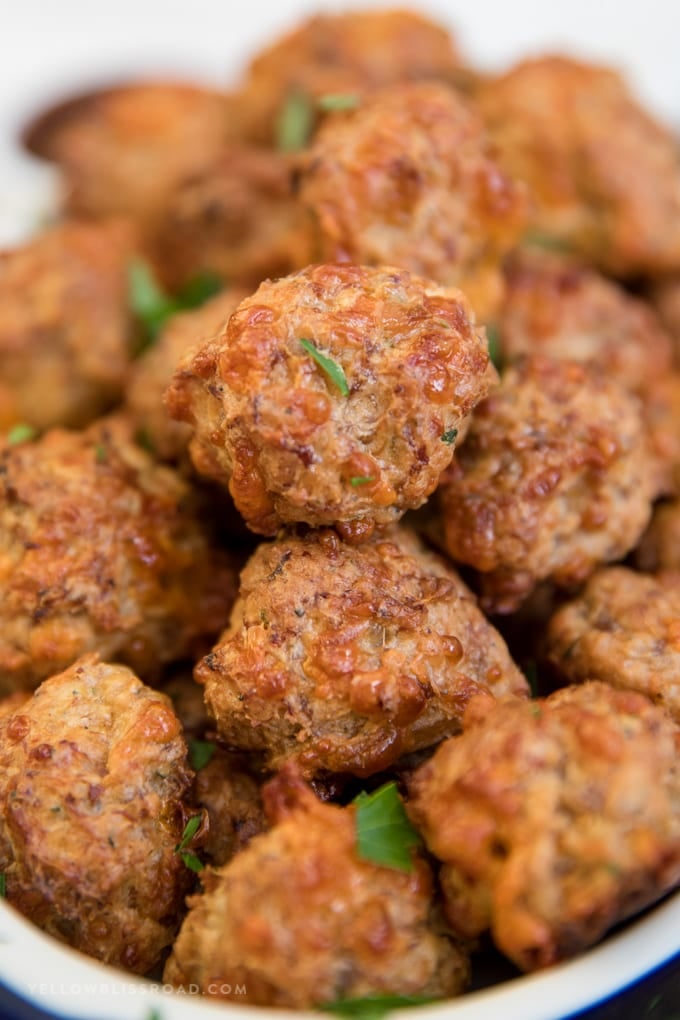 Here are some more easy appetizers to try: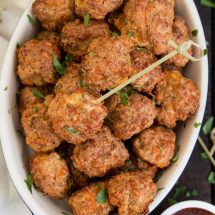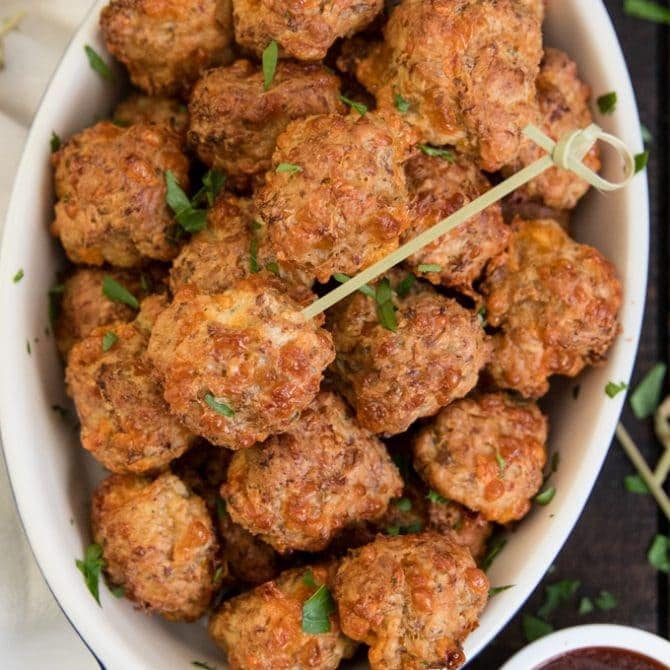 Cream Cheese Sausage Balls
These Cream Cheese Sausage Balls are little savory bites of heaven. Made with pork sausage, cheese & seasonings, Bisquick Sausage Balls are a true classic.
Print
Pin
Rate
Prep Time: 15 minutes
Cook Time: 20 minutes
Total Time: 35 minutes
Servings: 6 dozen
Ingredients
1 16-ounce package ground pork country sausage
8 ounces cream cheese
2 cups shredded cheddar cheese
2 1/4 cups Bisquick
1 teaspoon garlic powder
½ teaspoon onion powder
1/2 teaspoon rubbed sage or ¼ teaspoon dried
2 teaspoons dried parsley
3 tablespoons milk
Fresh chopped parsley for garnish if desired
Barbecue sauce Ranch or Honey Mustard sauce for dipping
Instructions
Preheat oven to 375 degrees F. Line a rimmed baking sheet with foil and set aside.

Combine ingredients in a large mixing bowl. If you have a stand mixer, use it!

Shape pork mixture into one-inch balls and place onto the foil lined baking sheet.

Bake in the preheated 375 degree oven for about 20-25 minutes or until golden brown.

Serve warm, garnished with fresh minced parsley if desired and your favorite dipping sauce for. (We love these with spicy barbecue sauce!).