Save time on busy weeknights with this shortcut recipe – Marie Callender's White Cheddar Mac & Cheese is given a delicious upgrade with grilled chicken, roasted tomatoes and asparagus, and fresh grated Parmesan cheese. This Chicken Mac & Cheese with Roasted Tomatoes and Asparagus is super creamy, ultra cheesy and so rich in flavor – it will be your new family favorite weeknight dinner recipe!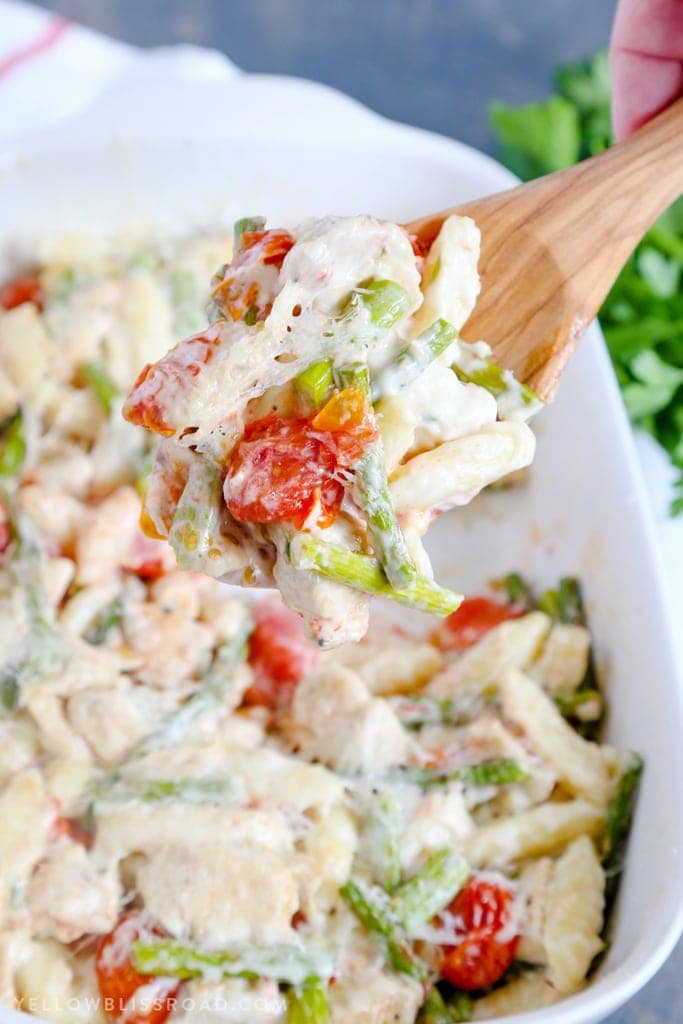 We are smack in the middle of May and school has just about another month to go. In some states school is over in just a few short days. Life gets so busy this time of year…well, come to think of it, life is busy all year long! But it seems to feel especially crazy as we are nearing the end of the school year.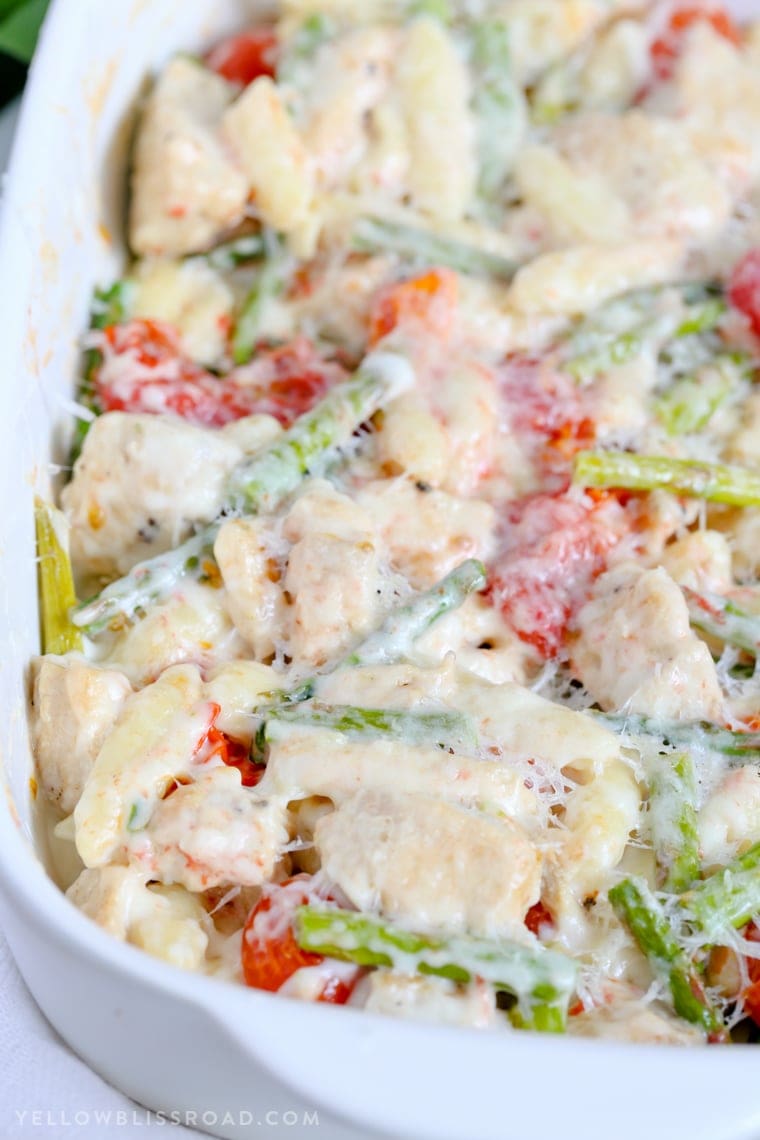 I'm always on the hunt for recipes that will make my life easier and save me some time in the kitchen without sacrificing taste. So when I was challenged by Kroger to come up with a fresh new recipe from the frozen food aisle, I was excited! Shortcuts are your friend in the kitchen folks, and this recipe is a delicious one.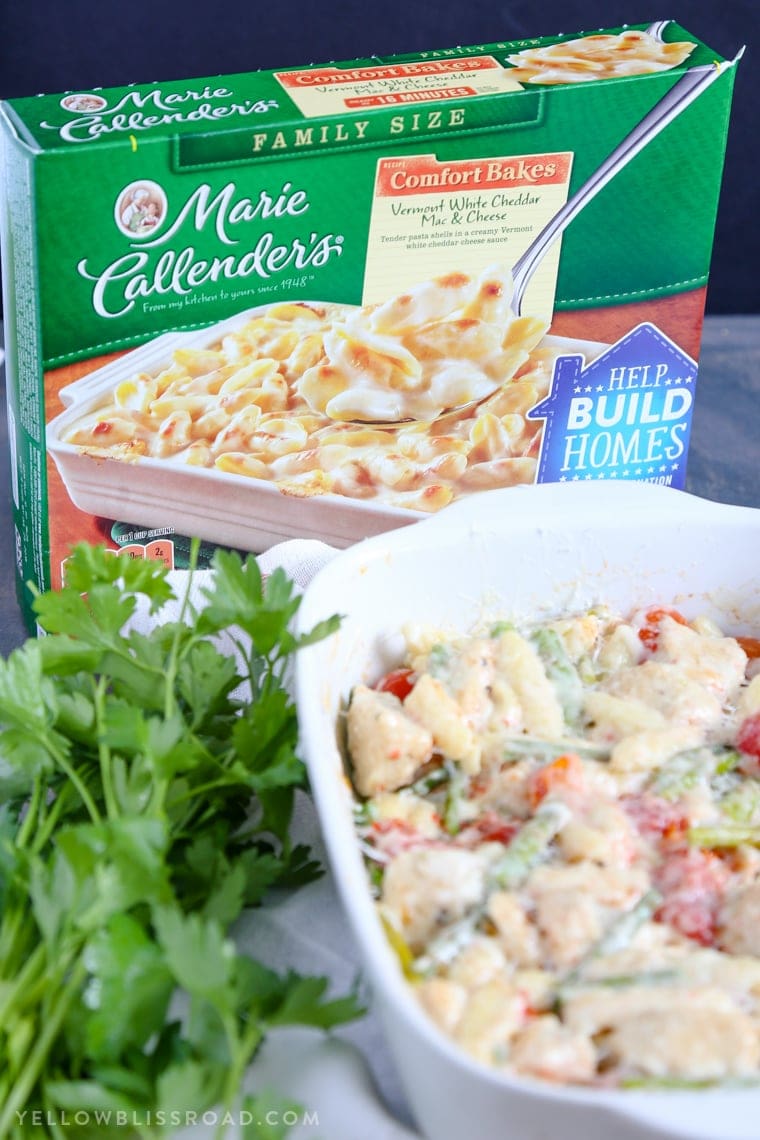 Mac and cheese fans will love Marie Callender's Vermont White Cheddar Mac & Cheese. It really does taste completely homemade, like you just made it on your own stovetop. It's one of their "Comfort Bakes" which means traditionally you'd bake it in the oven for about 50 minutes…but that wouldn't be considered a shortcut now would it? Instead of baking it for nearly an hour, I popped that mac & cheese right into my microwave for about 10 minutes to defrost and heat it up. The cheese is so incredibly rich and creamy, I wouldn't have had any problem eating the whole pan by myself. But since we're making this a meal I knew it needed some veggies. While the mac & cheese was heating up, I stuck a pan of grape tomatoes and asparagus in the over to roast for about the same amount time.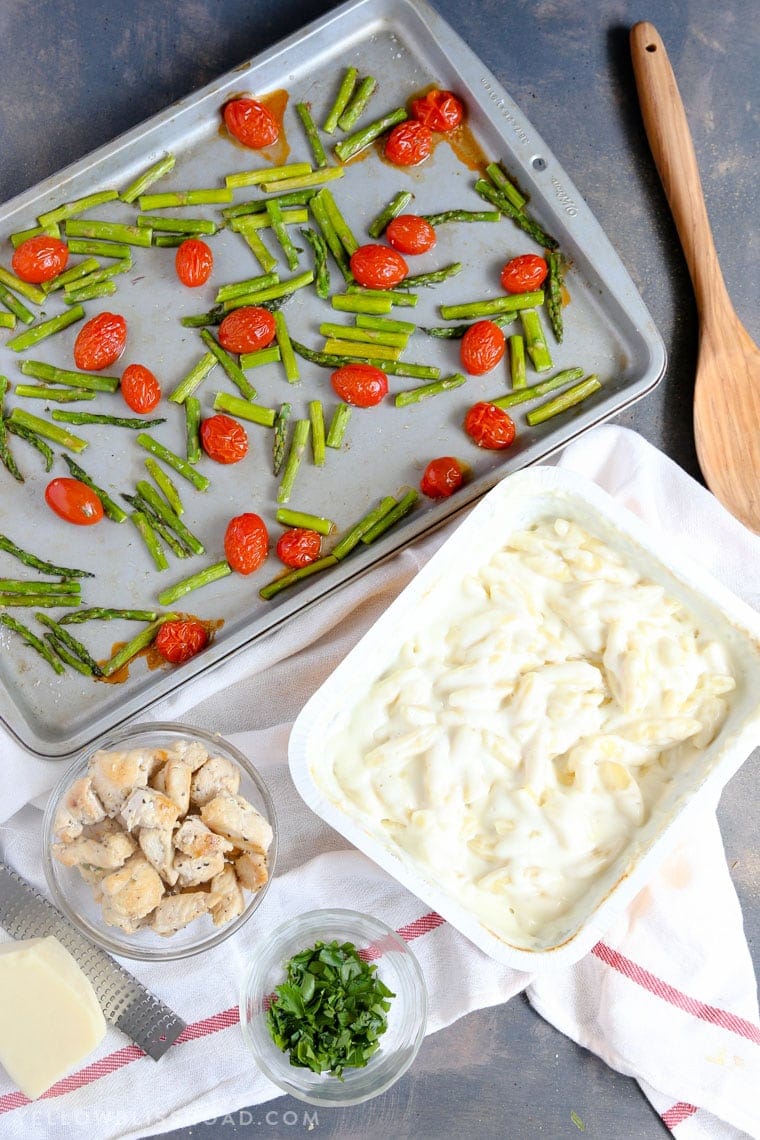 Then while the veggies were roasting and the mac & cheese was heating, I cooked some chicken in a skillet. If you wanted to keep this a meatless dish, you could eliminate that step. Once everything was cooked I stirred it all together, poured it into a casserole dish and popped it under the broiler to melt the fresh Parmesan I'd grated on top. Again, a totally optional step.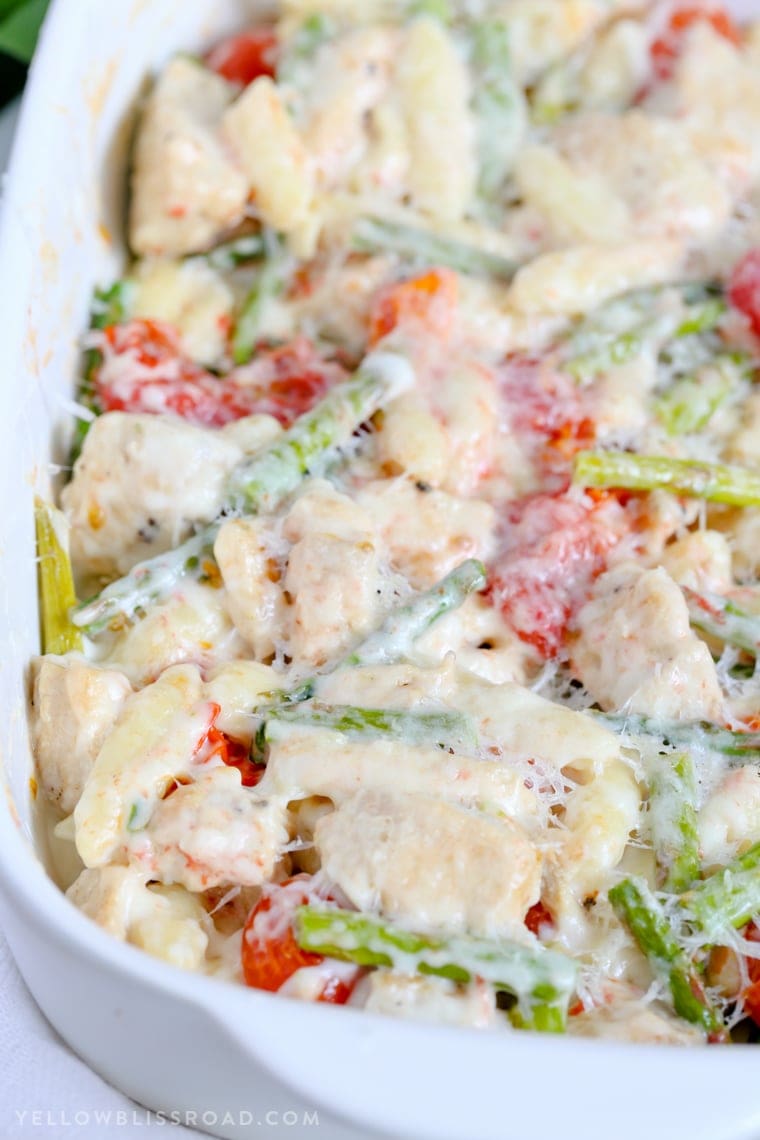 From start to finish, the whole meal took about 20 minutes, which is incredible for something this rich and flavorful. If you've never roasted vegetables before, I highly recommend it – especially tomatoes. They develop this sweetness that is just mouthwatering. Paired with the Vermont White Cheddar Mac & Cheese, it's a flavor combination that will leave you begging for more – better make two pans!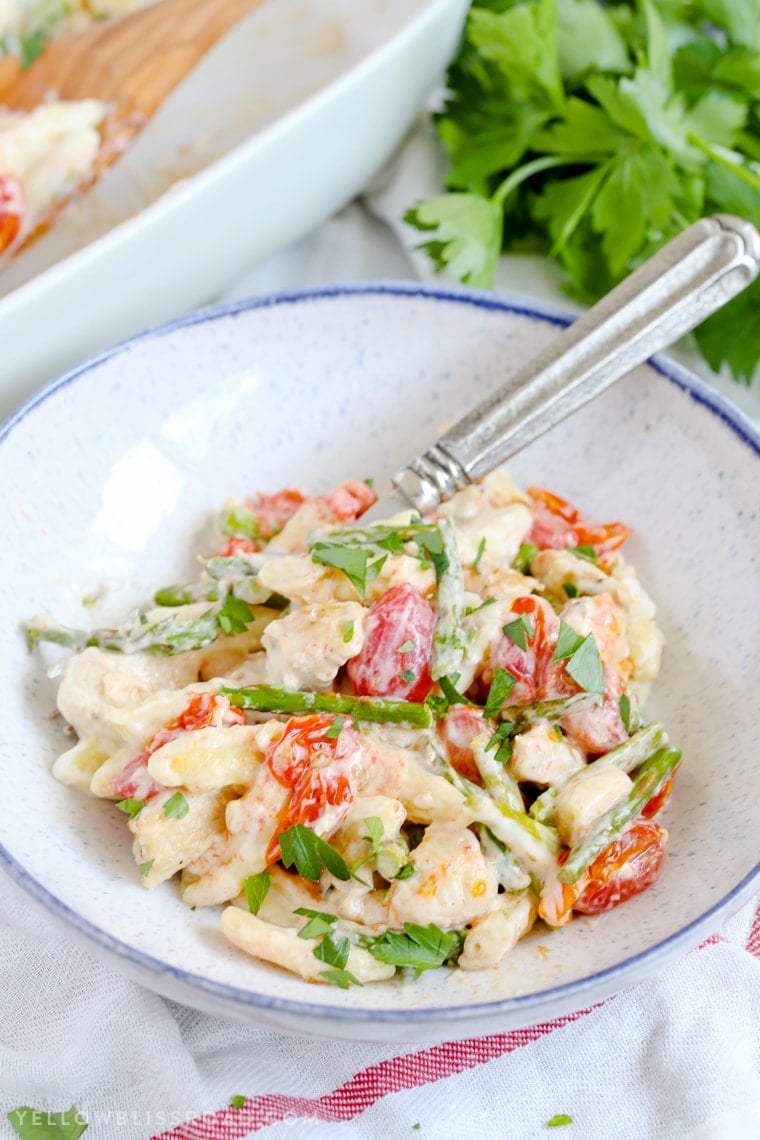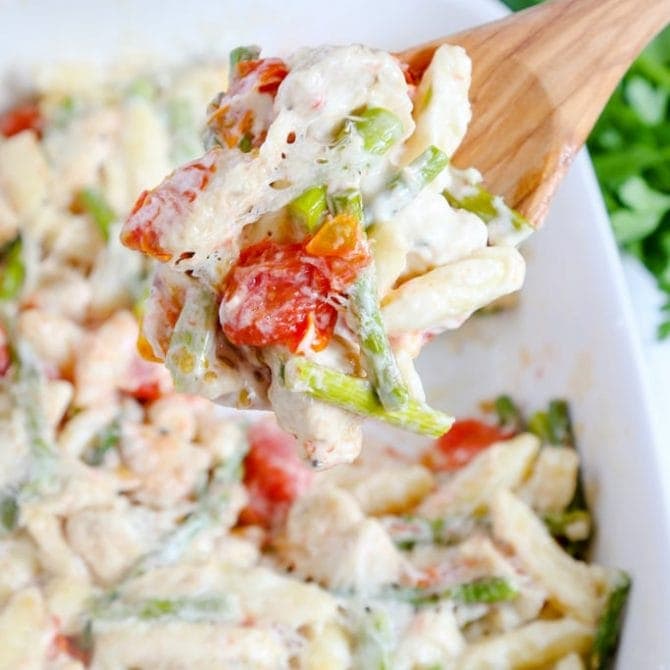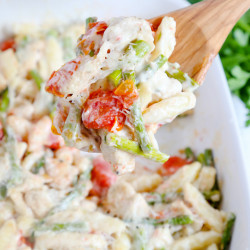 Chicken Mac & Cheese with Roasted Tomatoes and Asparagus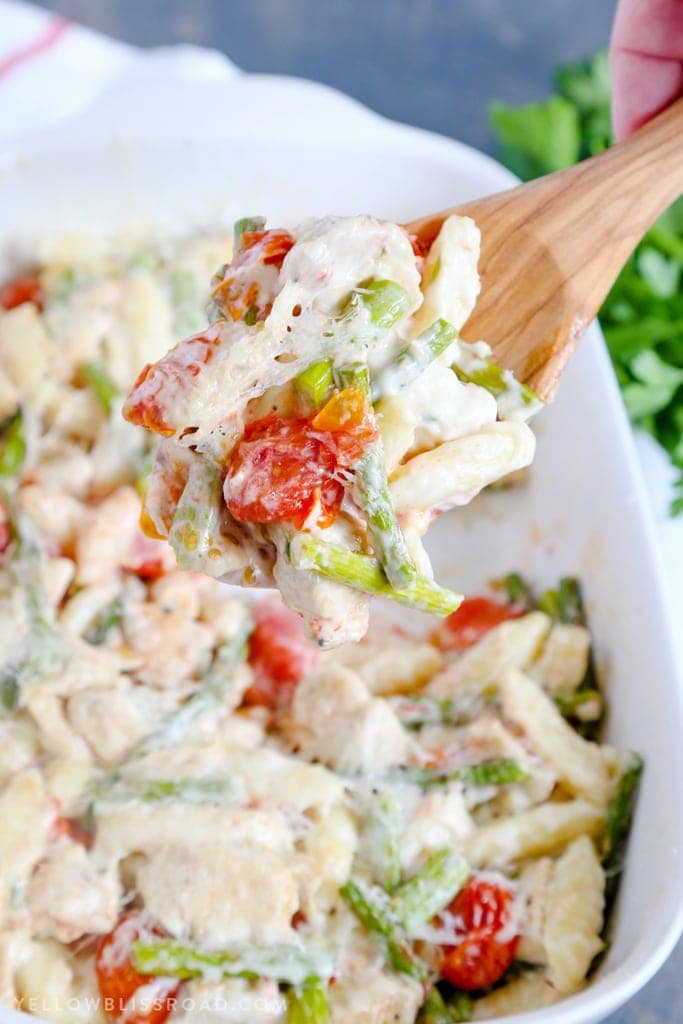 Ingredients
1 package frozen Marie Callender's Vermont White Cheddar Mad & Cheese family size
1/2 pound fresh asparagus trimmed and cut into bite-sized pieces
1/2 pint grape tomatoes
1 boneless skinless chicken breast (or 1-2 cups cooked and diced chicken)
Olive oil
Salt & pepper
Fresh Parmesan cheese optional
Fresh chopped parsley for garnish (optional)
Instructions
Preheat oven to 425 degrees.

Arrange asparagus and tomatoes on a baking sheet and drizzle with about 1-2 tablespoons of olive oil. Season with a pinch of salt and pepper. Gently toss vegetables to coat.

Roast in the pre-heated oven for 10-12 minutes, until vegetables are softened and tomatoes are just starting to burst.

Meanwhile, heat Marie Callender's Vermont White Cheddar Mad & Cheese in the microwave for 9-10 minutes (follow package instructions). Let stand for several minutes to allow sauce to thicken.

While vegetables are roasting and mac & cheese is heating, cook the chicken. Cut chicken breast into bite sized pieces and season with salt and pepper. Heat a tablespoon of olive oil in a skillet and add the chicken pieces. Cook until no longer pink, about 6-7 minutes, turning over once to ensure even browning.

Combine the mac & cheese, roasted vegetables and grilled chicken in a 8" square baking dish. Grate a layer of fresh Parmesan directly over the pasta in the casserole dish (using a microplane, if possible). Turn on the broiler and place the casserole in the oven to broil until the Parmesan cheese is melted; 2-3 minutes.

Garnish with fresh chopped parsley, if desired, and serve immediately.
Notes
*This recipe makes roughly 2-3 servings, depending on your appetite. If you are feeding a family of more than 3, I recommend doubling the recipe. 
Be sure to visit the Ralphs website for more Freezer Fresh Ideas and recipes!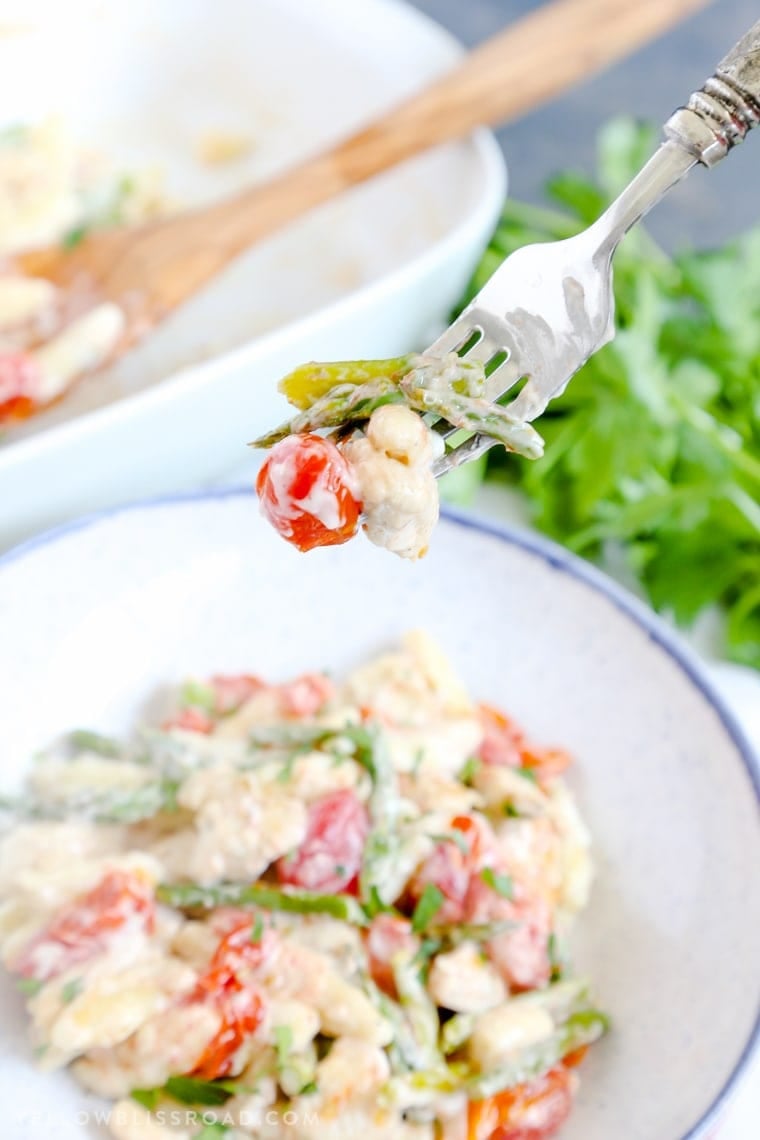 Like this Chicken Mac & Cheese with Roasted Tomatoes and Asparagus? Here are some more easy weeknight meals!
One Pan Cheesy Beef & Tomato Pasta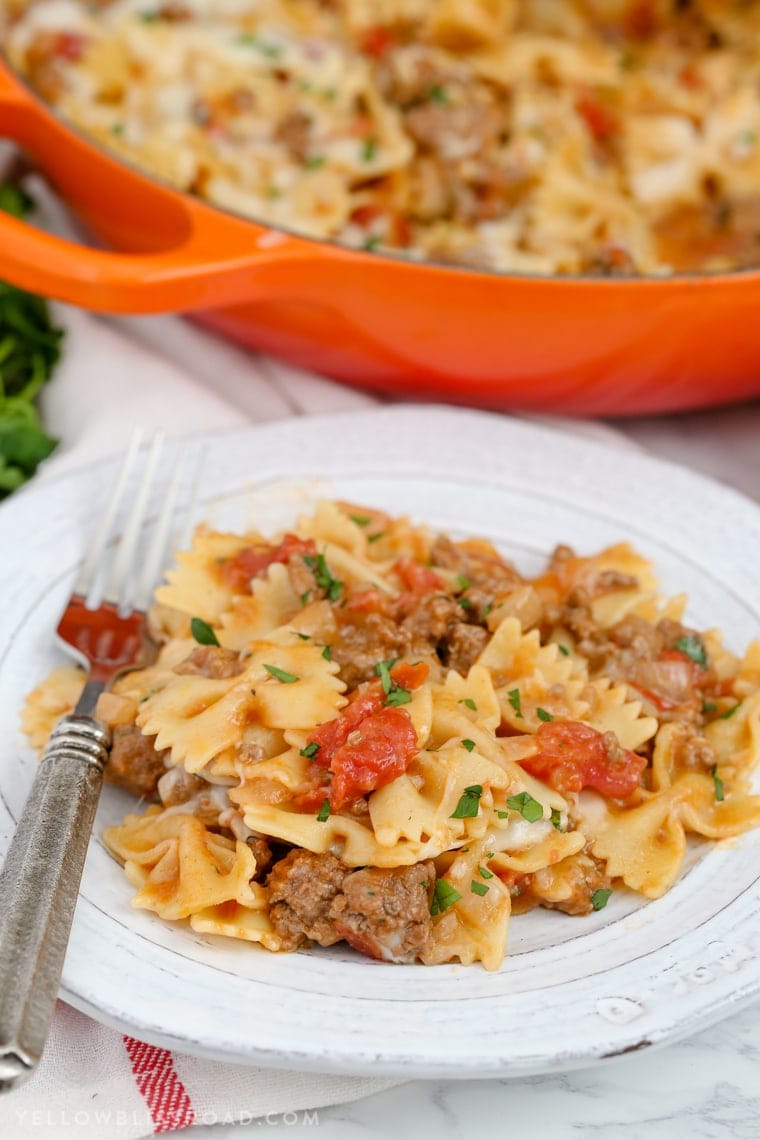 Crunchy 10 Minute Oven Baked Tostadas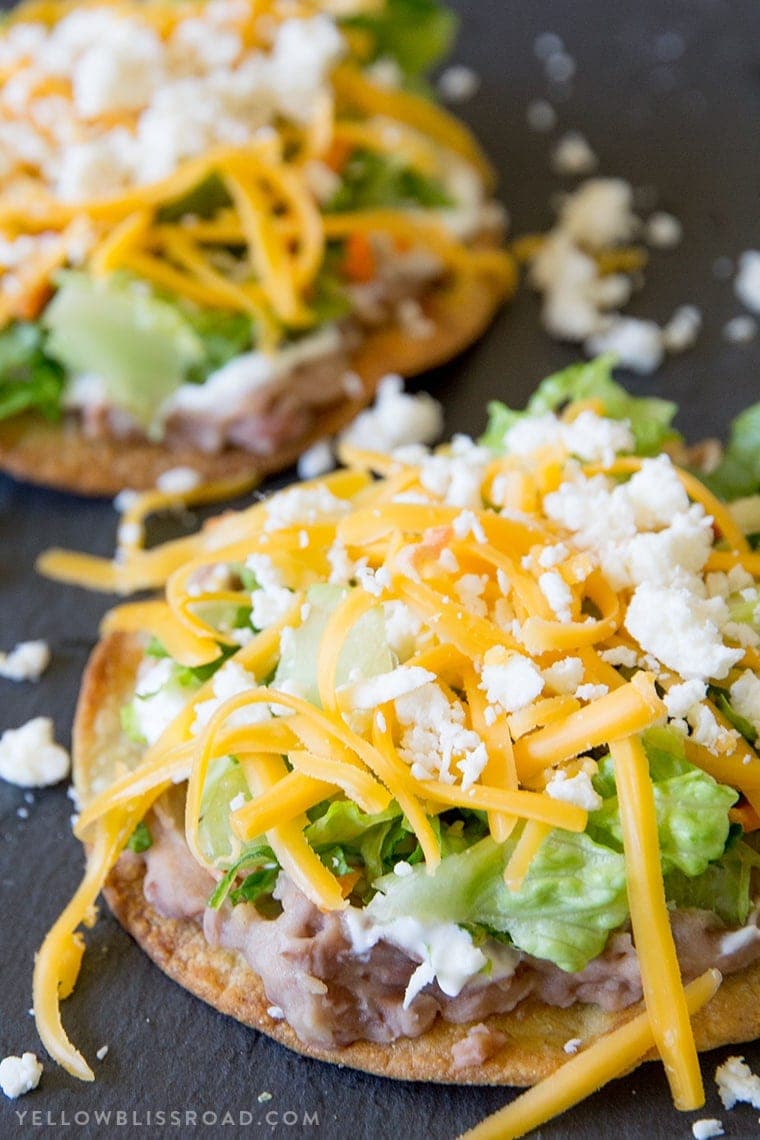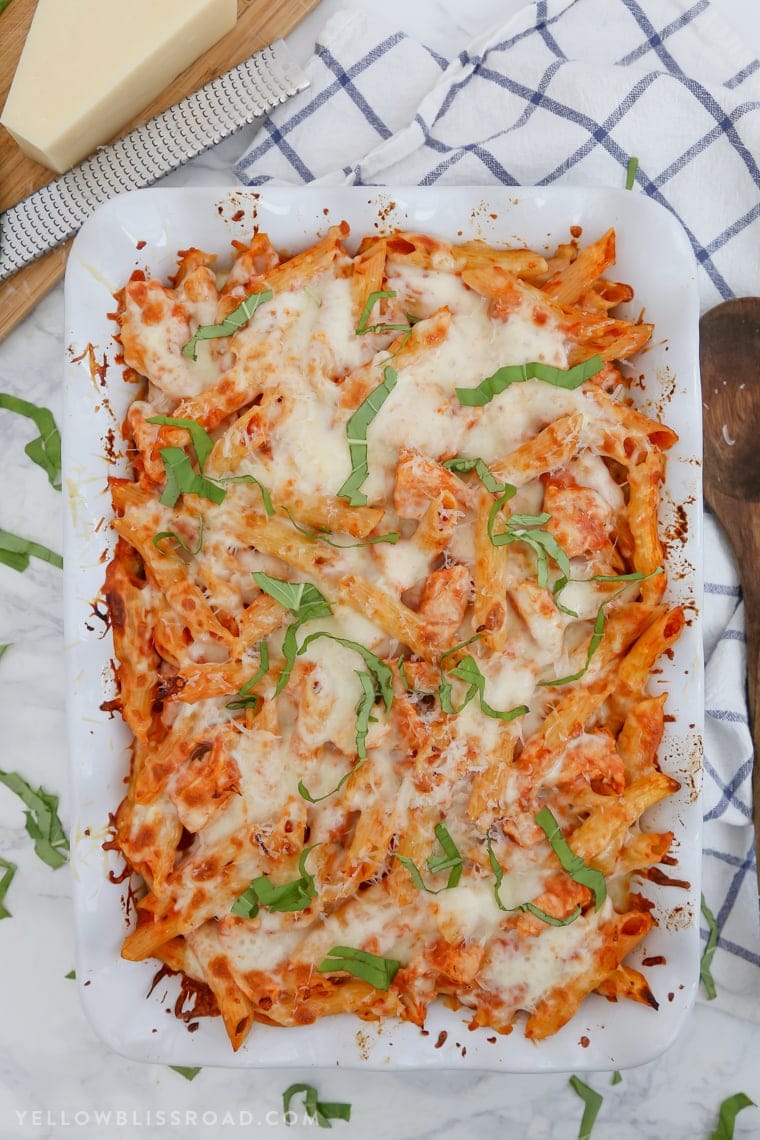 Asparagus, Tomato and Goat Cheese Frittata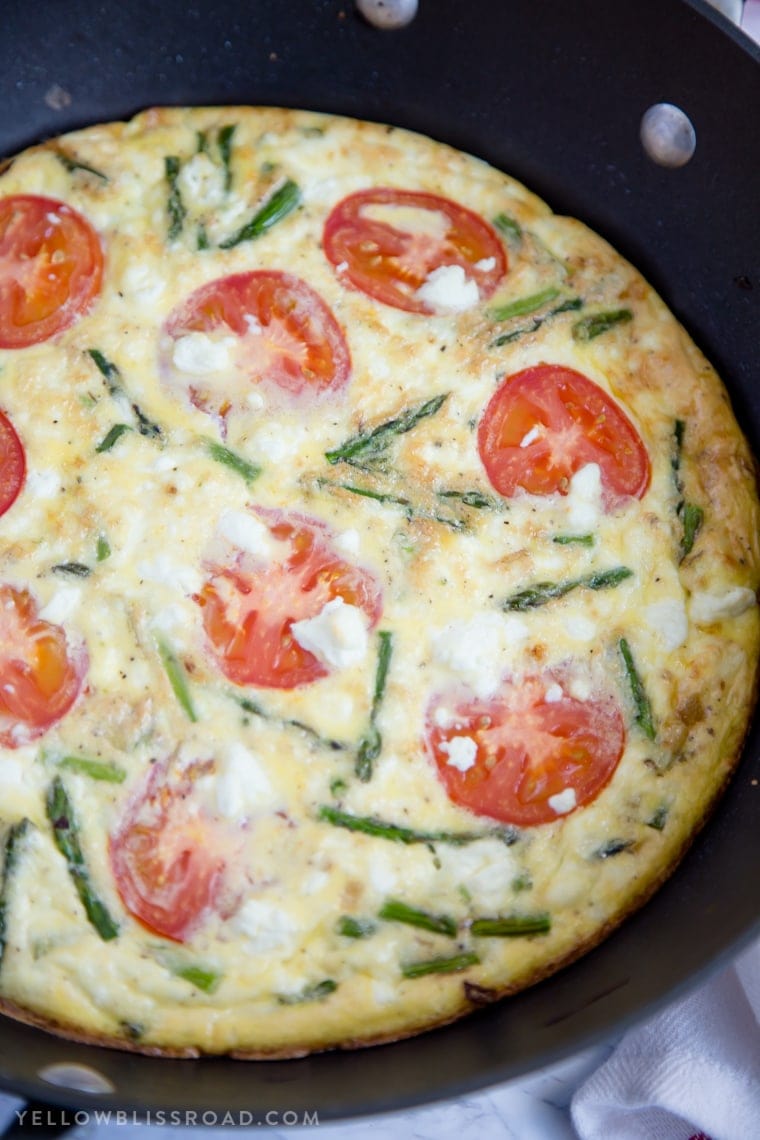 For all dinner recipes go HERE and for the Recipe Index go HERE.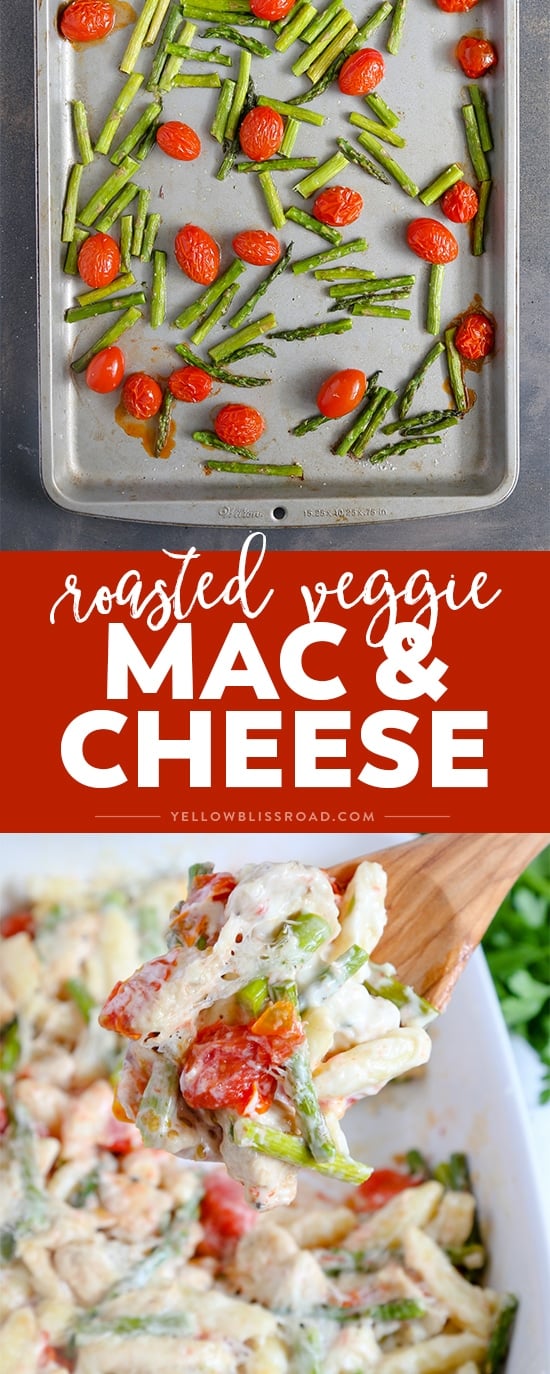 This is a sponsored conversation written by me on behalf of Kroger. The opinions and text are all mine.