Frozen watermelon is a refreshing treat that you can turn into ice cubes, smoothies, slushies or even watermelon popsicles!
There are few things more refreshing than fresh watermelon, but such a large fruit can be hard to eat it all while it's still fresh. The easiest way to reduce food waste is to freeze the leftover watermelon that you won't be able to eat.
Frozen watermelon keeps in the freezer for months and can be used in lots of fun ways from drinks, to desserts, and to snacks.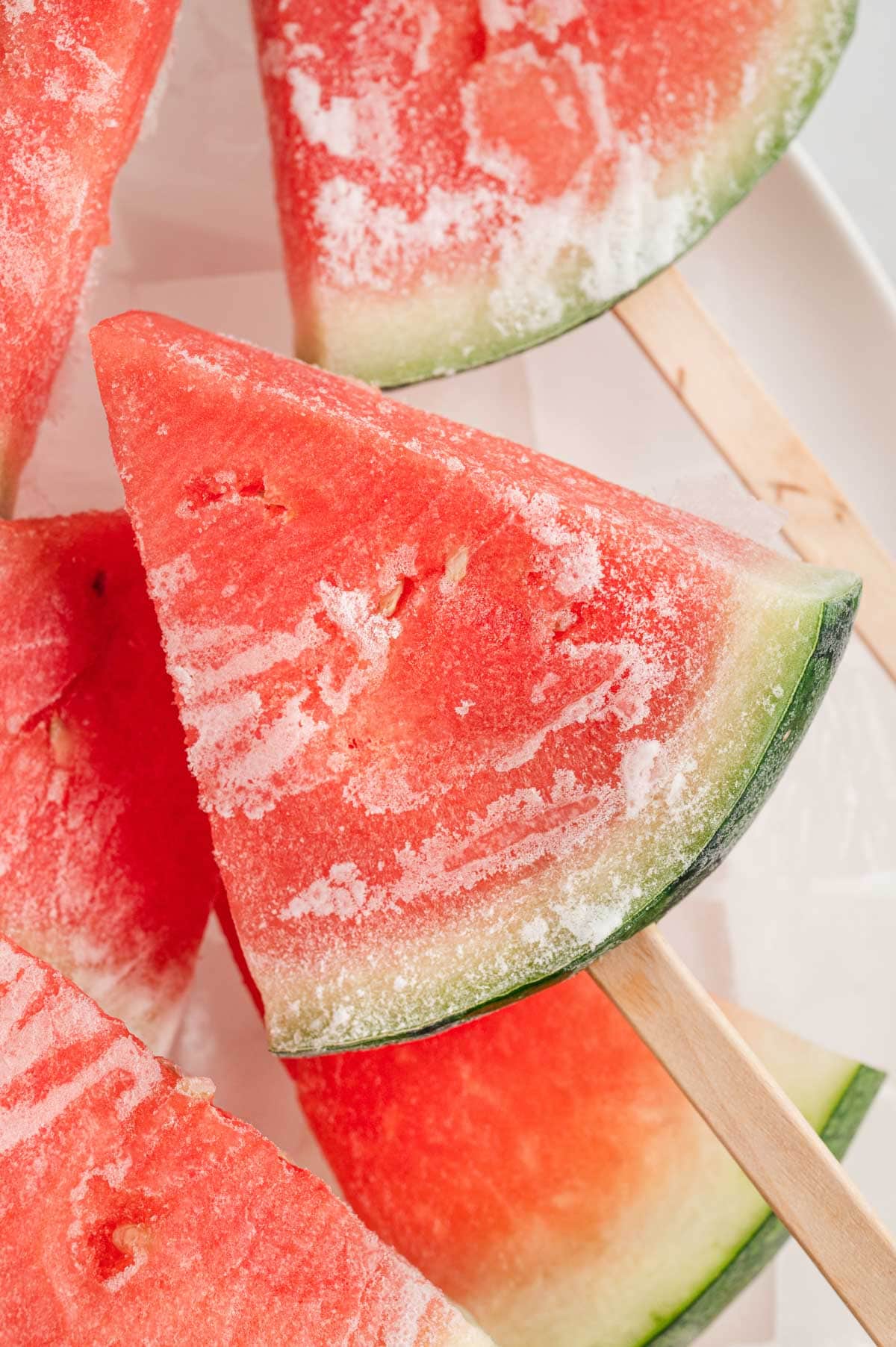 Pin this recipe for later!
Can You Freeze Watermelon?
Yes, you can freeze watermelon! Freezing watermelon is a great way to preserve its freshness and enjoy it later.
Frozen watermelon is a refreshing treat on its own, or you can use it in smoothies, sorbets, fruit salads, or as a garnish for beverages. It's also:
Cost Effective – A large watermelon can be expensive, but when you freeze part of it for later, you get more bang for your buck.
Less Wasteful – Watermelon should only be kept in the fridge for 3-5 days before it can start to go bad. By freezing, you can stretch it and make it last longer.
Ways to Use Frozen Watermelon
Make a Sorbet or Granita – Add 3-4 cups of frozen cubes, along with 2-3 teaspoons of lime juice, a little honey (to taste), and blend. You can add a splash of warm water to help everything blend together. You can eat it right away or freeze in a container until firm.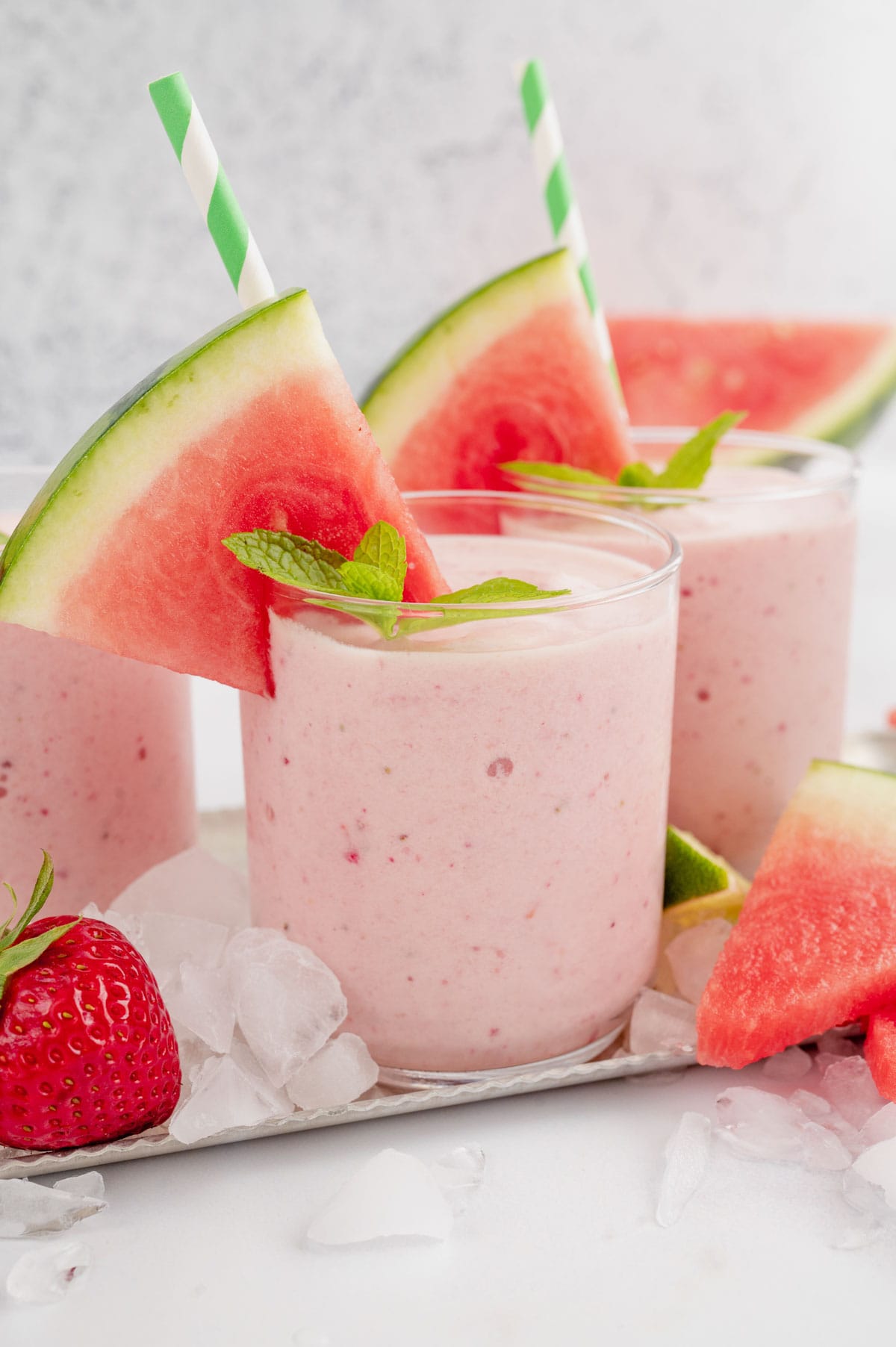 Smoothie – Blend some with strawberries and banana for a refreshing Watermelon Smoothie.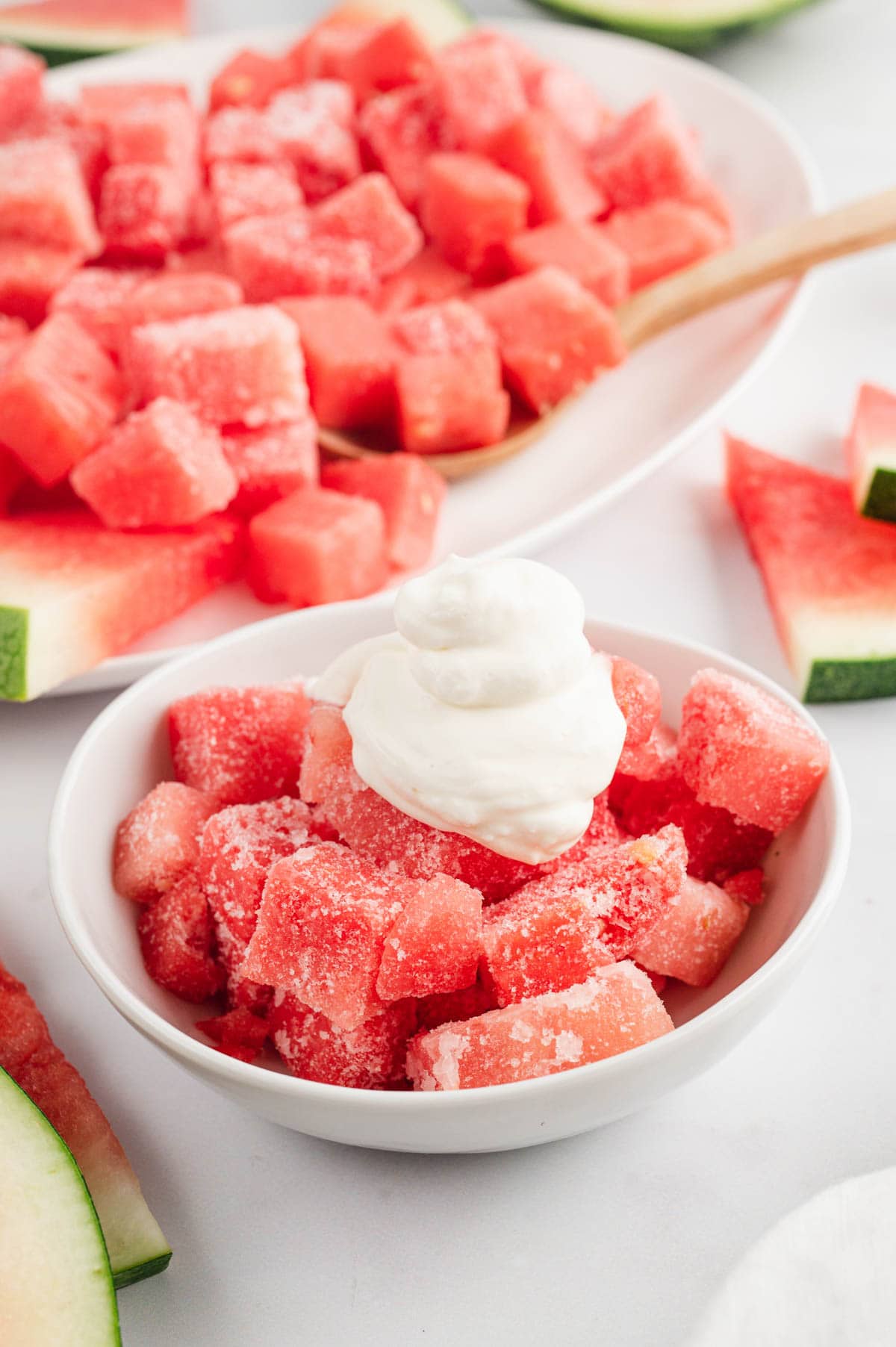 As a Snack – Enjoy as a delicious, refreshing snack on its own! I like it best when it is only slightly thawed so it still has a firm texture. Top it with some Cool Whip for a low calorie dessert.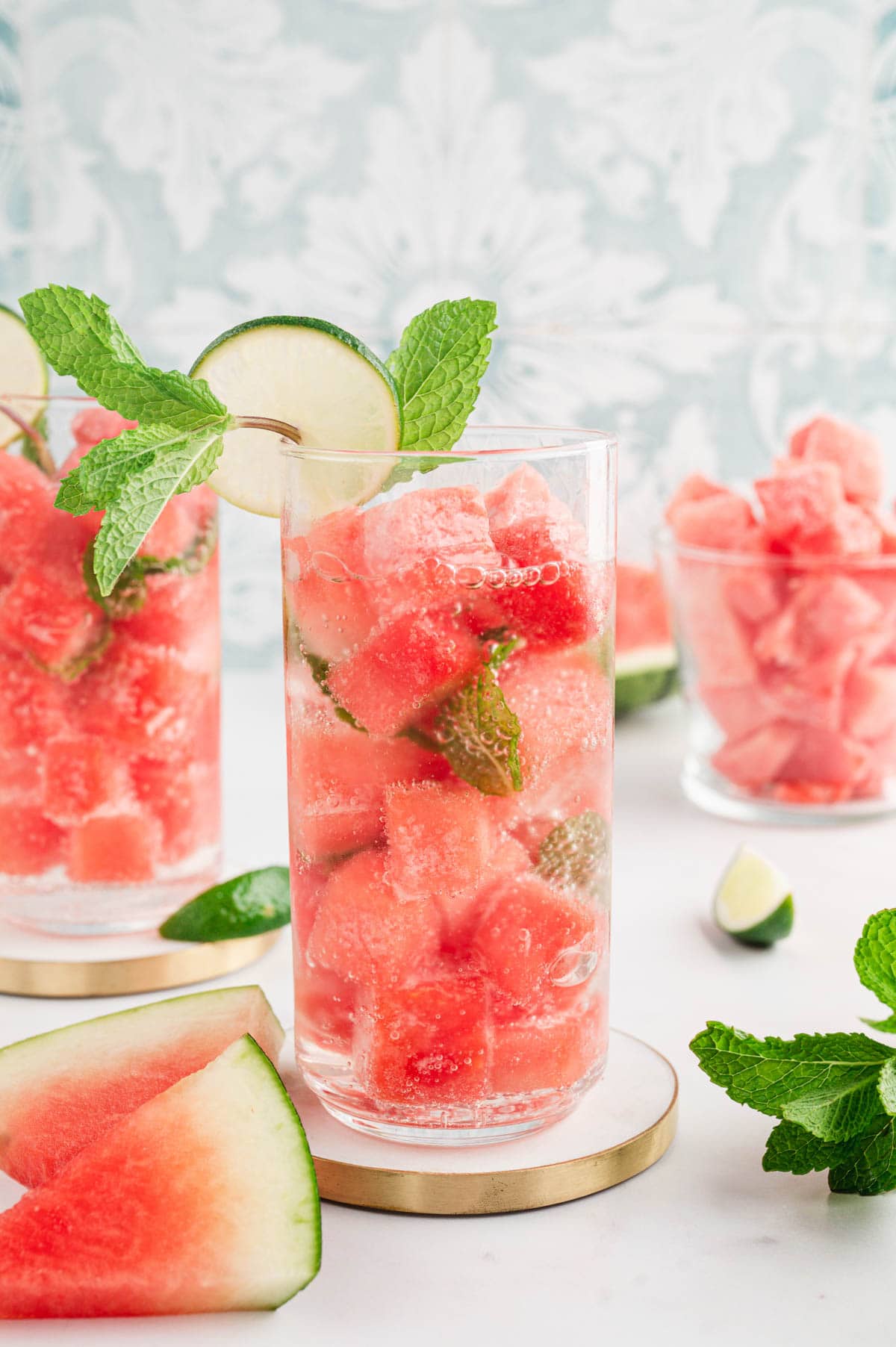 As Ice Cubes in a Drink – Such a great way to keep a drink cool in the summer without watering it down. Add to a glass of water with some limes and mint for a refreshing way summer drink. Or add to a glass of homemade lemonade or white sangria.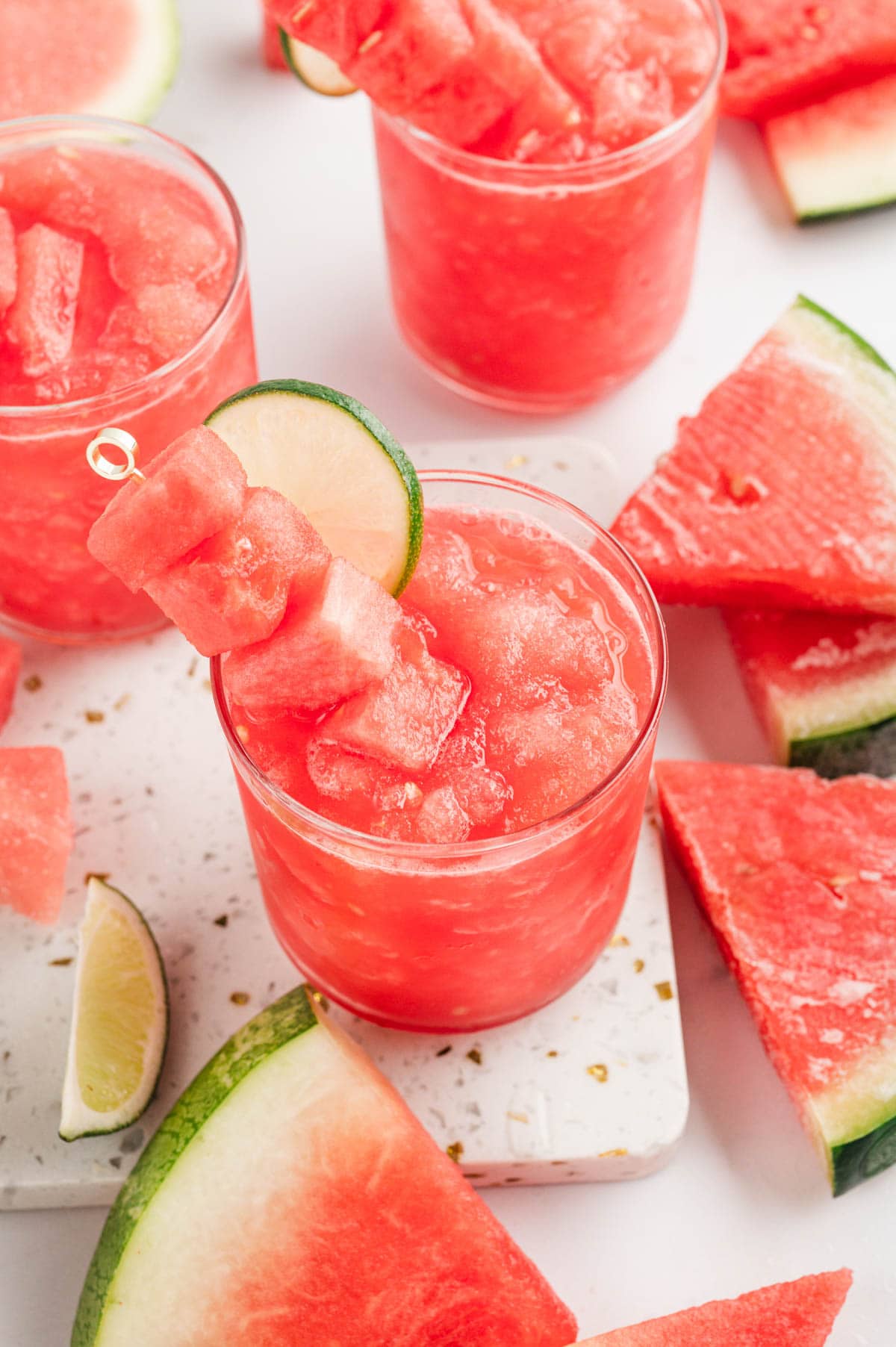 Make a Slushy – Blend with a tablespoon or two of white sugar, a little lime juice, and some ice until a slushy consistency forms.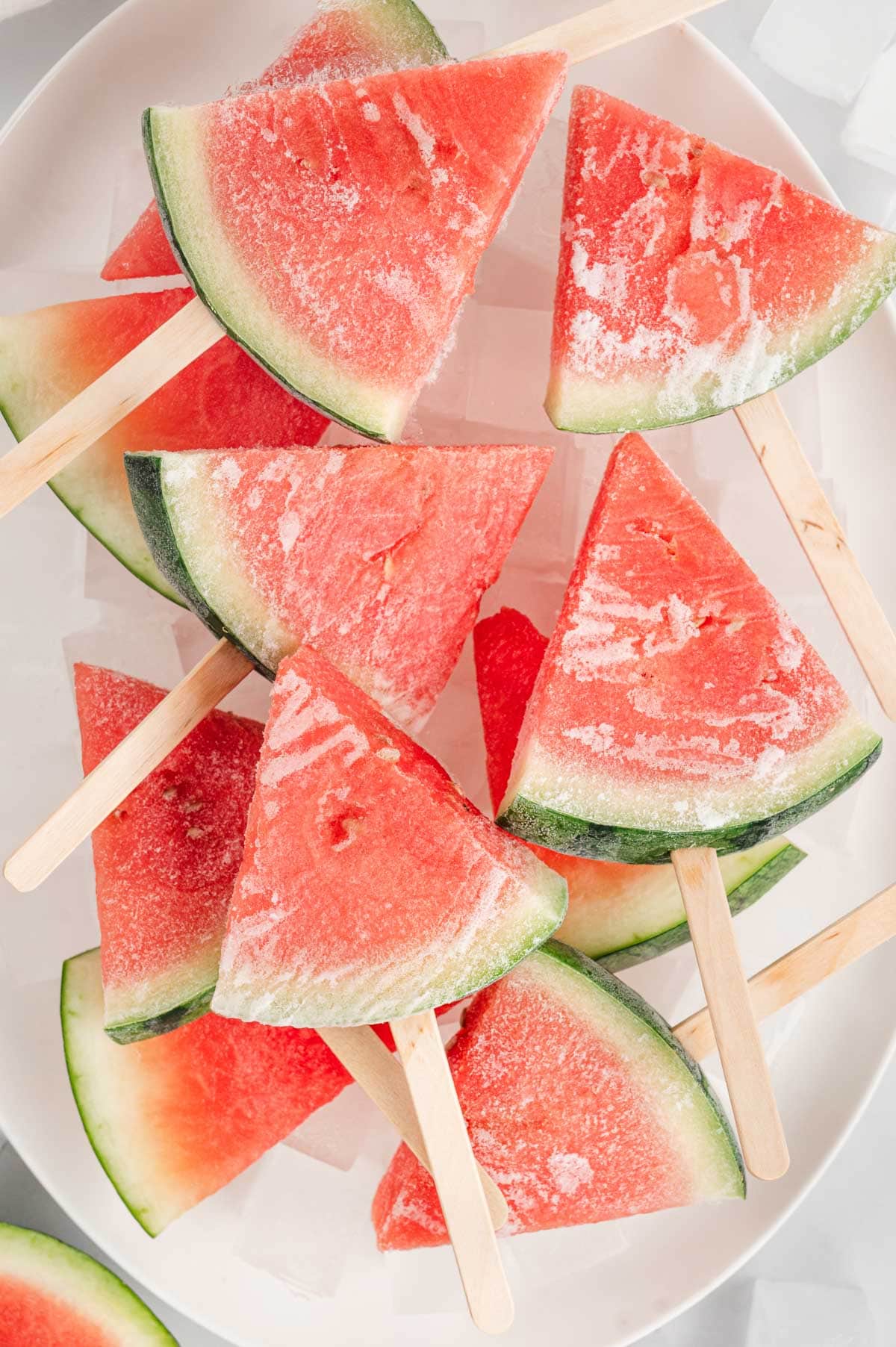 Make Popsicles – Before freezing, cut the watermelon into triangles and stick a popsicle stick into the wide end of the triangle then freeze.
How To Cut Watermelon
Cutting a large watermelon can seem intimidating at first, but I promise it's easier than you think!
Tip: Always use a very sharp, large serrated knife to cut watermelon. Use a sawing motion and let the knife do the work, this is the safest way to carve the melon.
Rinse – Start by rinsing and drying the whole watermelon. Even though you'll discard the rind, since the knife will be cutting through it into the center of the fruit you want to clean it first.
Cut in Half – Slice the whole watermelon in half crosswise so you have two circular pieces. Cut off the stem end from each half.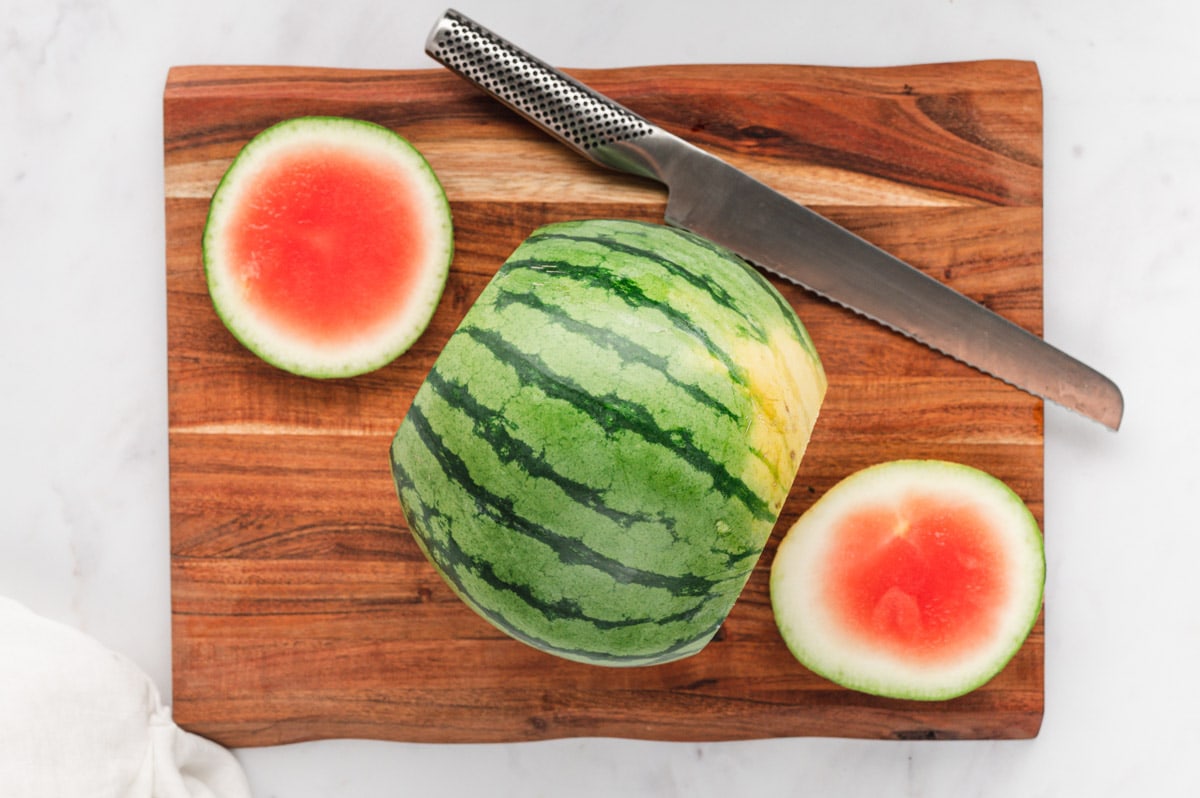 Place on Cutting Board – Place the watermelon half cut side down on a large cutting board. If your cutting board is not stable, place a dish towel or a wet paper towel underneath it to help grip it to the countertop.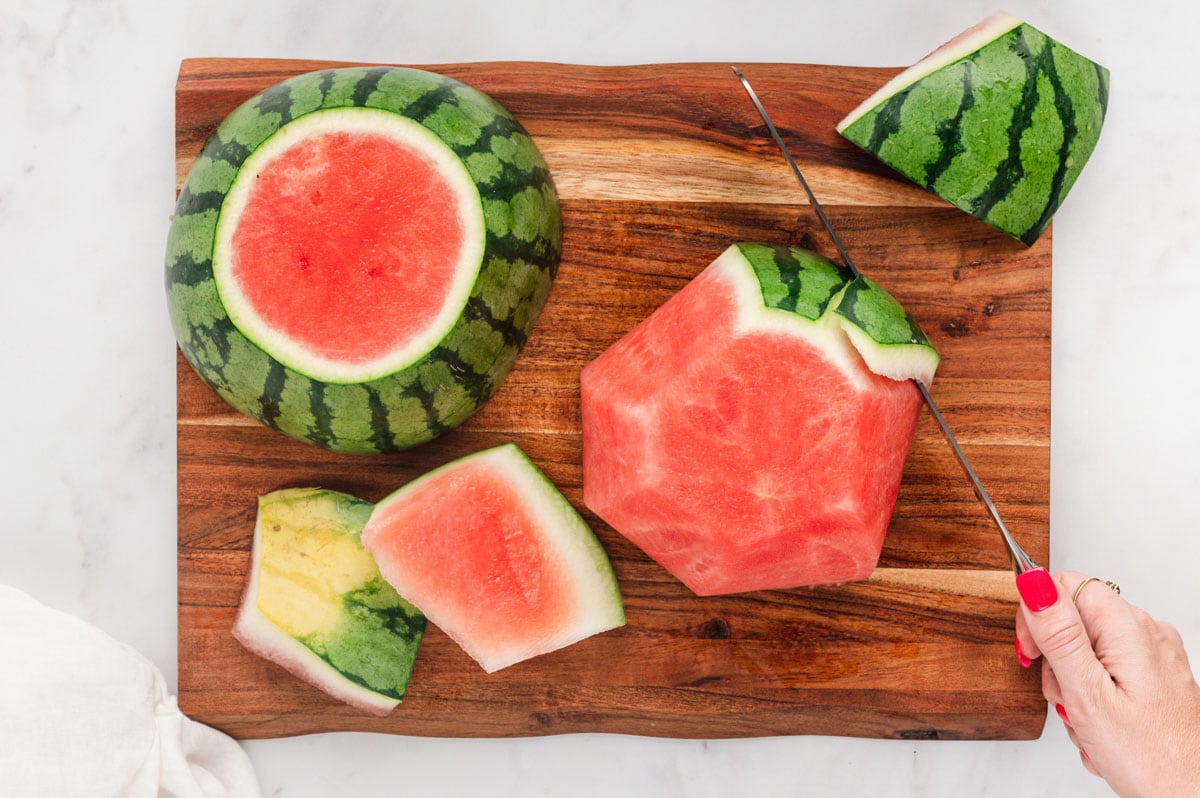 Remove Rind – Hold your knife at an angle and cut down toward the cutting board to remove the rind and white flesh. Continue cutting until all the rind has been removed.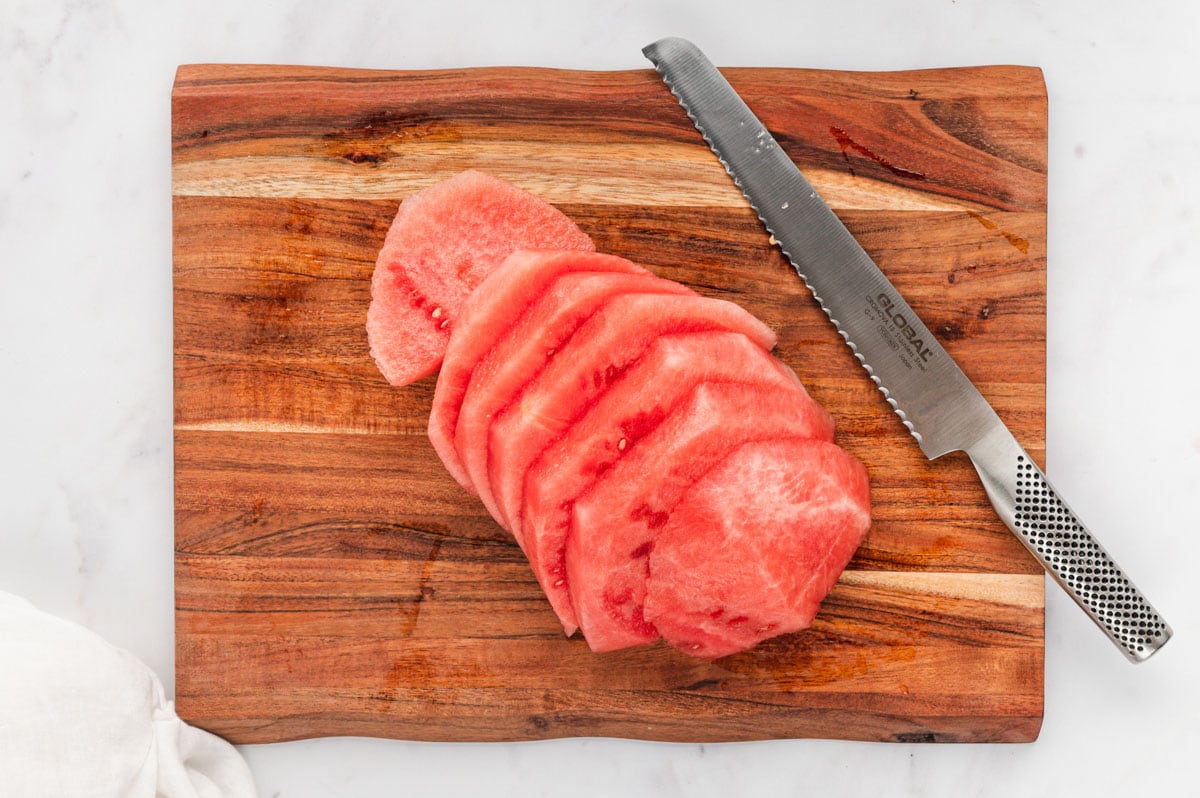 Slice into 1-2-inch thick slices – Now cut the watermelon half into slices about 1-2 inches in thickness. Repeat with the other half.
Cut into Desired Shape – Now you're ready to cut the pieces into cubes, sticks, or triangles.
How To Cube Watermelon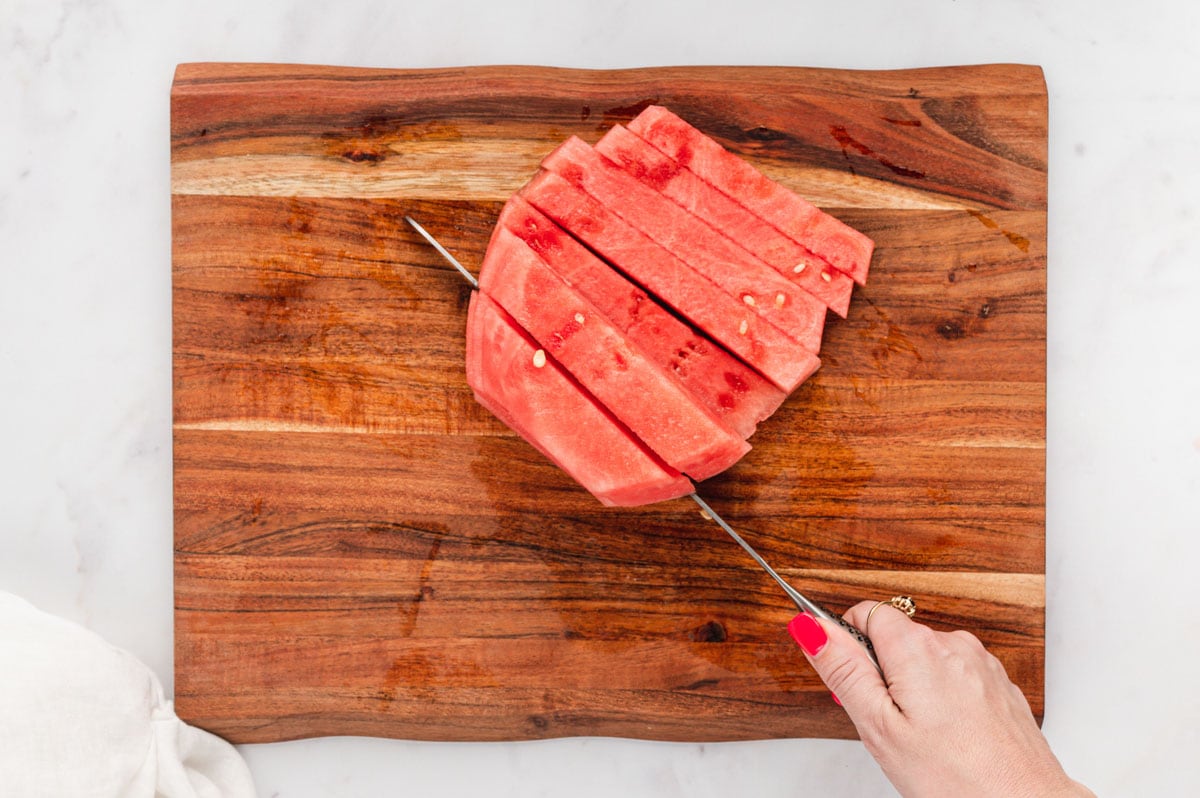 Sticks – Slice the watermelon circles into sticks. I typically like to do sticks that are about 1.5" wide.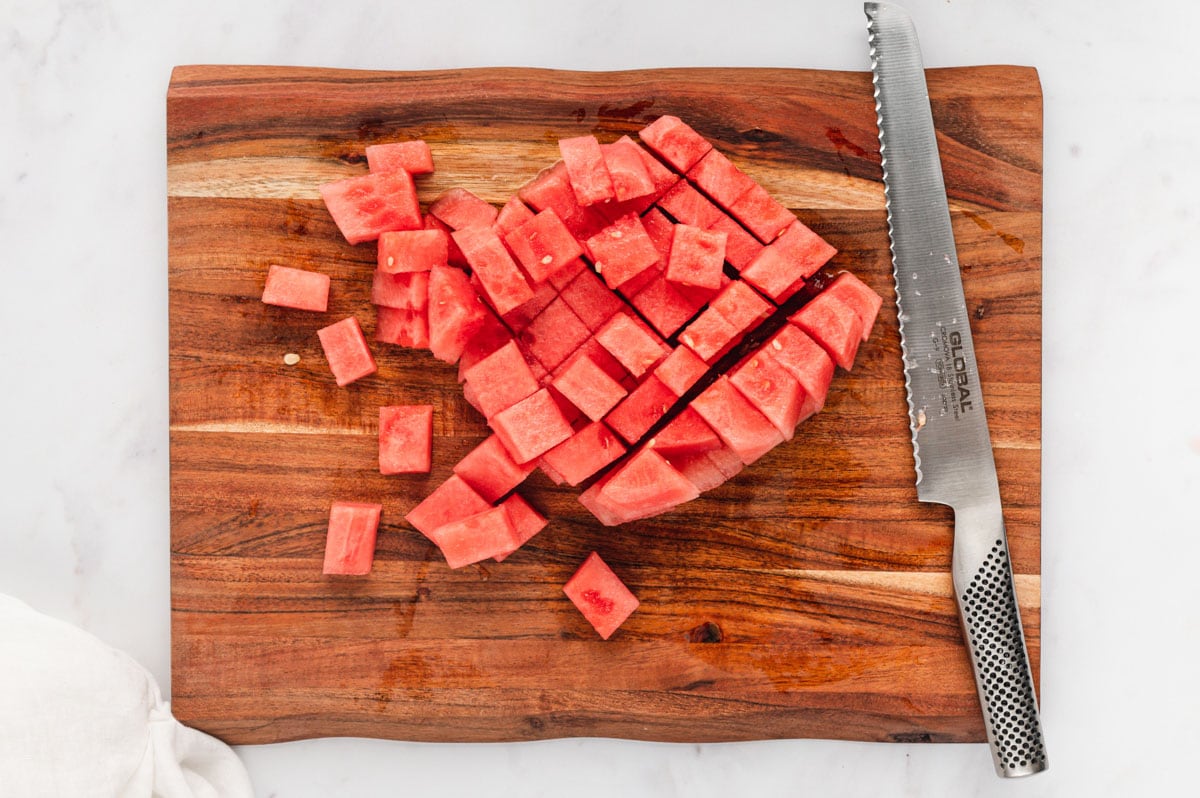 Cube – Slice the sticks into cubes.
Chill or Freeze – Now you can either store the cubes in the fridge for eating in the short term or you can freeze for the long term (see how to freeze below).
How To Freeze Watermelon
The best way to freeze watermelon is to flash freeze it.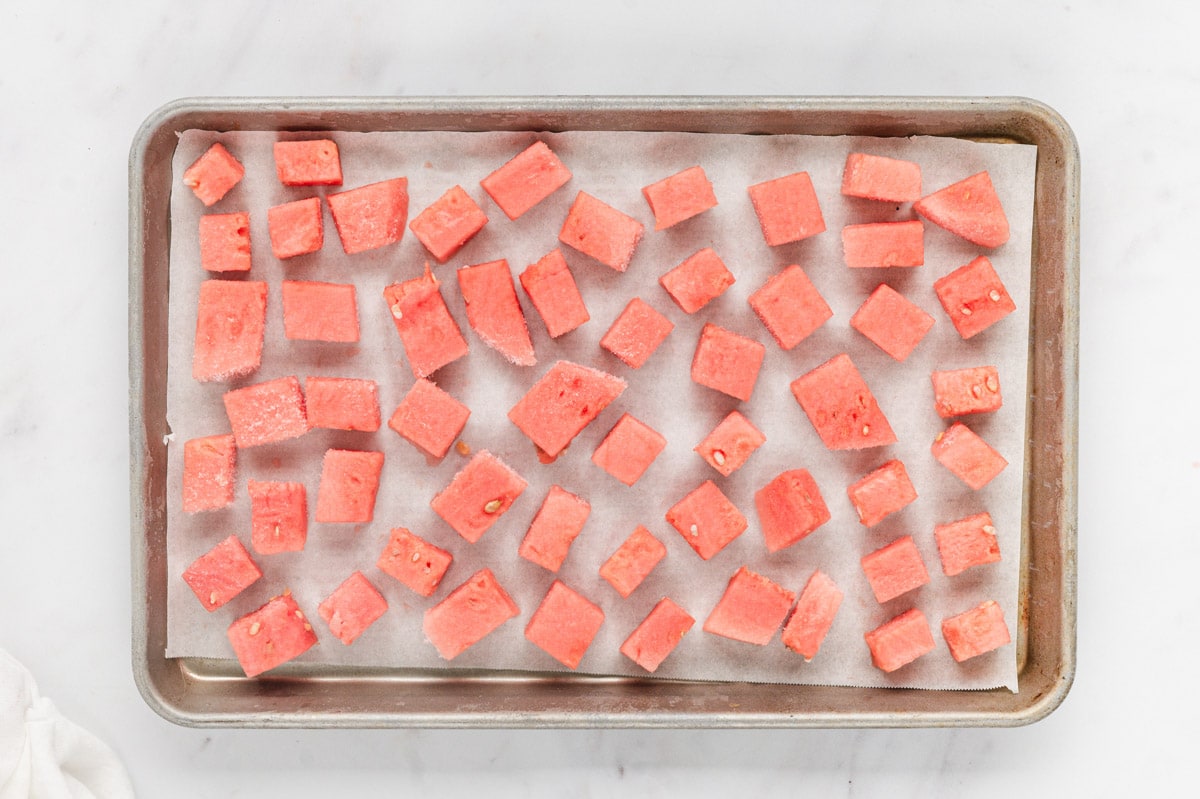 Place the cut watermelon on a sheet pan that's lined with parchment paper or a silicone mat (this keeps it from sticking to the pan!).
Freeze until the watermelon is firm (should take a few hours) then you can transfer the to a freezer container for storage.
FAQs
Can you thaw watermelon that's been frozen?
You can thaw it in the fridge overnight and enjoy it the next day. The texture will be softer compared to its fresh counterpart due to the high water content. It's best to consume within a few days of thawing for optimal taste and texture.
How long does fresh watermelon last?
A whole, uncut, watermelon can last on the counter for a week or in the fridge for two weeks. When the watermelon has been cut up, it will stay fresh in the fridge in an airtight container for about 3 days.
How long will it last in the freezer?
Keep in the freezer for 6 months or more! The key is to flash-freeze the watermelon first before storing in an airtight container.
How do you pick a fresh watermelon?
When picking a watermelon at the store, choose one that is heavy for its size (these are the juiciest) and doesn't have any visible bumps or holes.
Recipe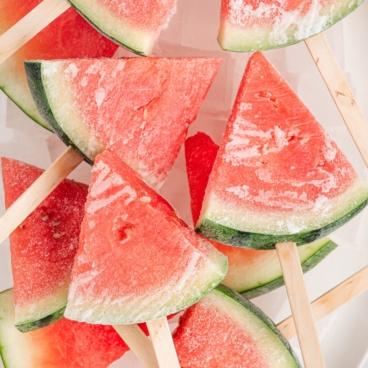 Frozen Watermelon
Frozen watermelon is a refreshing treat that helps reduce food waste! Learn how to freeze watermelon, with tips and recipes like watermelon popsicles.
Equipment
Sheet pans

Parchment paper

Serrated knife

Gallon zip top freezer bags

Popsicle sticks if making popsicles
Ingredients
1

seedless watermelon

cubed
Instructions
To cube the melon
Cut a small amount off the top and bottom (stem end) of the watermelon, then cut watermelon in half horizontally. Lay half of the melon cut side down on the cutting board, follow the curve of the melon with a sharp serrated knife and slice off the rind. Slice the melon into 1" thick slices, cut the slices into 1" wide strips, and finally into 1" cubes.

Line your sheet pans with parchment paper, and make room for them in the freezer. Spread a layer of watermelon cubes onto the sheet pan, ensuring that they don't touch. Freeze for about 3 hours, then transfer to gallon size zip top freezer bags.
To make popsicles
Line a sheet pan with parchment paper. Slice a personal size seedless watermelon in half, lay cut side down, then slice into 1" thick half moons. Cut the half moons into thirds to form little triangles.

Take a sharp paring knife and stab the rind, wiggling the knife to create a pocket. Insert the popsicle stick about 1.5" into the melon.

Place on prepared sheet pan, ensuring they do not touch. Freeze for 2-4 hours.
To make a watermelon slushie
8 cups frozen watermelon cubes

Juice of half a small lime

1 cup hot water

2 cups Sprite

Place watermelon cubes in a high speed blender with the lime juice and hot water. Process until smooth, mashing watermelon and adding splashes of water if needed. Remove the blender blade, pour in the sprite and stir gently. Serve immediately, garnished with skewered watermelon cubes and a lime wheel. Makes 4 small servings.
To make a watermelon mojito (makes 1)
4 large mint leaves

1-2 tablespoon white sugar

Juice of ¼ lime

Frozen watermelon cubes

2 ounces white rum

Club soda or tonic

Muddle mint leaves with the sugar and lime juice until mint is bruised and fragrant in a tall glass.

Fill glass completely with watermelon cubes. Pour in the rum, and top off with club soda or tonic. Stir gently. Garnish with mint leaves and a lime wheel, serve immediately.
Notes
There are tons of tips within this post on selecting a ripe watermelon, but here are some quick notes:
Look for a symmetrical shape; round, not oval.

Check the field spot; it should be a creamy yellow.
Tap it; it should sound hollow.
Examine the skin; there should be no bruises, cuts or soft spots.
Check the weight; it should feel heavier than it looks.
Look for a uniform color; it should be a darker shade of green.